Here's what vloggers can do with the Huawei nova 7 series' Dual-View video mode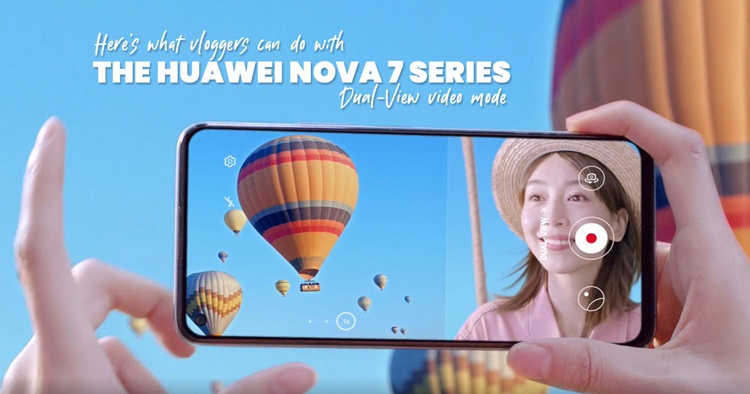 Since 19 June 2020, the Huawei nova 7 SE was officially released in Malaysia and according to the company, their latest mid-tier range smartphone has received a warm reception from the consumers. There can be many factors to consider the device's success, but today we are going to talk about the Dual-View video mode which allows you to shoot a video at the back and front at the same time.
While it's not the first time that we've seen this feature, not many smartphone brands have integrated it on their smartphones and this can be a useful feature for vloggers and the young generation. So what can you exactly do with it? If you're looking for some ideas, here's what you can do with the Huawei nova 7 series' Dual-View video mode.
#1 Celebrate a birthday and capture the moment
While we are in the midst of Recovery MCO, you might not be keen to go out to the public to celebrate your or someone's birthday yet. Well, with the Dual-View, you can now record the moment of yourself or your friend who got the birthday surprise and capture the moment at the same time. Easy peasy.
#2 Share your dish of the day
Speaking of birthday surprises, that usually spells out food and foodies will always take a few photo shoots of their dish before eating. If you want to share your dish of the day and your expression at the same time, the Dual-View got you covered!
#3 Share the Dual-View video with your family
On the other hand, you may also utilize the Dual-View mode to keep in touch with your family. From different states to overseas, you can record and send the Dual-View video to your family on how well your baby and yourself are doing in this period. Or another example, the parent(s) can record and revisit the moment of looking at their expression and what the child was doing back then at the same time.
#4 Share your adventure with your beloved
If you and your partner are having a date, you can take advantage of the Dual-View mode and shoot creative moments together. Do you know that popular photo of the girl holding a hand going into a certain place or scenery? With Dual-View, you can now record that moment yourself. Win!
#5 Show off your new vlogging style
Finally, if you want to take beautiful sceneries and record your expression at the same time, this is where the Dual-View comes in once again. You can even use this as a new method to tell a story on your social media account!
Before we end this, there are a couple of on-going promotions happening. So read them first if you're interested to know more!
Get your apps and points in Huawei AppGallery
That's right, you can earn Huawei Points by installing more apps and use your Huawei ID to redeem attractive rewards and gifts at the AppGallery Gift Centre. You can now find apps such as Maybank2u, Shopee, Lazada, and more with lucky draws so everyone stands a chance to win a prize!
Huawei AppGallery Carnival promotion
The carnival is back and it's currently on-going until 30 June 2020 with amazing offers and lucky draws of up to RM2,000,000! The grand prize includes three Proton X70s SUVs and 500 electronic Scooters and this event will be happening at the Huawei Experience Store!
Member Center Rewards
In addition to that, Huawei customers will get to enjoy free food treats with every purchase of the Huawei Nova 7 SE. With the rewards worth up to RM1000*, you can fill your tummy up from various food franchises such as Baskin Robbin's, Domino's Pizza, Puma, Texas Chicken and more. Besides that, you can also get rewards from AirAsia Big and Free Fire as well in the Member Center.
*Subject to terms and conditions.
Huawei Together 2020 Programme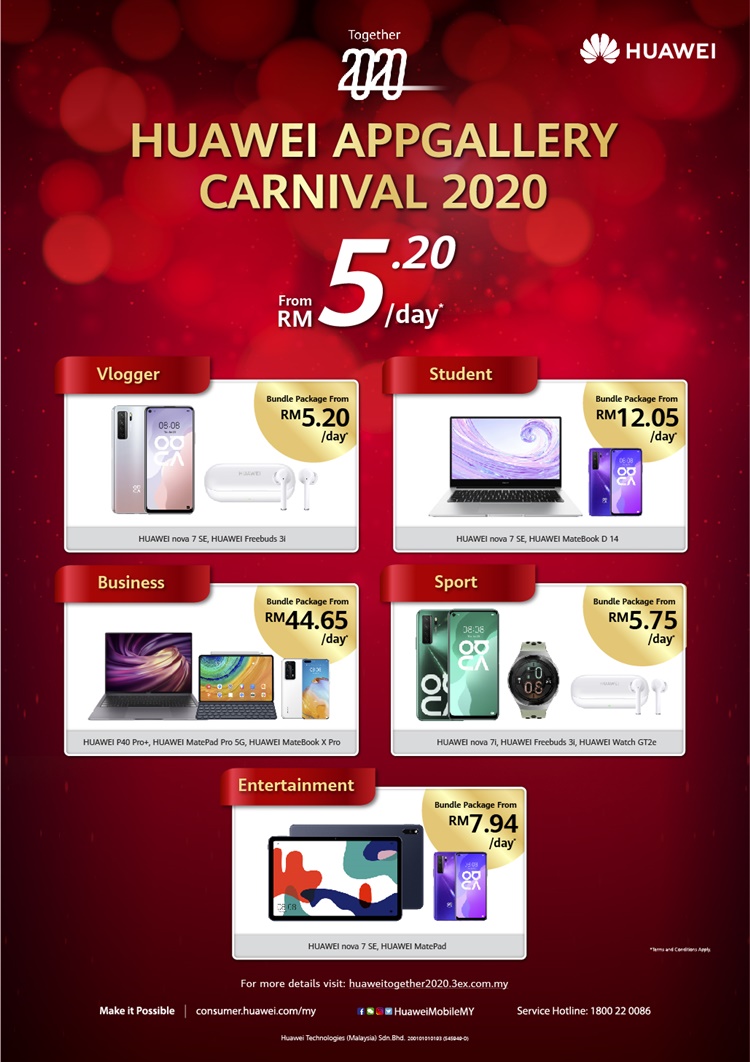 If you want to learn more, you can visit the official website right here
Finally, you can own a bunch of Huawei gadgets in a bundle without worrying about the cost thanks to the Huawei Together 2020 Programme. It offers a zero-interest instalment plan from 6 to 12 months and even allows you to customize the bundle to suit your lifestyle. The monthly expenses can go as low as RM5.20 per month only (terms and conditions apply) and whether if you are a business professional, gamer or student, there is a bundle for every kind of need.
So what do you think of the Dual-View video mode? Let us know in the comments below and to learn more about the Huawei nova 7 SE, you can visit the HUAWEI Store or the nearest HUAWEI Experience Stores (HES) today. Stay tuned for more tech articles and local deal news at TechNave.com.
Huawei nova 7 SE Specs & Price >