Here's what we think of Link to Windows on the Samsung Galaxy Note20 series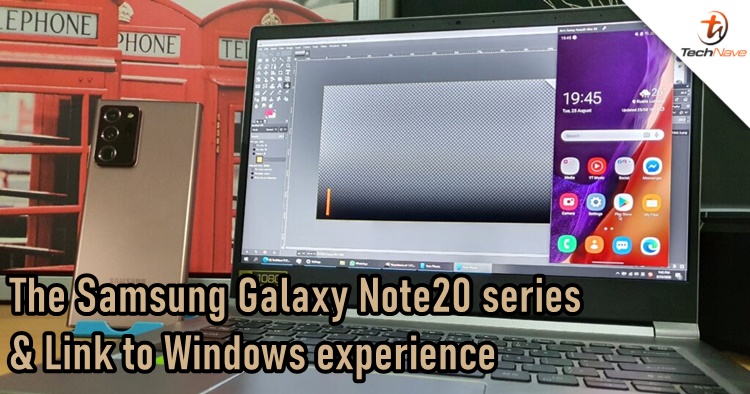 Can you live without a mobile phone? I guess that depends on what kind of lifestyle you are living. Some use it for mobile gaming, some purely for keeping in touch with friends and family, but there are also individuals who use their smartphones for work and it's nothing new. Maybe to some, working on a smartphone is not as efficient as a laptop, but that's not stopping smartphone brands trying to make it work.
Most people don't fully understand how to make use of their phones and PC together, but this could be why Samsung integrated Link to Windows on the Galaxy Note20 series. One of our writers played with it for quite some time and you can read our demonstration on how the phone and PC/laptop can be seamlessly connected. Here's what we think of Link to Windows on the Samsung Galaxy Note20 series.
No installation needed for Link to Windows
At this point, you might be thinking if you need to install anything on your Galaxy Note20 phone or your PC/laptop. Well, you don't need to! And we aren't talking about Samsung DeX either because the Link to Windows feature is already available. You can find it on the notification settings in the phone, though you'll have to make sure you have the latest Windows 10 update.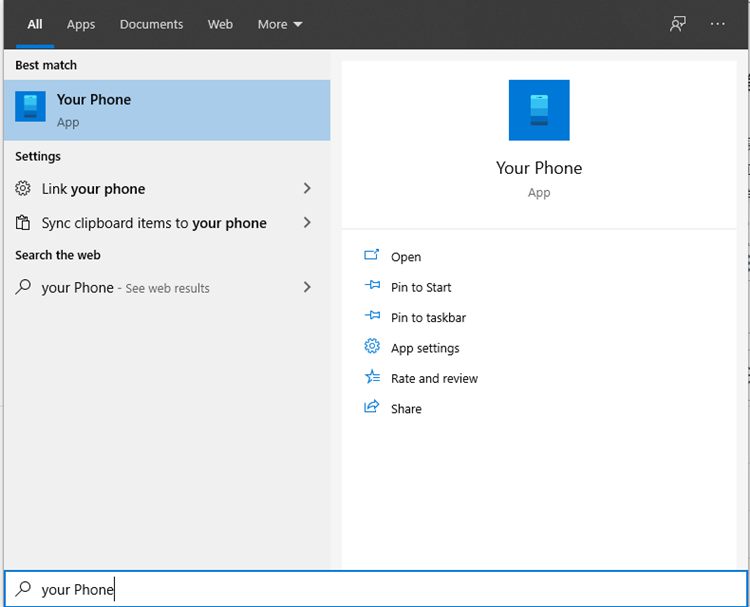 You can search for Your Phone app on the Windows search bar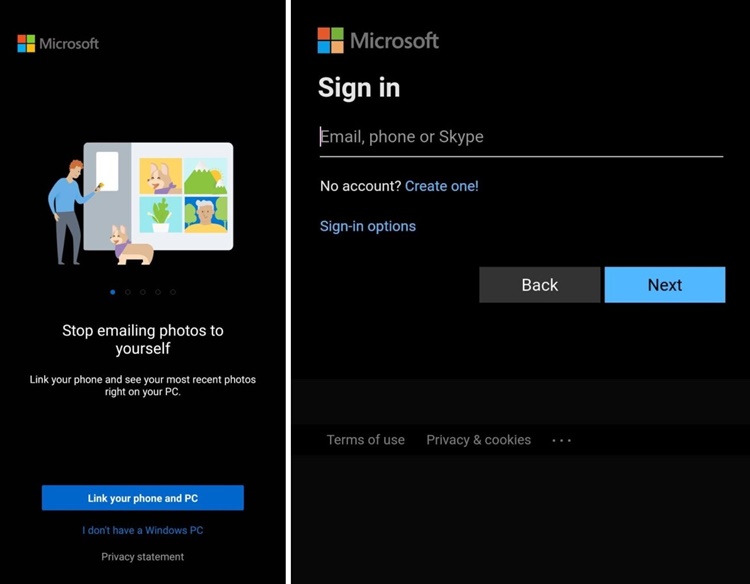 You will encounter this page when you turn on Link to Windows for the first time
To get yourself started, just tap on Link the Windows and search for 'Your Phone' on your PC/laptop. After syncing up, you will need to punch in your Microsoft account login credentials and follow the instructions. Once that's done, you're all set and good to go.
Transfer your media data files without touching your phone
Once you are all set up, the Galaxy Note20 series display interface will appear on your monitor. From there, you can read notifications and messages, transfer photos, open certain apps, and even receive incoming calls on your PC/laptop.

This is how Your Phone looks like (left), you can also close the left menu (right)

If you are using an extra monitor, you can have Your Phone and your web browser running simultaneously
Since you can pretty much do the necessary tasks on the PC/laptop, that also means that you won't need to pick your phone every few minutes and can be more productive during your working hours. Say goodbye to data transferring via cable and hello to a new way of working with your Galaxy Note20 series smartphone!
What's the difference between Link to Windows and Samsung DeX?
As mentioned earlier, Link to Windows syncs notifications from your phone, so users don't need to pick it up to check for new ones. Apart from that, you can also open certain apps and project it on the monitor! But how does that make it different from Samsung DeX?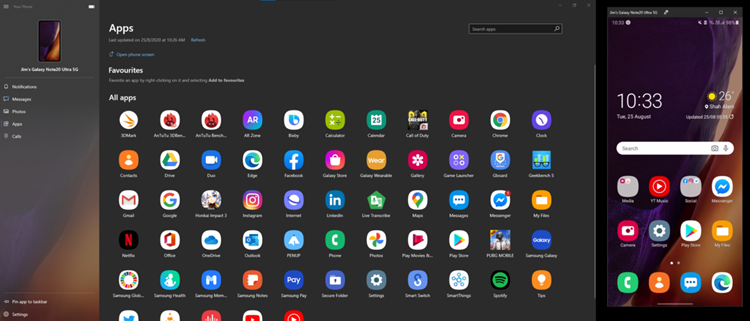 On the right side where your phone will appear on the monitor
Access into any of the apps and multitask!

You can also use your phone to watch videos and it will look like that (right)
Like Samsung DeX, you can sync the Galaxy Note20 series to a monitor. However, this feature is limited to Samsung OneUI interface only so you can't really open some apps on the monitor. With Link to Windows, you can do pretty much everything on your PC/laptop like how you would use your phone.
Honourable Mention - Microsoft OneNote
Before we end this article, Samsung also mentioned that the Galaxy Note20 series will be able to connect to Microsoft OneNote soon. This feature will sync with the all-new and improved Samsung Notes to offer you a true cross-platform working experience and we are looking forward to test it out. Do note that this new upgrade for the OneNote (web and Windows 10) and Outlook (web) will only be available in November later this year.

Yay, gifts!
The Samsung Galaxy Note20 series is now on sale and whether you buy the Galaxy Note20 (RM3899), Galaxy Note20 5G (RM4299) or the Galaxy Note20 Ultra 5G (RM5199), you'll get a complimentary UV Sterilizer with Wireless Charging (worth RM299) and Wireless Charger Convertible (worth RM209). Remember that these giveaways are on a first-come-first-serve basis, while stocks last, so don't miss it!
Moreover, you can get instant rebates when you trade in your old device for any Galaxy Note20 series model under the Trade-Up campaign. This campaign will end on 31 October 2020 and for more information, you may refer to this website to check it out.
Samsung Galaxy Note 20 Ultra Specs & Price >