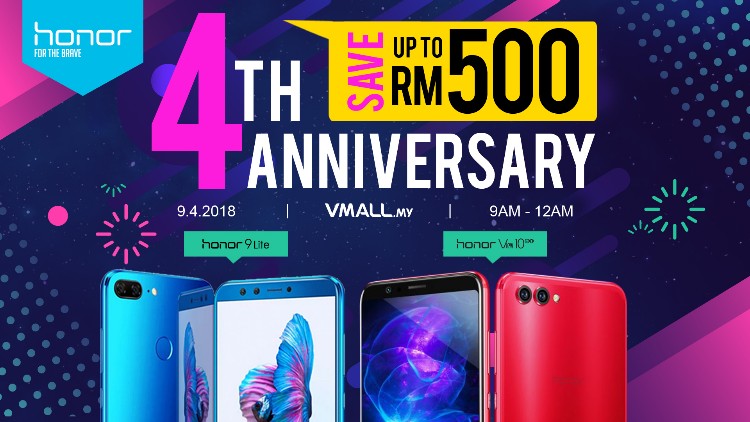 Honor Malaysia recently announced their 4th Anniversary sales in Malaysia with savings of up to RM500 across all their ecommerce platforms including 11street, Lazada, Shopee and VMALL. The sales will be available all day on 9 April 2018 but certain device deals will have specific times to get them as you can see below.
The sales will include the honor View10 (normal RRP RM2099) for RM1899 with a powerbank for 1 hour on each platform (10am-11am, VMALL | 3pm - 4pm, Shopee | 5pm - 6pm, 11street | 9pm - 10pm, Lazada) and at RM1899 at other times on the appointed date of 9 April 2018. The newly released honor 9 lite also gets a cut down to RM699 (normal RRP RM749) at the same times and platforms as above.
The honor 7x on the other hand gets a cut down to RM888 (normal RRP RM1099) and the honor 6A Pro goes down to RM588 (normal RRP RM699). The largest price slash of RM500 would be for the honor 8 pro at RM1499 (normal RRP RM1999) so if you've been waiting to get this 2K display gaming phone, then 9 April 2018 is the day to do it.
Check out the respective links below on 9 April and our coverage of the phones if you need help deciding: