Honor 5A review - Budget enough for anyone with a few nice surprises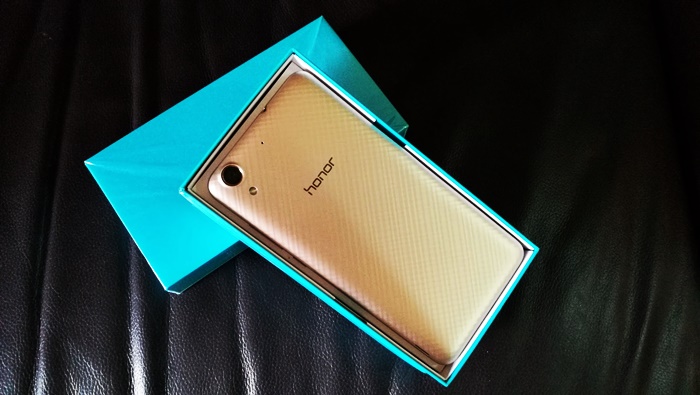 Looking for an affordable smartphone with respectable tech-specs? Maybe what you're looking for is the Honor 5A which was launched alongside the Honor 8 back in September this year. Priced at only RM599 in black and white, or RM629 in gold at VMall.my, you might think that a device this affordable might not be able to offer good performance, but check out what we think of the Honor 5A below.
Design - Another good looking plastic smartphone
Since we got ourselves the gold version, this actually looks sleek and solid for a RM599 smartphone, especially the back cover even though it's purely plastic, but the way Honor put the finishing touch on the surface feels rugged yet delighfully smooth, so a thumbs up for that. However, however nice it may be, if you're the reckless type of person, be prepared to see some scratches on back cover if you don't have a protective casing.
The back side with the nice pattern design
Other than that, there's nothing much to say about the front and sides, except that it looks quite shiny giving off that premium feel. The cross thatch pattern on the back helps to improve this premium yet plastic feel while the front has an anti-shock toughened aluminosilicate glass to protect somewhat from drops or the keys in your pockets. Like most Honor phones, the Honor 5A doesn't have any physical home button or capacitive keys.
The front view with the 5.5-inch display, which is also an anti-shock toughened aluminosilicate glass protection
The back cover is detachable, but battery is non-removable
The SIM card slots
Power and volume buttons on the right side, the left side is completely empty
USB 2.0 port, microphone and speaker grill, the headphone jack is at the top
Tech-specs and features - A surprise Light Painting and Good Food mode feature
Here are the official specifications for the Honor 5A: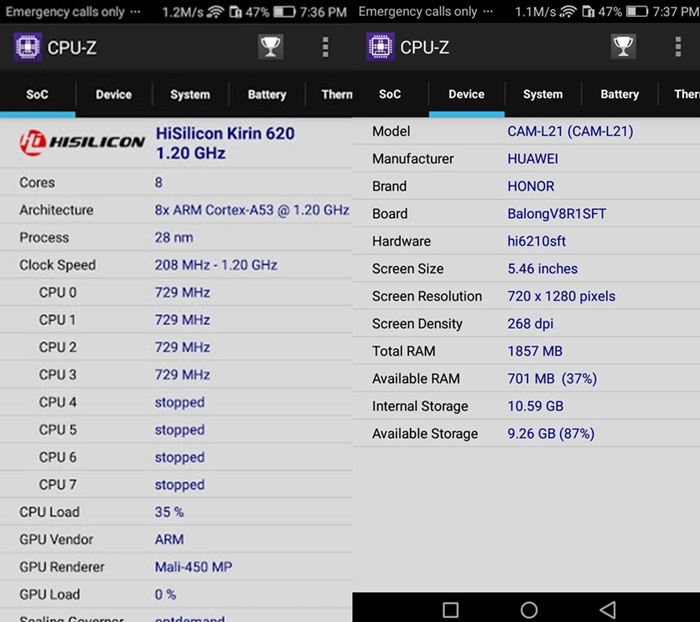 Octa-core Kirin 620 processor
2GB RAM
16GB storage (expandable memory available up to 128GB via microSD card)
5.5-inch display (1280 x 720 resolution)
13MP rear camera (F2.0 wide aperture, LED Flash) + 8MP front camera (F2.0 wide aperture)
Measures 154.3 x 77.1 x 8.45 mm, weighs 168g
Features SWS surround sound and Micro USB 2.0 port
Supports LTE, WiFi, and Bluetooth 4.0
EMUI 4.1 OS based on Android 6.0 Marshmallow
3100 mAh battery
Being an entry-level device, these are the specifications that you should expect. The 16GB ROM may look like a nuisance, and certainly not enough for most smartphone users today in this era, but there's some good news to that. Not only do you have an expandable storage for extra space, but you can set the microSD card as the default setting for your storage, which is nice.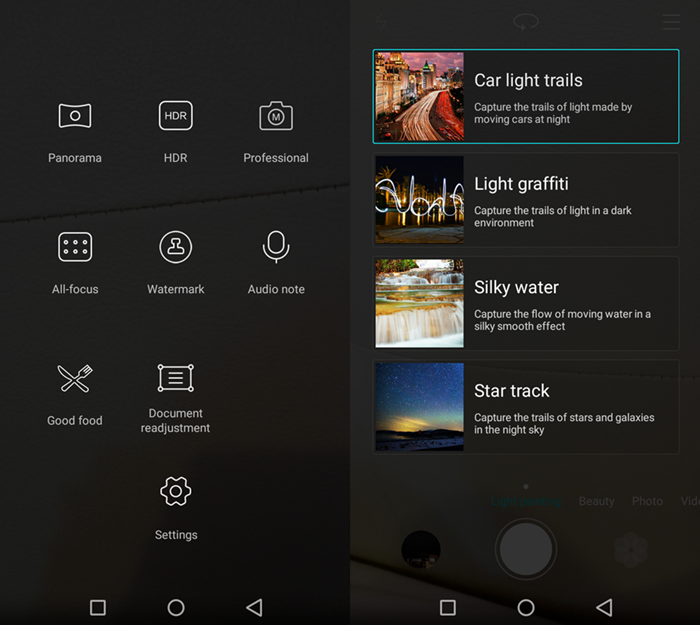 The camera modes
Perhaps the most surprising feature is the fact that Honor has the special Light Painting mode that was normally seen on higher-tier Honor and Huawei smartphones, offering a bit more for the users who are into photography. Besides that, you also have All Focus mode (basically wide aperture or bokeh mode), Document Readjustment, and Good Food mode that brings out the best of food pictures for the foodies.
However, despite the surprise camera features inclusion, it's also missing quite a few stuff. For one, the screen is only HD so the display's density and contrast is quite low. There's also no fast charging technology, no on-the-go (OTG) supported, and no gyroscope either (so you can't use it with VR).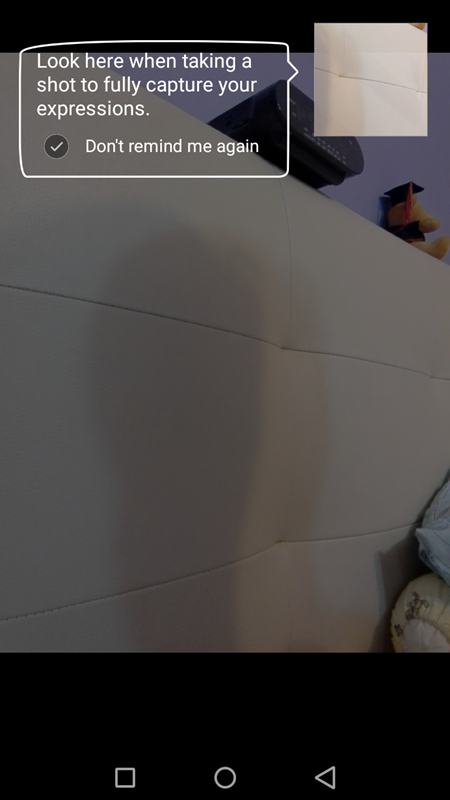 The familiar selfie helper also returns
Performance - Quite long lasting and doesn't overheat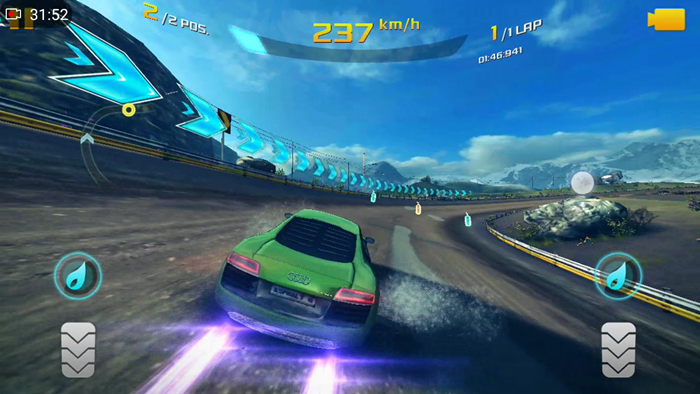 Gaming mode testing - passed
Moving on, the Honor 5A performance is just alright. For the good points, given that the octa-core Kirin 620 chipset is clocking in at 1.2GHz, it could surprisingly play games like Asphalt 8: Airborne reasonably well. It even managed to do so with barely any overheating problems, so again, thumbs up for that. Even for games like Pokemon Go it is quite excellent, with its strong GPS signal being somewhat faster and stronger than other brands.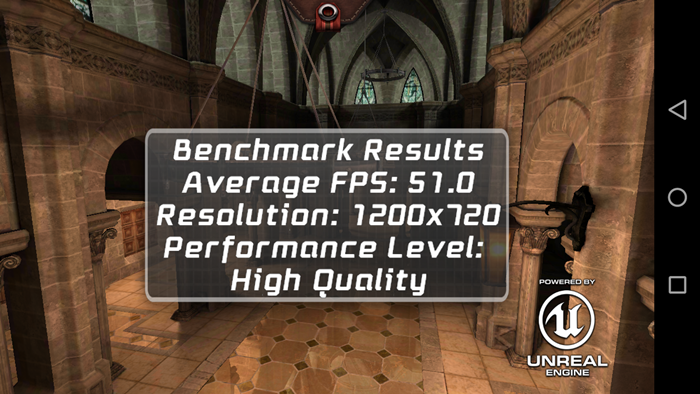 Epic Citadel score, not bad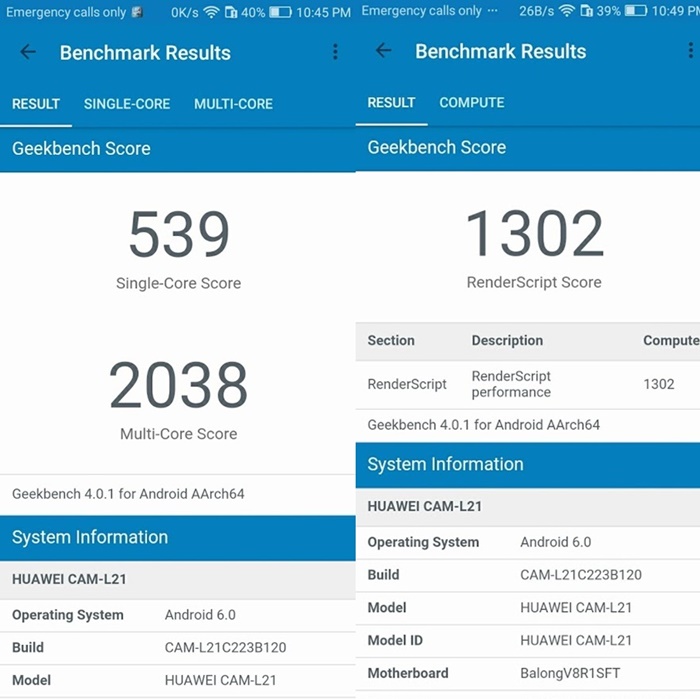 Geekbench score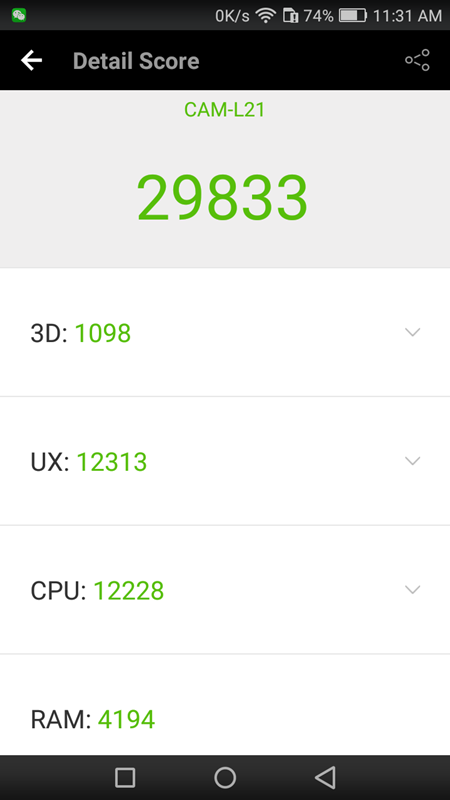 AnTuTu score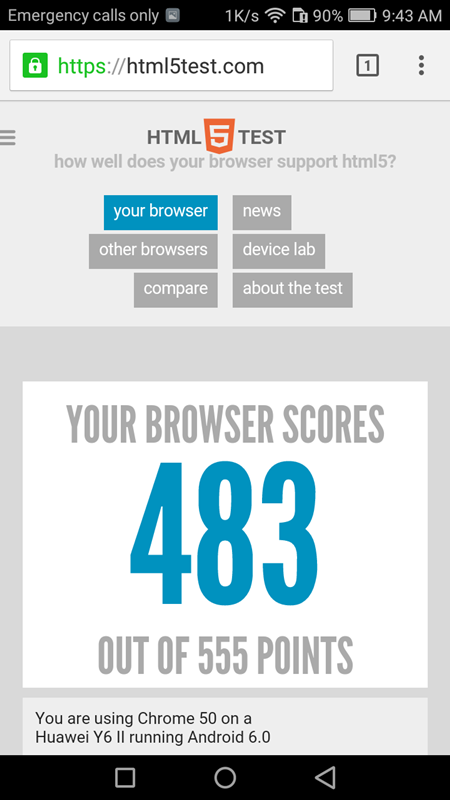 Browser score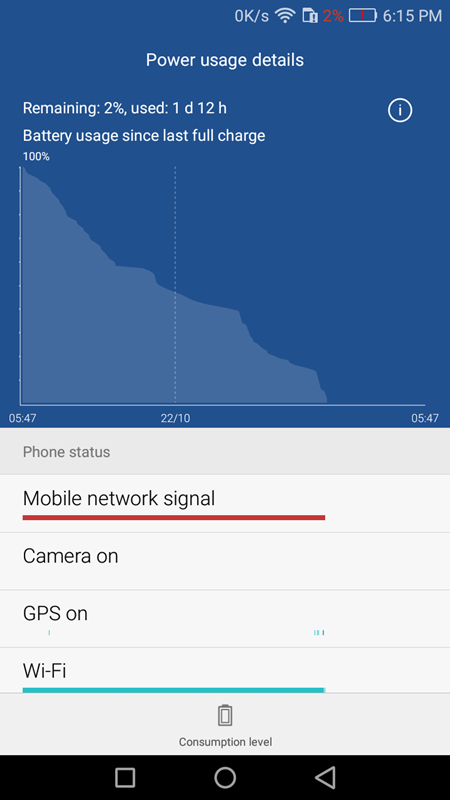 Battery usage
That being said, this also means the battery performance is quite good, being able to last at least a day as long as you don't push it. Our record was lasting more than a day so we are actually quite surprised at this. But then again, since there's no fast charging technology, it's takes awhile to fully charge up to 100% at around two and a half hours.
As for the camera, the photo quality is okay. We think when taking pictures, users are probably best off taking pictures with HDR and Good Food mode on at all times. Of course, this does not apply to everyone if one has good camera knowledge. Still, it's not recommended to take pictures at night, and sometimes the focus is slow to catch the moment. Check out some of the pictures below that we took: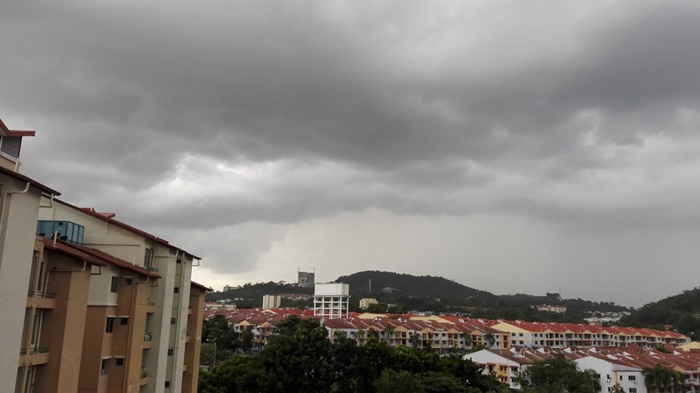 Wide shot of the cloudy skies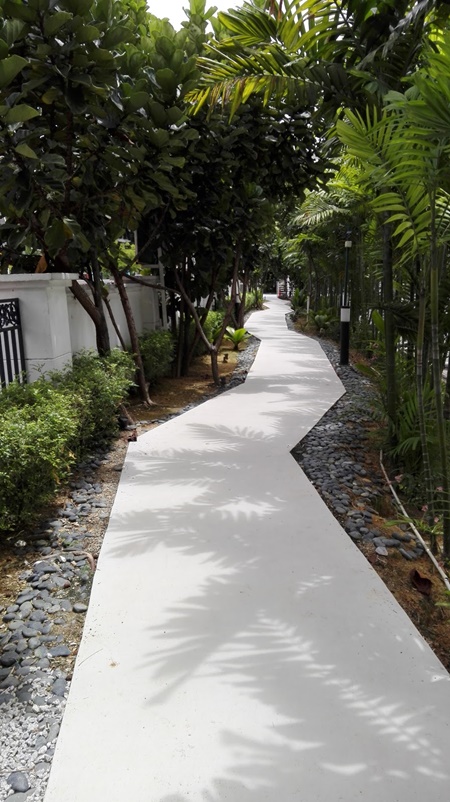 Like all phones, pictures tend to look better with sufficient light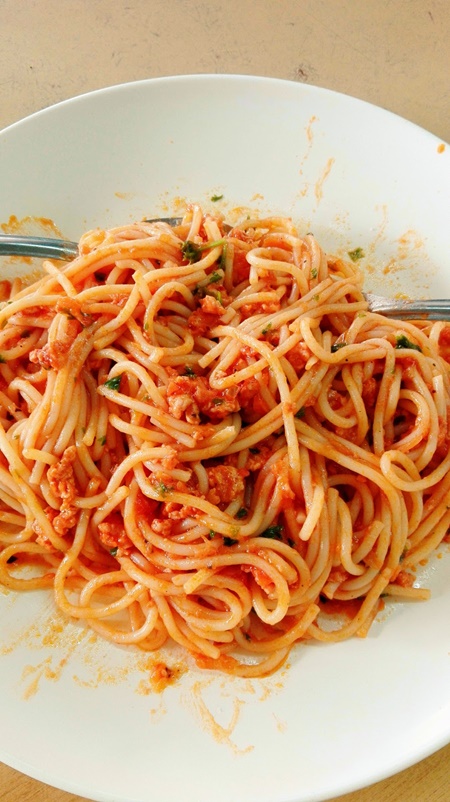 Good Food mode, yum!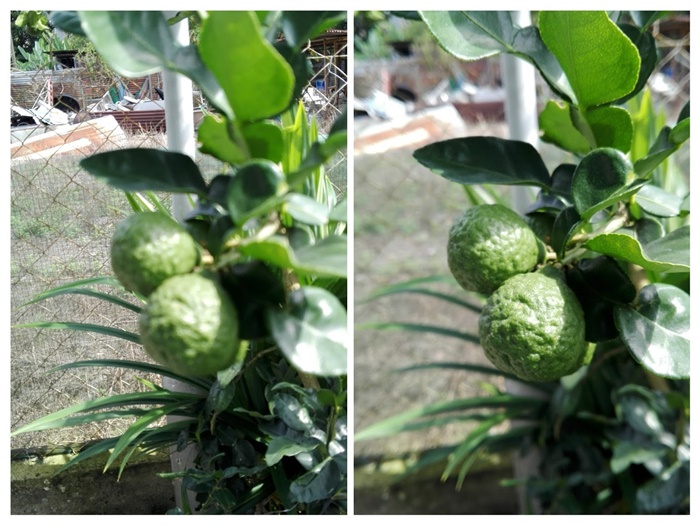 All Focus mode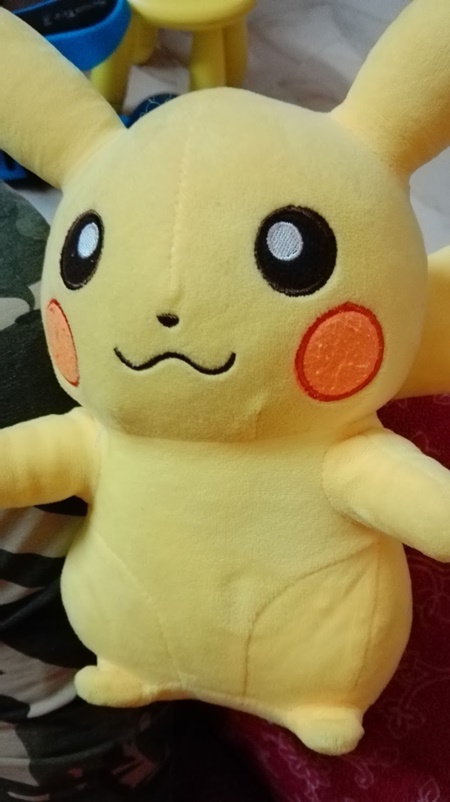 Close up shot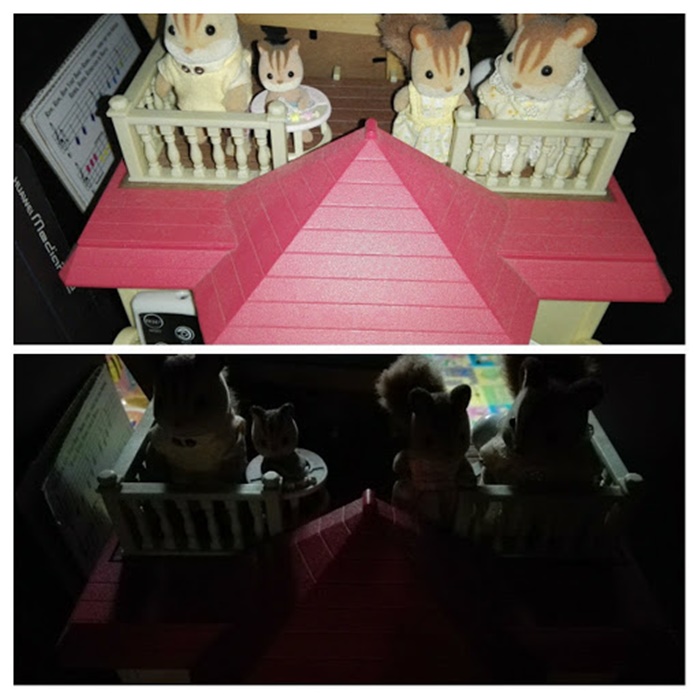 Flash mode (top), extreme low light shot (bottom)
Conclusion - Pretty good deal if you aren't fussy about the camera quality and HD screen
Overall, we think the Honor 5A is just average at best. For an RM599 smartphone, it's quite impresive that it can play games likes Asphalt 8: Airborne without burning out, battery performance is pretty good and it has a nice design. The foodies are going to love the Good Food mode for their Instagram collection too, especially if they add on a 128GB microSD card.
But of course, you get what you pay for. It's lacking quite a few features like fast charging technology, the screen is just HD level, and we think the camera quality could have been better. So if all these issues aren't an issue for you, this is one of the most economical phones we have in the Malaysia market. If they are an issue, then you will have to look for other phones that cost higher.
By the way, did you know that Honor is still having their Christmas sales promotion on until 12 December? Because if you're buying the Honor 5A during the promotion, you'll get a "mysterious gift"!
That's all we have to say, thanks for reading and stay tuned for more future reviews at Technave.com.
Honor 5A Specs & Price >