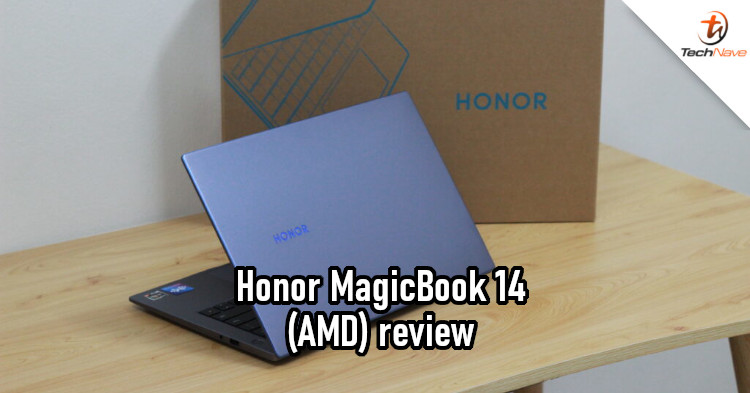 The Honor MagicBook series ushers in a new member - the Honor MagicBook 14 2021. This is an AMD version that we got to review a while back. It retains that thin and light metal body, 100% sRGB colour gamut screen, multi-screen collaboration feature, and more. So, what can we expect from the new AMD Ryzen 5000 series processor? Read on for our experience with this laptop!
Since the first Honor MagicBook, its thin and stylish design has been part of the product line's DNA, and the Honor MagicBook 14 AMD is no exception. The chassis measures 322.5 x 214.8 x 15.9 mm and weighs 1.38kg. As you can tell, it's not much of a problem for users to carry it.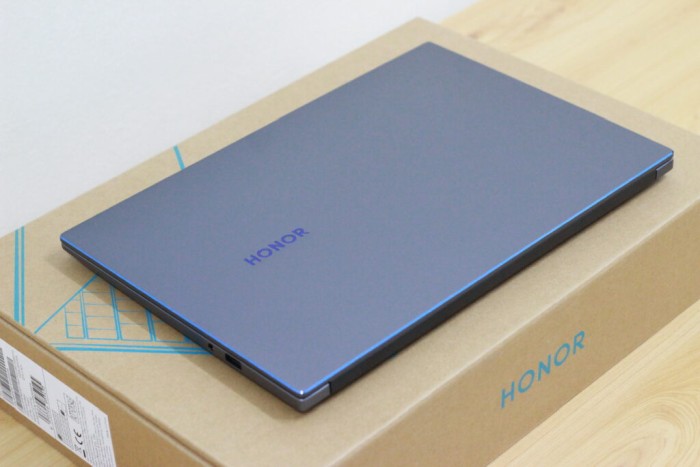 Has a simple design but is aesthetically pleasing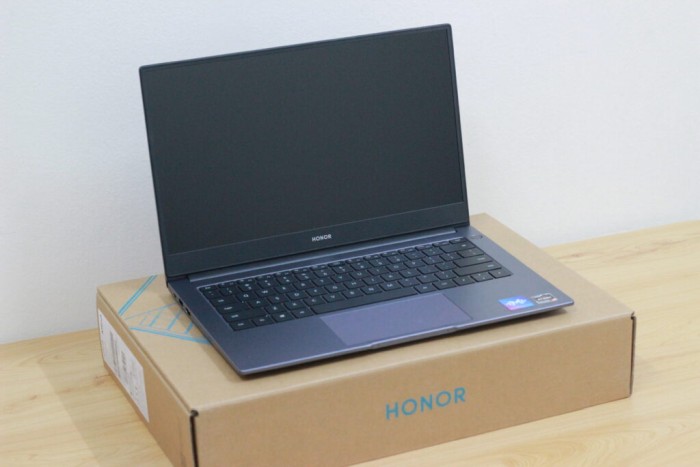 The screen and keyboard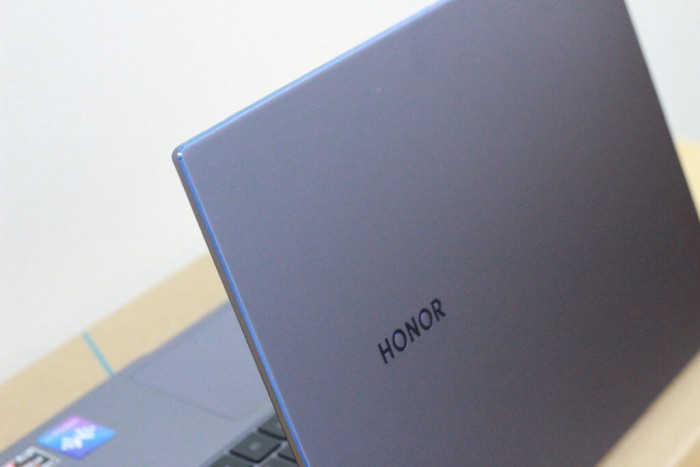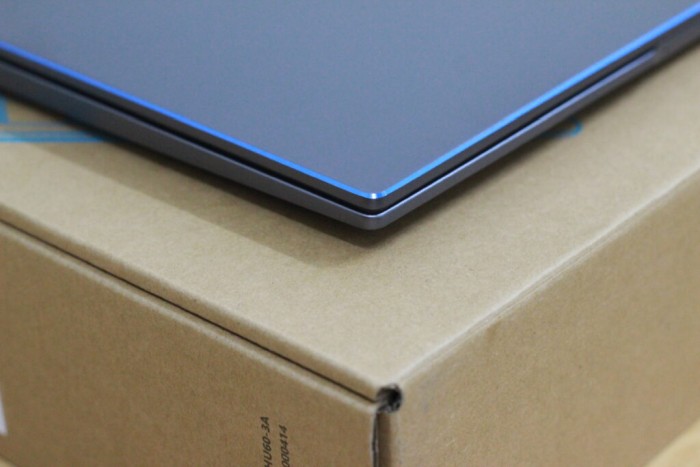 You can see blue accents in the two photos above
The Honor MagicBook 14 AMD we received has a Space Grey colour. It features an all-metal design, with a metal surface free from fingerprints. The laptop has a blue Honor logo on the lid and diamond-cut blue accents on the edges to add more visual flair. Overall, it's a simple but premium-looking design.
When opened, you can see that the Honor MagicBook 14 AMD maintains the narrow bezel design of its predecessors. The bezels on the upper and left sides are merely 4.8mm, resulting in a screen-to-body ratio of 84%. Unfortunately, it has a thick bottom bezel.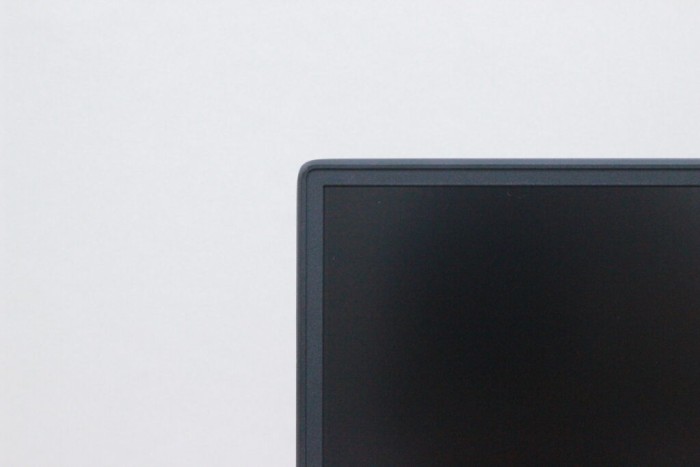 The bezels are quite narrow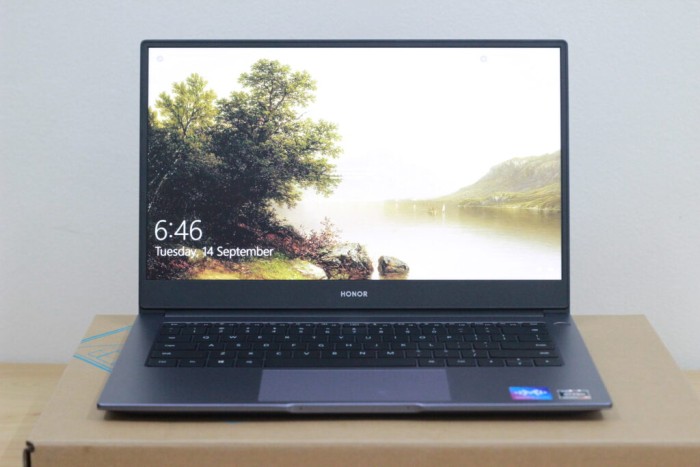 Not very narrow at the bottom though...
Now, let's talk about the display. The MagicBook 14 AMD use a 14-inch 16:9 FHD IPS panel with an anti-glare coating. It also has a 178° viewing angle, 100% sRGB colour gamut, and 300 nits brightness. This display promises lifelike colours and a more immersive viewing experience.
Moreover, this laptop supports eye protection features like DC dimming and low blue light protection, which reduces eye strain from long hours of staring at the display. You just need to go to the Display Manager, enable Eye Comfort mode, then adjust settings like the colour temperature.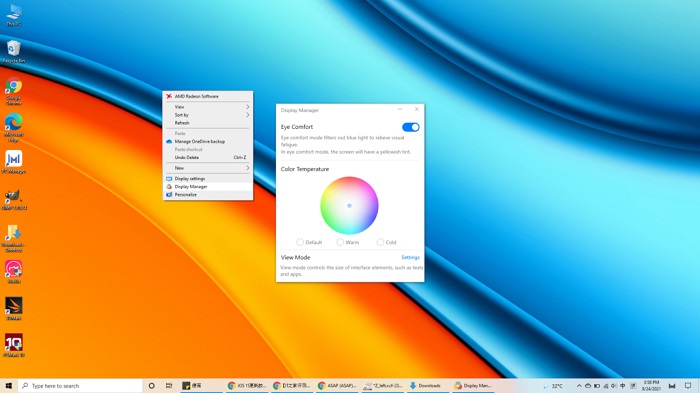 Eye Comfort mode lets you adjust some display settings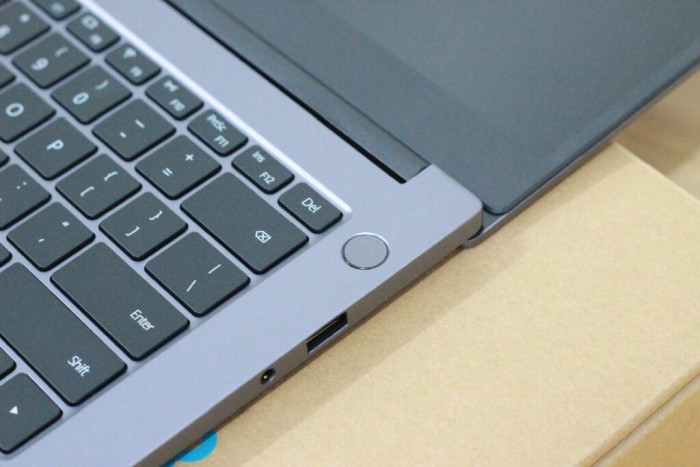 Power button with integrated fingerprint reader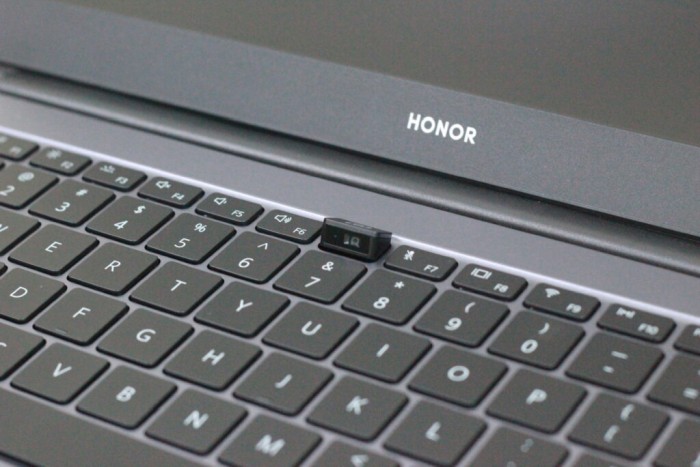 Pop-up webcam
Moving on to the keyboard area, there's a power button on the right, which features an integrated fingerprint reader. It helps you switch on or unlock the laptop and it's quite fast and responsive. In addition, a webcam is placed in the middle of the row of function keys on the keyboard. It pops up with a light press and can be hidden again when not in use. Unfortunately, the pop-up webcam has a fixed angle, which might be inconvenient for video calls.
Our writer considered the keyboard one of the best he's experienced from a laptop so far. While the keys sound soft, they feel crisp, and the typing experience is quite pleasant. The trackpad does well enough, but its surface is prone to collecting grease marks. Finally, there's an Honor Magic-link label AMD Ryzen 5000 series logo. Honor placed the NFC sensor here for the multi-screen collaboration feature with Honor mobile phones.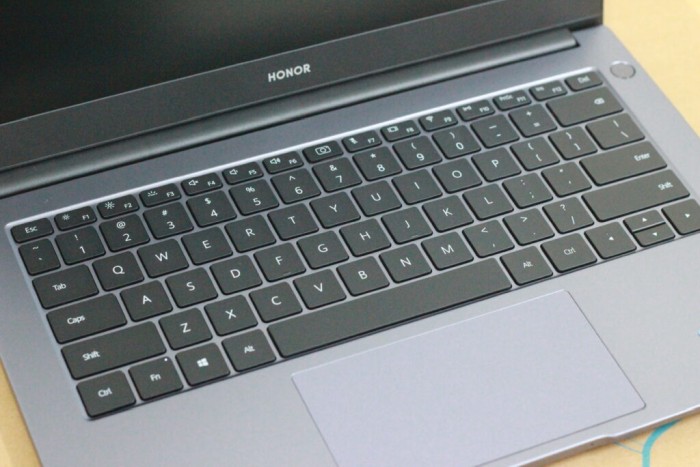 The keyboard surface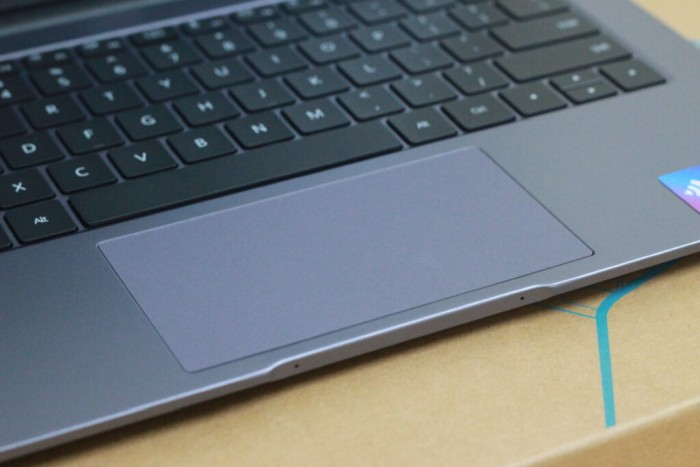 The trackpad is spacious enough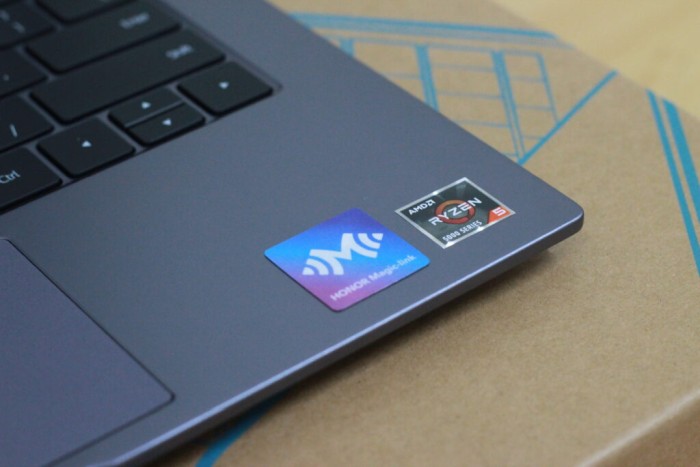 The area where the NFC sensor is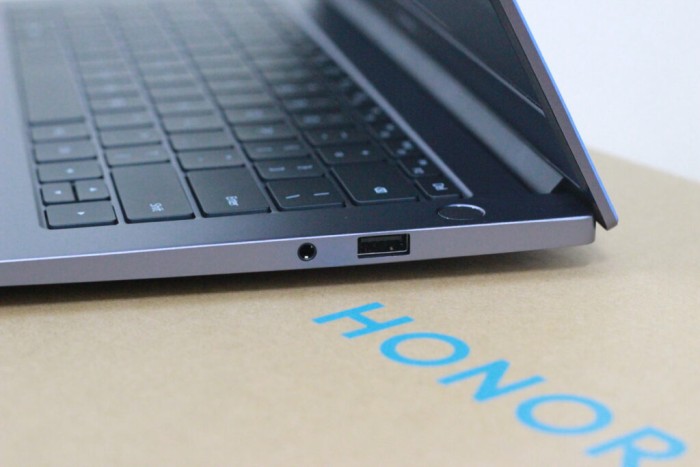 Right: 1x USB 2.0 port and a 3.5mm headphone jack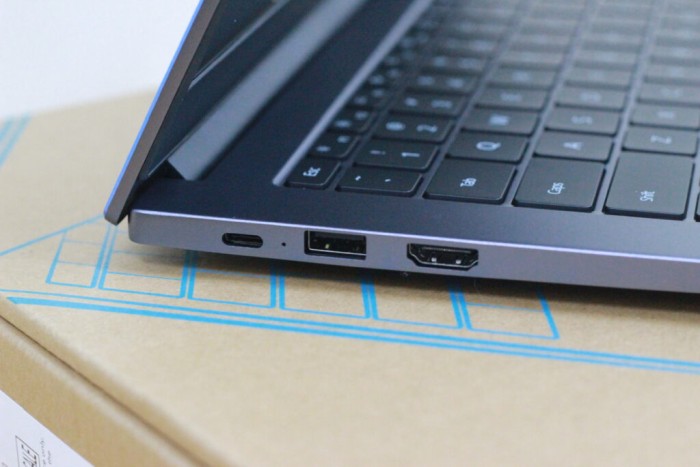 Left: USB-C port, USB 3.0 port, and HDMI 2.0 port
As for the ports, the left side of the MagicBook 14 AMD has a USB-C port that supports data transfer and charging, a USB-A 3.0 port, and an HDMI 2.0 port. The right side also has a USB-A 2.0 port and a 3.5mm headphone jack. Considering the laptop's size, having these many ports is pretty good. Having an HDMI port means you don't need to connect an additional converter for PowerPoint presentations.
Overall, it's very suitable for the ladies. Its compact form can be kept in a backpack, great for those who move around frequently. It's also worth mentioning that the display can be opened to an angle of about 180°. This can be useful when you want to show something to another person.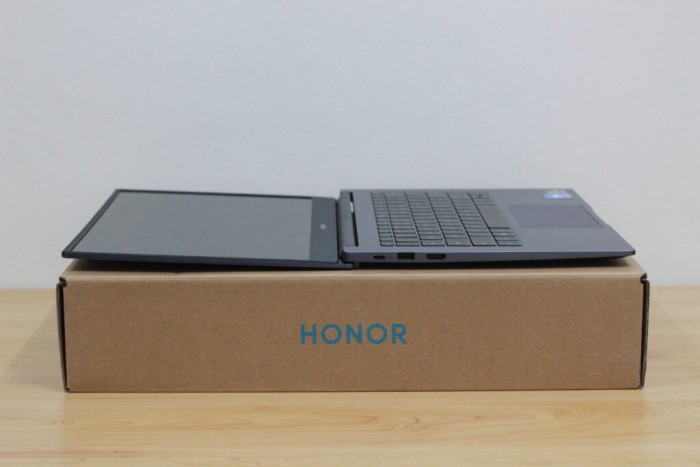 A near 180° tilt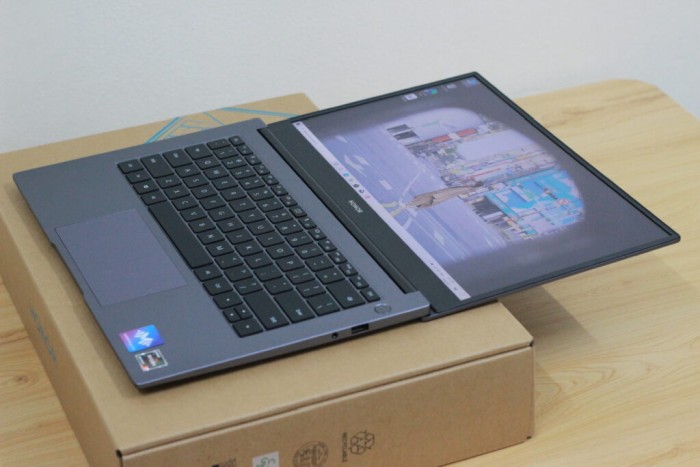 This orientation can be useful in some scenarios
The MagicBook 14 AMD comes with an AMD Ryzen 5000 series processor, 8GB of RAM, and a 512GB SSD. It also has AMD Radeon Graphics inside. As you can tell, this laptop is not only good for productivity apps and light graphics work. It can also be used as a multimedia entertainment machine.
The unit we reviewed was powered by an AMD Ryzen 5 5500U CPU, a 6-core 12-thread processor based on the Zen 2 micro-architecture. It has a base frequency of 2.1GHz and can be boosted to 4GHz. Moreover, it comes with an integrated Vega 7 GPU that runs at a clock speed of 1800MHz. For reference, this GPU is on par with the Nvidia GeForce MX250.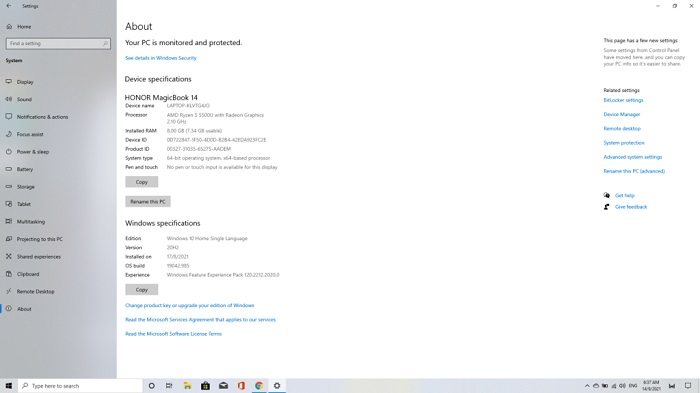 The basic specs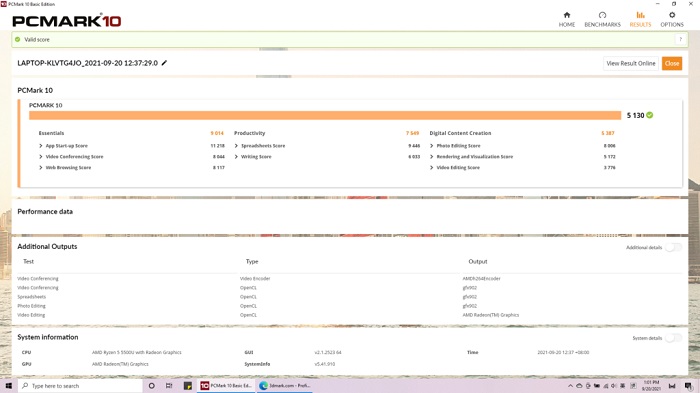 PCMark 10 benchmark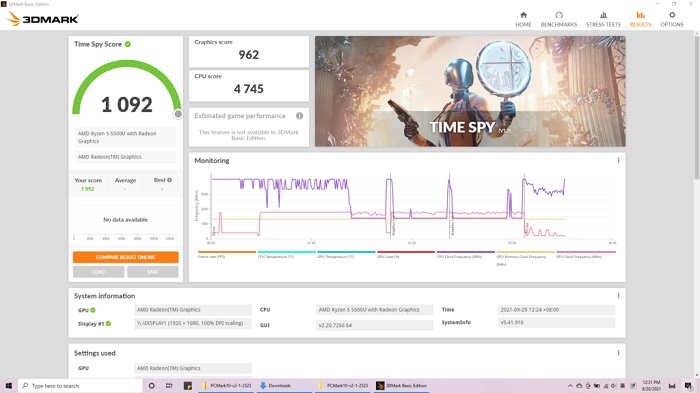 3DMark benchmark
We also did the PCMark 10 and 3DMark benchmarks for this laptop. It obtained 5130 points in PCMark 10, confirming that it can perform well in productivity tasks and digital content creation. The MagicBook 14 AMD had no issues with multitasking or running CPU intensive apps like Adobe Photoshop. It can also handle high-definition pictures, light editing, and other tasks. However, the benchmarks also state that it's less than ideal for video editing.
The MagicBook 14 AMD version is only equipped with an integrated GPU, so it's not meant for gaming. In the 3DMARK Time Spy benchmark, it scored 1092 points. It also recorded a maximum frame rate of 6.49FPS and a minimum of 5.36 FPS. That's enough for you to play some mainstream games like Dota 2, but don't expect to play AAA games very well.
Heat dissipation is another crucial aspect for ultraportable laptops like this one. Honor has upgraded the fans to deliver 38% more airflow. Its Shark Fin 2.0 silent fans have 49% more s-shaped fan blades, resulting in 38% improved heat dissipation.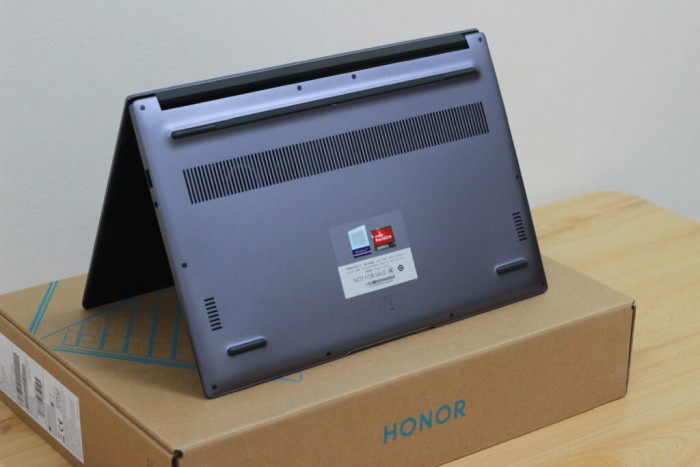 Cooling vents and speakers
There was some fan noise during the benchmark test. But for the most part, the fans were quiet enough. Even when placing it on your lap, it wouldn't feel hot.
Also worth mentioning are the speakers. They delivered good volume even at 40%, probably since the sound bounces off the bottom when you place it on a table. Considering the lack of Dolby Atmos support, the sound quality is more than decent.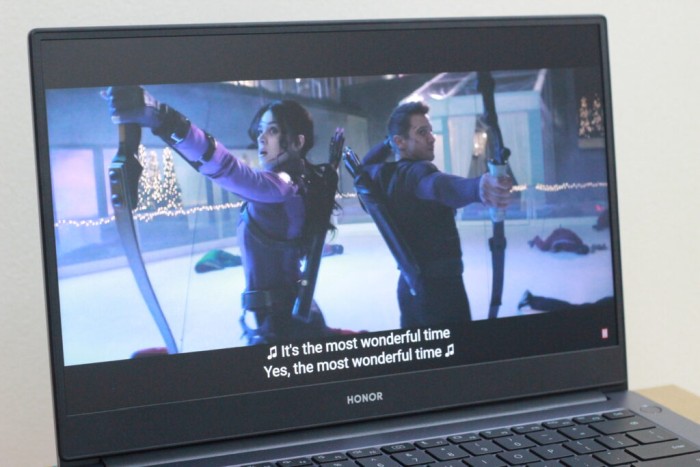 Watching some videos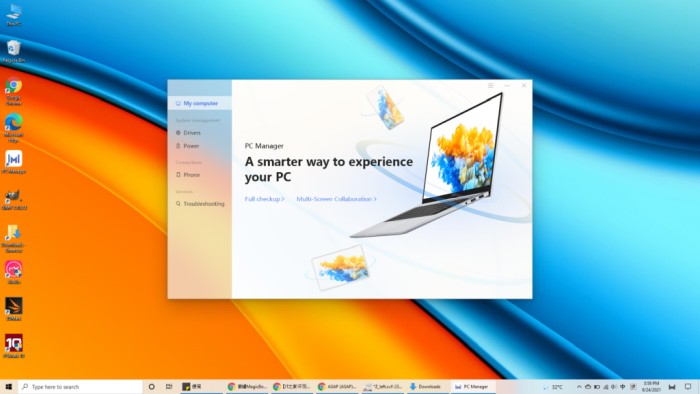 PC Manager app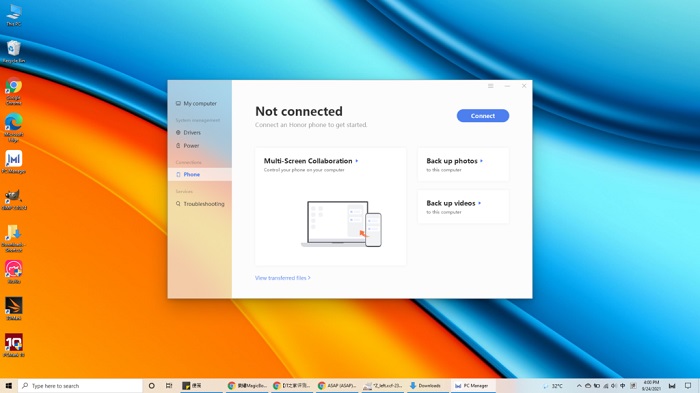 Honor MagicBook 14 AMD supports multi-screen collaboration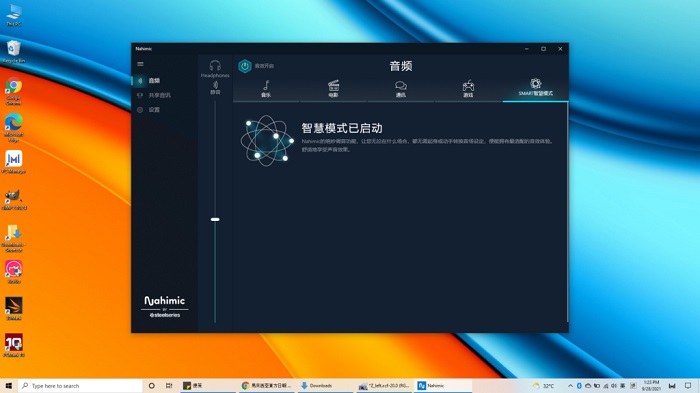 Enable Nahimic for upgraded sound effects
The Honor Magic-link mentioned earlier allows laptops and mobile phones to be connected across devices at the touch of a button. This laptop not only has an upgraded Multi-Screen Collaboration feature but also supports Wi-Fi 6. You can open three windows simultaneously, allowing you to work on the MagicBook 14 AMD while accessing certain apps on your phone. Files and pictures can also be transferred between the two devices via drag-and-drop, which is convenient. If you have a device with Wi-Fi 6 support, the file transfer speed increases by 60%! Even video calls can be switched between the laptop and the mobile phone at any time. Unfortunately, we couldn't test that out since we had no Honor smartphone on hand when writing this review.
Next, let's talk about the battery configuration. The new Honor MagicBook 14 has a built-in 56Wh battery. You can charge it using the 65W power adapter and USB-C cable. This cable can also help you recharge your smartphone using the laptop via reverse charging. It could also reverse charge other devices when it's switched off. This is useful for those who often work on the go.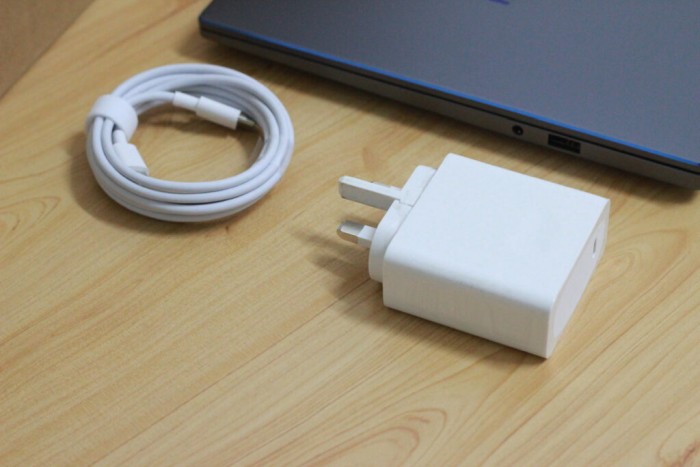 65W power adapter, support fast charging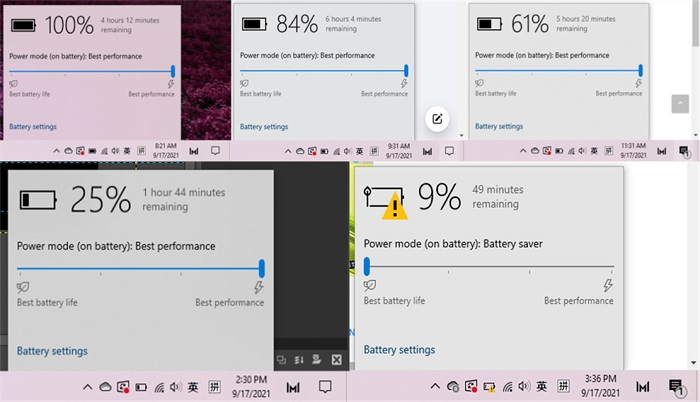 Best Performance mode
In our battery endurance tests, our writer measured using two modes: Best performance and Battery saver. Starting at 8:30am, he used Google Chrome to browse multiple web pages, check WhatsApp, etc. With Performance mode, the laptop dropped from 100% to 84% after about 1 hour of work, 61% after two hours, and 25% after a lunch break. Around 4:00pm, only 6% remained, so the laptop automatically switched to battery saver mode.
The next day, our writer tested the laptop with Battery saver mode. From about 9:00, the battery level dropped from 97% to 87% after an hour, to 77% at 11:00, and 67% at 12:00 noon. During his lunch break from 1:00 pm to 2:00 pm, the screen switched off automatically. However, it had minimal impact on battery life, consuming 9% of the battery within the hour. Around 5:00 pm, the laptop still had 26% of its power. With this mode, it should survive a whole workday. That can be a lifesaver for days when you forget to bring the charger.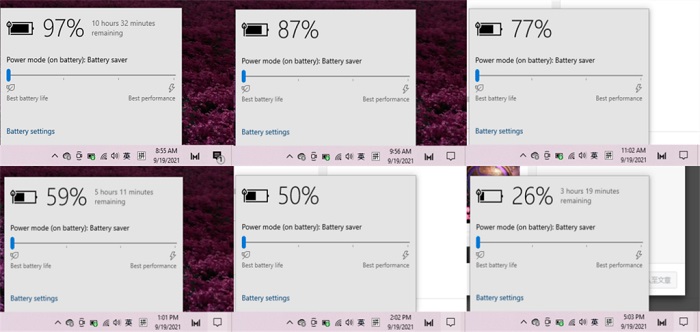 The battery saver mode
USB-C charging has become a popular secondary option for laptops like this. Even if you don't have the charger with you, you can use your smartphone's charger as an alternative. Of course, it won't be as effective, so keep that in mind. Overall, the Honor MagicBook 14 AMD charges fast enough. The battery went from 10% to 25% in 30 minutes, 56% after 90 minutes, and 97% in about 2 hours.
Next, we tested battery consumption with multimedia entertainment. Our writer adjusted the screen brightness and volume to 50% to play YouTube videos for 1 hour. The battery drained from 100% to only 89%, which is not bad. According to official data, the Honor MagicBook 14 can play local 1080p videos for as long as 11 hours.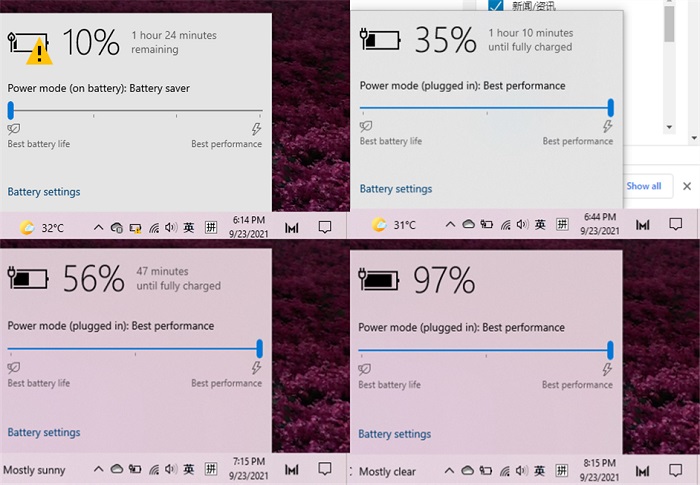 Honor MagicBook 14 AMD charging performance

11% battery drain after 1 hour of YouTube videos
Overall, the Honor MagicBook 14 2021 AMD model doesn't change much. However, it inherits features from its predecessors, such as the 100% sRGB colour gamut, narrow bezels, and ultracompact all-metal body. It also comes with a highly efficient AMD Ryzen 5000 series processor and strong battery life but it should mainly be used for office work and light photo or video editing but it could also be used for movie watching as well.
The Honor MagicBook 14 2021 AMD model is quite competitive, even among other laptops at the same price. At less than RM3000, it's an affordable choice for students and office workers in their first job. The Honor MagicBook 14 2021 AMD model is available in Malaysia for RM2699 if you get the base model (8GB RAM+256GB SSD). You could also get one with more storage (8GB RAM+512GB) for RM2999. For more reviews, please stay tuned to TechNave.com.
Tech specs and features
These are the tech specs and features for the Honor MagicBook 14 AMD Specifications
CPU - AMD Ryzen 7 5700U/AMD Ryzen 5 5500U
GPU - AMD Radeon Graphics
RAM - 8 GB DDR4 Dual-Channel RAM
Storage - 256/512 GB PCIe NVMe SSD
Display 14-inch Honor Fullview Display, 1920 x 1080 resolution, 16:9 aspect ratio
Dimensions: 322.5 x 214.8 x 15.9 mm
Weight: 1.38 kg
Ports: 1 x HDMI, 1 x USB3.2 Gen1, 1 x USB-C, 1 x USB 2.0, 1 x 3.5mm headphone jack
Battery - 56Wh, 65W Type-C Charger
Others - Wi-Fi 6, turn off reverse charging
Colours: Space Grey, Mystic Silver
Pros and cons
Pros: Eye protection, ultraportable body, good typing experience, low noise, and good heat dissipation
Cons: Not enough ports, fixed webcam angle, and the multi-screen collaboration is only for Honor smartphones
Conclusion: Its performance is more than enough to meet the needs of your daily office tasks, and is better suited for Honor mobile phone users