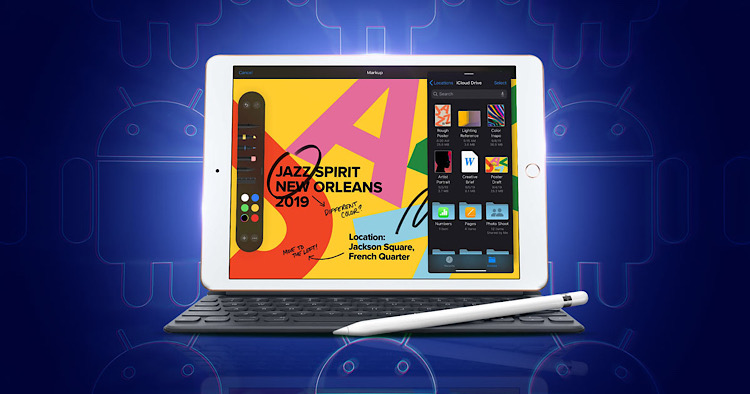 Apple have long touted their iPads as more than just a tablet. Is it actually "unlike any computer" as the marketing copy on their web site suggests? How easy is it to just pick up a brand new Apple iPad and use it for work in an Android environment these days? The short answer is: depends on your usage.
For the longer answer, read on and find out for yourself.
It certainly looks "unlike any computer"
First off, let's take a look at the design. As a productivity device the Apple iPad (in this case we used anApple iPad 10.2) is unassumingly portable and doesn't seem like it is enough for most of my laptop needs. However, thanks to the clear 10.2-inch Retina screen, the details of the letters stand out and the tablet itself is super light and super portable. So, in that sense, it certainly looks "unlike any computer".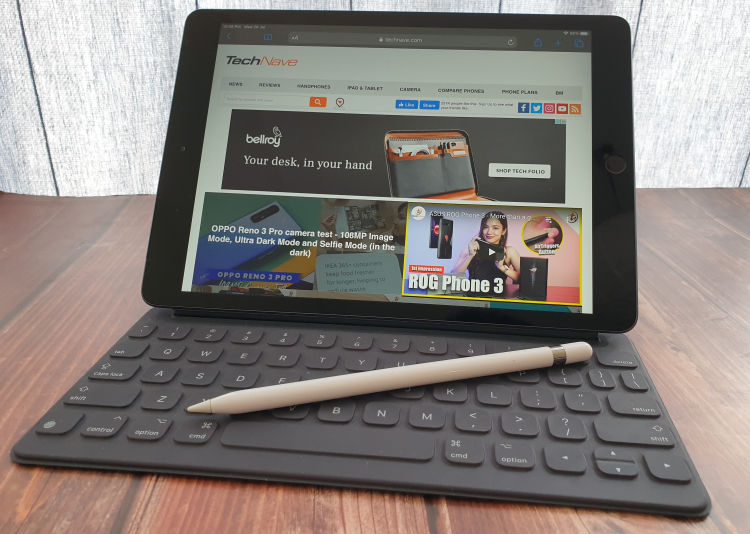 Looks like a laptop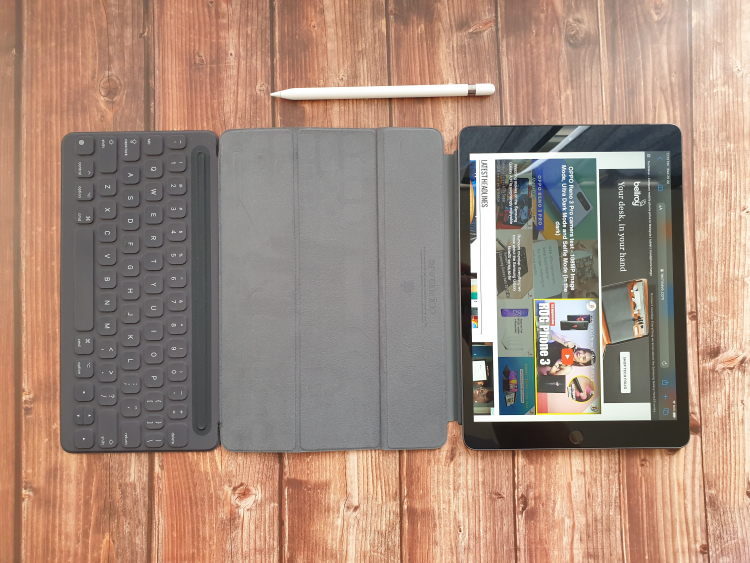 The whole keyboard cover unfurled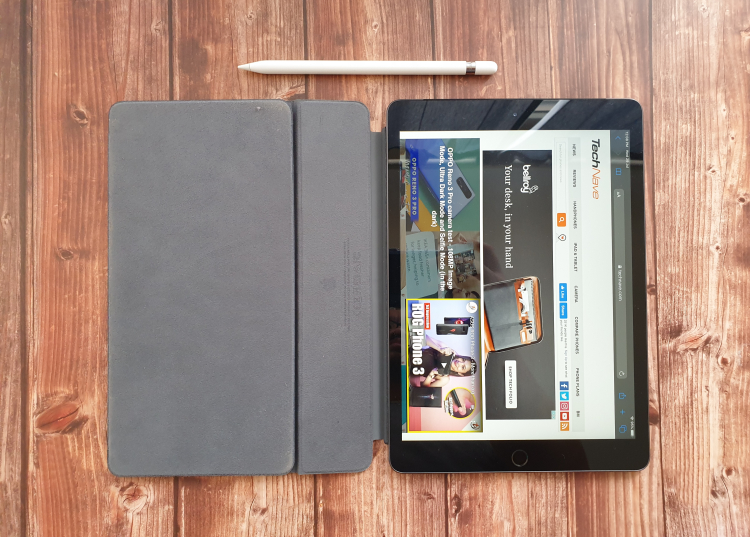 The keyboard cover closed up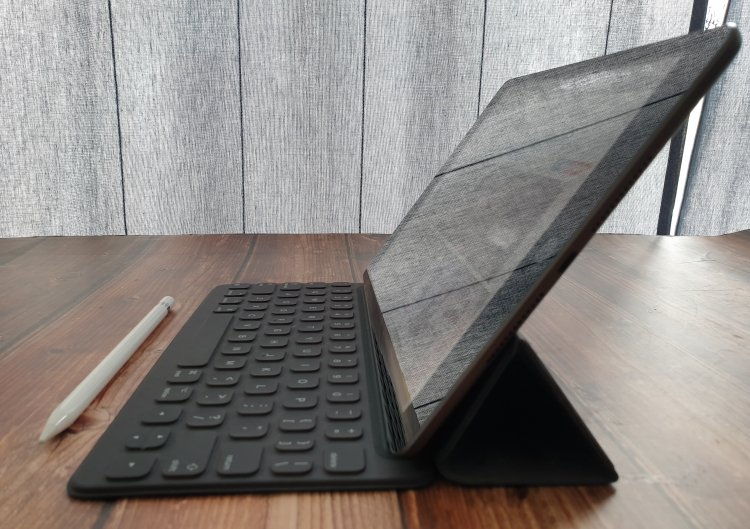 Fold it up to form a triangle stand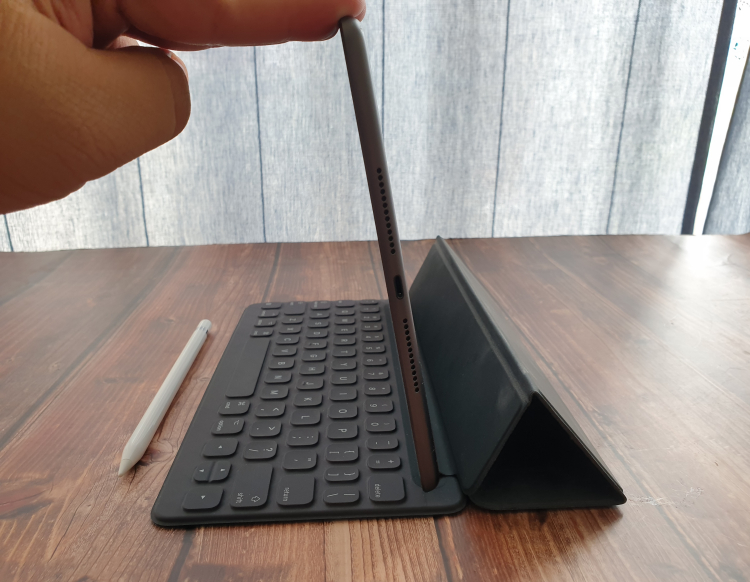 The iPad can tilt over, so be careful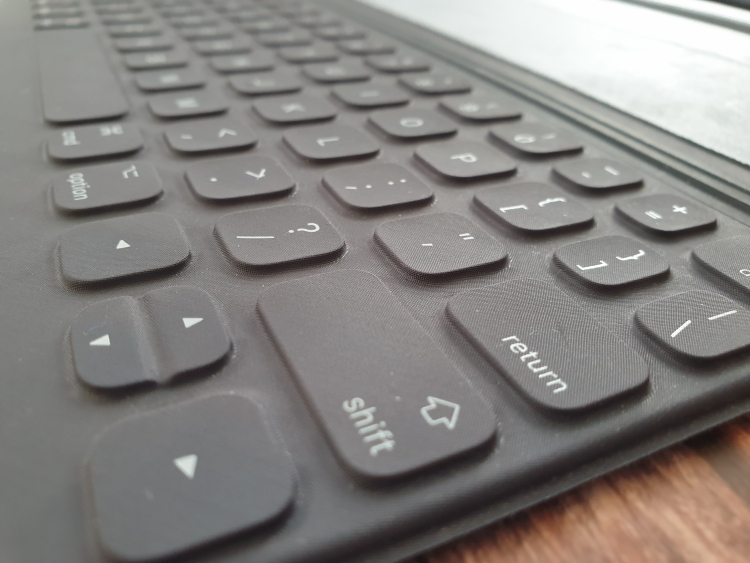 A closer look at the keys reveal a grippy surface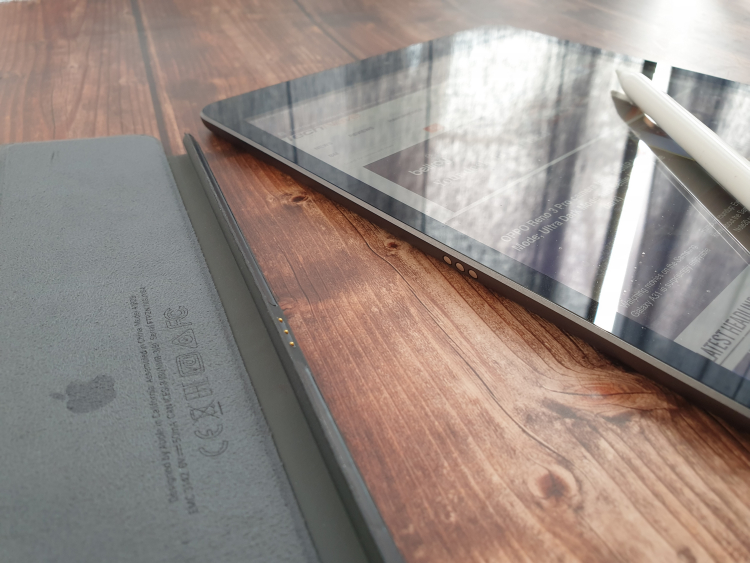 The keyboard cover connects to the iPad directly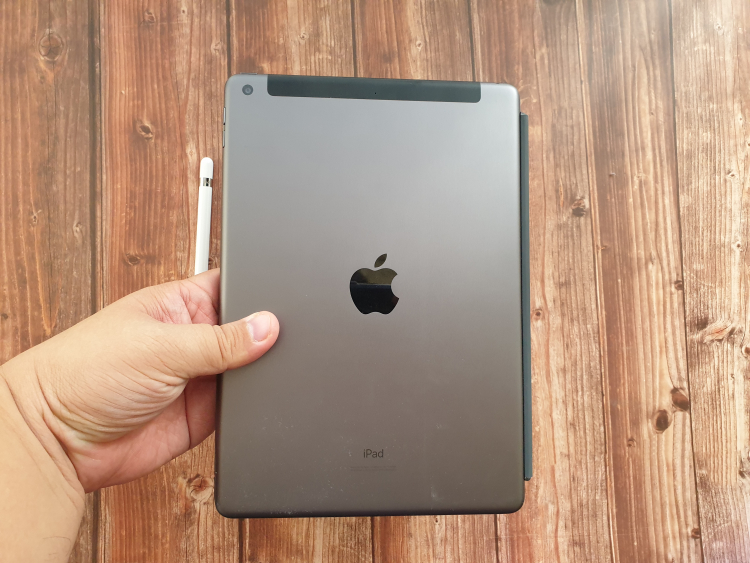 The back of the iPad 10.2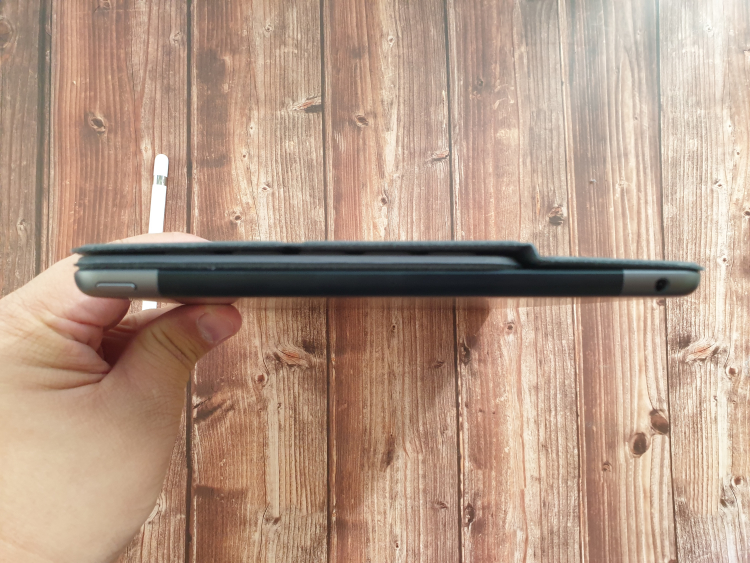 Side view reveals that the keyboard cover juts out a bit but at least there's still a 3.5mm audio jack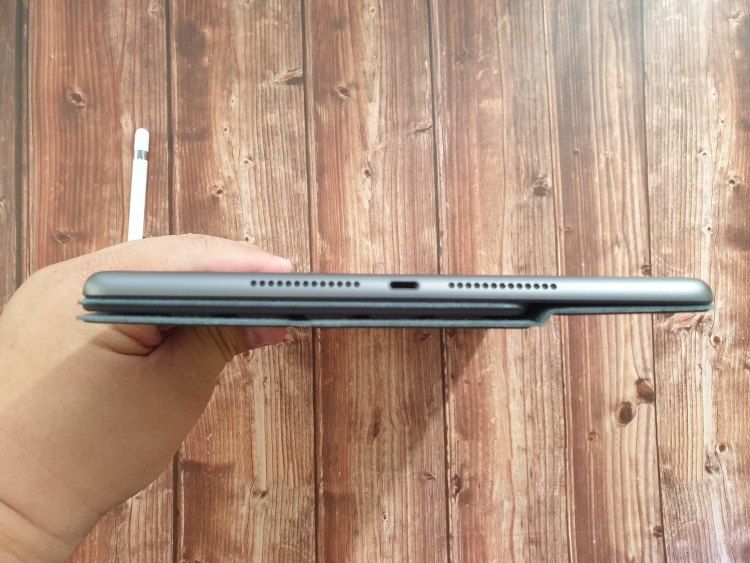 Another side view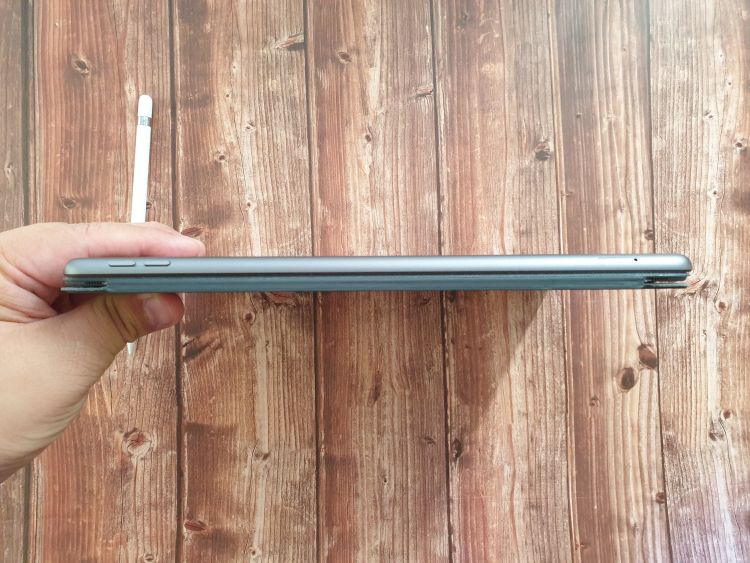 The volume buttons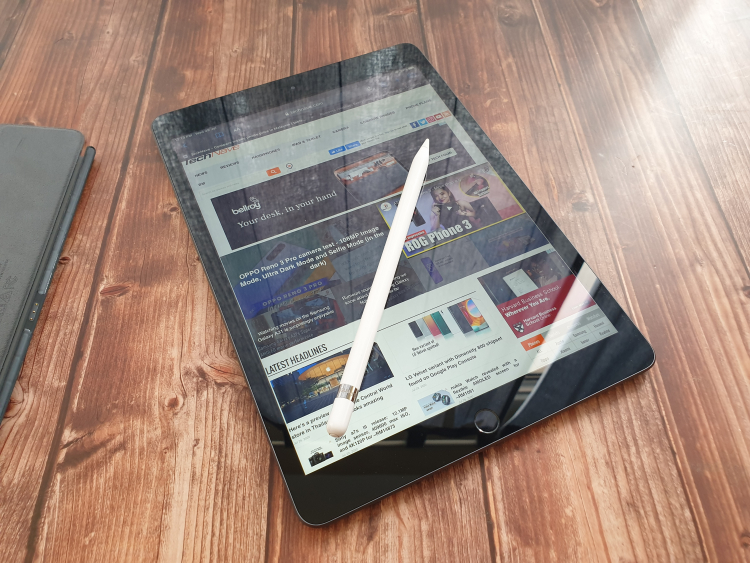 You can detach the cover and just go with the Apple Pencil anytime
The bundled keyboard cover looks a bit strange at first to be honest. It's not streamlined (the keyboard bit juts out) and you have to pull it all out with both hands before you can form the triangle that makes the stand portion. While the chiclet keys are indented, they also have a rather matte finish, which is good for texture but feels off-putting at first. It grows on you and you get used to it, but it may take some time.
For the most part, the whole keyboard cover works. You can lay it on the table or on your lap, but you can't adjust the angle and if you lean back with the tablet suddenly, it may just tip over. Thankfully, once it's closed, you can stick the Pencil on the back, so at least there's a place for it too. Fortunately, there's a lot of more affordable bluetooth alternatives available now too.
Setting up from scratch is fast and easy now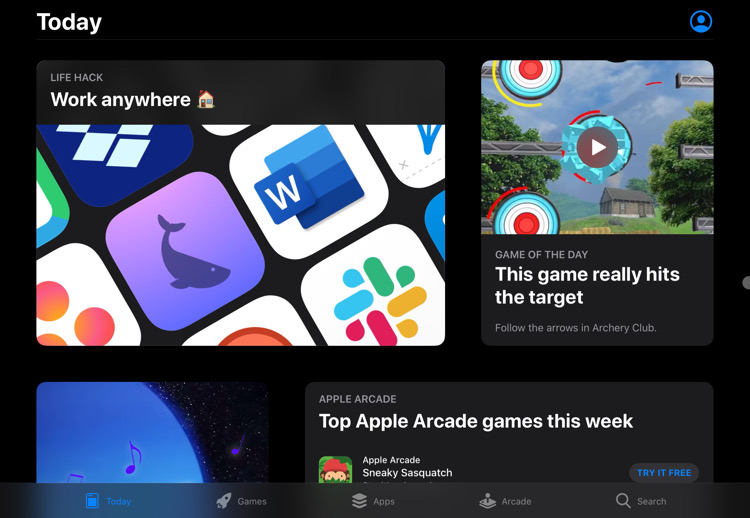 The Apple App Store is quite a friendly place now
To be honest, this isn't the first time I've tried to use an Apple iPad for work, I tried before with an Apple iPad mini 2 but that was ages ago, and it was even more painful then than it is now. Starting from scratch isn't as bad as it was before and setting up a new Apple ID is fast and easy now (the App store didn't demand my credit card number before letting me download Google Docs at least). So, you can see that Apple is trying to make the process easier.
Getting back to the task at hand, the hardware on this "normal" iPad is simply awesome. The Retina screen is super clear and detailed, more than enough for me to work even without my glasses on. Battery life was superb as a single charge could get me through 2 or more days (almost 40 hours) without any issues.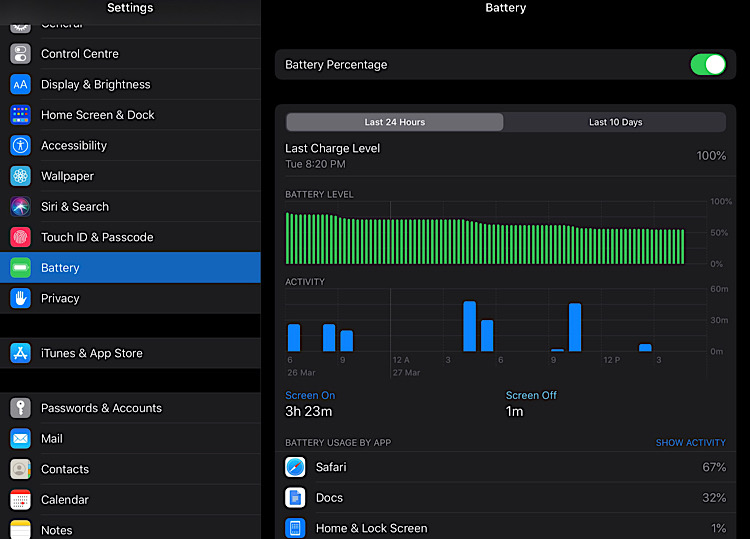 Battery life on the iPad 10.2 is superb, easily lasting 2 days and more on a single charge
Super aggressive predictive auto correct… at first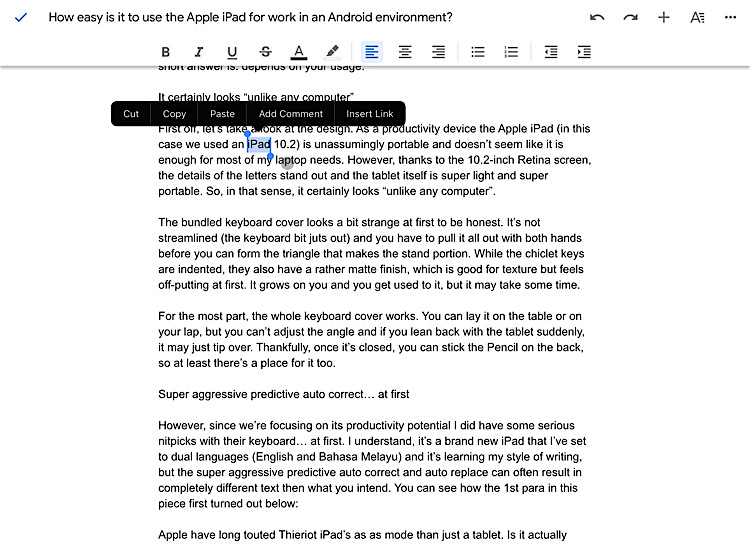 Working on the iPad 10.2 is fine after some adjustments
However, since we're focusing on its productivity potential I did have some serious nitpicks with their keyboard… at first. I understand, it's a brand new iPad that I've set to dual languages (English and Bahasa Melayu) and it's learning my style of writing, but the super aggressive predictive auto correct and auto replace can often result in completely different text then what you intend. You can see how the 1st para in this piece first turned out below:
Apple have long touted Thieriot iPad's as as mode than just a tablet. Is it actually "unlike and Computer" as the marketing copy on Thieriot web situ suggestive ? How easy is it to just picu-picumu a brand new Apple iPad and use it for work in an Android environment? The short Anser is depan diang on you usage.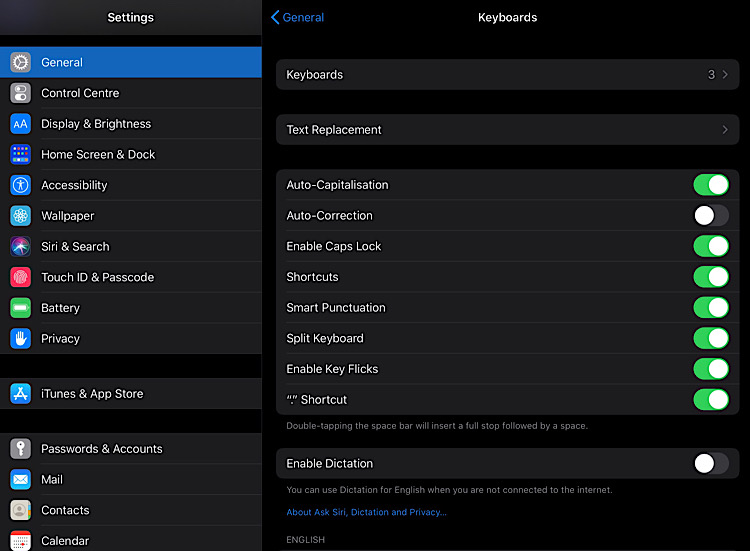 Here are the settings I had to change
Once you turn off auto correct and predictive settings in the keyboard, it became nearly perfect for me, as corrections only came up as suggestions rather than being auto typed. I do lose out on the fact that the keyboard is no longer learning my style so much, so if you're someone who likes to rely on the keyboard more than me, leave those settings on and go for 1 language at a time.
Apple's Pencil can now play with a Mouse thanks to the new iPadOS
Thanks to recent iPadOS updates (13.4 and above to be exact), practically any compatible iPad can connect a bluetooth mouse. Connection was fast and simple, just like any other setup with an Android device and the addition of mouse control really helps things get done as I don't have to learn anything new.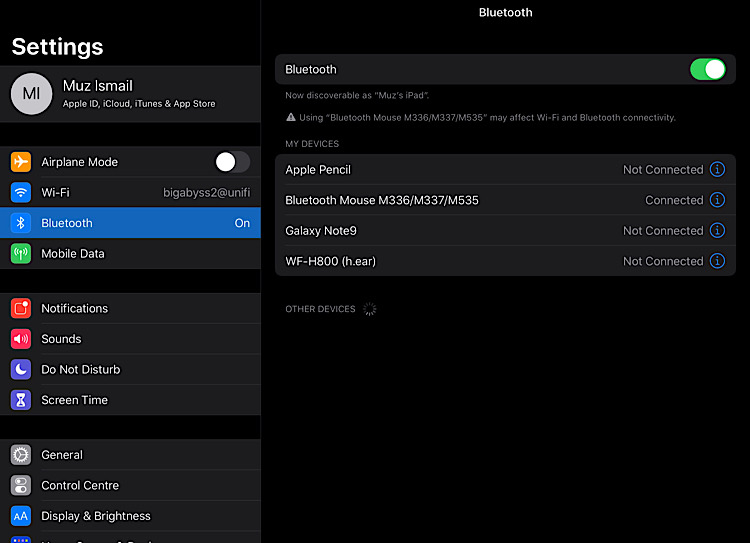 Thankfully, you can now easily connect most bluetooth mice due to the recent iPadOS updates but you can see more of that in the video below
See what you can now do with iPadOS
For the most part, the mouse works well in most situations, which is certainly better than having to use just your finger or the Apple Pencil. While we're on that, the Pencil does take some getting used to, but I can certainly draw and annotate better with the Pencil. This was particularly useful for editorial work as commenting on our writers work and adding suggestions or corrections is easier now.
Challenges and solutions
For simple writing, editing with the Apple Pencil and commenting on other people's work, the iPad is really "unlike any computer" or normal laptop I've used for work before. Its portability, ease of use and smooth and silent performance will outperform most laptops.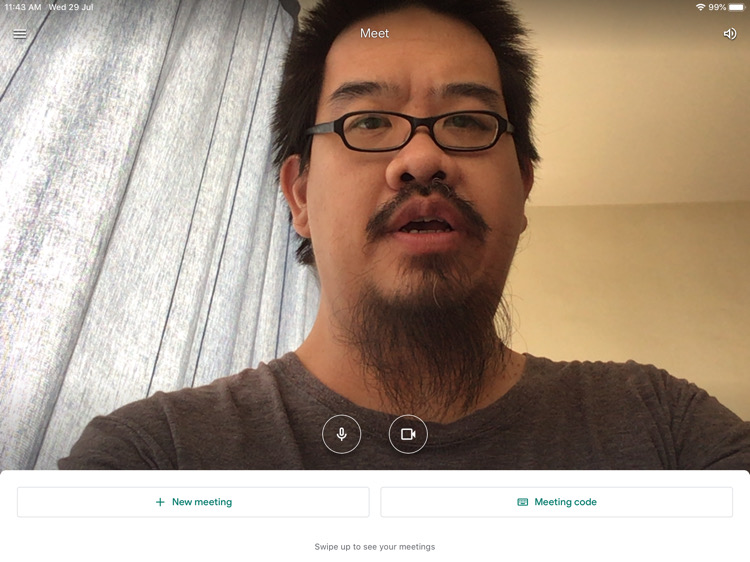 Google Meet works just fine on the Apple iPad
Since this is now the time of online meetings, I have to mention that I had no problems at all with online meeting apps like Zoom or Google Meet. In fact, they worked better on the iPad than with an Android device. Connectivity was smooth and the 1.2MP front camera is surprisingly clear and lag free. Unfortunately, there's still a few kinks and bumps which Apple should work on.
First of all, sharing between non-Apple devices is still impossible wirelessly using either Bluetooth or WiFi. Thankfully, you can transfer files online by saving files on Google Drive or Dropbox then downloading onto the iPad. About 5 or 6 years ago this would have been impossible or very difficult due to sluggish Internet speeds but now this isn't an issue anymore and Apple has been quick to offer plenty of Share options that utilize this.
However, while I can share from the Google Sheets app I can't download the spreadsheet file from Google Drive and share it on WhatsApp Web as a document like I'd normally do. I'm pretty sure that once I get used to how Apple does things, it will go a lot quicker and smoother, but having to learn all that just means it isn't that easy to pick up a brand new iPad and get working instantly in a non-Apple environment. Perhaps Apple could drop in an easy 1st best practices tutorial for beginners or non-Apple users (if you're willing to search, there's a bunch of them on their YouTube channel)?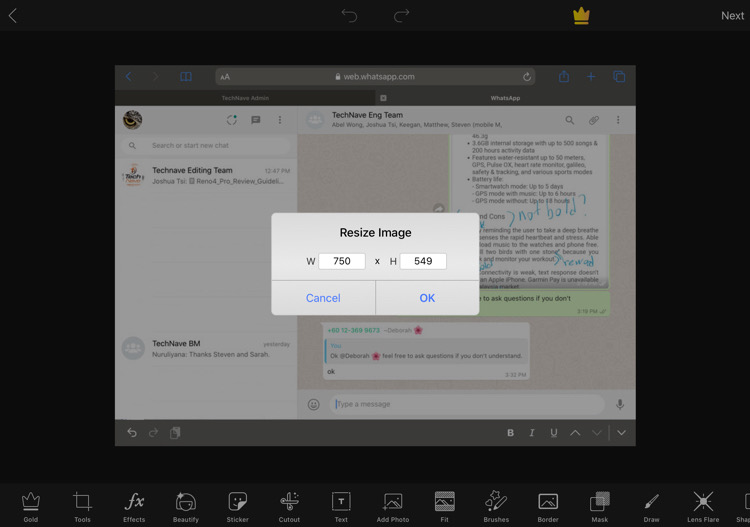 While the native photo editor may be limited you'll get a lot more satisfaction work-wise with a third-party app like PicsArt Photo Studio (which is better if you pay for it)
Secondly, while the image editor in the Photos image gallery is fast and intuitive, there's no feasible way to resize your images according to the pixel size. Like the Excel files before, I also had problems downloading them to the iPad to work on from Google Drive (there was no option to do so at all). For the image resizing I had to download a third party app called Image Resize for that but it would have been nice if such a basic feature was also available in the built-in image editor (I know, these are mostly my tasks and don't apply to everyone).
If you're interested in a more satisfying and productive time with the Apple iPad you will have to do what practically every other Apple user has gotten used to: you'll have to buy it. This isn't entirely a bad thing though as there are pretty good paid apps in the App Store. I went with my usual PicsArt Photo Studio (free 7-day trial to RM25.90 a month or you can keep clicking X on the ads) but there's also Pixelmator Photo for RM19.90.
Other productivity apps that I used weren't that much of an issue as Microsoft Office worked just fine. However, it is interesting to note that there's a whole lot third-party apps for WhatsApp but for our and probably your office communication needs, the best WhatsApp experience is through WhatsApp Web on the Safari browser.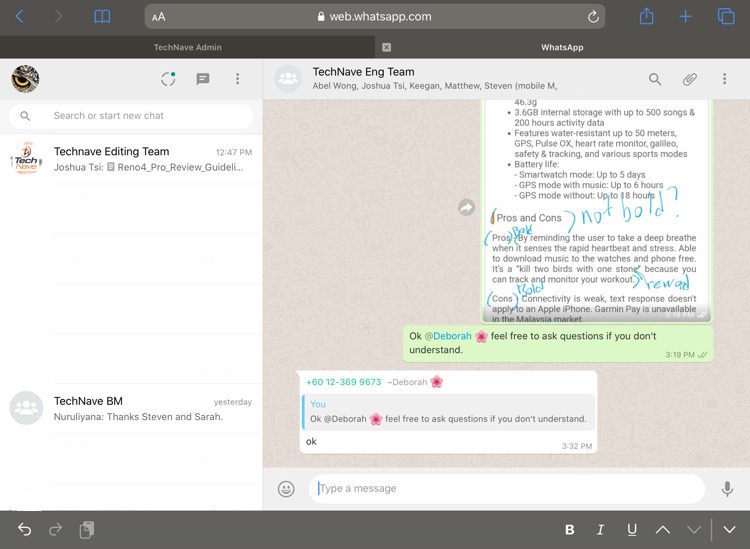 I normally use WhatsApp Web on my laptop anyway
Overall, the Apple iPad is definitely more than just a tablet and with a little bit more work and learning how Apple does things, I'm sure I'd soon find it an indispensable part of my productivity workflow. For a normal laptop user, I can easily see the iPad replacing their laptop and working well with their Android smartphone but it does work a lot better with an Apple iPhone.
So, how easy is it to use the Apple iPad for work in an Android environment? Can you just pick up a brand new iPad and instantly get started working? Yes. Yes you can. But you will have to keep an open mind and be ready to relearn a number of things and to pay for more things (like apps, covers and the Apple Pencil). The difficulty level is definitely easy but you may need some time to learn before it becomes smoother.
As it is, apps for productivity are not an issue at all as both WhatsApp Web and Microsoft Office apps like Word and Excel both worked fine on the iPad. Work involving annotation or commenting got done very well with the Apple Pencil while the ability to use practically any compatible bluetooth mouse is awesome.
What's the competition like?
While there are now quite a lot of similar Android tablets for productivity, the iPad 10.2 tablet's surprisingly affordable price of RM1449, reliability, beautiful screen and build quality makes it almost the better choice. The Samsung Galaxy Tab S6 and Huawei MediaPad M6 / Huawei MatePad Pro 5G all come in at RM3099, RM1899 and RM3299 respectively but these are meant for the upper end markets after all.
You'll have to buy the keyboard cover or a bluetooth keyboard and a mouse separately for all of them though (which won't cost more than RM200 if you're willing to look). Only the recent Samsung Galaxy Tab S6 Lite gives the iPad a run for its money thanks to its current bundled keyboard promotion and RM1699 price tag. The Huawei MatePad is at RM1399 but it doesn't offer GMS and other Google app support.
So, if you've been thinking of replacing your computer or laptop with an Apple iPad, then we think it's certainly something you should consider. It's certainly a lighter and more portable option compared to most laptops these days but it would have been even better if Apple could solve some of the other issues highlighted above.
What do you think? Would you want to buy the Apple iPad to replace your laptop? Have you already done so? Let us know in our Facebook page and stay tuned to TechNave.com