How powerful the AMD Ryzen 4000 series processor can be?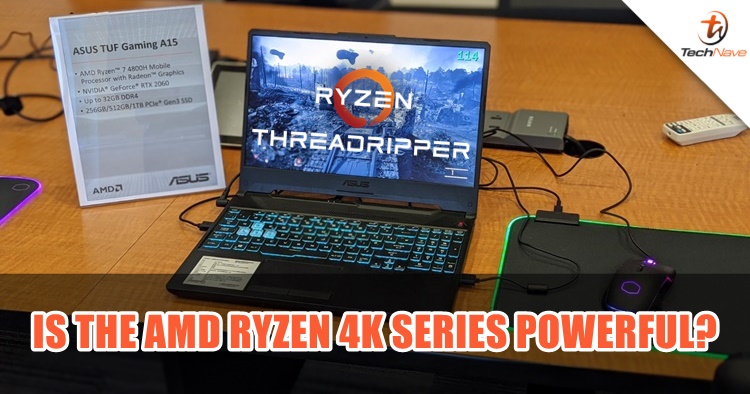 Ever since AMD announced the Ryzen 4000 series processor back in early January, the enthusiastic gamers around the world have been thinking what kind of performance can they expect. Is this a big deal? Yes, it is and very much so for the gaming industry. To put it in a layman's context, imagine transferring a powerful processor from a desktop to an ultrathin laptop, yet able to retain its performance and battery efficiency. But is this possible?
Well, we had the opportunity to visit their HQ in Austin, Texas to check out what they have to offer. Granted, we don't have a Ryzen 4000 series gaming laptop model yet to truly test its capability but we do have the data and numbers on paper. So in this article, we will go through how powerful the AMD Ryzen 4000 series processor can be in three key areas - Performance Overview, Gaming and Content Creation capability, and finally, Battery Life.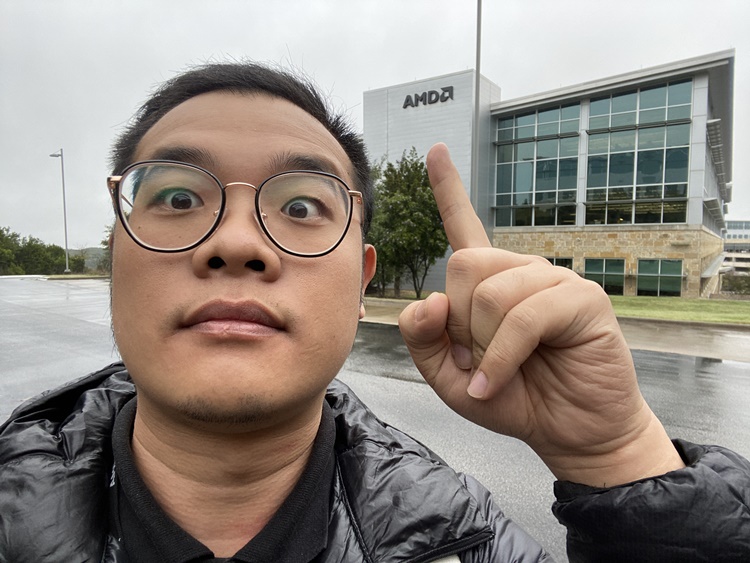 Just a random pic to prove that I was at their HQ haha
Performance Overview - World's first 7nm x86 Mobile Processor
Designed for elite gaming and content creation, the Ryzen Mobile 4000 series is the world's first 7nm x86 Mobile Processor with up to 8 Cores + 16 Threads. This bad boy's core right here can also go up to 4.3GHz Boost (3.0GHz base) and with all these top features, can an ultrathin laptop really take it?
Based on the data they showed us, the numbers from the Ryzen Mobile 4000 series performance do show its quality. In the multi-thread performance, the result is nearly double from the Cinebench R20 nT benchmark test, followed by the 3DMark Time Spy (graphics) which is around 28% higher than its competitor. As for single-thread performance, both results are quite similar.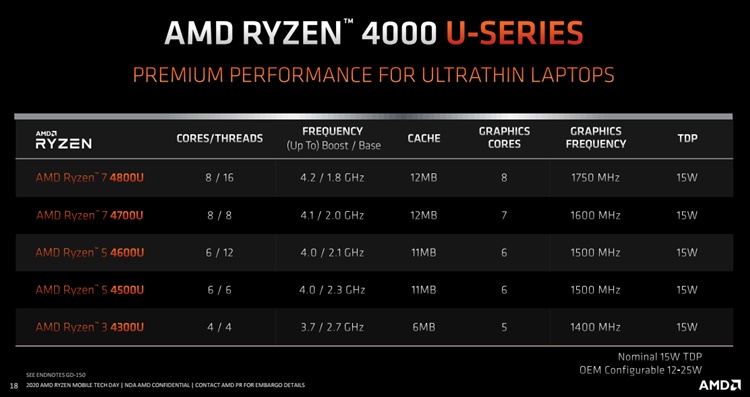 All the AMD Ryzen 4000 series processors for ultrathin laptops
The performance overview in single-thread, multi-thread and graphics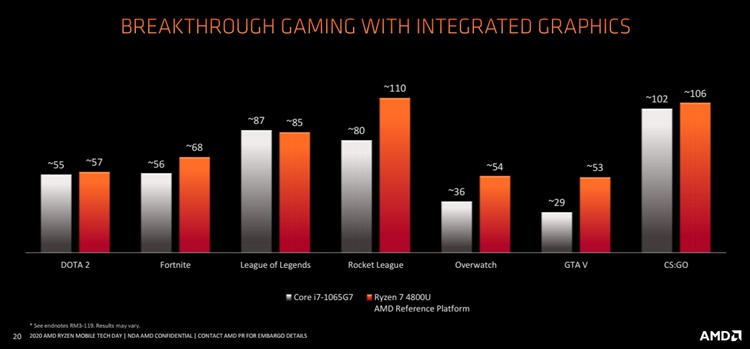 Game graphics comparison
AMD was also proud to show us more of its gaming graphics comparison charts, but to be honest, all the games that were shown at that point can still be played on a more mediocre laptop. So to get into that, we're moving to the next category.
Gaming and Content Creation capability - Made for gamers and creators
As the online joke goes, the PC Master race is the most supreme because we have the best gaming capability (lol). I mentioned earlier that the games shown on the chart earlier were mediocre ones, AMD knew that, so they also prepared a triple-A game graphics chart comparison. It was obvious that the Ryzen Mobile 4000 series blew the competition away, the top two games that got a tie were Hitman and Rise of the Tomb Raider which were 30% higher than AMD's competitor, but the one that struck gold was Vulkan, a GPU Bench Test program which was 59% higher.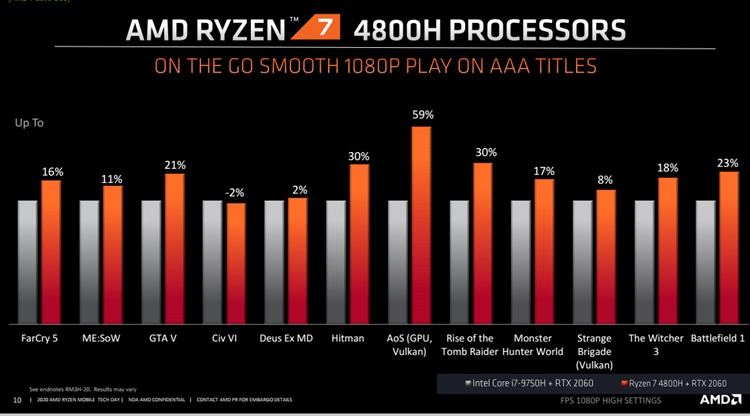 Oh yeahhh, now we're talking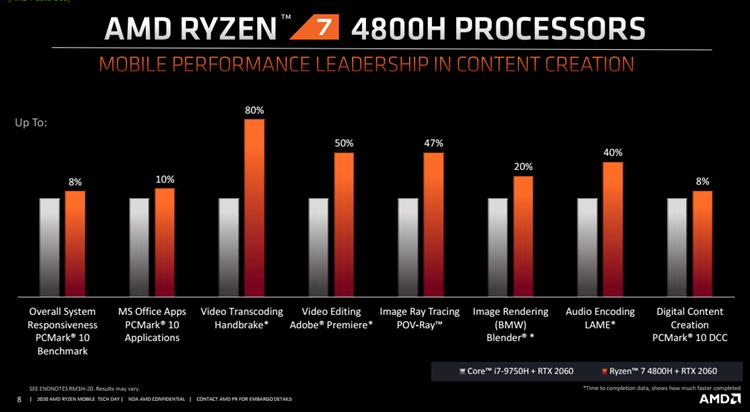 Performance in productivity programs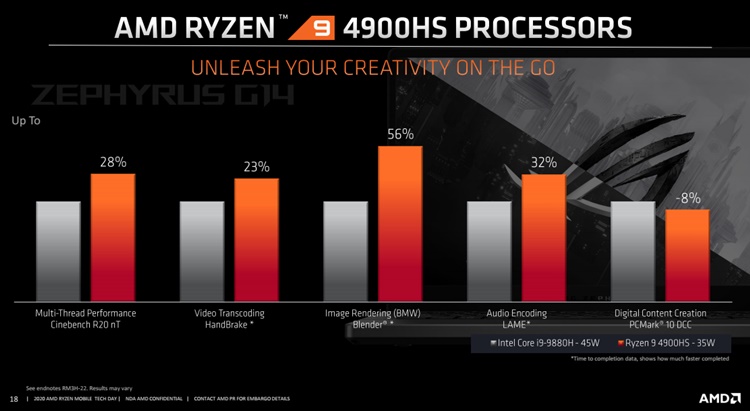 The Ryzen 9 4900HS processor performance
Besides gaming, AMD didn't forget the content creators as well. In another chart, the processor was put to the test on various programs such as Adobe Premiere, PCMark, and others. As expected, the Ryzen Mobile 4000 series dominated the chart and the same thing happened when the company benchmarked the Ryzen 9 4900HS processor. Even though it was only on 35W, it proved too much for the competitor's processor (that has 45W) except for the Digital Content Creation PCMark 10 DCC benchmark.
AMD will prepare a Radeon Software for the Ryzen Mobile 4000 series processors with their laptop brand partners. Like any gaming laptop, the software functions as a Gaming Centre to help you access games quicker, check the latest system updates, image sharpening, anti-lag, game boosting, and optimizing the games for the best immersive experience.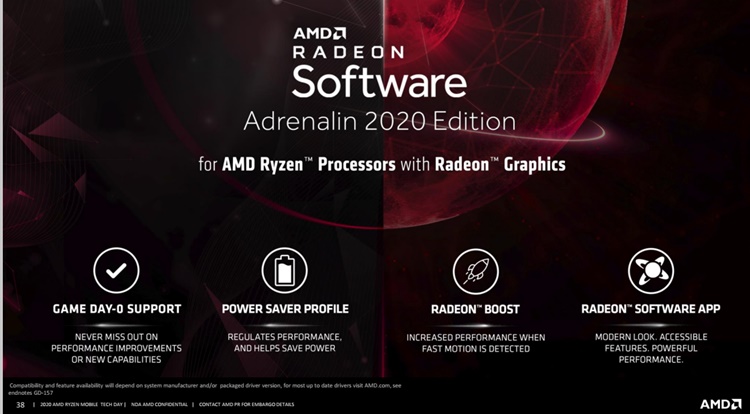 Radeon Software will be integrated into future gaming laptops to assist the new processor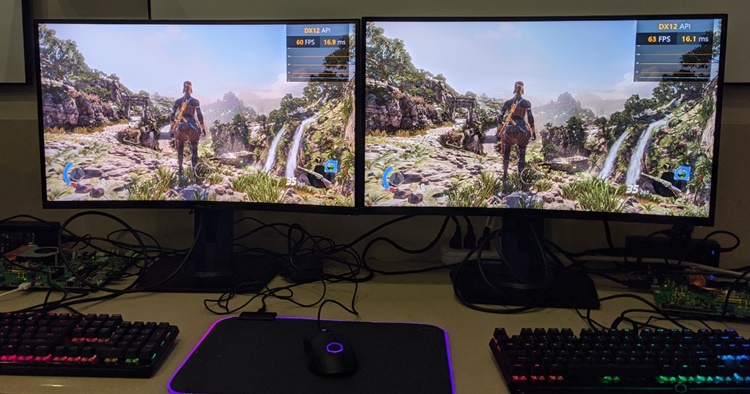 Radeon Boost comparison, can you tell the difference?
Battery Life - Better energy distribution
If there's one thing about gaming laptops, it's that the battery life tends to be short when unplugged. Moreover, it's necessary to keep it plugged in at all times when you're playing a triple-A title game. So how will the battery life fare with the Ryzen Mobile 4000 series processors? Will it suck the life out of the battery faster? Perhaps not.
From the data, AMD has the best CPU core and if you do know the basics, a 7nm structure does help keep the battery alive longer with better energy distribution. The company claimed that it has 20% lower SoC power and yet, two times the performance per watt. How did they do it? Long story short, the AMD engineers had to figure out a better SoC design for the components to manage low power states and switch back to full performance fast, as well as reducing the penalty of power state transitions. That way, the battery power won't get sapped so much.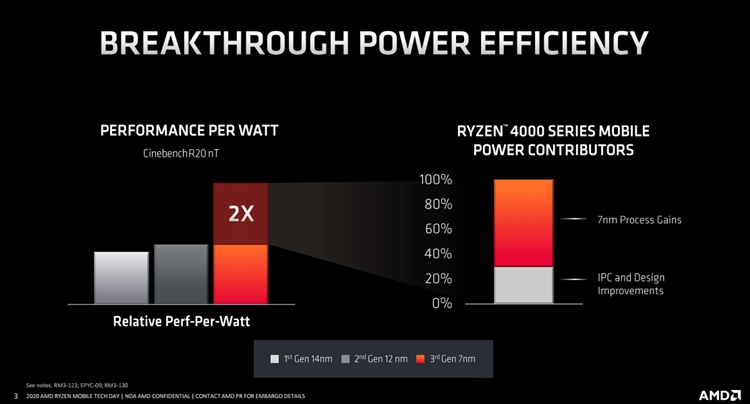 The 3rd Gen 7nm is a great improvement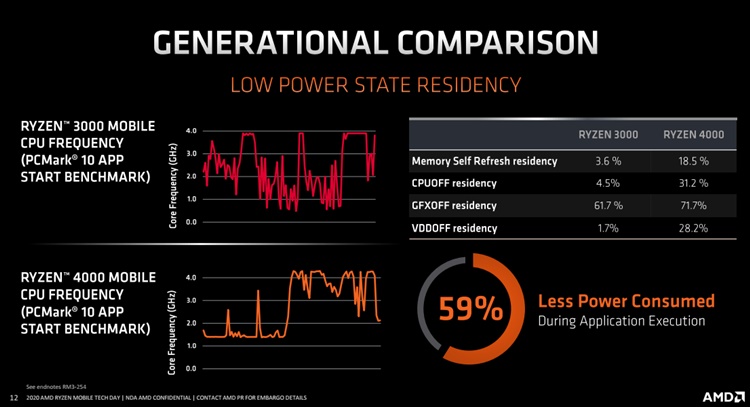 Compared with the Ryzen 3000 Mobile series processor, the Ryzen 4000 Mobile series processor consumes 59% less power during the PCMark 10 app benchmark testing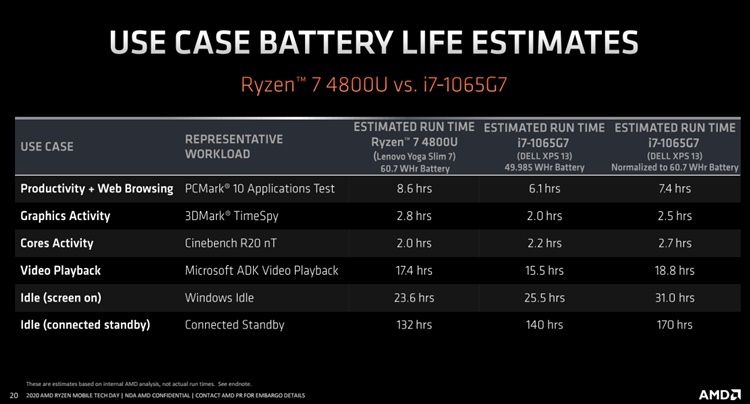 Another chart between the Ryzen 4800U and its competitor

So those were the major factors that determine the better performance of the Ryzen 4000 Mobile series processor. Everything sounds good on paper but as mentioned before, we have yet to receive an actual laptop equipped with a Ryzen 4000 Mobile series processor thanks to the recent COVID-19 outbreak. Anyway, we can't wait to get our hands on one and put it to the test!
By the way, AMD has officially announced the Ryzen 9 4900H mobile gaming processor. It features a 7nm SoC processor with 8 cores and 16 threads, a 4.4GHz boost clock, a 3.3GHz base clock, 45W TDP and more which you can learn here. So what do you think? Are the numbers convincing enough for you? Let us know at our Facebook page and stay tuned for our first impression + hands-on of a Ryzen 4000 Mobile series gaming laptop only at TechNave.com.