How the Samsung Galaxy Watch3 and Galaxy Watch Active2 are more than just smartwatches
In these trying times, most of us have different ways to keep ourselves sane. There's gaming, reading, and binge-watching movies and TV shows. Some people also pick up new hobbies or try to stay fit. But if you have been doing exercises at home, you may have noticed that it's rather hard. Your surrounding environment may not be suitable, or you may not have the right tools available.
Besides having gym equipment or a yoga mat, technology also has a part to play for fitness enthusiasts. In this case, smartwatches or fitness bands are often used to help people keep track of how well they are doing. But how useful are these accessories? In today's article, we'll tell you how the Samsung Galaxy Watch3 and Galaxy Watch Active2 are more than just smartwatches.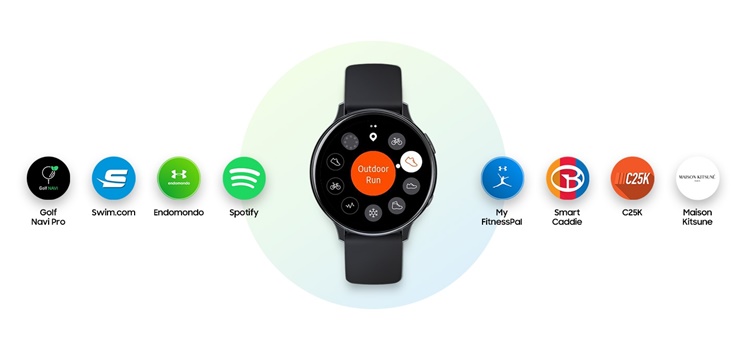 Third-party apps right on your wrist
Before we get started, maybe you're one of those who tell yourself that you don't need a smart wearable to tell you what to do. Yes, you are right but not everyone has the utmost discipline. A virtual assistant can be helpful thanks to the SmartOS that all smartwatches use, so it is more than just telling you the time and incoming notification.
While there are plenty of smartwatches (and fitness bands) out there, a true smartwatch is a watch that looks out your health and life activities in real-time. So like the Galaxy Watch3 and Galaxy Watch Active2, it enables you to download third-party apps that can enhance your life in terms of wellness, fitness, productivity and multitasking. Ladies and gentlemen, a smartwatch on your wrist may help your well-being more than you think!
Protect Your Wellness
Treating your body well is important, especially these days. You definitely shouldn't overburden your body to the point of dropping dead (#touchwood). With the Galaxy Watch3 and Galaxy Watch Active2, you get phone-level productivity and world-leading health technology to manage your life and health. One of the things they can do is send you alerts if your heart rate is below normal levels with the health monitoring app. You can also set a reminder to wash your hands for hygiene.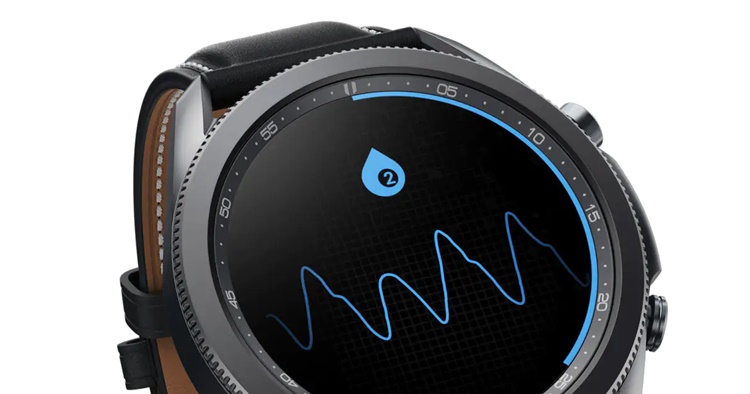 Blood oxygen monitor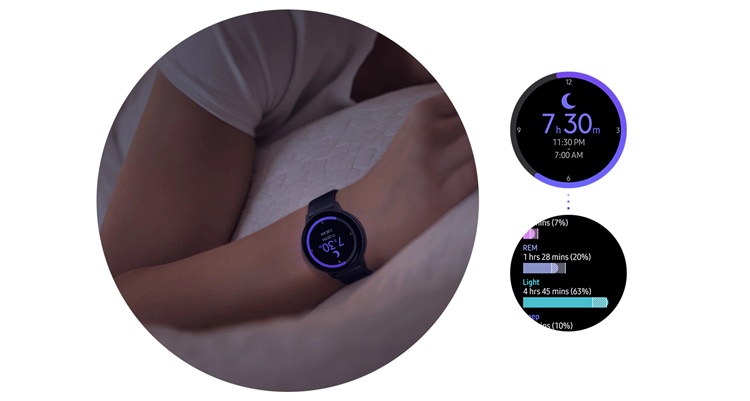 Sleep tracking
By the way, did you know that the Galaxy Watch3 has a red LED and infrared sensor to detect your SpO2 level? Located at the bottom of the smartwatch, it can estimate the amount of oxygen in your bloodstream depending on different physical exercises. On top of that, both the Galaxy Watch3 and Galaxy Watch Active2 can record your REM cycles, deep sleep, and total sleep time. This is so that you can monitor and improve the quality of your rest.
Keeping Your Fitness
Of course, the Galaxy Watch3 and Galaxy Watch Active2 can also auto-detect workouts. There are over 120 types of activities to choose from, so you can easily just choose one or two simple exercises to do at home with the virtual assistant. If you want to go running around your neighbourhood, the Galaxy Watch Active2 can also track your movement and record it.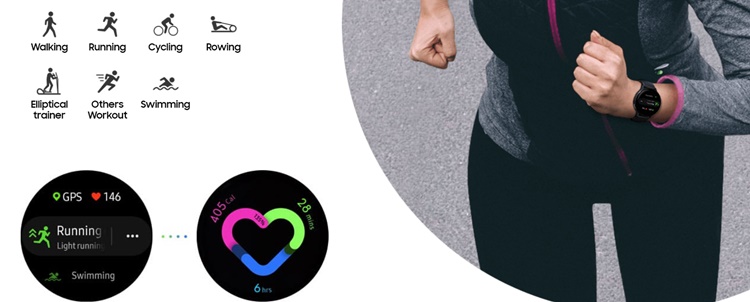 Running Coach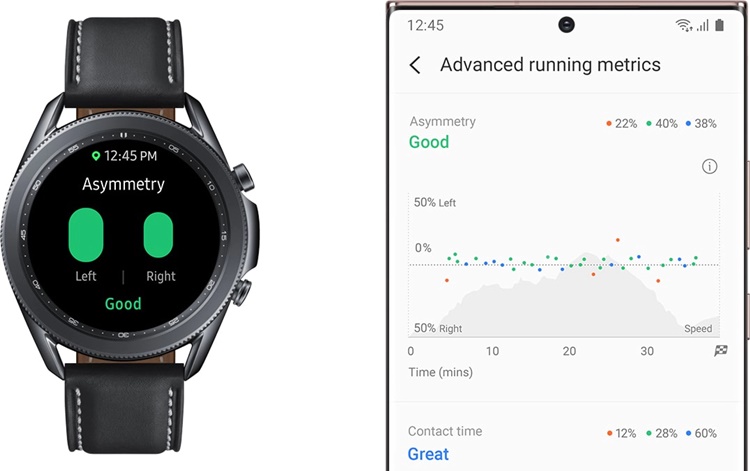 Running analysis
For runners, the Running Coach is a handy function that can give you advice in real-time. Moreover, the running analysis can measure your VO2 max values and keep up with your daily, weekly, and monthly performance via your phone. With these features, you can start making genuine improvements to your running form and prevent injuries.
Managing Your Productivity and multitasking
Last but not least, you can always rely on the Galaxy Watch3 or Galaxy Watch Active2 for the integrated smart assistant. It allows you to answer incoming calls and messages, even when you're away from your phone or computer. On top of that, you can control the phone's camera and control presentations from your watch!
If you're feeling too lazy to scroll through messages from your group chat, you can just use the Galaxy Watch3 to read the chat history so you won't miss a thing. Don't worry about replying with a long text either. You can reply to messages using the smart reply function! This feature provides users with appropriate responses to message, so you can choose the best one accordingly. You may personalise your own Bitmoji too!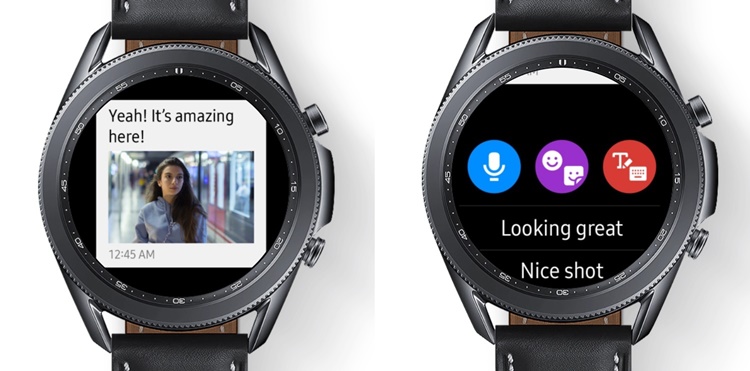 Check your messages on your wrist!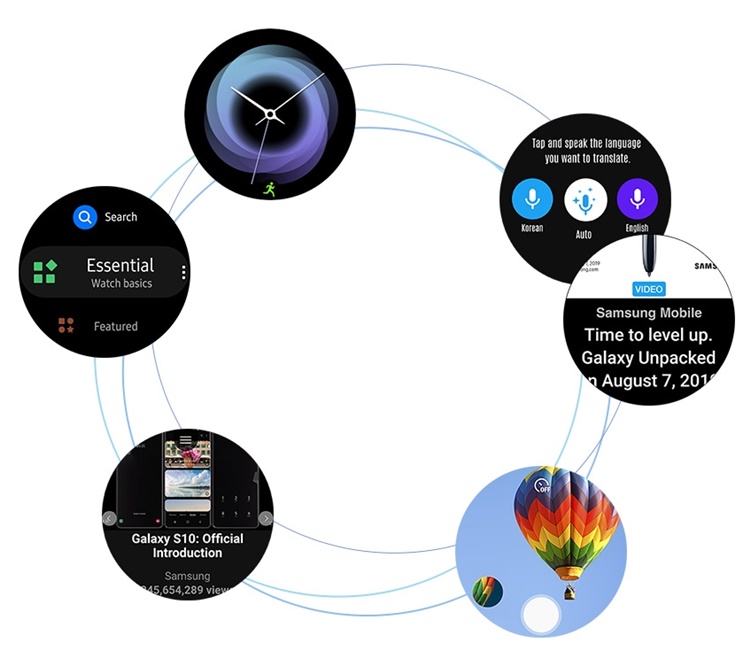 Multitasking device
So there you have it! The above features help make the Samsung Galaxy Watch3 and Galaxy Watch Active2 more than just smartwatches. Feature-packed smartwatches like that will be very useful during this period. For those who still think that you don't really need them, that's fine too. The most important thing is to stay safe and healthy during this pandemic.
But if you need a device's help to maintain your fitness levels, as well as balancing work and play, get a smartwatch! For more details, do check out the Samsung Galaxy Watch3 and Galaxy Watch Active2 from the official webpage right over here. Stay safe, stay healthy and stay tuned for tech reviews at TechNave.com.
Samsung Galaxy Watch 3 Specs & Price >