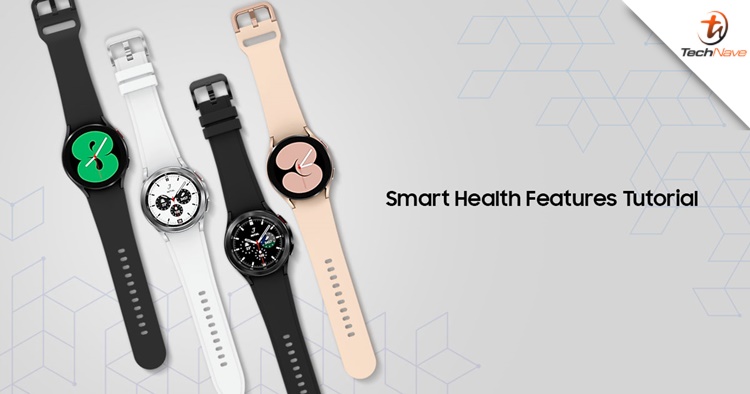 If you are reading this, you probably just got yourself a new Samsung Galaxy Watch4 or Galaxy Watch4 Classic and want to make the best out of your smartwatch. Well, look no further because this is the right place to start. It's never too late to begin your journey of a healthy lifestyle!
In this article, we will be teaching you how to use three highlighted features. They are the BioActive Sensor, Smart Tracking, and Health Monitoring. So without beating around the bush, here's how to make use of the Samsung Galaxy Watch4 series Smart Health features.
#1 The Samsung BioActive Sensor
When the Galaxy Watch4 series was first announced, the BioActive Sensor is perhaps the main highlight because this is the first time that Samsung has integrated a 3-in-1 sensor that uses a single chip to precisely run powerful health sensors. So what does it do?
In simpler terms, it is a new feature that offers advanced health tracking including blood oxygen, heart rate, and for the first time, body composition. For body composition, this includes your body fat percentage, skeletal muscle, BMR and get this - even body water!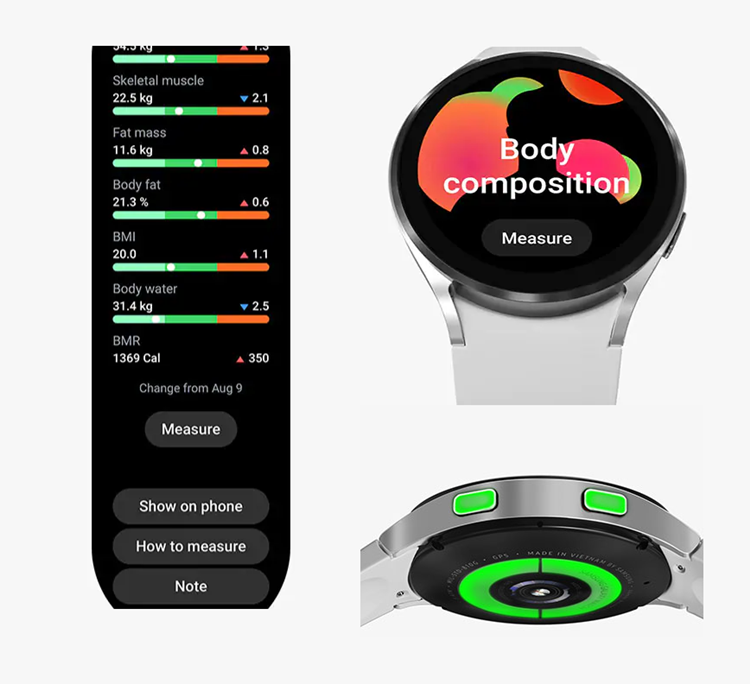 The BioActive Sensor
So, what do you need to do to activate the sensor? Well, you only need to take a visit to the Body Composition app on the Galaxy Watch4 or Galaxy Watch4 Classic. After that, place two fingers onto the Home Key and Back Key buttons on the side then wait for 15 seconds to get your results. In case you didn't know, the buttons alongside the sensor below will do the job of analysing your body composition on the spot while you wait.
#2 Smart Tracking and Group Challenge
With BioActive Sensor within arm's reach, you can now accurately track your fitness progress in real-time, anywhere you are. As you manage your health goals, you can also choose a wide range of over 90 exercising modes and get on with burning those calories. By the way, you can project your exercising routines and health data onto a TV screen by pairing it with selected Samsung Smart TV models!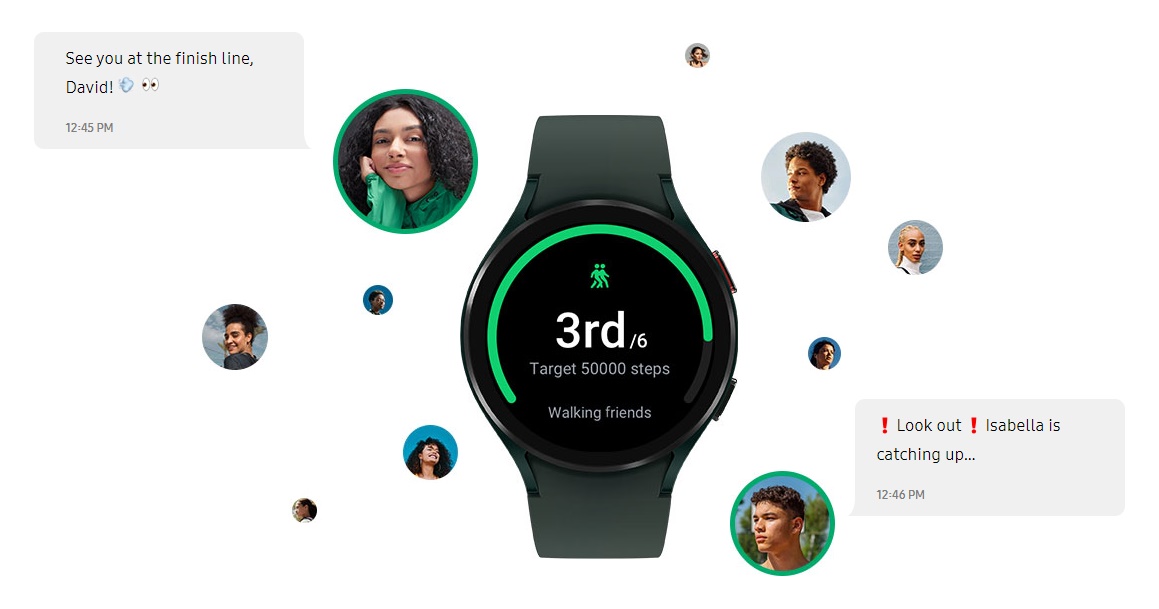 Group Challenge
Another fun activity that you can also do is using Group Challenge. This feature can be found easily within the smartwatch where you can compete with your friends and family to reach shared goals. As you all compete together in a friendly manner, the smartwatch can track your steps and update your progress in the group leaderboard, and you can even share motivational messages through a live message board. Should you accomplish a challenge of the day, you will be rewarded with a commemorative badge and a point system to make it more rewarding, motivating, and socially fun!
#3 Real-time Health Monitoring
So yes, most of the smart health features are monitored in real-time but it doesn't stop there. Even when you're not exercising, the Galaxy Watch4 series also features an advanced sleep management system. You don't need to activate anything because the BioActive Sensor is always working on your wrist. Take advantage of the smartwatch when you sleep because it also tracks your blood oxygen level and snoring! All you have to do is just turn on the snoring detection feature and wear it, then check results the next day on the smartwatch or via the Samsung Health app.
Just a head's up, the snoring detection is turned off by default so you will have to turn it on by yourself. Simply go to the Samsung Health App settings (version 6.18 and above) on your Galaxy phone and find the snoring detection feature. For the best snoring detection record, you just need to place your Galaxy phone nearby you with its bottom facing your head.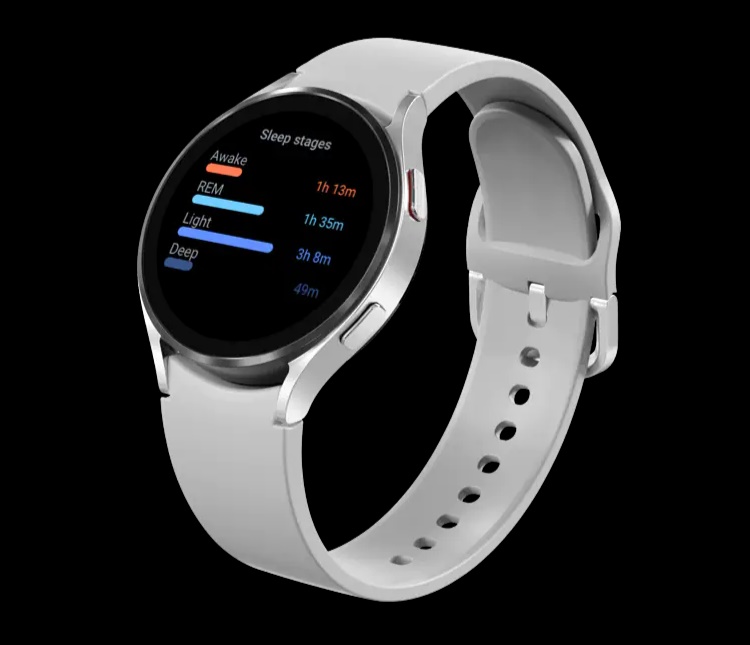 Advanced sleep management
OK, that's pretty much it. All in all, the BioActive Sensor is the hero in the Samsung Galaxy Watch4 series that's taking good care of your wellness and health tracking. If you haven't got yourself one and want to learn more, you may visit the two links below to get started!
Galaxy Watch4 series RRP table:
| Galaxy Watch4 model | RRP (RM) |
| --- | --- |
| Galaxy Watch4 Classic LTE (46mm) | 1699 |
| Galaxy Watch4 Classic LTE (42mm) | 1599 |
| Galaxy Watch4 LTE (44mm) | 1299 |
| Galaxy Watch4 LTE (40mm) | 1199 |
| Galaxy Watch4 Classic Bluetooth (46mm) | 1399 |
| Galaxy Watch4 Classic Bluetooth (42mm) | 1299 |
| Galaxy Watch4 Bluetooth (44mm) | 999 |
| Galaxy Watch4 Bluetooth (40mm) | 899 |
Both smartwatches are now available across the nation, as well as your nearest Samsung Concept Store or authorised retailers, as well as the Samsung Online Store. Stay healthy, and stay tuned for more local tech gadget articles at TechNave.com.