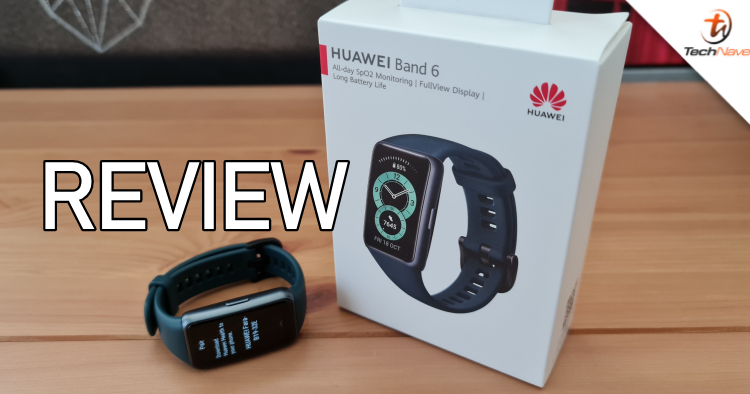 When the Huawei Watch Fit first came out, it certainly made an impression with it's long 1.64-inch face or display and metallic body. Building off of this is the Huawei Band 6, which keeps the long face but shortens the width a bit for a 1.47-inch display that still keeps the overall design.
It also extends the long battery life to a full 2 weeks but keeps features like the 96 workout modes for just RM219. Find out what else it keeps and adds on in our Huawei Band 6 review below.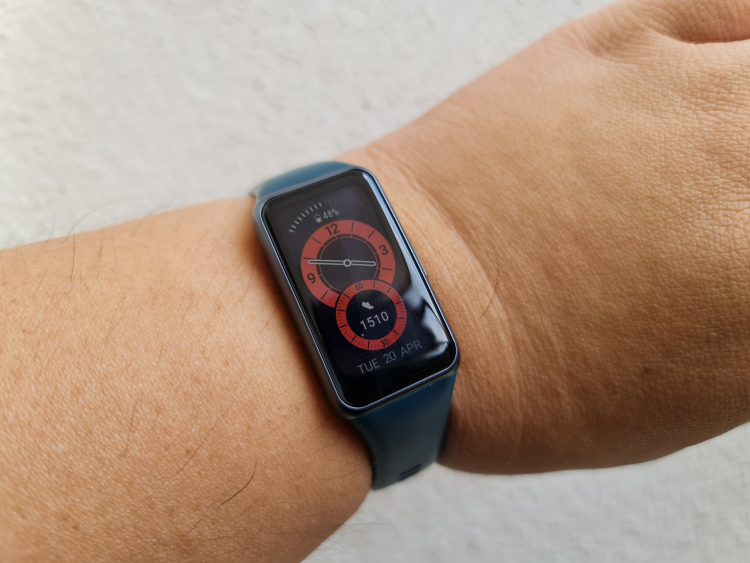 The Huawei Band 6 and my fat wrist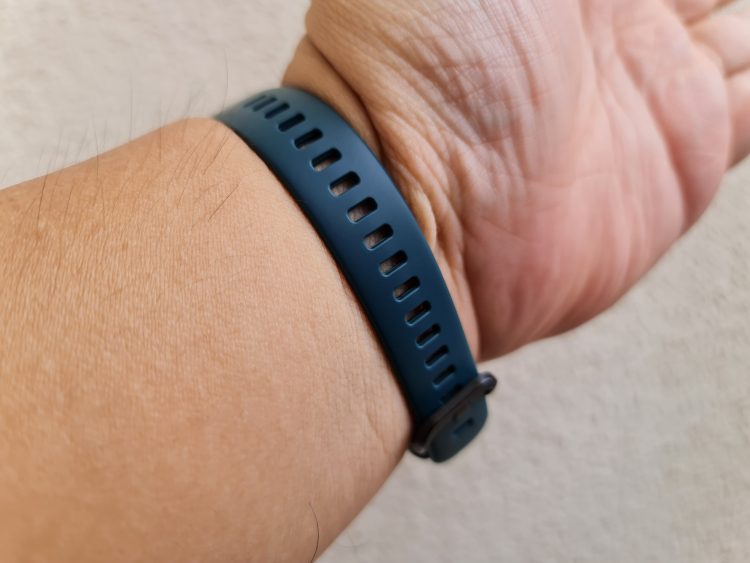 Wow, it fits!
To be completely honest, I don't really like to wear smart watches or fitness trackers because the straps they come with don't fit my fat wrist. Thankfully, the bundled strap with the Band 6 does fit... barely, but it was down to the last 2 holes on the strap. That being said, the straps are interchangeable so you can swap out to one that you like as you want. Our review unit was in Forest Green, but there's also Amber Sunrise and Graphite Black.
The bundled silicon strap is comfortable though, and should be fine even if you sweat a lot, swimming or you're running in the rain as it is 5ATM water resistant (50 meters underwater). The aforementioned 1.47-inch long face or FullView AMOLED display is very bright and vibrant looking while the watch chassis or body is a durable polymer or plastic.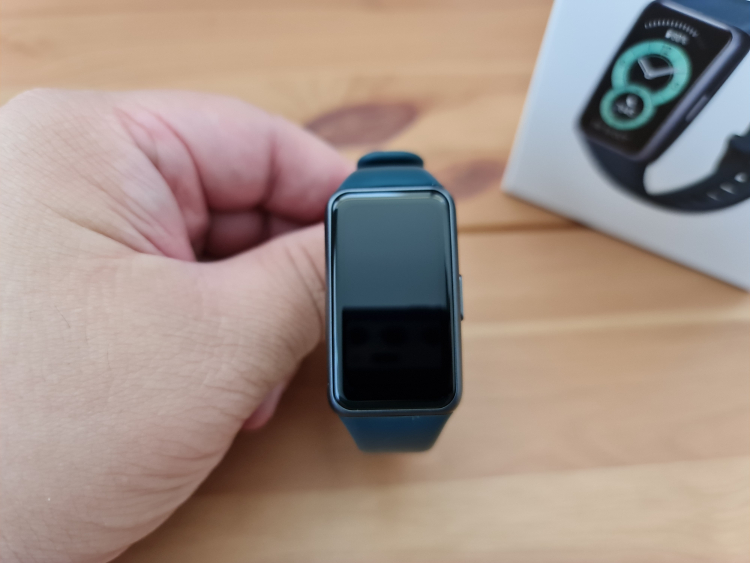 The Huawei Band 6 has a long face or as Huawei calls it FullView 1.47-inch AMOLED display
The chassis is a durable polymer (plastic)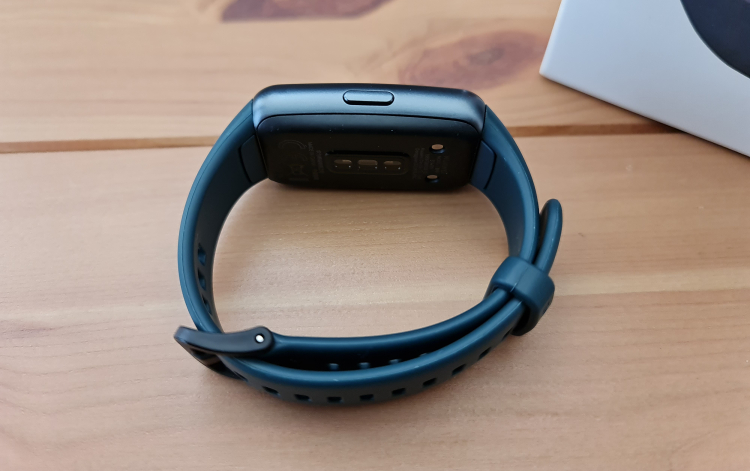 There's a single button on the side. Press one time for home, press again to go to the menu and long press to reset or power off.
Weighing in at 18g for just the watch module, the Band 6 is quite lightweight and almost unnoticeable on my wrist. The swipe interface is fast and responsive and you can always press the side button to get back to the home screen or long press to power off or restart. Pressing the button at the home screen brings up the exercise modes and other functions
Like the Watch Fit, the Band 6 packs in an accelerometer, gyroscope and optical heart rate sensors with both being able to monitor heart beats for a full day and take SpO2 readings. The Band 6 also has a GPS and connects via Bluetooth 5.0. To set it up, you will have to have Huawei Health and set up a Huawei ID.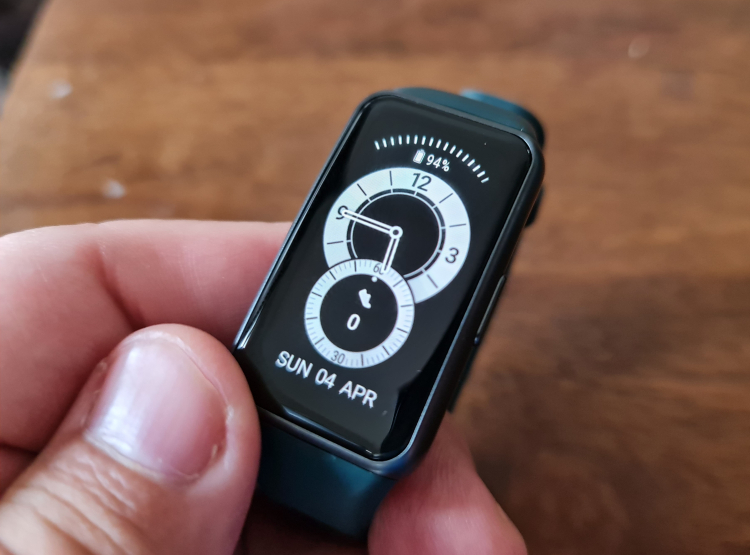 You can change the watch face on the Huawei Band 6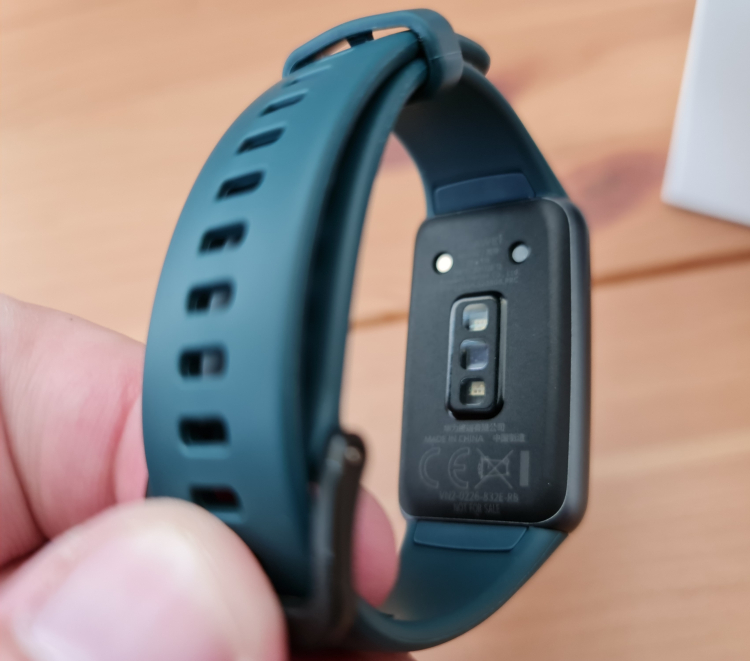 The sensor on the bottom can check your heart rate
As far as fitness trackers go, the Band 6 does quite well, with an exercise mode for practically anything you might want to do (I suppose martial arts would come under other, lol). I don't think much about the flashlight feature but it does practically everything else you'd expect a fitness tracker to do these days, such as find your phone, track your sleep and vital statistics, control music or your camera and display your notifications.
Unfortunately, you can't answer these notifications from the Band 6 and like most Huawei wearables you also don't can't get any access to apps like Google Maps or Pokemon Go. This might change when Huawei officially comes out with their HarmonyOS and Maps alternative but not at the time of testing, so it isn't really a full fledged Android smartwatch.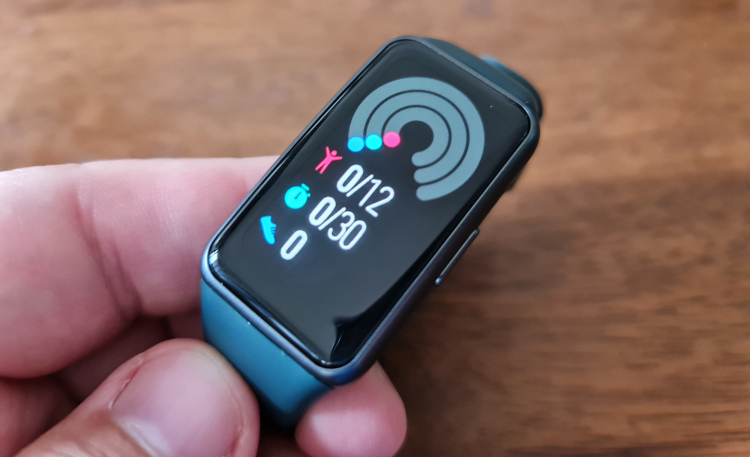 The Huawei Band 6 does what most fitness trackers do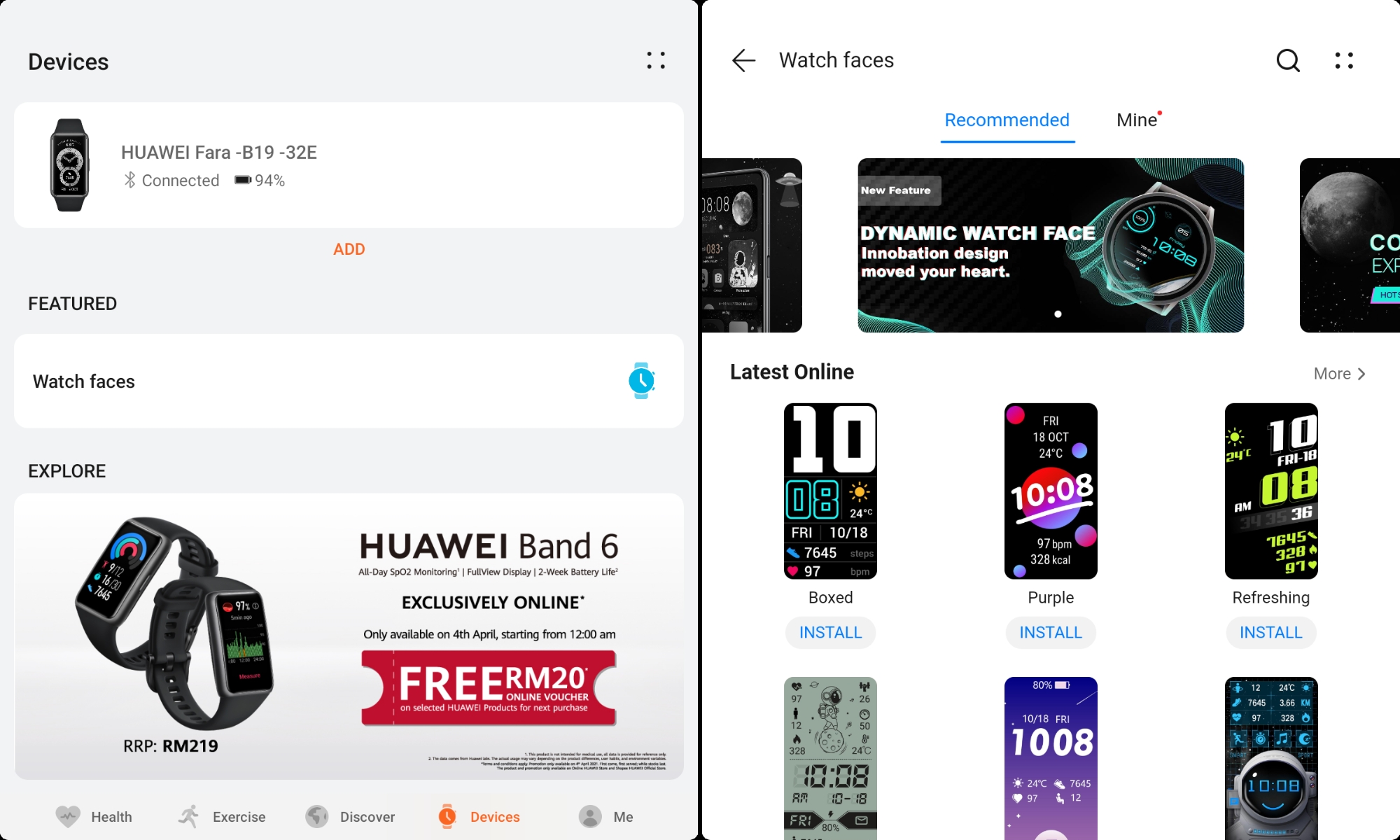 You'll need to install Huawei Health and set up a Huawei ID
Battery life is easily 14 days or two weeks and a bit more on normal usage, but if you turn on the GPS it's about 12 hours only. Thankfully, there's fast charging for a 100% charge in under 1 hour. You can switch the watch faces, but they seem somewhat limited to just trendy looking ones for now (my favourite is GoldCycle cause you can tap it to change the colours as you want).
Overall, the Huawei Band 6 is a pretty nice fitness tracker wearable that has a lot of fitness centric functions. At RM219, it is quite affordable and if you liked the long face display on the Watch Fit, then you'll like the slightly slimmer but still long face of the Band 6.
If you're not a fan of the design, then there's a whole bunch of other fitness trackers in this price range as well including the Mi Smart Band 6 and Mi Watch Lite. If you don't mind going a bit higher there's also the realme Watch and Watch S as well.
Tech Specs and Features
Here are the tech specs and features for the Huawei Band 6:
1.47-inch AMOLED FullView display (194 x 368 pixels)

43 x 25.4 x 10.99mm | 18g (without strap)

accelerometer sensor, gyroscope sensor, optical heart rate sensor

features 96 exercise modes, TruSeen 4.0 Heart Rate monitoring, SpO2 tracking, 5ATM water resistance, TruSport exercise guidance, TruSleep 2.0 sleep tracking,

supports Bluetooth 5.0, BLE, 2.4Ghz,

14 days typical use, 5V 0.5A/1A/1.5A/2A charger

available in amber sunrise, forest green, graphite black straps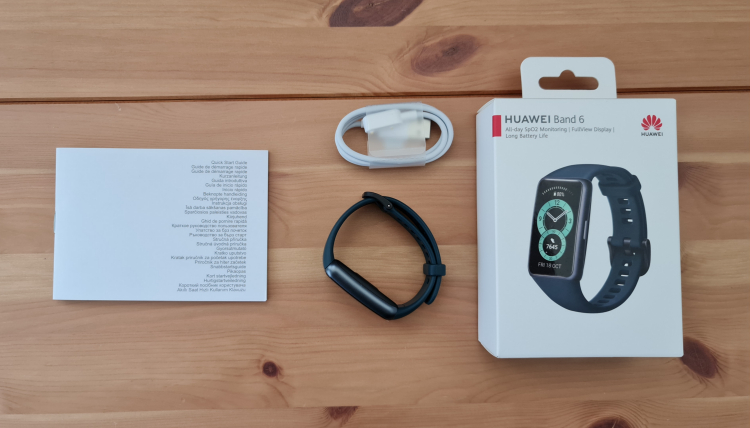 Here's what you'll find inside the box of the Huawei Band 6
Pros and Cons
Pros: Fast and bright FullView AMOLED display, 14 day battery life and a unique long rectangular design
Cons: Limited to mostly fitness tracker functionality
Summary: Nice and affordable Fullview fitness tracker for the Huawei fan