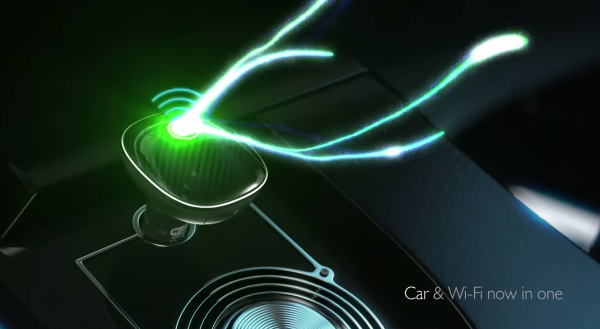 Apart from all the wearables like the Huawei Watch and TalkBand B2, Huawei have also announced their Huawei CarFi. While it looks like any other car plugin MP3 player it instead offers a WiFi hotspot that can deliver up to 150 Mbps of 4G LTE Cat4 connectivity for up to 10 devices. It can even charge your mobile device and can be transferred to different vehicles with minimal fuss. Huawei actually put it into on the spot field testing by offering it in 400 branded vehicles for the MWC 2015. Here's what they had to say about it:
"At Huawei, we aim to be one step ahead in providing great technology that meets connectivity needs in every aspect of life. As a leader in mobile broadband delivering next-generation LTE networks, Huawei devices such as Huawei CarFi Make it Possible for people to enjoy the freedom of connectivity on the move. Automotive connectivity, known in the industry as telematics, is a significant trend that will provide safety, convenience, and infotainment in the future." Steven Liu, Vice President of Mobile Broadband and Home Product Line, Huawei Consumer Business Group.
Designed to be power-saving for your car as well, the CarFi automatically turns off when no WiFi compatible devices are around. Nor does it overheat thanks to a built-in self-regulating protection function. While it looks good with a checkered wood and carbon fiber exterior, it is fairly easy to use with a single "on" button. It can also be remote controlled via Android and iOS devices through the Huawei Hilink app. No news yet when we may see the Huawei CarFi or any specific Malaysia release dates and pricing details, but it could eventually reach us through Huawei Malaysia.