Huawei Honor 3C Review - Best value smartphone in Malaysia for under RM500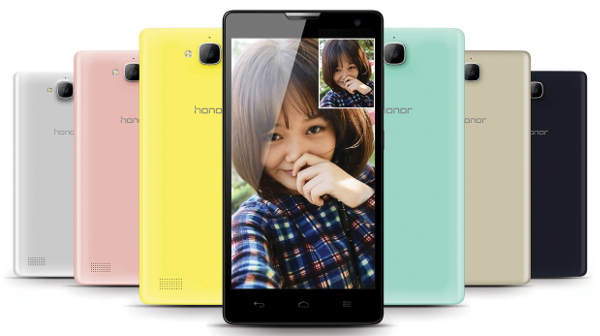 Affordably priced smartphones usually don't come with good tech specs and features but the Huawei Honor 3C is not only priced below RM500, but it also packs in 2GB of RAM, a 5-inch 720p display, 8MP rear camera and 5MP front camera all in one compact package. Does it live up to the hype? Is it actually a good value smartphone? Read on and find out how good we really think it is in our review of the Huawei Honor 3C.
Design - Simple and comfortable

At first glance, the Huawei Honor 3C looks simple and slim with a curved back that fits nicely into the palm of your hand and a number of different coloured back casings to choose from. The phone is mostly made from plastic with a smooth surface on the back which doesn't smudge too easily. At 140g it is very light for a 5-inch smartphone but balanced well enough that it doesn't seem like a toy. At 9.2mm thin, the smartphone is about standard thickness while the grip is comfortable. While it may not turn heads the second time, build quality for the Honor 3C is quite solid and it should survive most drops with no damage.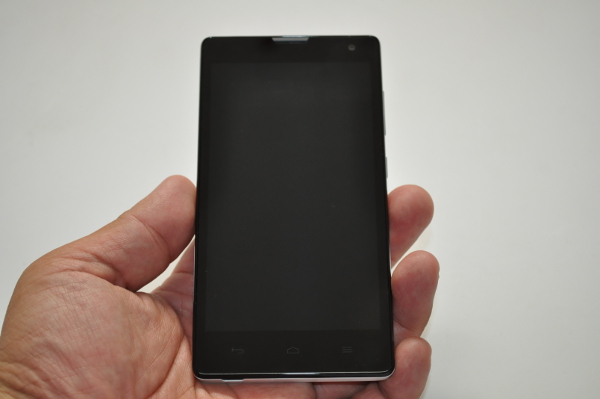 The Huawei Honor 3C has 5-inch screen with capacitive buttons placed at the bottom of the screen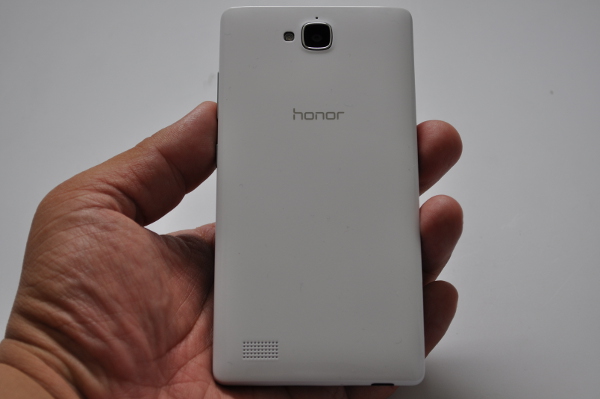 The back is curved to fit in the palm of the hand well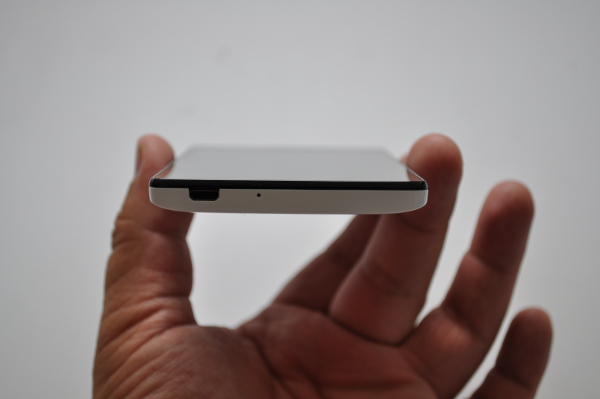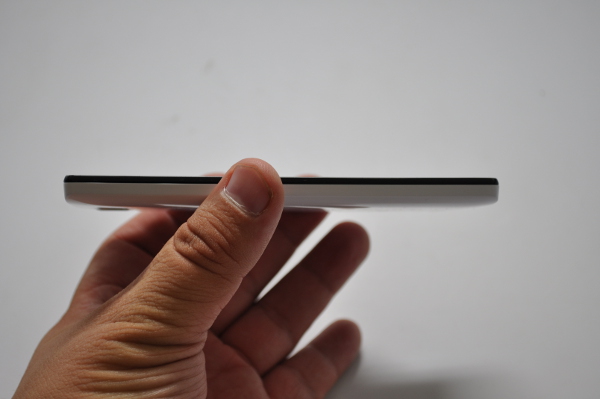 The smartphone is still quite slim at 9.2mm
The 5-inch display offers 720p HD viewing with a resolution of 720 x 1280 resulting in a fairly high pixel density of 294 ppi. The smartphone has a single microUSB port for charging and transfer while the dual-SIM slots are only accessible after you pop open the plastic back.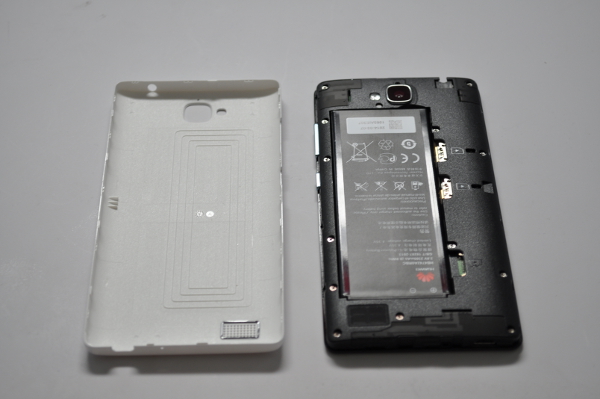 The back pops off to reveal a custom battery, dual-SIM slots and a microSD slot
Tech specs and Features - Upper midrange features
Huawei have somehow managed to pack in some upper midrange quality components for a smartphone priced for the entry-level market as the Huawei Honor 3C is one of the few smartphones in this range that we've seen offering an 8MP rear camera and 5MP front camera. Both cameras use wide angle lens, with the 8MP rear camera using a Sony BSI sensor, Blue Glass filter and IMAGE Smart Engine for better quality pics. While the Huawei Honor 3C uses a capable but standard 1.3GHz MediaTek MT6582 processor, it also packs in 2GB of RAM, which you will not find in most midrange smartphones much less those smartphones from the entry-level range.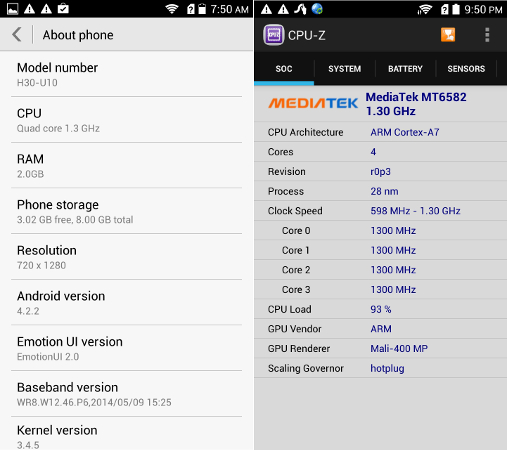 The Huawei Honor 3C packs in a 1.3GHz quad-core processor, 2GB of RAM and a 5-inch screen with 720 x 1280 pixel resolution
We found the Android 4.2 and Emotion UI interface working quite well. While you won't get all that many extra apps, the apps that do come with the UI are practical and useful. We particularly liked the DTS sound control and motion control which not only lets you wake up your phone with double taps but get other automatic responses from flipping the phone to shaking it. While there aren't that many camera modes, the camera features that are there are quite useful with burst mode and panorama mode for both the rear and front cameras, so you can take a wide group selfie shot (or groufie as Huawei are calling it) quite easily. As mentioned earlier, the Huawei Honor 3C offers dual-SIM support and 3G connectivity along with WiFi and Bluetooth 4.0 for wireless connections. There is also DLNA and Wi-Fi Direct support along with an FM Radio, A-GPS and a 2300 mAh battery.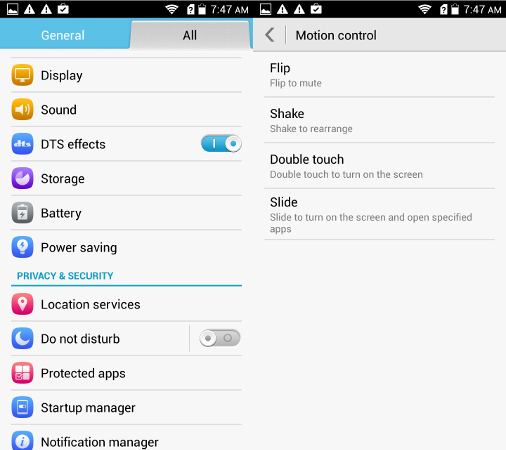 The Emotion UI offers some very useful functions here and there like DTS effects and motion controls
Performance - Surprisingly capable
While the MediaTek processor powering the Huawei Honor 3C isn't much to brag about, the 2GB of RAM makes a whole lot of difference. Trying out all the different apps, we found that the smartphone was on a whole more stable than most. Running a demanding racing game like Asphalt 8: Airborne is surprisingly smooth and while there are some laggy points in the game, overall performance is very good.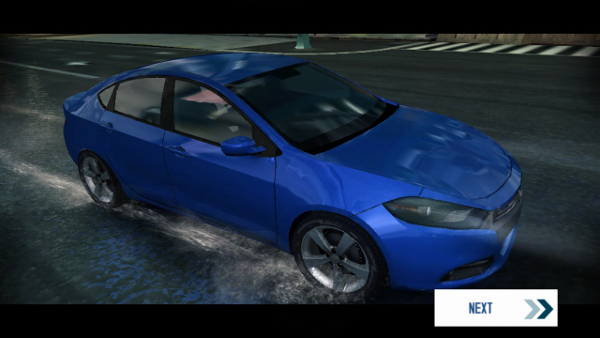 The Huawei Honor 3C handles demanding games like Asphalt 8 very well
On AnTuTu the Huawei Honor 3C got a respectable score of 17132 while also delivering a very good frame rate of 46.3 on 1280 x 720 resolutions for the Epic Citadel benchmark. In 3DMark the smartphone offers less impressive scores of 2899 on the Ice Storm benchmark and 2903 on the Ice Storm Unlimited benchmark, proof that the 2GB of RAM helps improve performance drastically. The phone does get hot after a while but this is mostly for the 3D intensive tasks.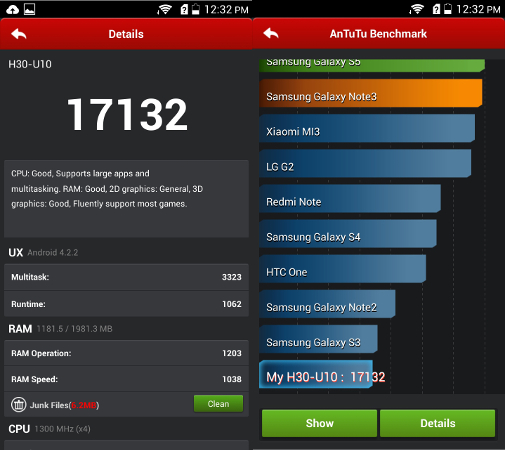 The Honor 3C gets a respectable AnTuTu score of 17132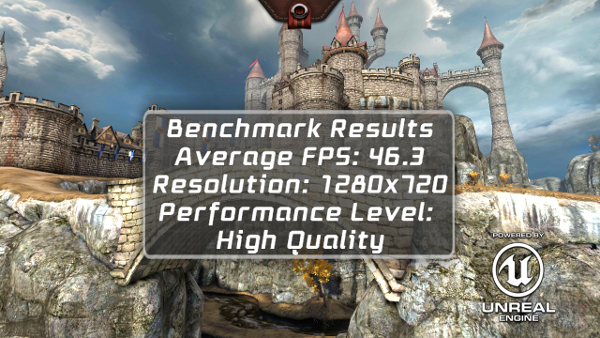 Tasks that need a lot of memory get a good boost from the 2GB of RAM as this Epic Citadel benchmark shows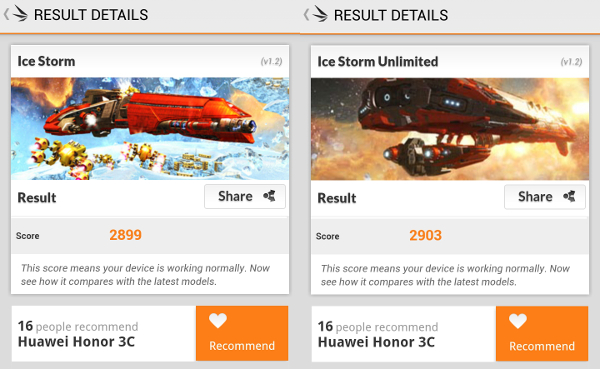 However, in pure 3D terms the Honor 3C isn't the greatest in the market
We were very impressed with the camera performance, particularly from the 5MP front camera. In some cases, it seemed like the 'selfie' camera handled bright light out in the open better than the higher-end 8MP rear camera. That being said, the 8MP rear camera still does a very good job, even in low-light conditions. While it doesn't pack in optimizations like some other imaging engines, the 8MP BSI camera sensor is very capable with fast auto focus and consistent quality shots in burst mode.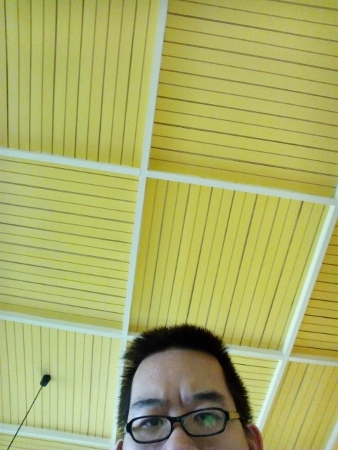 5MP selfie shot, Auto, indoors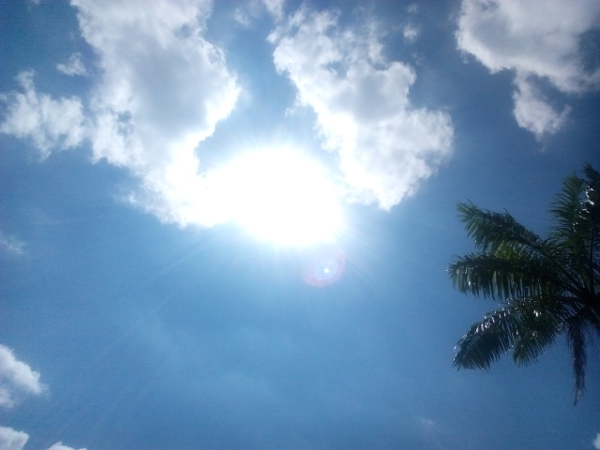 The 5MP front camera handles light surprisingly well

The Panorama shot can be used for both the rear and front camera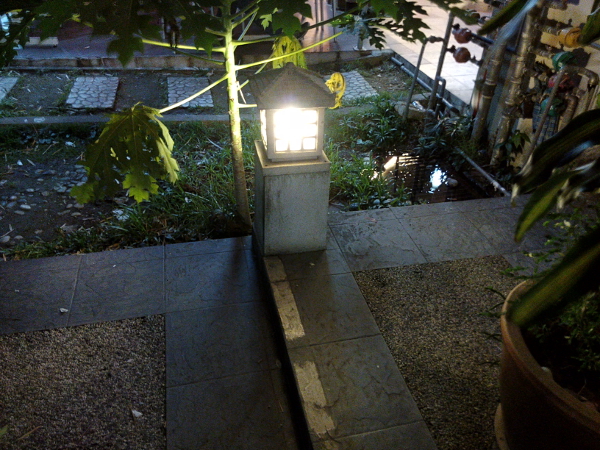 The 8MP rear camera can still handle low-light conditions well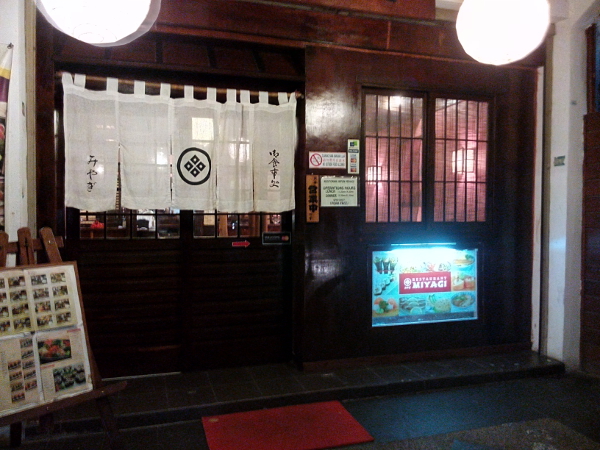 Night mode, 8MP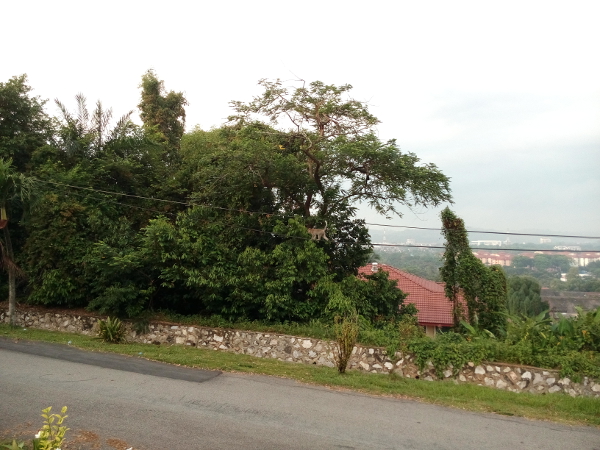 8MP, Auto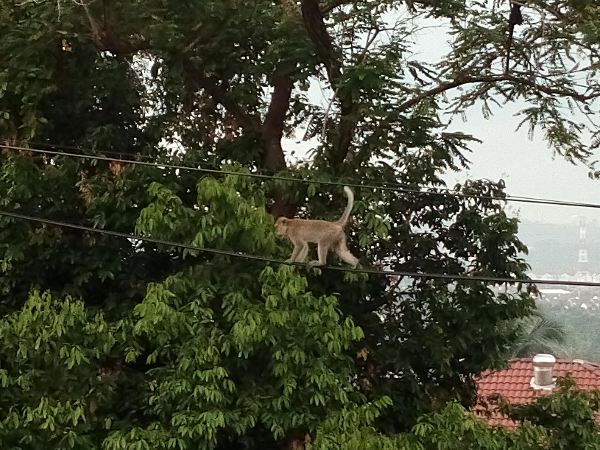 100 percent crop
Audio quality is nice and loud with no static but it isn't the clearest audio we've heard as it is sometimes difficult to differentiate individual sounds. Movie playback is smooth though but since it is a 720p screen, there is some loss of details when playing back a 1080p movie. Battery performance is good with about 3.5 hours of continuous heavy usage (like bouts of online multiplayer in Asphalt 8), about 1 day or so on medium usage and 1 day and a half on minimal usage. Connectivity is very good, working well behind closed doors while reception and phone quality are also similarly good.
Price - Unbeatable midrange specs for entry-level pricing

Going for a super-low RM499, the Huawei Honor 3C has no competition in it's price range. A quick look at MobileMegaMall.com reveals that the closest competitors within this price range includes the Sony Xperia Miro, Lenovo A880 and Nokia Lumia 630. None of them offer 2GB of RAM, an 8MP rear camera, 5MP front camera or 720 x 1280 pixel resolution on a 5-inch screen. You can check their tech specs for yourself on our comparison tool. We believe that Huawei is offering the Honor 3C at cost or below price and with these tech specs, features and price combined, the Honor 3C is probably the best value smartphone under RM500 you can get in Malaysia.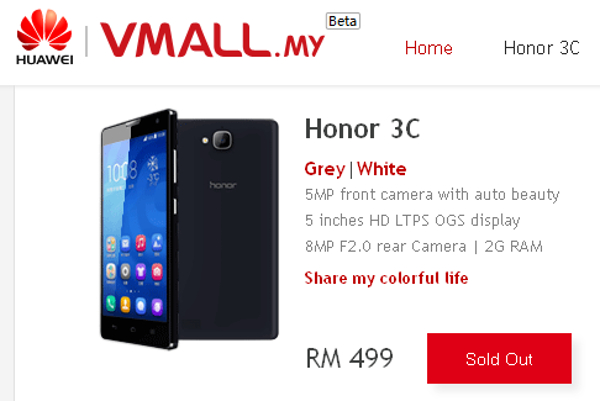 As of the time of writing the Huawei Honor 3C is sold out at VMall.my but the next batch should be coming on 18 June 2014
The only issue is availability as the VMall.my site is often sold out, but Huawei Malaysia are consistently bringing in more batches, so if you're patient and can buy online, feel free to check out VMall.mt. We have found other dealers selling the phone, but at increased prices or with the not so well-liked colours. For the best price Huawei Malaysia's VMall.my is still your best bet, but even at slightly higher prices of below RM600, there are still very few competitors that can offer the same features as the Honor 3C. Newer rivals like the ASUS ZenFone 5 may give it a run for the money though.
Conclusion - The best smartphone for performance users on a budget and everyone else

Overall, the Huawei Honor 3C is hand's down the best performing smartphone you can get if you want midrange performance at an entry-level price tag. The Honor 3C outperforms most smartphones in the RM499 to RM599 range thanks mostly to the 2GB of RAM and this extra memory helps out in practically everything including browsing the Internet, multi-tasking and running a stable smartphone system. While the design is simple and slightly generic looking, it works well and should not be a reason to not buy the Huawei Honor 3C, unless of course you're aiming for something higher-end. This also means you're going to need more money as we still haven't found a higher-end smartphone at the same price to performance ratio as the Huawei Honor 3C.
*TechNave.com would like to thank Huawei Malaysia for not just loaning the Huawei Honor 3C review unit once but twice. It allowed us to do a more in-depth review and highlight more features.
Honor 3C Specs & Price >