Huawei Mate 10 Pro and Mate 10 Porsche Design price revealed, starting from RM3099
Okay, so you know that we just posted an official price for the Huawei Mate 10 which is coming real soon next month. In that news article, we also mentioned about the Mate 10 Pro and Mate 10 Porsche Design rumours. Well, we just saw another confirmation from Shining e-Store, one of Huawei's retailers posting an official pricing for two models, which is RM3099 and RM6998 respectively.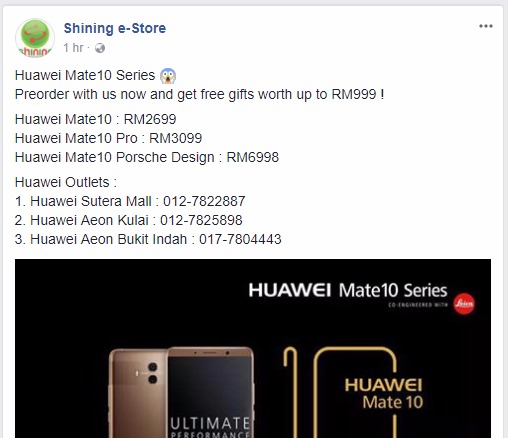 So what about the pre-order gift? Will it be the same? We thought it was at first, but upon clearer inspection that the RM999 free bundle is only applicable to the Mate 10. As mentioned before, the Mate 10 will come into the Malaysia market first, followed by Mate 10 Pro and Mate 10 Porsche Design. However, Huawei Malaysia may change their minds over time, so who knows. We shall wait and see.
So what do you think about the official price? Let us know in the comments below and stay tuned for more Huawei news at TechNave.com.