Huawei Mate 20 Pro review - Huawei's best flagship yet takes everything up a notch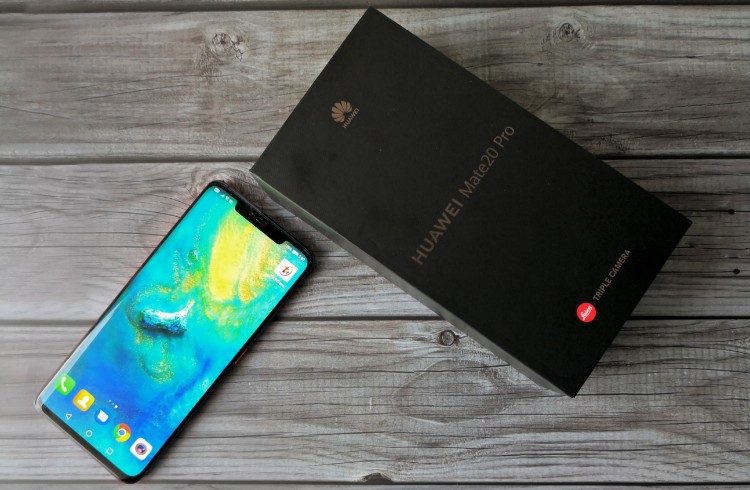 Featuring a culmination of all the latest mobile technologies yet, such as the dual NPU packing Kirin 980 chipset, in-display fingerprint sensor, 40W supercharging, wireless charging, reverse wireless charging and more, the Huawei Mate 20 Pro is probably one of the most unique flagship smartphones you can get in Malaysia. It is also the first Huawei smartphone to offer a dual curved edge display and a unique-looking Porsche-inspired design completely unlike its Mate 10 Pro predecessor.
At RM3599 it is certainly priced for the upper flagship range and it also has plenty of world's first's features included as well. However, is it the flagship device for you? Find out in our review of the Huawei Mate 20 Pro below.
Design - Unique combination of form and function
To date, we can safely say that there are no other smartphones that look like the Huawei Mate 20 series, especially the polarising square Matrix Camera setup on the back. Because of that, it is certainly unique but it is either a design that you love or hate with nearly no middle ground in between. Huawei have said that while this design was based off the Porsche 911's four light headlamps, it also allows the Mate 20 series to take better pictures so there are apparently solid functional reasons behind this design choice.
This combination of form and function is carried on for the glass backs. While the normal Twilight and black certainly look nice, the still-not-available-in-Malaysia colours that have the Hyper Optical bands are definitely less slippery and easier to grip. They don't smudge as easily too (there can be smudges if your fingers are oily enough though). For me, it gives a rather Kevlar-like look, but for others, it might make the design even more polarizing.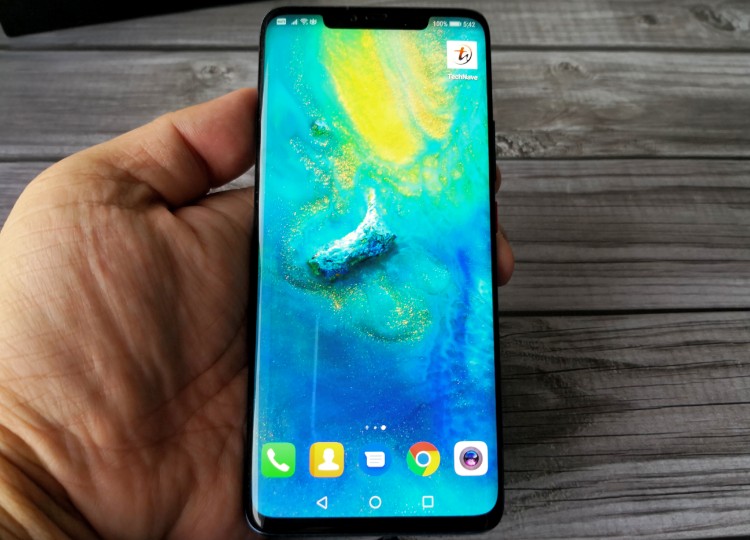 Huawei's first dual curved edge display smartphone is nearly all screen, for a smaller grip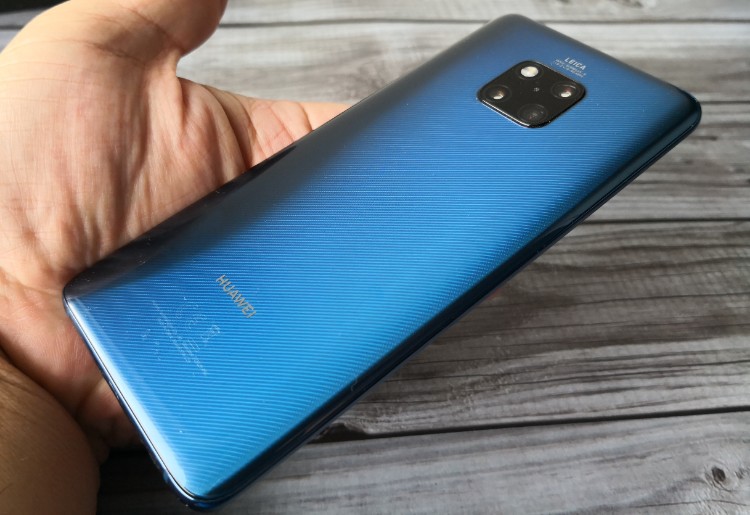 The Hyper Optical bands reflect light and reduce smudges while increasing texture, making it less slippery but it really looks like Kevlar in the light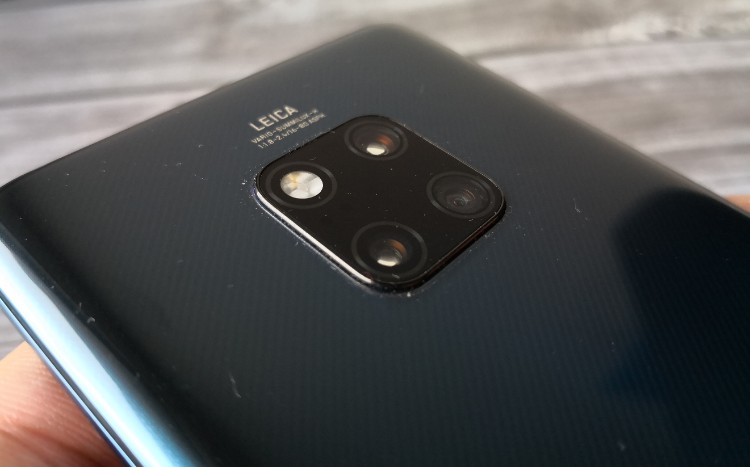 The Matrix Camera system really makes it look unique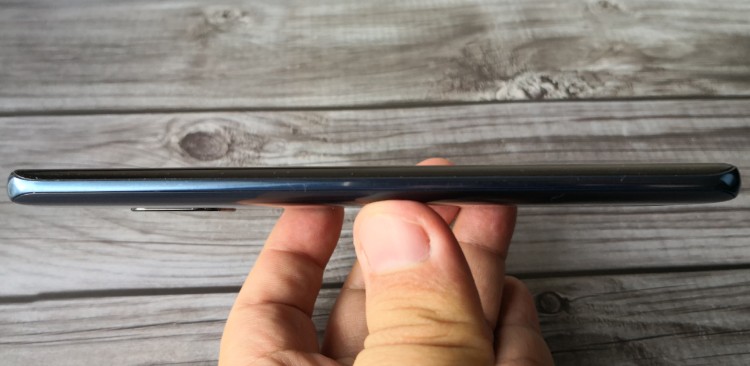 Smooth on this side with only slightly raised triple LEICA rear cameras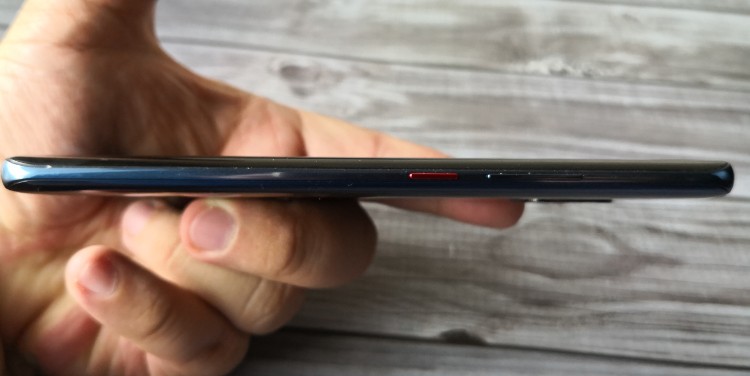 Fancy a red power button?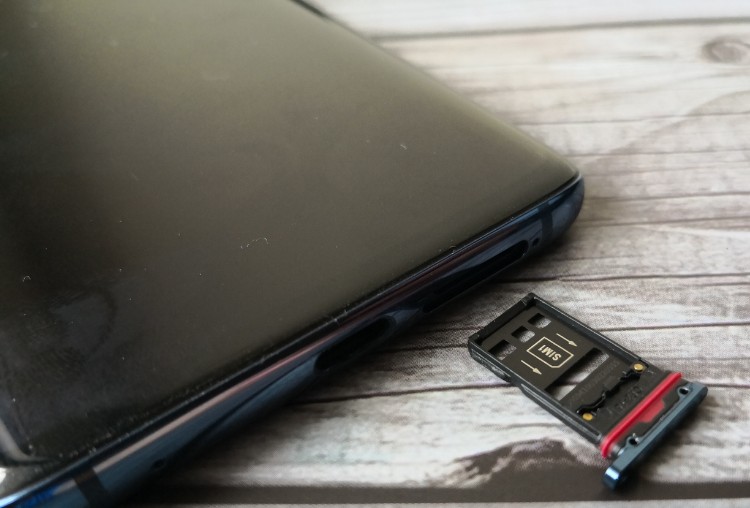 Believe it or not, but you can fit in a SIM card and Nano MicroSD in this single slot tray
As the first Huawei phone to have a dual curved edge display, this also adds on to the uniqueness of the Mate 20 Pro. Personally, I'm not a fan of dual curved edge displays, but it does look pretty and helps raise the illusion that the front of the phone is all screen while making the phone slimmer. The rather wide front notch does interrupt this a bit, but the 3D sensor and 24MP front camera are certainly useful (more on that in a bit) along with the front speaker.
You can change the screen so that it gets rid of this notch, but the only time I've actually felt the need to do this was when playing games like PUBG Mobile, where the controls overlap with the notch (the recent PUBG Mobile update has fixed this already). On the top of the phone, there is an infrared blaster while on the sides the power button is a bright red. No 3.5mm audio jack and no speaker grilles but the USB Type C port also doubles as one of the speakers (which may not be a world's first but it is definitely the first one I've seen to do so). It comes with an additional adaptor and clear case in the box.
Tech specs and Features - Futureproofed for everything but improves with time
Here are the Huawei Mate 20 Pro tech specs:
Kirin 980 processor (7nm SoC), Mali-G76, Dual Neural Processing Unit




6GB of RAM




128GB storage (expandable memory available up to 256GB Nano Memory card)




6.39-inch OLED dual curved display in 2K resolution




Triple rear camera - 40MP (main,wide angle, f/1.8) + 20MP (ultra wide angle, f/2.2) + 8MP (3x telephoto, 5x hybrid zoom, f/2.4) |

24MP front camera (f/2.0, HDR), 3D Face Unlock




Features In-Display Fingerprint Scanner, IP68 water and dust resistance, 40W SuperCharge technology, 15W wireless charging, Wireless Reverse Charge, wireless easy projection, AI scene recognition, AI Cinema Mode, AI Predictive Focus, 3D Selfie




Supports Wi-Fi 802.11 a/b/g/n/ac, dual-band, Bluetooth 5.0, NFC, aptX HD, USB Type-C 3.1 (reversible) connectivity




EMUI 9 based on Android 9.0 Pie




4200mAh battery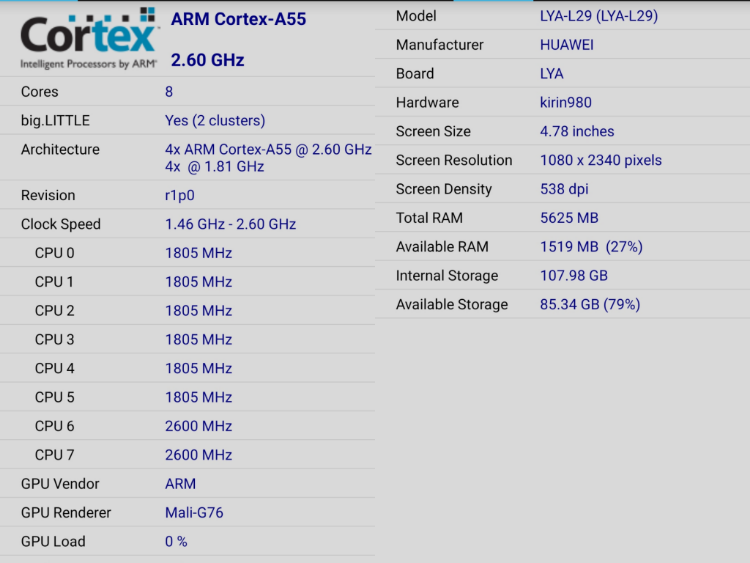 Here's the tech specs but the screen size is a bit off
While the rear design may be similar, the Huawei Mate 20 Pro differentiates itself from the other Mate 20 series phones by the sheer amount of features that it has. Unlike last year, when the Mate 10 Porsche Design was the only feature-filled Mate king, this year the consumer Mate 20 Pro packs in stand-out features like an in-screen fingerprint sensor, 40W supercharging, 15W wireless charging, reverse wireless charging and IP68 water and dust resistance.
It also packs in significantly higher resolution cameras with a 40MP + 20MP wide angle + 8MP telephoto triple rear combo. This year, Huawei not only replaced the 20MP monochrome sensor from the P20 Pro with a 20MP wide angle sensor, but they also included an actual LEICA wide angle lens that lets you take photos as close-up as 2.5cm away or detailed wide angle shots in low-light. These are only available on 10MP resolution though, but can be switched to easily with the zoom button/slider from 0.6x for wide-angle, 1x for normal, 3x for optical zoom and 5x for the hybrid zoom (there's also 10x but this just digital zoom).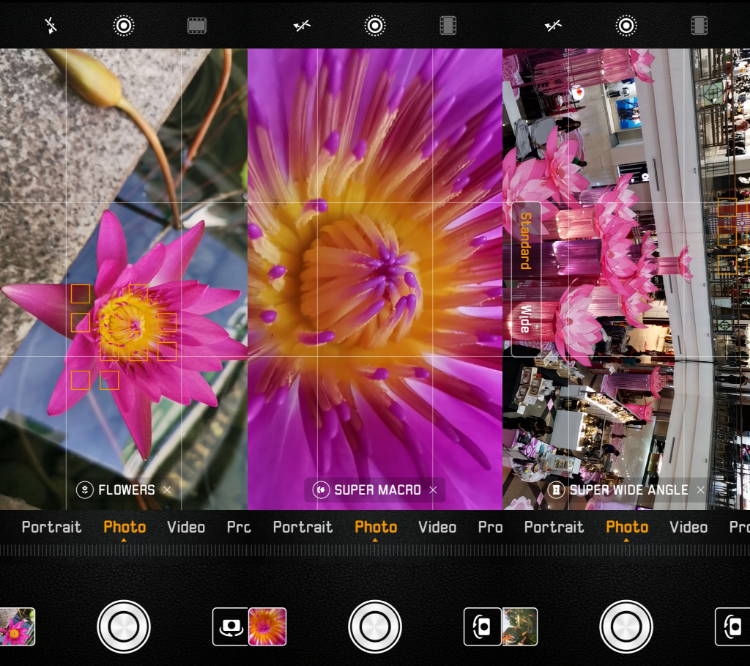 You can now turn of the Master AI but there's also new modes like Super Macro and Super Wide Angle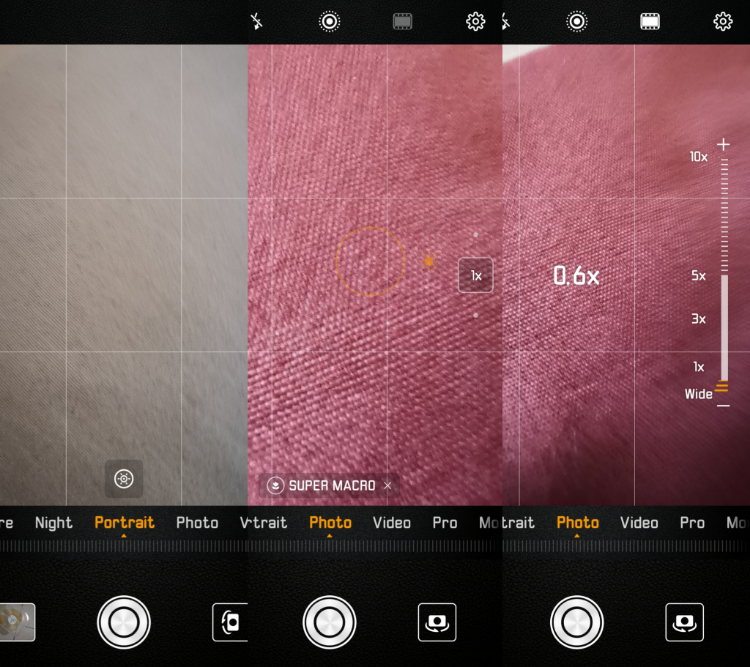 You can quickly switch to wide angle (0.6x) to hybrid zoom (5x)
AI Camera is still there for image post processing in real-time but there's new additions like Super Macro Mode for those ultra close-up shots and Super Night Mode for clearer night shots. This time around, the Master AI can be turned off in the settings, so if you don't want the AI Camera, you can turn it off. Despite the lack of a monochrome lens, there's still a fairly good monochrome mode, while the usual light painting and Pro modes are also available.
For the blurred background fans, there's Aperture and Portrait modes, with Portrait offering various bokeh or blurred background settings for faces and Aperture for everything else. There's also an AR Lens mode for those who like to record 3D emojis of their faces along with a Hi Vision mode which lets you read QR codes, identify things, locations and points of interest in real life, links shop for them and even find out how many calories they might contain.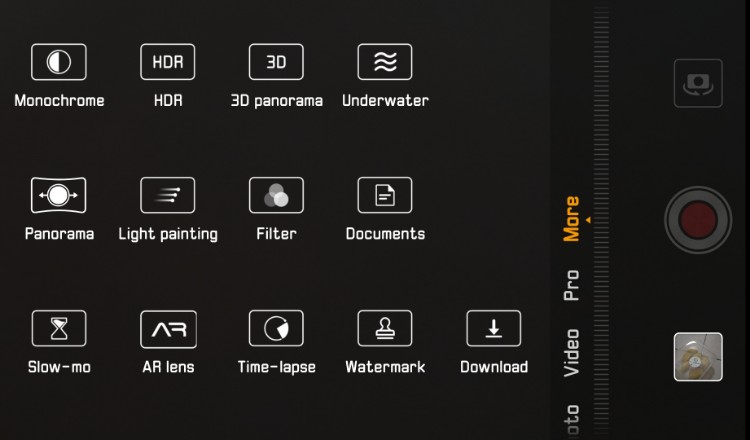 Here's the camera features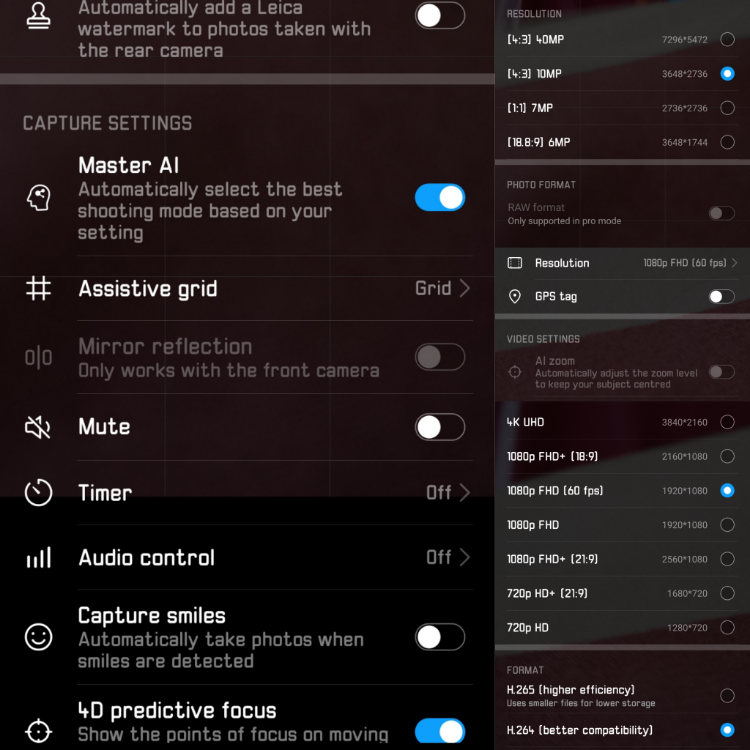 Features for the rear cameras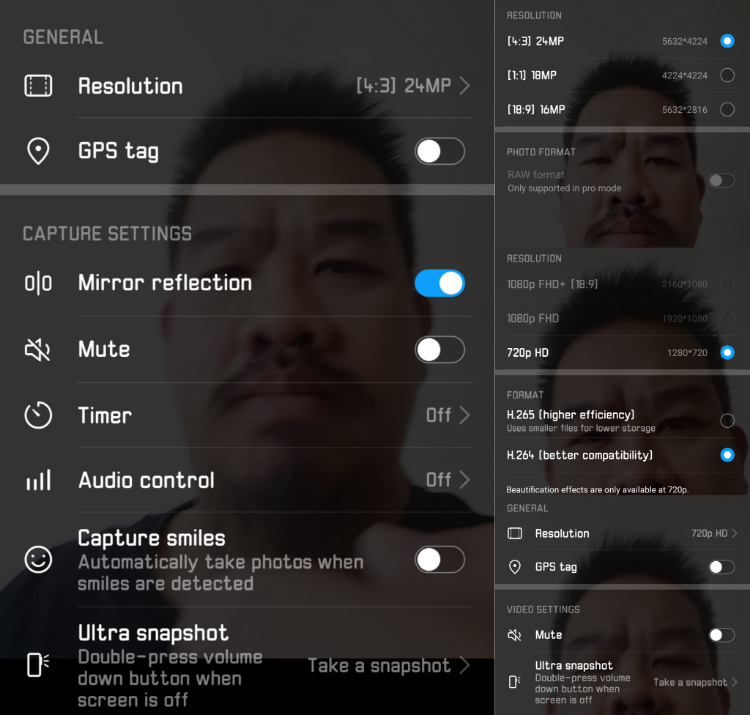 Features for the front camera
For video recording, the highest resolution the Mate 20 Pro can go for now is 4K at 30fps, with Full HD at 60fps but Huawei have added on a post processing for video in real-time feature which they call AI Cinema. This allows you to record video filters in real time, with the most intriguing one being AI Portrait Colour, which colours your subject while making everything else monochrome. There's also a slow-mo mode which can record in 960fps or 120fps.
The 24MP front camera can also record video up to FHD+ but the main highlight of the front camera is its collaboration with the 3D sensor, which lets you do more accurate face unlocks even at an angle or when the phone is in landscape mode. Suffice to say, it works smoothly even at night but Huawei still includes the usual disclaimers that a similar face could also unlock your phone. The in-display fingerprint sensor lights up green when it scans your finger and you can unlock it straight from standby mode (8 times out of 10 it works just fine, especially after recent updates, but if your finger or the screen is too wet or oily, then it might not recognize it).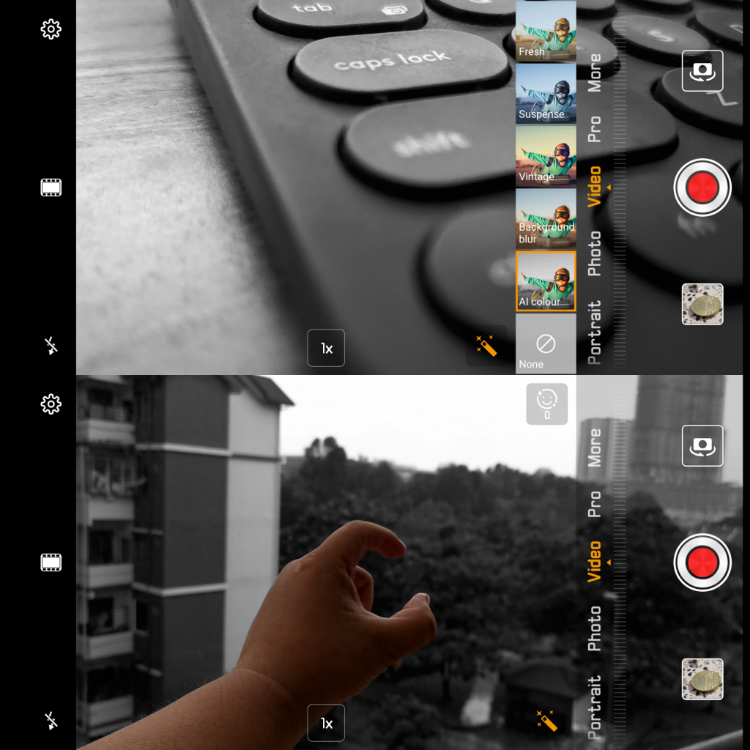 The new AI Cinema video recording mode integrates video filters in realtime
The previous EMUI Desktop has been upgraded somewhat as well. While you can still turn the Mate 20 Pro into a PC desktop with a single HDMI to USB Type C cable or with nearly any generic USB Type C hub, all of the Google apps have been moved to the desktop or the start button along with system apps like files and the calculator. Overall, we found it to be a much more polished version but strangely enough some previously fine apps have been downgraded, for example, the YouTube app can only show videos up to 480p but more apps (like my own usual Picsart Photo Studio) now fully supports Desktop mode. Most web apps like the YouTube site itself work fine though, so you can always go to Google Chrome and have Facebook or YouTube work with no problems in Desktop Site mode.
A major world's first is the fact that this same EMUI Desktop can now be projected wirelessly, and it works over Miracast. Since most of the newer monitors, projectors and HDTVs support Miracast, this makes things very convenient, but our own experience with a Miracast dongle only lets the EMUI Desktop project up to 720p. It's also a bit laggy, so we expect this to be mainly useful for presentations or watching movies, or at least until updates polish this feature up.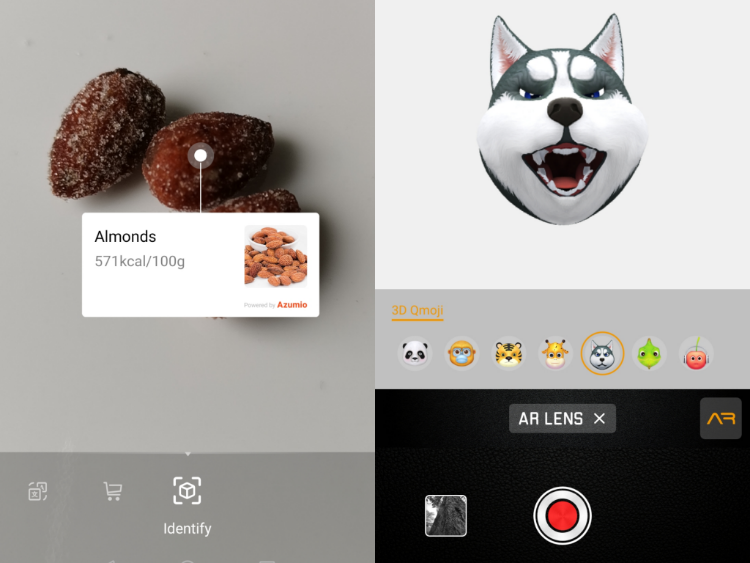 There's a ton of features including a calorie counting AI camera and an AR lens
There's a ton of other features on the Mate 20 Pro that we haven't fully explored yet. This includes a fast swipe gesture mode for one-handed usage, the ability to scan objects into actionable 3D models (you'll have to download the 3D Live Maker app exclusively for the Mate 20 series) but there is one feature we'd like to highlight, and that is the battery mode. If you open it up, you'll find that Huawei have done what they earlier promised, opening up performance mode (more on how powerful this is in a bit) which you can toggle as you want.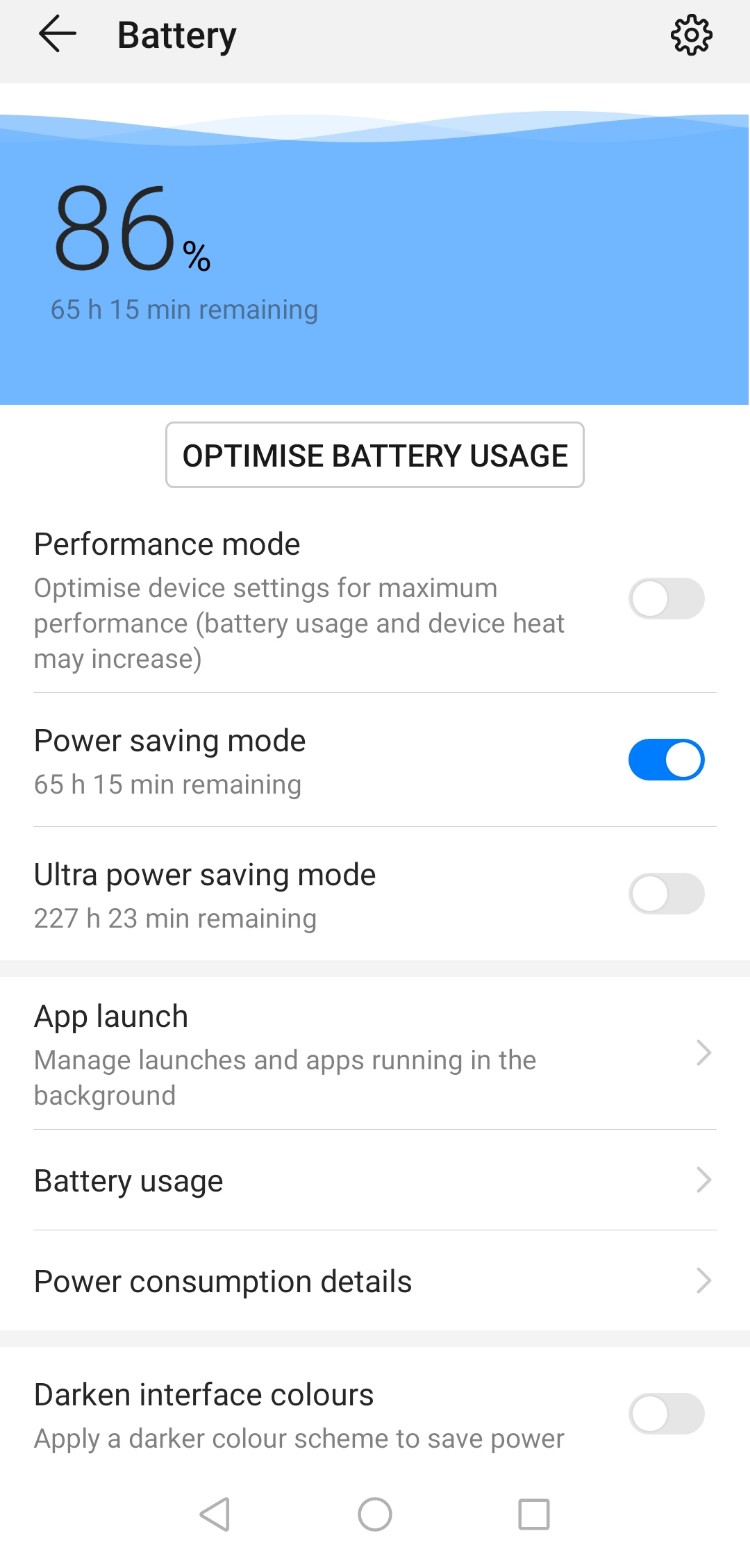 Yep, you can now turn on performance mode at will or darken the interface to save more power
Performance - Potentially the most powerful, but improves with time
The Kirin 970 didn't do so well in many of the more popular benchmarks mostly due to the AI nature of the chipset that allowed it to push the chipset when it needed to. Unfortunately, this carries forward with the Kirin 980 chipset, but Huawei have toggled the chipset down somewhat to help conserve energy. This is reflected in an AnTuTu score of 224480, a 3DMark score of 2189 on Slingshot Extreme OpenGL and Geekbench 4 of 3322 for single core and 9849 for multicore, which is high but not nearly as high as the Snapdragon 845.
However, if you set the Mate 20 Pro on performance mode, its AnTuTu score of 300980 easily tops the pack and in other benchmarks as well. We assume that this means that the Kirin 980 can beat out the Snapdragon 845 if necessary, but Huawei have toggled it down so that it only comes up when needed. Thankfully, I never needed to use this performance mode because even when set at normal mode, the Mate 20 Pro plays demanding games like PUBG Mobile on HDR with smooth lag free gameplay (you'll need to download the latest PUBG Mobile update).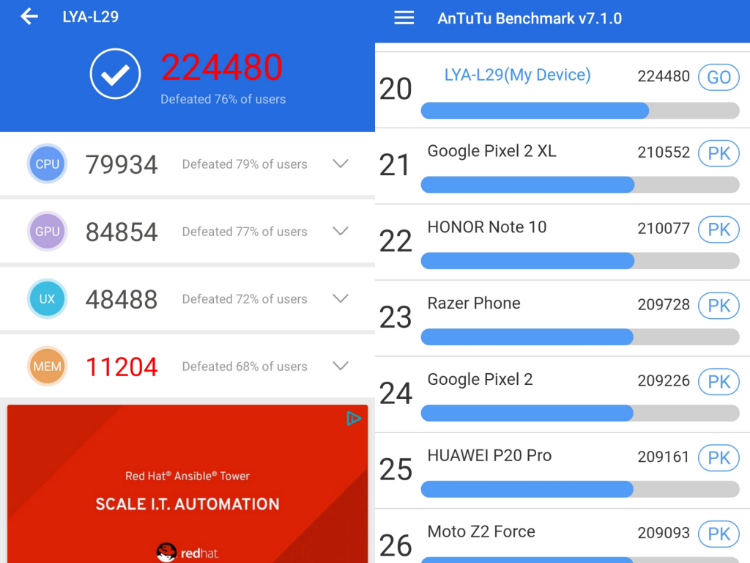 AnTuTu scores on normal settings
3DMark and GeekBench 4 on normal settings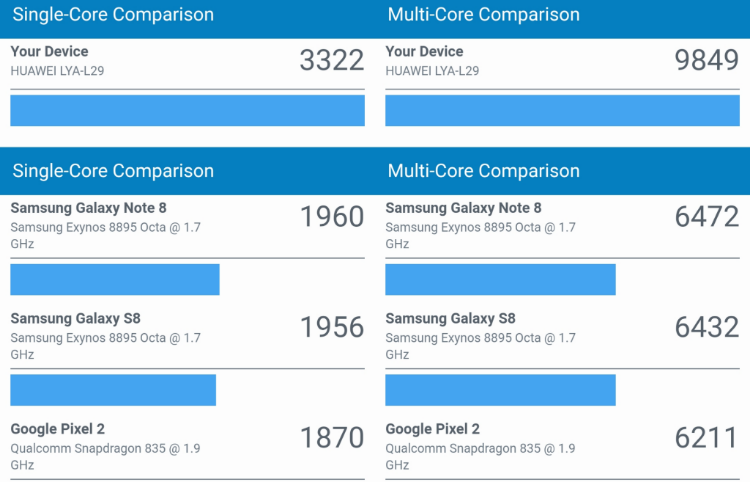 GeekBench 4 Single-core and Multi-core scores on normal settings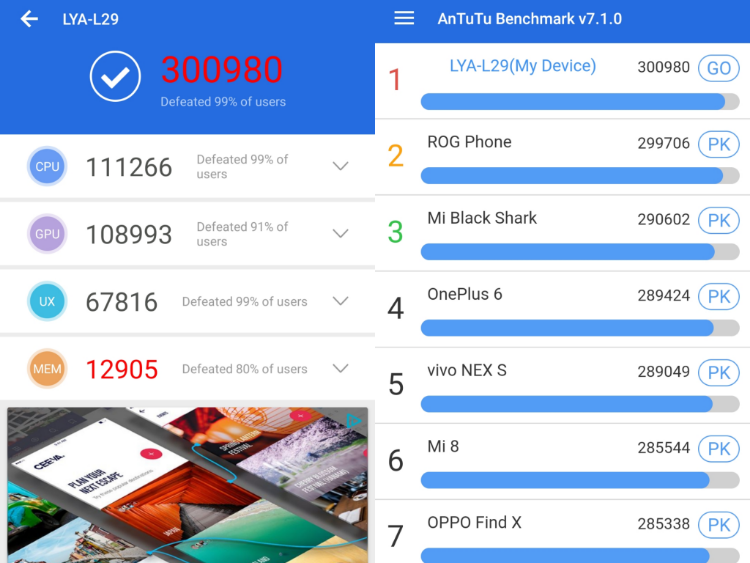 AnTuTu on Performance mode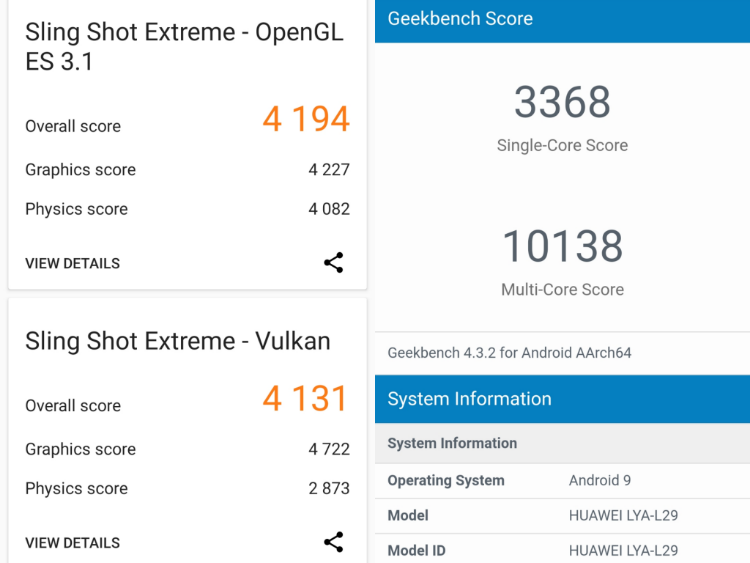 3DMark and GeekBench 4 on Performance mode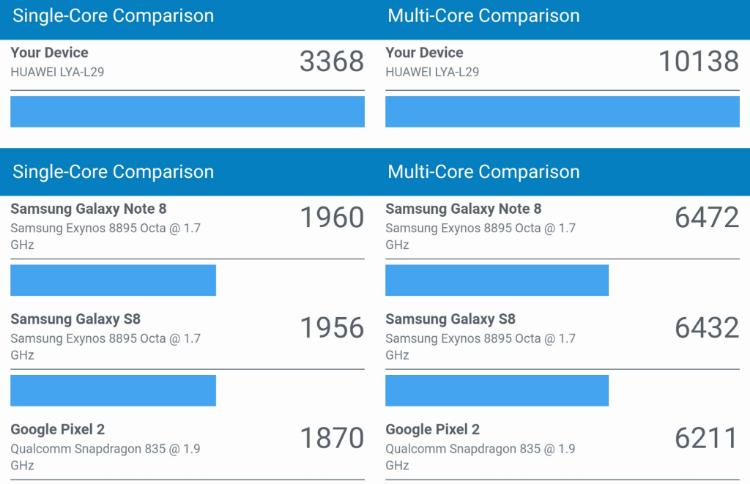 GeekBench 4 Single-core and Multi-core scores on Performance mode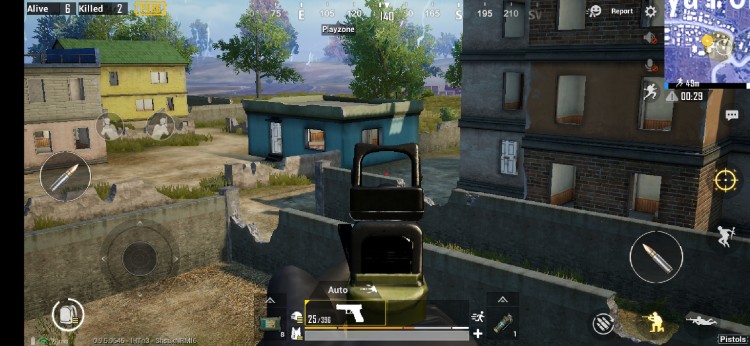 PUBG Mobile on HDR settings is both beautiful and lag free
This somewhat toned down performance also translates to a more energy efficient Mate 20 Pro, which on average can get 1 day and a half to 2 days on normal to medium usage (email, chat, surf, YouTube, gaming, EMUI Desktop). If you select power saving or ultra power saving modes we expect battery life to increase exponentially but you won't get notifications as soon as you can. Thankfully, with the up to 40W charging, it only takes about 1 hour and 10 minutes to charge the Mate 20 Pro from 0% to 100%.
You'd think the phone would get hot with that sort of fast charging, but the only time the Mate 20 Pro got hot was when we played PUBG Mobile for a while or turned on Performance mode. It didn't even get hot with the GPS, proof that the new GPS does contribute to the better energy efficiency of the Mate 20 Pro. Connectivity was fast and stable, while call quality is excellent. The screen looks really bright and vibrant, with clear colours while the audio is also nice and loud, even when the USB Type C port gets plugged up with an adaptor for EMUI Desktop.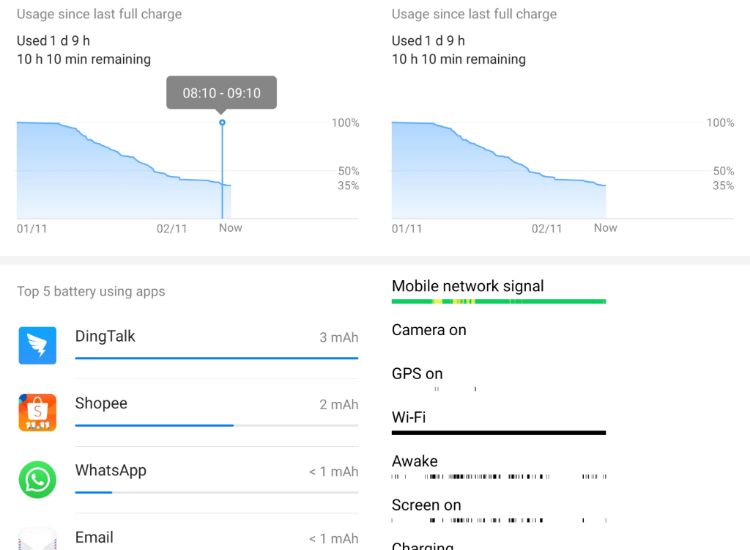 Battery life is awesome on the Mate 20 Pro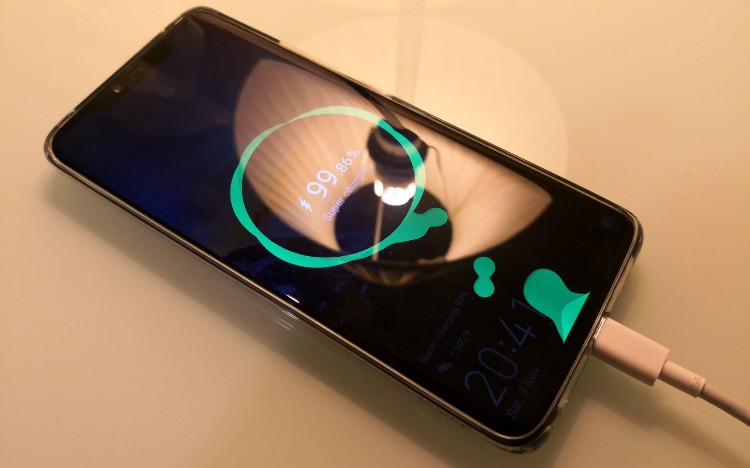 40W Supercharging is superfast and TUV Rheinland endorsed
Talking about EMUI Desktop, the new version has been cleaned up and more apps work better with it. We also found that even though we used the same adaptor hub and charger as the mate 10 Pro, the Mate 20 Pro actually charges faster so you can expect your plugged in Mate 20 Pro to get fully charged after about 2 hours or so of EMUI Desktop usage. Unfortunately, Huawei have still not decided to do any sort of keyboard or mouse mapping for games, so games that have multiple controls like PUBG Mobile can't be played very well on the EMUI Desktop. You can still play tap or click games like Age of Valor or VainGlory with the mouse with no issues though.
After the recent update, the in-display fingerprint sensor works much faster and more accurately. Unfortunately, if your finger is dirty, oily or wet (or your screen is) this fingerprint sensor doesn't work as well. The 3D Face Unlock is much faster and easier though, and it worked at night or in pitch black with no issues and it also unlocks with no issues in landscape mode, so you can use it well to unlock your EMUI Desktop too. Setup does take a while longer though, as it asks to capture the edges of your face as well.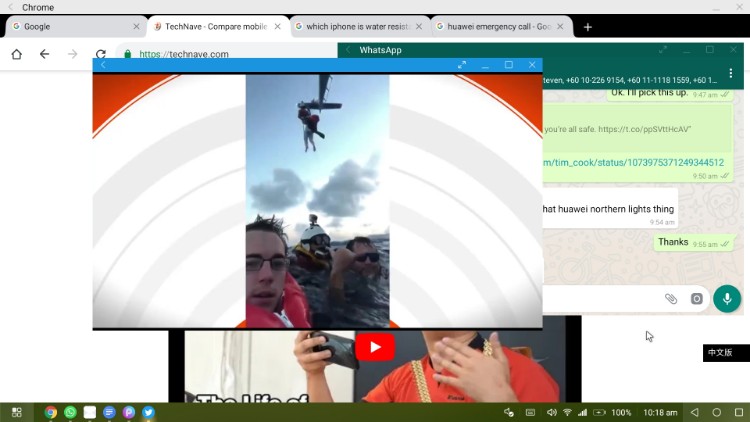 The EMUI Desktop lets you have a PC Like experience and you can now project wirelessly over Miracast
The new Triple Leica rear cameras work excellently. Just as advertised, the Mate 20 Pro can take some really close up shots without the need of any extra add-on lenses or wide angle shots. While you can only do so on 10MP, even the wide-angle shots capture most details well. Colours are bright and accurate without the Master AI on, while with it, the real-time post processing of AI Camera really makes things pop. Taking it a step further is the new Super Night Mode, which makes night and low-light shots even clearer.
Practically every other mode also gets this boost in performance which you can see in the smoother and clearer Panorama mode. The fact that you can now choose to have bokeh or blurry backgrounds for faces in Portrait mode or for objects in Aperture mode is quite logical and certainly does help offer even more camera features for the Mate 20 Pro, but the addition also means that the camera features UI is quite crowded.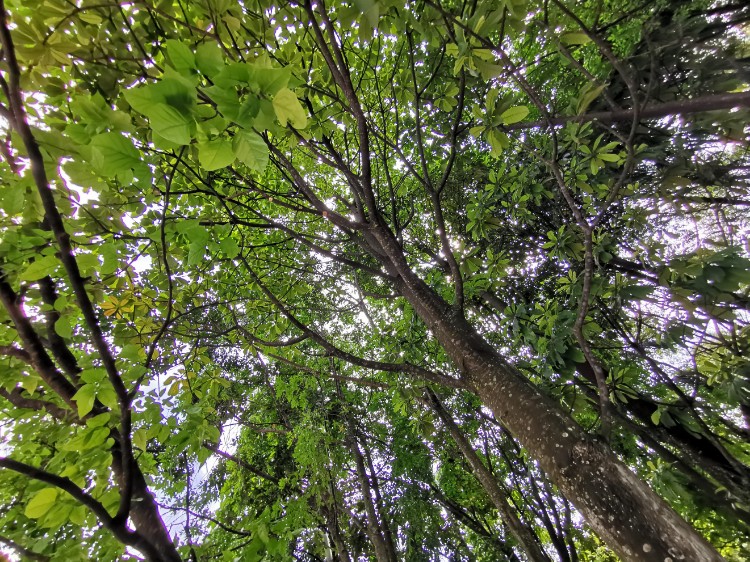 Just Auto, but the details of every leaf and branch is brought out in full detail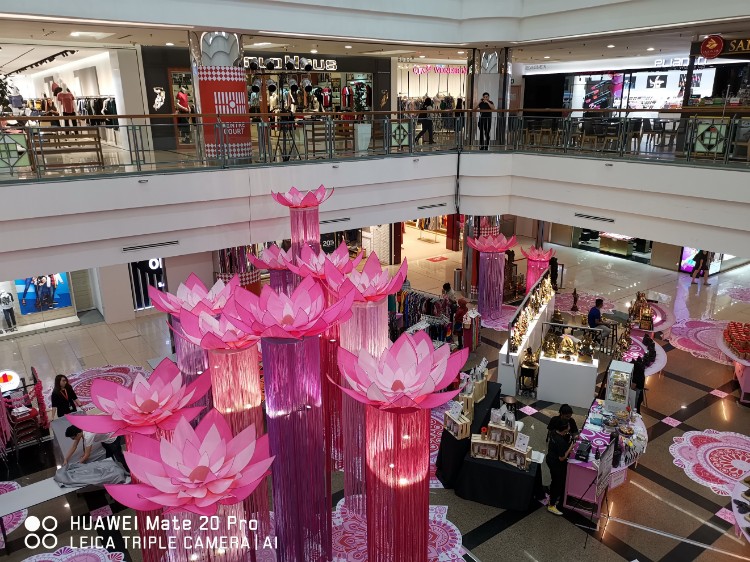 Auto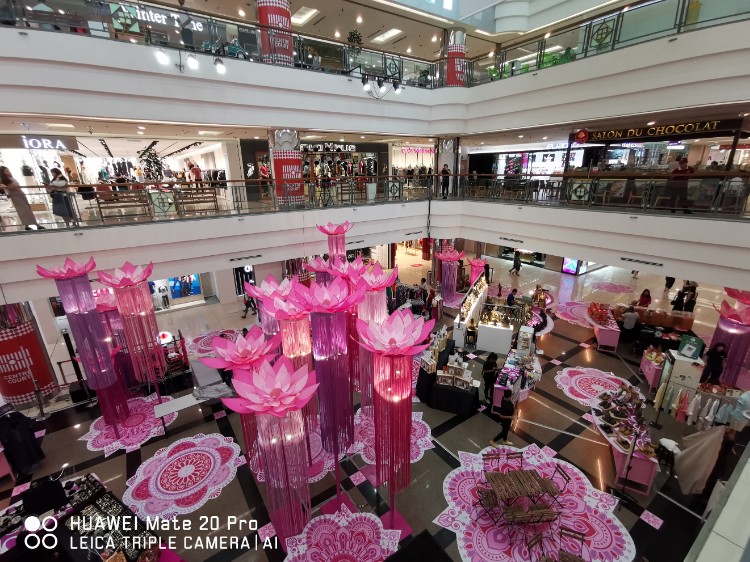 Automatic Super Wide Angle mode
Super Macro Mode gives you unbelievable close-up shots without needing any external macro lens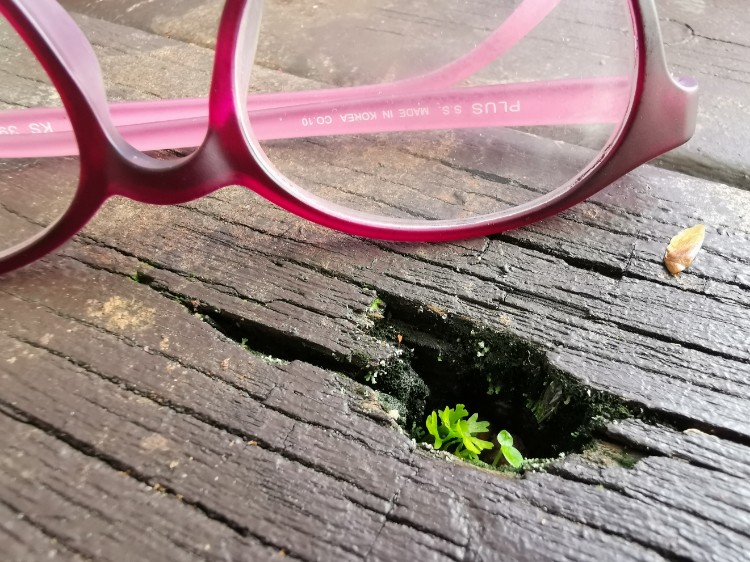 Another Super Macro mode shot
This isn't a bad thing in my opinion, as it means there's a pro feature for every normal photographer out there, but it might get on the nerves of more experienced photographers. For those, the Pro mode is still there and still more than capable of taking most shots. Underwater mode required a Huawei underwater case so we didn't test it but we still managed to take fairly clear water shots with no issues either (thanks to the IP68 water resistance). Monochrome mode is surprisingly good, despite the fact that there's no actual monochrome sensor now.
Video recording is a lot smoother this time around with what appears to be even better AI driven stabilisation. The front camera can handle full HD recording with no problems and the slow-mo video recording works well too. The new AI Cinema mode is intriguing, but we did notice some lag with it on. The AI Colour mode is the most impressive, turning everything else but your subject to monochrome, but it doesn't always work smoothly (especially with many subjects or backlight), so we're hoping this can be fixed or upgraded with further updates.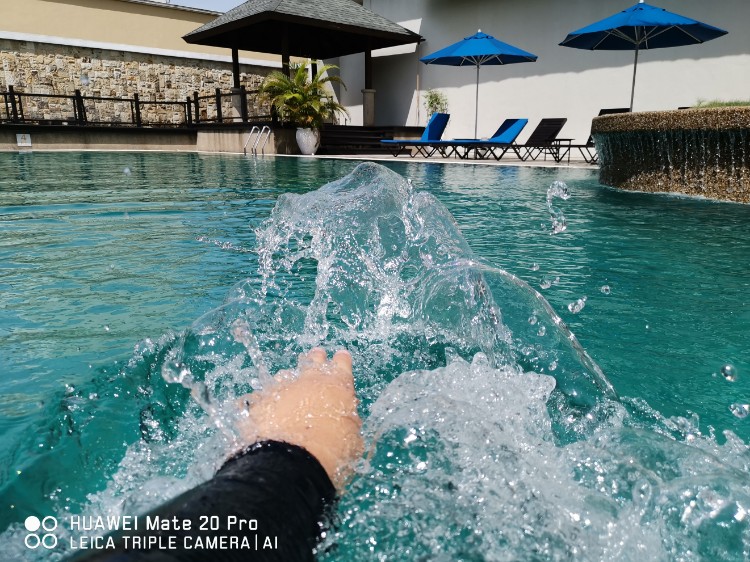 In the water with burst mode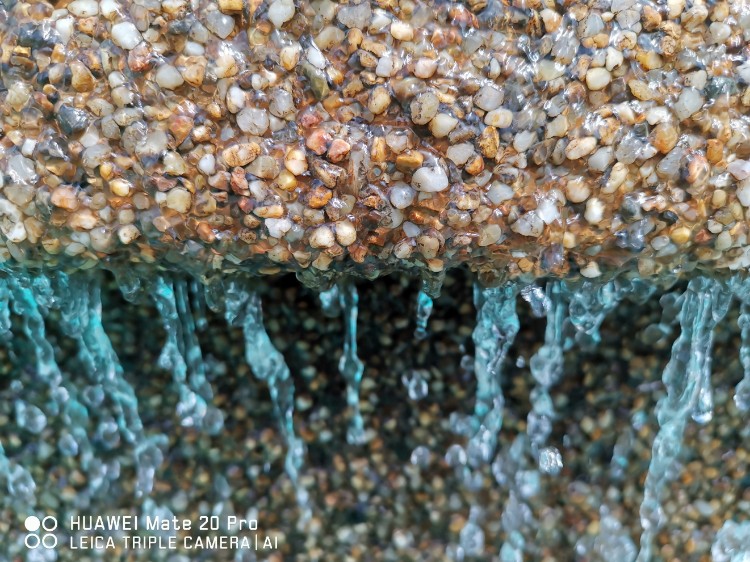 Like frozen icicles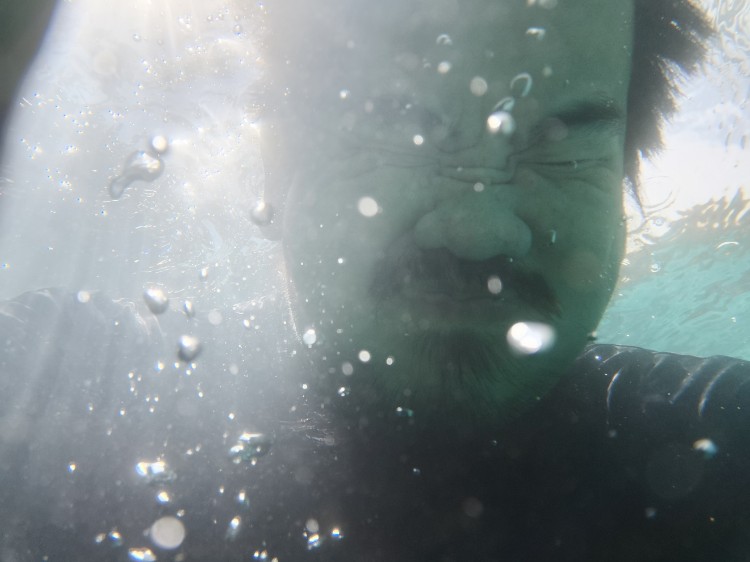 Want to take an underwater selfie?
I have to say that I'm a bit disappointed that 4K on 30 FPS is the highest that the Mate 20 Pro can record but perhaps 60fps and higher levels will be added on with more updates. You can now record super slow motion at 960 fps but this is just for 720p for a few seconds. Slow motion video recording works well enough.
However, one of the best new features on the Mate 20 Pro we've found is HiVision, which is accessible in the top left corner in Photo mode. Consisting of a QR reader (which really helped setting up the Watch GT), Shopping, Identify and Translate, each function does exactly as described if you point the camera at it. Unfortunately, Shopping still only offers links to western sites but Identify and Translate are useful when you don't know what a flower is called or what a menu or sign says. It has potential, but sometimes it can make mistakes. AR lens lets you record 3D emoji's.

Panorama mode lets you curve the shot but captures all the details

It even works well at night
Auto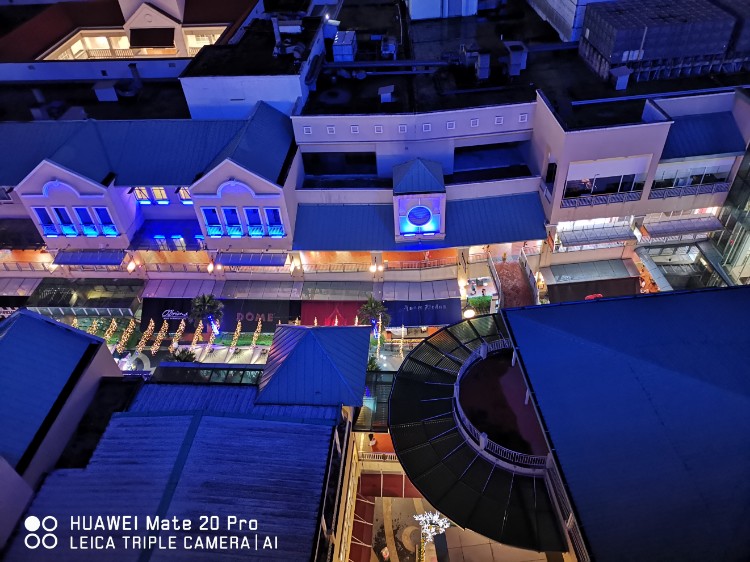 Auto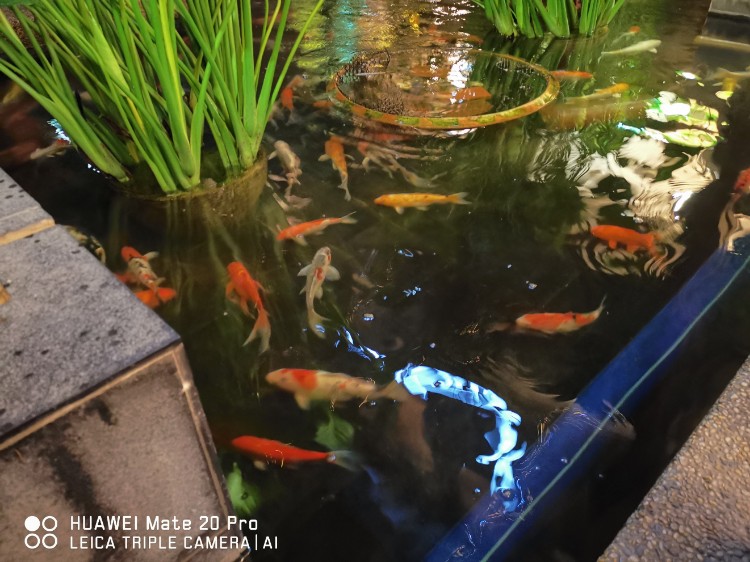 Is that a ghostly fish we see? Nah, just a reflection... gotta be.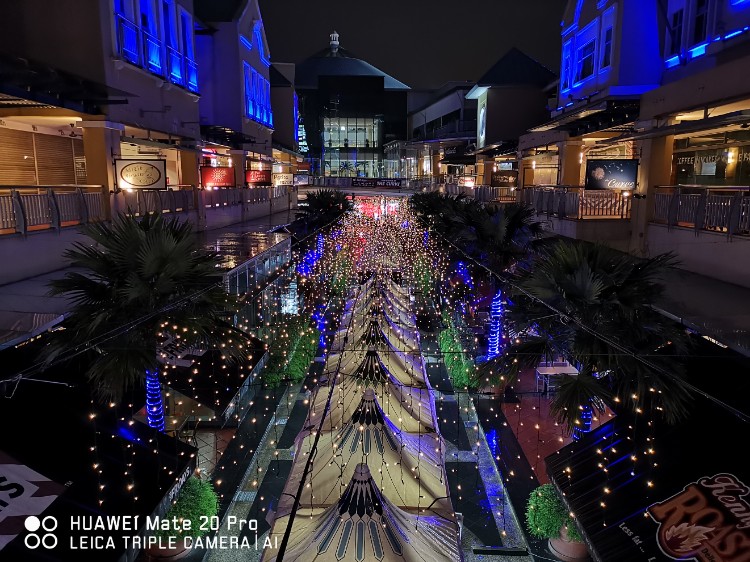 On Auto, the picture still turns out well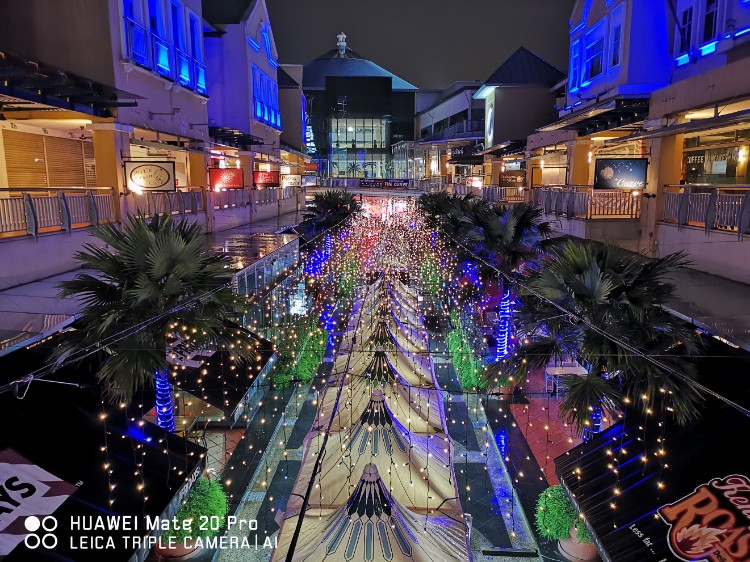 But on Super Night mode, everything becomes brighter without needing a tripod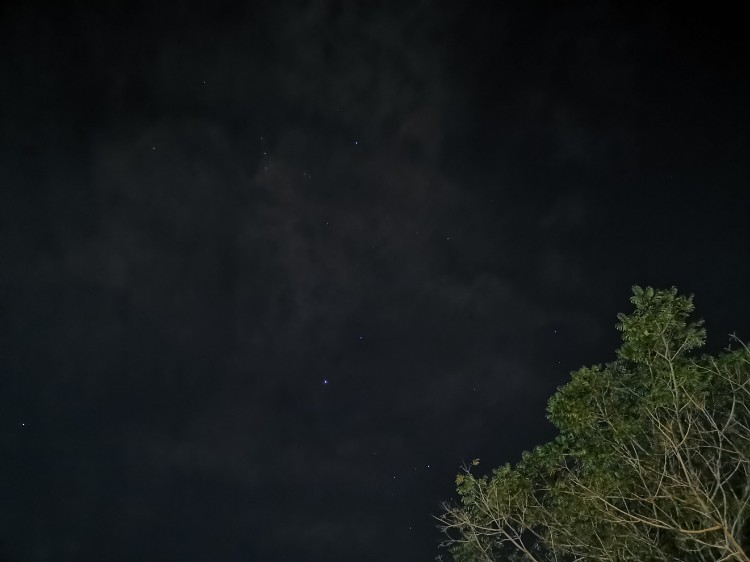 Super Night mode ~ it might not be a galaxy shot but you can see all the details in the tree, the night time clouds and the stars
Conclusion - Potentially the best Huawei Mate yet
Overall, the Huawei Mate 20 Pro has got to be one of the most powerful flagship smartphones currently available. Potentially offering nearly any feature you could want, it still feels a bit like a work in progress as each update polishes up the features and brings in new features as well, but make no mistake, this smartphone has nearly everything for everyone. Want a sleek, unique, easy to grip design? Check. Should you buy it for its cameras? Definitely. Does it let you play games and everything else on maximum but still saves battery life? A big YES.
However, because of this "it has everything" approach, it's difficult to categorize which user it is perfect for. We assume it would be perfect for anyone except the value or entry-level crowd as RM3599 is quite a high price to pay. That being said there's currently no other phone out there which offers the same feature set except for Huawei's own Mate 20 X (which is good for those who don't like dual curved edge displays and have big hands).
Personally, I feel that despite its various features and top-notch performance, the Mate 20 Pro is still a work in progress as nearly every update seems to improve it somehow. For that reason, I think that this is the best time to get the Mate 20 Pro or Mate 20 X, as the features are finally as good as they were claimed to be when it first came out. I expect it to get better with more updates, maybe even an M-Pen update as it looks better suited for business use, which is what the Mate 20 Pro looks perfect for.
Regarding recent issues of green screen tinting, I have to say that I've been using it since day one (when it got launched) and I haven't noticed any such issue, proof that it is likely isolated cases and not something that affects each and every Mate 20 Pro. If it appears for you, do bring it in to your Huawei Store for a replacement as the warranty should cover it without any damage to the IP68 water resistance. Regardless, you'll still end up with an awesome smartphone in the end, so we see no issue with it.
Got your own Huawei Mate 20 Pro and found something we didn't cover? Thanks to all the features, we wouldn't be surprised, so do let us know about it in our Facebook page. Stay tuned to TechNave.com for more reviews and tech news.
Huawei Mate 20 Pro Specs & Price >