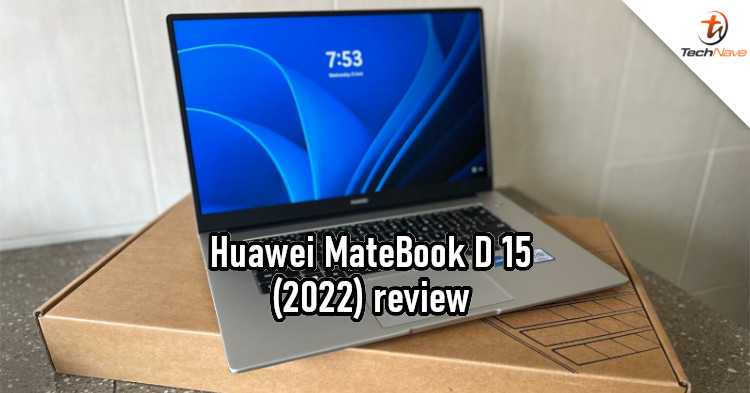 Huawei Malaysia has released this year's updated models of the MateBook D series, and this time we got to try the Huawei MateBook D 15 2022. It's a lightweight machine with an 11th-gen Intel Core CPU and can be upgraded to Windows 11.
So who is Huawei targeting with the Huawei MateBook D 15 2022, and can they meet your needs? Without further ado, check out our review below.
The Huawei MateBook D 15 doesn't look that different from before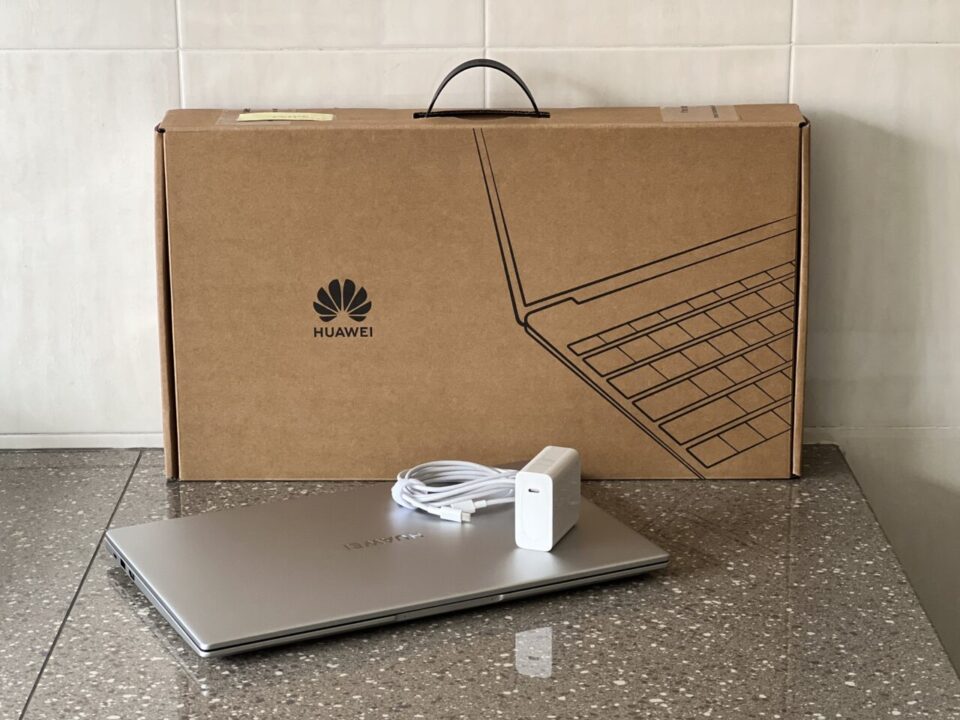 What's inside (minus the documentation)
Thin and light body
In terms of design, this year's Huawei MateBook D15 isn't that much different from last year's model. But it maintains a thin and light metal body but retains the same texture. Considering that it has a large 15.6-inch screen, this laptop is quite slim at about 16.9 mm in thickness and is about 1.6 kg in weight. In addition to offering a large-screen display, it is portable enough to move around for office work.
Huawei went for a metal lid with a brushed finish with the Huawei logo engraved in the centre. What's great about this is that you barely see any fingerprints. Flipping the laptop's lid, you'll see the 15.6-inch screen with narrow bezels. For this model, the screen has a decent 87% screen-to-body ratio which is a rather large screen for a relatively compact machine.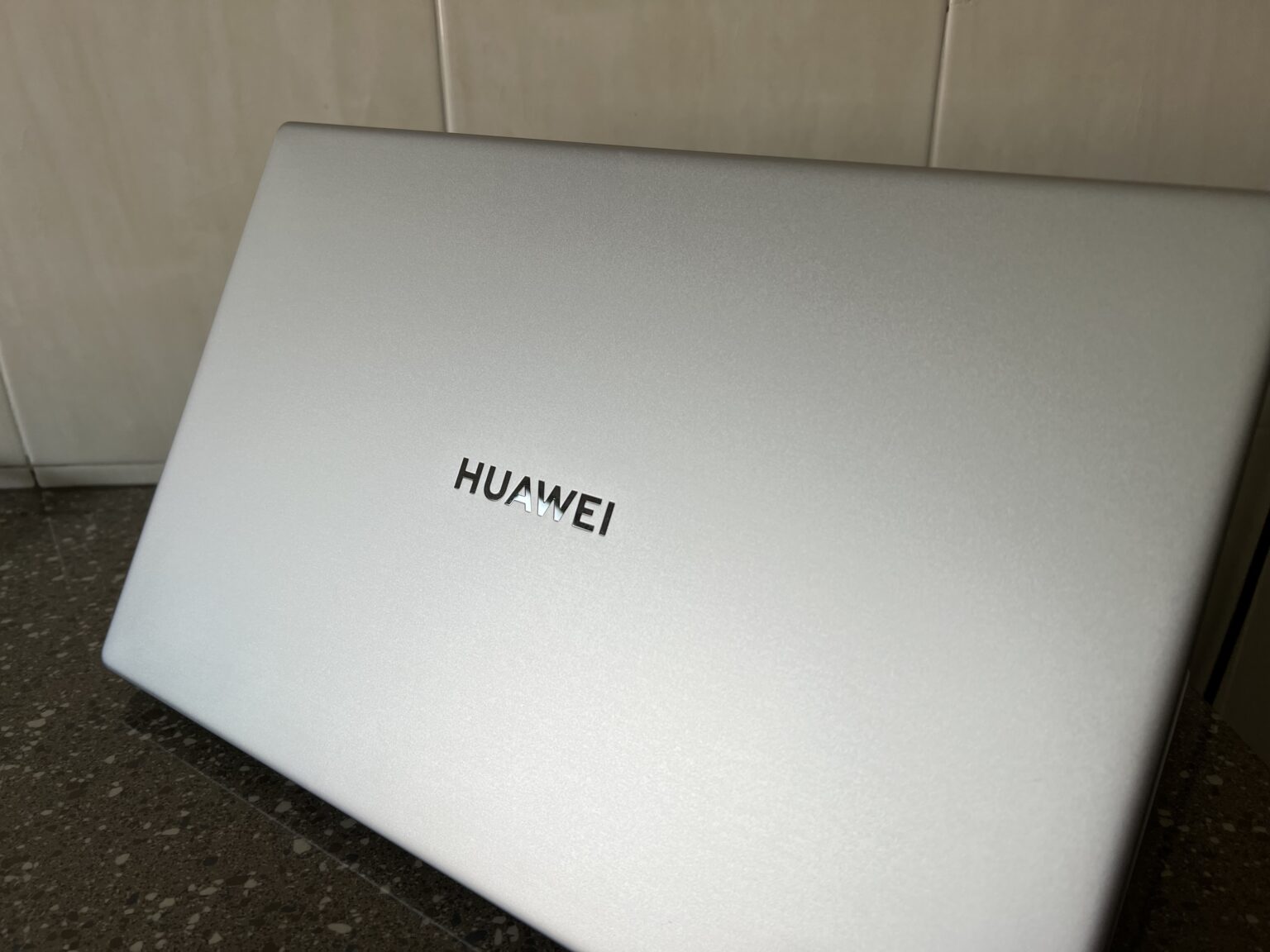 The build quality is solid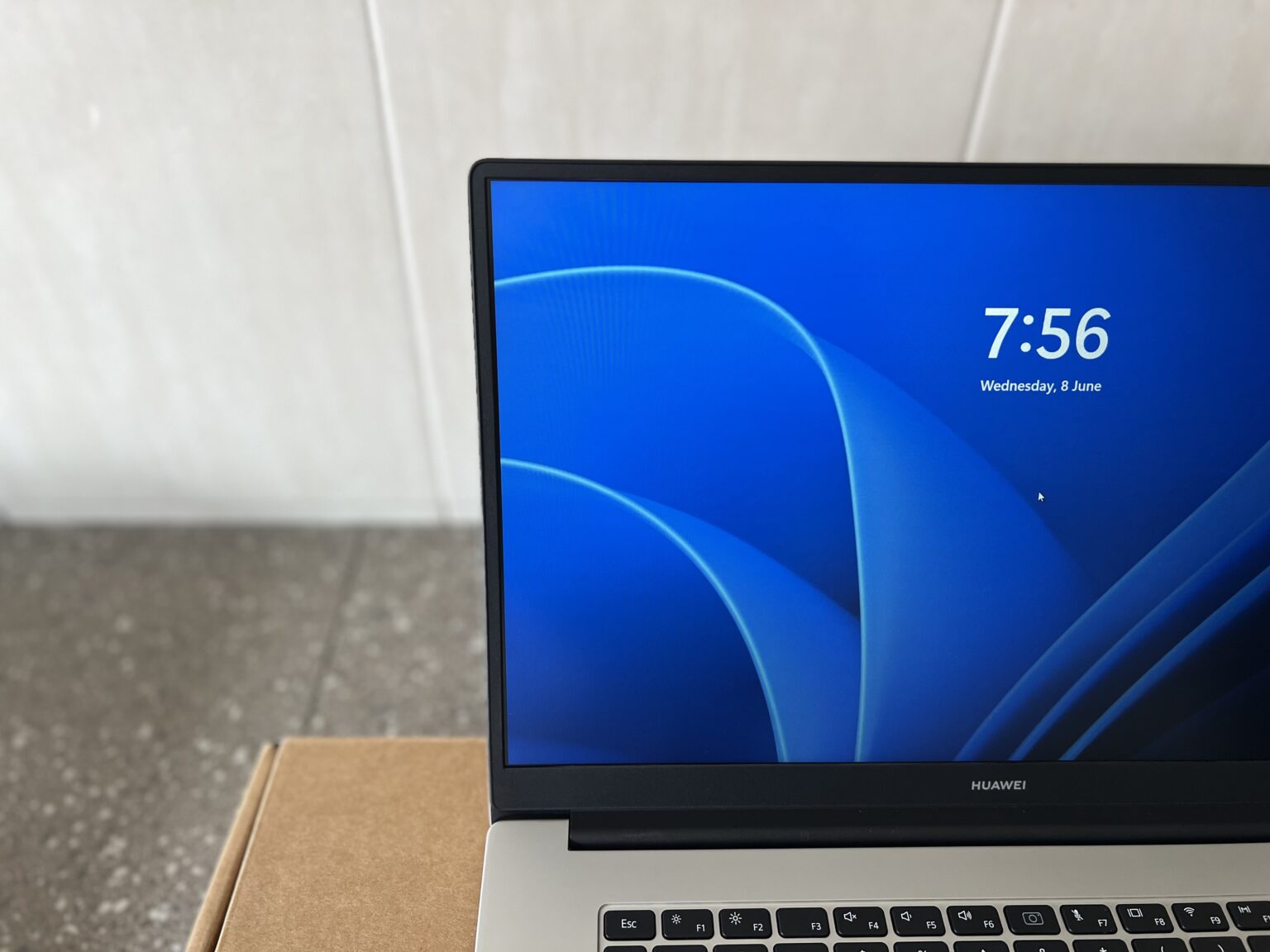 HD eye protection full screen
Yup, it's decent despite being a regular IPS panel. The display has a screen resolution of 1920×1080 and a 100% sRGB wide colour gamut. On top of that, it has the Rheinland low blue light eye protection certification and no DC dimming mode Strobe double eye protection. You can enable these by right-clicking on the desktop and opening "Display Settings" to quickly open the eye protection mode, HDR, and adjust the colour temperature and more custom settings. Its 300nits max brightness is low but should be fine unless you use it under bright sunlight.
Moving on, let's take a look at the keyboard surface. Here, the MateBook D15 maintains the power button with an integrated fingerprint sensor. It's like those phones with a side-mounted fingerprint sensor on the power button. When we tested it, it unlocked just as fast, which is handy if you plan to use it as a work laptop.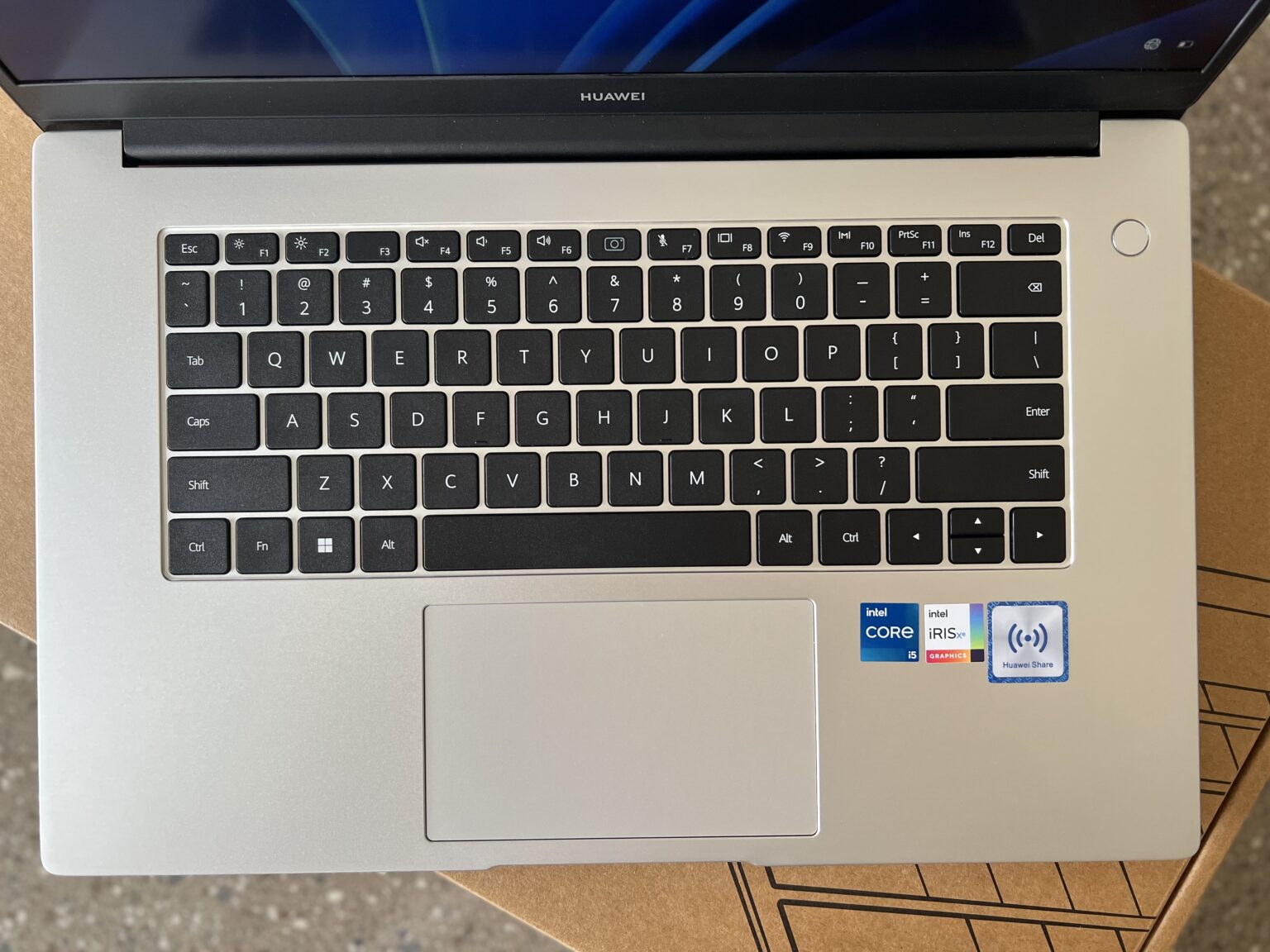 MateBook D15 keyboard area interface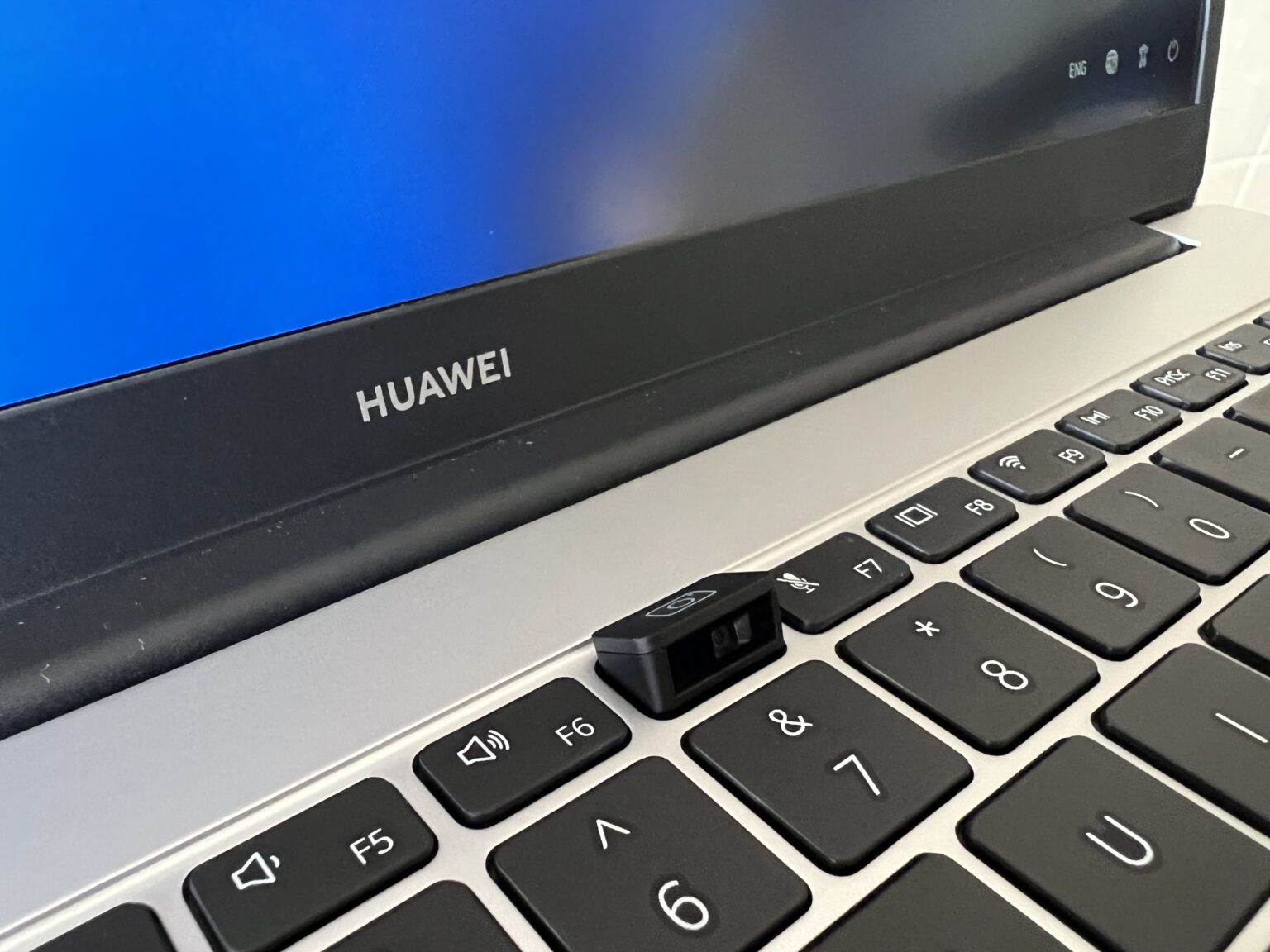 The 720p HD video camera is here
As usual, Huawei has placed the 720p HD webcam in the centre of the top row of the keyboard. Just press that button to make the camera pop up. While it's a rather unusual spot it means the laptop has more space for the screen. Also, the webcam can be hidden when not in use, so it's convenient and protects your privacy. The downside is the weird camera angle, which can't be adjusted freely.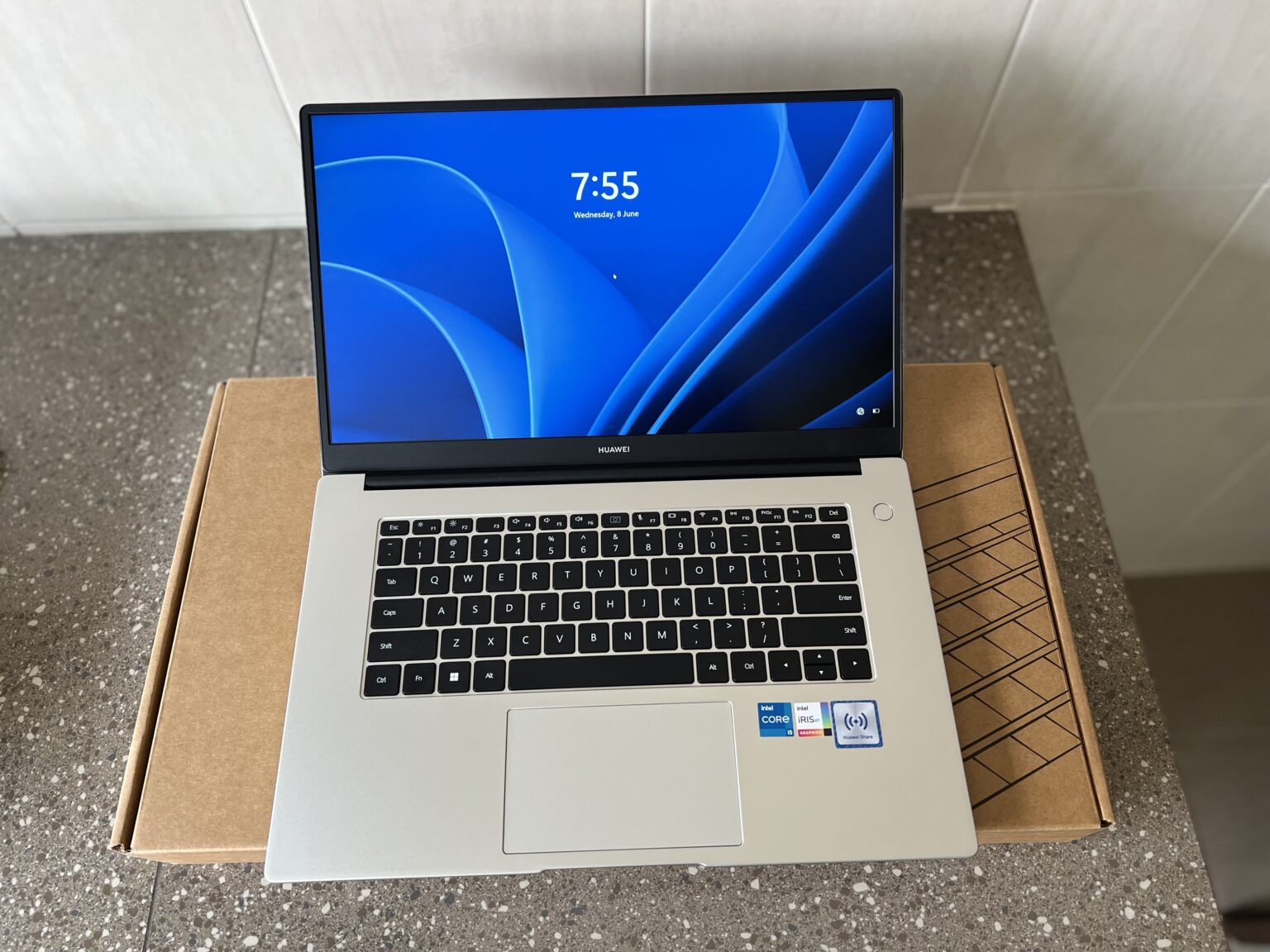 What do you think of this laptop size?
As for the keyboard, it is wide and spaced out nicely. The keys feel soft, so the overall typing experience is pleasant. The trackpad has a decent size and is easy to use. Honestly, you probably don't need a mouse with this trackpad. On the lower right side of the keyboard is the Huawei Share area, where you can find the NFC connection. This is for those who have a Huawei smartphone and want to enable multi-screen collaboration with one tap.
In terms of I/O ports, the MateBook D15 comes with one USB Type-A (3.2 Gen1) port, two USB Type-A (2.0) ports, one USB-C port, one HDMI port, and a 3.5mm headphone jack. For an ultrabook, these I/O ports should be enough for most people but if you need more, you can attach a suitable hub.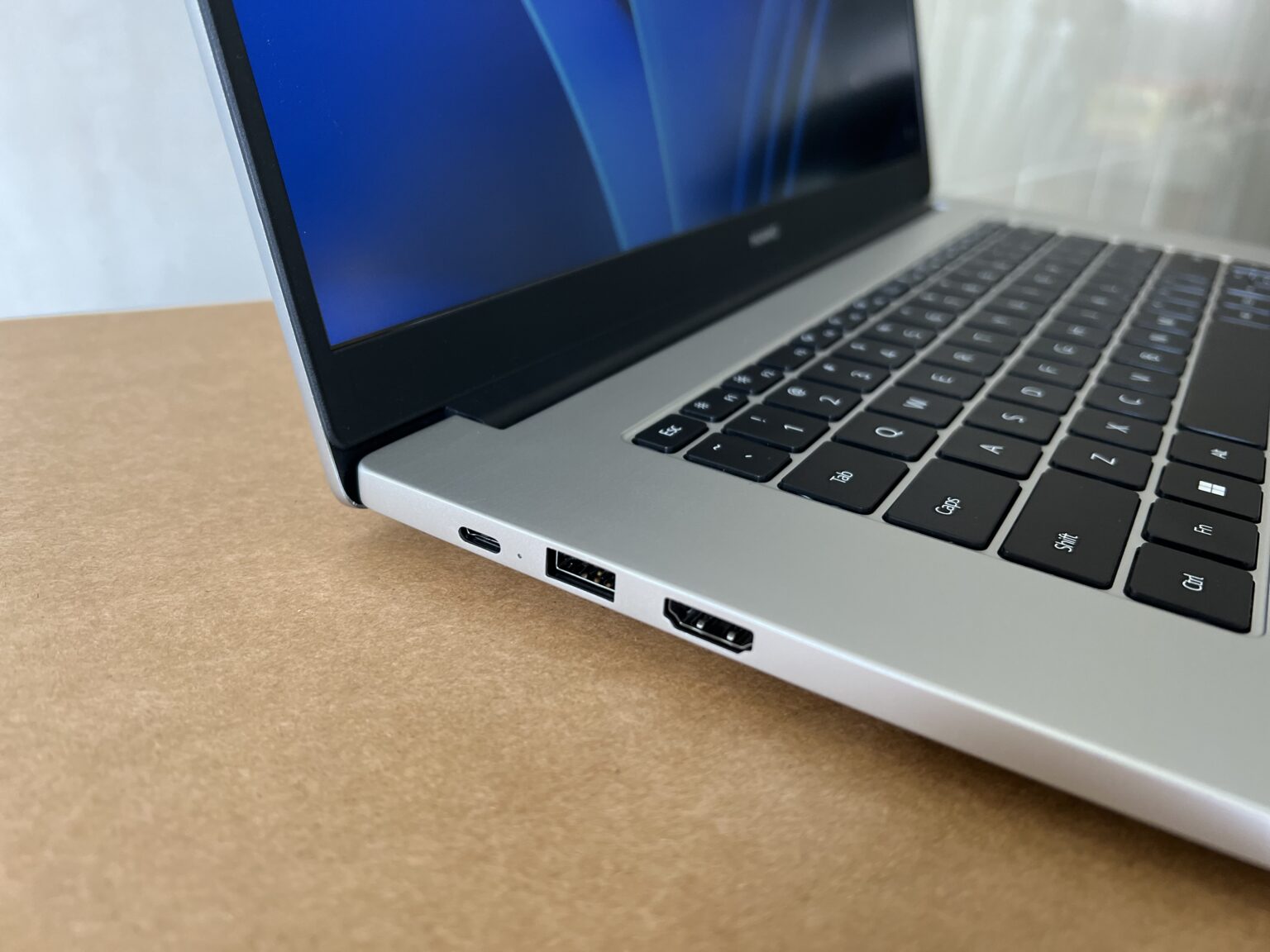 Left: USB Type-C, USB Type-A (3.2 Gen1), and HDMI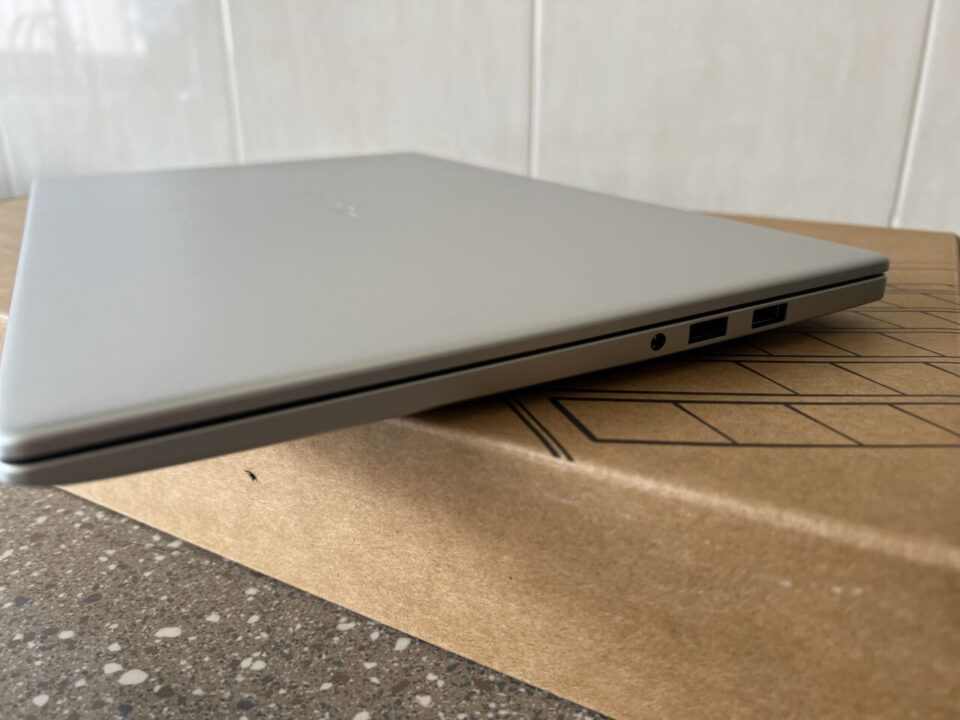 Right: 2x USB Type-A (2.0), 3.5mm audio jack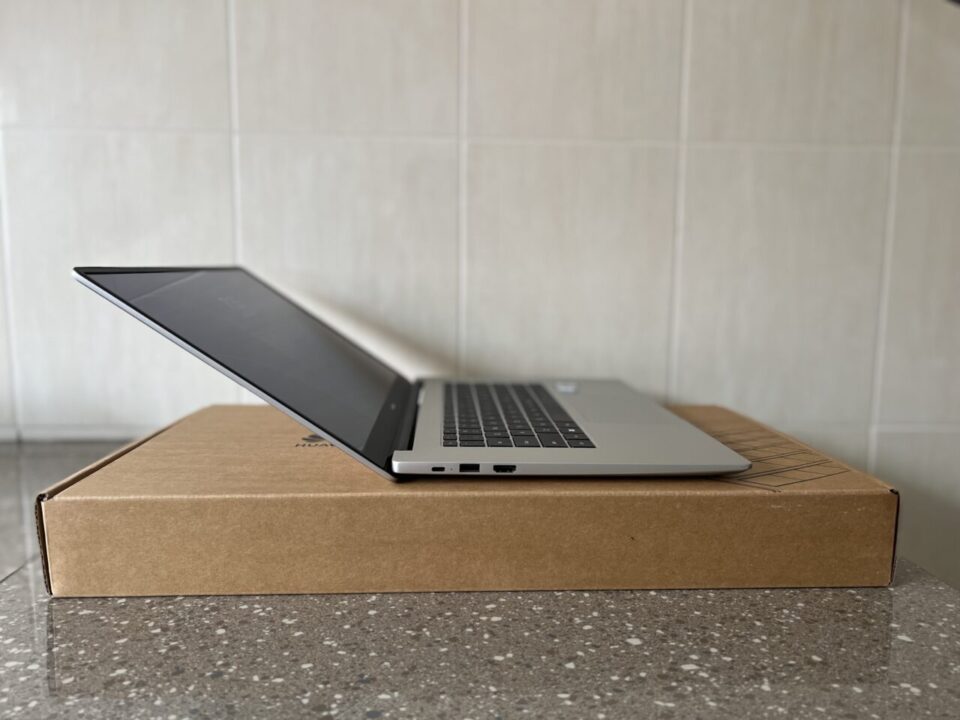 Maximum tilt angle
Next, let's take a look at the core configuration of the Huawei MateBook D15. This time, Huawei Malaysia has two variants available: 8GB+512GB and 16GB+512GB. Both are equipped with an 11th generation Intel Core i5-1135G7 processor and the Intel Iris Xe graphics card. For the average user, this laptop would be mainly for simple tasks like web browsing, word documents, and online video streaming.
For your info, the one Huawei Malaysia sent is the 8GB+512GB variant. Inside is the 11th generation Intel Core i5-1135G7 CPU, manufactured on a 10nm SuperFin process. It has 4 CPU cores and 8 threads, a base clock of 2.4GHz, a turbo clock of up to 4.2GHz, and 8MB of L3 cache.
In terms of CPU specs, it's not as good as its Core i7 counterpart. But the Core i5-1135G7 also comes with the Intel Iris Xe core graphics and has high enough performance. Overall, it's comparable to the graphics performance of a 10th-Gen Intel Core i7 CPU's iGPU. Moreover, this 11th-Gen CPU is superior in that it has native Wi-Fi 6 and Thunderbolt 4.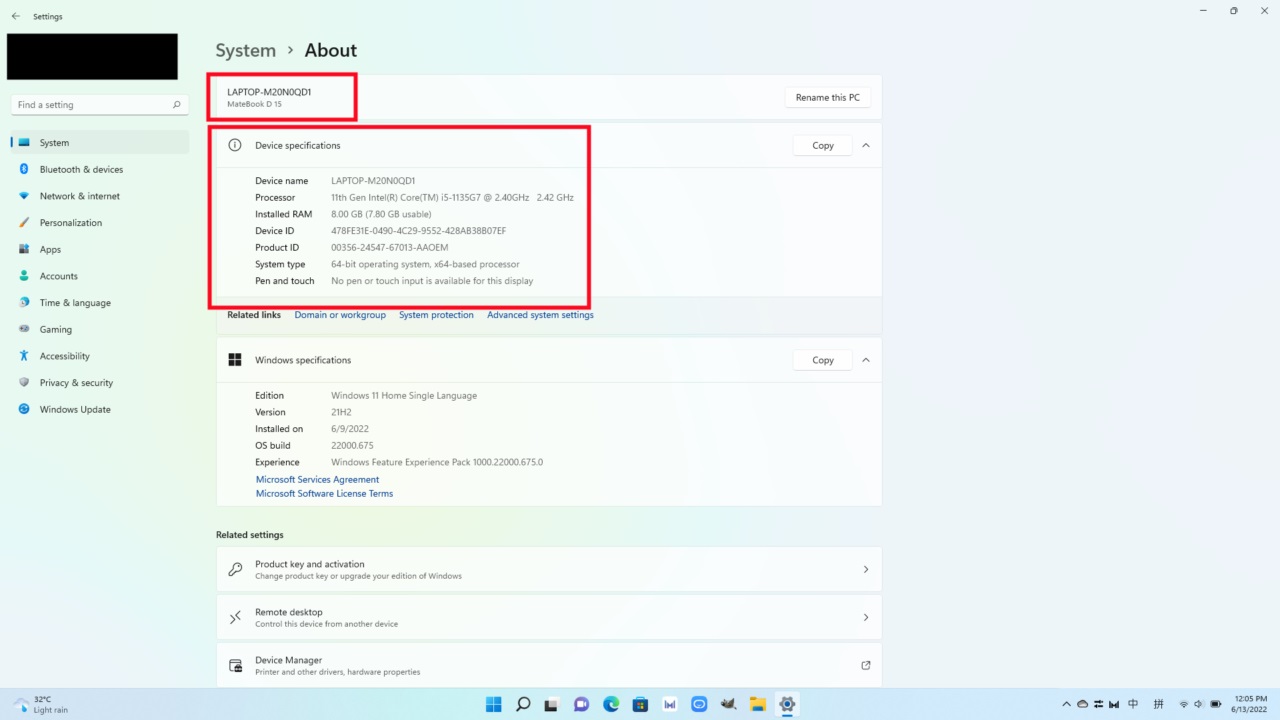 Basic specs and info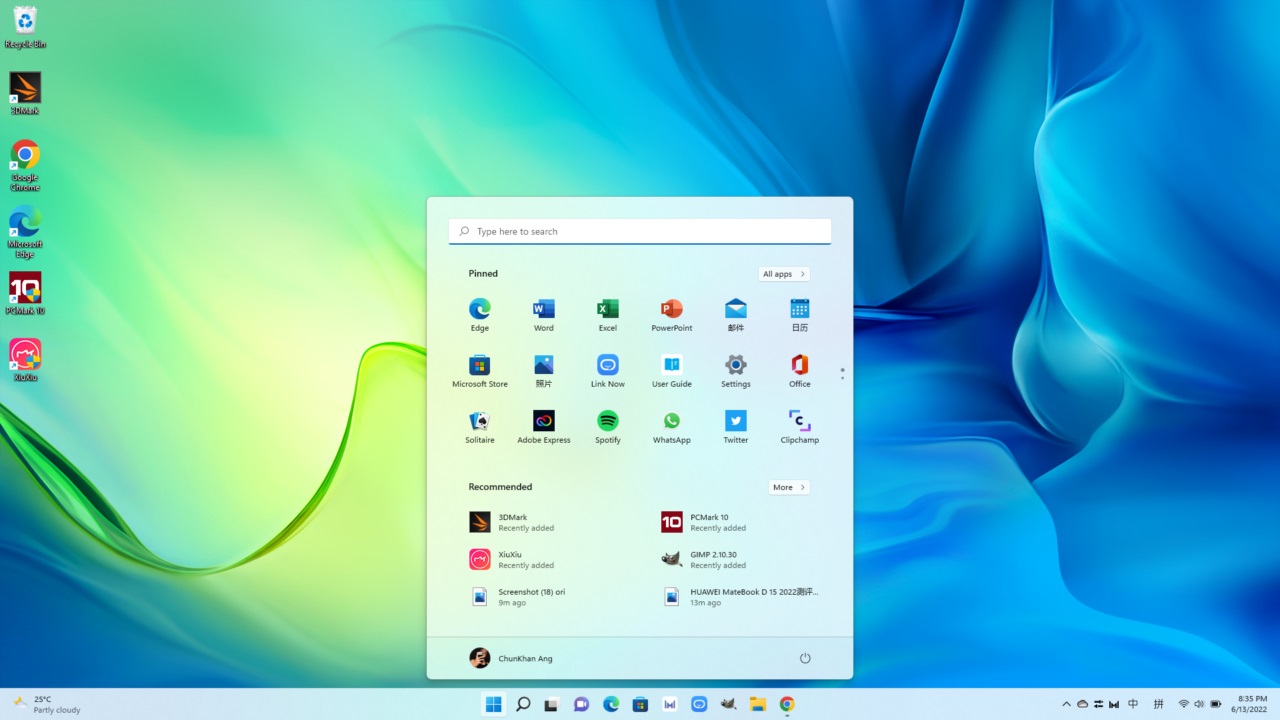 Supports Windows 11

PCMark benchmark

3DMark benchmark
As usual, we ran the laptop through PCMark 10 and 3DMark. It scored 4705 points in PCMark 10, showing good performance in daily office applications, productivity, and digital content creation. Be it Microsoft Office or high-end software like PS, Pr, Ai, etc., the MateBook D15 handles them easily. It can also be used for light photo and video editing.
Unfortunately, the MateBook D15 is not a laptop for AAA titles or e-sports games. On 3DMark's Time Spy test, it scored just 1526 points. It also recorded a minimum frame rate of 7.93 FPS and a max frame rate of 8.97 FPS. You should have no problems playing some popular mainstream games (like Dota 2 or CS:GO), but forget about playing AAA games.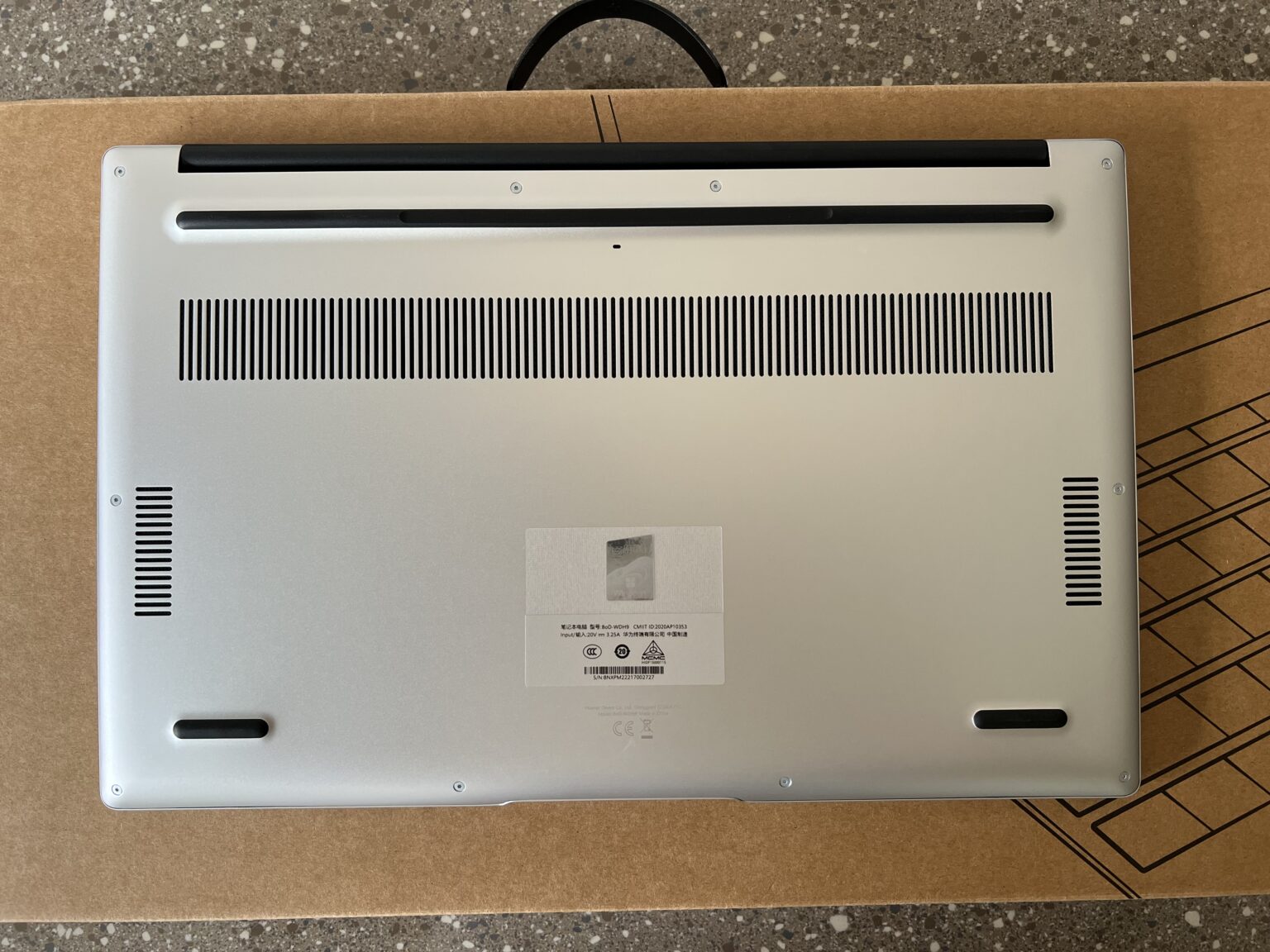 Decent ventilation
As you know, heat dissipation is also a key concern for laptop users. This time, the MateBook D15 is equipped with a Huawei shark fin high-density fan. It has ultra-thin S-shaped fan blades that measure just 0.2mm in thickness, which should help improve heat dissipation. While testing the laptop, we found the fan quiet in most scenarios. The exception is when it runs certain apps like benchmarking software. It's also not noticeably hot, even if you place the MateBook D15 on your lap.
Besides the decent display, the MateBook D15's speakers aren't too bad. At more than 60% volume, it provides sufficient audio immersion in music and movies. Maybe this is because the speakers are located at the bottom of the notebook. The sound gets boosted by bouncing off the flat surface the laptop rests on, which is not bad for a thin and light notebook.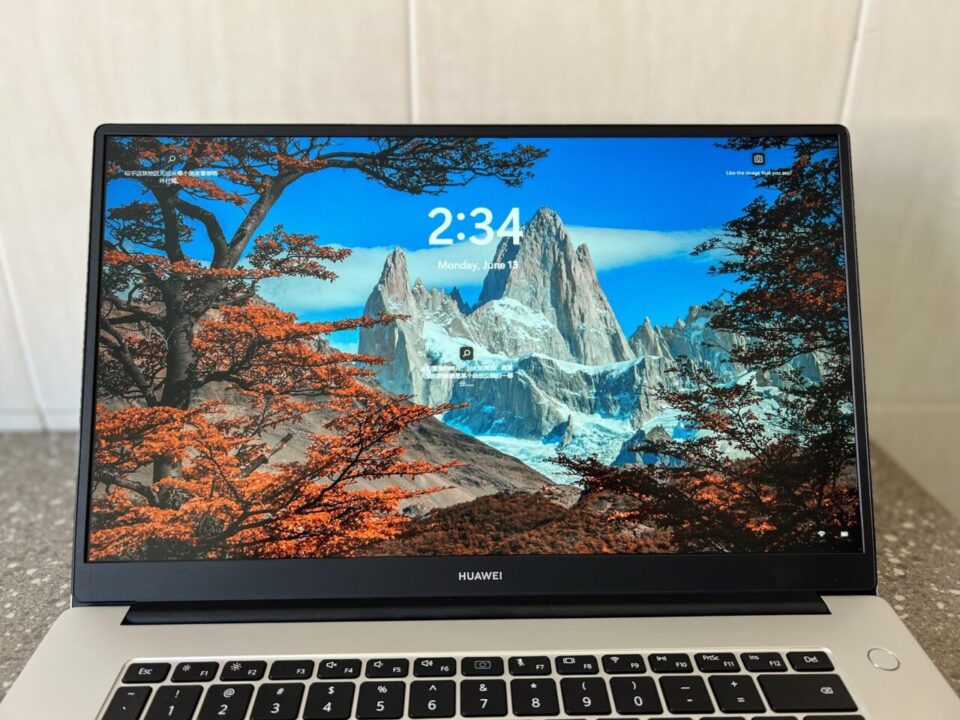 Large 15.6-inch screen for work and entertainment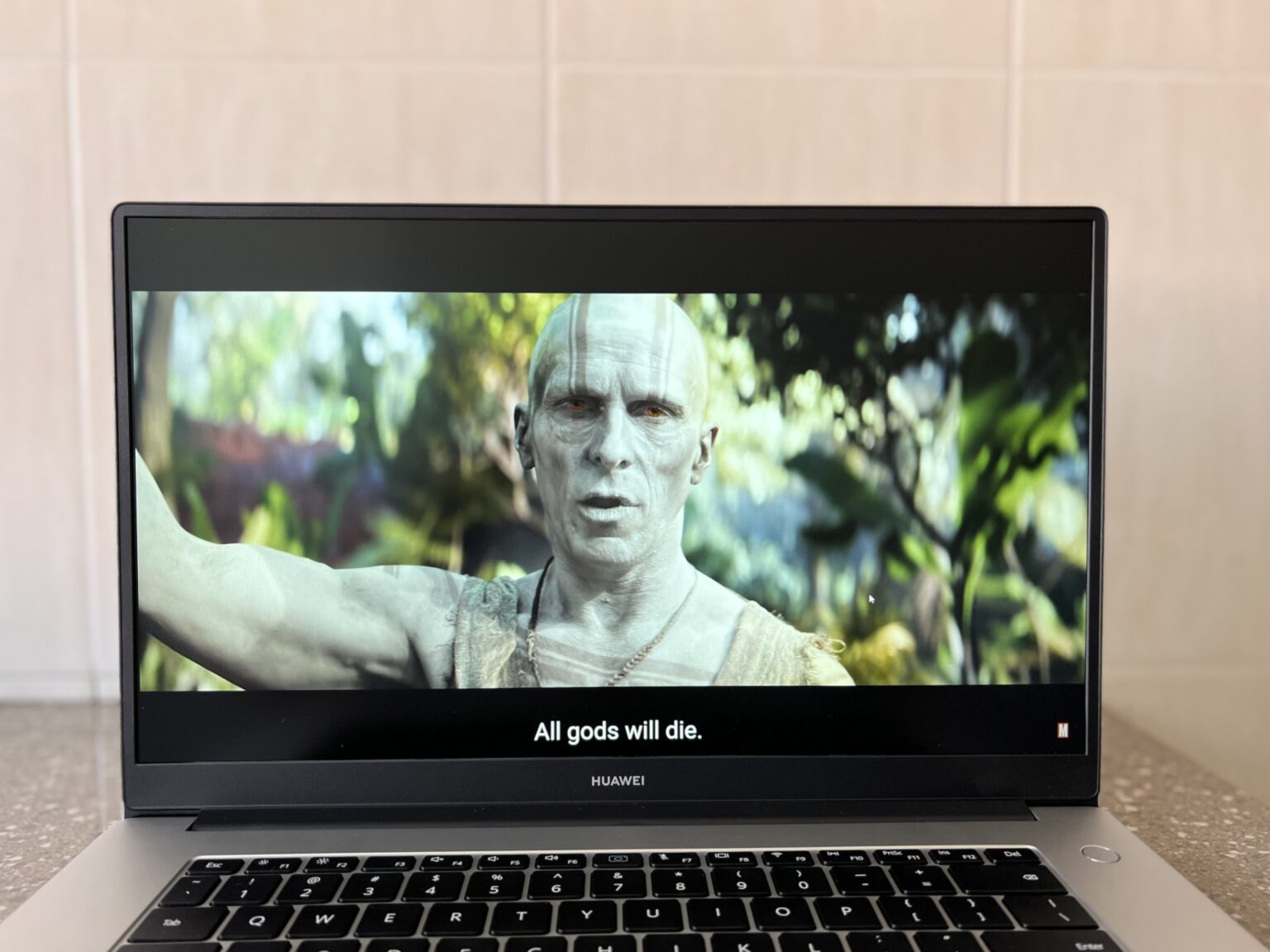 The narrow bezels make the screen feel more immersive
Today's mobile phones, laptops, and tablets all emphasize cross-device connections. Huawei also has some laptops that support this via Huawei Share. You can access it on this laptop with the "Huawei PC Manager", getting significant benefits in multitasking and productivity.
For example, you can open multiple mobile apps or drag and drop files between the computer and phone. You could even answer your phone calls via the laptop. This allows you to enjoy hands-free video/voice chatting with relatives and friends. Unfortunately, the writer in charge of the review didn't have a Huawei device on hand, so we can't show you what these features look like.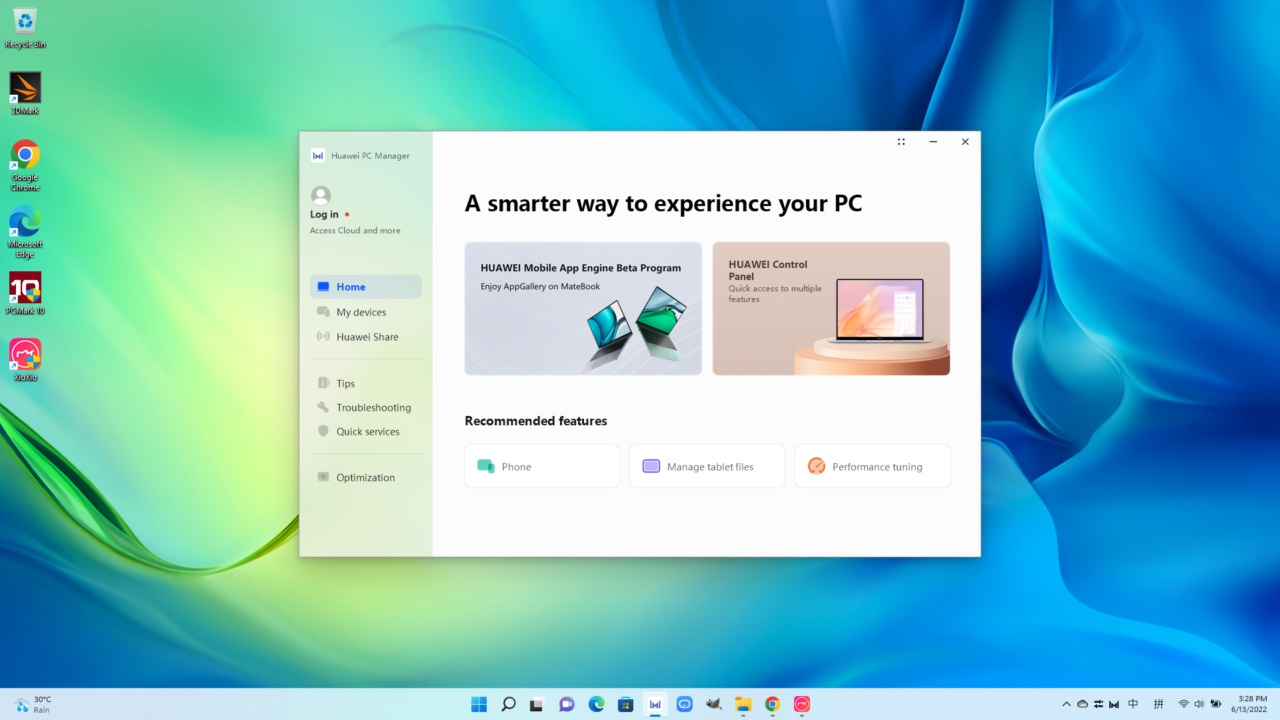 Huawei PC Manager
There's one more feature that's worth highlighting - the "Fn+P one-step switching mode". According to Huawei, this one was intended for use with professional software or heavy office work. With the Fn+P shortcut, you can enable High Energy Mode to boost the clock speed for better performance. Once done, you can use the shortcut key combination to revert to Balance Mode.
Lastly, the Huawei MateBook D15 has a built-in 56Wh battery and a standard 65W power adapter that's more compact than regular laptop adapters. This makes the laptop more convenient for travelling, as you don't have a long cable and thick power brick to pack. The one downside is the rather short cable.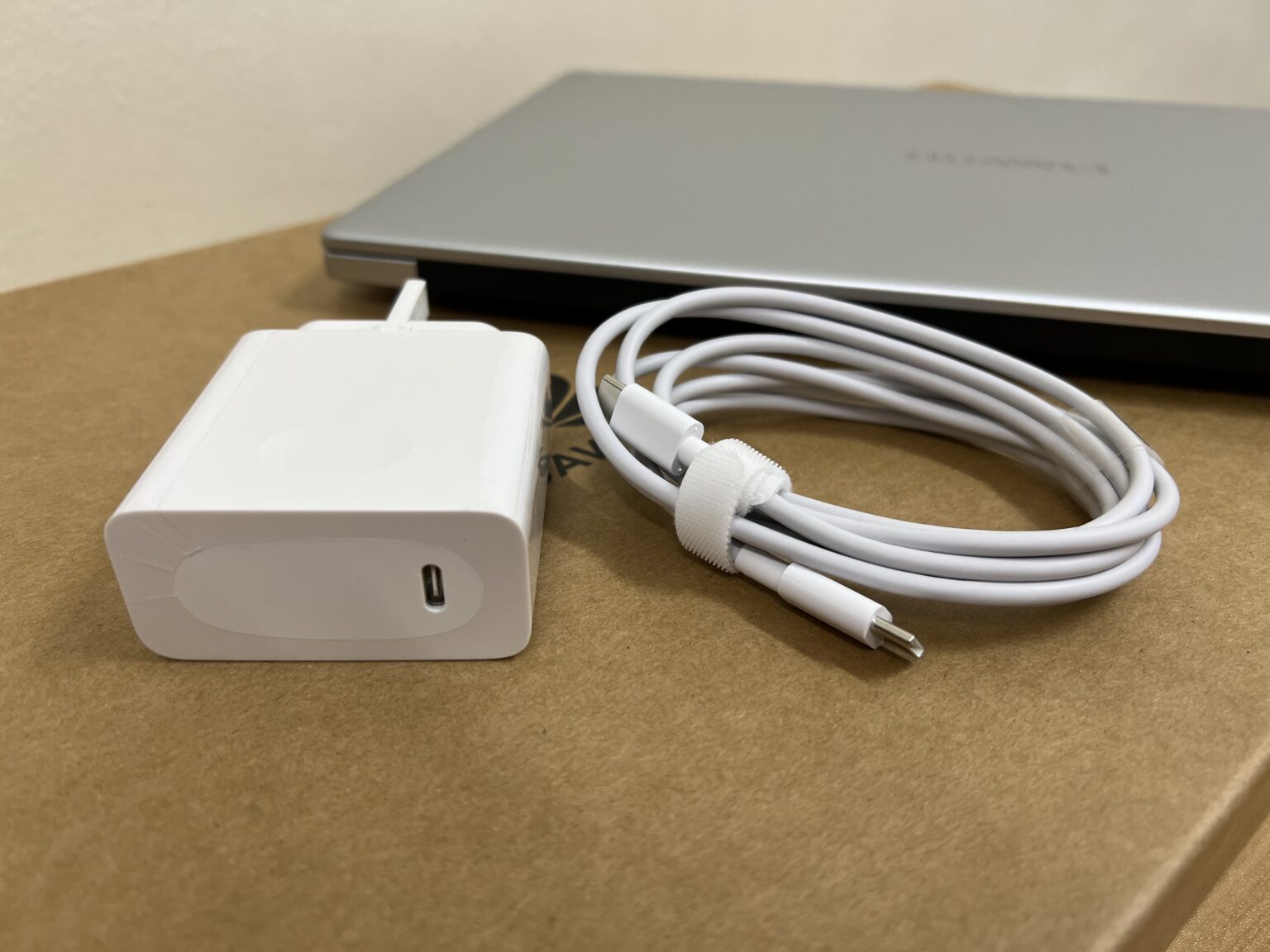 Doesn't this setup look better than the usual black power brick?
Next, let's take a look at the battery life. The laptop was used for daily work and kept in "balanced mode" for our review. From 8:30 to 12:30, the MateBook D15 went from 91% to 30% in about 4 hours. At this point, it showed 2 hours of battery remaining. After lunch, it only had 10% left by 2 PM and sorely needed a recharge.
The battery can last long enough for regular web browsing, video conferencing, and other productivity apps. Overall, it can last about half a day even if you multitask but since it has a 15.6-inch display, this battery life is acceptable.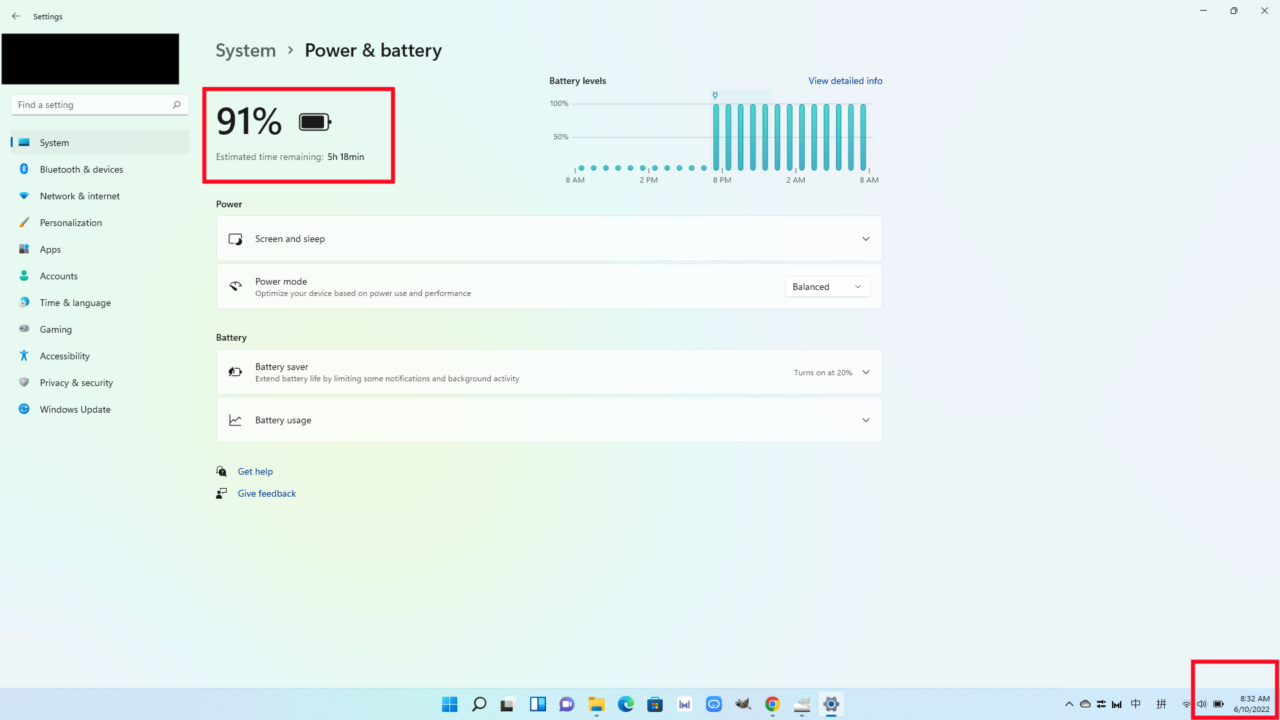 Battery at 8.30 AM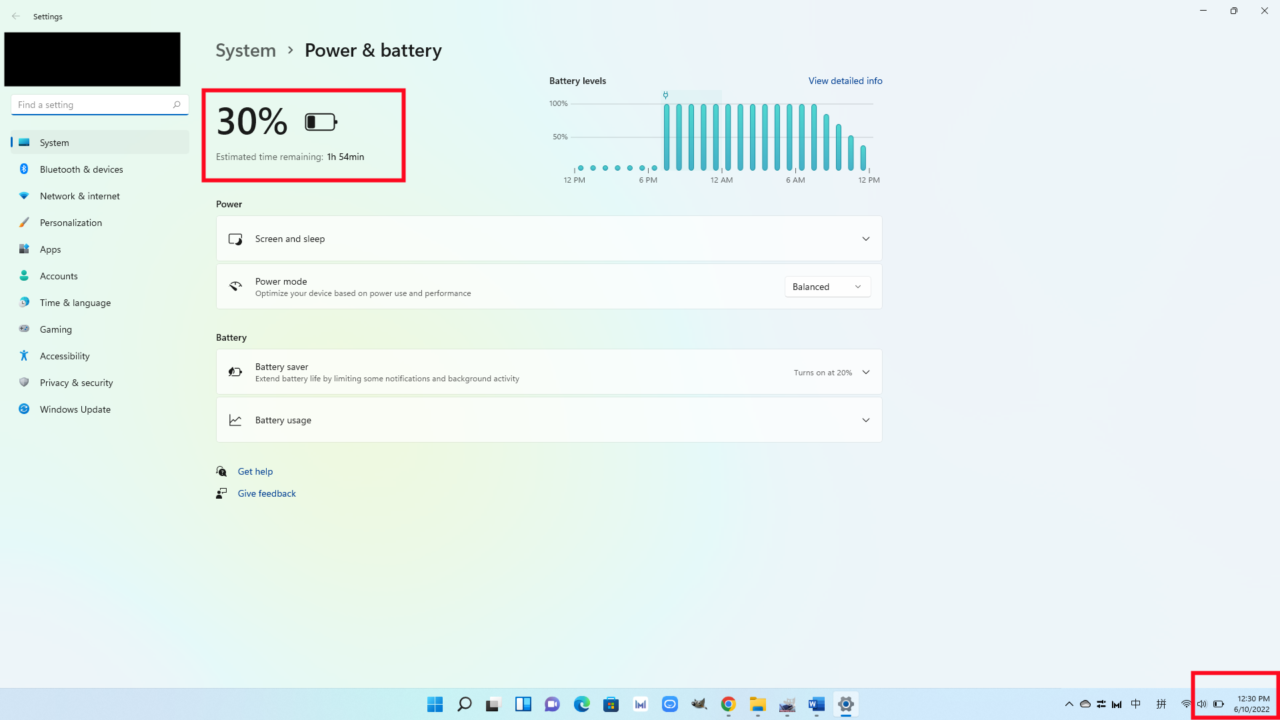 4 hours later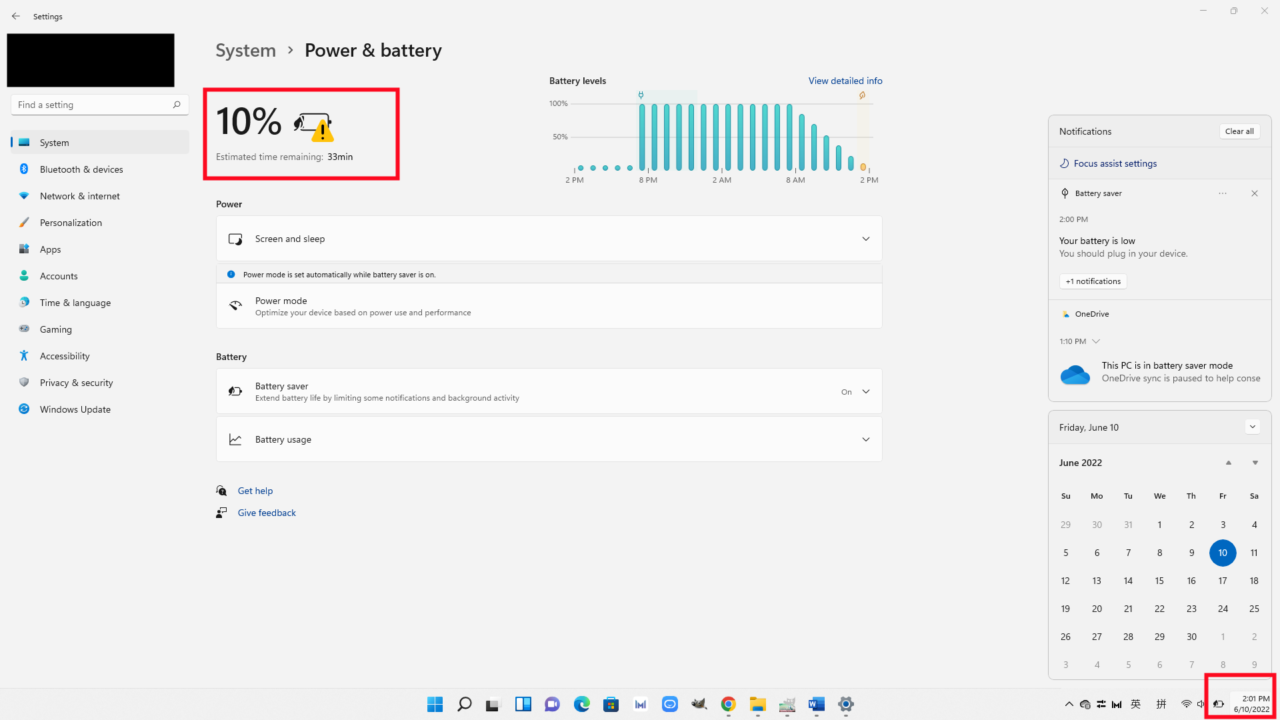 10% by 2 PM, need to start charging
Finally, let's look at the charging speed of the MateBook 15D. From 10%, it took about an hour to reach 88%, or 1 hour and a half to fully charge. That's not too bad unless you need to get on a flight in 10 minutes (or something like that).
Overall, the Huawei MateBook D15 is a cost-effective thin and light notebook for the average user. It's even better with a Huawei mobile device, as you can benefit from multi-screen collaboration. Moreover, the laptop has decent performance and a large screen, so you can get the most out of it for daily office work. It's also suitable for surfing the Internet, watching dramas, and studying. In addition, it can handle light Photoshop work.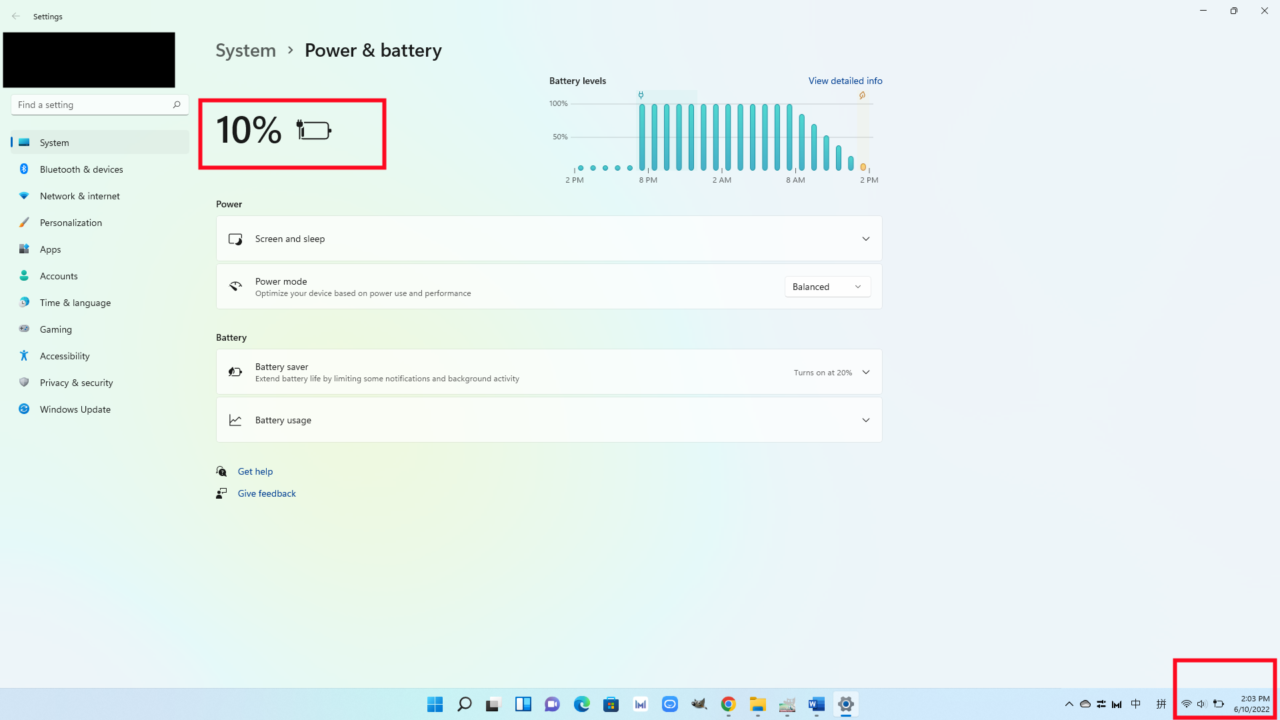 The MateBook D15 supports USB Power Delivery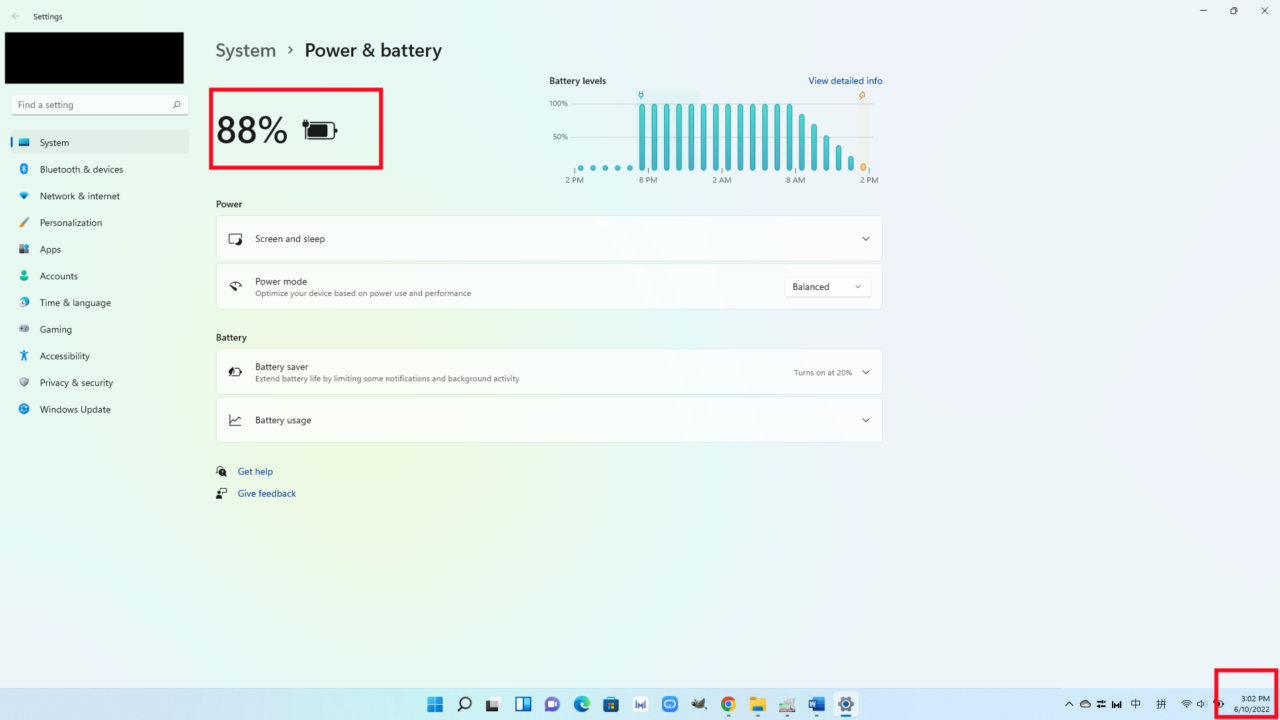 10% to 88% in 1 hour
If your budget is around RM3000, the 8GB+512GB is the variant to get since it's priced at RM3099. You'll need to fork out more for the 16GB+512GB variant, as it's priced at RM3399. Also, note that we only have the silver-coloured model in Malaysia.
So, what do you think about this laptop? Share your thoughts in the comments below, and stay tuned to TechNave for more reviews like this!
Tech specs and features
These are the tech specs and features of the Huawei MateBook D15:
Dimensions - 357.8 X 229.9 X 16.9 mm
Weight - about 1.56 kg
Display - 15.6-inch IPS full screen, 1920 x 1080 resolution, 16:9 aspect ratio, 100% sRGB colour gamut, 300nits brightness
CPU - 11th Gen Intel Core i5-1135G7
GPU - Intel Iris Xe Graphics
RAM - 8GB or 16GB
Storage - 512GB
Connectivity - WiFi 6.0, Bluetooth 5.1
I/O ports - 1x USB 3.2 Gen1, 2x USB 2.0, 1x USB-C, 1x HDMI, 3.5mm headphone jack
Features - Fingerprint Power Button, 720P HD Video Camera, Huawei Share
OS - Microsoft Windows 11
Battery - 56Wh (with 65W Type-C Charger)
Colour - Mystic Silver
Pros and Cons
Pros - Good display, simple but clean design, and excellent value-for-money
Cons - Average performance, multi-device feature locked to Huawei devices, and a non-adjustable webcam
Summary - It's nothing impressive, but it's a solid ultraslim laptop for work and maybe watching videos. Plus, it's highly affordable too