Huawei Matebook D 15 Review - a great laptop to pair with your Huawei smartphone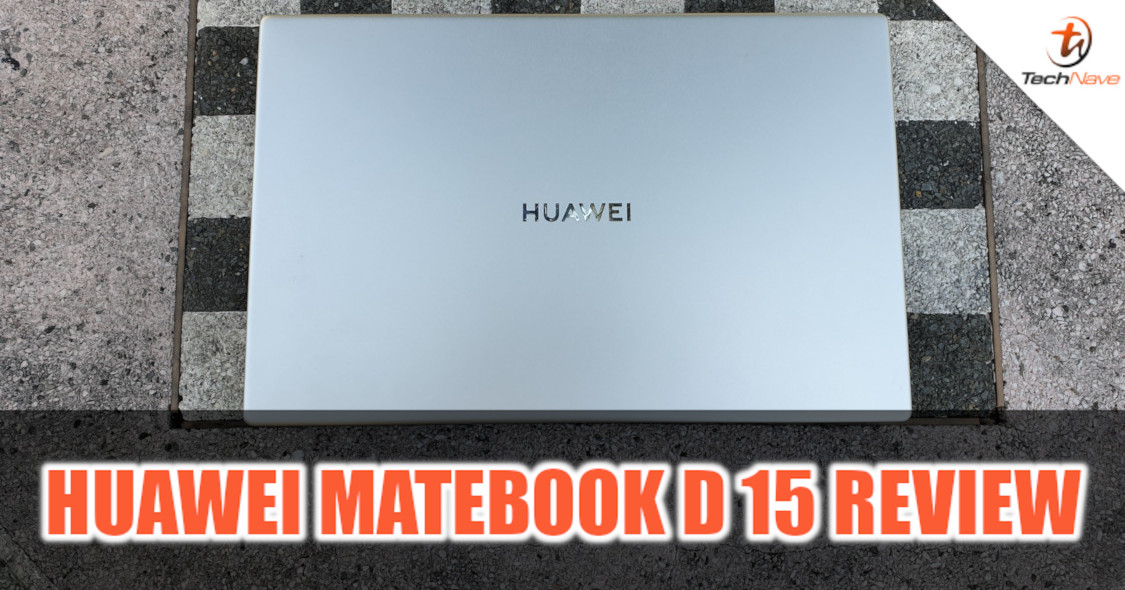 When the Huawei Matebook D 15 was first unveiled in Malaysia, it was priced at only RM2299 for the 256GB SSD variant while the variant that has an additional 1TB HDD is priced at RM2499. Furthermore, Huawei also mentioned that the laptop would make a great companion especially for users who are productivity-focused and are also using a Huawei smartphone due to the Huawei Share feature.
Other than that, the laptop also comes with various quality of life features and it is also quite lightweight from only 1.53 kg, which can be useful for those who are constantly on the go. With that said, let's have a closer look at the Huawei Matebook D 15 and check out the features as well as how it performs as my daily driver.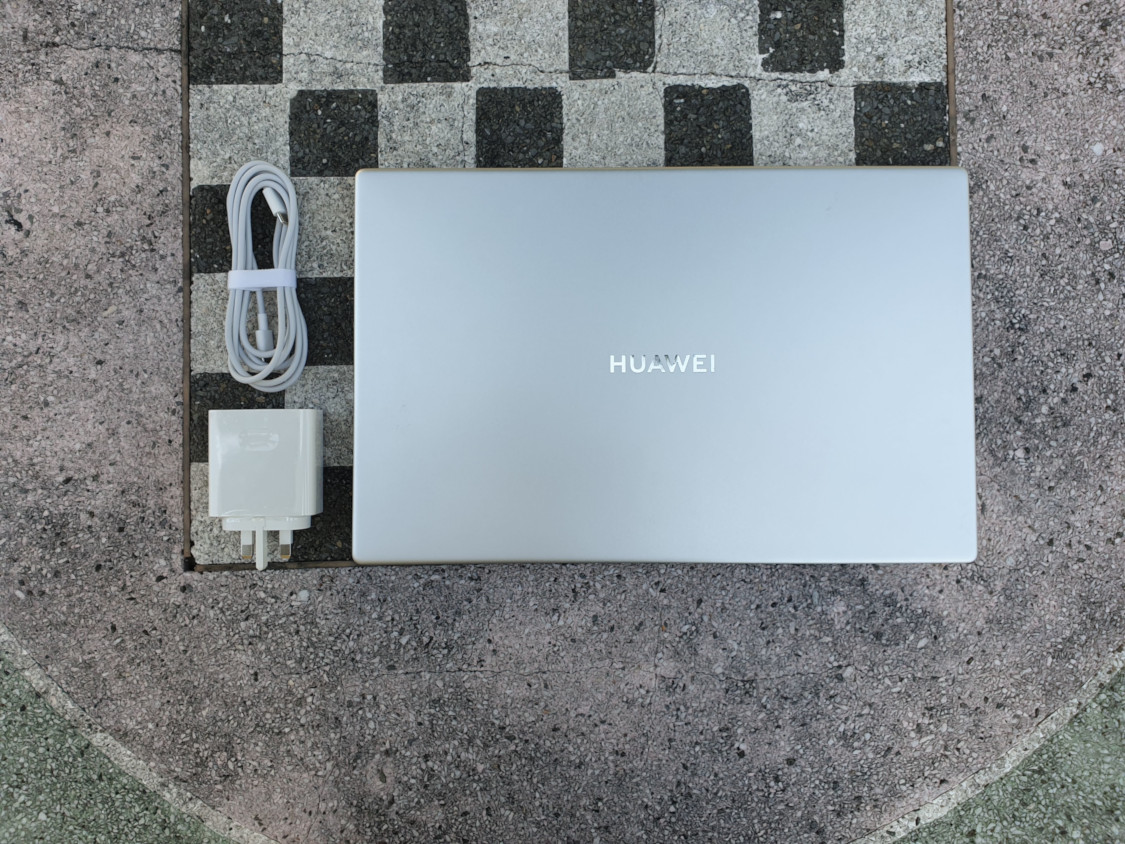 Out of the box you'll get the charging brick, charging cable and the laptop itself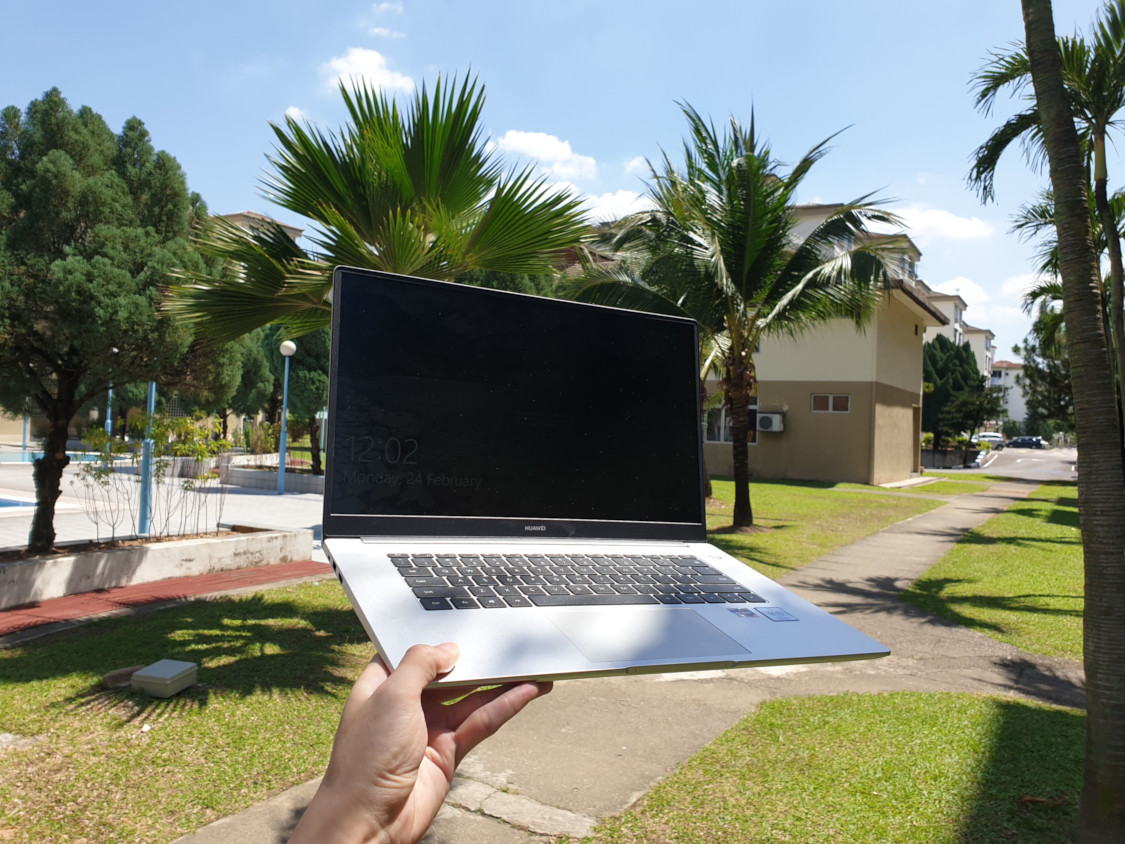 Light enough to be carried with only one hand
First off, the laptop sports a very minimalistic design with a matte aluminium finish all around the extremities. If you look closely at the underside of the Matebook D 15, you should be able to spot a pair of speaker grills towards the sides as well as another larger air intake grill situated more towards the rear.
Lifting up the lid of the laptop, the first thing you'll notice is the gorgeously thin bezels around the 15.6-inch IPS display which is unfortunately not 100% sRGB compliant. Because of that, the laptop might not be suitable for those who frequently deal with workloads that require a colour accurate display.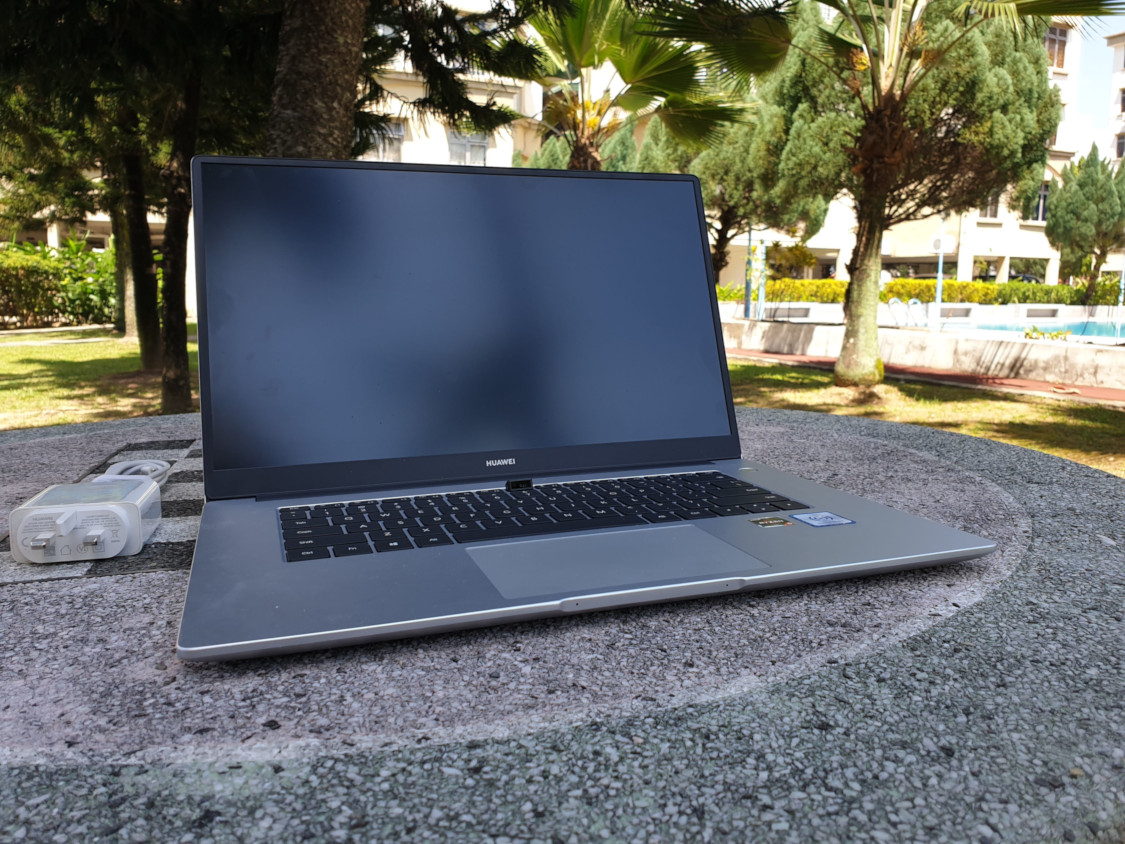 Check out the thin bezels on the laptop!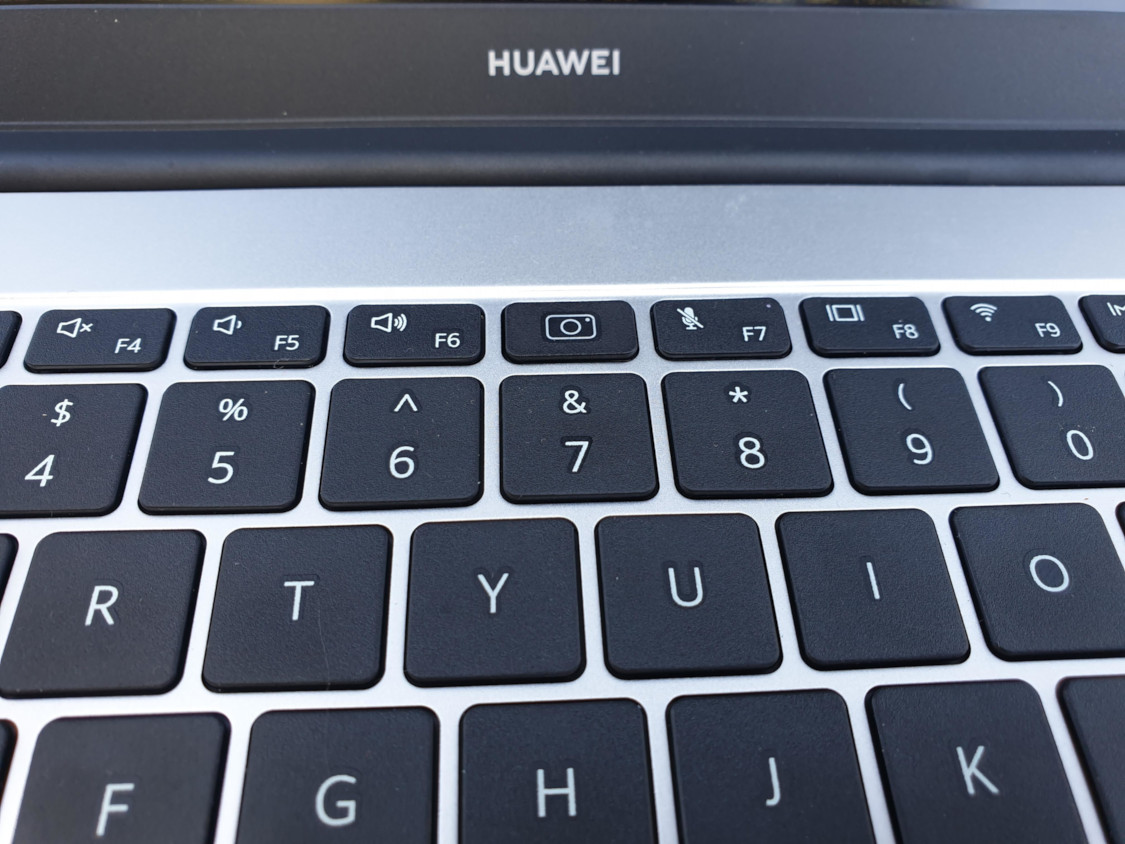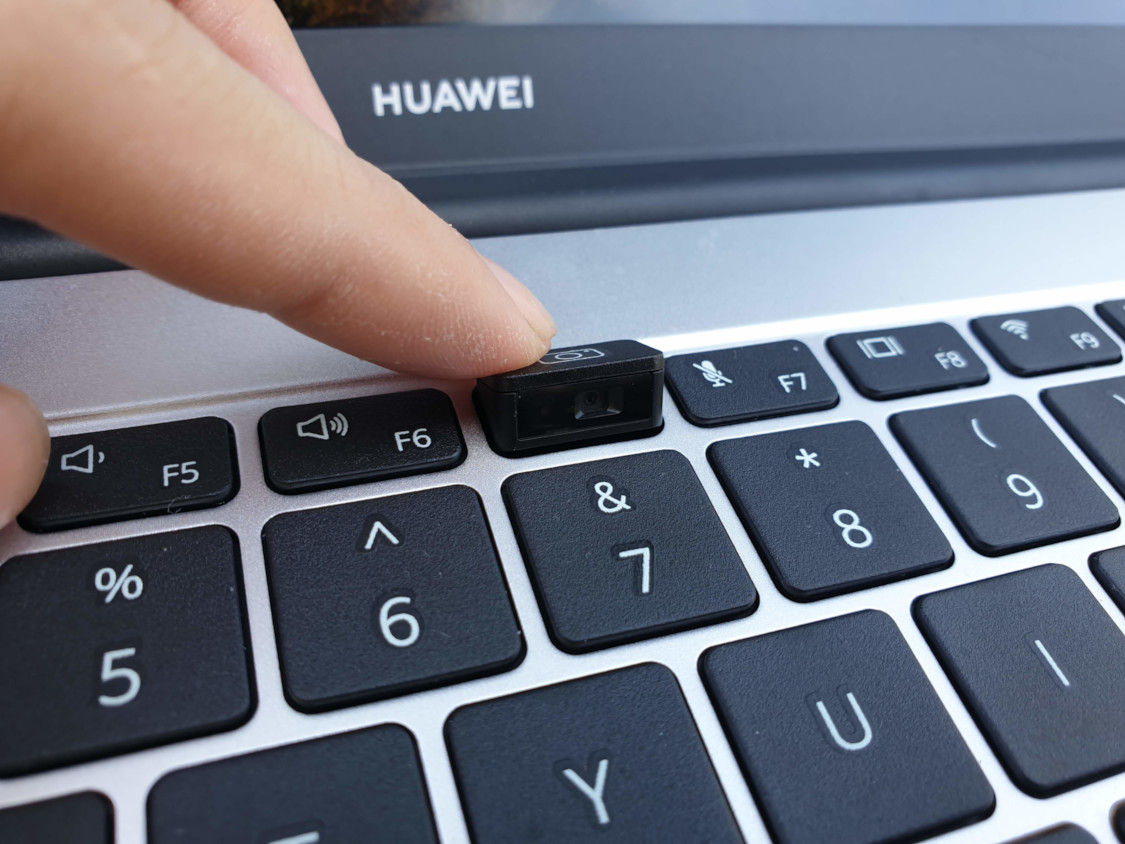 Hello little webcam!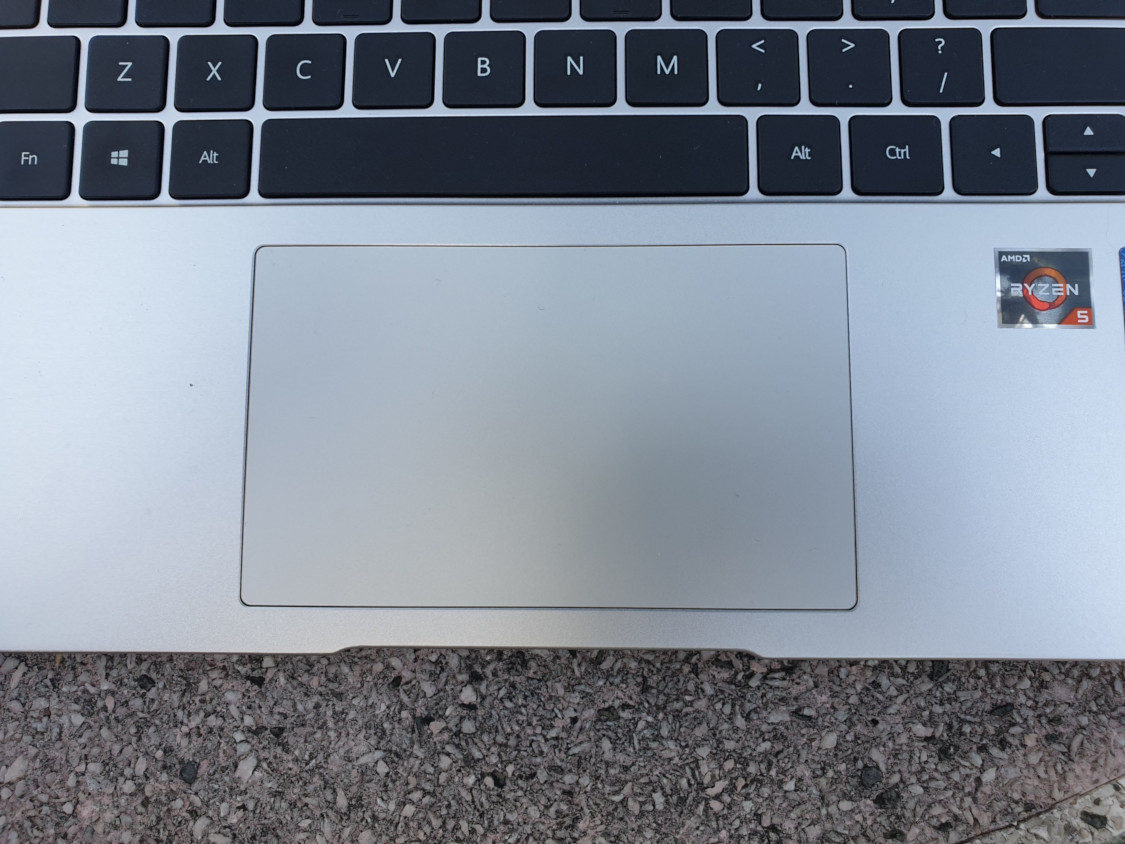 Large trackpad on right below the keyboard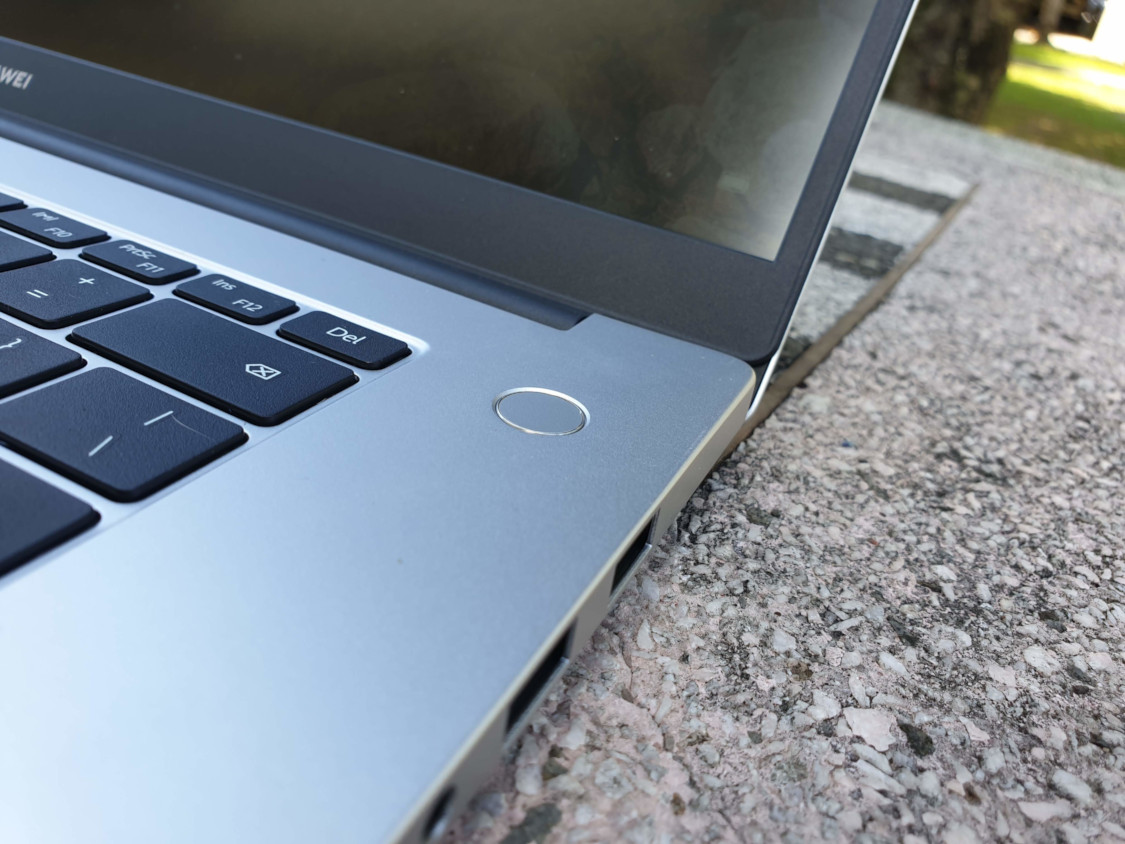 Check out the power button + capacitive fingerprint sensor combo!
If you shift your view towards the top right of the keyboard, you'll see the power button which also functions as a fingerprint scanner that allows you to power up and log in with a single button press. Unlike most laptops, the webcam isn't located right above the display because it's embedded in the keyboard between the F6 and F7 function key.
With that said, the 1MP webcam is positioned too low which makes selfie photos taken on it look very unflattering. While I do end up tapping on the camera from time to time, the keyboard feels quite tactile and comfortable to type on.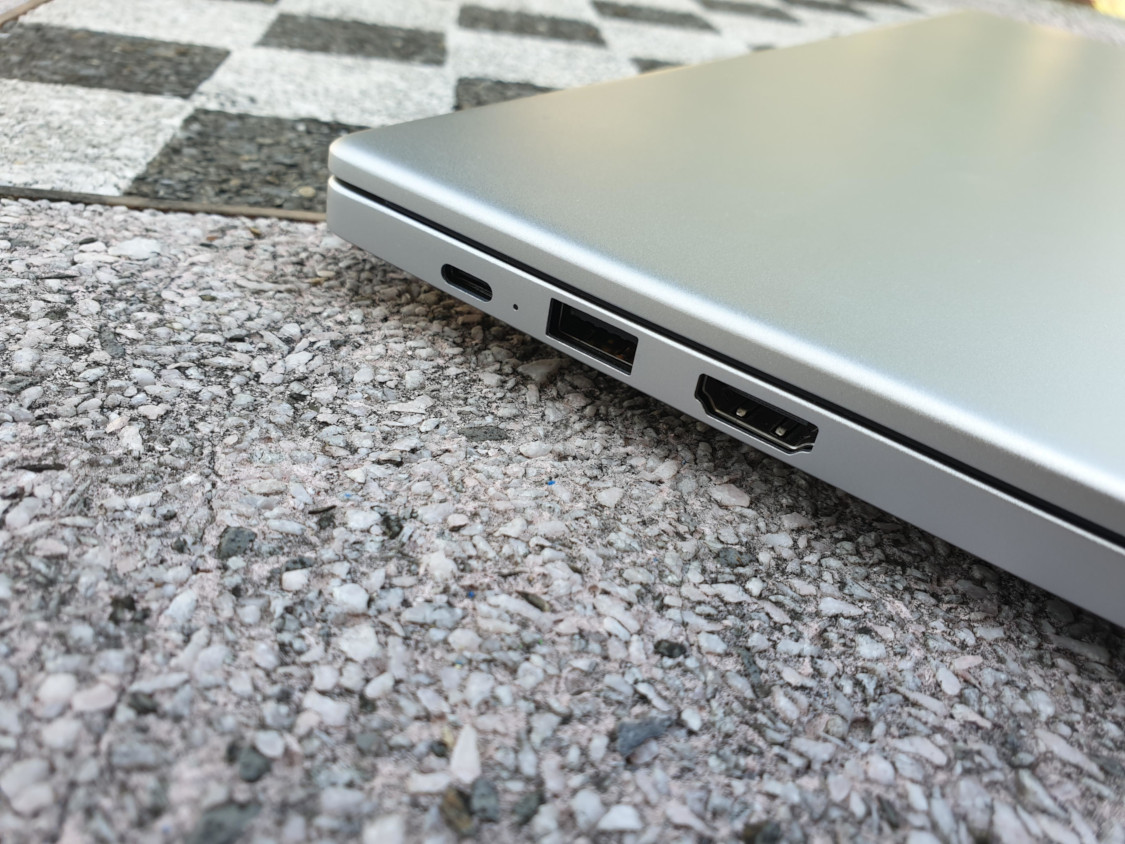 USB Type-C connect, USB Type-A and HDMI port on the left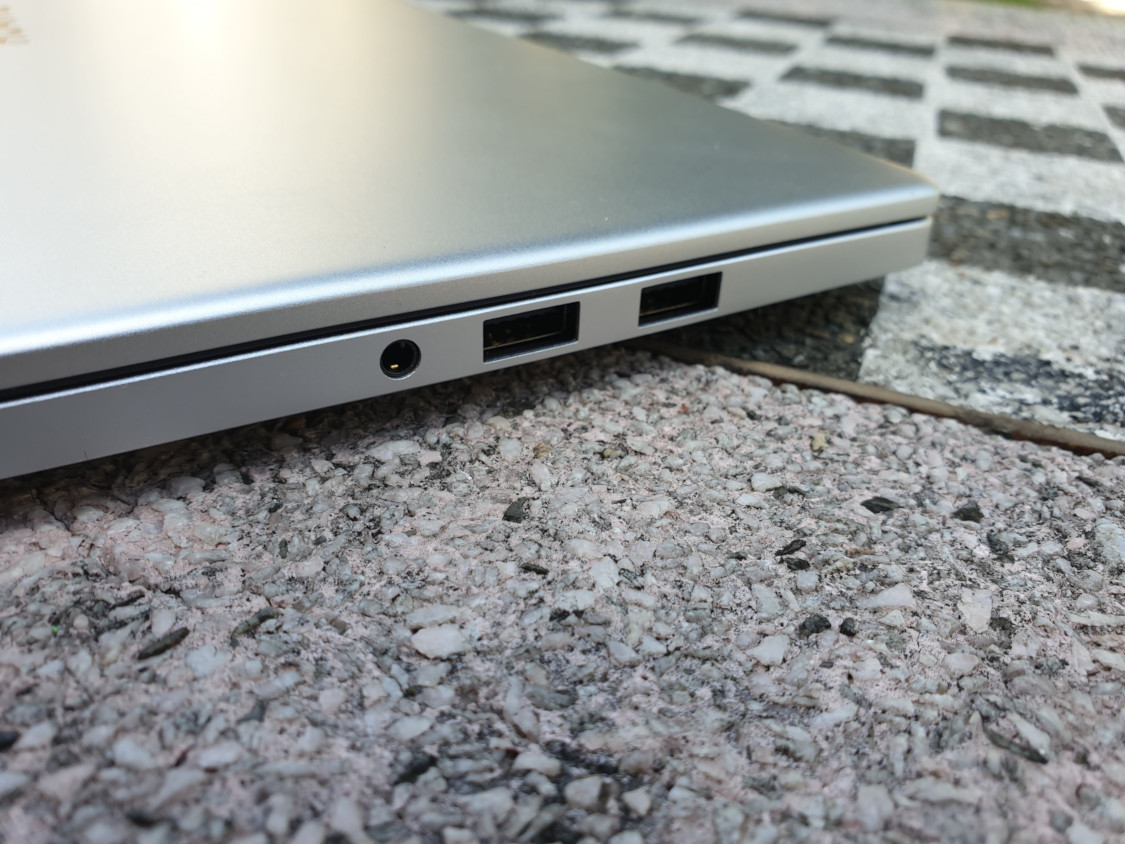 Two USB Type-A ports and a single 3.5mm combo audio jack slot towards the right
The Huawei Matebook D 15 doesn't offer much in terms of I/O due to the fact that it only comes with two USB 2.0 Type-A ports and a single combo audio jack on the right. The left side, on the other hand, is where the USB Type-C charging port, HDMI port as well as a single USB 3.0 Type-A port.
Unfortunately, the laptop doesn't come with a MicroSD card or even a full-sized SD card slot, which can be a bummer especially for those who are not keen on getting an SD card reader. The laptop, however, does come with a 65W charger out of the box which is more than capable of charging the laptop to full in less than an hour. It can also be used to charge other devices as well thanks to the USB Type-C to Type-C cable.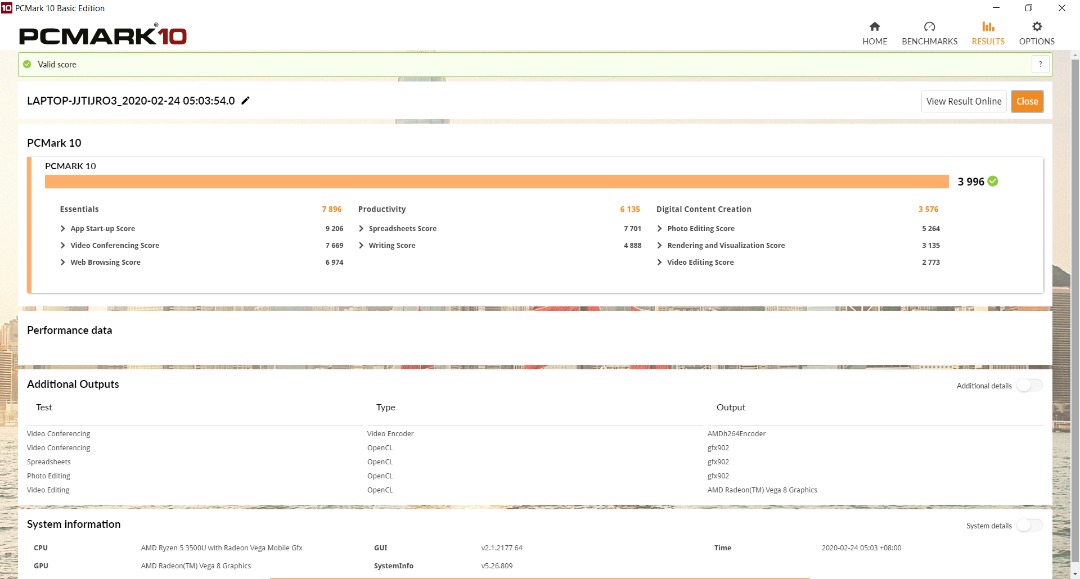 PCMark 10 synthetic benchmark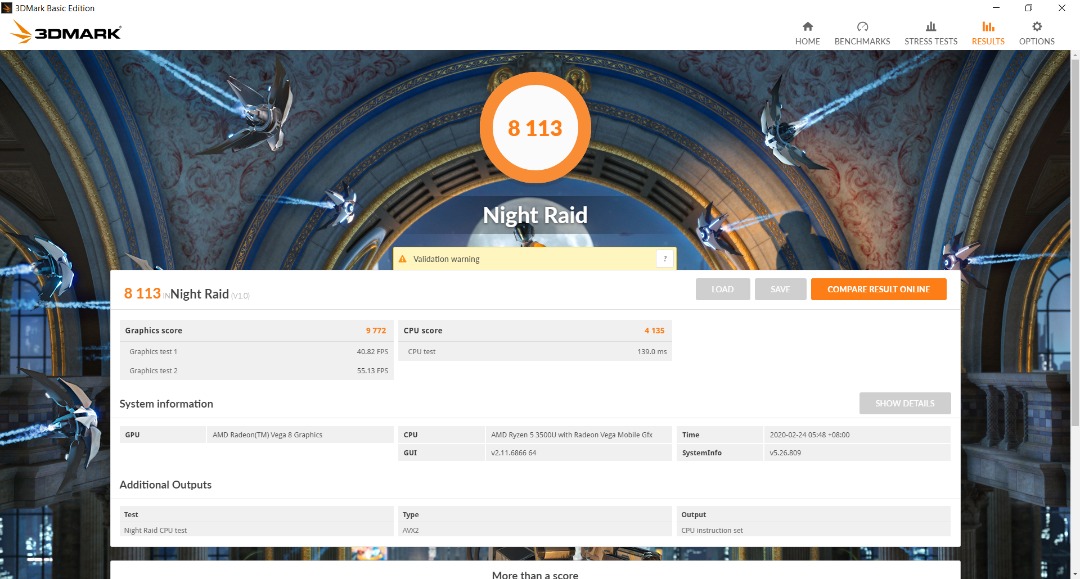 3DMark synthetic benchmark
In terms of the performance, the laptop performed smoothly as expected and it did not lag up when it comes to surfing the Internet, watching movies or listening to a podcast. The Matebook D 15 managed to score 3996 points during our PCMark synthetic benchmark and 8113 points on 3DMark which is understandable considering the fact that it is not fitted for gaming.
I wouldn't recommend playing any graphically intensive games on it, due to the fact that it was struggling to run Dota 2 smoothly on max settings. The laptop also heats up quite considerably with most of the heat being focused towards more towards the top left of the keyboard, which can sometimes feel uncomfortable.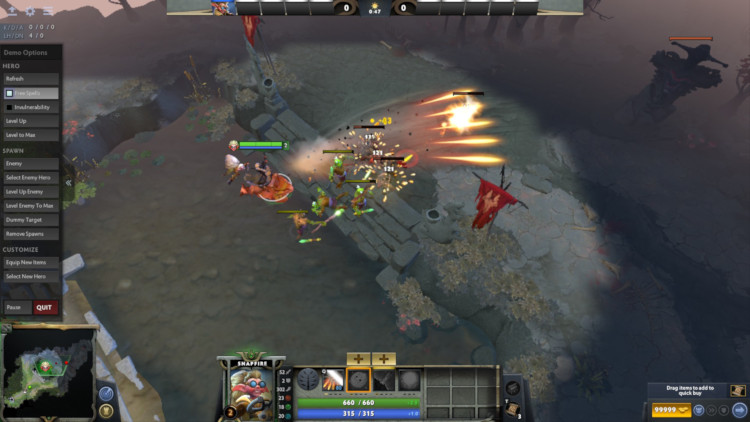 The laptop is able to run Dota 2 at around 45FPS on the highest graphical setting
The Matebook D 15 really shines when you pair it with a Huawei smartphone, such as the Huawei Mate 30 which supports the Huawei Share feature. The aforementioned feature allows the user to quickly transfer files simply by tapping the back of the smartphone on the NFC tag which is situated right under the arrow keys
Not only that, but it also allows the user to activate the Multi-Screen Collaboration feature, which basically mirrors whatever is displayed on the smartphone onto the laptop. The user can also interact with their smartphone via Multi-Screen Collaboration software, simply by using both their mouse and keyboard.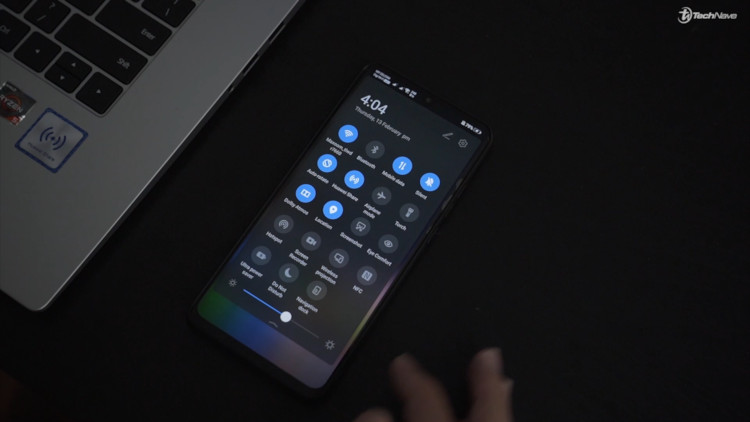 Turn on the Huawei Share on your Huawei smartphone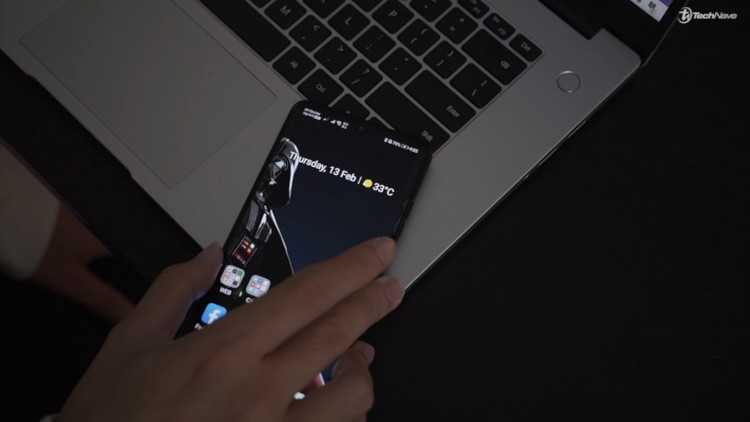 Tap your device on the NFC tag towards the bottom right of the laptop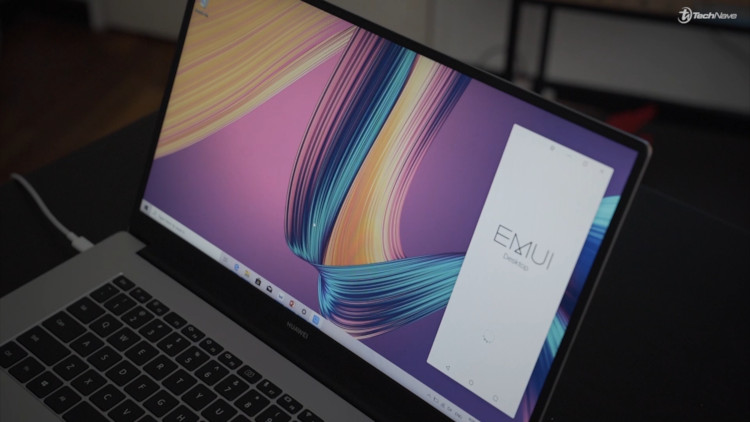 EMUI desktop launches on your laptop where you can control and send files to and from your smartphone!

In conclusion, the Huawei Matebook D 15 priced from RM2299 equipped with a 256GB SSD is very affordable and lightweight, suitable for students and working professionals who have a Huawei smartphone and are also constantly on the move. You might need to get an SD card reader if you plan on doing some light photo editing on the laptop because it doesn't have one built-in, but this is an easy fix.
However, if you require a little more storage space, you might want to consider the Matebook D 15 with an additional 1TB HDD storage which is priced at RM2499. If you're keen on getting something much lighter, there is an Intel-powered laptop from Acer called the Swift 5, which starts from RM3699 and weighs in at only 990g.
If you don't mind the slightly heavier weight, head over to Huawei's official website, if you are interested in purchasing the aforementioned laptop.
Huawei Matebook D 15 tech specs and features:
AMD Ryzen 5 3500U

8GB DDR4 RAM

256GB SSD and optional 1TB HDD

15.6-inch display FHD display

Radeon Vega 8 Graphics

USB Type-A 3.0 port, 2x USB Type-A 2.0 port, USB Type-C port, HDMI port, 3.5mm combo audio jack slot

Windows 10 Home

357.8mm x 229.9mm x 16.9mm | from 1.53 kg

IEEE 802.11a/b/g/n/ac, 2.4 GHz and 5 GHz, 2 x 2 MIMO, Bluetooth 5.0

Recessed HD camera, fingerprint sensor + power button combo
Pros and Cons
Pros: Very affordable, lightweight and thin which makes it a great tool for those constantly on the move. Integrates well with most Huawei smartphones. Can be charged via USB Type-C.
Cons: Needs a Huawei smartphone to take advantage of Huawei Share. Doesn't have an SD card reader.
Summary: A sleek, lightweight and affordable laptop that's great for Huawei smartphone users who are constantly on the go.
HUAWEI MateBook D 15 R5 Specs & Price >