Huawei P50 Pocket and P50 Pro coming to Malaysia on 12 Jan 2022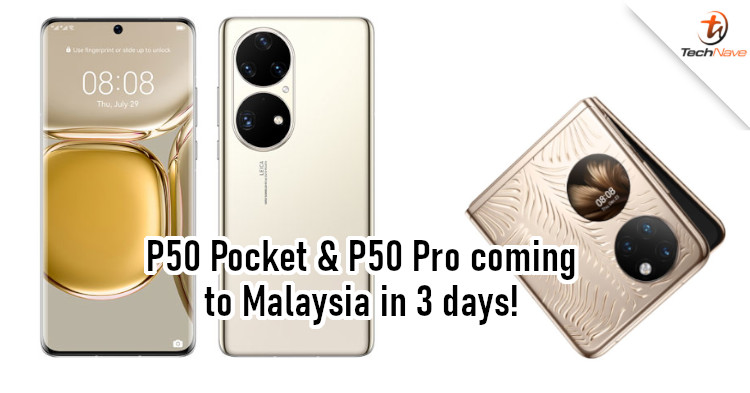 The Huawei P50 Pocket that launch last month proved to be quite a good-looking clamshell foldable. But Huawei has been focused on launching its mid-range devices globally, so most didn't expect it to arrive anytime soon. Well, turns out it's coming out this week.
As announced by Huawei Malaysia, the Huawei P50 Pocket and Huawei P50 Pro will be coming to Malaysia on 12 January 2022. The company will probably announce the local pre-order for the phone on that day. This typically lasts for about a week, so both devices could be officially available here by 19 January 2022.
Elegance in the palm of you hand! #HUAWEIP50Pocket features a minimalist look that belies the sophisticated design within.

Stay tuned for this beautiful foldable smartphone from HUAWEI on 12 January. https://t.co/bL1kzbOzDj pic.twitter.com/BdwNW6txP5

— Huawei Mobile MY (@HuaweiMobileMY) January 7, 2022
The Huawei P50 Pocket is Huawei's new clamshell foldable smartphone. It's a fancy device that packs a Snapdragon 888 4G chipset, up to 12GB of RAM, and up to 512GB of storage. It also has a 6.9-inch foldable OLED screen (120Hz), 1.04-inch OLED cover display, 40MP+13MP+32MP rear triple camera, and more. The Huawei P50 Pro has the same chipset but has a more powerful 50MP+64MP+13MP+40MP quad-camera setup. It also has a slightly larger 6.9-inch OLED screen (120HZ).
Huawei Malaysia hasn't revealed the local pricing for the two devices yet, but you can check out the product pages for more details. In the meantime, stay tuned to TechNave for further updates about them.