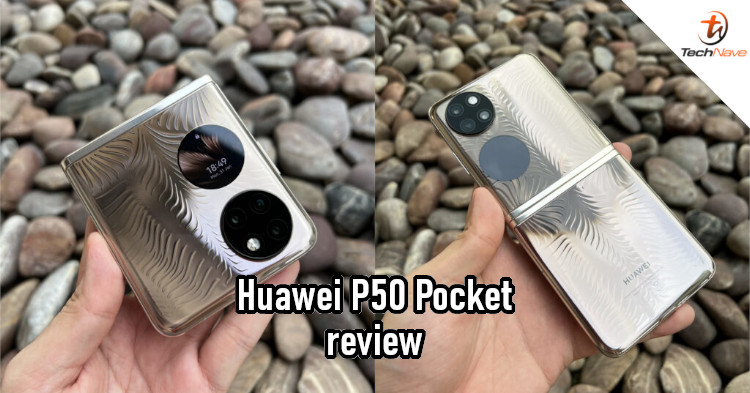 Huawei's previous foldable phones have always been part of the Mate series. But the P series has finally ushered in its first foldable mobile phone - the Huawei P50 Pocket. Now that more foldable phones are available, is the Huawei P50 Pocket worth buying? We got to test the phone for a few days, so below are some of our thoughts about it.
Design - "Treasure box" design that's designed for the ladies
Before testing the phone, we had to unbox the Huawei P50 Pocket. The box is a rather large one, which is rare these days. Its pure white design is complemented by golden accents and words, simple and stylish. Inside, you will find the Huawei P50 Pocket smartphone, a welcome message, SIM tray pin, charger, and USB cable.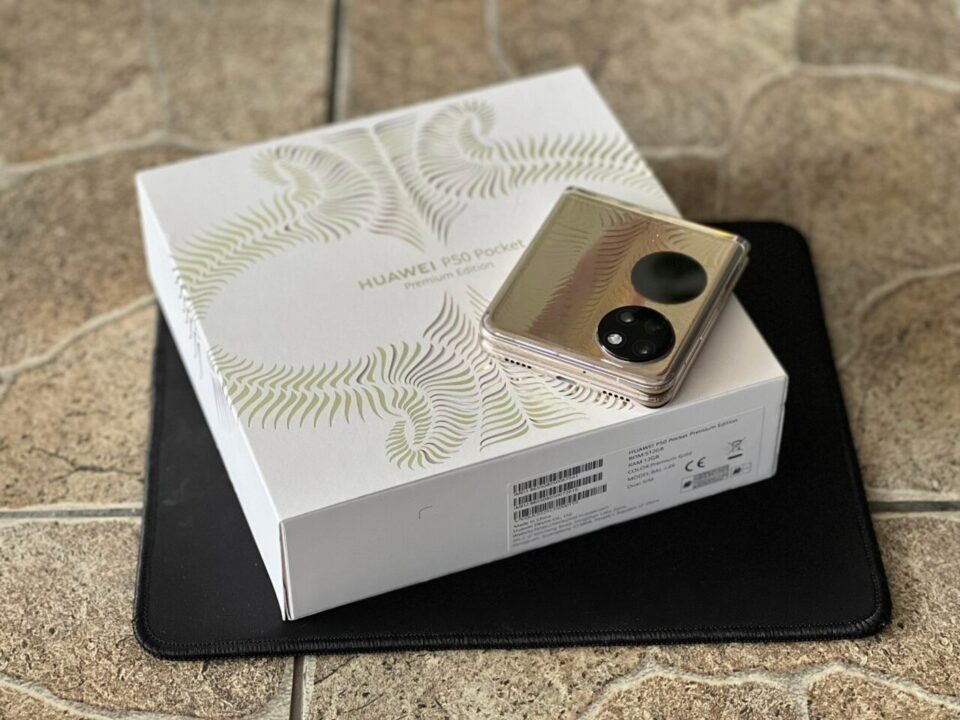 Huawei P50 Pocket Premium Edition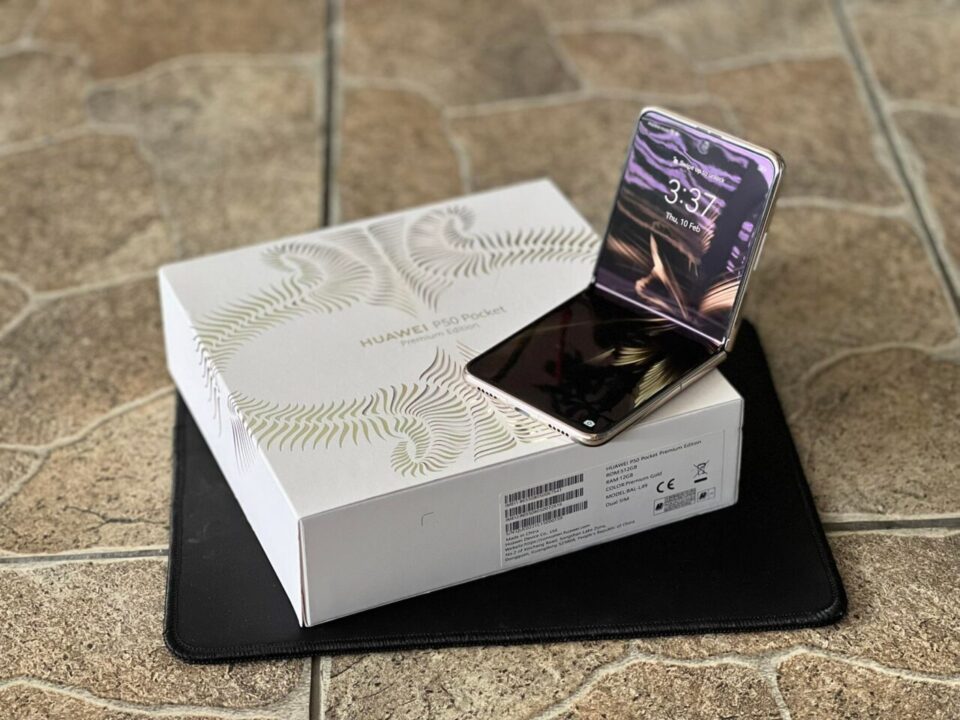 Unfolded state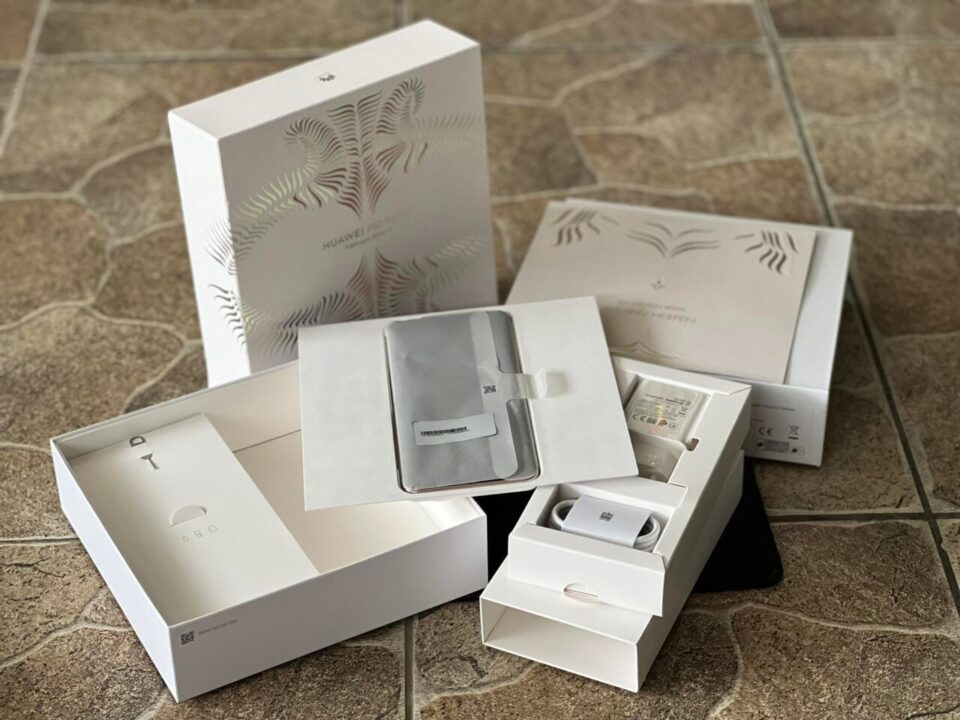 Everything inside the box
As you can see, the Huawei P50 Pocket Premium Edition Gold Edition comes in gilded gold. This custom edition was designed by the Dutch designer Iris Van Herpen. According to the designer, her inspiration came from the concept of symbiosis and interconnectedness. The curved texture on the surface of the frame is very high-quality artwork, and it shines even more when it's under the sun.
Gold is a colour that many people like. It makes the phone highly noticeable on a table or in your hand. If you flip open the phone while out on a walk, we're sure you will attract the attention of many people.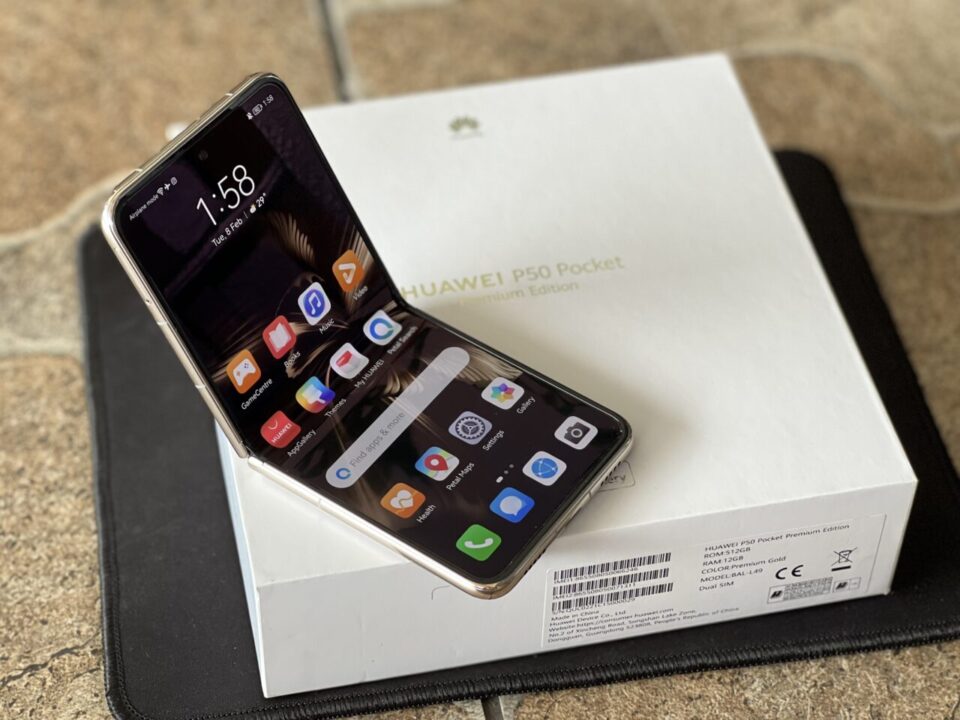 6.9-inch foldable screen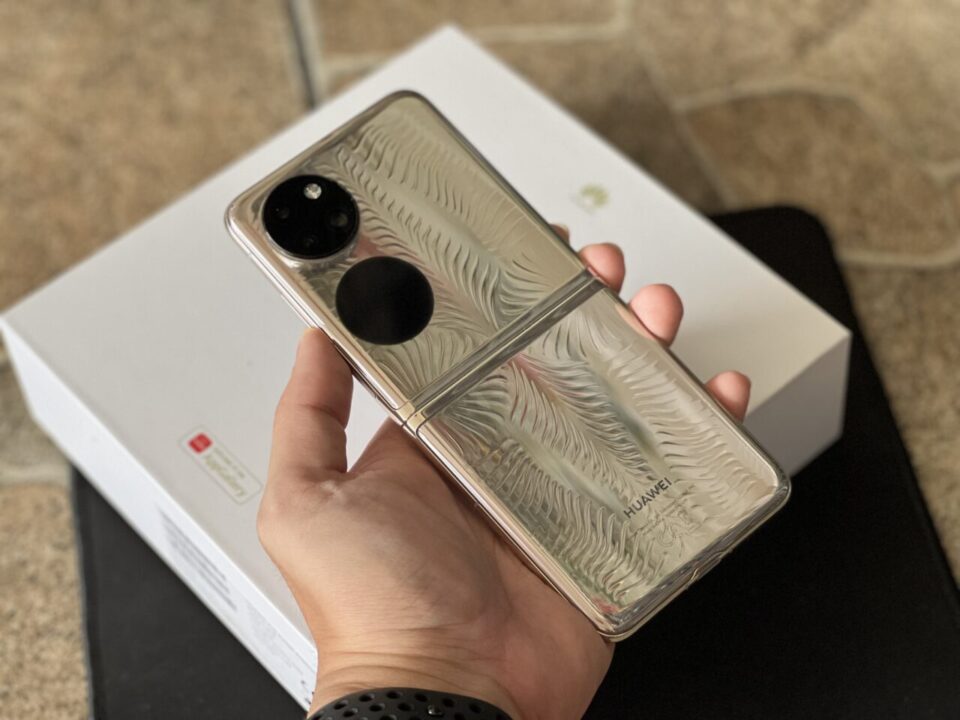 Huawei P50 Pocket Art Custom Edition in Gilt Gold - Designed by Iris Van Herpen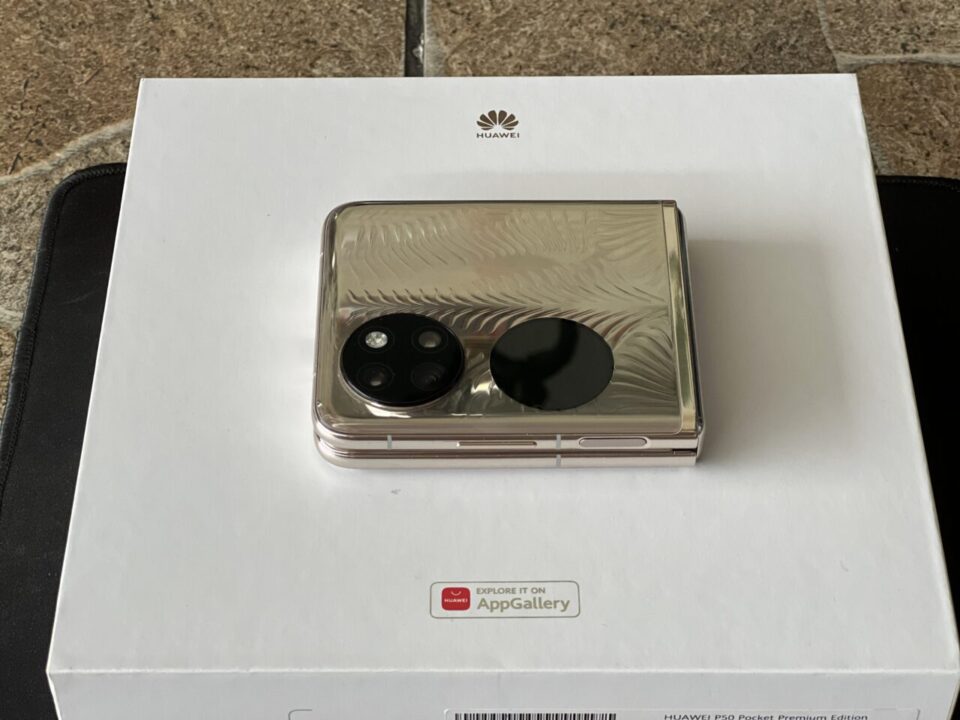 When folded, the two halves have barely any gap between them
Huawei logo on the hinge
Dual stereo speakers, USB-C port
As mentioned, the Huawei P50 Pocket Premium Edition has a metal frame with a gold exterior. Due to the gilding effect, the phone feels good in the hand. It's solid and has a good grip, so it won't easily slip. However, its mirror-like finish makes it very glossy, which results in smudges and fingerprints. On top of that, the gold surface makes them easy to see.
Having said that, the ladies would probably be more concerned about the phone's weight. The P50 Pocket does have a certain amount of heft to it. But our female colleagues all said that the weight was acceptable. Moreover, it's super compact once you've folded it. That makes it easy to keep it in a pocket or bag, as it doesn't take much space.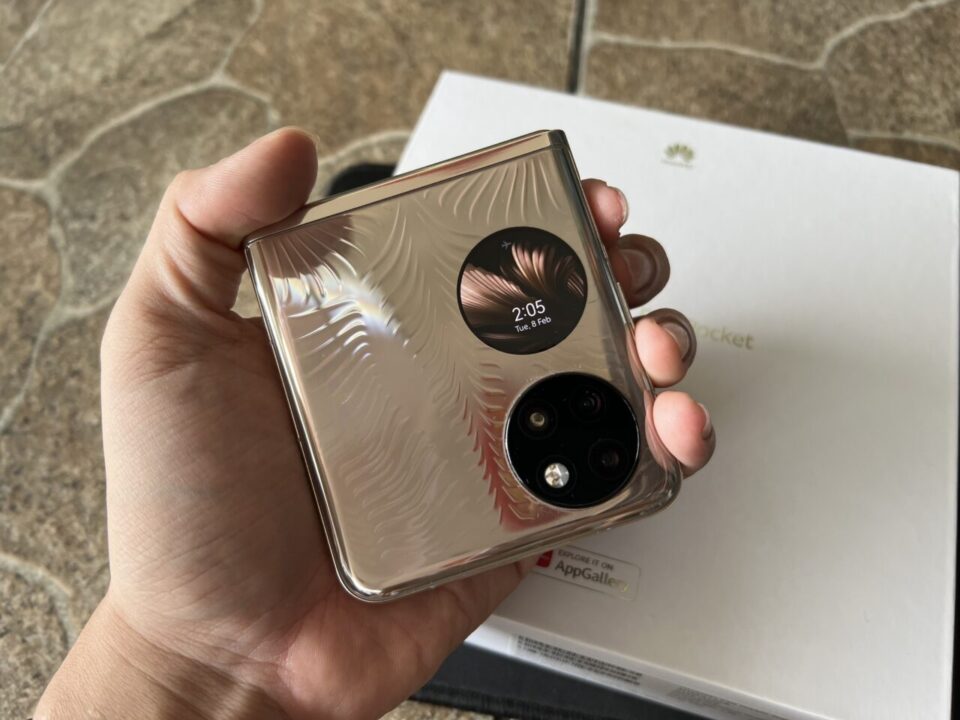 Folded state: 87.3 mm, easy to hold in one hand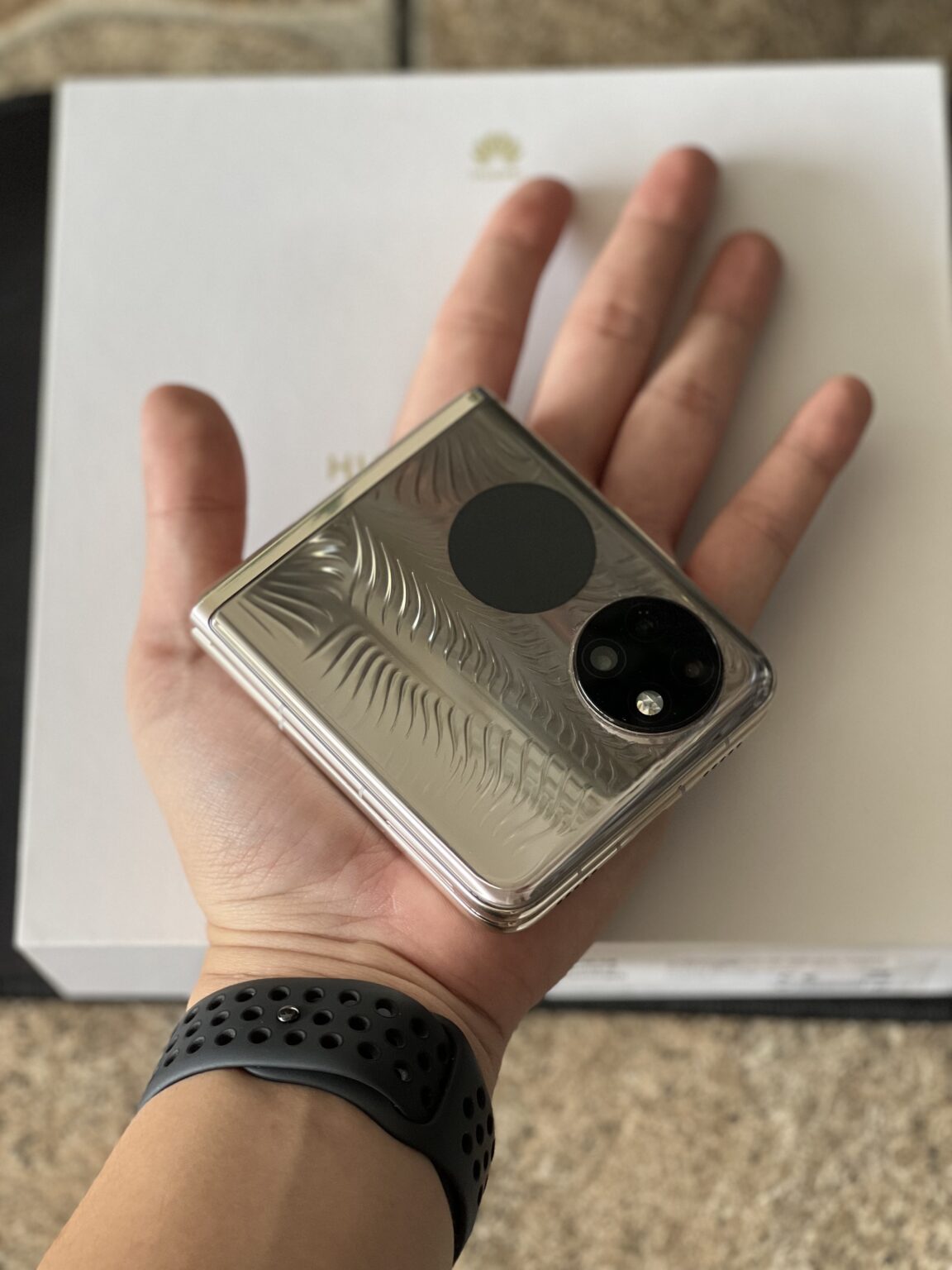 Continuing the P50 series' double-ring design, one of which is a 1.04-inch external screen
Rather than the horizontal foldable devices you've seen, the Huawei P50 Pocket adopts a clamshell design. You might wonder whether this phone can be unfolded with one hand like those old flip phones. Unfortunately, we regret to tell you that it isn't easy. While it's not impossible to open it with one hand, it's trickier than most would expect. After all, it is a foldable smartphone.
Upon unfolding the phone, you'll see that it's slimmer than many other phones on the market. Texting, unlocking, and other functions can all be done with one hand. The volume keys are also easily within reach for one hand. For unlocking, the Huawei P50 Pocket uses a side fingerprint reader that's easy to access, whether the phone is folded or unfolded. The fingerprint reader is rather sensitive and responds quickly too. When the phone is folded, you can even turn on the camera, music, or check the weather on the external screen.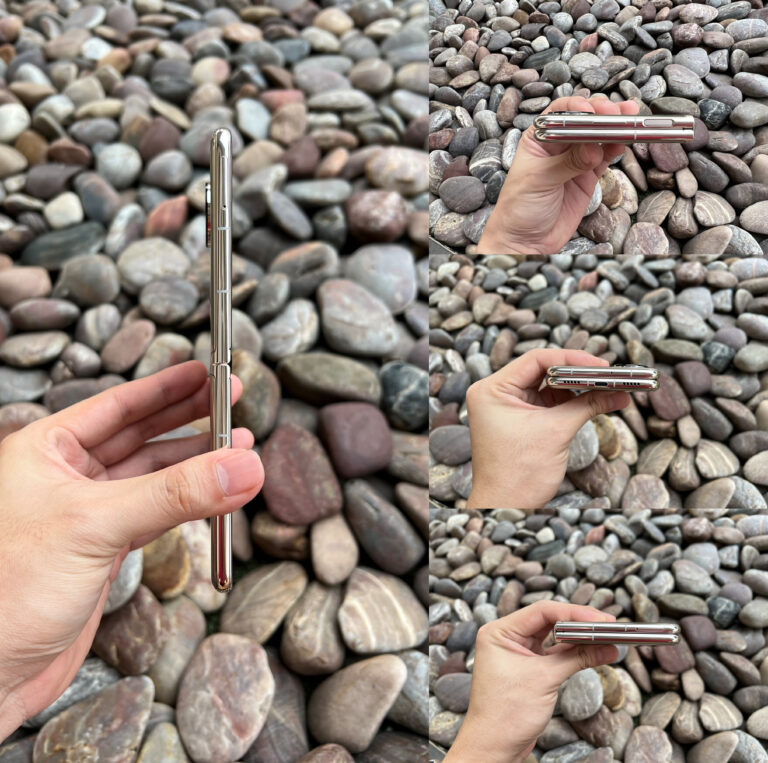 The camera module protrudes slightly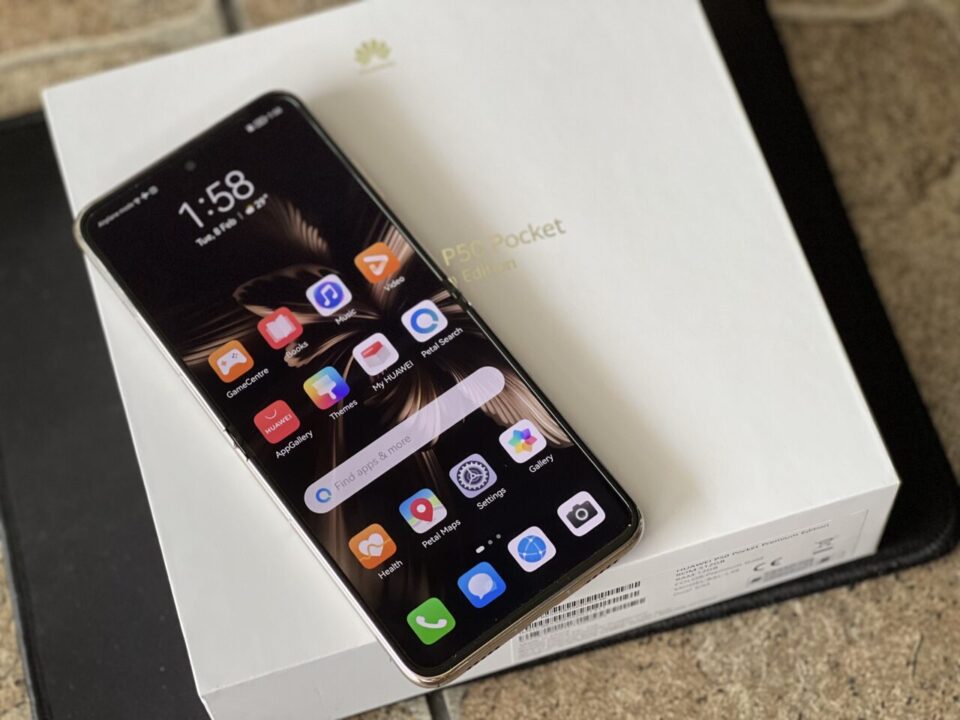 Up to 120 Hz refresh rate, 1440 Hz high-frequency PWM dimming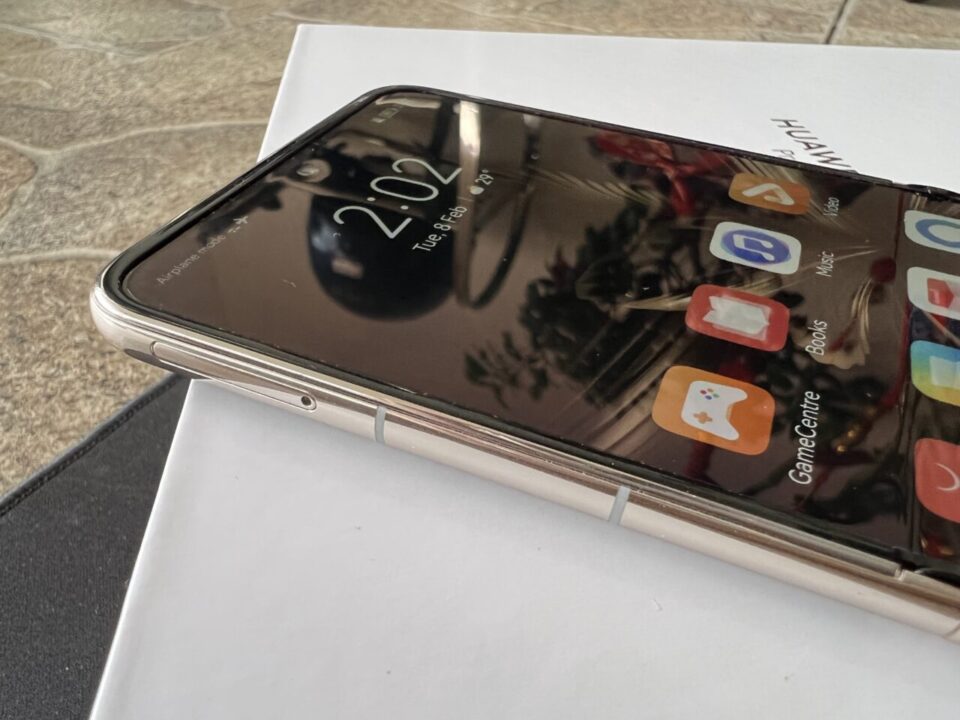 Punch-hole front camera with 10.7MP sensor
Once unfolded, you will also find a 6.9-inch FHD+ display (2790×1188) with a maximum refresh rate of 120Hz. There's also a front-facing 10.7MP camera located on the top under a punch-hole. We also noticed that the screen aspect ratio for the Huawei P50 Pocket is a bit longer than other phones on the market. Moreover, the screen is not flushed but protrudes slightly instead. Fortunately, it doesn't affect the visual experience of the display.
Then there is the point that everyone worries about - the crease of the display. The fold of the Huawei P50 Pocket is quite shallow, and the folding area is smaller. So when the phone is unfolded, you won't notice it all that much when you use it from the front. But if you look from the side, you will see the indent where the screen is folded. The main screen of the Huawei P50 Pocket looks like any regular smartphone display when unfolded. Due to the position of the crease, you are more likely to feel it while operating the phone regularly. Some people might be bothered by it, so it's something to consider.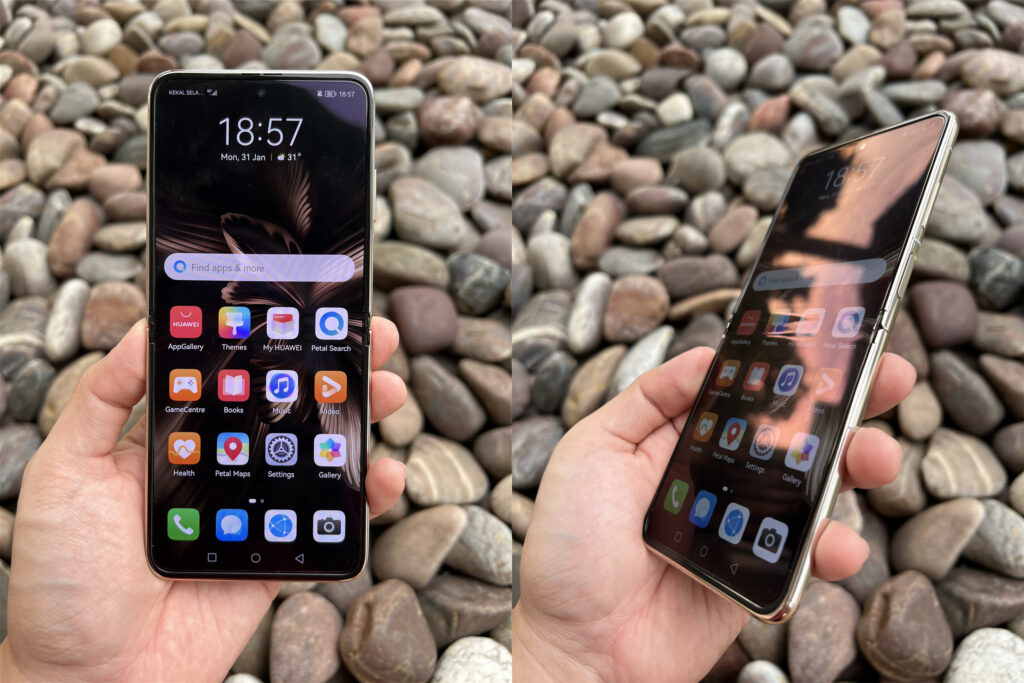 When unfolded, the crease is only visible from the sides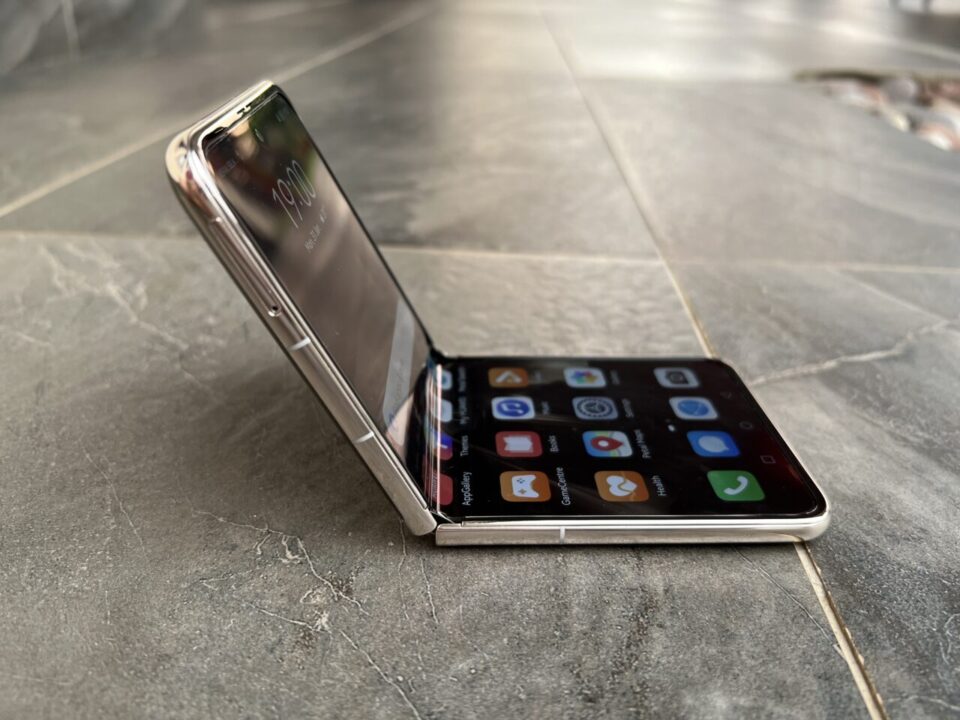 You can easily use it for selfies when it's unfolded too
Another thing worth noting is how the phone handles being unfolded halfway. Based on our tests, the Huawei P50 Pocket is relatively stable even when it's at 90°. This form factor is handy for selfies or other recording videos. Of course, you can't do this if the folding angle is too large or small.
Having said that, Huawei has optimised the phone's cameras. Overall, it's not much different from other foldable phones. The only unfortunate thing is that it doesn't support free-angle photography. If you need to adjust angles for your selfies, you have to manually angle your hand.
The external screen provides multiple tools to use
On the other hand, the external screen offers a new range of utility on a Huawei smartphone. It's almost like a smartband or smartwatch display was added to the device. The design here is a throwback to the dual-ring design of the P50 series. Here, one of the 'rings' was replaced by a touch display that provides access to the music, camera, and weather apps.
It is worth noting that the external screen can also access a "mirror" app. In addition to being used as a small portable mirror, it supports skin detection and sun protection detection. We're sure that the ladies would find them useful.
Tech Specs and Features – Everything a flagship should have
The Huawei P50 Pocket has great hardware, and we've listed them below:
6.9-inch foldable OLED FHD+ display with 120Hz high refresh rate
1.04 inch OLED external screen
Snapdragon 888 4G chipset
8/12GB RAM+256/512GB storage
NM memory card, up to 256GB
Three rear cameras, 40MP (main camera) + 13MP (ultra wide-angle) + 32MP (ultra spectrum)
10.7 MP front camera
4000mAh battery | 40W fast charge
Unfolded: 7.2mm; Folded: 15.2mm; Weight: 190g
Running EMUI 12
Colour: Crystal Diamond White, Gilded Gold (custom art version)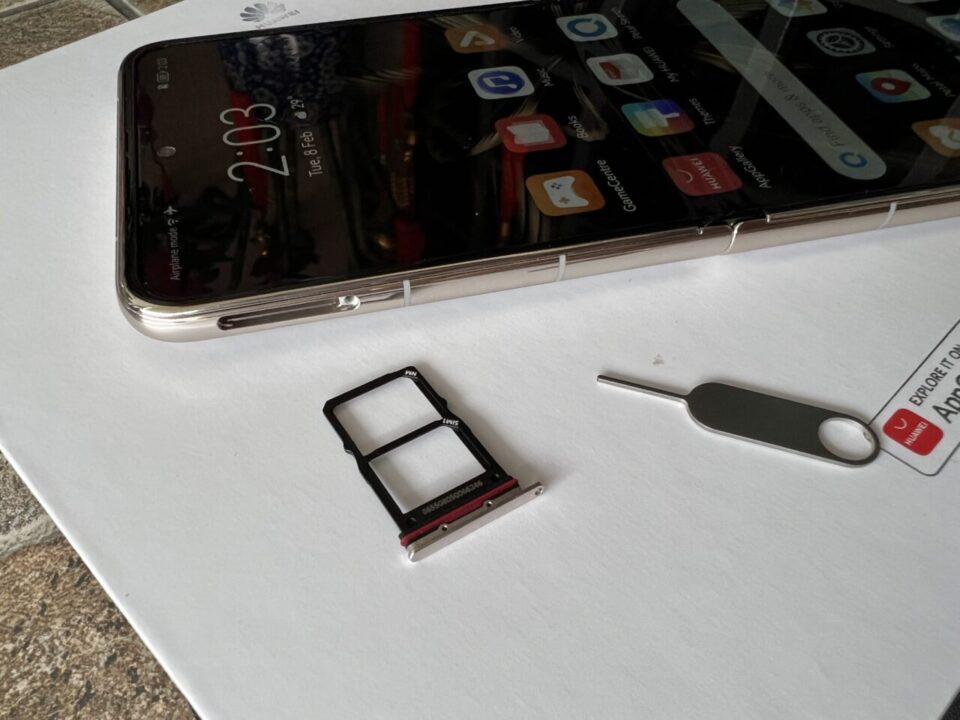 Dual SIM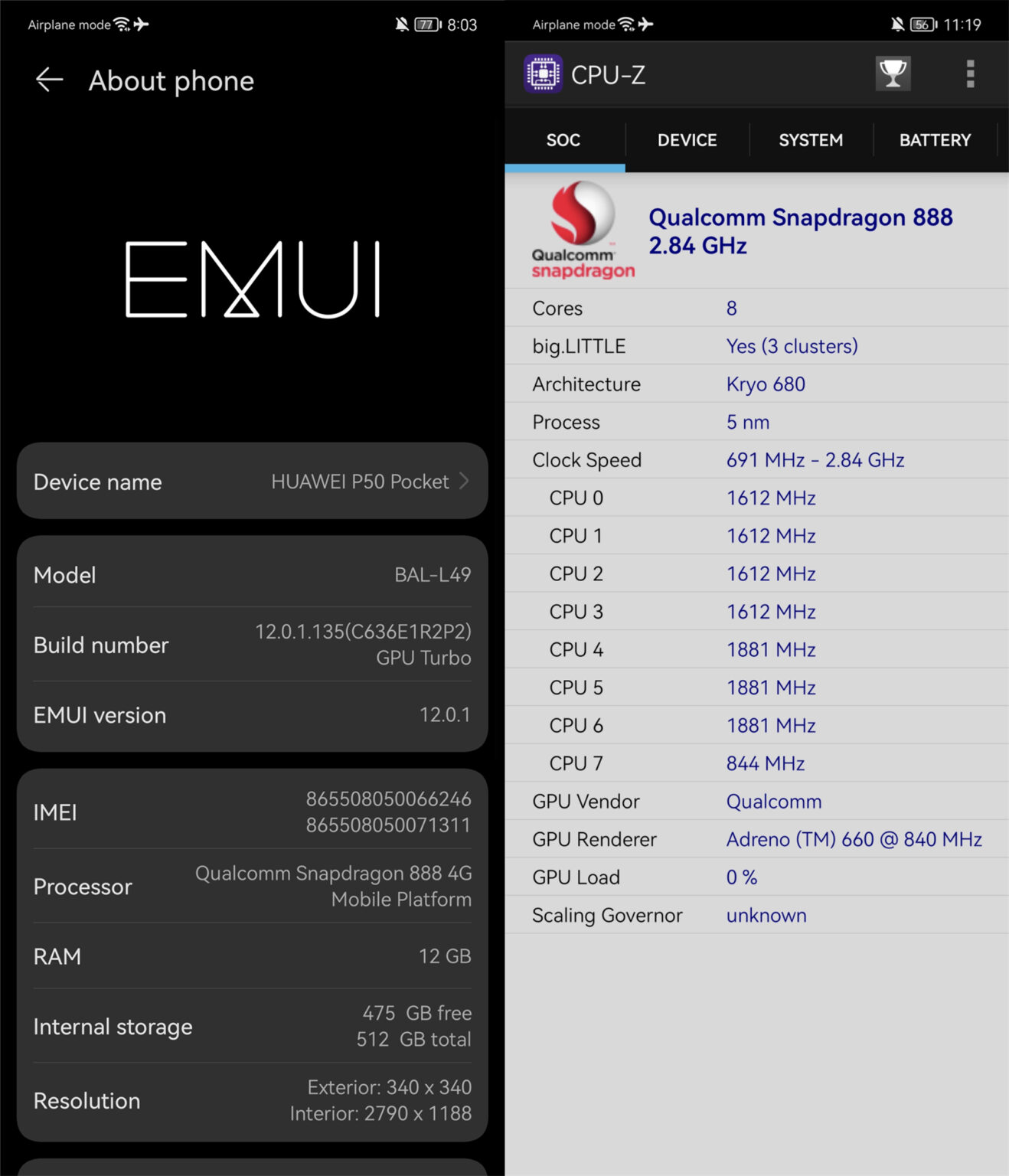 The specs of the unit we reviewed
Now, let's talk about the specs of the Huawei P50 Pocket. The phone is equipped with a Snapdragon 888 chipset, 12GB RAM, and 256GB of storage. However, the chipset is the 4G variant, so there's no 5G support. Besides that, theP50 Pocket has a 4000mAh battery with Huawei 40W super fast charge. It also has a dual-SIM tray and supports expandable storage up to 256GB.
Like all Huawei devices these days, the Huawei P50 Pocket is not equipped with Google Mobile Services. Our unit was pre-loaded with EMUI 12, which performed similarly to other Huawei flagship phones. The control interface is intuitive enough. You can set your app drawer to large or small.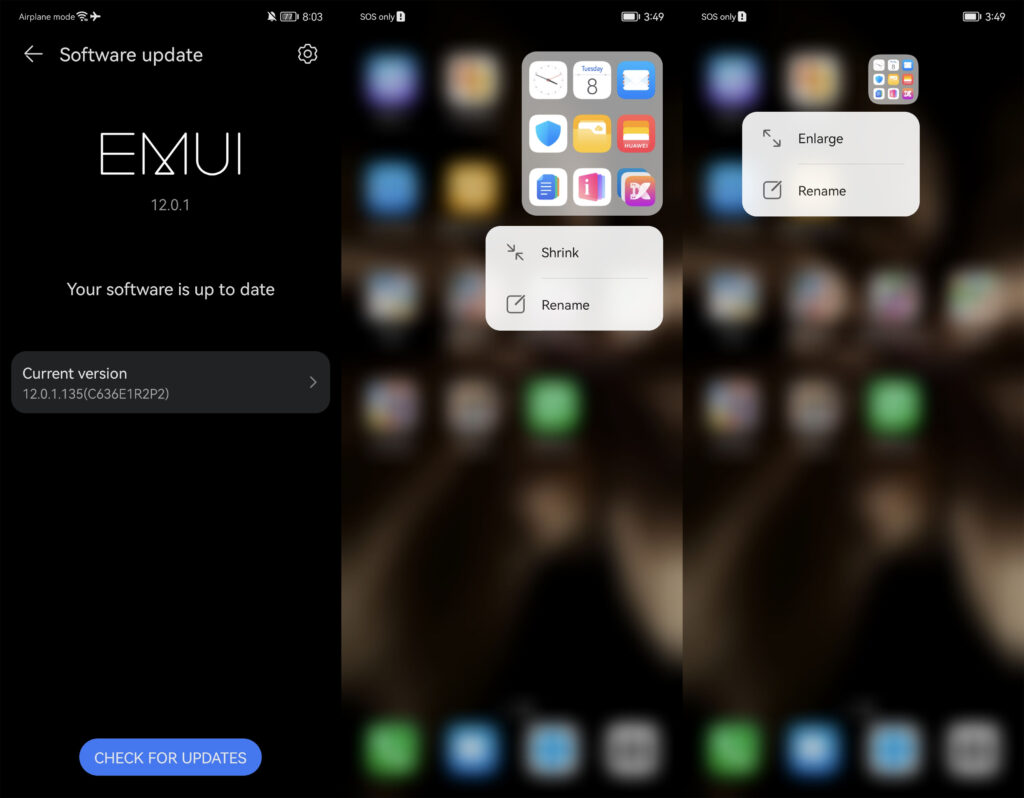 EMUI 12 pre-installed
With the increasing popularity of Huawei AppGallery, Huawei P50 Pocket comes with some simple apps. This includes a file manager, web browser, gallery, media player, Petal Maps, and AppGallery.
All the apps that Malaysian users need daily can be found on AppGallery. For example, Facebook, Instagram, MySejahtera, Touch n Go eWallet, Grab, Maybank2u, and more are available. Be it take-out services, banking transactions, entertainment, or social media, the AppGallery is enough to meet the daily life of ordinary users.
Unfortunately, the phone also comes with a lot of bloatware. You can delete some of them, but the unremovable ones can only be hidden.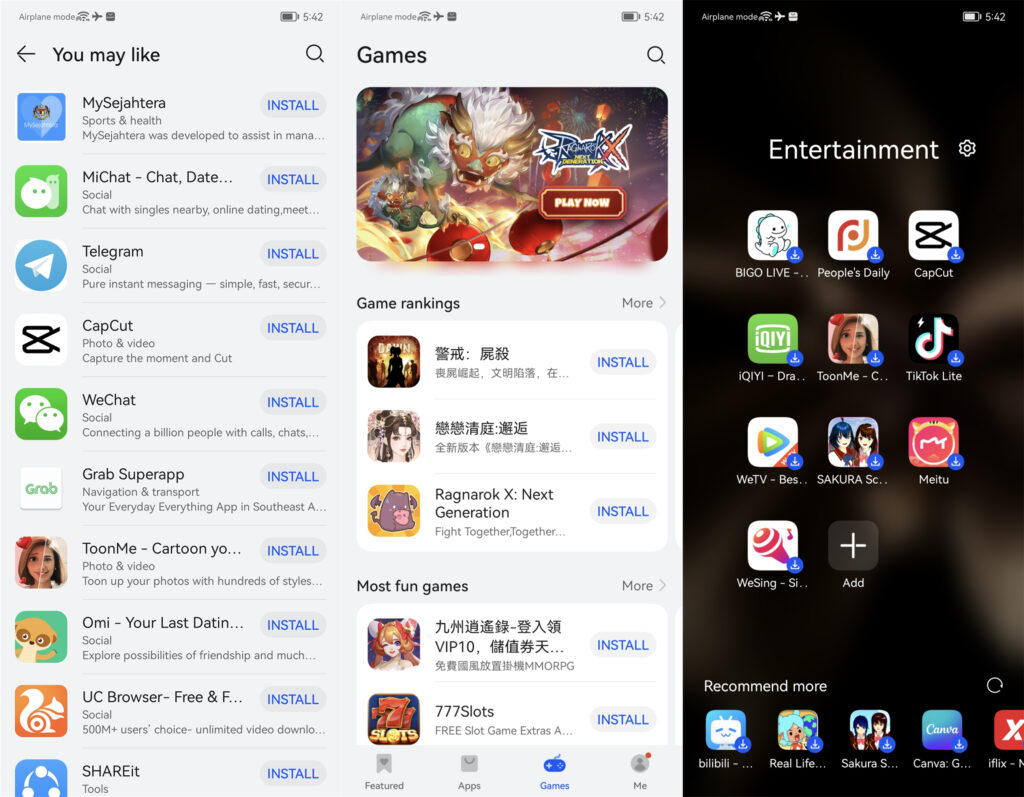 AppGallery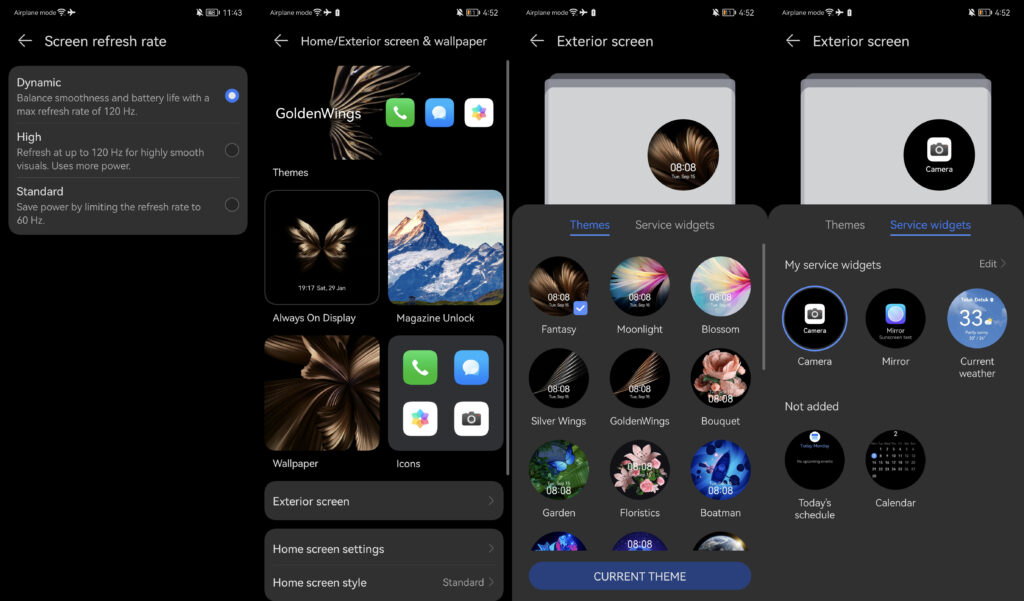 Adjust screen refresh rate; Themes; and external screen settings
As a foldable device, the P50 Pocket has rich customisation options for the main screen and external screen, which can meet the preferences of different users. The main screen of the P50 Pocket supports a screen refresh rate of up to 120Hz and supports variable refresh rates. You can also manually set the refresh rate according to your needs.
Performance - Good performance, smooth experience
The performance of the Huawei P50 Pocket is not bad. After benchmarking the device in Geekbench 5 and 3DMark, you can see that the phone has flagship performance. It doesn't just handle daily tasks well, but it also tackles social media with ease and runs some mobile games smoothly.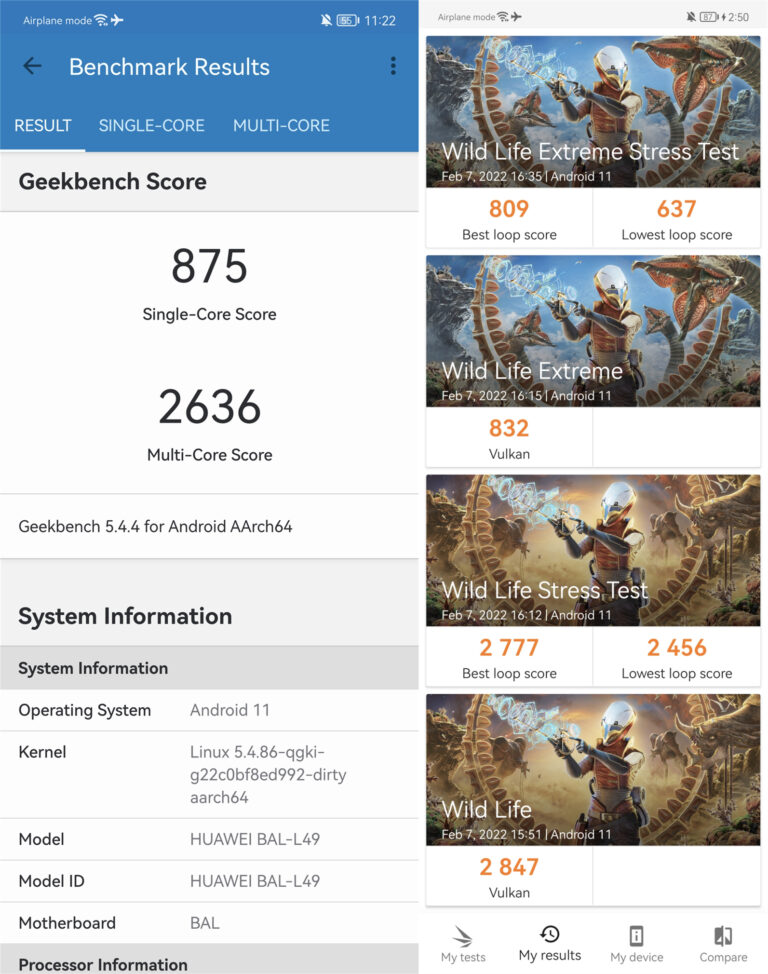 GeekBench / 3DMark benchmark
It scored 875 and 2636 in Geekbench 5's single-core and multi-core tests, respectively. Also, it managed 2847 points and 832 points in 3DMark's Wild Life and Wild Life Extreme benchmarks. Based on the Stress Test, the difference between the highest and lowest scores isn't too big either. When we tried some mobile games on the P50 Pocket, it also performed well and was very stable.
The foldable display won't affect your experience when gaming. However, the aspect ratio and punch-hole relationship will do just that. Because of that, users have to adjust the position of the buttons when playing certain games to avoid accidentally touching the front camera lens. The phone ran fine when we played Genshin Impact with the default settings, with no lag detected. But if you play for a long time, the phone will heat up, especially on the side with the secondary screen. You'll feel the heat, but it won't be too obvious.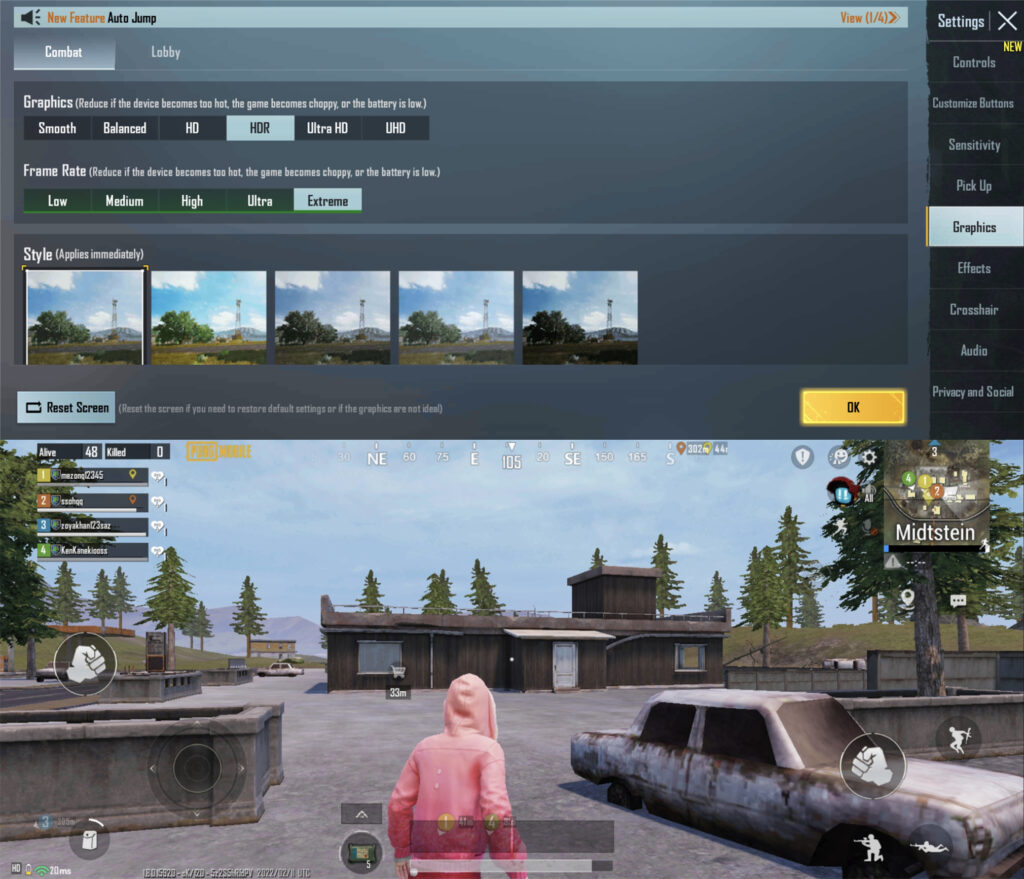 PUBG on HDR+Extreme settings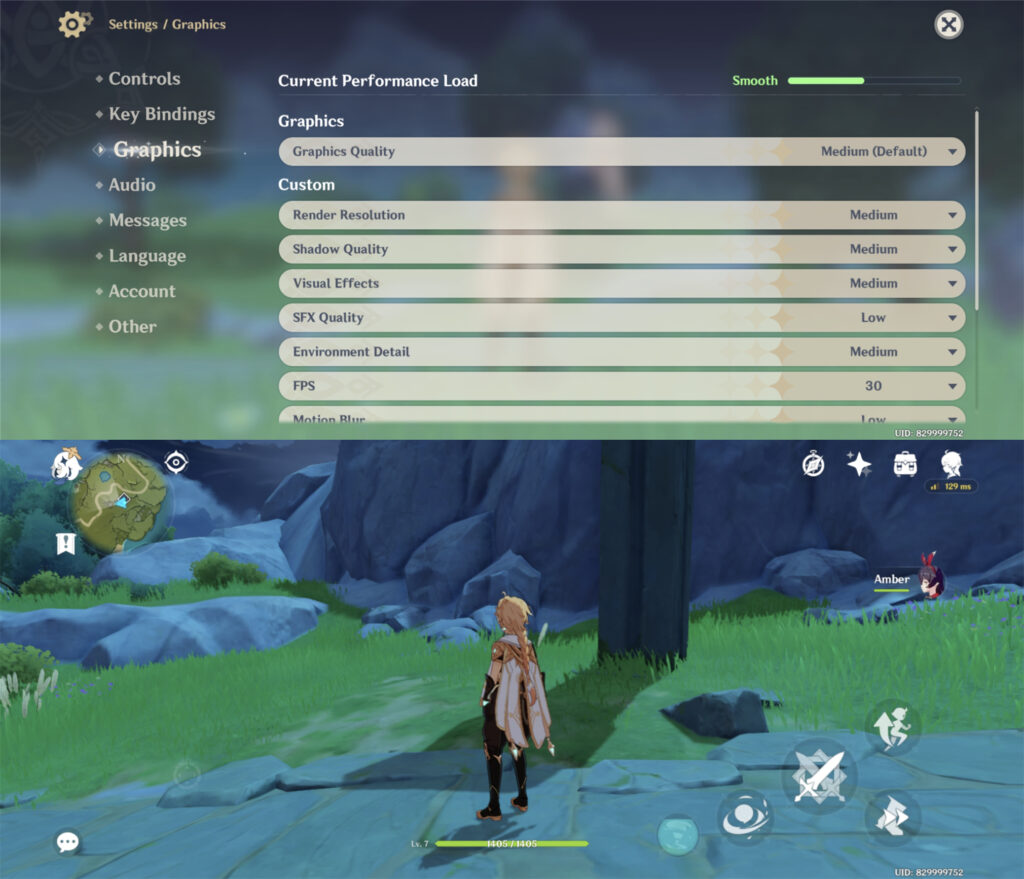 Because of the 21:9 aspect ratio, the screen is wider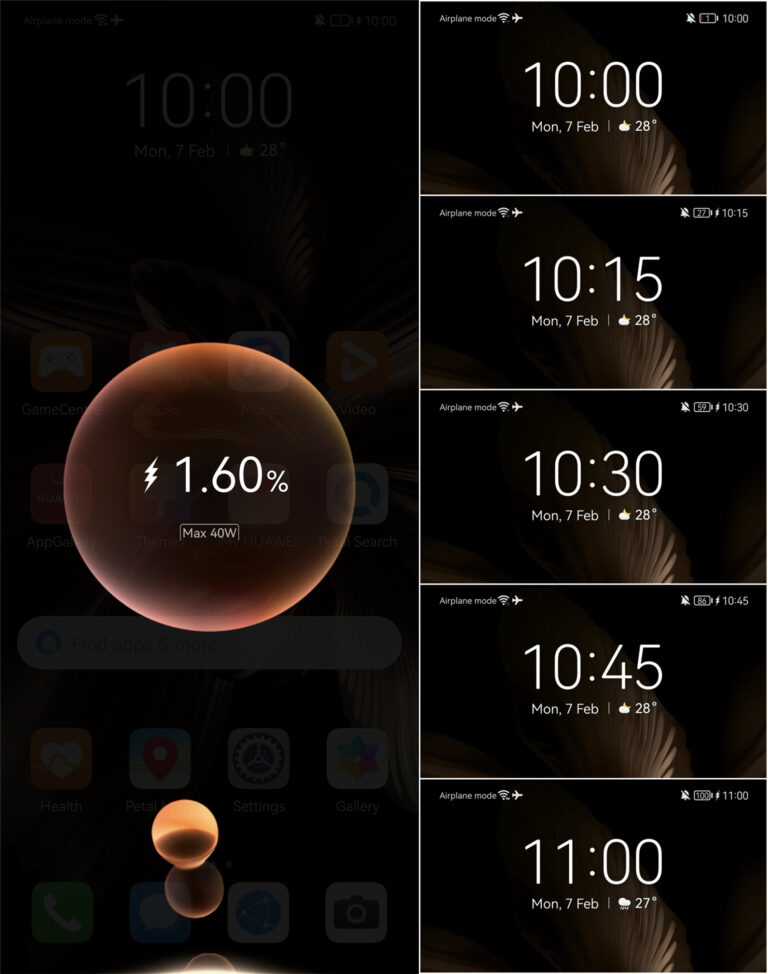 40W fast charge; charges from 0% to 100% within 1 hour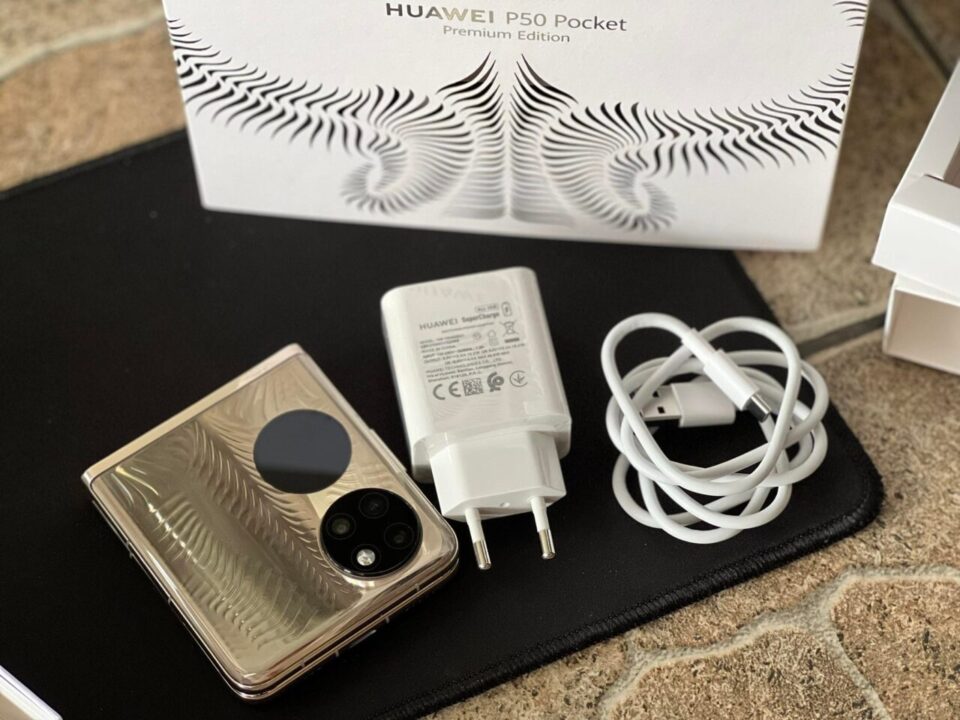 The phone, 40W charging adapter, and USB-C charging cable
The Huawei P50 Pocket has a battery capacity of 4000mAh, which delivers a good battery life. Most users would only need to charge it once a day. But if you're a heavy user, you might need another charging session during the day. Fortunately, the P50 Pocket supports Huawei's 40W super-fast charging, which can quickly power it up. It's a pity that wireless charging isn't available.
Next, the Huawei P50 Pocket is equipped with a triple-camera setup. It consists of a 40MP main camera + 13MP ultrawide camera + 32MP ultra spectrum camera. The Huawei P50 Pocket can take good pictures not only in the daytime. It can also do so in low-light conditions, even without night mode enabled.
Thanks to the external screen, the P50 Pocket offers some extra shooting modes. First of all, it supports a variety of selfie modes. For example, you can open the screen to take a selfie with the front 10.7MP camera. But you can also take a selfie directly with the external screen when the phone is folded. When the phone is unfolded 90°, the camera software will switch to a split-screen mode. This mode is very convenient for taking selfies.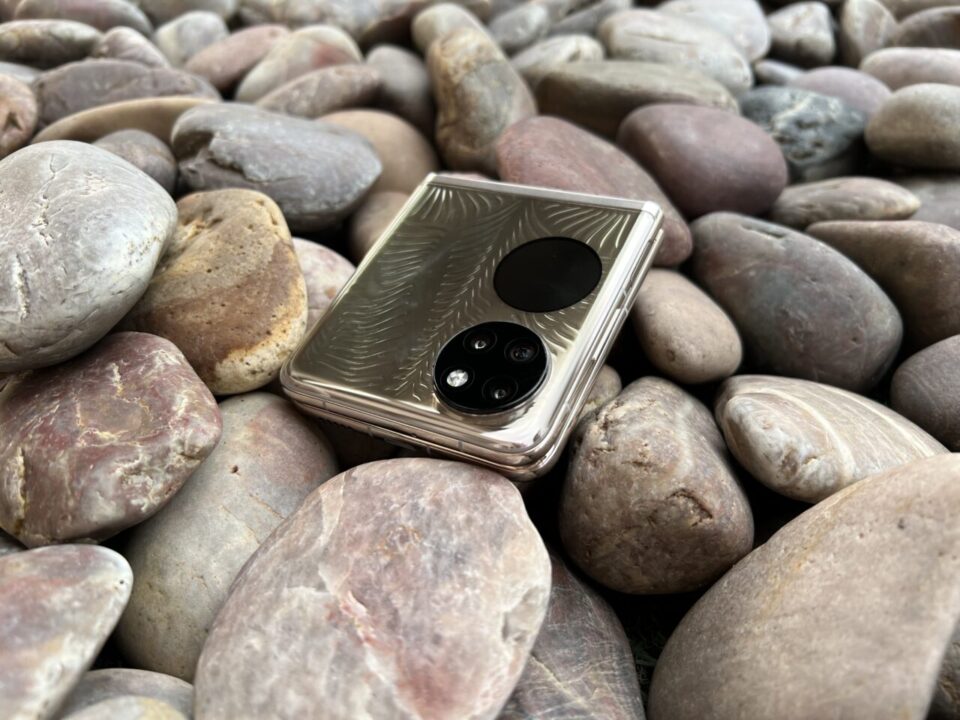 Huawei P50 Pocket Camera Module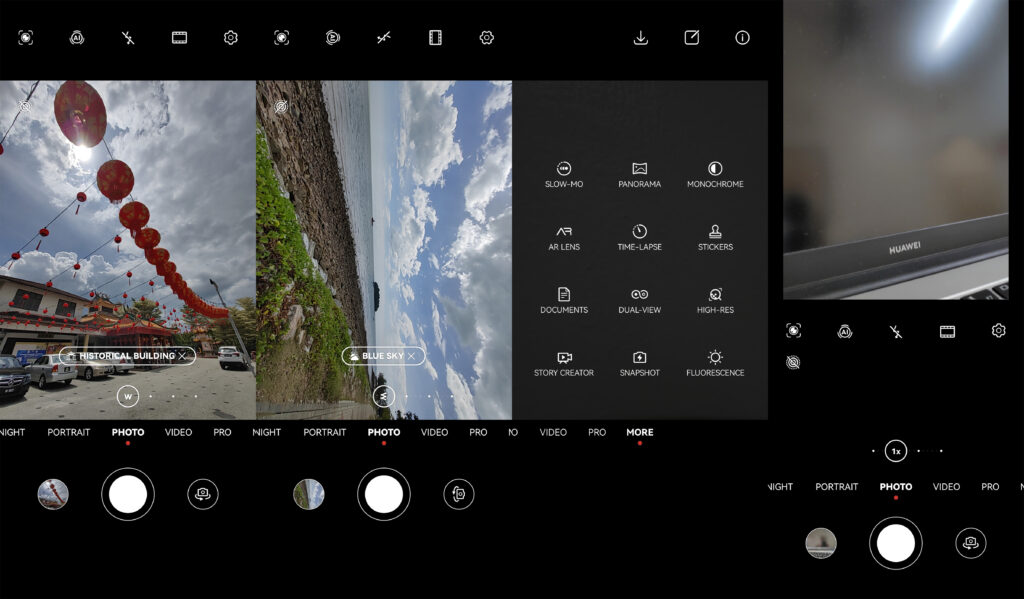 Camera UI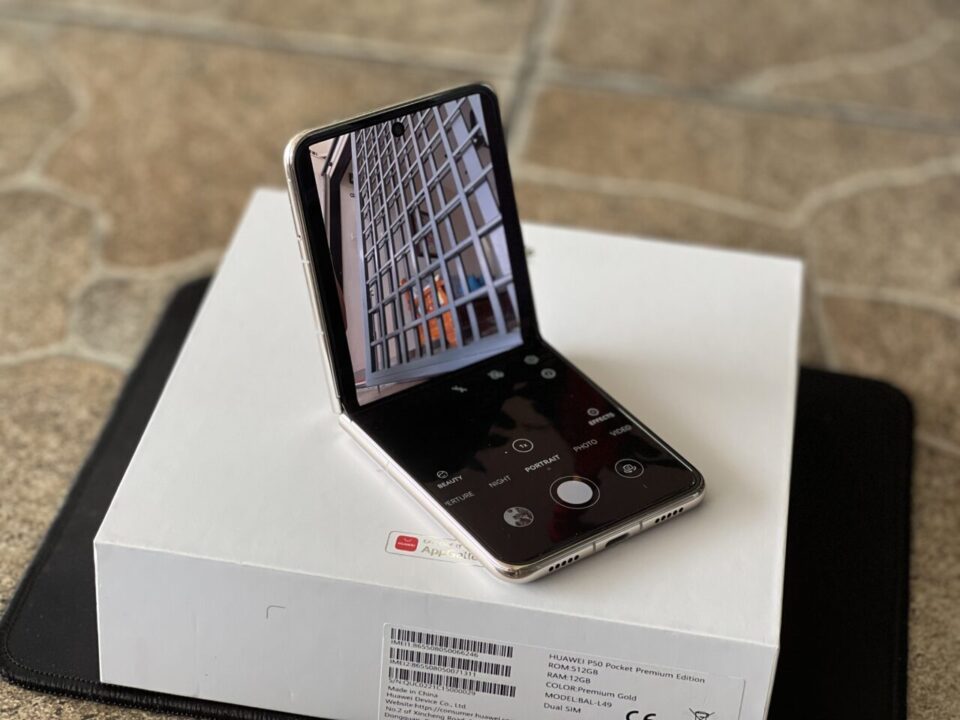 Split-screen mode for the camera app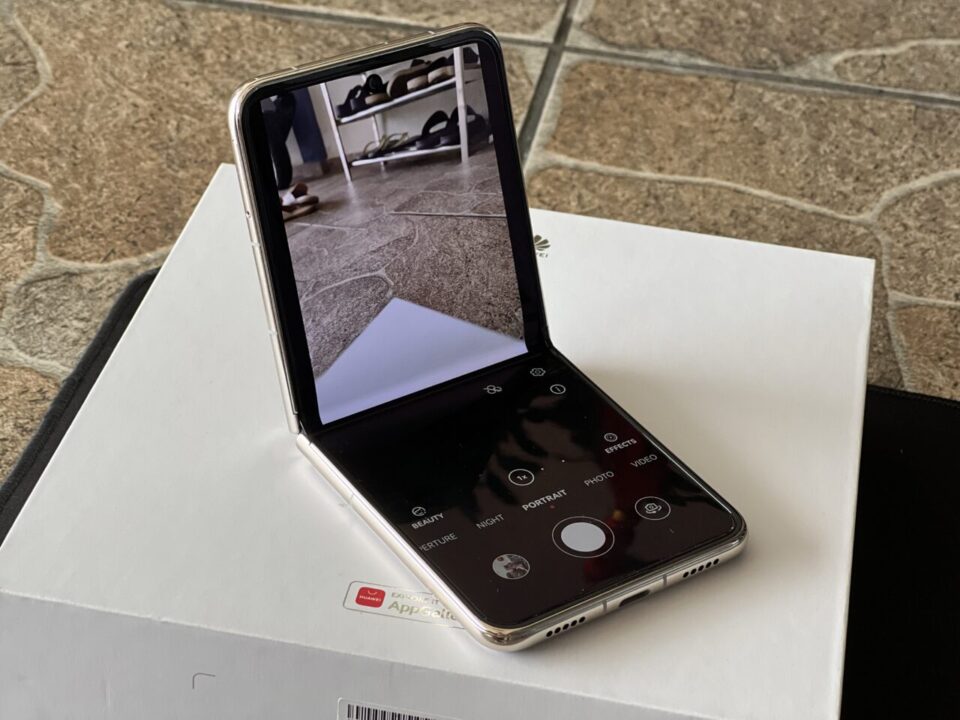 Easily take selfies without a tripod!
The external screen also supports touch controls. For example, you can swipe left to start the camera. You can also click once to take a picture or double-tap to switch to the ultrawide camera to fit more people into a selfie.
But there are also some things to note. Since the external screen is circular, it is difficult to predict what the selfie would look like. Fortunately, it's not as hard as you might think. If you hold the phone vertically, you'll get a portrait shot. But if you're holding it horizontally, it would be a landscape photo. Simple enough, right?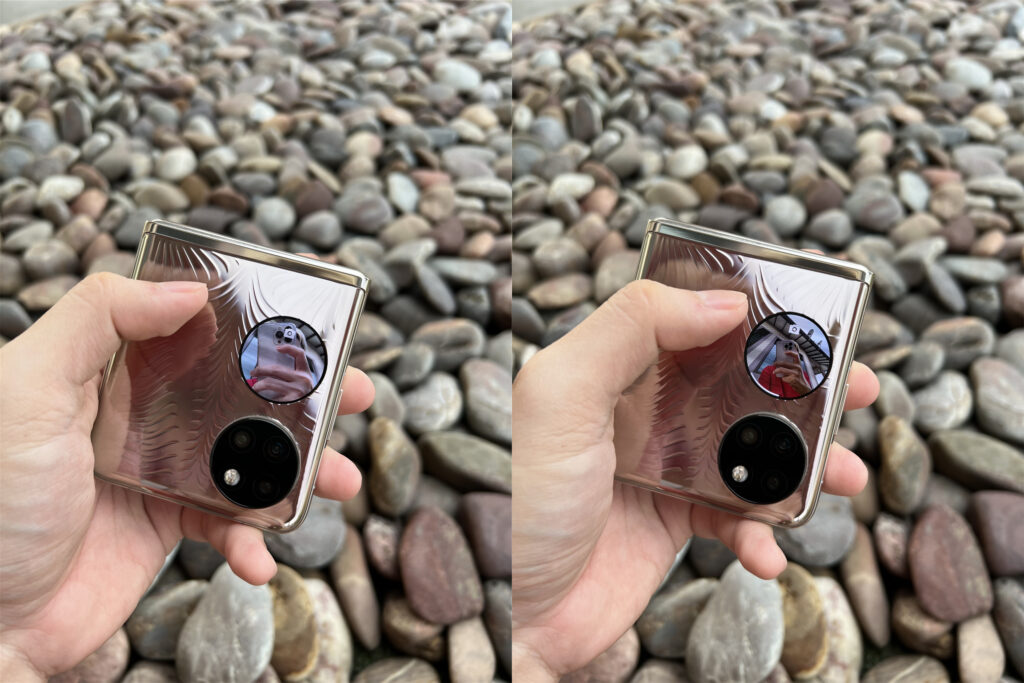 Taking a selfie after unlocking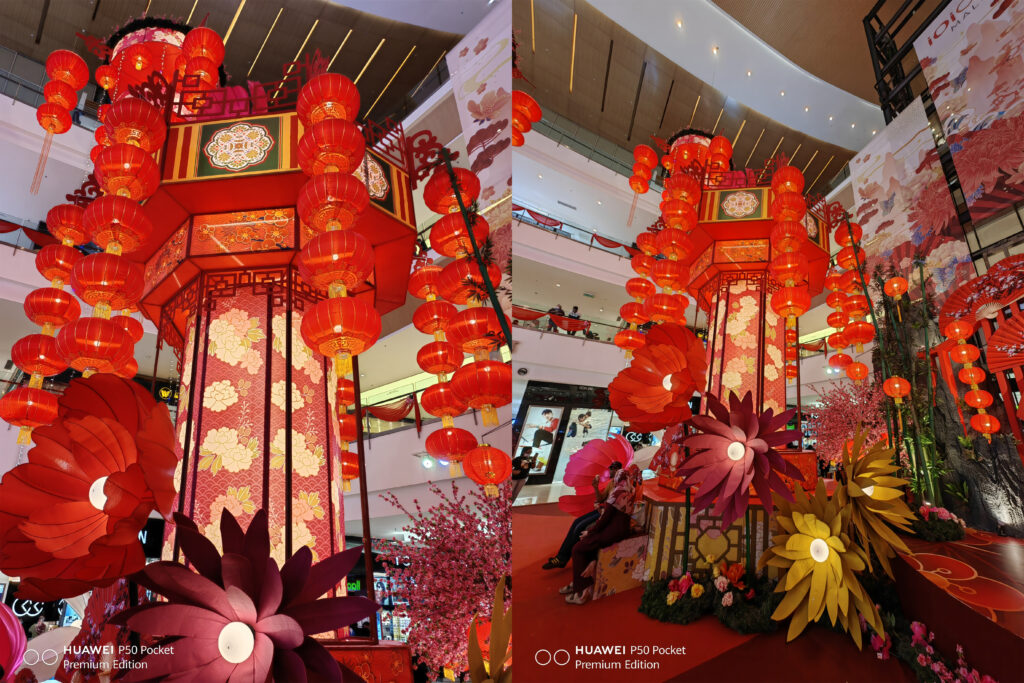 Auto vs Ultrawide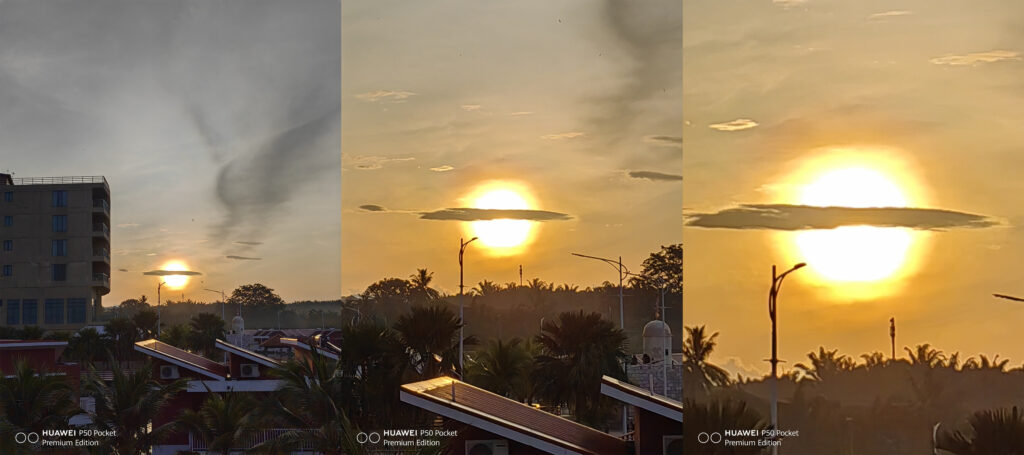 Zoom mode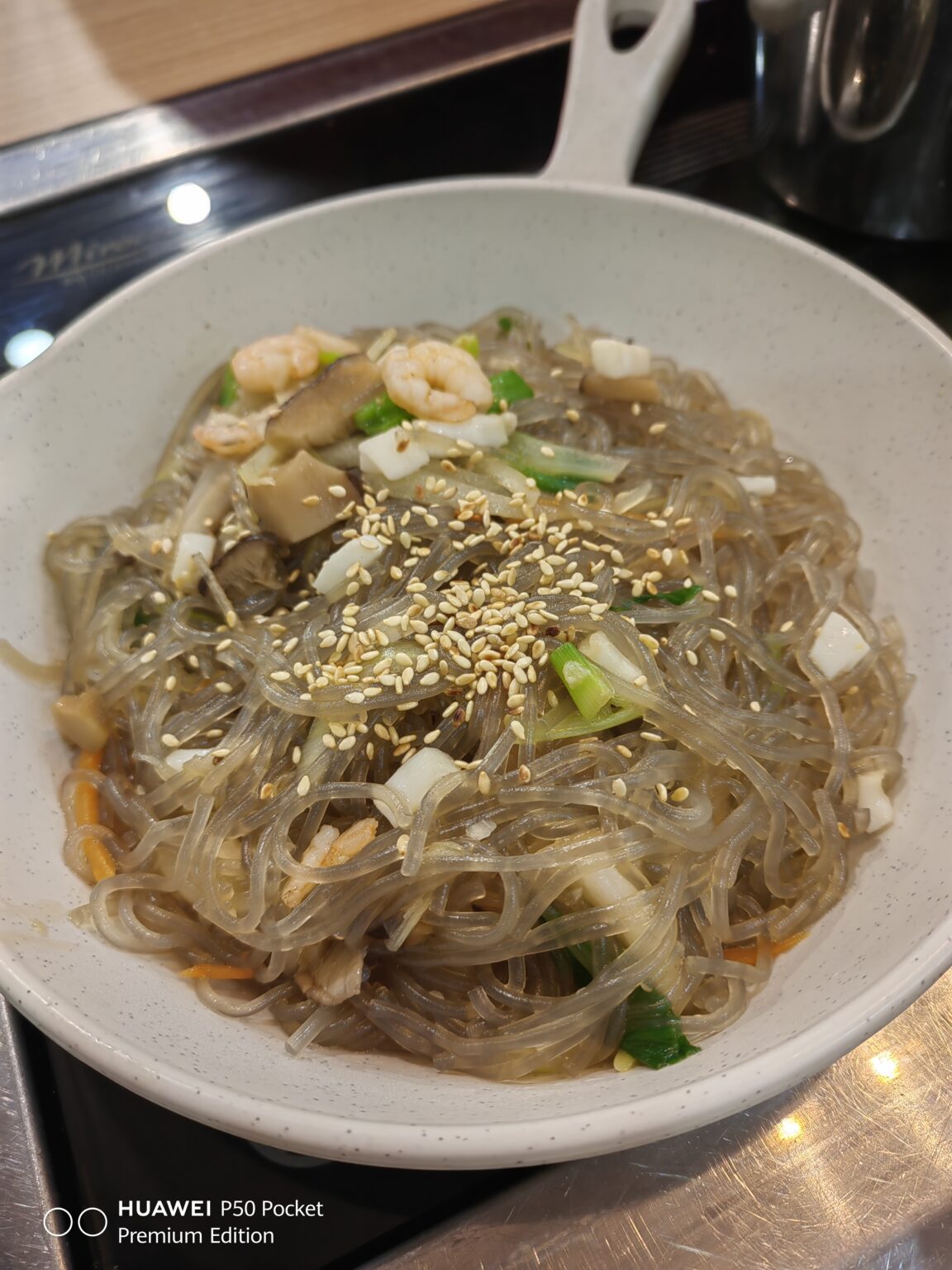 Auto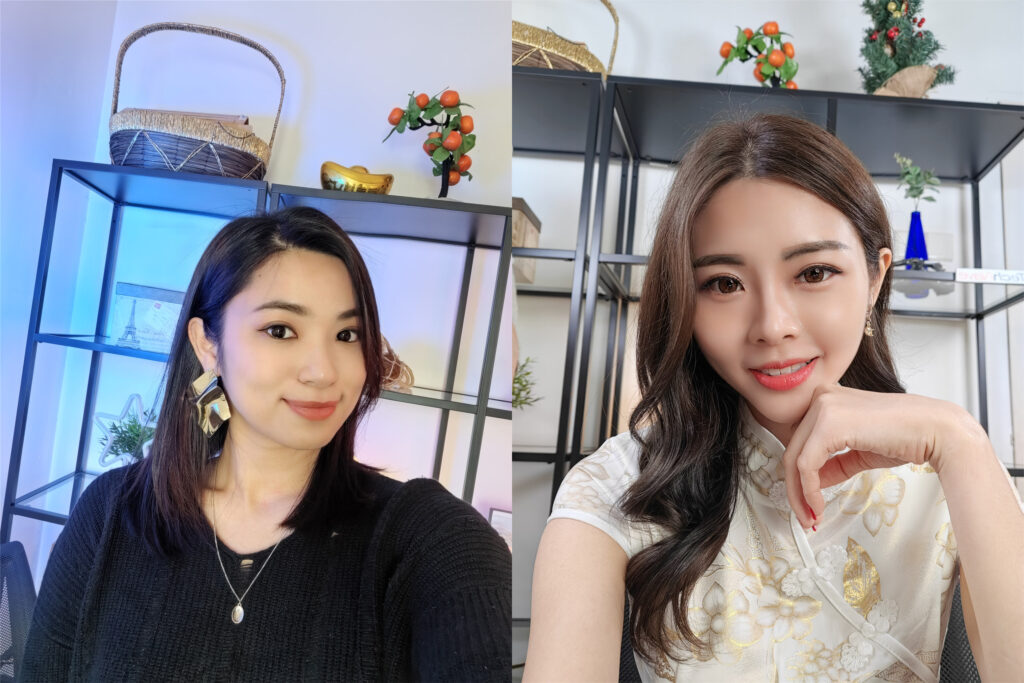 Selfie
Selfie duo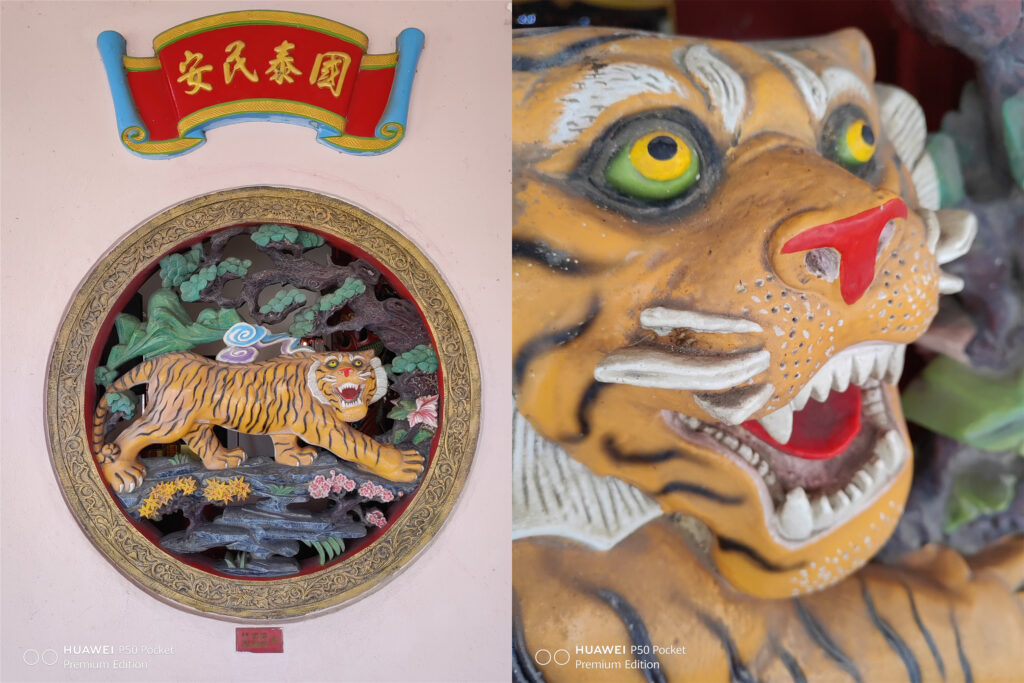 General vs Macro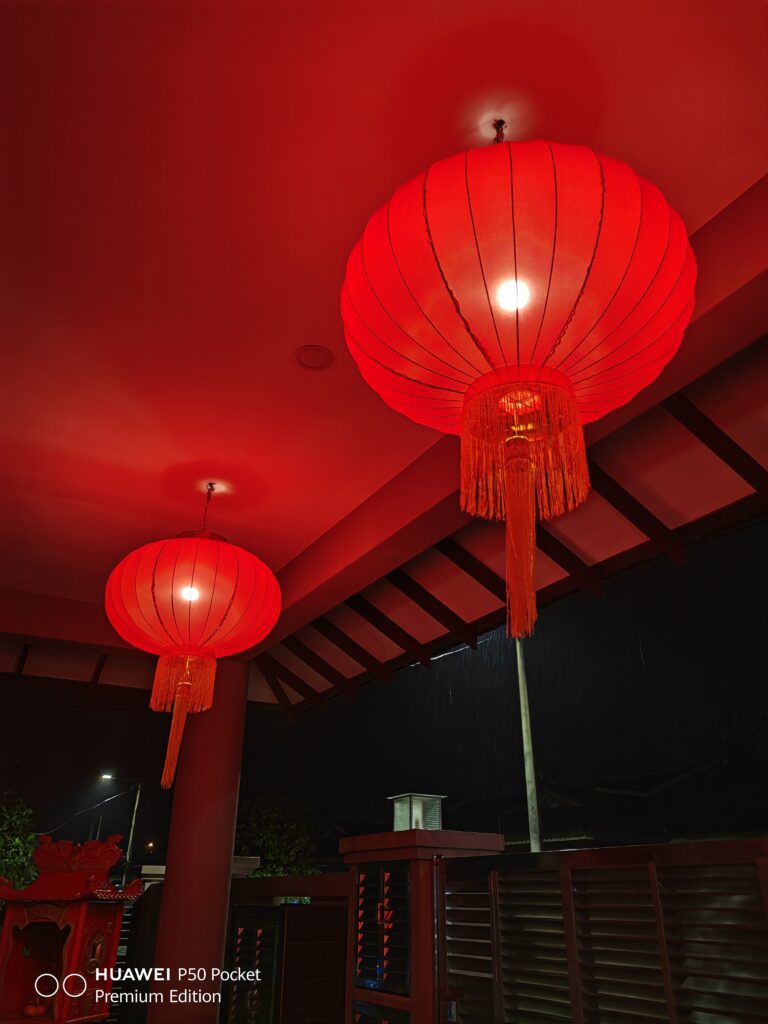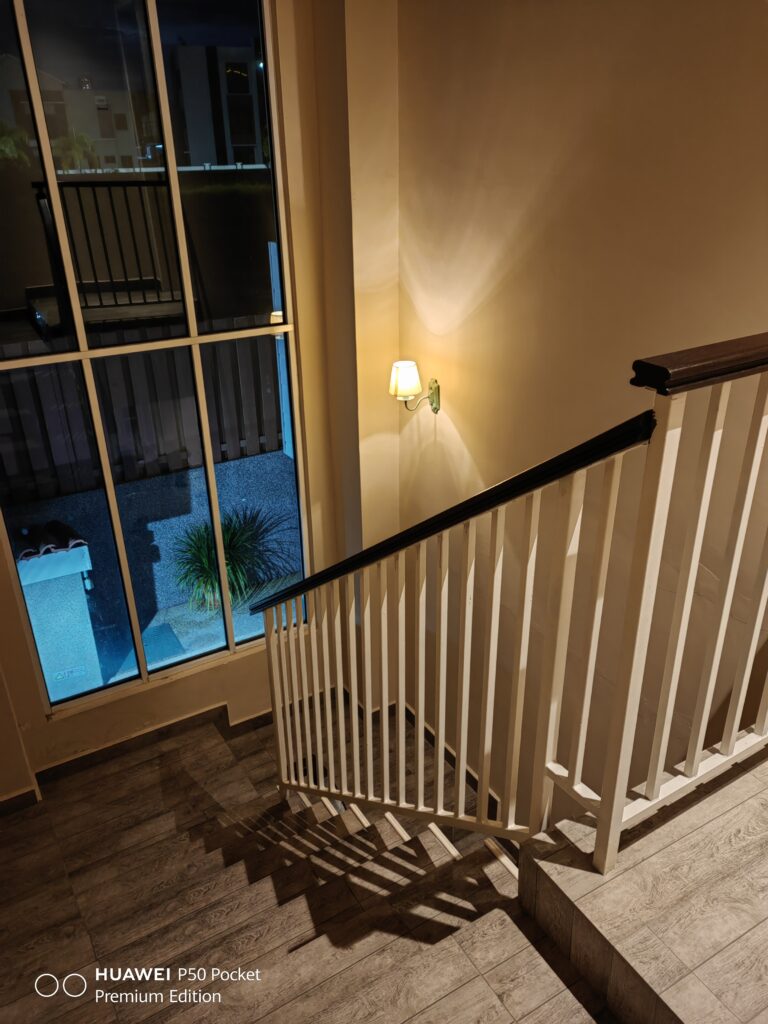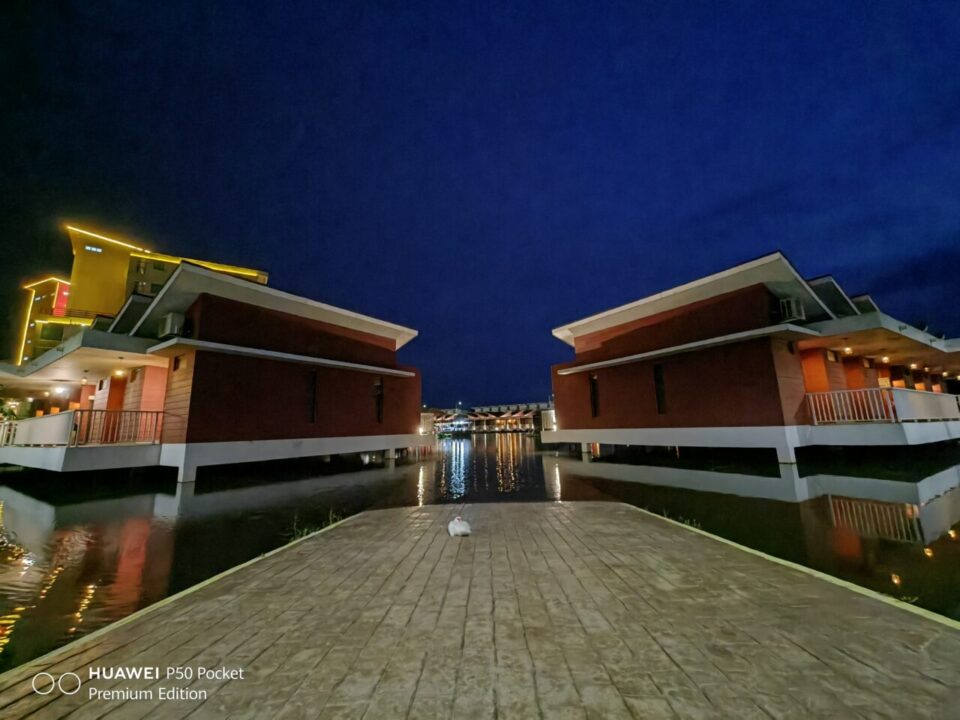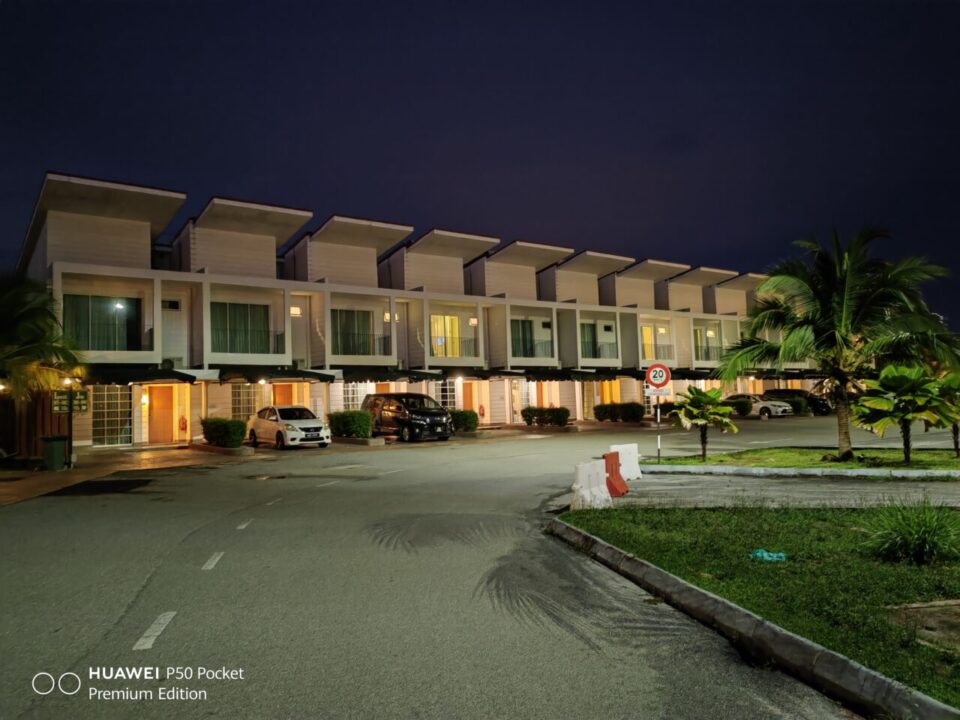 Night mode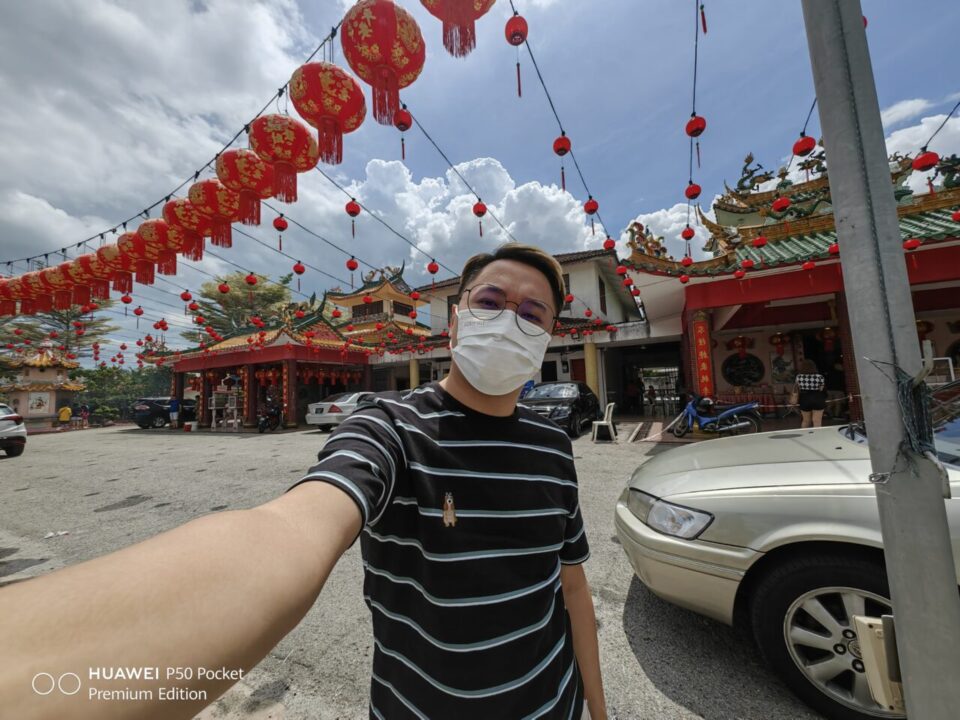 Ultrawide-angle selfie
Conclusion - Good device that's aimed at the high-end market
As a foldable phone, the Huawei P50 Pocket can be considered a device that caters to the ladies and the high-end market. In particular, the design is sure to capture the hearts of many in Malaysia. As a flagship phone, it also delivers the performance that a flagship phone should have but bear in mind that you will be using mostly HMS.
Of course, you can't quite compare this phone to a regular one. At RM5999, the Huawei P50 Pocket was made for fashionistas and those who want the best-looking smartphones. Its only competitors include the Samsung Galaxy Z Flip3 5G, which is more affordable at RM3999 but isn't as gilded in gold-coloured metal. Well, the choice is yours.
So is the Huawei P50 Pocket worth buying? If you have the budget and love its design, go for it! Anyway, do you agree with the points in our review? Let us know in the comments, and stay tuned to TechNave!