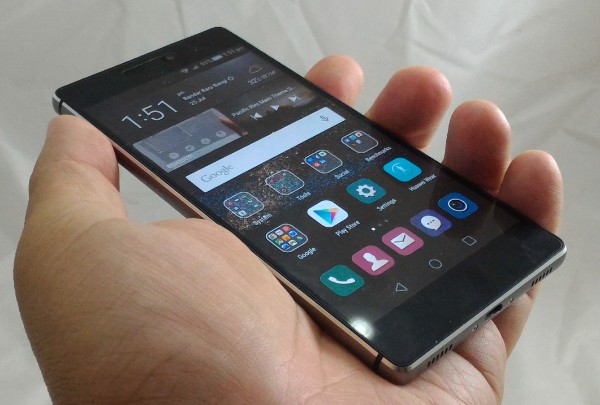 Most flagship smartphones these days feature a premium full metal unibody chassis or frame with classy looks and a price tag around at least RM2K or more. They usually come with excellent design, one-of-a-kind features and top-notch tech specs. In terms of features alone, the P8 is no exception with a unique 13MP RGBW rear camera and more. The Huawei P8 aims to deliver all of the above except for the pricing as it is currently available here in Malaysia for just RM1799. Does it actually deliver flagship features, design and performance for a midrange price tag? We find out for sure in our full review of the Huawei P8 below.
Design, Tech Specs and Features - Premium build, excellent screen and unique RGBW camera
To be perfectly honest, the first time I saw the Huawei P8, I didn't feel that it looked like the Huawei Ascend P7. It discarded the teardrop design on the bottom and adopted a full metal unibody chassis. However, upon closer inspection the design language that defined the Huawei Ascend P series is clearly visible with the P8. The curved corners, 6.4mm thin body, super slim bezels and excellent build quality are implemented perfectly. Of worthy note are a 5.2-inch full HD display with vibrant colours and super sharp clarity that does better than your average FHD display but isn't as super saturated as a Super AMOLED display. The 6.4mm thin metal unibody chassis may take design cues from the Apple iPhone 6 but makes it entirely it's own with a non protruding 13MP RGBW rear camera sensor. In short, the P8 is another very beautiful Huawei smartphone with very high attention to detail and quality. Check out the full tech specs below or the Huawei P8 vs Huawei P7 tech spec comparison:
64-bit 2.0GHz octa-core HiSilicon Kirin 930 processor
3GB RAM
16GB storage
5.2-inch display (full HD, 1920 x 1080 pixel resolution)
13MP rear camera (OIS, RGBW sensor, DSLR-level Image Signal Processor, F2.0, dual color temperature flash) + 8MP front camera
supports dual SIM 4G LTE, GPS, Bluetooth 4.1+LE, WiFi b/g/n
features wind-suppression anti-noise mic, dual antenna design
2680 mAh battery
144.9 x 72.1 x 6.4mm | 144g
Android 5.0 Lollipop + EMUI 3.1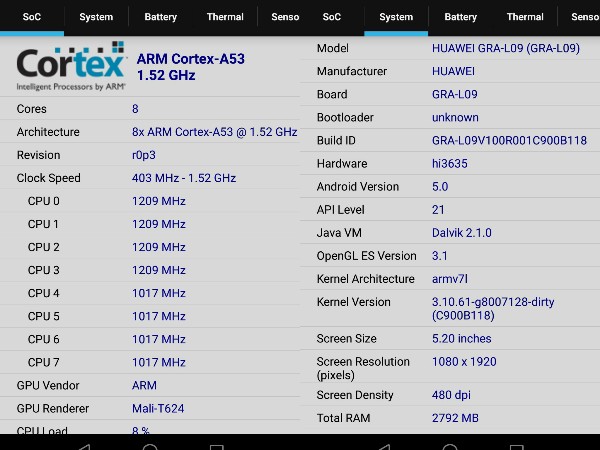 Tech specs are top-notch with the Kirin 930 powering everything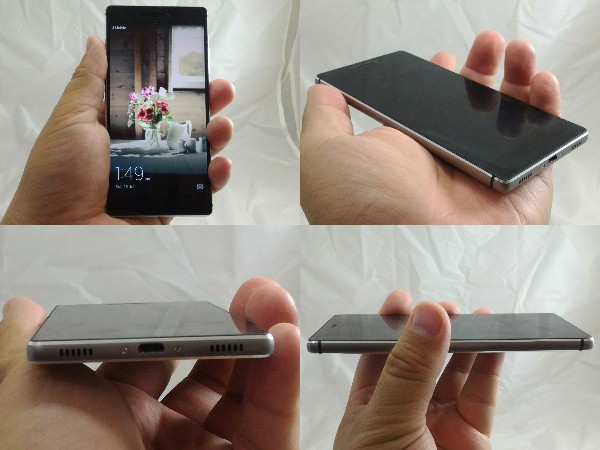 Flat and thin yet curvy the Huawei P8 has a very premium all metal unibody design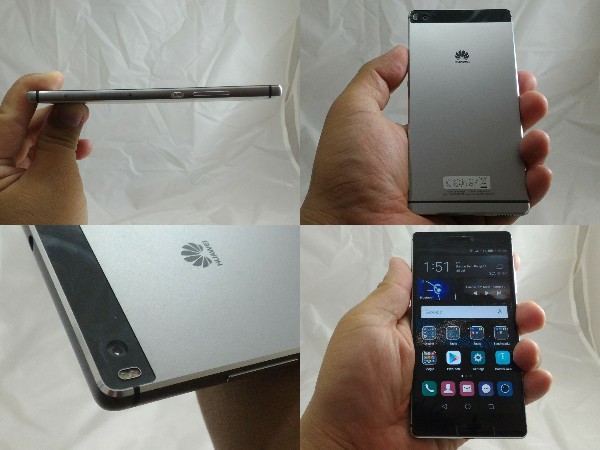 At just 6.4mm thin, the Huawei P8 is both compact and awesome looking
Feature-wise the P8 is paired with Huawei's own Kirin 930 processor and 3GB RAM along with a Mali-T628 MP4 graphics processor. While it packs in Android 5.0 and EMU 3.1 out of the box, it does away with the usual double tap to wake/suspend feature. It does add certain features like a built-in speech aware assistant that recognizes your voice but this has limited functionality like making calls only. TouchPlus (which adds on external shortcut keys) is also available but since there are no official TouchPlus screen protectors available in Malaysia this function is rather moot. However, the features which have been finished like the 13MP RGBW rear camera has been finished well and includes a DSLR-level image signal processing chip to enable light painting and excellent low-light capture for both the front and rear cameras. The EMUI is as stable as we remember it while new features like the ability to slide the navigation bar at the bottom either to the left or right to make the screen smaller for one-handed use is surprisingly intuitive. Dual speakers on the bottom also get a dedicated sound chamber built into the phone but more on that in a bit.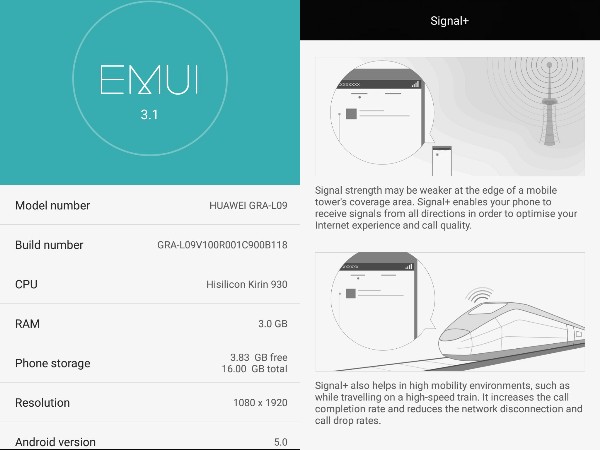 EMUI 3.1 brings a number of new features like LINK+ and more
Performance - Very nearly excellent
Our benchmarks reveal that while the performance is flagship-level it is only just so with an AnTuTu score of 47162. Geekbench 3 returned a single-core score of 838 which is above average but a very high multi-core score of 3473 (which is usual for octa-core processors). In terms of graphics we found that while the 9253 score in Ice Storm Unlimited is higher than some flagships, it isn't the highest and this is reflected in the gaming performance as well with a 39.7 frame per second score in Epic Citadel. While it does offer very smooth performance in games like N.O.V.A. 3, there is some lag in Asphalt 8: Airborne on high visual quality settings. Thankfully, the phone does not get exceedingly hot but it does get a bit warm.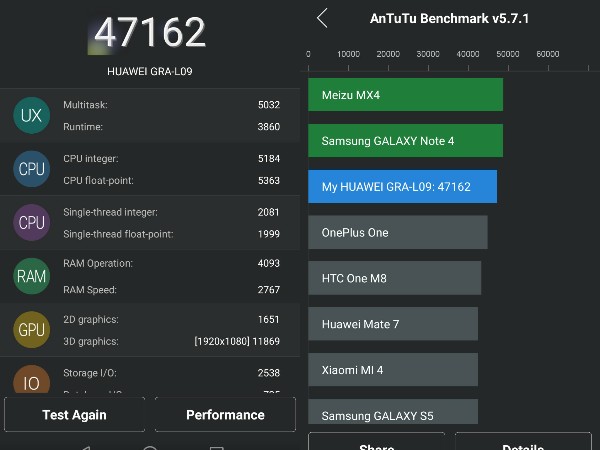 AnTuTu performance is on par with other flagships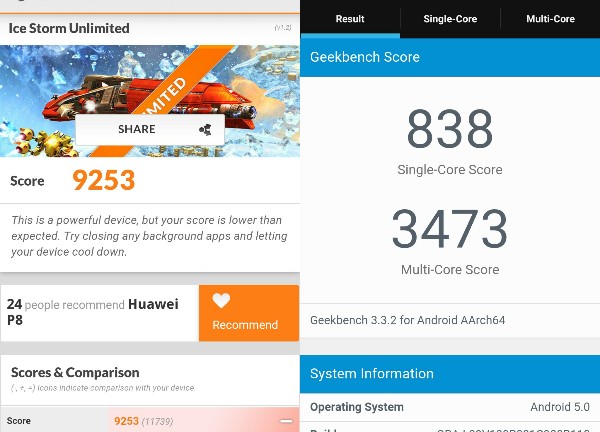 Graphics performance is above average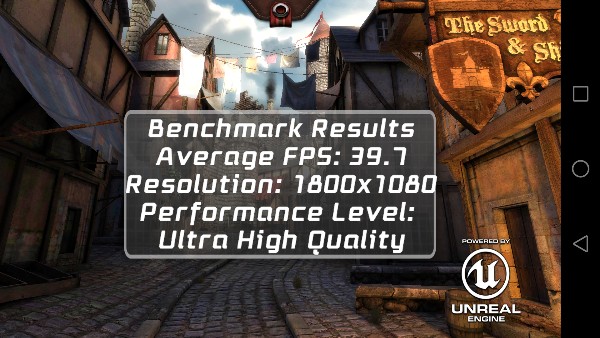 This can be seen in a Epic Citadel 39.7 fps score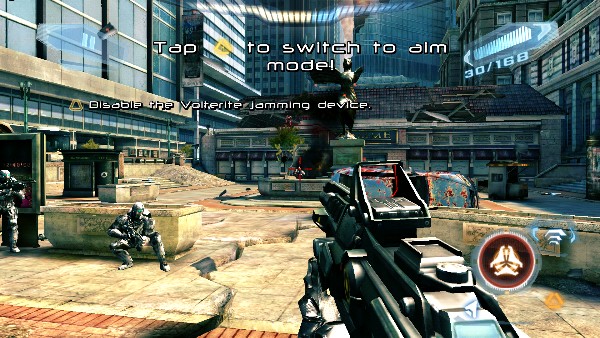 Most games like N.O.V.A. 3 run smoothly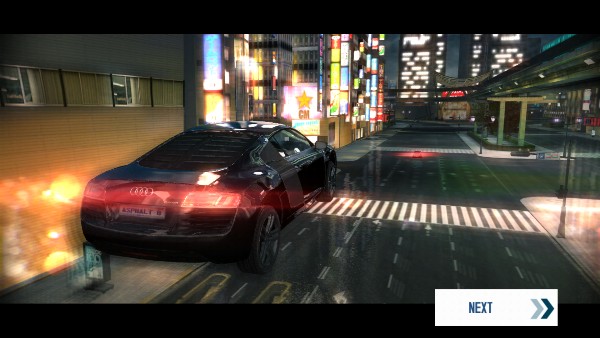 But there is some lag on Asphalt 8:Airborne on high visual quality settings
We found that connectivity is really good, perhaps due to the LINK+ (WiFi+ and Signal+) technology, getting a clear signal even in a moving elevator. There are limits though as deep basements will cut the signal but overall call and signal quality are top notch. Making and receiving calls are very good and we've yet to get any dropped calls. Sound quality and performance are surprisingly loud and clear for such a small smartphone and you can use it as a directional boombox (since both speakers only face one way). The extra features like Speech Awareness is good but with the only functions being the ability to call out and locate your phone or voice command it to make a call does limit what you can do with it somewhat. Battery life is also another surprise as we managed to get 2 days and a bit more worth on normal usage without having to use the ultra power saving mode, so this is one flagship smartphone that you can afford to forget charging for one night. Unfortunately, there is no quick charge, but you should be able to get a full charge from zero in under 3 hours or so.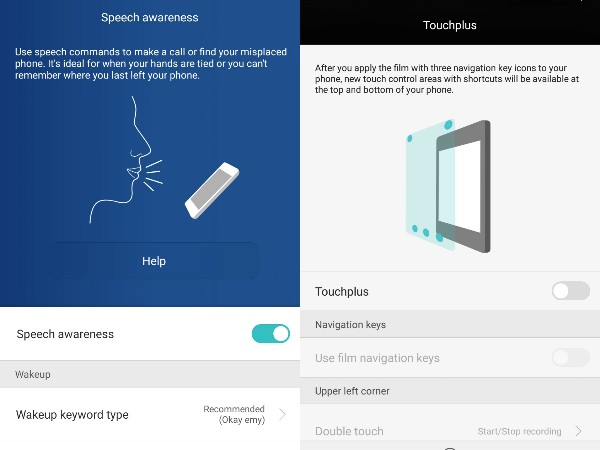 Some new features have promising potential but limited functionality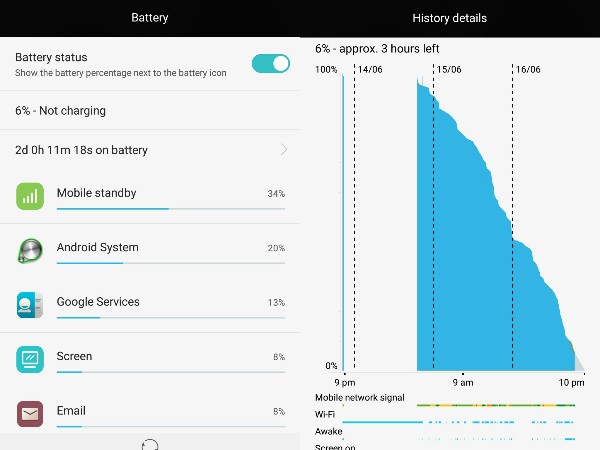 Battery life on the Huawei P8 is well managed for about 2 days on a single charge
The main highlight of the Huawei P8 remains its cameras though. Light painting is certainly fun and low-light shots are very quick and well done. While it may seem like another faddish feature, with a bit of creativity, a tripod+phone holder and a spare flashlight or two you can really get some excellent shots in near total darkness. This excellent low-light performance extends to the 8MP front camera as well, with truly excellent low-light selfies at dusk. The OIS or optical image stabilization also works well, with fairly steady shots and video from a moving boat at night. While the cameras work well in practically all situations, sometimes the autofocus does get a bit wonky in that it won't stop refocusing but this doesn't happen that often. The P8 will certainly replace your point-and-shoot camera and put to shame many other cameraphones with similar tech specs, and look good at the same time. Other features like All-focus add on extra effects like depth of field but aren't as good as the hardware based dual-camera setup on the Honor 6 Plus.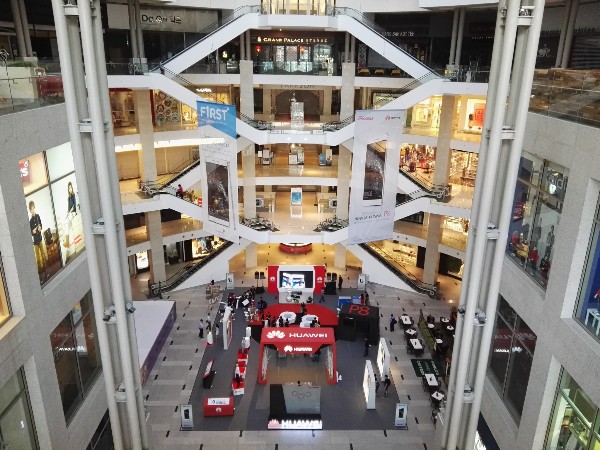 13MP, Auto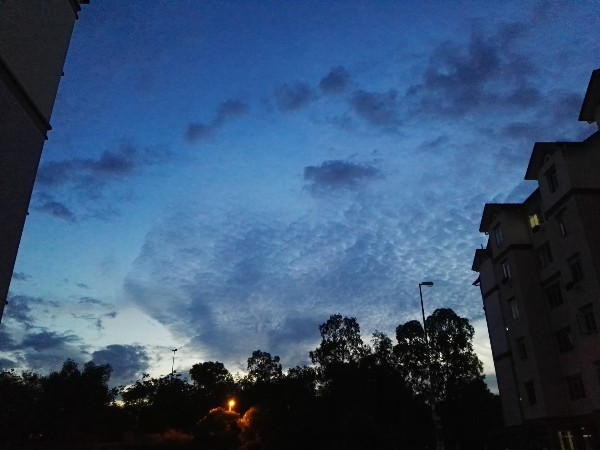 13MP, Auto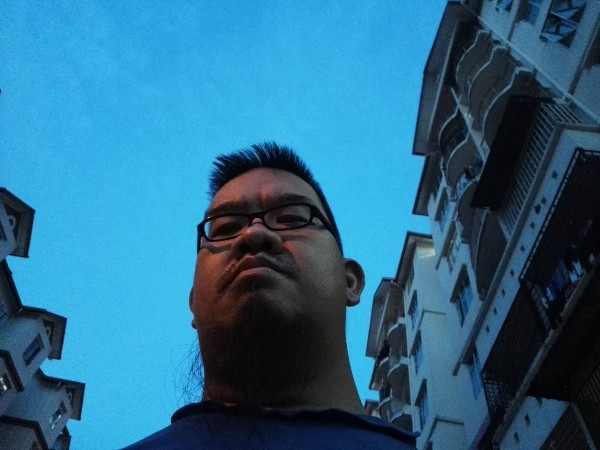 8MP, Auto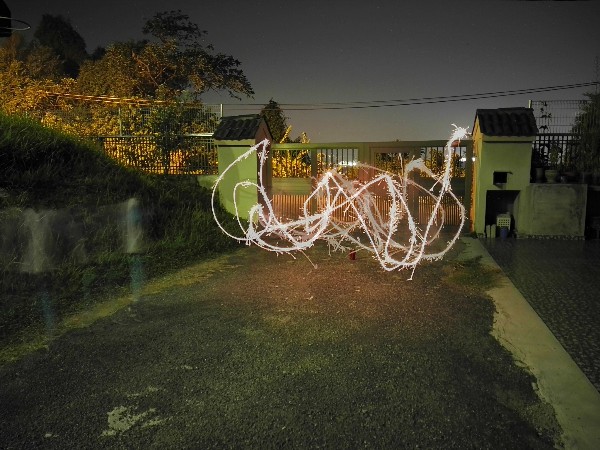 Super Night Mode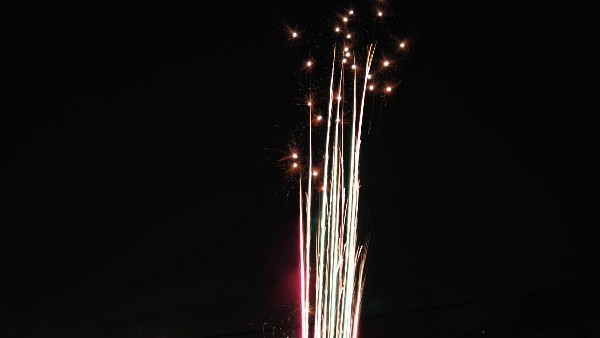 Light Painting mode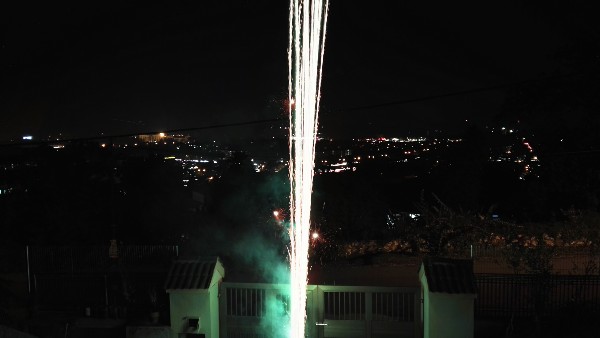 Light painting mode
13MP, Auto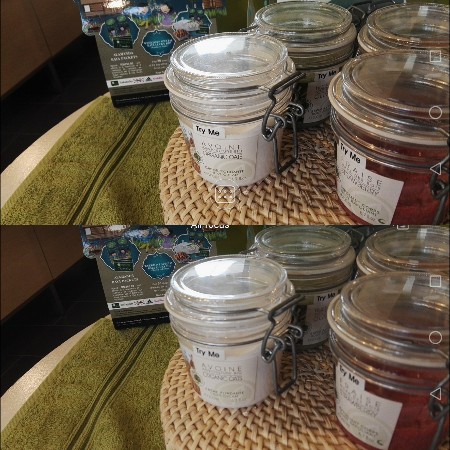 All focus mode let's you do software based depth of field shots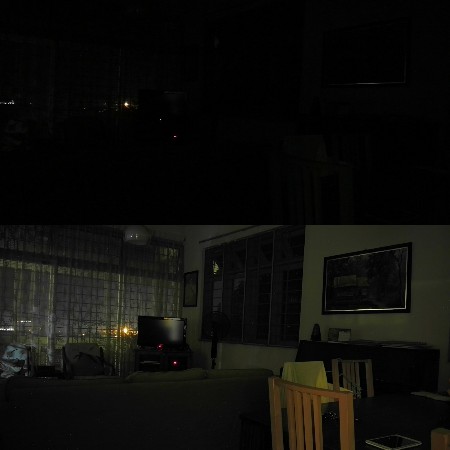 13MP, auto (above) and Super Night Mode (below)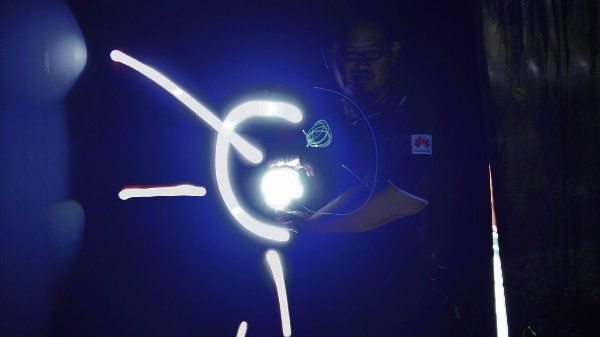 With a little creativity light painting lets you shoot fireballs
The OIS (Optical Image Stabilization) keeps video recording steady even on a moving boat
Conclusion - All of the above and more
Answering our earlier question of "Does it actually deliver flagship features, design and performance for a midrange price tag?" the short answer is Yes, all of the above and more. The longer answer is that Huawei have done an excellent job with the Huawei P8, delivering a fairly affordable flagship smartphone with a premium flagship look and feel. It will certainly turn heads and despite the 5.2-inch display, the overall design makes the P8 look and feel like a smaller 4.7-inch smartphone. The lack of a fingerprint scanner is rather unfortunate compared to other newer midrangers like the Honor 7 but the truly excellent 13MP RGBW rear camera does make up for it while the 8MP front camera should also satisfy the selfie crowd with its various beautification and wide panorama shots. While performance is also short of being excellent, it does deliver great performance in most apps and games but it probably isn't the device for a hardcore mobile gamer. Those looking for a premium yet compact flagship smartphone for under RM1.8K should seriously consider the Huawei P8 while those looking for a capable cameraphone for low-light conditions will also enjoy its capabilities.
Check out what else comes in the box for the Huawei P8
Check out the hands-on for the Huawei P8
*TechNave.com would like to thank Huawei Malaysia for providing us with the Huawei P8 smartphone for this review. It allowed us to do a more in-depth review and highlight more features.