Huawei has finally unveiled the long rumoured Huawei P9 today at London, and it's not just that model alone but a P9 Plus as well which was previously rumoured to be the P9 Max. It's also confirmed that both devices have built-in Leica camera in them, this changes smartphone photography on a new level and could potentially challenge Samsung Galaxy S7 and Galaxy S7 edge's dual pixel camera technology. The P9 is priced at £449 (around RM2470) while the P9 Plus is £549 (around RM3020) and will be available on 16 April for 29 countries in Europe and the Middle East (first wave). Without further ado, below are the official tech-specs:-
Huawei P9
Kirin 955 chipset + octa-core CPU at 2.5GHz for the quad-Cortex-A72 cluster and 1.8GHz for the quad-Cortex-A53
3GB/4GB RAM
32GB/64GB storage (expandable memory available)
5.2-inch 1080p IPS LCD screen panel
Dual 12MP rear cameras (f/2.2, dual LED flash, OIS) + 8MP front camera
Fingerprint sensor, dual-SIM slots
Android 6.0 Marshmallow with EMUI 4.1
3000 mAh battery
The main feature of the P9 is, of course, the dual camera setup that has been teased over the past few weeks, co-developed with German optics specialist Leica, the P9's dual rear camera are both 12MP units, one for capturing colour, and the other seeing only black and white. How both cameras work hand in hand together is by varying levels of gray naturally, to deliver more detailed shots in good light and minimize as much noise as it can in low light.
Huawei P9 Plus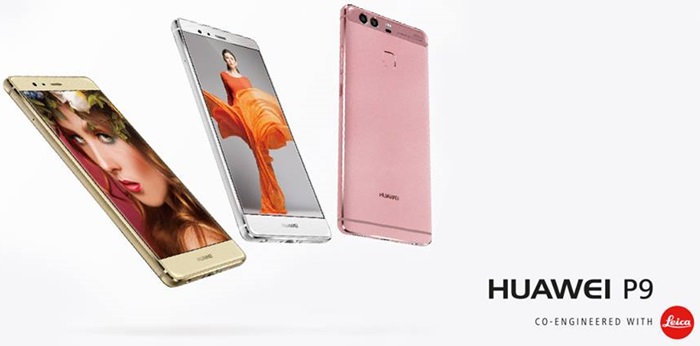 The P9 Plus is just slightly taller than the P9
Kirin 955 chipset + octa-core CPU at 2.5GHz for the quad-Cortex-A72 cluster and 1.8GHz for the quad-Cortex-A53
4GB RAM
64GB storage (expandable memory available)
5.5-inch 1080p AMOLED display
Dual 12MP rear cameras (f/2.2, dual LED flash, OIS) + 8MP front shooter
Infrared universal remote control, Fingerprint sensor, Press Touch, Dual-IC Rapid Charge, Dual-SIM slots, dual front surround sound speakers
Android 6.0 Marshmallow with EMUI 4.1
3400 mAh battery
The P9 Plus, on the other hand, not only has the dual camera setup but also possesses the Press Touch feature (like the 3D Touch). Actually, this feature was already introduced in a special top of Mate S but was not utilized much. So hopefully, the P9 Plus will make it shine again. It also has an infrared blaster for a universal remote control and dual front surround speakers. Lastly, it also features a Dual-IC Rapid Charge which can give you 6 hours of talk time just after 10 minutes charging, according to Huawei.
That's all from Huawei's smartphones for the special event today, so stay tuned for both the P9 and P9 Plus's availability in Malaysia here at Technave.com!