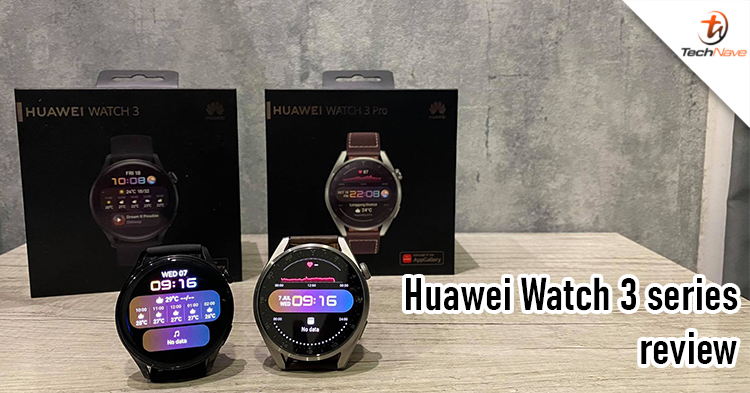 A few weeks ago, Huawei launched the Huawei Watch 3 series, which includes the Watch 3 and Watch 3 Pro. If you find yourself in a dilemma when choosing between the Huawei Watch 3 and Watch 3 Pro or just want to know more about the upgrades on these smartwatches, check out this review!
After two weeks of trying out both smartwatches, the two major differences are the design and the battery. Other than those, they come with the same features and tech specs. I will be walking you through the list in this review.
The Watch 3 measures 46.2 mm x 46.2 mm x 12.15 mm (length x width x depth) and weighs 54g (without strap). It has an Aluminium body frame, 3D curved glass, and a fluoroelastomer strap (synthetic rubber). Then there is the Pro, which comes in at 48 mm x 49.6 mm x 14 mm (length x width x depth) and weighs 63g (without strap). This model comes with a titanium frame, sapphire glass, and a leather strap. Based on the measurements, you can already tell that the Pro variant is slightly bulkier than the Watch 3 because it sports a different material for the casing and a bigger battery for extended capacity. However, these differences are not all that noticeable, especially after you wear them for a couple of days.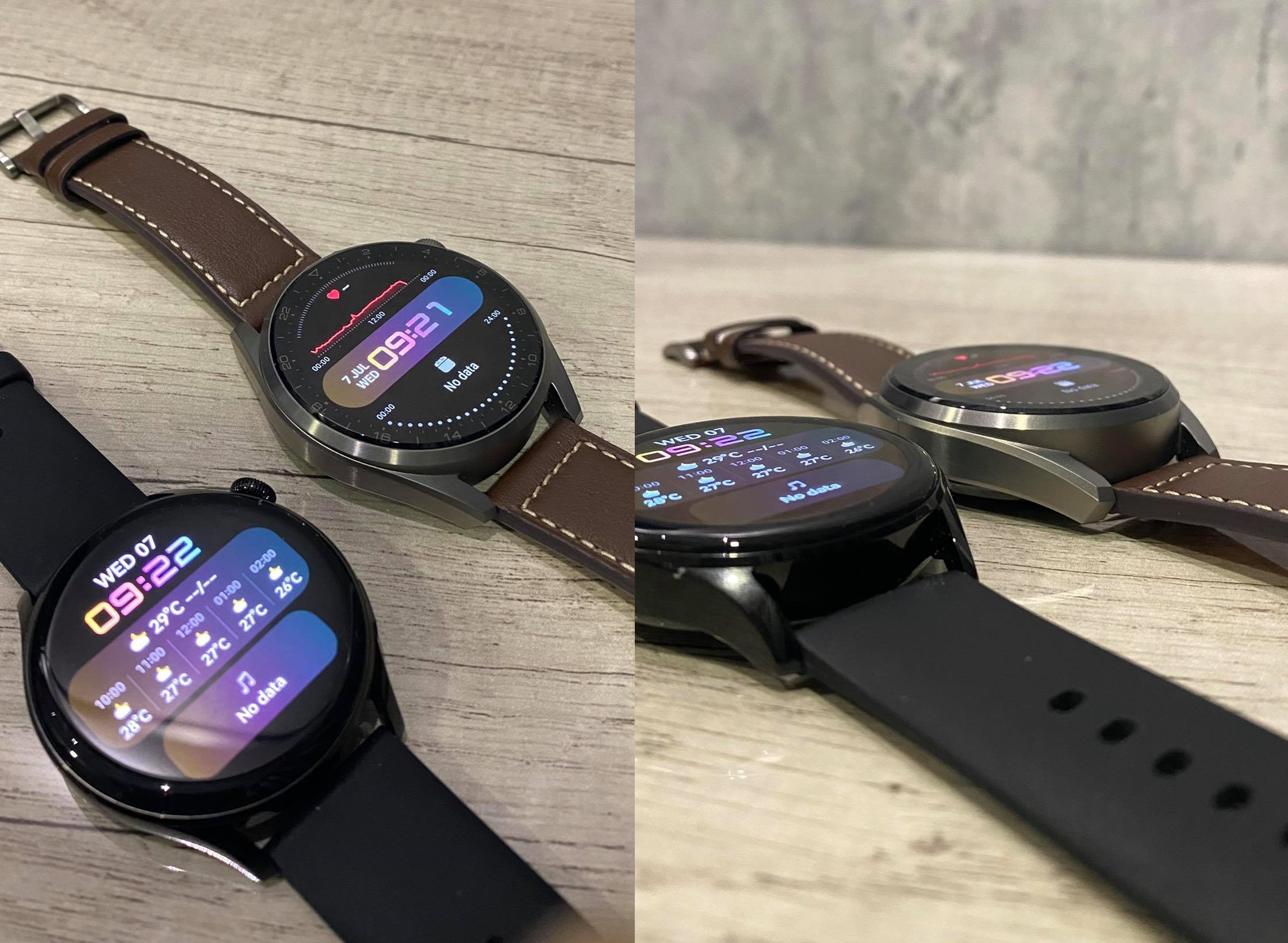 The design of the Watch 3 (Black) and Watch 3 Pro (Brown)

The 22L strap can be attached to the Watch 3 series
On the other hand, the leather strap is less suitable for those who plan to wear it for workouts. The great thing is you can use a previous generation Huawei smartwatch strap that comes with a size of 22L, which you can directly attach to both the Watch 3 and the Watch 3 Pro. Alternatively, you can go to their official website for more options. For example, there is the Huawei Watch GT series strap.
As mentioned earlier, the battery capacities differ. The Watch 3 comes with a 450mAh battery capacity, and the Pro variant is powered by a 790mAh. According to the official website, with ultra-long battery life mode, the Watch 3 can last up to 14 days and the Pro variant for 21 days. Pro-Tip: You can cut down on the power consumption by disabling the Always-on display and Raise to wake functions.
In our test, the Watch 3 took us about 2 hours to charge fully from 0% and ½ an hour longer for the Watch 3 Pro. Well, that is the slight drawback of having a bigger battery. Anyway, the Watch 3 lasted for 2 and a half days with smart mode on, while the Pro lasted 5 days. Both models come with a magnetic charger, and they support reverse wireless charging. So if you are running out of battery, you can just take your smartphone to reverse-charge it. Of course, this only works with smartphones that support reverse charging.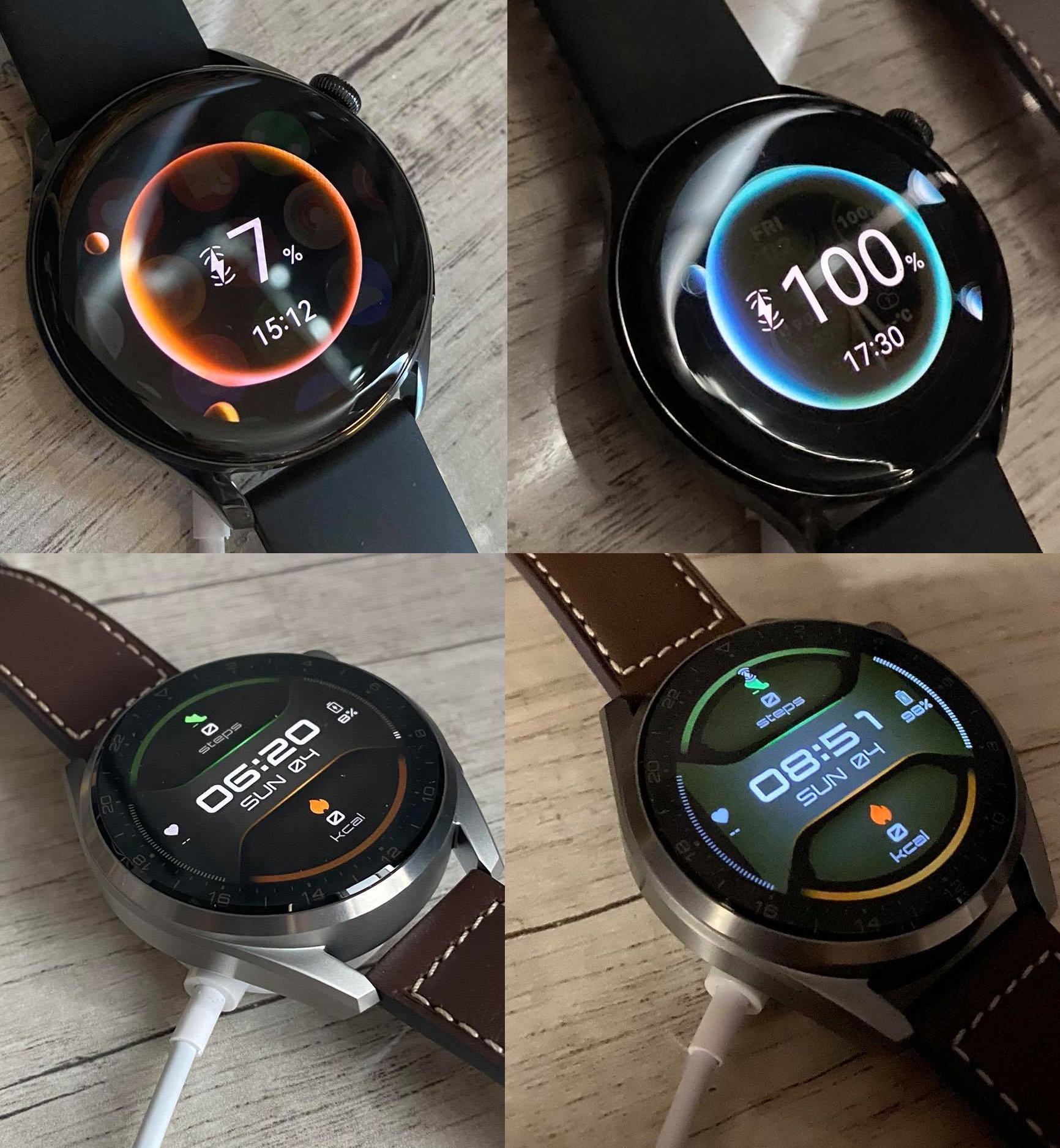 The Watch 3 series comes with a magnetic charge
The Watch 3 series is the first smartwatch from the company that features a 3D rotating crown. This represents a step forward in design compared to previous models, which only come with a button. In addition, there is a side button to allow the user to directly access the workout feature without the hassle of going into the launcher. This side button can even be configured to act as a shortcut to features like phone, timer, workout status, and many more.
As for the tech specs, the Watch 3 series come with a 1.43-inch AMOLED display with 466p resolution, 2GB of RAM, and 16GB of internal storage. It runs on HarmonyOS 2.0 and supports NFC. Thanks to the substantial storage capacity, you can download apps, songs, and more from AppGallery. Besides that, both models have a mini speaker for calls that is crisp and loud. However, please do not expect perfect sound quality while playing music through it. Another useful feature they have is direct voice recording without the need for a smartphone.
On the topic of phone calls, these smartwatches can take calls thanks to eSIM support. To get an eSIM card, you can contact your carrier to apply for it. By doing that, you can go for a workout without needing to bring your phone along. Not only are the watches able to stream music, but they can also be used to make phone calls. To pick up a call, just clench your fist and release. You can also mute a call by flicking your wrist. However, you will still have to end phone calls by pressing the end call button. Hopefully, the company will work on a gesture for that in the future?
The 3D rotating crown and side button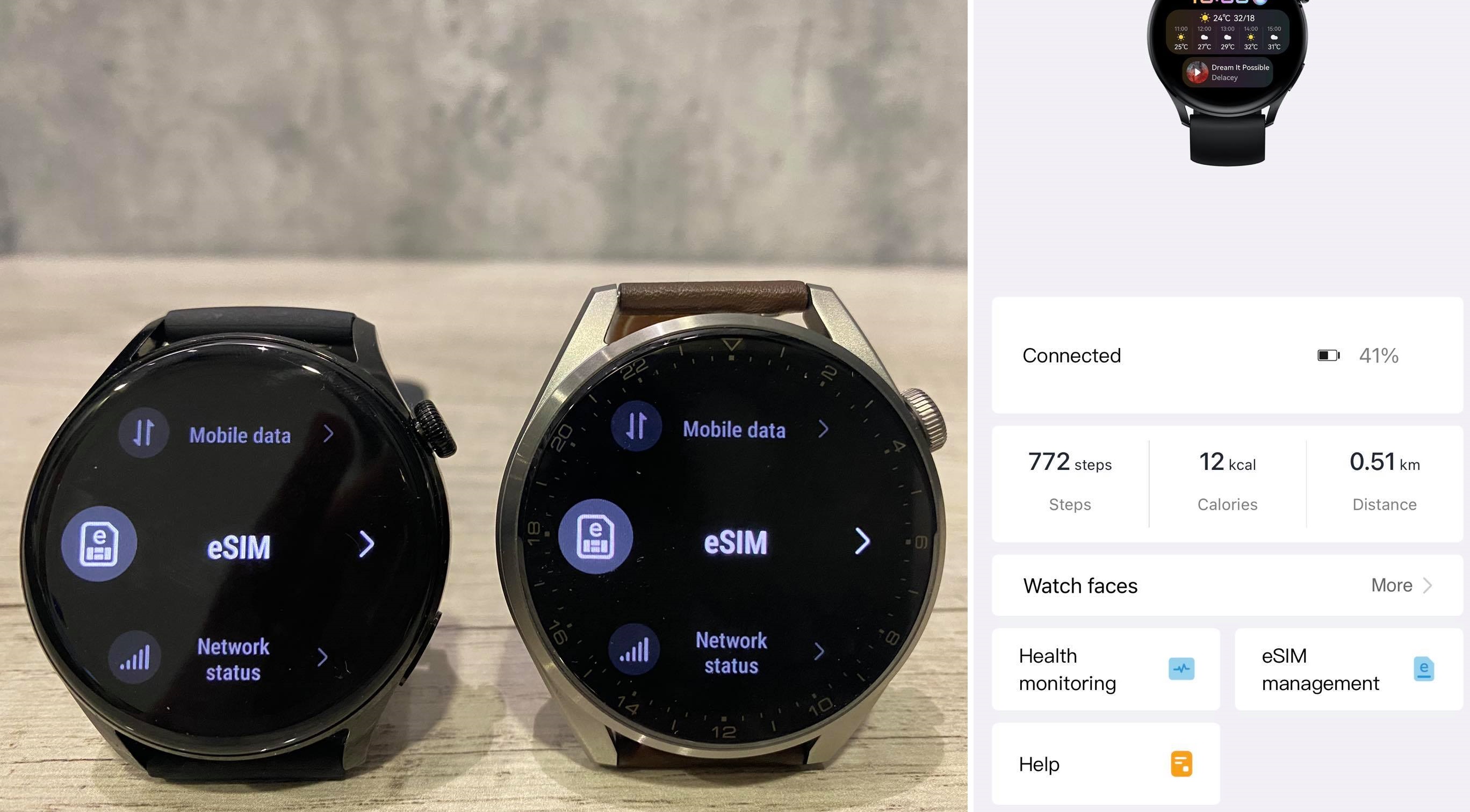 You can use an eSIM card with the Huawei Health app

The gesture to answer a call
As for software, there are over 100+ workout modes available. This includes 17 professional workout modes, 12 more for outdoors, 7 for indoor, and 85 other customised ones covering six sports categories ranging from extreme, leisure, fitness, aquatics, ball games, and winter sports. Another feature for the two watches is their water resistance rating of up to 5 ATM water resistance. This means you can bring them for a swim at the pool and it will be just fine after that. I did not wear these while swimming, but I did test them out in the shower, and they seemed to continue working just fine. If you forgot to bring your smartphone or used an eSIM card with the device, don't worry! All workout results will automatically sync to your device once you open up the Huawei Health app.
As for health monitoring, the Watch 3 series added a new feature called skin temperature. This feature can monitor your skin temperature 24/7 and plot a trend graph based on the data. Please note that this feature is not intended for medical use but is more of a guide. Other than that, Huawei also upgraded the body health app, which includes the Huawei TruSeen 4.5 (heart rate and SpO2), Huawei TruSleep 2.0 (sleep), and Huawei TruRelax (stress). The results from these tracking features can be found in the Huawei Health app.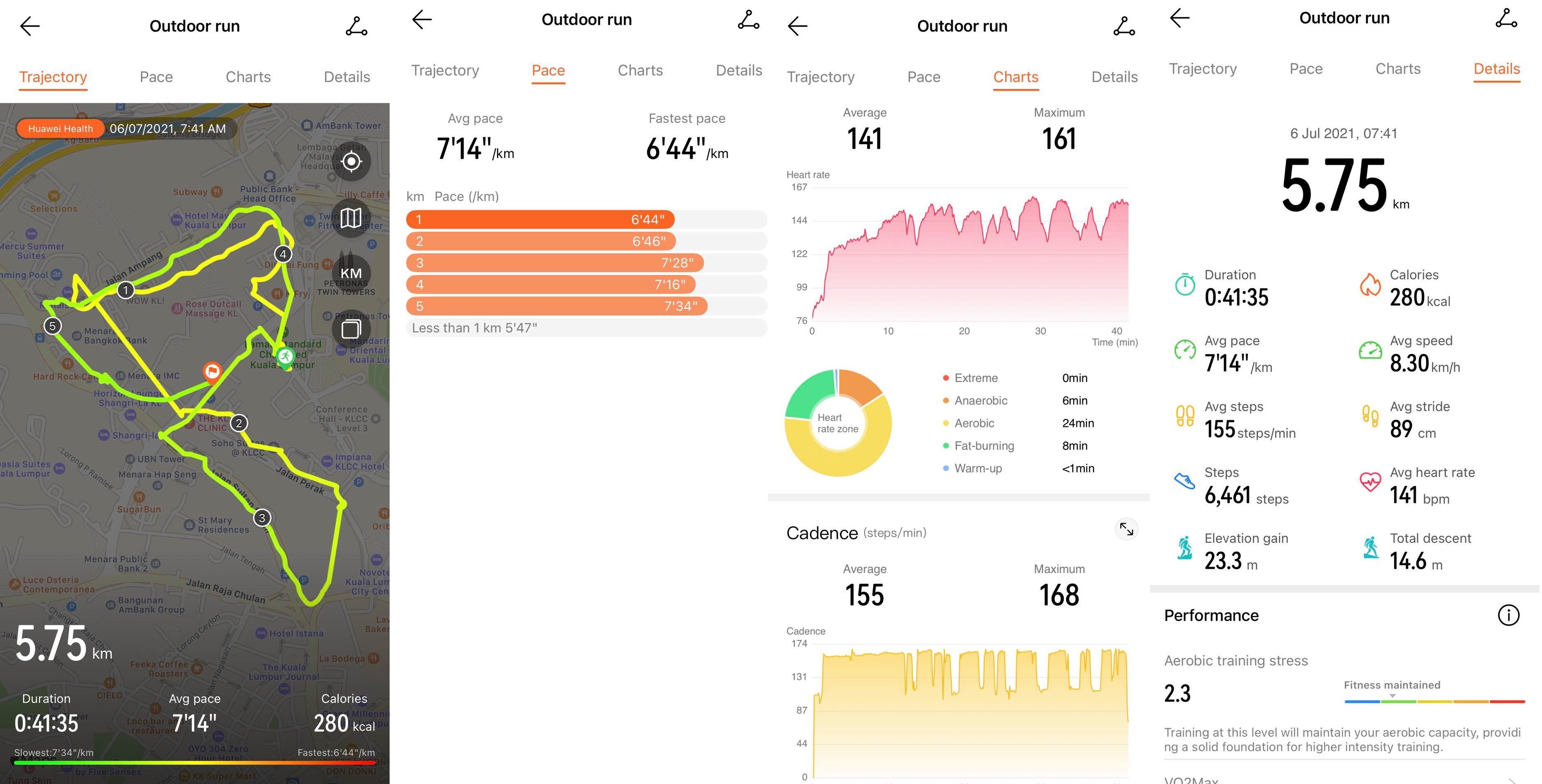 Workout results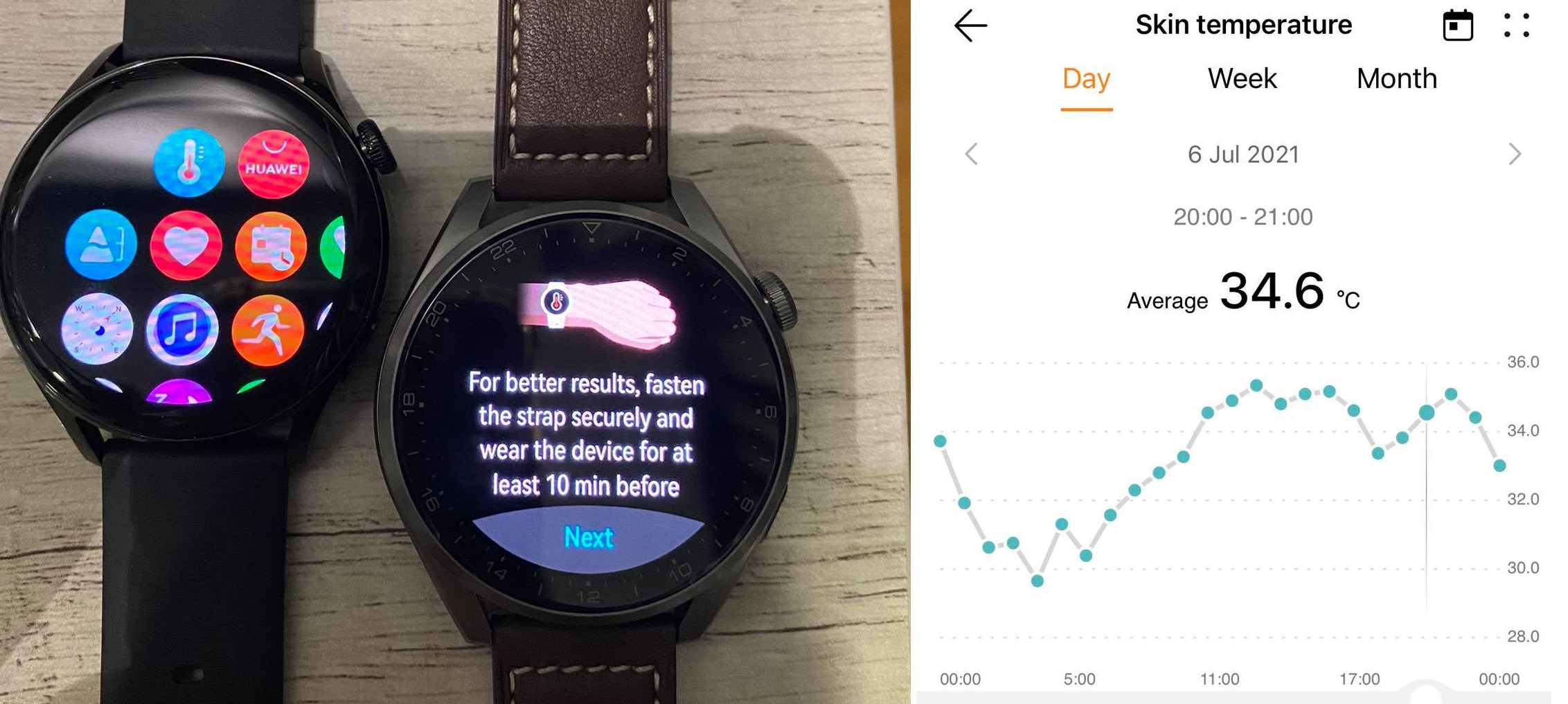 The feature can monitor your skin temperature 24/7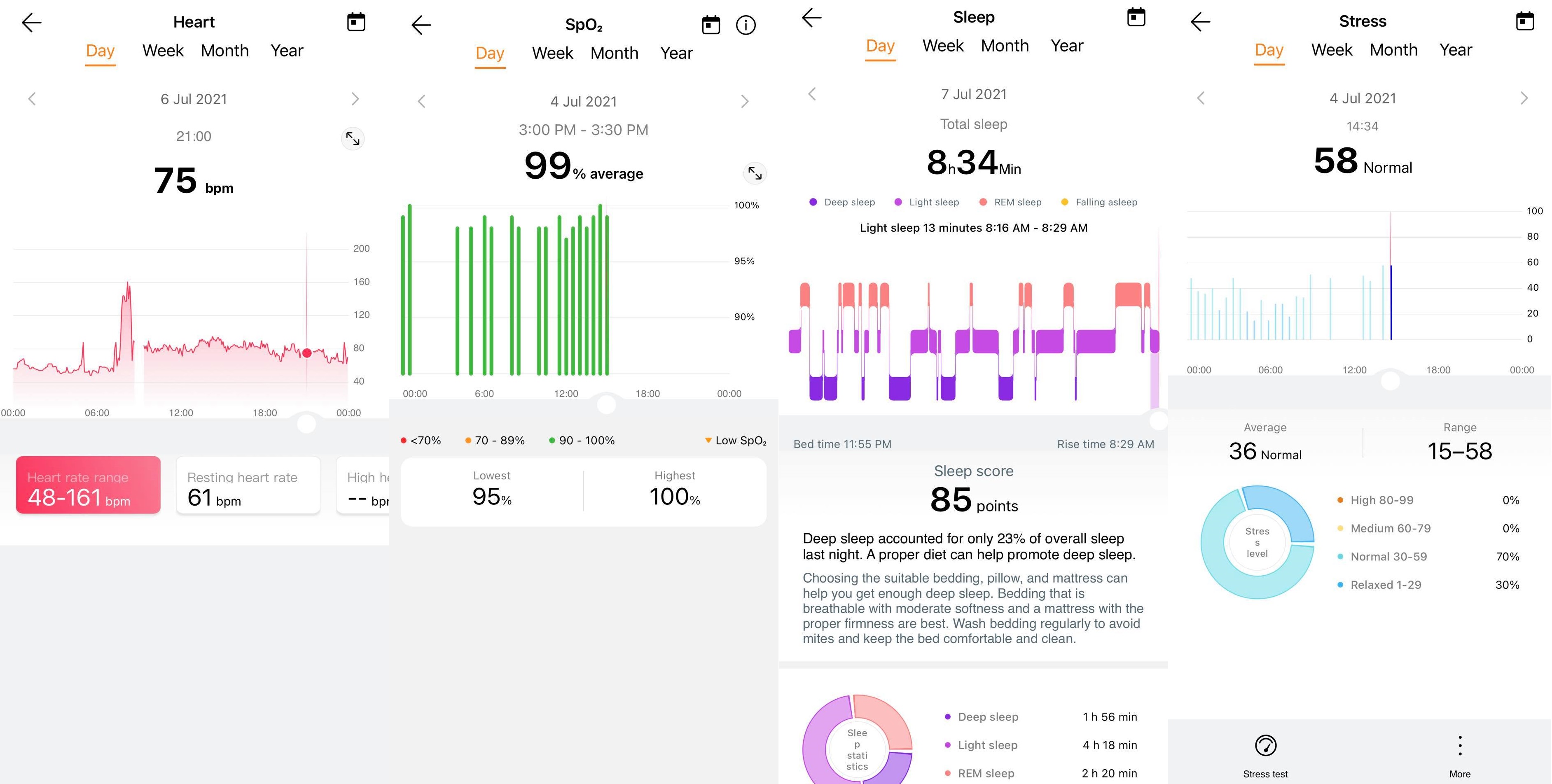 Body health, which can be referenced via the Huawei Health app
So should you get this smartwatch? Overall, I think that their design is quite stylish. Both models also come with large battery capacities that do not require charging every single day. On top of that, the display is great and works well even under direct sunlight. However, these smartwatches are more suited for Android users. That's because certain apps won't work on Apple devices.
The Watch 3 costs RM1699, whereas the Pro variant will come with a price tag of RM2199. That's a bit pricey, so if you are tight on budget, you can consider other smartwatches out there that are priced below RM800. Having said that, what do you think about the Huawei Watch 3 series? Is this the smartwatch that you're looking for? Let us know in the comments below, and stay tuned to TechNave.com for more tech reviews.
Tech Specs & Features
These are the Huawei Watch 3 official tech specs:
Size: 46.2 mm x 46.2 mm x 12.15 mm (length x width x depth)
Body Type: fluoroelastomer strap, 3D curved glass, stainless steel frame, ceramic back
Weight: 54g (without strap)
1.43-inch AMOLED display (supports touch gestures) and 1 side button
Memory: 2GB of RAM + 16GB of ROM
A battery can stay up to 14 days (wireless charging)
Connectivity: Bluetooth 2.4, NFC, GPS, eSIM
5ATM water-resistant
Sensor: acceleration, gyroscopic, geomagnetic, optical heart rate, ambient light, barometric pressure
Support 100+ workout modes and 19 pro modes
Android 6.0 and iOS 9.0 above
HarmonyOS 2
Temperature: 0ºC~ + 35ºC
These are the Huawei Watch 3 Pro official tech specs:
Size: 48 mm x 49.6 mm x 14 mm (length x width x depth)
Body Type: leather strap, sapphire glass, titanium frame, ceramic back
Weight: 63g (without strap)
1.43-inch AMOLED display (supports touch gestures) and 1 side button
Memory: 2GB of RAM + 16GB of ROM
A battery can stay up to 21 days (supports wireless charging)
Connectivity: Bluetooth 2.4, NFC, GPS (Dual-frequency GNSS), eSIM
5ATM water-resistant
Sensor: acceleration, gyroscopic, geomagnetic, optical heart rate, ambient light, barometric pressure
Support 100+ workout modes and 19 pro modes
Android 6.0 and iOS 9.0 above
HarmonyOS 2
Temperature: 0ºC~ + 35ºC
Pros and cons
Pros: Longer-lasting battery life compared to other brands, more user-friendly in general
Cons: Pricey and many third-party apps are not available on App Gallery yet
Conclusion: Although the watch supports Android and iOS, it is more suitable for Android users as some of the features do not work well on iOS devices