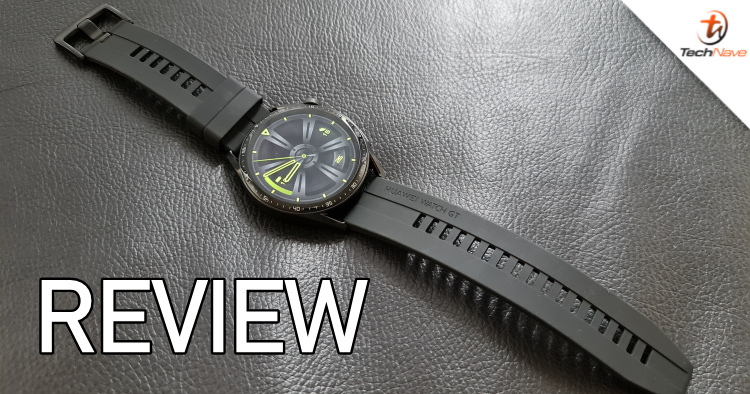 Another year, another iteration of the Huawei Watch GT series, this time in the form of the Huawei Watch GT 3. Always the premium smart watch, what does it bring to the market this year after last year's Huawei Watch GT 2 Pro and the Watch GT 2 in the year before? Find out in our review of the Huawei Watch GT 3 below.
Coming in a larger 46mm variant for men and a 42mm variant for women (or men with really thin wrists), our review version is the 46mm Watch GT 3. Available in black and silver with a leather strap, the black version goes for the same numbered bezel like the Watch GT 2. However, this time around the Watch GT 3 only goes for a single shamrock crown dial and a button on the side for controls (the previous versions had 2 dials). There also appear to be some vents below these controls.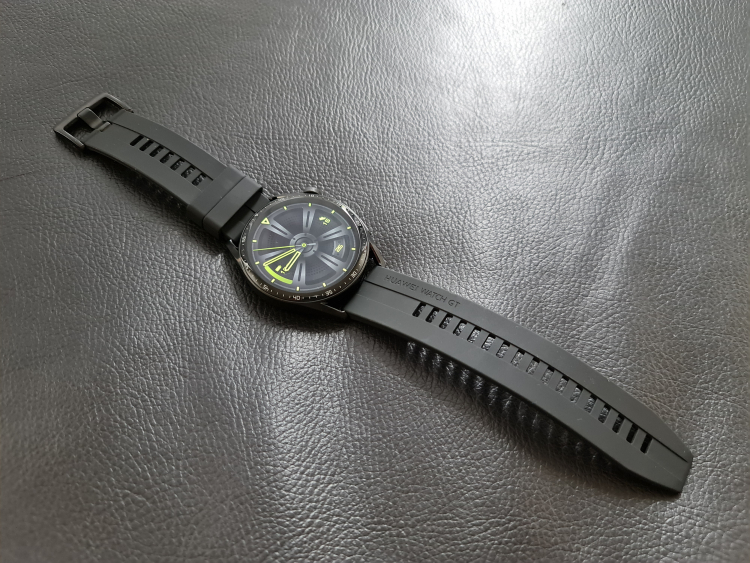 The Huawei Watch GT 3 is still a premium smartwatch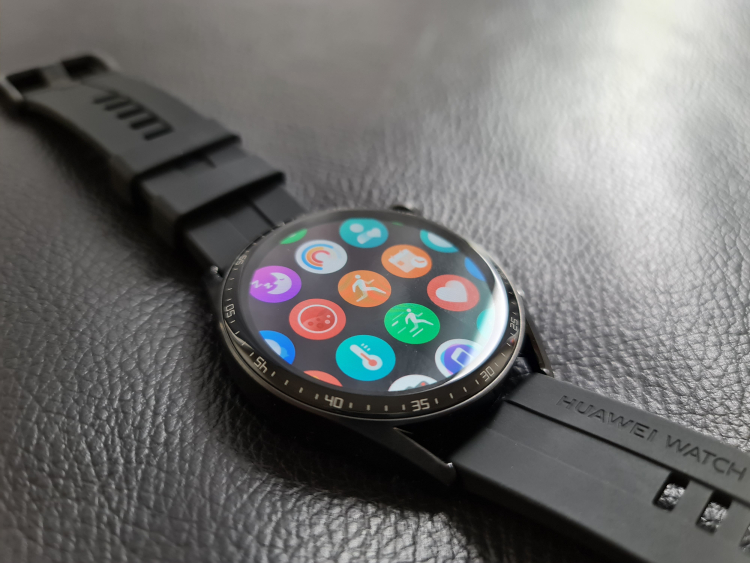 The 1.43-inch AMOLED display is colourful and vibrant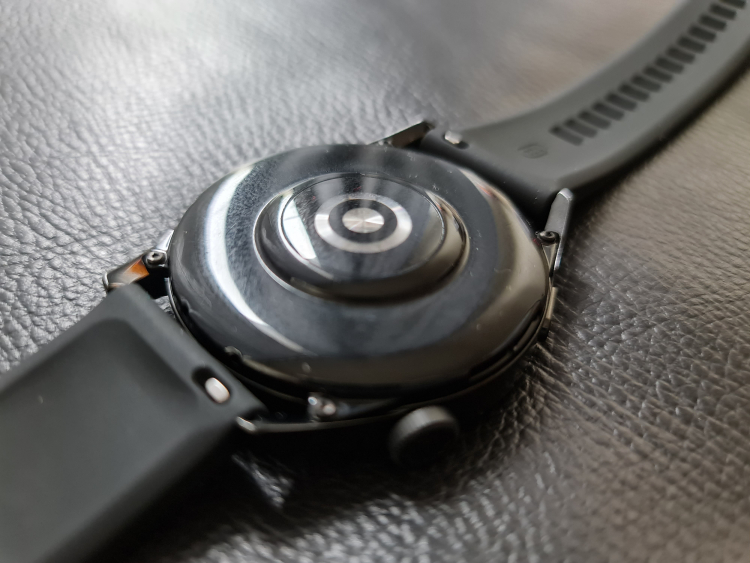 The sensor on the bottom detects heartbeats and more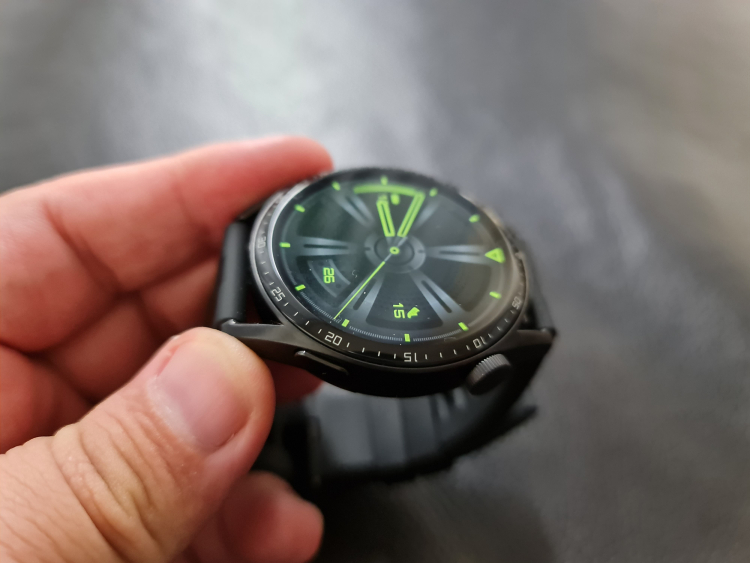 The Watch GT 3 is thinner with a function button and crown dial
As before, it is one of the few smartwatches that can fit my fat wrist, but even then, it's on the last strap hole. On the bottom there's a single sensor which detects your heart rate, SpO2 levels and so forth. Other sensors like the pedometer and the gyroscope are built into the device itself. These sensors are quite sensitive as it doesn't take much motion when I twist my wrist for the 1.43-inch AMOLED watch face to activate itself.
Like before, to set it up, you need to install the Huawei Health app and have a Huawei ID (so if you haven't got one yet, you'll need to sign up for it). Setting up afterwards is relatively painless as all you need to is point your device's camera at the QR code on the watch and voila, they're paired.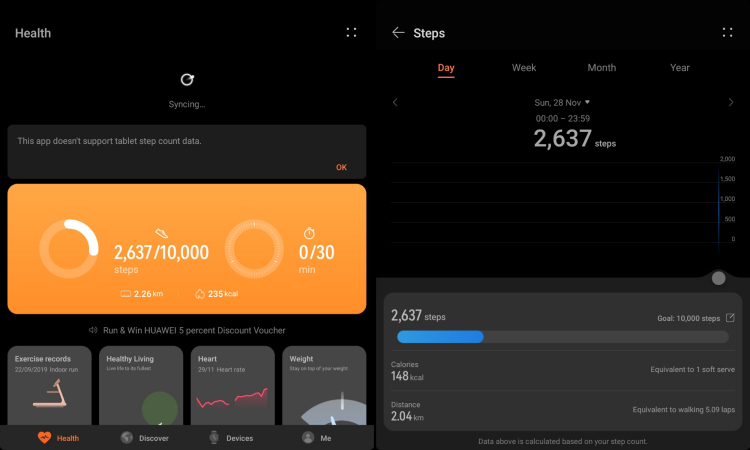 You can track your health from the Huawei Health app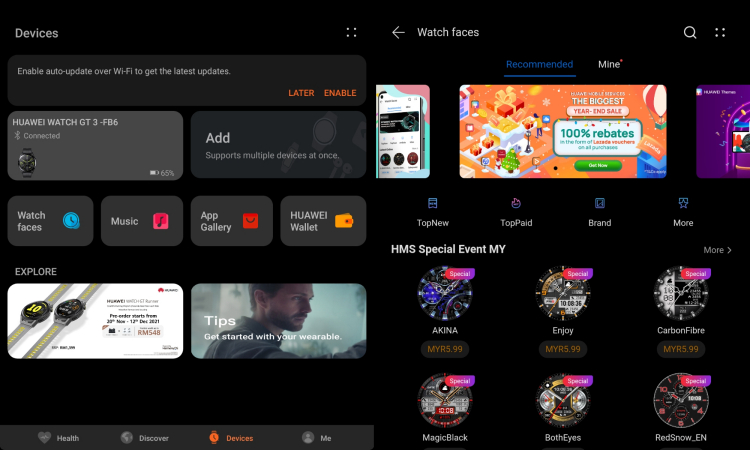 There's plenty of watch faces to choose from or buy if you want to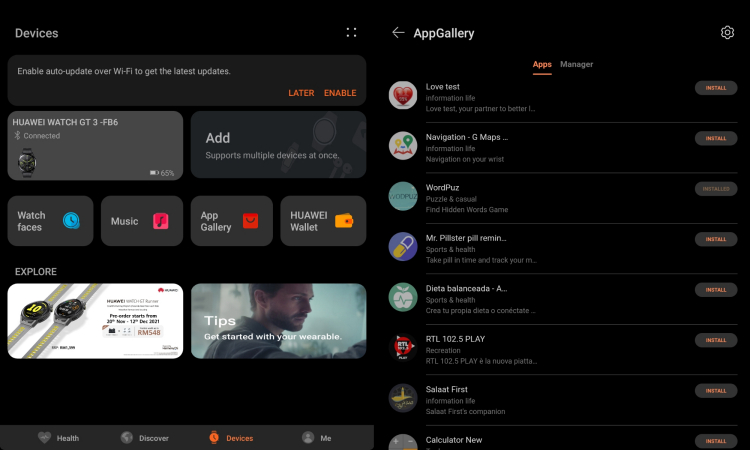 You can also install apps and games on the Watch GT 3
Watch controls are somewhat simplified now as pressing the button brings up the workout menu while turning the dial scrolls through the options. Pressing the dial brings you back to the home screen or main watch face. Swiping left, right and up on the 1.43-inch OLED screen shows the usual weather and music controls in vibrant colour but you have to swipe from the top at a specific spot to bring up the system shortcuts. Once you get to the system settings you can then proceed to customize your Watch GT 3 like changing the watch face and so forth.
According to Huawei, the Watch GT 3 46mm can last up to 14 days on a single charge and 8 days on heavy usage. On top of heart rate monitoring, it can also do all-day SpO2 monitoring which are both particularly useful in today's COVID19 pandemic. Other features include a personal AI running coach, more than a 100 workout modes and Bluetooth calling.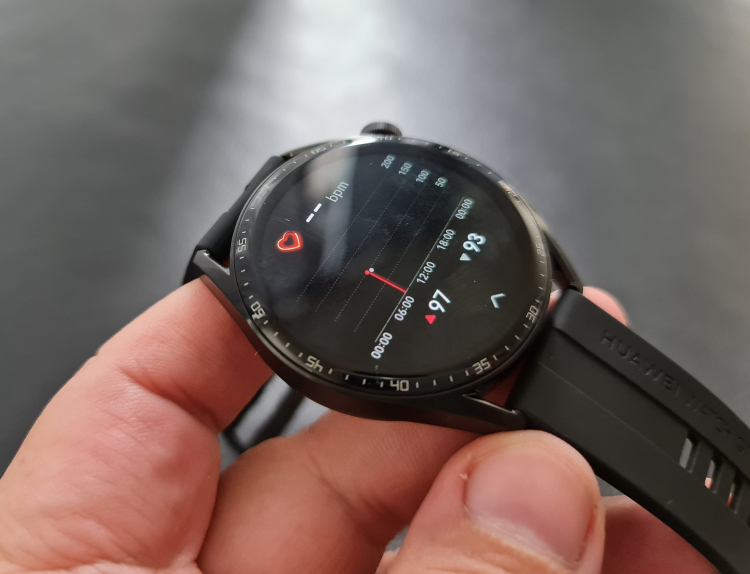 The Watch GT 3 can measure your heartbeat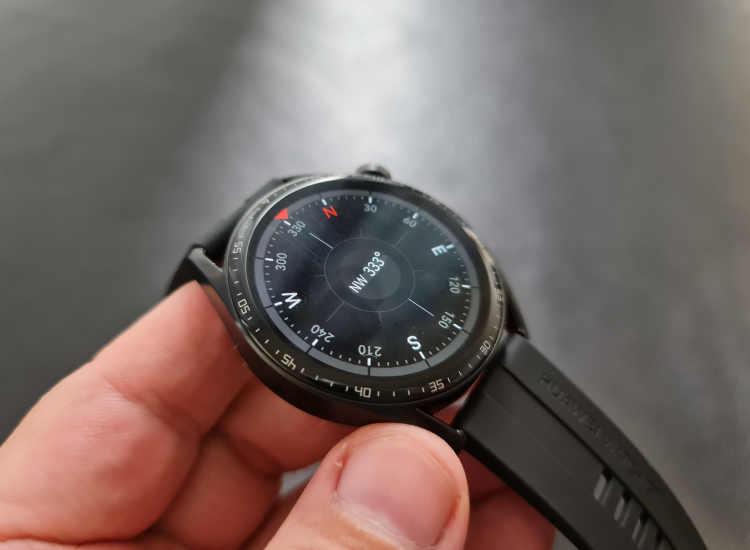 It can also be used as a compass
Trying it out myself, I found that the watch felt good on my wrist, not too heavy or too light. At 42.6g, it is a bit lighter than the Watch GT 2 Pro which was 52g and it is also slightly thinner at 11mm. The 1.43-inch AMOLED display is colourful and vibrant and also slightly larger than the previous 1.39-inch display.
The Watch GT 3 seems to handle water and sweat just fine and there's even a drain function now, which vibrates the watch to help get rid of the water. However, I did find that it does seem to work better for running, walking and more traditional sports workouts, but not so much for my usual martial arts workout (I suppose it wouldn't measure punches and blocks if it's designed to track steps more).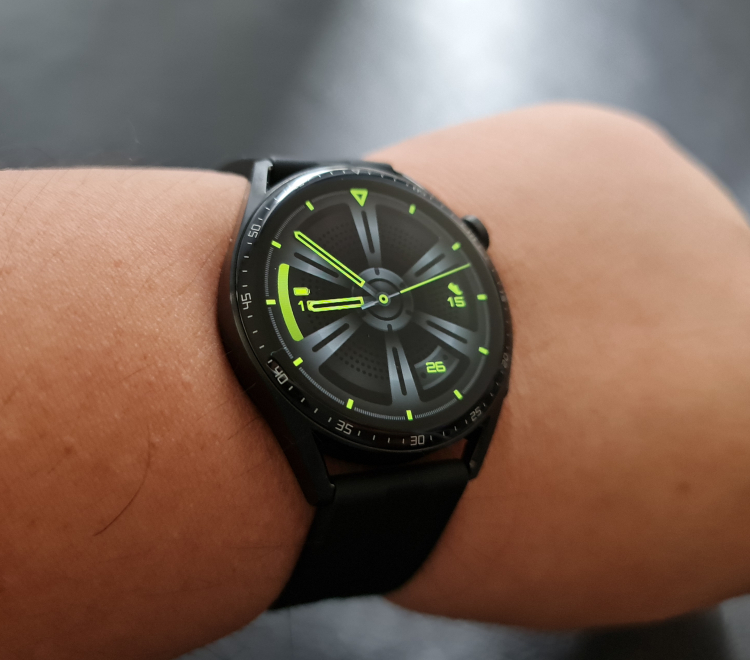 The Watch GT 3 is one of those smart watches that can actually fit my wrist, so it's good for big people
I've tried answering calls from a smartwatch before and I have to say I don't particularly like it, but that's just my preference. I would suggest you use a bluetooth headset to do this if you're dead set on using the Watch GT 3 for such purposes. The speakers are a bit tinny even with maximum volume but that's to be expected for a device this small.
The crown haptics where the watch slightly vibrates as the dial is turned feels interesting but it does take some getting used to as the first time I tried it, I didn't like the feel of the dial or crown buzzing on my fingers. You can choose to turn it off if you don't like it of course but it did feel strange at first.
With the new installable apps you can get navigation using the Petal Maps app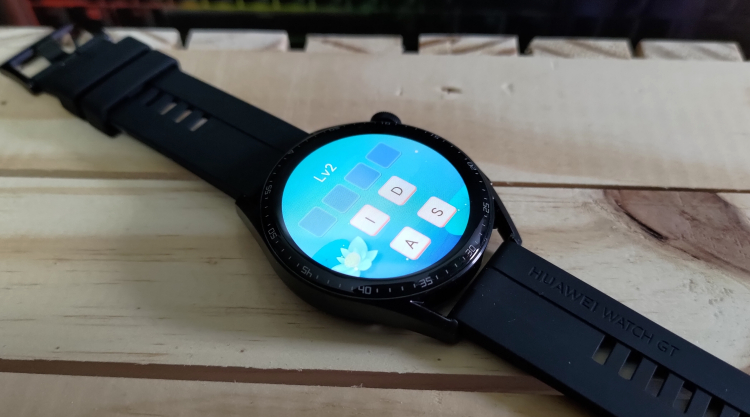 You can also play simple games too
The Watch GT 3 runs on HarmonyOS and for the most part it is very zippy. It only slows down when measuring SpO2 but the watch can also install other apps (via the AppGallery in the HuaweiHealth app)1. This includes Petal maps and even a few games. The number of apps available to install are limited though, but perhaps this will change with time.
Overall, the Huawei Watch GT 3 is a very nice and premium smartwatch with decently long battery life and a lot of functions. There's more workout modes and the drain function should be particularly useful for those who like to go swimming with their watches on.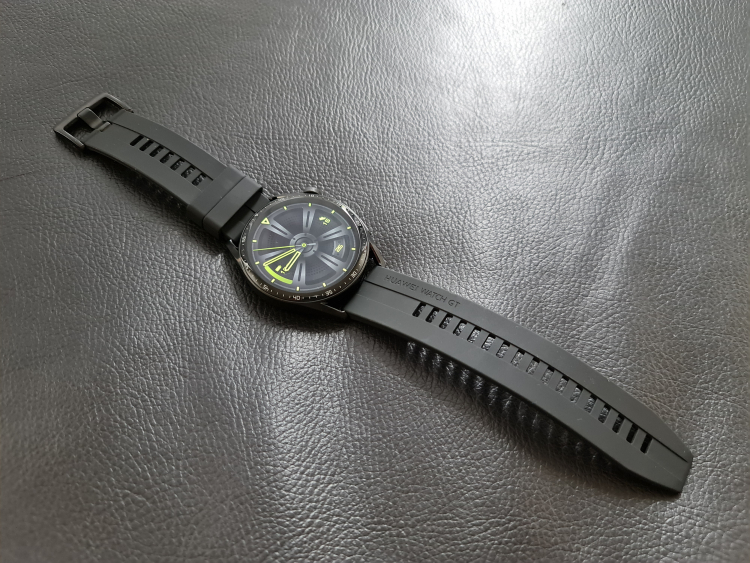 Priced at RM1099 it isn't the most expensive premium smartwatch we've seen yet but it is quite pricey (perhaps upper midrange) for what it offers. I like the direction that Huawei is taking with it, especially the installable apps but in the future, I would like to see more measurements like perhaps blood pressure and the ability to measure non-running workouts better.
If you are a runner and a smartwatch fan, then this is definitely one of the better smartwatches out there. Its long battery life is great while its features are also extensive. This smartwatch experience is even better if you're a Huawei user as well. Are you interested in the Huawei Watch Gt 3? Let us know on our Facebook page and stay tuned for more at TechNave.com
Tech specs and Features
Here are the tech specs and features for the Huawei Watch GT 3 (46mm):
1.43-inch AMOLED display

4MB RAM, 32MB storage

stainless steel front case, plastic rear case

black fluoroelastomer strap

measures 45.9 x 45.9 x 11mm | 42.6g (without the strap)

fits 140 ~ 210mm wrists

sensors: Accelerometer, Gyroscope, Geomagnetic, Optical heart rate, Air pressure, Temperature

features 5ATM water resistance, HarmonyOS 2.0, GPS, Bluetooth 5.1, speaker, microphone, wireless charging

Available in black and silver with leather strap
Pros and Cons
Pros: Slightly thinner, lighter and with more features. Installable watch apps.
Cons: Still a bit pricey. Works best with Huawei phones and devices.
Summary: A premium Huawei smart watch for the fans.