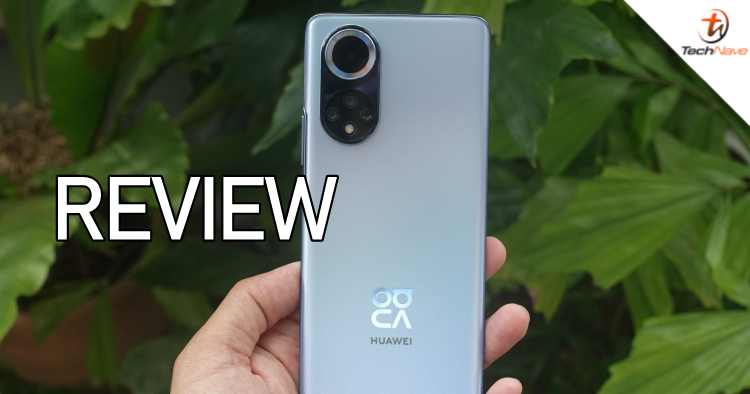 HUAWEI Malaysia previously launched the HUAWEI nova 9 mid-range phone last November and it offers attractive specs, including a 120Hz OLED screen, 66W fast charging and four rear cameras. In addition, it also has a rather unique design, with a shimmering matte surface and curved sides.
Priced at RM1,999, is it worth it for you, especially if you are a HUAWEI Mobile Services (HMS) user? Let's read this review to find out.
Design - Quite beautiful for a phone under RM2k
The HUAWEI nova 9 has a rather unique design, especially with its pill-shaped camera hump housing four lenses. The lens for the main camera is in the top circle while the other three lenses and the LED flash are placed in the bottom circle. The camera hump is a bit thick for a midrange phone, but this isn't an issue if you use the casing that is included in the box.
The back has a shimmery matte frosted finish that doesn't attract any fingerprints. Our review unit was Starry Blue and has a color tone that changes slightly when this phone is viewed from various different angles. A "nova" logo is also displayed at the bottom, but it is not very prominent.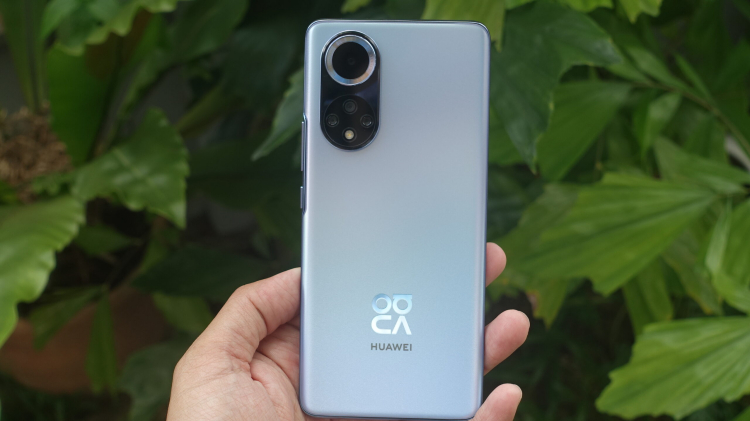 HUAWEI nova 9 rear design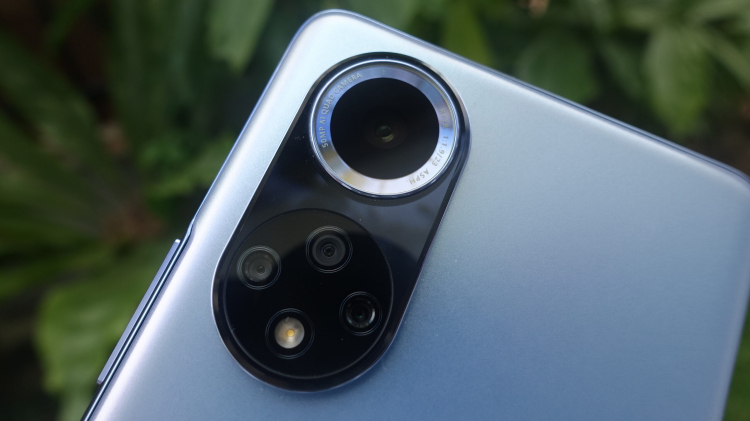 A rather unique pill-shaped camera hump
The HUAWEI nova 9 is surrounded by a plastic frame adorned with metallic glitter, making it look even more premium. Since this phone has a curved screen on the side, it feels more "sharp" when you hold it but it is still relatively comfortable to grip.
The power and audio control buttons are on the right side, while below there is a dual-SIM card slot, USB-C port and speakers. Unlike most other mid -range phones, this phone is not equipped with a 3.5mm audio jack.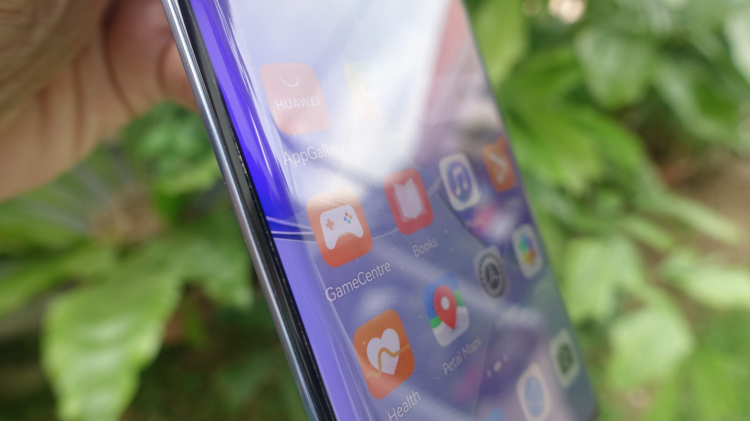 Curved screen on the side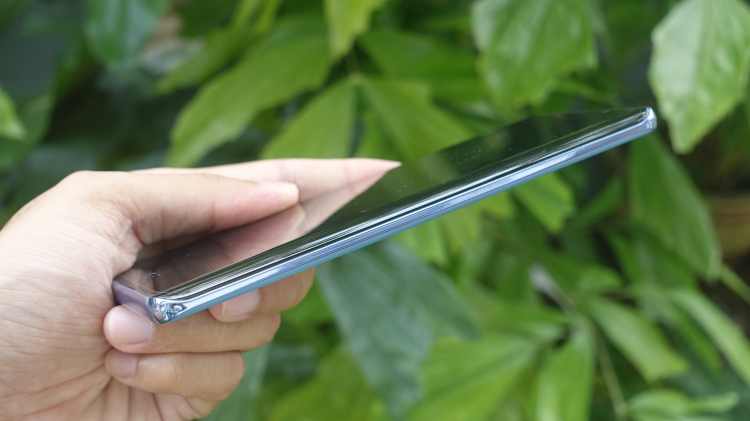 The plastic frame has metallic sheen, which gives it a premium feel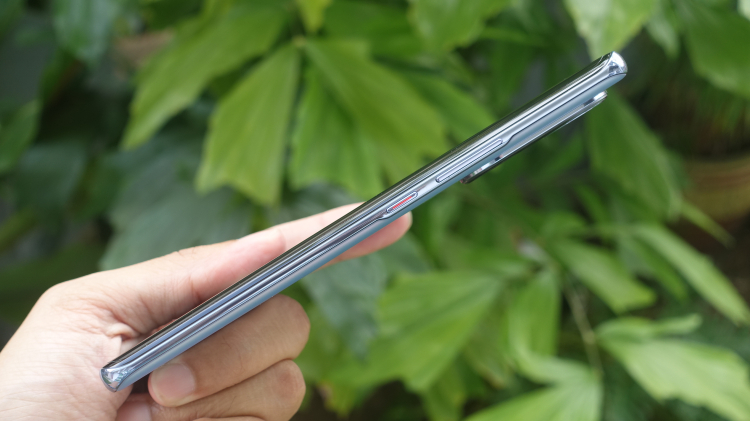 Power buttons and audio controls on the right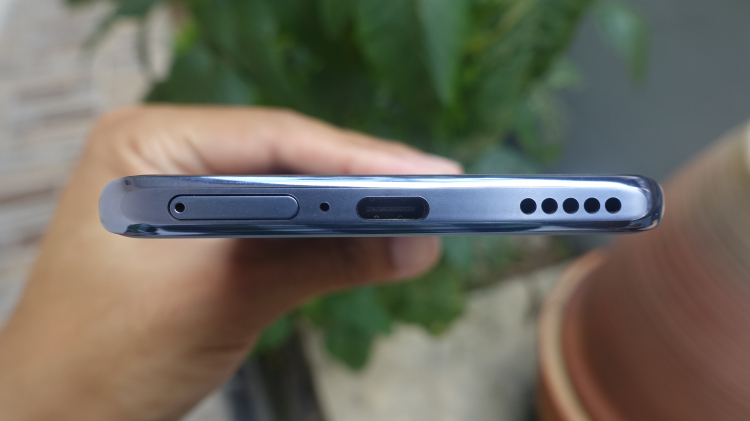 Dual SIM card slot, USB-C port and speakers below
On the front, it has a 6.57-inch screen with a 32MP selfie camera in a punch hole at the top. The bezels on the right and left are very thin, while the upper and lower bezels are thicker than the left and right, but not to the point of being intrusive. The screen also houses a fingerprint scanner that is on the bottom, however it may be too low for some people to use one-handed.
Overall, the HUAWEI nova 9 features a rather premium design for a mid-range device, however the absence of a 3.5mm audio jack could disappoint a number of customers who may be considering this device.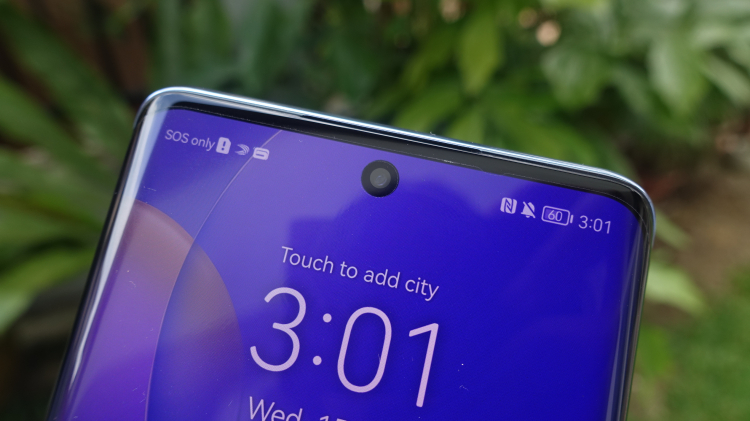 Selfie punch-hole camera, as well as a thicker top bezel than the side bezel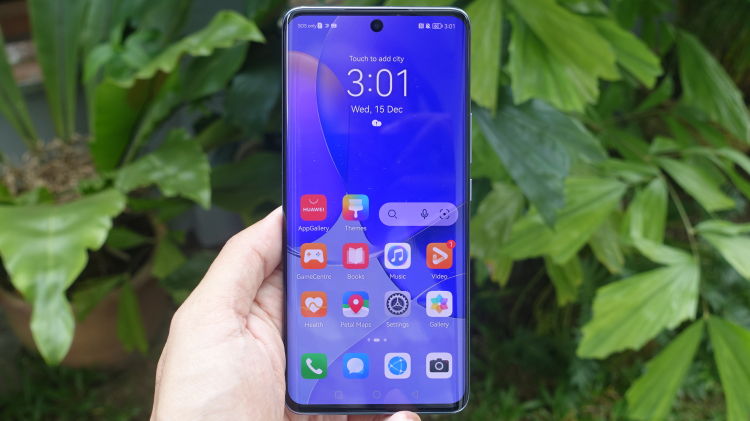 The OLED screen on the HUAWEI nova 9 has a thin bezel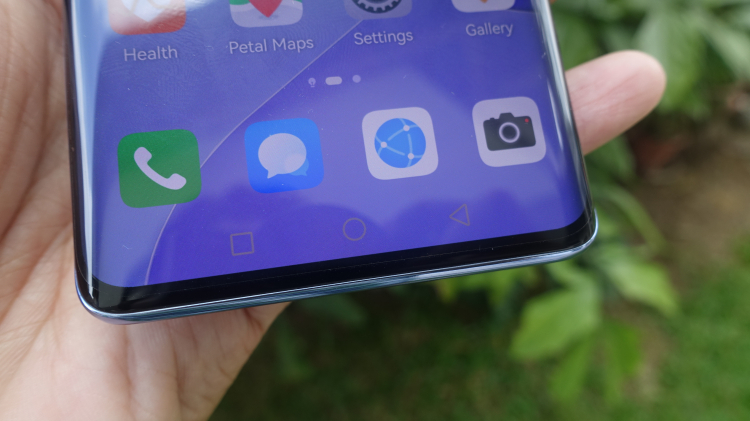 Thicker bezel at the bottom, but not too thick
Specifications - Standard 2021 midranger
The HUAWEI nova 9 features specs that can be expected for a midrange phone launched in 2021. Here are the full specifications:
6.57 -inch Full HD+ OLED screen (1080 x 2340)

120Hz refresh rate, 360Hz touch reading rate

Qualcomm Snapdragon 778G chipset

8GB RAM

256GB storage

50MP Ultra Vision Camera System main camera + 8MP ultra-wide camera + 2MP depth sensor + 2MP macro camera

32MP front camera

4,300mAh battery

Fast charging 66W HUAWEI SuperCharge

EMUI 12 operating system based on HarmonyOS 2.0

In-screen fingerprint scanner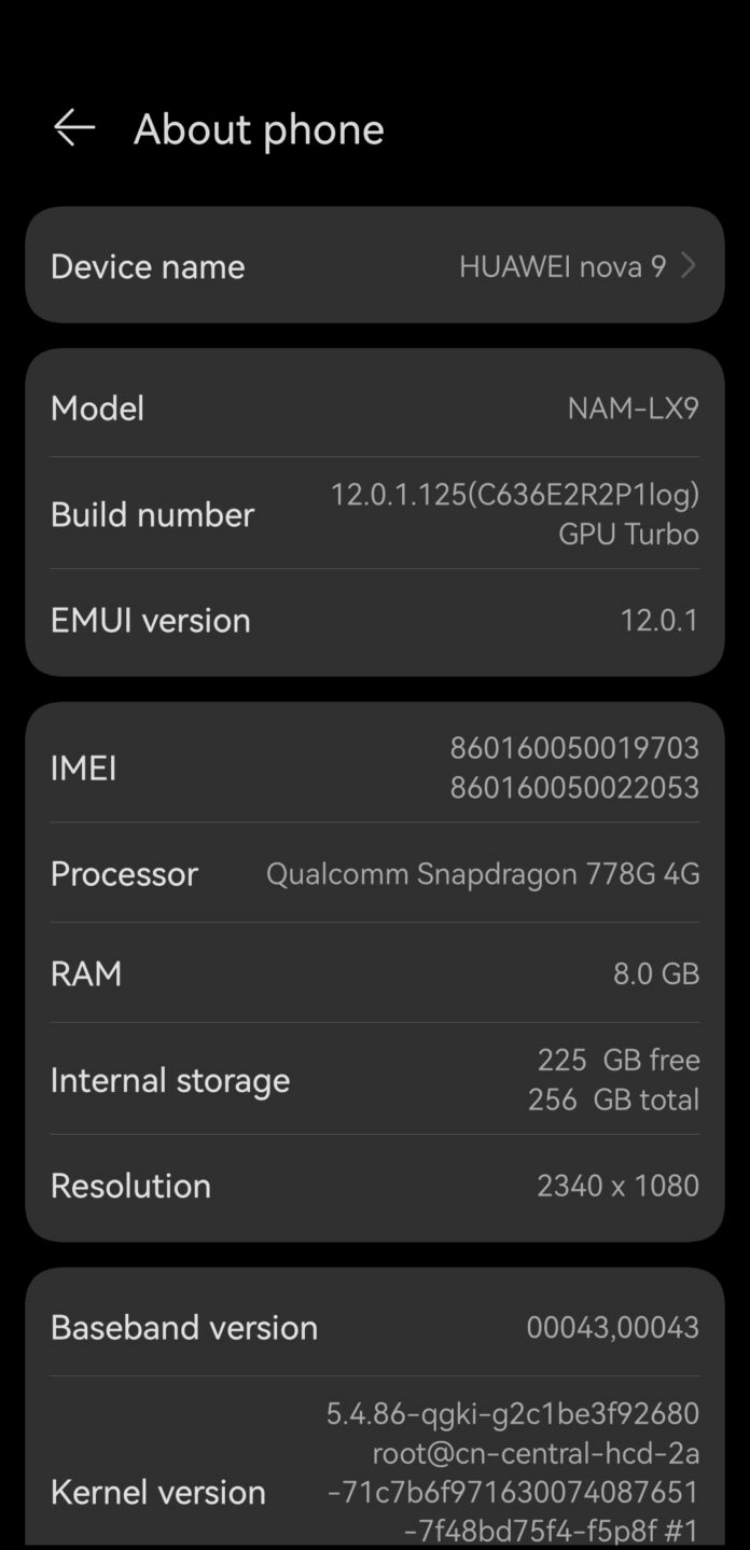 The OLED screen equipped in this phone can generate very beautiful images for video and movies, while the 120Hz refresh rate allows you to experience smoother scrolling. One interesting thing about the 120Hz rate in this device is that it is dynamic, so the rate will change according to the application being displayed to save on battery usage.
The HUAWEI nova 9 allows you to change the screen color setting between Standard (sRGB/P3) or Vivid, and we found the Vivid mode more colorful. For finer color temperature control, you can set it with the color wheel. In terms of brightness, the screen of this phone can be used comfortably even under the scorching sun.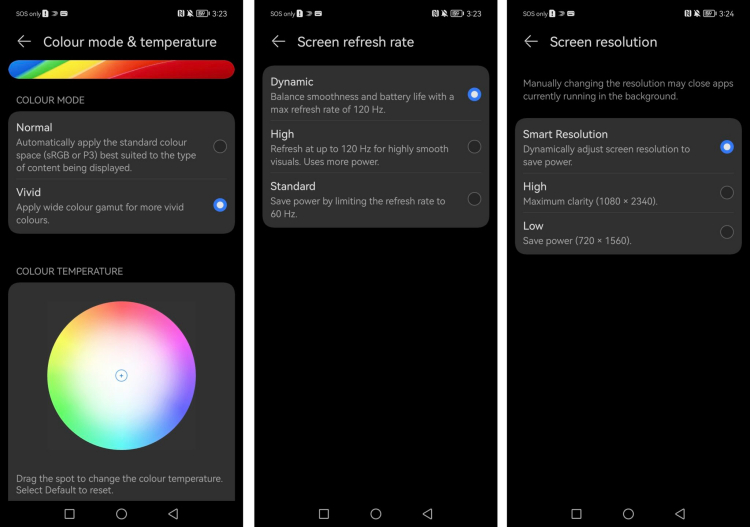 (Left) Screen color setting, (center) refresh rate setting, (right) resolution setting
Like most other HUAWEI products, this phone comes with the HarmonyOS 2.0 operating system and if you've used an Android device before, the HarmonyOS 2.0 interface (UI) won't be unfamiliar to you. To download apps, you can use the HUAWEI AppGallery and if the app you want is not available in the platform, you can use Petal Search to install it via side-loading an APK.
However, side-loading applications requires a few more tedious steps than usual and may be difficult for some users. Therefore, we'd suggest you to use Huawei's AppGallery whenever possible.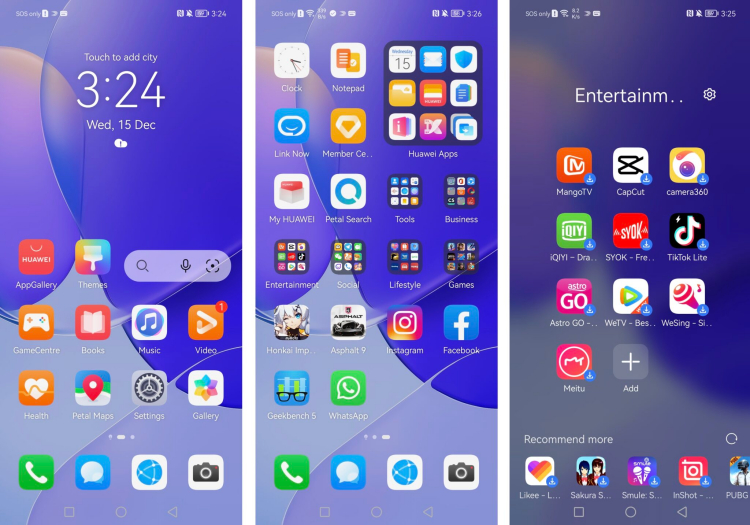 (Left and Center) Home Screen; (right) various icons and bloatware
However, most of the popular applications that are widely used by Malaysians or made in Western countries, are usually not available in AppGallery and may only be installed via side-loading. This is a fact you have to face if you intend to use a HUAWEI phone, at least for now.
In terms of bloatware, the nova 9 has a relatively large number, but these mostly consist of HUAWEI's own applications. In addition, this phone will also show some app icons in the home screen to encourage you to download them and this may be annoying to some users. Fortunately, you can easily remove thew3 icon, but only one at a time.
For audio, the nova 9 has only one speaker at the bottom and it can produce satisfactory audio quality. For a clearer audio experience, we'd recommend you to use wireless earphones or earphones that use a USB-C port.
Performance - Fast for everyday use, OK for gaming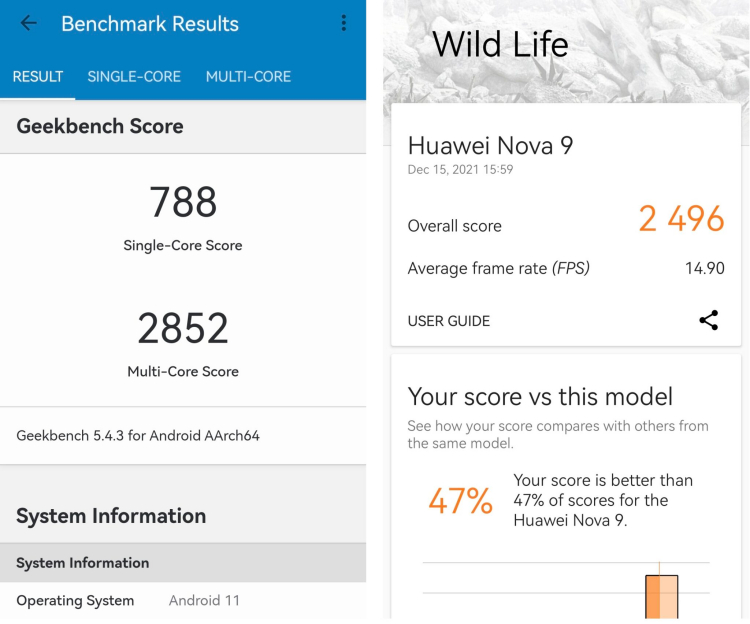 Geekbench and 3DMark Wild Life (right) benchmark results
Powered by a Snapdragon 778G chipset made with a 6nm node process, the HUAWEI nova 9 can produce extremely fast performance for everyday applications such as social media, media players, web browsers or messaging. When combined with the 120Hz rate display, it makes for an overall very responsive experience at least for most games.
We've played several games on this phone like Asphalt 9 and Honkai Impact 3, and the performance produced is satisfactory even with the highest graphics settings. However, the back of this phone does become rather warm at a fairly rapid rate while playing games.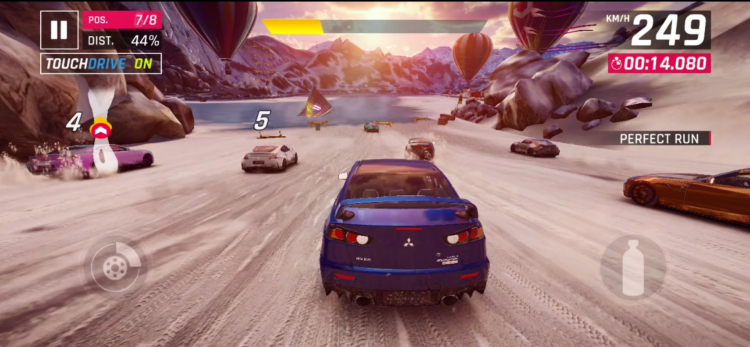 Asphalt 9 can be played at the highest graphics, however its frame rate is a bit inconsistent
The 8GB RAM memory is enough to open several applications simultaneously without having to sacrifice the performance. However, it does not have any additional RAM functions (RAM expansion) that was widely introduced in mid-range phones by other brands in 2021. The 256GB storage is also quite large for storing a lot of photos, videos or apps, but unfortunately it can't be expanded with a microSD card or a nano memory (NM) card.
As for battery life, the 4,300mAh capacity can last comfortably for a day. A full charge can last from morning to night for about 20% left. If you want to use it for longer, the nova 9 also offers a Power Saving mode that can extend battery life by a few more hours. The 66W fast charging is among the key features of the nova 9, and a full charge will take around an hour and 15 minutes. It's not the fastest charging rate, yet still impressive for a midrange phone. Thankfully, a 66W fast charger is also included in the box.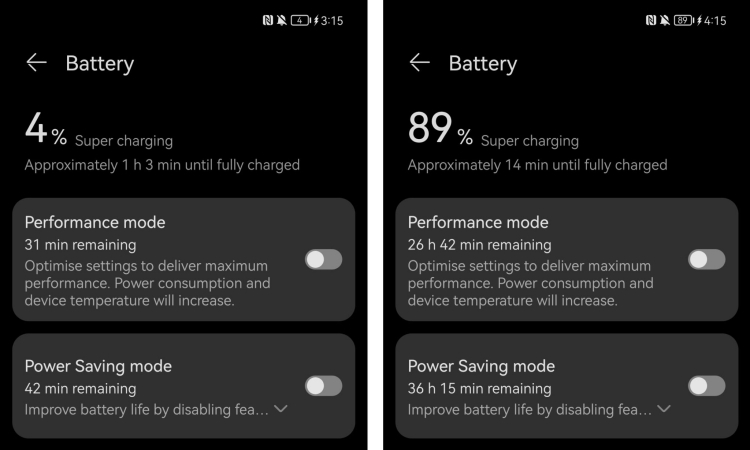 Charging from 4% to 89% takes an hour (3:15 pm to 4:15 pm)
Now let's move on to the camera performance for the nova 9. The interface of this camera offers basic functions such as photo, video, Portrait mode and Night mode, as well as additional functions such as Slow-Mo, Time Lapse and Moving Picture. Under bright light, it can produce beautiful pictures from the main camera and ultra-wide camera. With the help of the depth sensor, it can also produce Portrait mode pictures with neat separation between the subject and the background.
While it's not a flagship class phone, the nova 9's camera can still take beautiful pictures in dim environments. As for zoom shots, it can do digital zoom up to 10x, but we feel that the picture quality is best at 3x zoom and below unless you have a tripod or stabilizer at hand.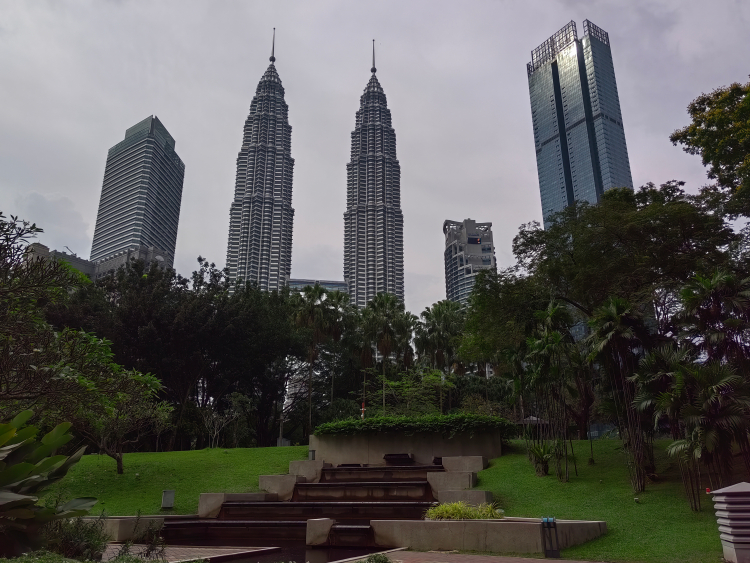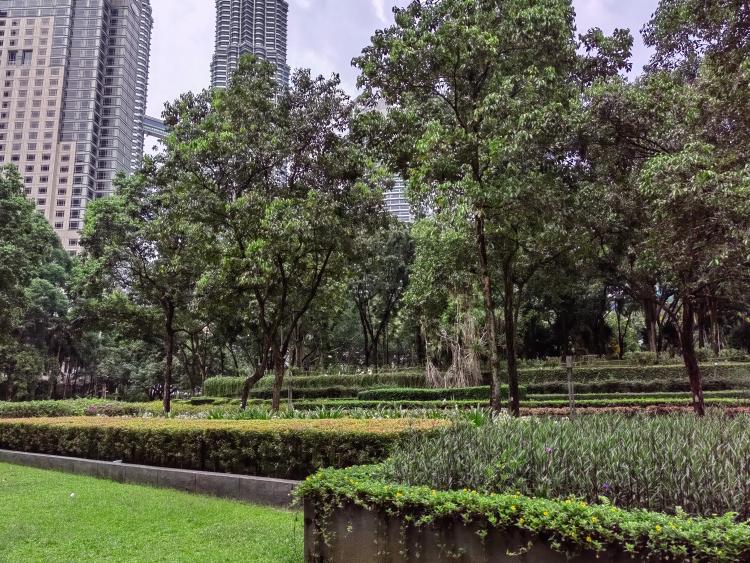 Main camera image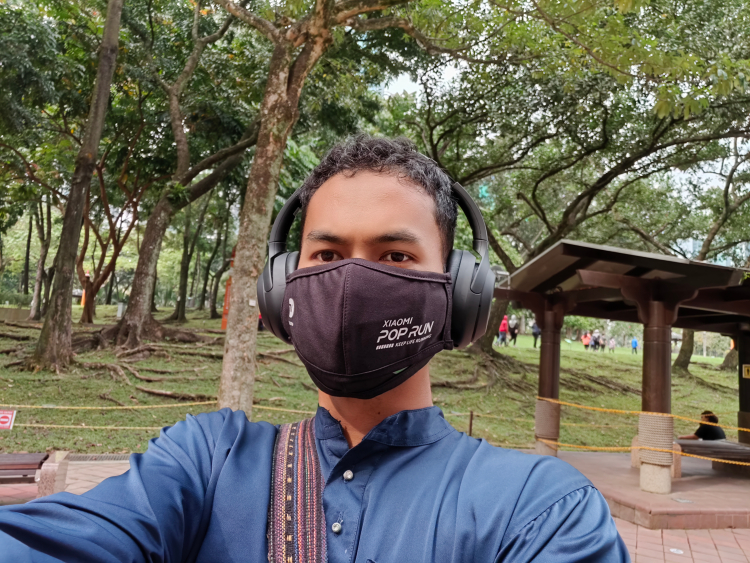 Selfie camera image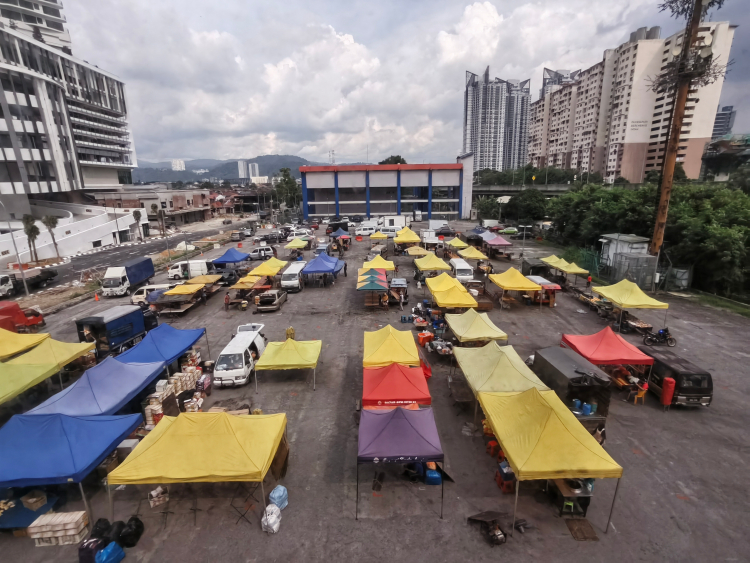 Ultra-wide camera image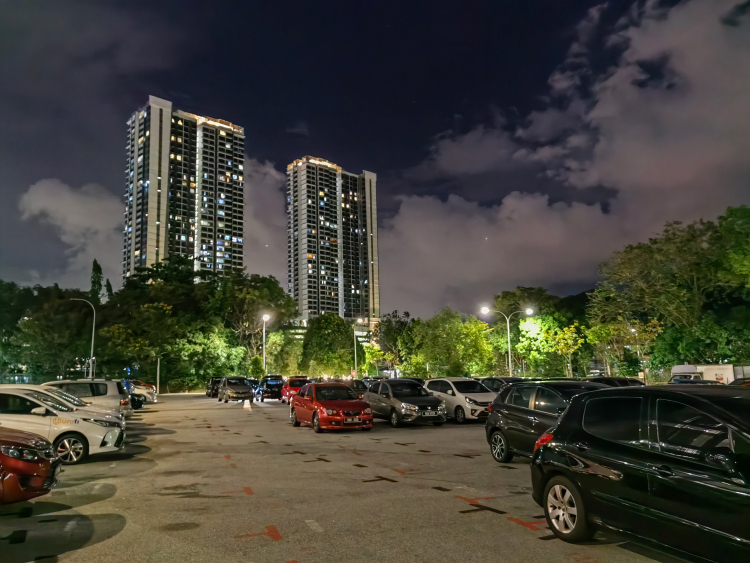 Low Light image
As for video, it can record in 4K resolution at 30fps and the quality is quite satisfactory. If you want a faster rate (60fps), you have to lower the resolution to 1080p. For those who regularly record vlogs, the Dual View function will allow you to record using the main camera and selfie camera simultaneously.
One thing that was a bit frustrating to us was the video recording stabilization. While it still has AIS electronic image stabilization, its stabilization is not as solid as in some other midrange phones. The menu in the camera also doesn't have any settings for stabilization, so we couldn't increase the level of stabilization.
Conclusion - An attractive phone for HMS enthusiasts who don't want to spend big
If you are comfortable using HMS but do not want to spend a large amount of money to buy a flagship phone like the HUAWEI P40, the HUAWEI nova 9 could be the right device for you. The Snapdragon 778G chipset can produce fast performance for most situations, while the 120Hz OLED screen will provide a very smooth user experience.
However, with prices starting from RM1,999, you can probably get an Android phone with similar specifications at a lower price. Suitable alternatives to the HUAWEI nova 9 include the Samsung Galaxy A52s 5G (RM1,899), realme GT Master Edition (RM1,499) or HONOR 50 (RM1,699). All three options have a Snapdragon 778G chipset, but don't charge as fast as the HUAWEI nova 9.
Let us know on Facebook if this review helped you decide and stay tuned to TechNave for the latest in technology news and reviews.