I explored the Samsung Galaxy ecosystem and there's more to it than you think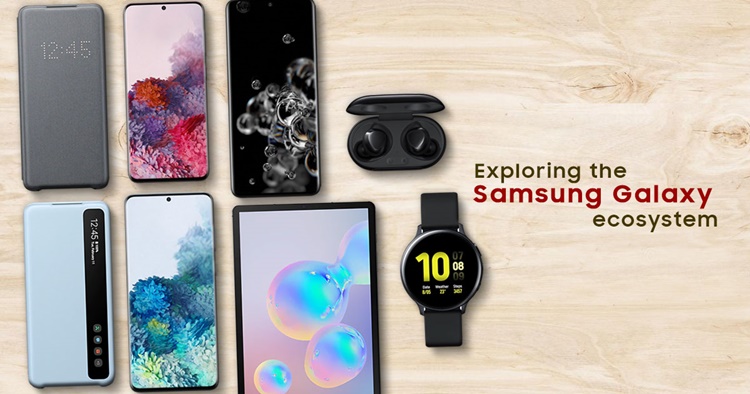 As most smartphone brands have built up their fan base and introduced different series of smartphones models, not all of them have an ecosystem that allows multiple devices to interact with each other. Not that we are saying all of them should have one, building an ecosystem from the ground up is not as easy as you think. So far, only 3 companies are doing that and Samsung is one of them.
From accessories to wearables, it's more than just pairing up your Galaxy Watch Active 2 and calling it a day. By their powers combined these devices and add-ons could complete your Samsung Galaxy S20 series device. So get ready to note them down, there is a lot to take in.
Galaxy Watch Active 2 - Your best daily companion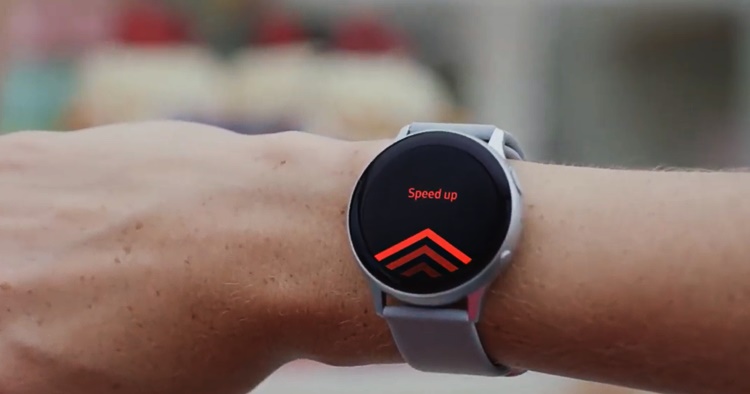 Speed it up and challenge yourself!
Starting with the Galaxy Watch Active 2, this wearable is built and designed for every sports enthusiast to keep track of their healthy lifestyle, exercise, monitor data on diets, mental health, sleep and more. You can even take photos, record and preview a video on the watch via the Watch Camera Controller app after pairing it up with your Galaxy smartphone.
The Galaxy Watch Active 2 also comes in 3 different casing designs - aluminium, stainless steel and a special Under Armour edition. The straps are offered differently too so if you want leather, it's only available with the stainless steel version. The starting price is RM1099.
Galaxy Buds+ - Stream all day long wirelessly
The spiritual successor to the Galaxy Buds, the Galaxy Buds+ is an improved model with some nice upgrades. It features an enhanced 2-way speaker, 3-mic configuration (for better network calls), up to 11 hours of play-time, fast charging capability (3 minutes for an hour of playback) and of course, wireless charging via Powershare. It's already on sale in Malaysia for RM599.
The light blue Galaxy Buds+ are the prettiest
Galaxy Tab S6 - Sync up for productivity and convenience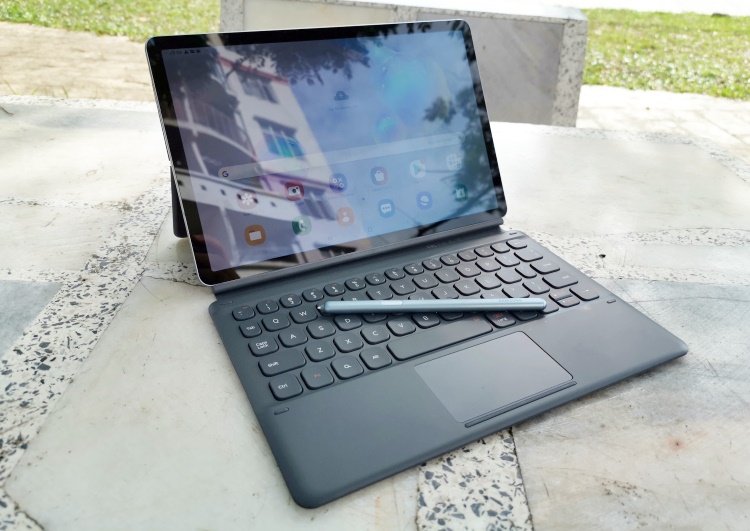 It's almost like a personal laptop
Yup, that's right. This Galaxy Tab S6 (RM3099) tablet can also sync with your Galaxy smartphone as well. With this, you can increase your productivity on-the-go with a detachable keyboard to reply emails back and write down notes with an S Pen stylus. To add on, you can also receive incoming calls and replying messages on the tablet as well without switching screens. This can be done with the call-messaging-continuity feature which is connected to the phone, talk about convenience at its best!
Samsung's protective smart cases
Asides from the aforementioned three devices, Samsung Malaysia have also prepared a wide variety of protective cases for your Galaxy smartphone! With plenty of choices, you can choose which cover is best suited for your style. Check them out below!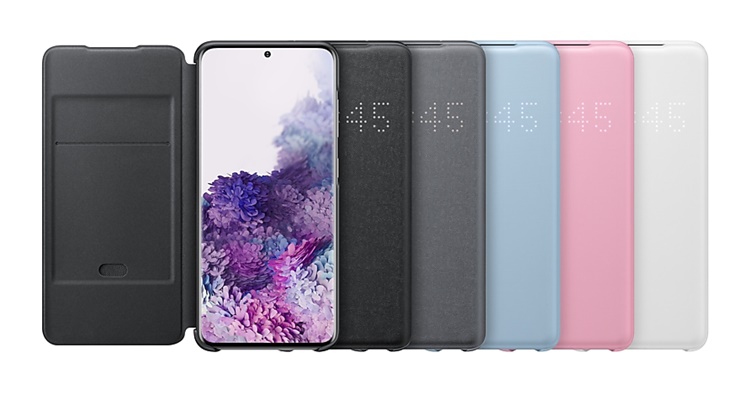 Smart LED View Cover - A popular one among Samsung Galaxy users, this smart casing lets you see notifications with a variety of bright LED icons which you can customize. Then inside the front cover is a slim pocket for your transit or credit card!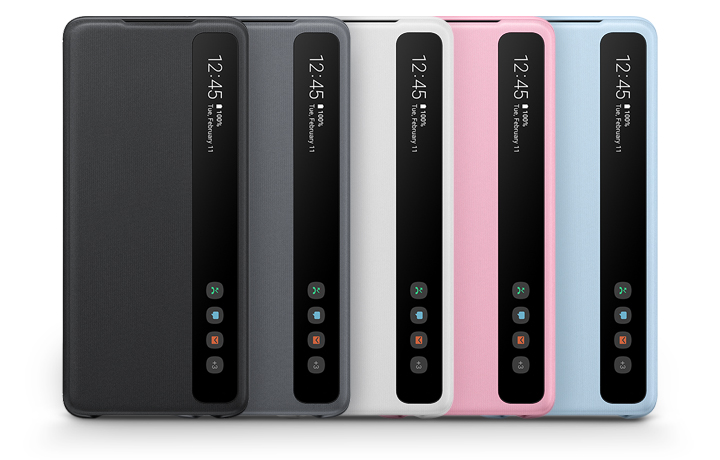 Smart Clear View Cover - Similar to the cover above, this one lets you take control of incoming notifications, alerts, network calls, and monitoring the battery level without opening the cover at all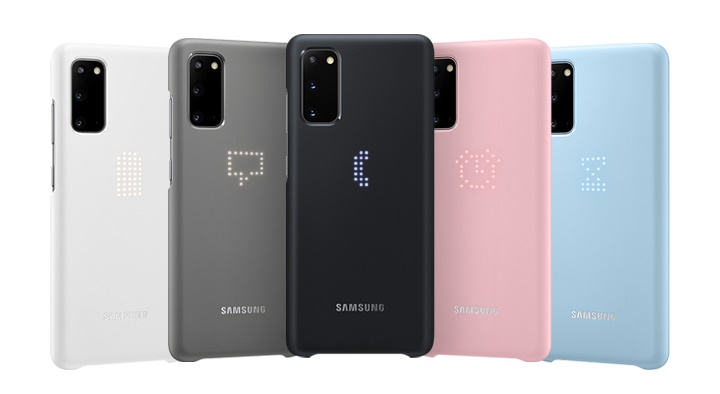 Smart LED Cover - Another LED cover, this case can also light up starlight-like patterns with its mood light LED which you can customise as well (a heart, animal, smiley face and many more). You can also set a timer countdown when you're taking a photo with the rear camera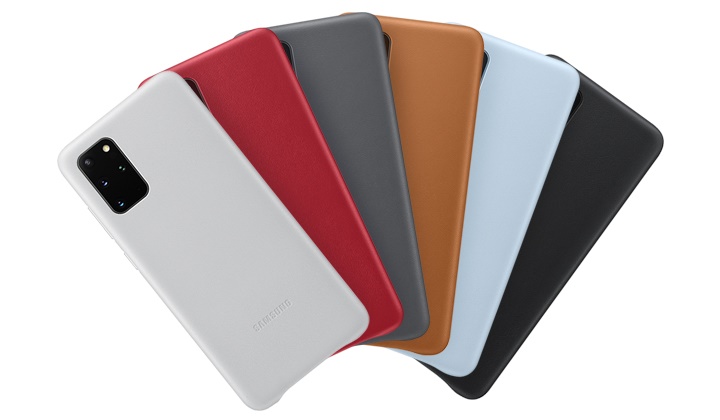 Leather Cover - If you want a more classy-looking cover, look no further than this leather cover. Not only does it make your phone look sleek but it feels amazing in your hand too
Silicone Cover - Or if you just want a normal silicone cover, you can choose this smooth, slender and flexible casing protecting your phone from shocks and bumps. There are many poppy colour versions with different inner colours for each too!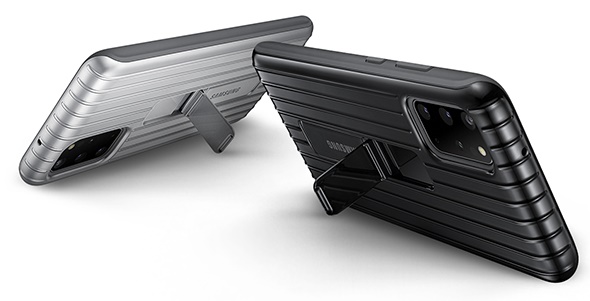 Protective Standing Cover - If you want a protective casing with good durability, you can choose this one because it has a military-grade built exterior, MIL-STD-810G certified. You can also find a kickstand which can be folded at either a 60 or 40-degree angle, letting you watch your video contents hands-free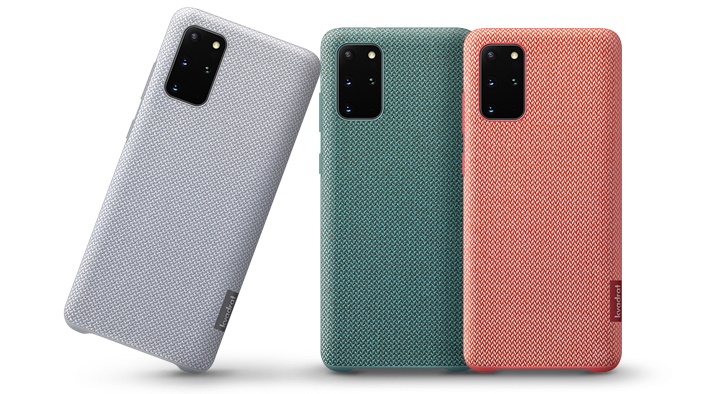 Kvadrat Cover - Finally, the last casing is a Kvadrat Cover that is made from a sustainable textile material (premium Danish textile brand). It's thin, it's stylish, and maintains the Galaxy S20 series' ergonomic design with protection from drops and damage
So that's all, folks. These are many of the devices that make up the whole ecosystem for your Samsung Galaxy S20 series phones and if there's one that you're interested in, you can check out the links provided below. Also, you can visit the Samsung online store over here to learn more about the Galaxy S20 series.
What do you think of these Samsung Galaxy ecosystem accessories and which one is your favourite? Let us know in the comments below and stay tuned for more tech articles at TechNave.com.
Samsung Galaxy S20 Ultra Specs & Price >