TuneTalk recently made the news for Indonesians that are staying in Malaysia with the launch of their TuneTalk Bisa Pak starter pack. With just a minimum of RM10 top up, you can get the Bisa Pak SIM for free with preloaded of RM6 IDD airtime credit, free 500MB monthly basic internet, a 50% reload bonus on your birthday and the lowest Indonesia IDD rates at 6 cents every 30 seconds.
The RM6 pre-load airtime credit will be released in two stages, first is upon the activation of the sim card (you will receive RM3 airtime credit) and the other RM3 is after 30 days activation of the Bisa Pak SIM. Starting from now until 30 June 2016, you will also receive free high-speed internet ranging from 300MB-1.5GB quota; that is according to the top up amount which you can refer to the table below.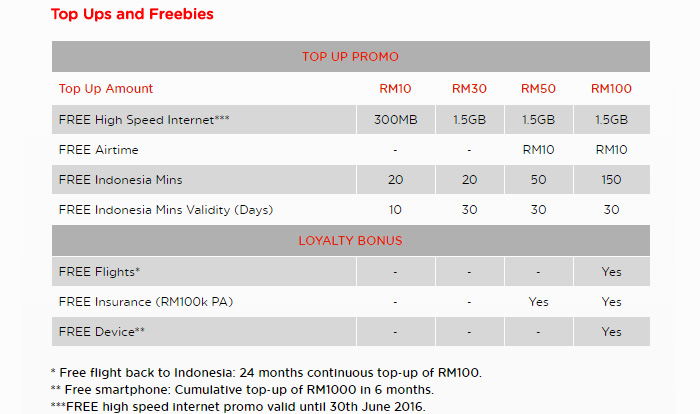 There is also some loyalty bonus you can benefit from if you decide to stick to TuneTalk for a long time, but you may need to top up at least RM100 per month to get the best one. The benefit goes as far as a free flight back to Indonesia, free smartphone for a top-up accumulation of RM1000 in 6 months, and free 100k worth of PA insurance. More information is available at the TuneTalk website.