Jabra Elite 85H headphones review - Great sounding quality headphones that won't die on you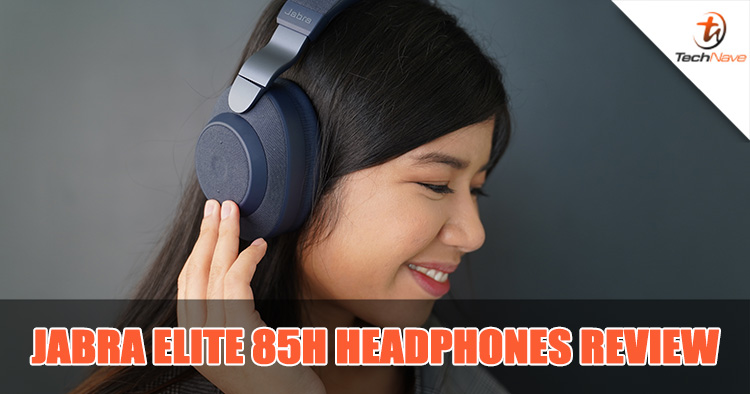 I'm kinda new to the world of wireless headphones and have been on the hunt for one with a decent price tag. What I'm looking for in mind is obviously great sound quality, great active noise cancelling (ANC), and super-long battery life for my long haul flights. The Jabra Elite 85H wireless noise-cancelling headphones seamlessly fit the bill and comes at a competitive RM1349 price tag. On average, it's much lower than other high-end competitors in the Bluetooth headphone field. The question now is, is it worth the price? Read on below for my review!
Design - Just an ordinary pair of headphones
As the subtitle states, it's a pair of headphones that looks normal, no wow factor the moment you look at it. That said, Jabra took a simple and back to basics design which I can appreciate.
The headphones are made of good quality solid plastic which is covered with textured cloth. Despite it being plastic, the headphones are very malleable, easily fitting any sized head without the feeling of breaking even when flexed to its limits. The sides come with a slider to adjust the size according to the user's head which honestly, is very pleasing as it won't clack hard and hurt your head when adjusting the size.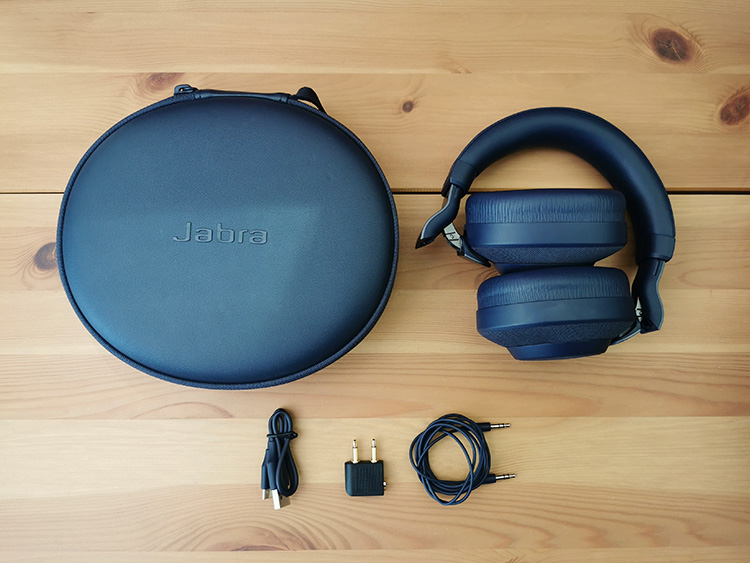 Here's what you get in the box: The headphones, a case (which is a little too bulky for my liking), a USB-A to USB-C cable, a 3.5mm headphone cable and a flight adapter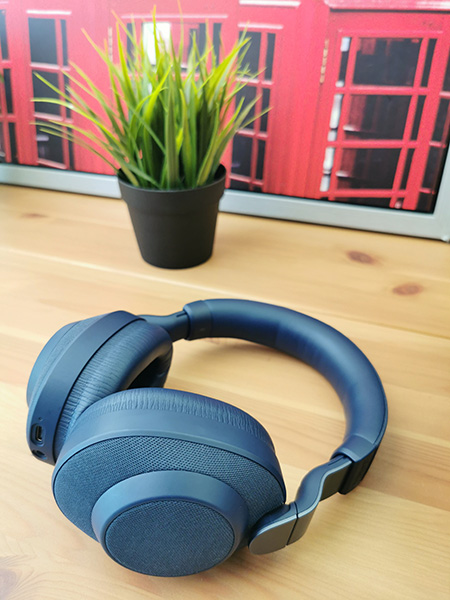 Here's how the headphones look like when unfolded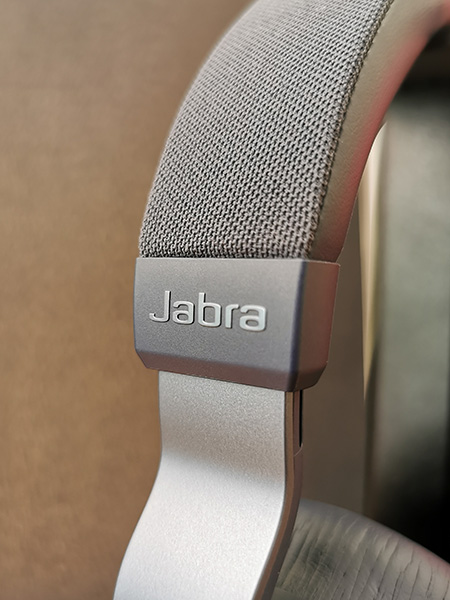 A closer look at the sides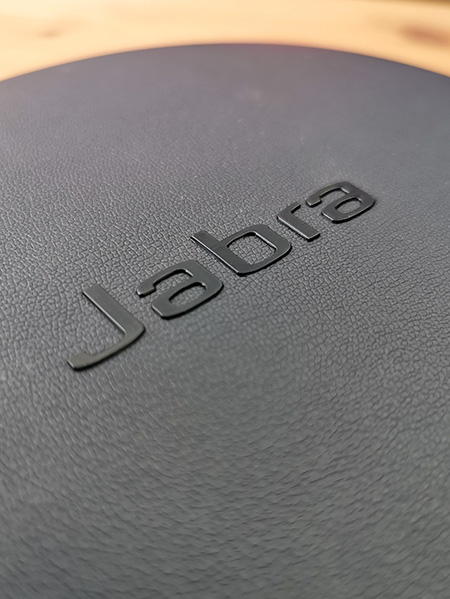 The casing and the material on the headphones are made from leatherette PU which looks good and feels good
Honestly, the most comfy part is the sponge which you can find on the headphone cups as well as underneath the plastic that rests on your head. Made from a material called leatherette PU, it remains quite cool even after long hours of wearing on your head. Also, did I mention how comfy the sponge feels against your head and ears? Due to the large size of the headphones, you won't find your ears being squeezed against your head.
However, there is one downside. Wearing these headphones for too long eventually gave me a bit of a headache. The ear cups are a little too big for me (due to my tiny sized head) so and it does squeeze a little too tightly (due to trying to keep the noise out). This results in the back of my jaw being squished which lead to the headache. I can just kinda weather the pain because I do enjoy the headphones a lot, but taking some breaks in between wearing it for a long period of time does help (this shouldn't be an issue for people with normal sized heads).
Storing the headphones away is very convenient as well as you can easily fold the headphones before stowing it in the case. When you take it off your head and rest it around your neck, the headphones can fold sideways and rest flat on your chest so that it isn't so annoying or obstructing.
Tech Specs and Features - These won't die on you during a long haul flight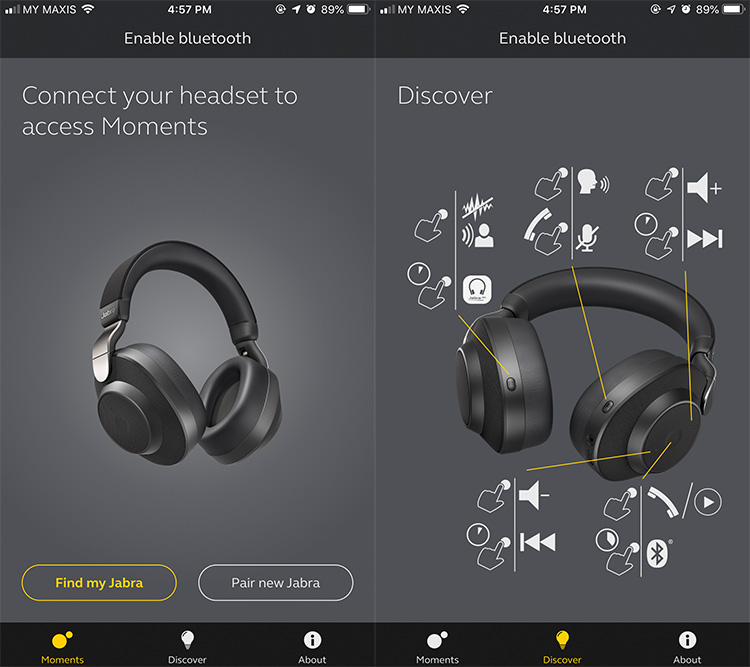 The Jabra Sound+ App interface
Before we talk more about the features, here are the tech specs of the headphones:
Certifications: Bluetooth 5.0, CE, FCC, IC, RoHS, REACH, MFI

USB cable length: 30cm

Audio cable length: 120cm

Supported Bluetooth profiles: HSP v1.2 , HFP v1.7, A2DP v1.3, AVRCP v1.6, PBAP v1.1, SPP v1.2

Battery life: Up to 41 hours (with ANC off) / up to 36 hours (with ANC on)

Warranty: 2 years against water and dust
These headphones easily connect to any smartphone be it iOS or Android. While it does recommend you to download the Jabra Sound+ app, I noticed that the headphones do still connect and worked fine without the app. The only downside is that you can't enable ANC (Active Noise Cancelling) without it. Despite that, the headphones did pretty well at keeping out unwanted noise even without the ANC on. Also, you can connect the headphones to two different devices at once (perhaps if you'd like to share your music?).
The app does allow for SmartSound to be enabled as well. SmartSound is basically an AI that takes recordings of the user's surroundings and adjusts the noise-cancelling level accordingly, allowing the user to still be aware of his or her surroundings. If you're walking, travelling, sitting down and more, the AI will know and ensure that the user won't be fully blocked out of the noise-cancelling feature.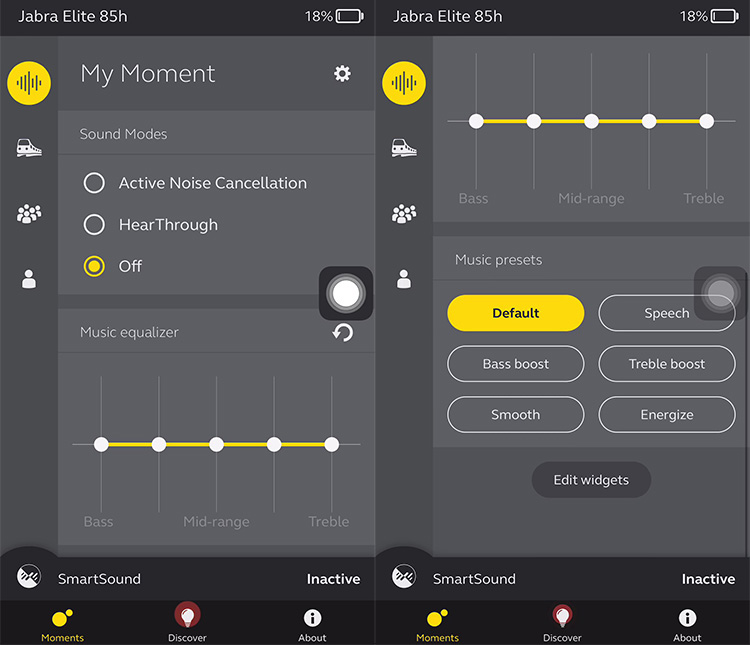 The equalizer comes with presets. You can enable SmartSound through here and check the battery life on your headphones as well
There is one downside to the app, though. The music equalizer presets aren't that great, in my opinion. However, it is possible to customize the equalizer manually which is nice. Besides that, Google Assistant, Siri and Alexa can all be set up with the headphones as well to notify you when a call or text comes in. It can get annoying when you have a lot of chats coming in as it does interrupt your music, disabling the feature can be pretty confusing as well. Make sure you finish setting up your app and headphone pairings so that you can disable the in-voice notifications easier.
On the right side of the headphones are buttons to check the battery, pick up calls and the basic play/pause, volume adjustments. However, since you do have to actually press the buttons pretty hard, it feels like you're shoving the headphones against your head which can be a little uncomfortable but it's not too much of a big deal.
These headphones were definitely made for travel in mind. In the box, they provided a flight adapter so you can watch movies comfortably on long flights without having to worry about switching to those cheap plastic headphones airlines always give out. Also, there's probably no 36 hour flights around, so these headphones should last you for any flight and most long haul trips with no problems.
Performance - Does this headphone ever run out of battery?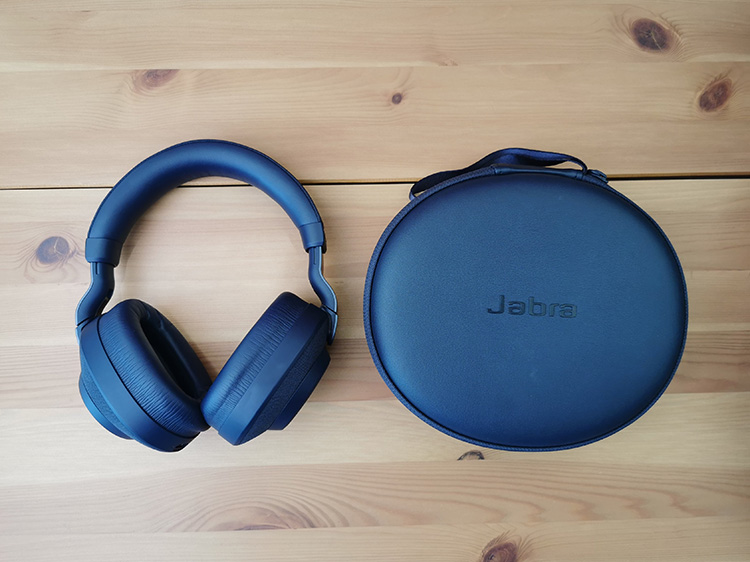 These headphones seem to excel in whatever they're used for. Music and tunes sound crisp and I especially love listening to instrumental songs on the Jabra Elite 85H due to the fact that I can literally pick out each music instrument from the melody. The highs and lows are balanced nicely and it does come with some nice bass as well. Also, the vocals are clear to boot.
Watching movies on this was also a pleasure. I got to try these during my recent 7-hour flight to Japan and I watched some movies from rom-coms to action-packed movies. The noise-cancelling and incredible audio made my movie viewing experience more immersive.
I also got curious and decided to try these headphones out for gaming. I completely understand that these are not made for gaming so I plugged in these headphones onto my desktop via the 3.5mm jack cable provided with not much expectation. However, it completely blew me away. The game that I chose to test these headphones on was Destiny 2. The noise-cancelling made the game very immersive with the surround sound and I found myself more alert, especially during Crucible (the PvP mode) as the sounds of footsteps are more defined. I could easily pinpoint where the enemies were coming from just from the sounds of their movement. Also, getting headshots on the game felt crispier than usual, thanks to the great audio quality.
On the other hand, network calls didn't do so well. On the receiver end (me), hearing the person on the other line was fine and clear. However, the caller on the other end would be bombarded with too much noise from my end, as though the mics were picking up all the noise around me. I definitely would not recommend taking calls on these if you're in a noisy area.
Unfortunately, I couldn't find a way to connect the headphones to my desktop or laptop wirelessly. So I am going to assume that these were made to be connected wirelessly to smart devices only instead of the traditional laptops and PCs (which is a shame). The 3.5mm jack cable provided was a little short though, which wasn't very fun to plug into my PC for obvious reasons.
CONCLUSION - Freaking good pair of noise-cancelling headphones with a decent price tag
Priced at RM1349, it's quite a competitive price for a noise cancelling wireless headphones compared to other well-known brands out on the market, the Jabra Elite 85H definitely packs a punch. While it was created for users who commute and travel a lot, I honestly did not expect it to excel for gaming as well. Great noise cancelling, very comfy, comes with extremely long battery life and has amazing audio quality. What more can I ask for from a pair of wireless headphones?
There are other headphones that can compete with these in terms of performance which are the Sony WH-1000XM3 wireless headphones (RM1599) and the Bose Quiet Comfort 35 wireless headphones (RM1559). However, in terms of battery life and price tag, the Jabra 85H Elite headphones win hands down. So what do you think of the Elite 85H headphones? Keep up with the latest tech releases and reviews in Malaysia on TechNave.com!