Join Sony for UEFA Champions League Replica Trophy event starting next weekend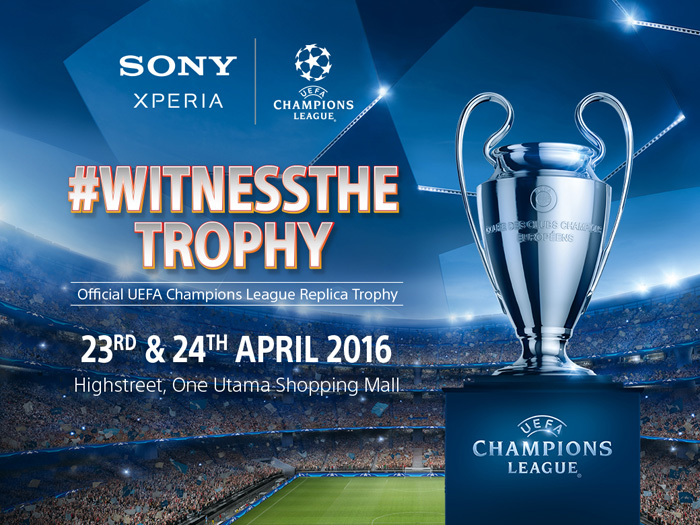 The iconic official replica trophy of UEFA Champions League is making its way to Malaysia this coming 23 April 2016 until 24 April 2016. For two days the trophy will be placed at Ground Floor, Highstreet, One Utama Shopping Mall. This arrangement is for the official UEFA Champions League Replica Trophy Event in Asia, where Kuala Lumpur will be the first city to host such event since Sony became the official partner of UEFA Champions League for season 2015.
For Sony Xperia users, you will have an exclusive chance to partake in the event and have an up close experience with the prestigious trophy. All you need to do is to log into your Xperia Lounge app where then you will receive a code. Use that code to register in the WitnessTheTrophy website, fill in your details and submit the application. You will receive the ticket via the e-mail address you filled in.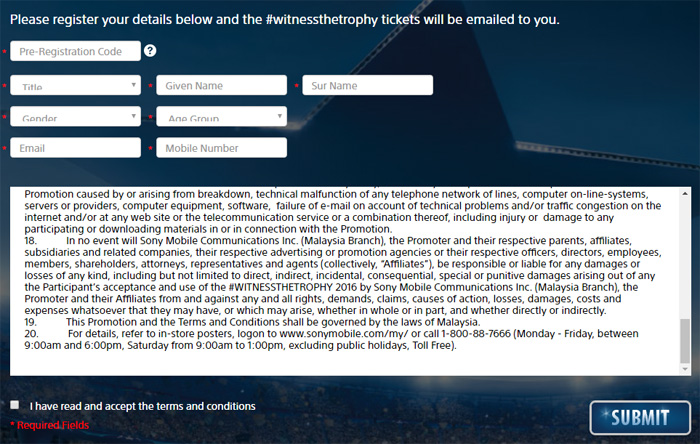 There is a total of 3000 tickets available and getting it is on a first come first served basis. Each ticket is for a max of 2 adults or 1 family of 2 adult and 2 children per entry. Additionally, each ticket entitles to one photo with the trophy with a max of 2 adults or 1 family per shot. There will be a photo print at the end with max one print per ticket as well. The photo session with the trophy starts from 23 April 2016 at 1.00pm – 10.00pm while on the 24 April 2016 the session starts at 10.00am – 10.00pm.
Starting 20 April until 24 April 2016 there will be various on-ground activities for the public to participate at the same venue in One Utama Shopping Mall. There are various Sony and Adidas merchandise to be won. Consumers can take part by taking a snapshot of themselves with Sony merchandise in the most creative way or taking chances in shooting penalty shot to get other exciting prizes. Furthermore, via the Xperia Lounge app, the UEFA Champions League Challenge is still ongoing for Xperia users allowing the public a chance to place predictions for the knockout stages to stand a chance to win Sony merchandise for each knockout stage.
"UEFA Champions League is one of the most anticipated events in the football world. We are excited to be able to bring the iconic European experience to the local fans. This doubles as an opportunity for Sony Mobile to show our gratitude and appreciation to the fans' who continuously supports us over the years," Andrew Cheong, Country Director (Malaysia) at Sony Mobile.