LG OLED 4K TV hands-on experience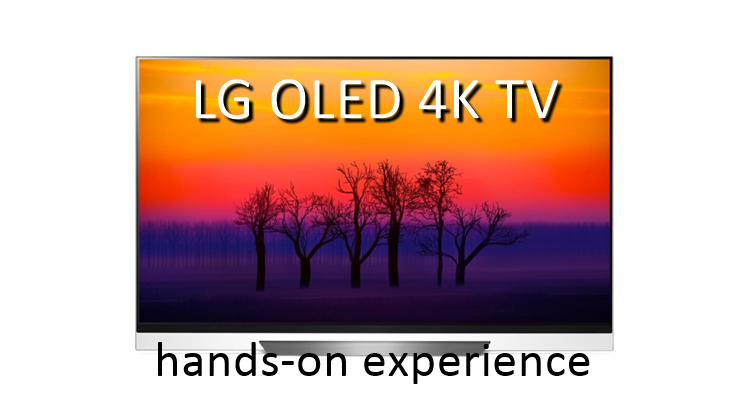 So back in August 2018, we were invited to a home appliance product showhouse by LG Electronics Malaysia and the LG OLED 4K TV was the main highlight there. We only played with it for a while, as there were many house appliances around such as the InstaView Refrigerators and TWINWash washing machine, but the company invited us back again to have a first hands-on experience with the TV and I must say, it's quite an interactive one.
The LG OLED 4K TV that I got to play is the OLED65E8PTA model. It has a lot of nice features, the OLED 4K display is one of them (obviously), followed by an α9 Intelligent Processor, ThinQ AI, Dolby Atmos as well as Dolby vision that complements the 4K Cinema HDR and 4K HFR. Of course, this comes with a hefty price tag - RM22,999. But let's check out what these features can really do.
Design - That floating illumination
During the hands-on experience, the place wasn't really the best environment for the photo shoot of the sleek-looking OLED TV, so to best describe the design of the TV are the image renders below:

This OLED 4K TV is a huge one, measuring at 65-inch and compare with other modern TV nowadays, I'd say this TV has one of the best slimmest looking ones because of the glass panel integration that makes it look like it is floating in mid-air. You can also put the TV on the wall with magnetic hanger and it would look like a painting on the wall that adds some bonus points for home decor. Bezels are also quite thin and the speakers are located behind the screen panel. Of course, since it has glass on it - it's super fragile.
LG's colour technology gets a thumbs up from Hollywood
Next, you probably want to know about the TV's colour strength. How is it? Is it too bright? Or too dark? Well, since it's using an OLED display (and manufactured by the company itself), you can bet the colour displayed on the TV is almost perfectly balanced. Normally, a salesperson would try to sell you the colour contrast but if it was me, I'll sell you the Perfect Black feature thanks to the so-called Quad-Step Noise Reduction technology. What this means is if you're watching a movie in a dark room with some low-light scenes, you won't get that "white" light from it hurting your eyes.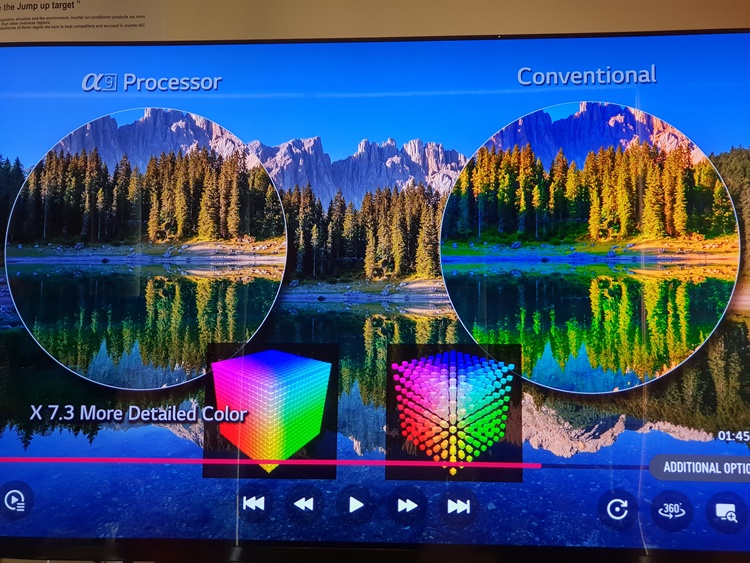 While the right side colours look "better", the α9 Intelligent Processor is designed to keep the colours balanced to show as much realism as it can
Perfect black with the flames
Personally, I'm quite a fan of this as an avid movie fan. But perhaps not to the level of Rob Legato, a professional VFX (Visual effects) Supervisor for Hollywood who got interviewed by LG explaining why it's so important for filmmakers, stating "The perfect black now gives you a portal into that world as opposed to a display of that world". Heck, even Tim Miller, the director of Deadpool approves LG OLED TV's HDR technology.
The α9 Intelligent Processor plays an important role in this, as the chipset is designed to optimize and control the visuals with clarity, colours and depth as balanced as possible to give you the best viewing experience. Do you want a cinematic experience? You got it with 4K Cinema HDR and 4K HFR feature, furthermore backed up by Dolby Vision and Dolby Atmos as well. The picture samples below does no justice, but you can see the colour difference there.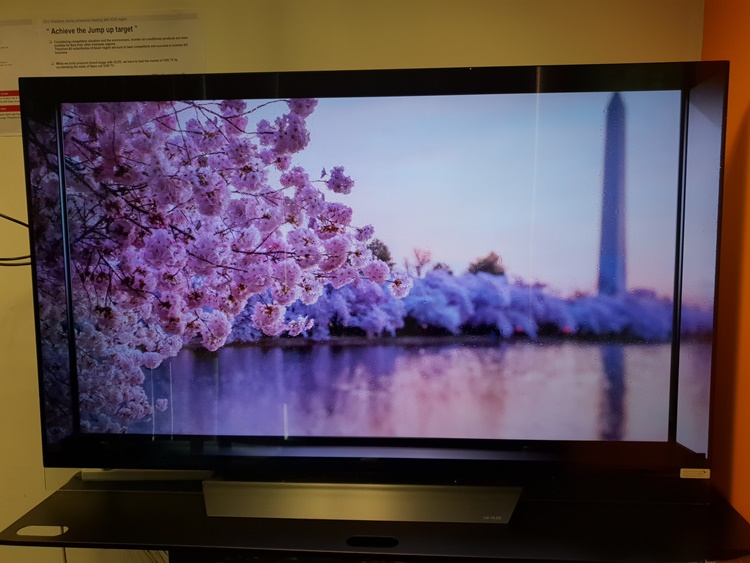 Looks nice from a distance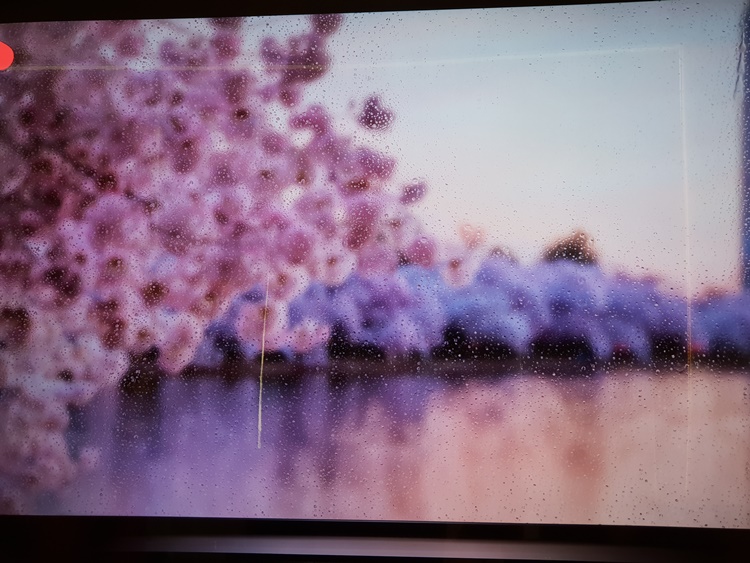 Until you take a closer look, so surreal!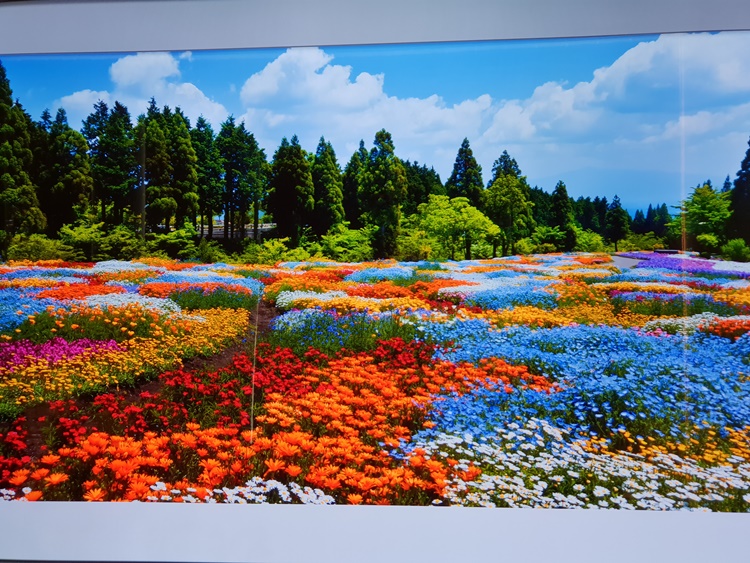 Colour contrast display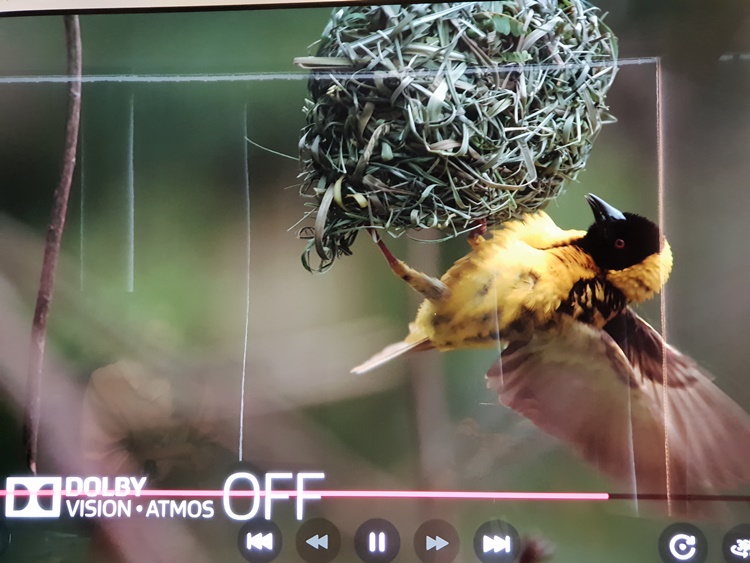 Dolby Vision off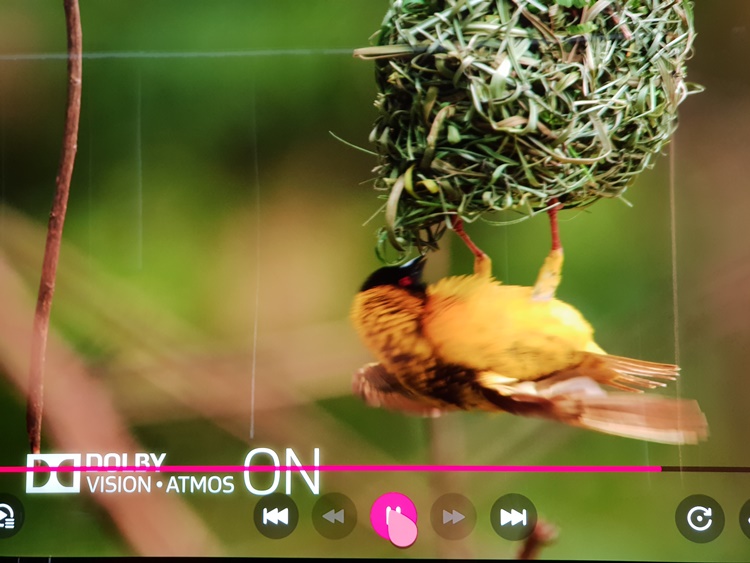 Dolby Vision on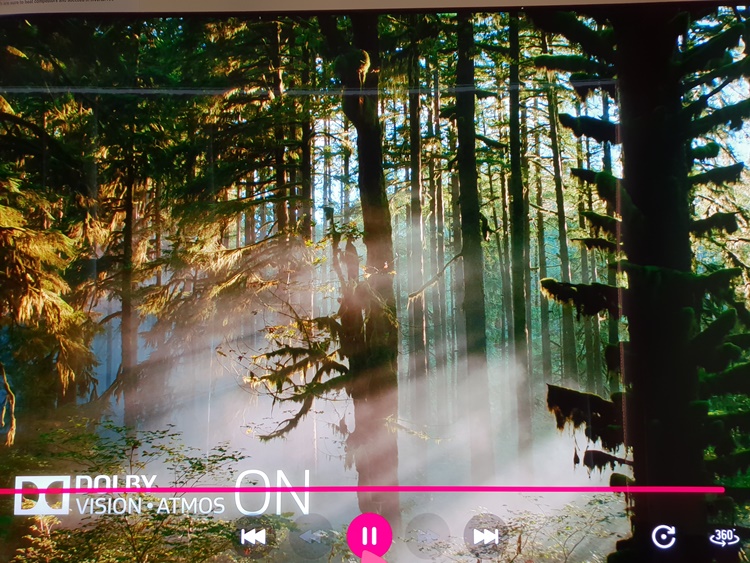 The light piercing through the forest is just breathtaking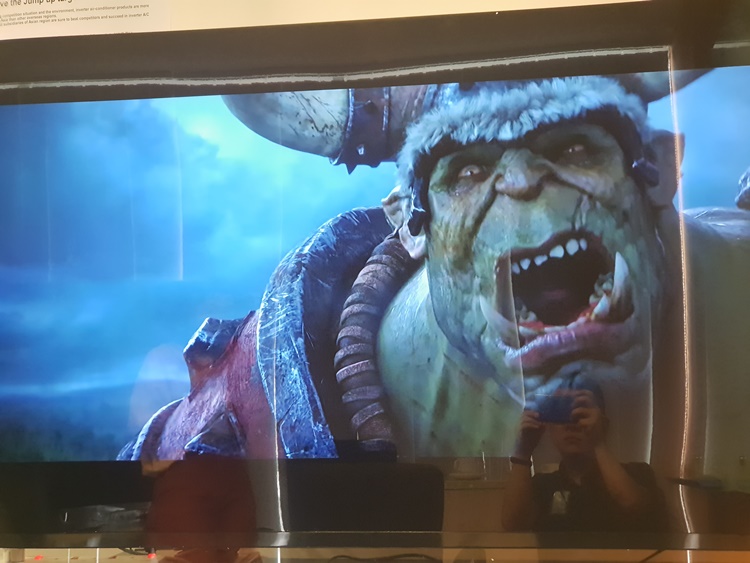 Also, great for 1080p trailers!!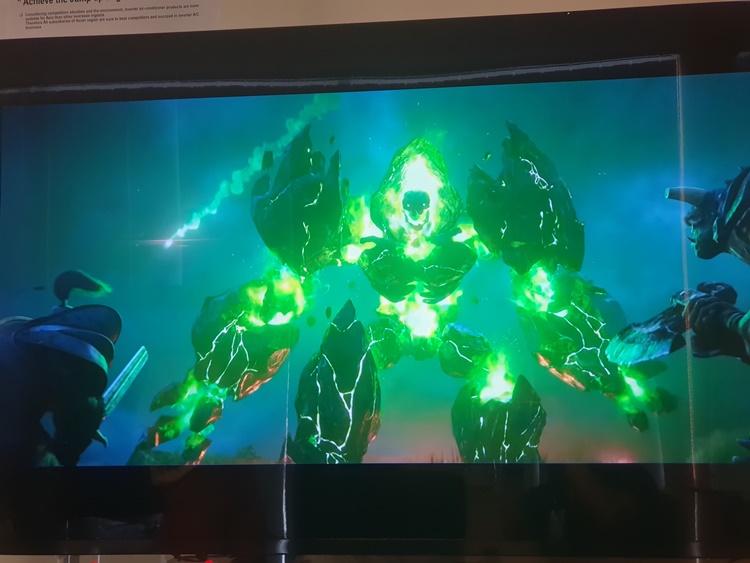 GLORIOUS HD
That's one smart TV
So the technologies mentioned above are one thing, it's kind of expected for modern TVs to be equipped with that. But there's one more thing that sets the LV OLED 4K TV from the rest and that is having an actual interactive AI that does more than just basic commands. It actually listens, thinks and learn your watching behaviour. Currently, it can understand 70 different commands and you can do almost everything such as "Look for movies with (actor or actress name)", "I can't sleep.", "How's the weather in (country name)?" and many more. So if you're a talkative one, the LG OLED AI TV can sure keep you company.
Even for an introverted person like me, I find this quite convenient because speaking through the remote (which acts as your mic for the LG OLED AI TV) is actually faster than pressing a button, but that depends on the situation such as adjusting the volume. At this moment, the LG OLED AI TV can understand English, Korean and Mandarin.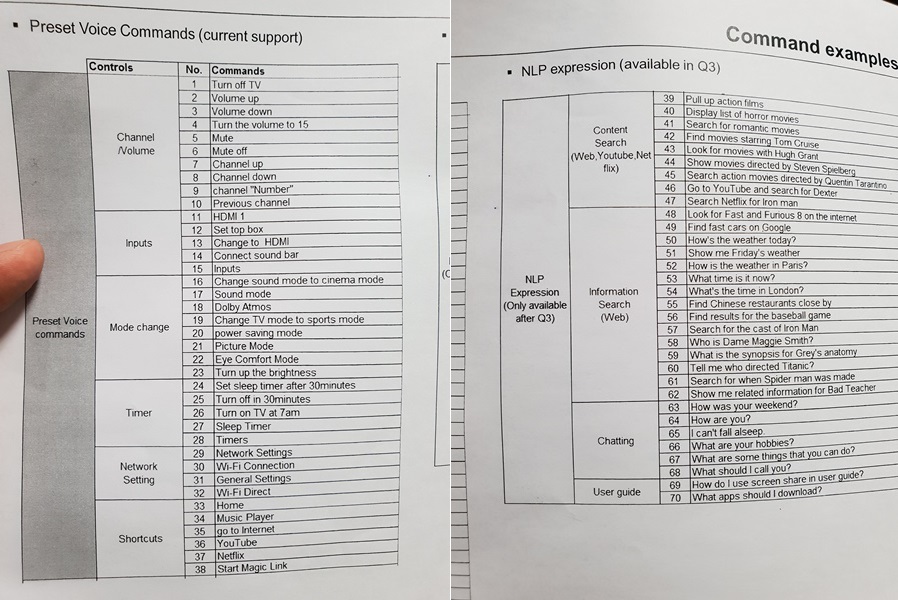 Look at those commands lol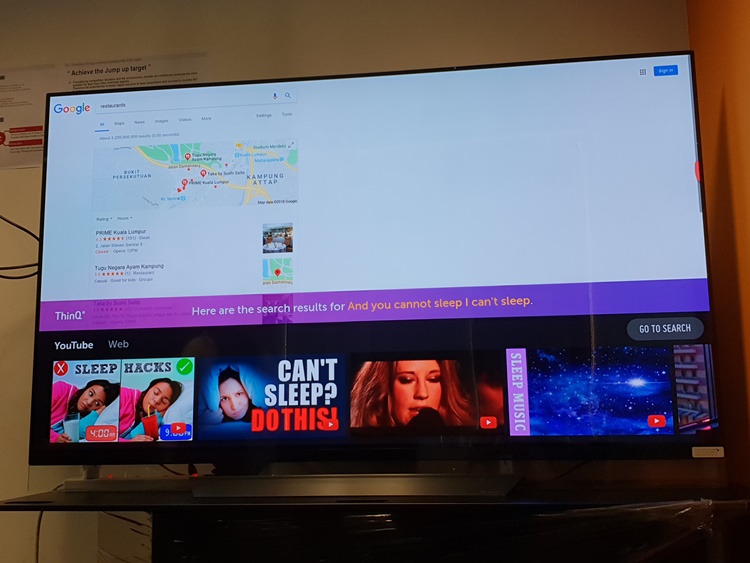 A demo on using voice command, the AI will recommend you videos based on your watching preference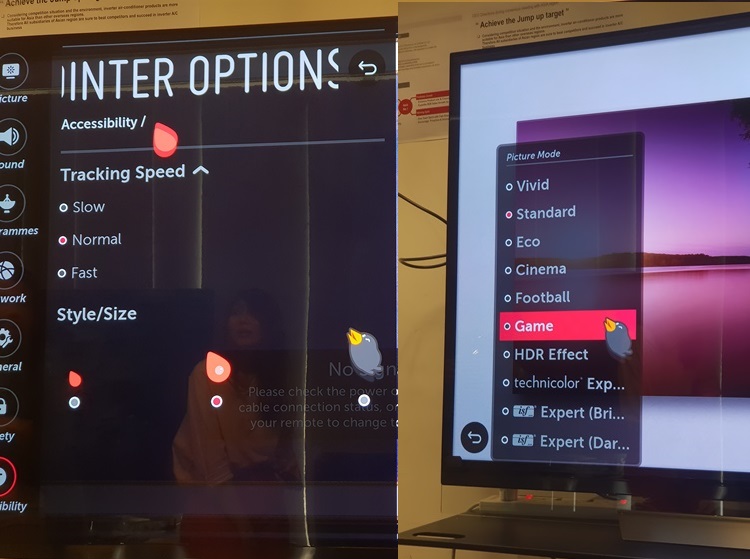 And a bonus, you can change the cursor and viewing modes too
The LG OLED 4K TV makes a first good impression
So that's all about the LG OLED 4K TV hands-on experience, I'd love to comment further on the sound quality but as mentioned, the TV didn't have the best environment to test out the sound so it was okay-ish. I believe the sound quality would be better if it was accompanied by LG"s own soundbar (SK10Y, SK9Y and SK6) which I remember seeing back in August. Anyway, I was pretty impressed overall. But too bad it costs too much for me and you unless if you're super rich.
If you want to find out more about the OLED TV, you can visit their official website here. Stay tuned for more hands-on articles at TechNave.com.