LG Optimus 3D Review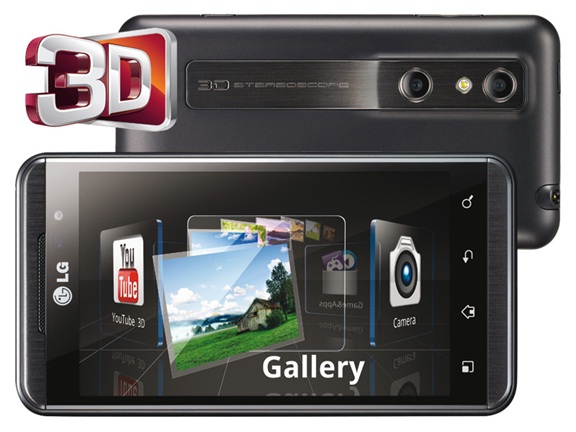 The first glasses-free 3D handset is finally upon us and after months of waiting to see what the fuss about it was, we have our very own LG Optimus 3D to review for you. LG has been bringing some great, quality handsets to market and the Optimus 3D steps it up a notch with a new dual-core processor and stereoscopic cameras.
3D may be nothing more than a gimmick right now, but it's still one of the most interesting technologies to see implemented into a handset these days. The super high-resolution displays found on devices today are nice, but the novelty wears off after a while. You can grow accustom to the 3D technology implemented into the Optimus 3D, but some may take it over a Retina or qHD display any day.

LG Optimus 3D - Build:

At just 11.9mm thick, the Optimus 3D is only a couple of milimetres fatter than the anorexic-skinny Samsung Galaxy S2. It's by no means a small phone, however, keeping in current smartphone vogue by offering up a super-sized 4.3-inch display. When we played with it, it felt somehow less solid to us than its rivals, despite its slightly greater 168 gram weight.
LG Optimus 3D - Android:

The Optimus 3D will run Android 2.2 FroYo out of the box, but LG are promising a swift upgrade to 2.3 Gingerbread soon after its release - necessary if it's to compete with other MWC faves like the Samsung Galaxy S2 or the Acer Iconia Smart.

LG Optimus 3D - Screen:

The handset packs a 4.3-inch LCD touchscreen, with an 800x480 resolution. Of course, the big draw on this latest of LG handsets is its 3D screen, which uses similar technology as the upcoming Nintendo 3DS to display images in 3D without the use of glasses. We were impressed with the results, noting that the effect added depth to images, rather than making them leap out at you.
LG Optimus 3D - Web Browser:

LG has customized the web browser on the Optimus 3D quite a bit, but not to the point that you have to relearn how to use it. Most option will not be on-screen instead of tucked away in a menu. The browser's skin reminds us a bit of the iPhone, but unlike the iOS device, the Optimus 3D has some screen real estate to spare. A dock lines the bottom of the browser with easy access to your open windows and settings. Despite the skinned look, it's still Android blazing fast web browser with its JavaScript V8 Engine, Flash support, and more.
LG Optimus 3D - Camera & Video:

The other proud boast of the Optimus 3D is, of course, its 5MP dual-cameras, which allow users to record 3D video and take 3D still pictures. The camera can also record regular 2D footage at 1080p, while the 3D footage records at 720p. Also present is the now obligatory front facing camera for video calling, although LG are being cagey about its resolution. We'd guess somewhere around 1.3MP.

LG Optimus 3D - Call Quality:

Call quality for the Optimus 3D was more than acceptable, but we'd imagine that it would be better when it's on its respective carrier. Still, calls were pretty clear with little distortion on both ends.
LG Optimus 3D - Multimedia:
You won't find a 3D-enabled music player on the Optimus 3D, but then again wouldn't 3D music technically be synesthesia? You'll have to make do with the pretty much standard music player, but we would have loved to see some sort of 3D music visualizations provided by LG.
The O3D also supports DLNA, allowing you to stream media content from your phone to your TV or a PS3 or other DLNA-compatible device to view. While we couldn't test this out, we have our doubts about being able to wirelessly share 3D content using the SmartShare app. To do so, you'll need a 3D enabled HDTV as well as the micro-HDMI cord for the device.
LG Optimus 3D - Battery:

The Optimus 3D is powered by a fairly standard 1500 mAh battery, but we'd expect the power drain to be intense. The screen is standard LCD, which saps more power than the AMOLED staple of Samsung handsets, and we've seen already the effect that the glasses-less 3D technology has on the battery of the Nintendo 3DS. Expect to charge your Optimus 3D at least every night.
Conclusion:

The Optimus 3D has a lot going for it. It sports a blazing fast dual-core processor, and it's the first glasses-free 3D phone we've been able to truly test out. Unfortunately, between the mix of poor battery life and pure gimmick, the Optimus 3D isn't going to be for everyone. Actually, I have a hard time finding out what kind of person would actually need 3D on their phone.
Overall, the Optimus 3D is a great first attempt at a phone that no one really needs. Don't get me wrong, it's very fun to use and I do see a future in 3D, but as it stands today it's just not where it should be. That said, the 3D novelty doesn't wear off like some high-resolution displays we're beginning to see on smartphones today. If you're one to have the latest tech and don't care what you'll sacrifice the process, by all means get the Optimus 3D.
LG Optimus 3D P920 Specs & Price >