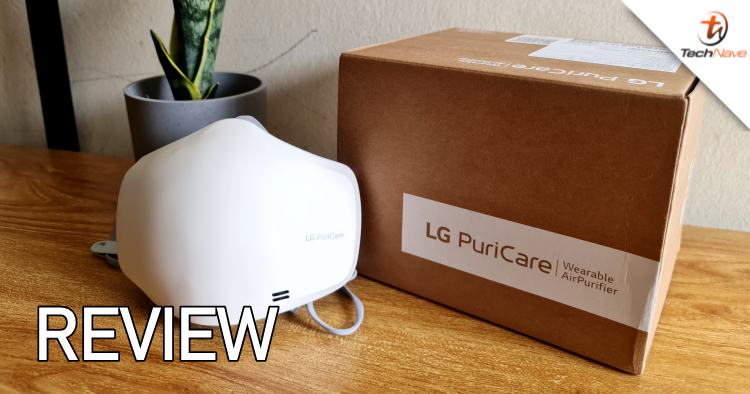 As more COVID-19 variants crop up, it is becoming obviously clear that the new norm of wearing face masks is here to stay. However, they are not without their disadvantages as they muffle voices when we speak and make it more difficult to breathe easily. As the only proven method of safe conduct from the pandemic, it should be a given that tech brands are moving forward to create more improved face masks and so they are.
The LG PuriCare Wearable Air Purifier face mask is one of them. Offering a built-in air purifier, voice amplifier and smart sensors to last a full 8 hours of usage (about the amount of time for 1 working day), is it the upgraded face mask for you? Find out in our full review of the LG PuriCare Wearable Air Purifier below.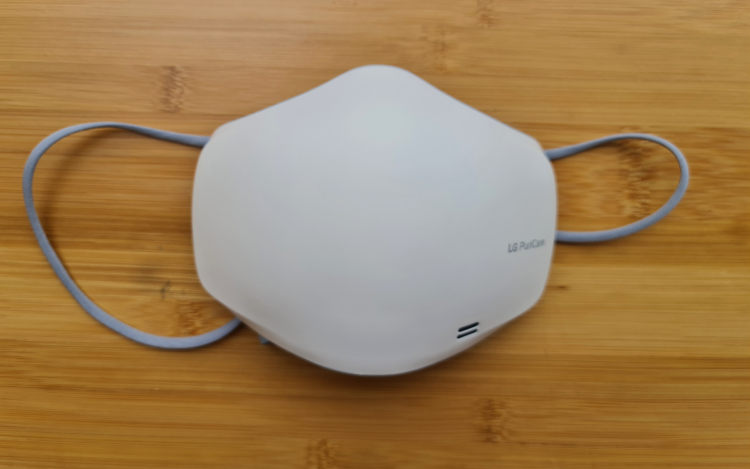 The front of the LG PuriCare Wearable Air Purifier face mask, the speaker is near the vent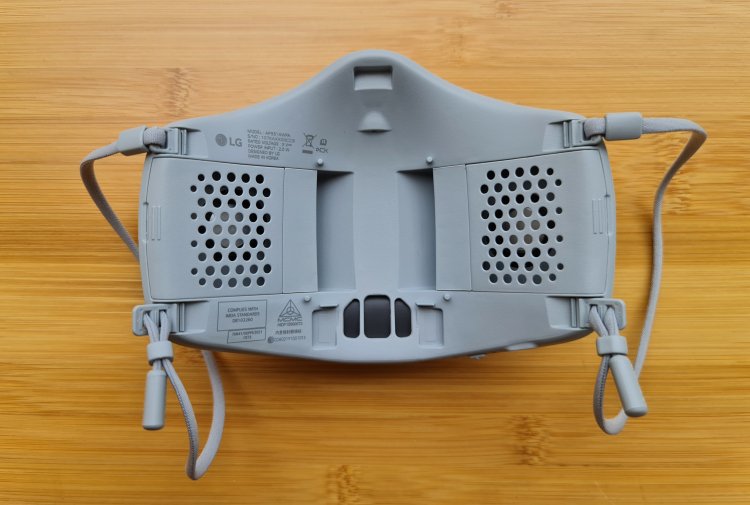 The insides of the LG PuriCare Wearable Air Purifier face mask
At first glance, the LG PuriCare looks like something you'd find a Star Wars Storm Trooper wearing (our review unit was white), with it's smooth plastic exterior jutting out over the mouth. The mask also houses dual inverter fans that bring in air from the sides then passes them through HEPA filters and the inner filter out to the bottom.
Utilizing a patented respiratory sensor, the fans only work when you're actually breathing, so it does save battery life that way. A silicon face guard magnetically attaches to the mask over a replaceable inner filter which looks much like a cut-out piece of surgical face mask.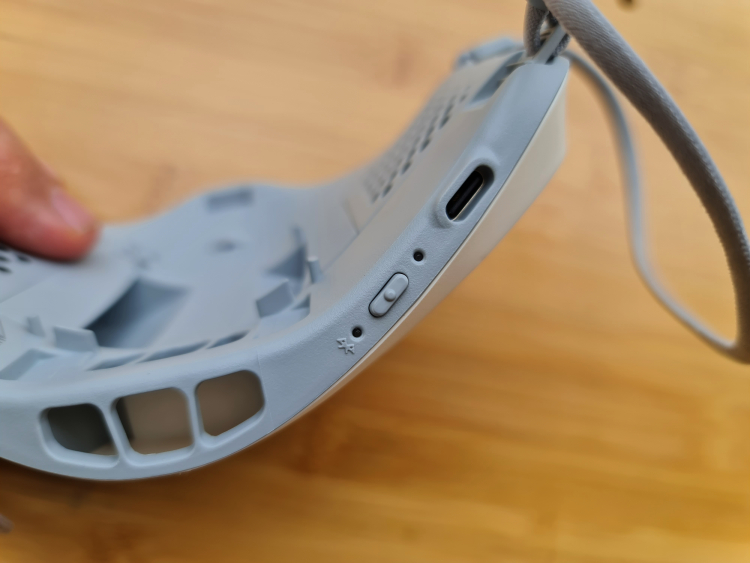 The all-purpose power button and USB Type C port of the LG PuriCare Wearable Air Purifier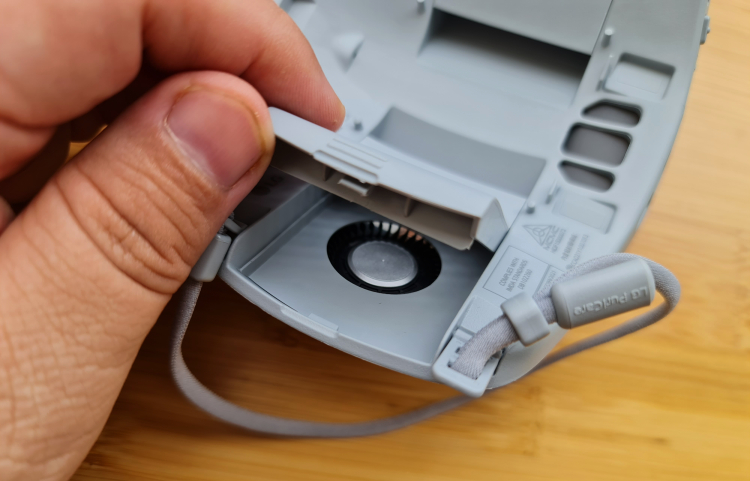 One of the dual inverter fans in the LG PuriCare Wearable Air Purifier
This is where you put the HEPA filters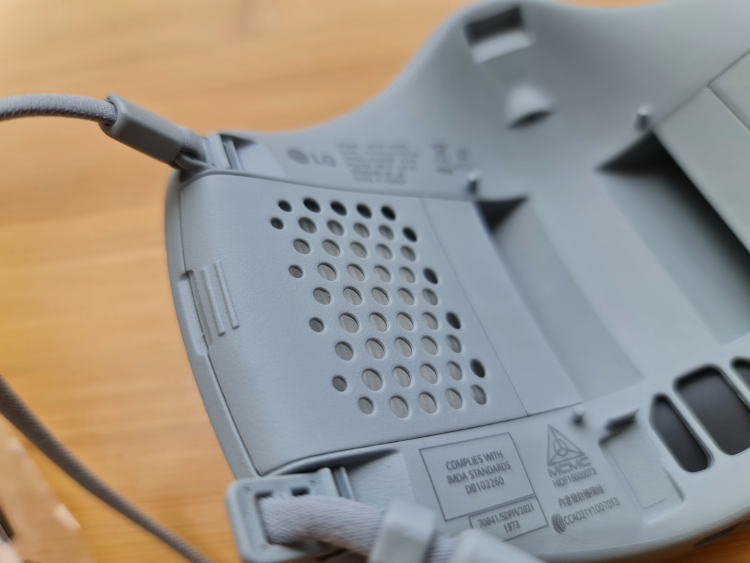 When you're done, the air comes in from the sides of the LG PuriCare Wearable Air Purifier face mask
On the bottom of the mask there's a single button for power, activating or turning off the VoiceOn voice amplifier and turning off the mask. Next to the button there's a USB Type C port for charging (which LG says takes about 1 hour and a half for 8 hours of battery life).
Our PuriCare Wearable Air Purifier review unit is actually the 2nd generation, and is smoother, less bulky and more lightweight at 94g. It has adjustable straps on the sides so you can strap it to your ears, but there's also a silicone mask extender, which is useful if you wear a tudung or hijab or have soft ears.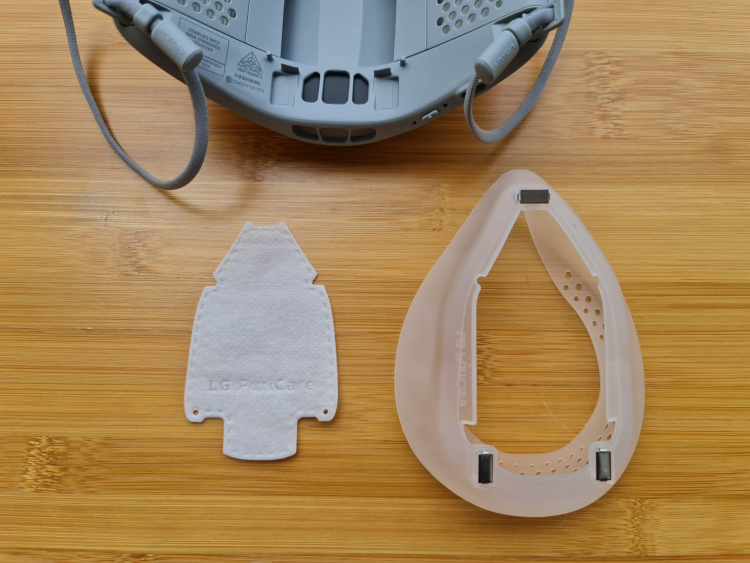 There's an inner cover and silicone face guard for the LG PuriCare Wearable Air Purifier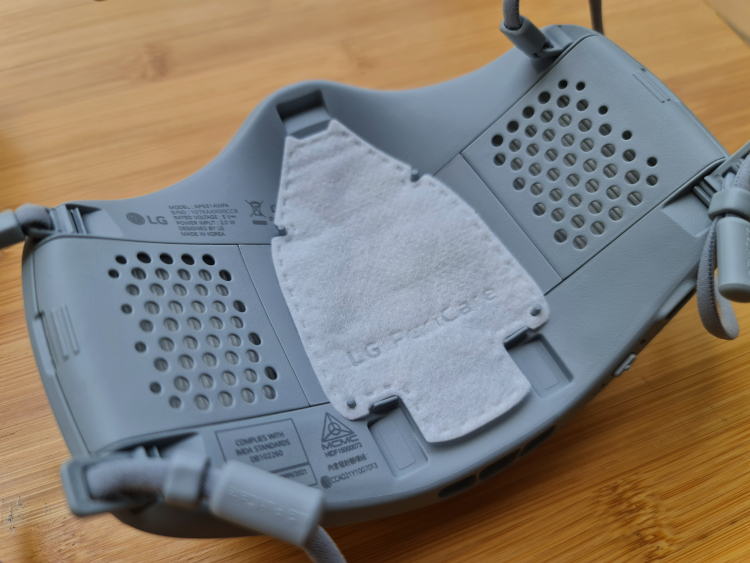 The inner cover goes here, LG recommends that you change this one daily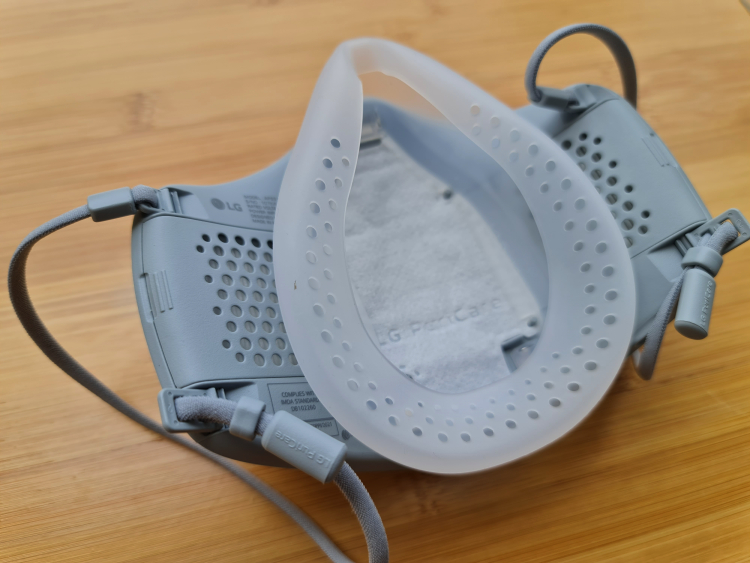 The face guard magnetically attaches to the face mask part of the LG PuriCare Wearable Air Purifier
According to LG, you can also control the volume of the VoiceOne voice amplifier and speed of the fans via an app which connects via Bluetooth, but said app won't be available until Q4 of 2021 (so we'll update this review when it does come out). Inside the box, there's also a charging stand, a charging cable and a pouch for the mask.
Trying out the PuriCare Wearable Air Purifier mask it does take some getting used to, as the top part of the mask obscures your steps at first. However, it does do as advertised in that it is easier to breathe and therefore speak through the mask. The dual inverter fans are relatively silent and provide a slightly cool breeze on your face, but if you listen for it, you can hear a slight hum. Most other people shouldn't be able to hear it unless they're really close. Battery life lasts a full working day (we used it intermittently though) but the status light did become orange halfway through.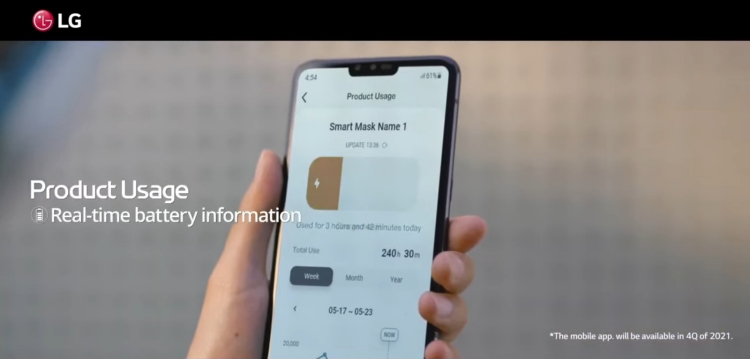 Unfortunately, at the time of writing, this app was not available yet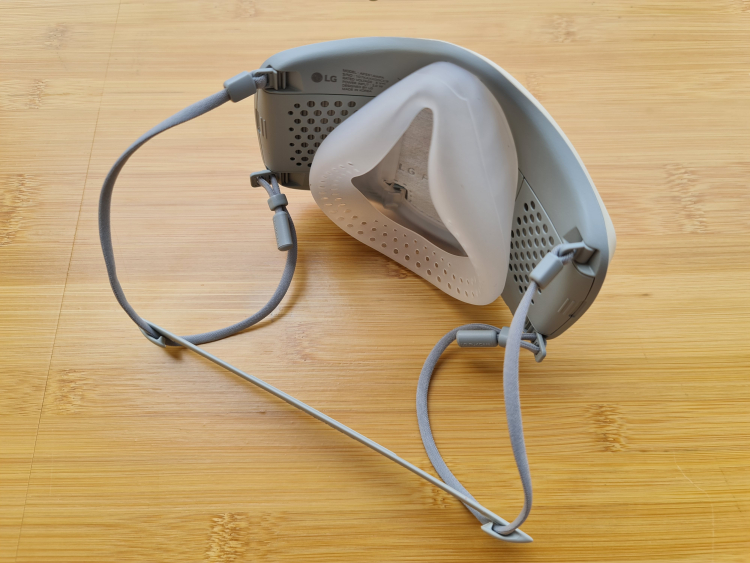 The LG PuriCare Wearable Air Purifier set, complete with the extender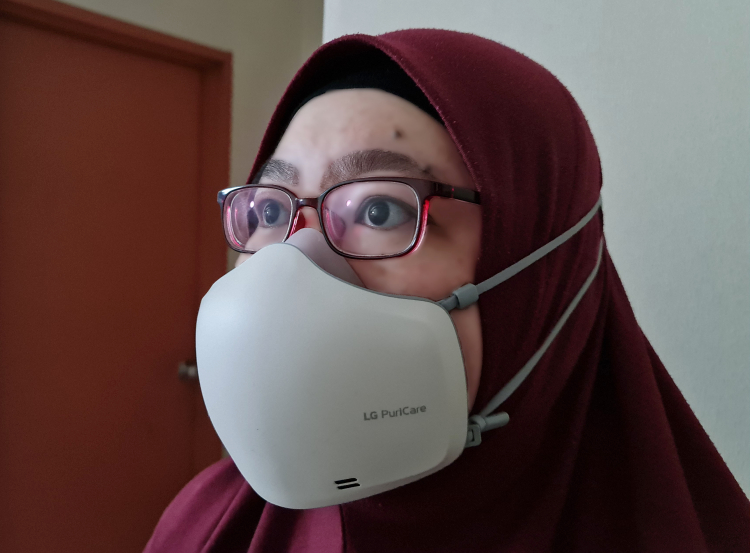 It fits snugly even for those of you wearing a hijab or tudung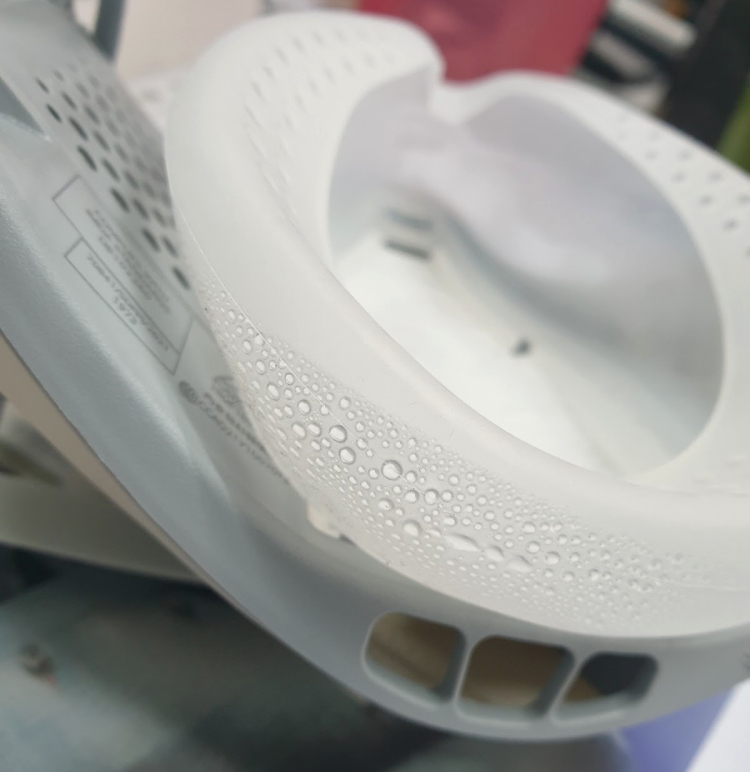 Depending on the humidity, condensation can form on the inner face guard
Thanks to the inner silicone face guard sticking to your face and hanging from your nose, the PuriCare Wearable Air Purifier mask does not feel that heavy even if you don't use the extender. However, depending on the humidity, condensation does form on the face guard (but thankfully you can detach it and give it a wash). Your glasses definitely don't fog up as much either but just after 2 days, the inner cover will already smell of your saliva, so you should probably change it out once a day as LG recommends.
Once you activate the VoiceOn voice amplifier, your voice does become slightly louder but it also sounds a bit tinny, like you're speaking through a microphone (which you are basically). The experience would have probably been better if we could finetune the speed of the fans or control the loudness of the voice amplifier, but with no app available, we couldn't test that. You can definitely pull off a "Luke, I am your father…" Darth Vader moment with it nonetheless.
It would be more fun if you could actually change your voice when said app does come in and actually sound like Darth Vader or whatever other character, but there's no news on that just yet. However, that's not all the bad news, because since the pre-order period is now over, the price tag for the LG PuriCare Wearable Air Purifier is now RM849 while a box of HEPA filters (to be changed monthly) and a box of 15 inner covers (to be changed daily) will each cost RM53.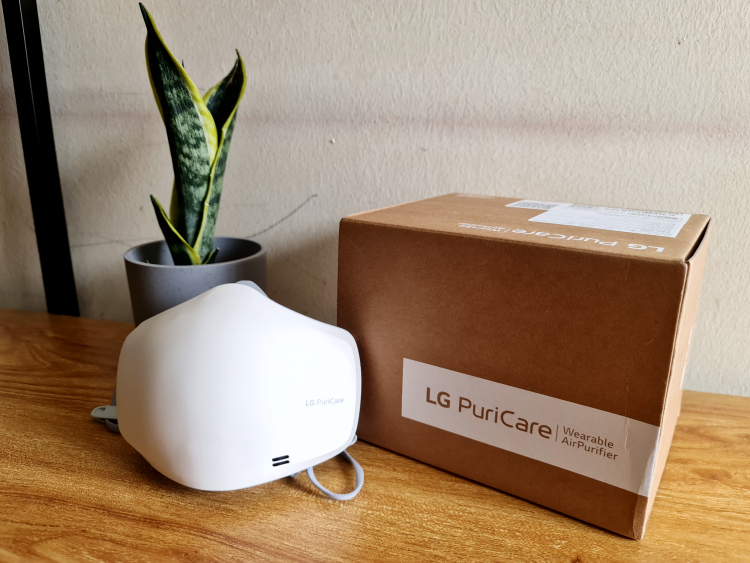 The LG PuriCare Wearable Air Purifier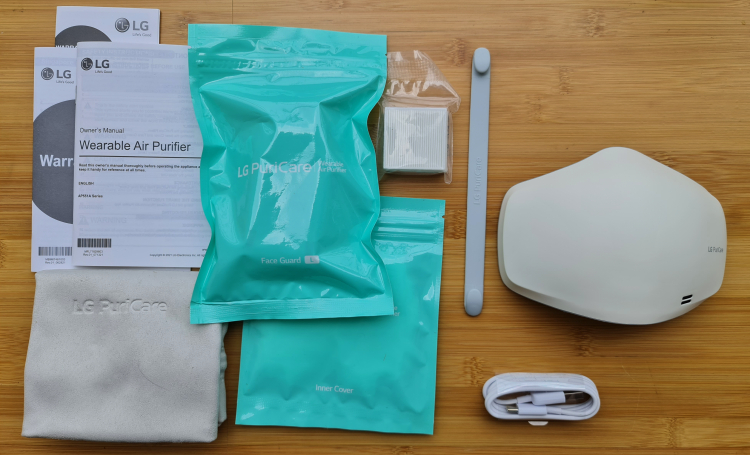 Everything that is in the box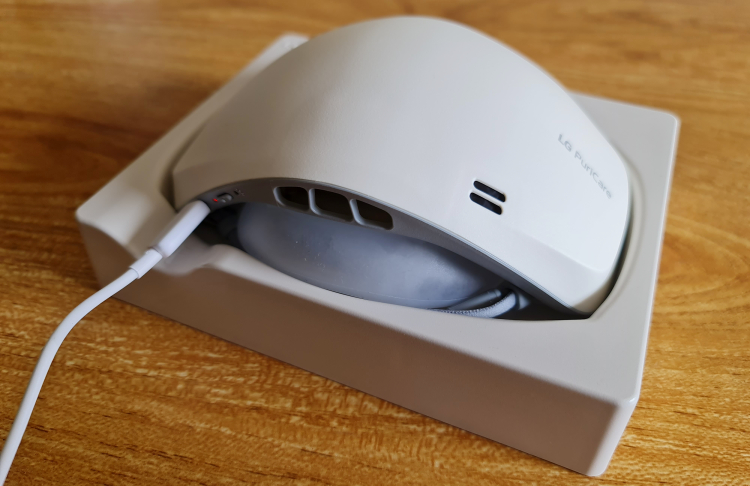 There's even a charging stand
Overall, the LG PuriCare Wearable Air Purifier mask and set are definitely useful and effective in delivering a more comfortable face mask experience. Yes, you can speak louder and clearer with it. Yes, you can breathe more easily with it. Unfortunately, the pricey monthly upkeep is quite high compared to just buying a box of normal surgical face masks (about RM30 or lower for a box of 50 or so).
We think that for the people who can afford it, this is a small price to pay, but the price of that convenience may be a bit high for some folks. Once the app comes in, the mask could even be used to track your kids as well but we'll know more about such features once Q4 of 2021 rolls in. There are no other contenders out there at the moment, but Razer are already beta testing their Project Hazel smart mask and we expect both Samsung and Xiaomi (who both also make air purifiers) to also step into the fray soon.
So, would you wait or get the LG PuriCare Wearable Air Purifier face mask set? Or have you already bought it or someone you know has bought it already? Let us know in our App (for some giveaway tickets) or on our Facebook page and stay tuned to TechNave.com.
Tech Specs and Features
Here are the tech specs and features of the LG PuriCare Wearable Air Purifier (AP551AWFA):
Measures: 142 x 109 x 52mm | 94g

Filter: H13(2EA)(99.95%)

supports Bluetooth 5.0

Face Guard: L size (M size is optional)

Fan Speed: Auto

Air Volume (LPM): 10-55 (Max)

Operation Noise (dB): 35 (min) - 55 (Max)

features Dual Inverter Fan (Auto), Respiratory Sensor, VoiceOn

Battery: 1000 mAh (recharge time approx. 2 hrs)
Pros and Cons
Pros: Does as advertised, let's you breathe easier and speak louder under a purifier face mask with plenty of smart features.
Cons: Pricey to maintain. No usable smart app available yet.
Summary: A comfortable, well-designed premium smart mask from LG