Latest Samsung Galaxy Fold 2 leaks reveal camera specs and retail price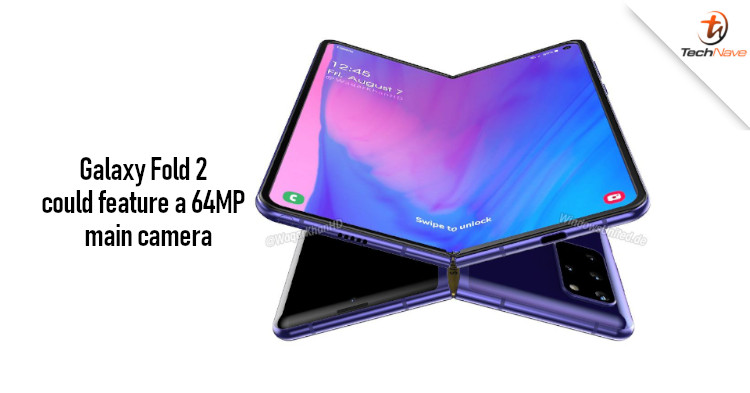 Render courtesy of @WaqarKhanHD via WindowsUnited
Earlier last week, a series of leaks of the Samsung Galaxy Fold 2 appeared online. Details on some of the foldable's display specifications were revealed then, including the fact that it runs on a 120Hz display when unfolded. Now, a new series of leaks have been given by the same source, revealing info such as the camera specs and retail price.
According to Ross Young, the Galaxy Fold 2 will still have a triple rear camera setup. He also claimed that the new model will sport a 12MP+16MP+64MP combination, as opposed to the Galaxy Fold's 12MP+12MP+16MP. From the description, the 64MP sensor is most likely the main camera and should come with Dual Pixel PDAF and optical image stabilisation, while the other two lenses will remain the same.
More Galaxy Fold 2 Leaks:
Camera - The main camera consists of a triple camera configuration with 12MP/16MP/64MP lenses with dual optical image stabilization vs. last year at 12/12/16MPs.

— Ross Young (@DSCCRoss) April 27, 2020
More Galaxy Fold 2 Leaks:
Price - Between $1780 and $1980. Since they are looking to boost volumes, we think it will be priced around $100 less than last year at $1880-$1895 despite a bigger/better front and main display, a higher resolution camera, the S-Pen and 5G.

— Ross Young (@DSCCRoss) April 27, 2020
Young then went on to claim that the Galaxy Fold 2 will be priced between USD 1780 (~RM7779) to 1980 (~RM8653) but revealed nothing more aside from that. For reference, the Galaxy Fold retailed at USD 1980 (~RM8653) and RM8388 in Malaysia. If Samsung's objective is to boost sales volume, as Young suggests, then lower retail pricing should be possible.
The Galaxy Fold 2 is still going to be a rather pricey device but it'll be a far better deal than its predecessor. With that said, would you be purchasing this device once it launches? Are foldable devices worth the investment? Let us know what you think on our Facebook page and stay tuned to TechNave.com for further updates on this device.