Leaks are claiming an iPhone 12e model is coming in 2021 starting from ~RM2336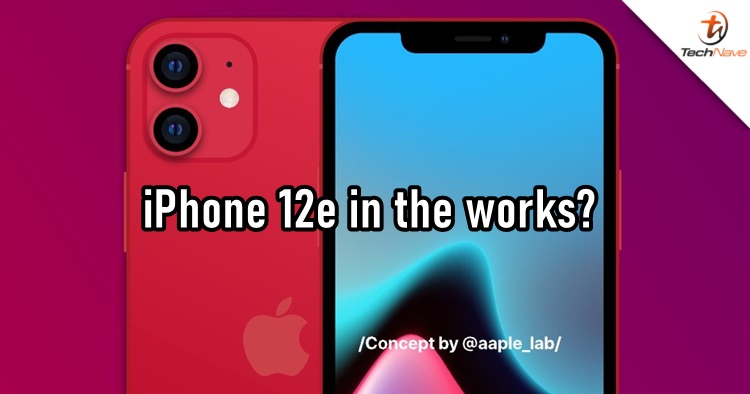 Is the phone name missing the letter 'S'? or something? Maybe, but this the name has not been confirmed yet and this is just a rumour from @aaple_lab. Similarly to the iPhone SE series, Apple might continue the trend and could release an iPhone 12e in March 2021 as the affordable version. Here's what we know so far.
From the post, it seems that the iPhone 12e won't be featuring any 5G connectivity which could mean the cost would be more affordable. Besides that, the device might carry on the A14 Bionic chipset that would appear on the iPhone 12 series later this year, alongside 4GB of RAM and FaceID instead of using back TouchID like the iPhone SE 2020.
On top of that, the iPhone 12e could also be using an LCD panel like the current iPhone SE series but here's the kicker, there could be two size variants which consist of 5.4-inches or 6.1-inches. With that said, the leak claimed that there could be two price tags based on that - the 5.4-inch model priced at $549 (~RM2336) and the latter for $659 (~RM2761). A dual 12MP rear camera could be on board as well.
we are working on this concept of the 4g lcd iphone 12 still not sure if its 2021 march or september but it is deffinetly in the works https://t.co/A9TFgQQcYk

— Omega LEAKS and RUMORS (@omegaleaks) July 24, 2020
iPhone SE (2021) - coming 2021
- Screen - 6.1'', IPS(LCD)
- Cellular - 4G(LTE)
- Unlock - TouchID in power button
- SoC -A13 Bionic
- RAM - 3GB RAM
- Camera - Single 12MP
- Price - 499$

- Concept designer: @aaple_lab
- Source: @omegaleaks, @aaple_lab
- Tags: #Leaks #Concept pic.twitter.com/MgJCFNs97r

— Apple Lab (@aaple_lab) July 26, 2020
On the other hand, @aaple_lab's leak partner, @omegaleaks is also claiming that an iPhone SE (2021) is in the works with a different set of tech specs (A13 Bionic chipset, 3GB of RAM and a single 12MP rear camera). So with this, we should take this piece of news with a pinch of salt. Until then, stay tuned for more trending tech news at TechNave.com.