Lenovo Legion Phone Duel 2 review: A gaming smartphone with a unique design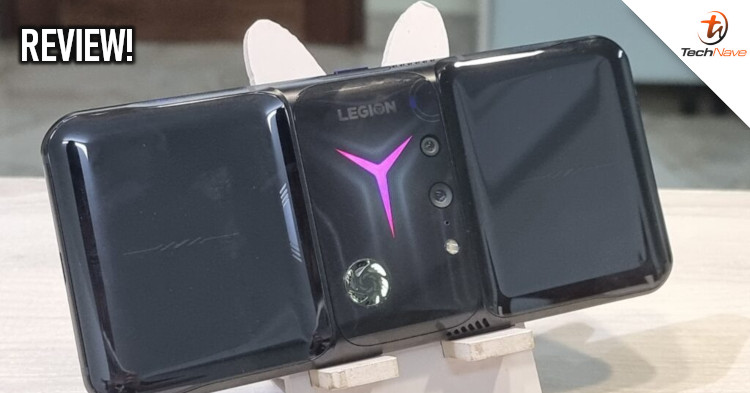 While gaming smartphones are usually more suited for playing mobile games, many users would get such a smartphone because of their performance. This is mainly because gaming phones are typically equipped with a top of the line chipset, large RAM capacity, and large battery capacity, along with fast charging capabilities.
Not only that, but compared to other flagship smartphones, gaming-focused smartphones are usually a little cheaper because they tend to sacrifice camera performance to bring the price down. The Lenovo Legion Phone Duel 2 is no different as it's equipped with tech specs that are more than capable of handling any mobile games in the market.
But how good is it exactly? In this review, we'll be taking a closer look at the smartphone in question and see how it performs and whether it's worth the RM3299 price tag. So without further ado, let's have a look, shall we?
Design - A unique design with a built-in fan
The logo at the back lights up
When looking at the Lenovo Legion Duel 2, the first thing you will notice is the built-in fan module located at the back, which cools the smartphone while running resource-intensive tasks like mobile gaming. Right beside the fan module is where you'll also find the rear camera setup close to the middle, which is quite refreshing to see as smartphones nowadays usually have their camera system at the top left corner.
While the Legion Duel 2 looks a little thicker than most smartphones, it is surprisingly not as heavy as it seems, making it easier to hold on to for long periods. Not only that, but the increase in thickness in specific areas makes the device much easier to grip.
If you look closely at the bottom left, you can see the fan that's keeping the phone cool

Since the back is mostly made of glass, you might find yourself needing to constantly wipe it because glass is notorious for attracting fingerprints and smudges. At the front, the Legion Duel 2's display is protected by the Corning Gorilla Glass 5 that's capable of surviving 80% of the time when dropped from the height of 1.6 meters.
When you look at the right side of the smartphone, you'll find the power button, and a unique side-mounted front-facing selfie camera. On the opposite side is where you can find the volume buttons and a side-mounted USB-C charging port that lets you charge your phone while playing mobile games so that the charging cable does not get in the way.
The power button with the front-facing selfie camera under it
Left and Right shoulder button

SIM tray and USB-C at the bottom
Here's what the front-facing selfie camera looks like
This is what you will be getting along with the mobile phone
The charger supports 30W and 65W output

You need to plug in both USB-C ports to achieve 90W fast charging
Last but not least, at the bottom is where you find the SIM tray, as well as an additional USB Type-C port. Because the phone has 2 USB Type-C ports, it supports up to 90W fast charging if you plug in a USB Type-C cable into both charging ports.
Tech Specs and Features - More than capable of delivering the best mobile gaming experience possible
Qualcomm Snapdragon 888 chipset
12GB RAM + 256GB ROM
6.92-inch FHD+ AMOLED 144Hz display
5500mAh battery which supports up to 90Hz display
259g, 176 x 78.5 x 9.9mm
under-display fingerprint sensor
Dual SIM tray
64MP + 16MP rear camera, 44MP front-facing side-mounted pop-up camera
supports up to 8K recording, up to 60FPS
You can change the refresh rate in the settings
With tech specs like a Qualcomm Snapdragon 888 chipset, 512GB UFS3.1, and 16GB of RAM, it is no wonder that the Legion Duel 2 is one of the smartphones worth considering if you want to take your mobile gaming to the next level. The device also has a 144Hz AMOLED display that can be lowered to as low as 60Hz to save on battery life.
Other than that, in the settings menu, you can tweak the RGB lighting effect at the back to show the lighting patterns you prefer. Personally, I'd prefer having the lighting be a little dim or off completely because I'm a light sleeper, and I can't sleep when there's even the slightest amount of light visible in my room.
The Lenovo Legion Realme lets you tweak the phone performance and the notification settings

It's also possible to control the lights surrounding the fan and the fan speed while playing mobile games using the Lenovo Legion Realm, which came pre-installed with the phone. In addition to that, it's also possible to tweak settings such as assigning functions to the shoulder buttons, notifications, incoming calls, and more.
In terms of the camera, the smartphone is equipped with a 64MP primary camera + 16MP ultra-wide-angle camera at the rear, while the front has a 44MP side-mounted selfie camera. The benefit of having a side-mounted selfie camera is that it lets you easily take landscape selfies while playing mobile games.
Here's the camera app
The Legion Phone Duel 2 can record up to 8K resolution videos and frame rates of up to 60FPS, which is not too shabby considering the camera isn't usually a strong point for gaming smartphones. However, unlocking using facial recognition can be a little awkward when it comes to security because the selfie camera pops out as it tries to scan your face as soon as you press the power button.
With that said, it might be a lot more convenient to unlock your phone using the in-display fingerprint sensor instead. However, if you still insist on using facial recognition, it might be better to hold the phone with your left hand, so it doesn't get in the way when the camera pops out.
Performance - This is by no means a weak gaming smartphone
Using GeekBench to test the smartphone's performance, it scored 1108 points in the single-core test and 3655 points in the multi-core test. The phone also scored 5878 points in 3DMark Wild Life and a maxed-out overall score on 3D Mark Slingshot largely thanks to the Snapdragon 888 chipset.
When running mobile games like Call of Duty: Mobile and Genshin Impact, the Legion Phone Duel 2 has almost no stutters even when playing at the highest graphical setting. The games tested felt responsive and smooth thanks to the 144Hz display and its high touch sampling rate.
You can stream your games onto YouTube and Twitch
When playing shooters like Call of Duty: Mobile, binding aim and shoot function to the shoulder buttons made playing mobile games less awkward as you're able to use more of your fingers to control your character instead of relying on mostly your thumbs. It's possible to turn on Rampage mode via the Lenovo Legion Realm to get the most performance out of the phone.
Because of the Qualcomm Snapdragon 888 chipset, the smartphone will heat up quite a bit especially when you're playing a mobile game on max settings or when using the camera. Thankfully, it's possible to tweak the fan settings while gaming to keep the phone cool, which is essential for component longevity.
Genshin Impact and Call of Duty: Mobile ran really smoothly!
Battery-wise, the smartphone is more than capable of lasting up to 3 days on a single charge thanks to its 5500mAh battery capacity. However, if you play games without stopping, the phone can last you around 4 hours, which is not too shabby (I'll end up getting a sore back if I play games on my mobile phone for that long).
When it comes to charging, it's possible to fully charge a smartphone in less than 40 minutes, thanks to the 90W fast charging. But keep in mind that it's only possible to reach those speeds if you plug in 2 USB Type-C cables connected to a compatible fast charger.
Throughout our test, the phone performed as you'd expect from a flagship gaming smartphone. However, there was a weird issue where we couldn't record our mics while recording ourselves playing a mobile game as the phone seems to prioritise the game's audio instead.
While the smartphone is focused on gaming, it comes with decent camera specs that can take decent videos and pictures. However, there is some room for improvement. Here are some picture samples that were taken with the Lenovo Legion Phone Phone Duel 2.
Pictures taken with the ultra-wide-angle camera look decent!
This was taken in standard mode
Pictures taken with 2x zoom still look really detailed
Taken in standard mode
Taken in 2x zoom
Colour reproduction is not bad either
Here's a close up on a colourful subject
You can see that the phone starts to struggle a little in lowlight conditions
Nightmode looks a little artificial
It produces decent pictures as long as there's enough light
Here are some indoor shots
2x zoom
Portrait photos looks good with the 64MP main camera
Selfie taking performance is surprisingly good
Testing out the HDR with a backlight
Lowlight selfie pictures look surprisingly good
Conclusion - Definitely a smartphone worth considering for mobile gaming
Overall, the Lenovo Legion Phone Duel 2 is worth considering if you want a smartphone specifically for mobile gaming because it comes with a side-mounted USB Type-C, shoulder buttons, and the ability to achieve up to 90W fast charging speed.
However, if you prefer playing mobile games on a gamepad, you might want to consider getting the ASUS ROG Phone 5 instead, as it comes with mostly the same tech specs like the Snapdragon 888 chipset, up to 18GB RAM, and it supports many accessories that can bring you a more enjoyable gaming experience.
That said, what are your thoughts on the Lenovo Legion Phone Duel 2? Let us know on our Facebook page and for more updates like this, stay tuned to TechNave.com.
Lenovo Legion Phone Duel 2 Specs & Price >