Lenovo Thinkbook 14 review - A lightweight and portable productivity-focused laptop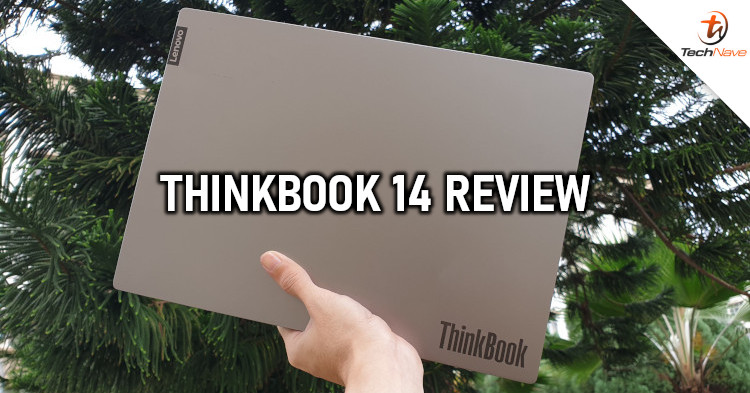 Sometimes, not everybody needs a laptop that comes equipped with high-end tech specs that allows them to edit videos or play the most graphic-intensive games with ease. Instead, some users would rather have a laptop suited for general use such as handling documents, browsing the web, and also light picture editing.
This laptop not only has to have a long battery life, but it needs to be lightweight as well in order to be easily carried around while travelling. With that said, Lenovo unveiled the ThinkBook 14 from the price of RM3249 which fits the criteria mentioned above. Let's have a closer look, shall we?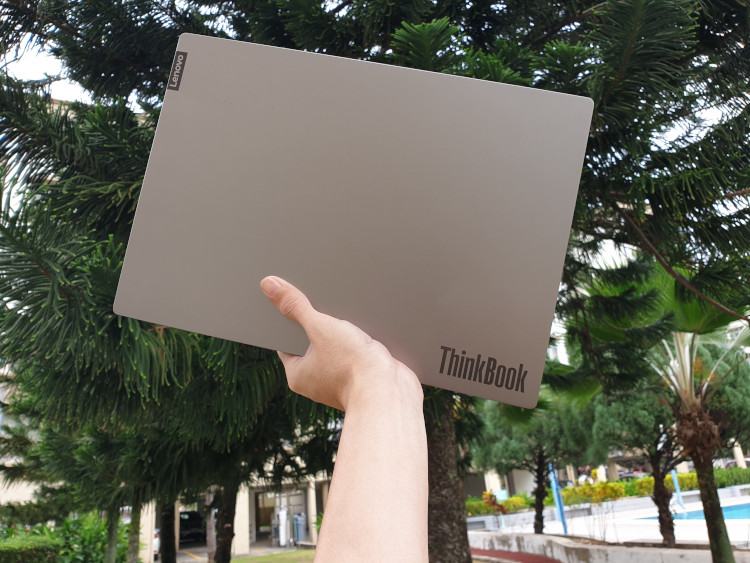 Light enough to be carried with one hand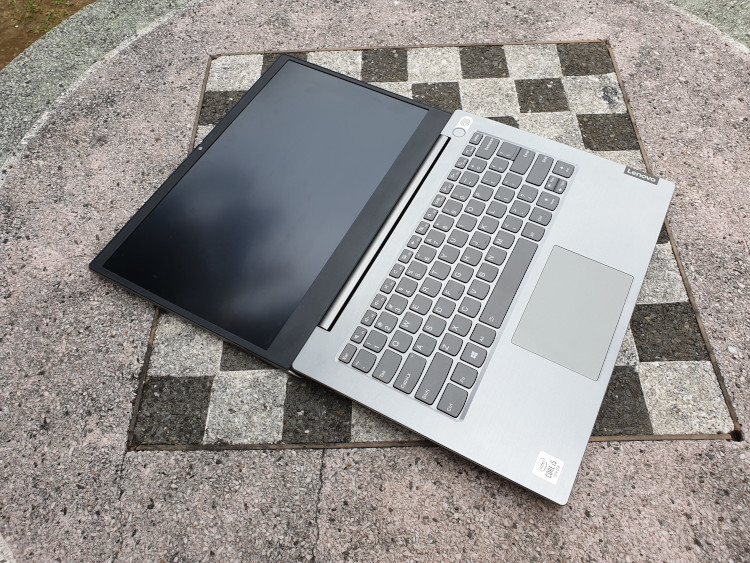 180-degree holding both the screen and the body together
Starting off with the design, the lid of the laptop sports a minimalistic design which has a matte finish and it includes Lenovo's logo towards the corner. It is best to note that the lid is connected to the body via a special hinge that allows it to open up to 180 degrees, allowing it to lay flat on almost any surface.
This allows the user to utilize the laptop without hunching their back as much, compared to laptops that do not come with a 180-degree hinge. Onto the left of the laptop, you'll be pleased to find plenty of I/O options such as 2x USB Type-C ports, 1x USB Type-A port, 1x HDMI port, 1x LAN slot, as well as a combo audio jack slot.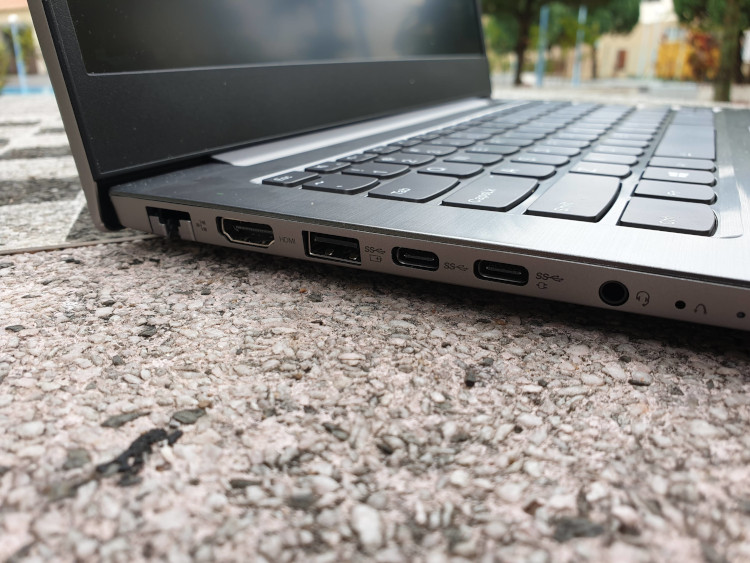 Look at all the I/O options on the left side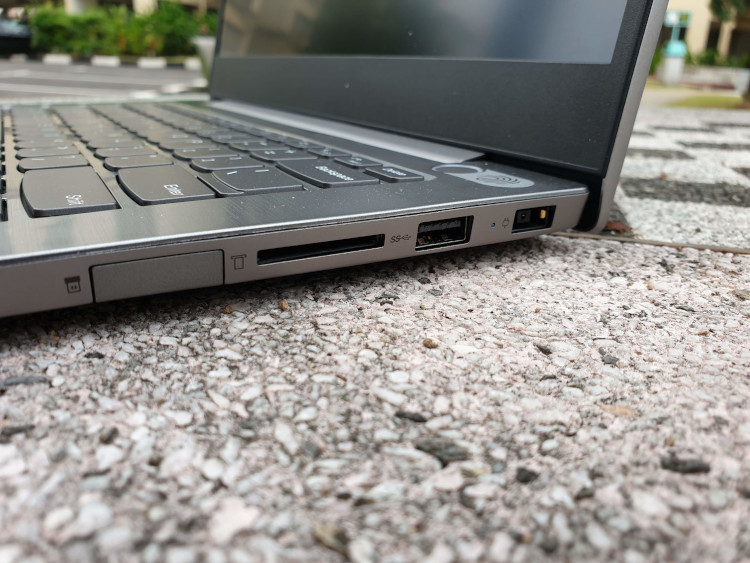 Right side you'll see the hidden USB compartment and a full size SD card slot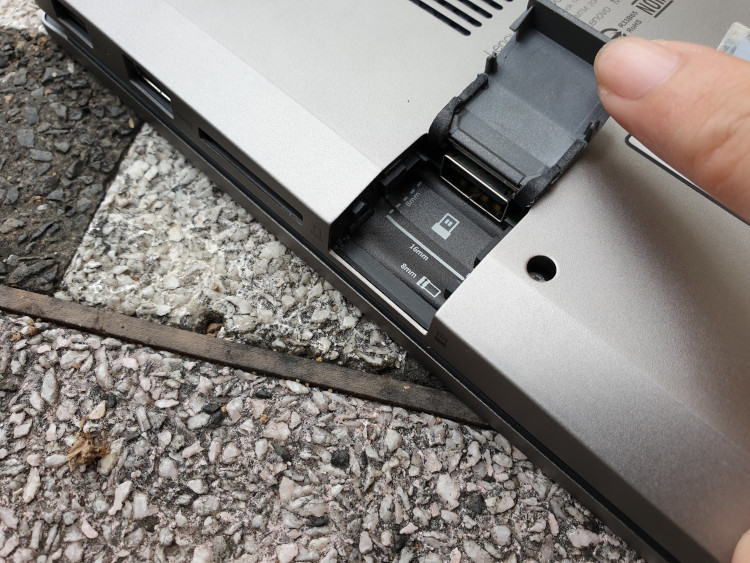 This is where you slot in the wireless USB dongle
As for the right side, you'll find a DC charging slot, a single USB Type-A port, full-sized SD card slot as well as a hidden USB Type-A port. The reason why that USB Type-A slot is hidden is due to the fact that it's meant for you to plug in the dongle of a wireless mouse in order to protect it in the event of a fall, and it also makes the laptop look sleeker.
Underneath the laptop, there's really not much going on other than a ventilation grill along the back as well as a pair of Dolby Audio speakers towards the side. Lifting up the lid of the laptop, the first thing you'll notice is the LED-backlit keyboard which does not come with a number pad.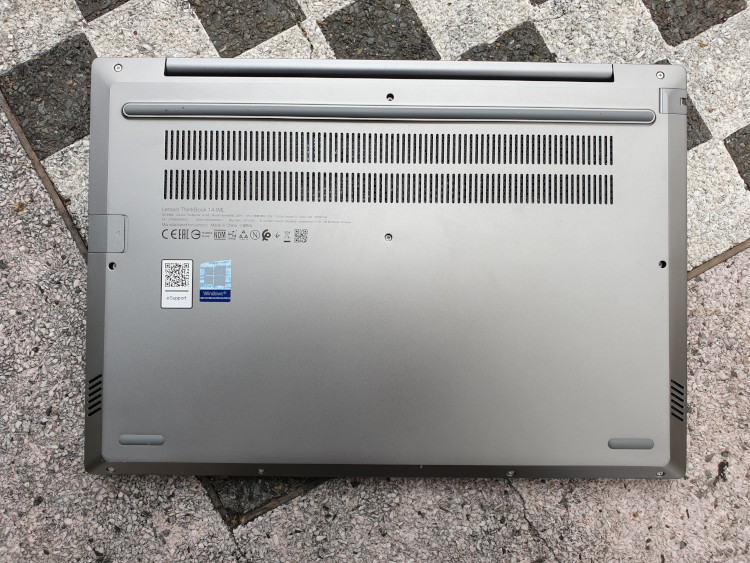 Ventilation grill and speakers on the underside of the laptop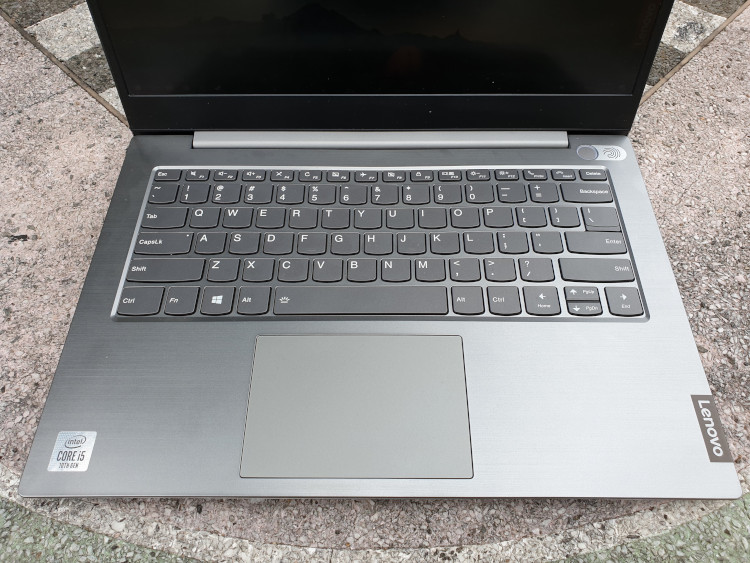 No number pad unfortunately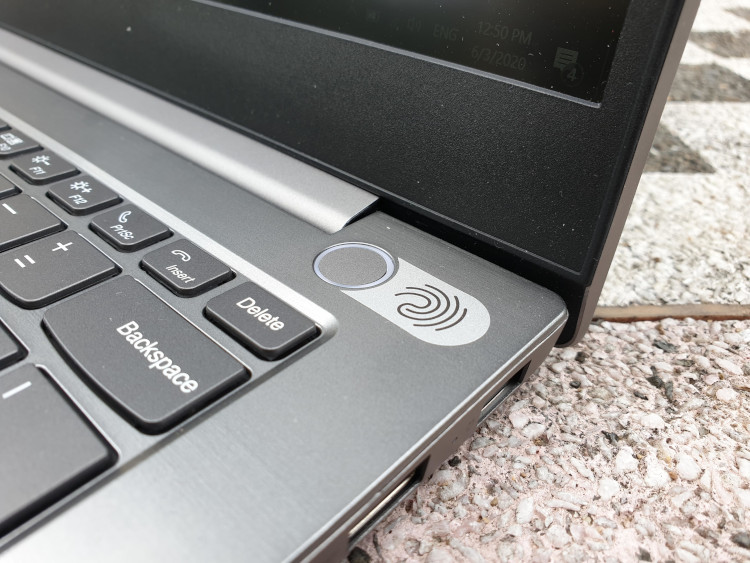 A closer look at the power button + fingerprint sensor combo
The lack of a number pad can be a hit or miss due to the fact that some user's workload might require them to type a lot of numbers on spreadsheets, data entry, or complex calculations. There is also a capacitive fingerprint sensor + power button combo towards the top right of the laptop which is compatible with Windows Hello, and it allows the user to power on and unlock the laptop with a tap of a button.
Onto the lid portion of the laptop, you'll be pleased to find a 14-inch FHD IPS display with Anti-glare coating with thin bezels on the side and a slightly thicker bezel at the bottom. At the top of the display, you'll find an HD camera which is fitted with the ThinkShutter, which blocks the camera's view in order to keep you safe from prying eyes.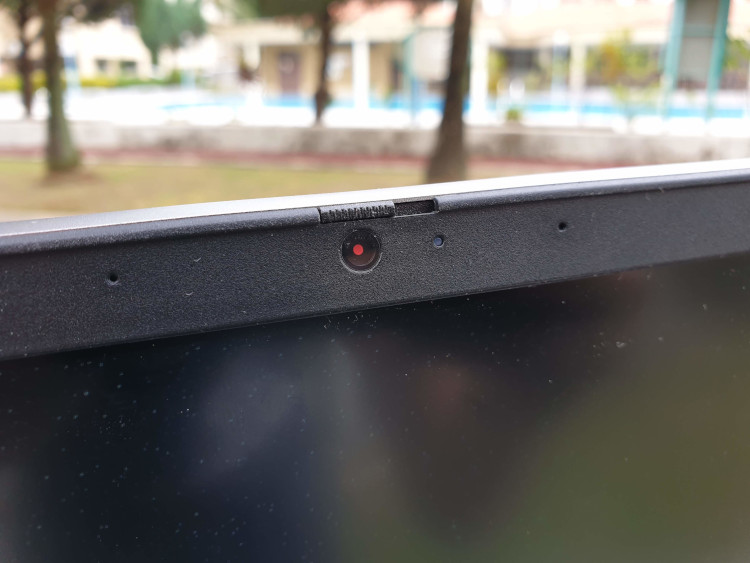 ThinkShutter closed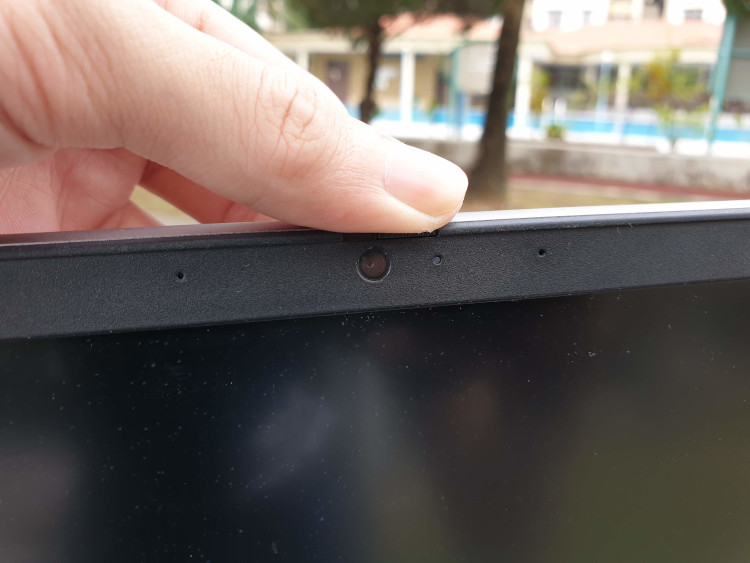 ThinkShutter open, revealing the HD camera underneath
Overall, the entire package weighs at 1.5kg which is light enough to be carried around in one hand. Also, the fact that it comes with a full-sized SD card slot is quite surprising if you take into consideration that it is not a content creation focused laptop.
In terms of the performance, our Lenovo ThinkBook 14 (equipped with an Intel Core i5 and 8GB RAM) performed pretty well when it comes to general tasks such as handling documents as well as surfing the internet. The fact that it comes with 8GB of RAM from the get-go makes multi-tasking a breeze especially while using RAM hungry applications such as Google Chrome.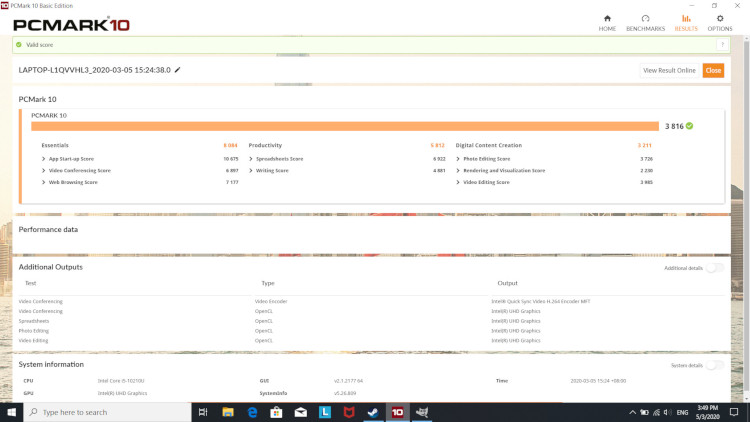 PCMark 10: 3816 points. Not bad.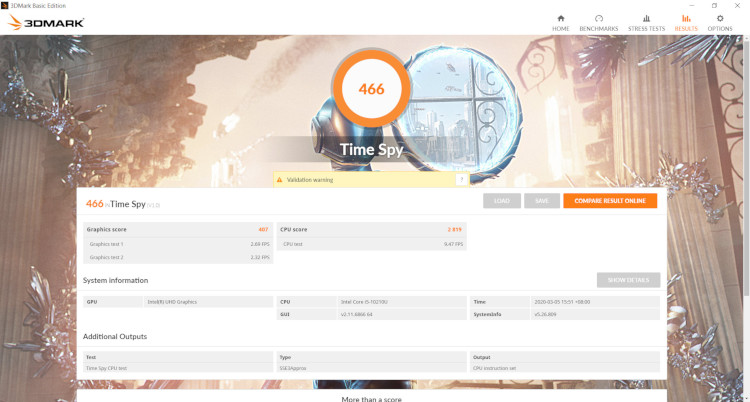 3DMark TimeSpy: 466 points. Gaming definitely isn't its strong point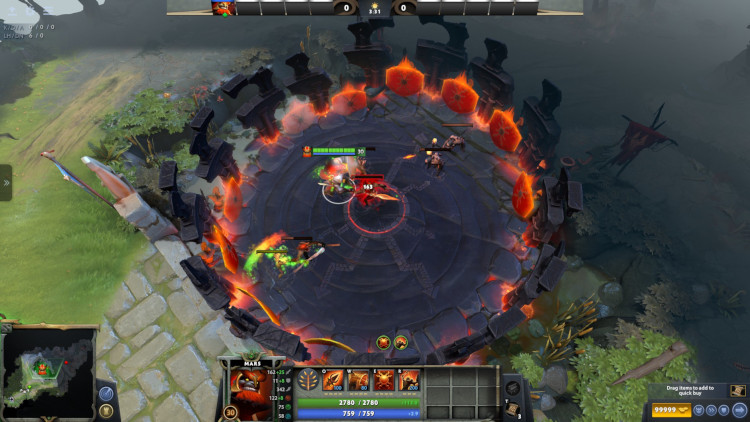 Dota 2 ran at around 60FPS on the lowest possible settings
Putting the laptop through synthetic benchmarks, it managed to score around 3816 points on PCMark 10 which is not too bad since it's a productivity-focused laptop. 3DMark Time Spy, on the other hand, yielded only 466 points which further solidifies the fact that this laptop is not suitable for gaming (I ran the benchmark twice just to make sure).
When playing Dota 2, the laptop managed to run the game at just above 60FPS at the lowest setting which is playable, to say the least. However, simply bumping up the graphical settings from low to medium ended up reducing the average framerate by half to around 30FPS.
With that said, I didn't test with other games due to the fact that it was already struggling on Dota 2 to begin with. As far as thermals go, the laptop didn't heat up to the point where it became uncomfortable to use which is a plus. As for the battery life, the Lenovo ThinkBook 14 was able to last around 5 to 6 hours on a single charge depending on the application you are using.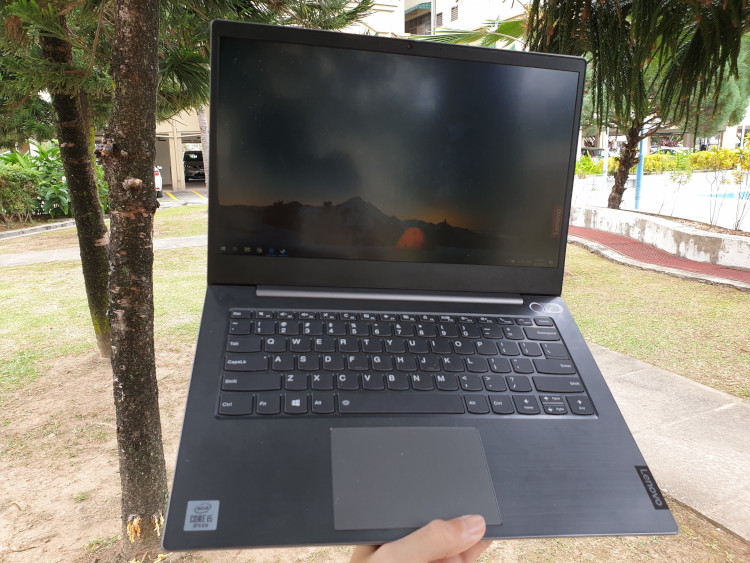 In conclusion, the Lenovo ThinkBook 14 priced from RM3249 is both lightweight and capable when it comes to general workloads. I'd say this laptop would likely be suitable for working professionals as well as students who are frequently travelling between their home and work. If you're planning on playing any graphic intensive games on it, I'd suggest you look elsewhere though.
Anyhow, if you're gunning for something cheaper, you might want to consider the Huawei Matebook D 15 starting from the price of only RM2299. Sure, you might not be able to fully utilize the Huawei Share feature unless you have a compatible Huawei smartphone, but for almost RM1000 less it's still worth taking a look.
There's also the Acer Swift 7 priced at RM5699 when it was first launched in Malaysia, and weighs in at only 890g and it is around 60% smaller compared to conventional laptops. With all that said, if you're keen on getting the Lenovo ThinkBook 14, head over to their official website.
Lenovo ThinkBook 14 tech specs and features:
Up to 10th Generation Intel Core i7

Up to 24GB DDR4 RAM

Up to 1TB M.2 PCIe SSD, Up to 2TB HDD

14-inch FHD IPS Display

Intel UHD Graphics, optional AMD Radeon 625

1x USB 3.1 Type-C (Gen 2, DisplayPort, Power Delivery), 1x USB 3.1 Type-C (Gen 1), 2x USB 3.1 Type-A (Gen 1), 1x USB 2.0 Type-A, 1x HDMI, 1x Full-sized SD card slot, combo audio jack slot, LAN cable slot

Windows 10 Pro

WiFi 6 2x2AX, WiFi 5 2x2AC, WiFi 5 1x1AC, Bluetooth® 5

326mm x 230mm x 17.9mm | from 1.5kg

ThinkShutter, Hidden USB port, Smart Power Button + fingerprint sensor combo
Pros and Cons
Pros: Lightweight and sleek. Comes with a full-sized SD card slot and a hidden USB port to store your wireless dongle in.
Cons: Battery life could be better. Display isn't suitable for colour accurate workloads.
Summary: Lightweight and sleek laptop suitable for those who are constantly on the go.