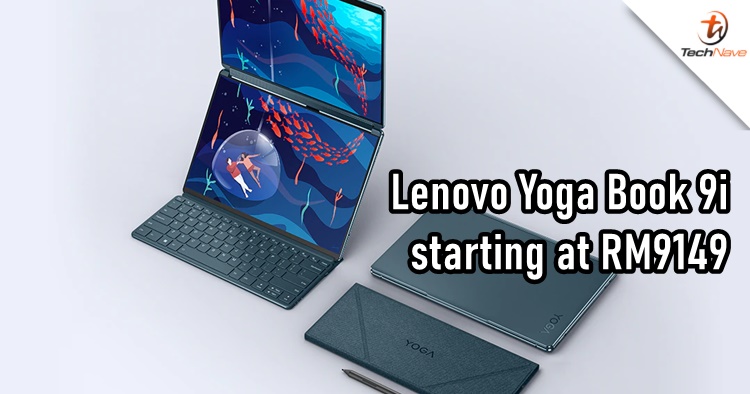 The Yoga Book series has been around for a few years already, but nothing quite like the Yoga Book 9i. As you can see in the cover photo, it's really a dual-screen laptop with a detachable keyboard. However, high technologies come with a price, as it starts at RM9149 in Malaysia.
In terms of tech specs, the Yoga Book 9i features up to a 13th Gen Intel Core i7-1355U processor (E-cores up to 3.70 GHz P-cores up to 5.00 GHz), Intel Iris X graphics, 16GB of LPDDR5X RAM and up to 1TB SSD M.2 PCIe Gen4 of storage. Both of the displays are OLED and measure the same size of 13.3 inches, and support touch screens as well.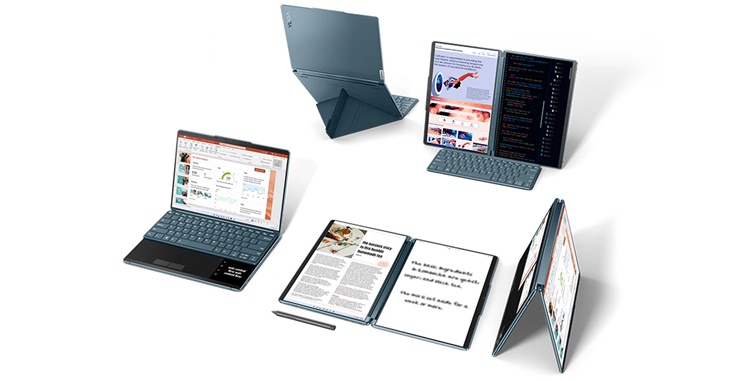 As the world's first full dual-screen 2.8K OLED, multi-mode laptop, it's meant to help content creators who multi-task a lot and this can certainly boost their productivity. To make the setup complete, all the accessories - the Active Pen stylus, a Bluetooth keyboard, and a Tidal Teal folio stand are provided inside the box. Dolby Vision and Dolby Atmos are supported as well.
According to Lenovo, the Yoga Book 9i can last up to 15.5 hours on a single screen usage (with video playback), whereas using two screens last up to 10.5 hours (with video playback). The AC Adapter is 65W and it has three Thunderbolt 4 ports. Lastly, it's worth mentioning that it also supports WiFi 6E and Bluetooth 5.2 connectivity.
To learn more about the Yoga Book 9i, you can visit the official webpage right over here to check it out.