Lenovo and United International Pictures collaborate to reward Warcraft fans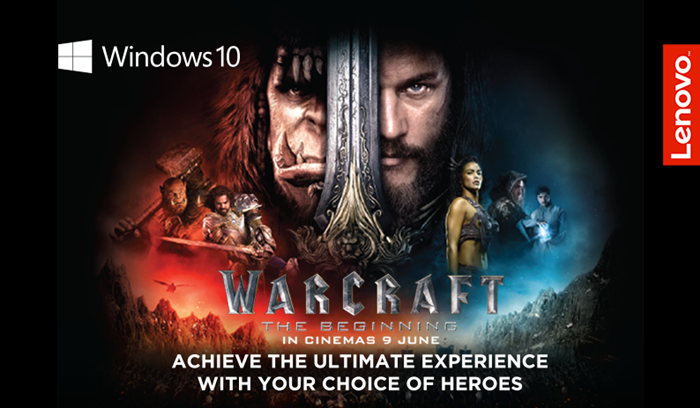 WarCraft: The Beginning, based on one of the most popular gaming franchises by Blizzard Entertainment, the WarCraft series will finally be released today in Malaysia. In relation to that, Lenovo is also partnering with United International Pictures (UIO) for the premier of the movie, to reward their fans and customers to be the first to watch the movie last night, along with exclusive premiums such as redeeming Steam vouchers, Lenovo Gaming Mouse, official WarCraft T-shirts and movie vouchers.
"Lenovo is pleased to announce its partnership with United International Pictures, to present a movie that is certainly hugely anticipated. This collaboration will give our customer communities the chance to preview the exciting transformation of what has been a classic gaming franchise into a large-scale motion picture, and get their hands on some really exclusive merchanise. Warcraft's storyline resonates on a similar wavelength to Lenovo's brand philosophy and innovative DNA, centering on the search for something different and better. Lenovo is sure that its gaming customer community and its customers who enjoy movies on the go, are going to be pleased with our offering of this additional dimension of immersion in their passion,' said Khoo Hung Chuan, Country General Manager, Lenovo Malaysia.
Starting from 1 June until 15 July 2016, the first 250 customers who purchase selected Lenovo devices will be able to get their hands on the goodies mentioned above. Fans of the franchise also have the chance to win movie tickets to WarCraft: The Beginning through Lenovo's Facebook page right now.
In addition, there will be some roadshows nationwide for fans to have a first-hand experience of Lenovo devices and stand a chance to win some exciting prizes. The roadshow location and dates are as follows:
GSC Mid Valley Megamall 28 May 12pm-10pm
GSC IOI City Mall Putrajaya 4 June 12pm-10pm
GSC Queensbay Mall, Penang 5 June 12pm-10pm
GSC 1 Utama 11 June 12pm-10pm
So what are you waiting for? The Alliance or the Horde awaits!