Lenovo set to launch new line-up of gaming PCs in Malaysia, with prices starting from RM3599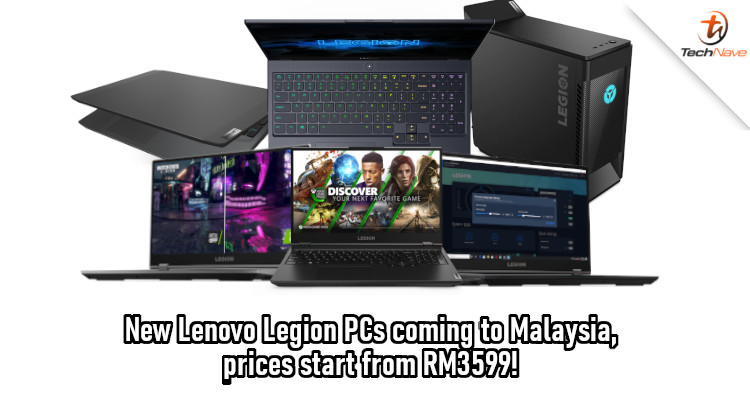 It's been a while since we've heard much from Lenovo in Malaysia, but the company has new products for the Legion brand that are coming soon. Earlier, Lenovo confirmed that it will be bringing new gaming laptops and desktops to Malaysia soon. The new products unveiled include the IdeaPad Gaming 3i, Legion 5, Legion 5i, Legion 5Pi, Legion 7i, and Legion Tower 5i.
Let's start with one of the main draws of the launch - the Legion 5 and Legion 5i. Essentially Intel and AMD variants of the same model, these two new laptops will be available in June 2020 at prices starting from RM3599 and RM4199 respectively. They come with 15.6-inch displays (1080p, 120Hz), an Nvidia GeForce RTX 2060 GPU, up to 16GB of RAM, and up to 512GB of SSD storage. Individually, the Legion 5 can have either the AMD Ryzen 5 4600H or Ryzen 7 4800H CPU, while the Legion 5i could be equipped with an Intel Core i5-10300H or Core i7-10750H CPU. Also, both models will have 15-inch and 17-inch variants.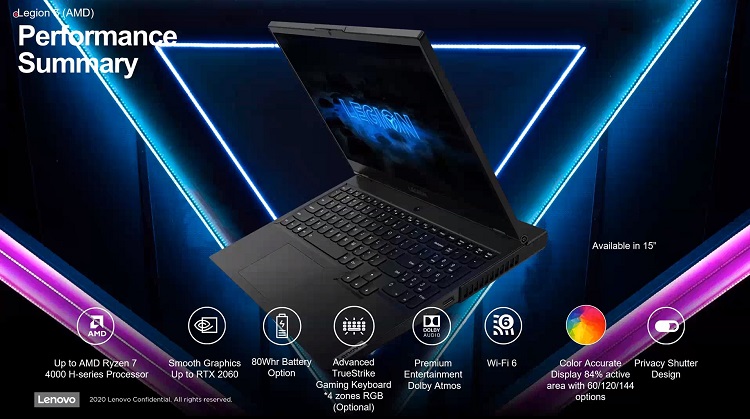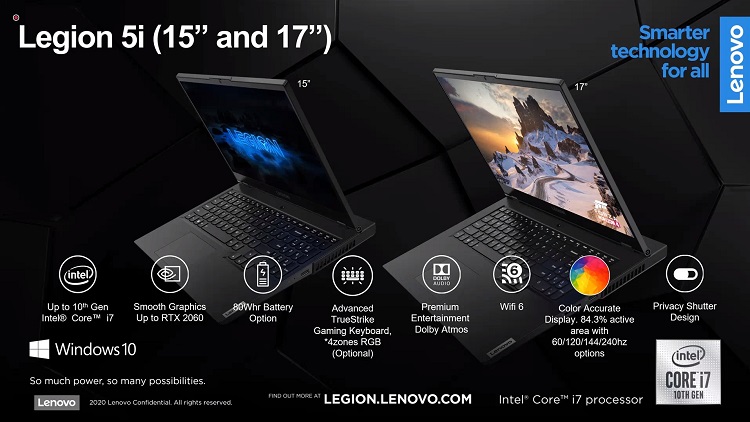 Next, there's the Legion 5Pi, which was described as a 'souped-up version of the Legion 5i'. This model will also be available in June 2020 and will cost you at least RM6399. Under the hood, the Legion 5Pi sports mostly the same hardware that the Legion 5i does. However, it does give you the option of up to 32GB of RAM. It also comes with a 240Hz display with no webcam module taking up space, which really adds to the visual immersion when you're playing games.
Next up is the Legion 7i, the big brother of the new Legion laptops. Lenovo is giving it some of the best in PC hardware for 2020. For instance, customers can choose to equip it with the powerful 10th Gen Intel Core i9-10980HK CPU, an Nvidia GeForce RTX 2080 Super, 32GB of RAM, and 1TB of SSD storage. The display will also be top-notch, with refresh rates of up to 240Hz and brightness level of 500 nits. This model is supposed to be available only later in the year, but interestingly enough the Lenovo Malaysia website already has the prices for it. You'll need at least RM7999 for one of this laptop.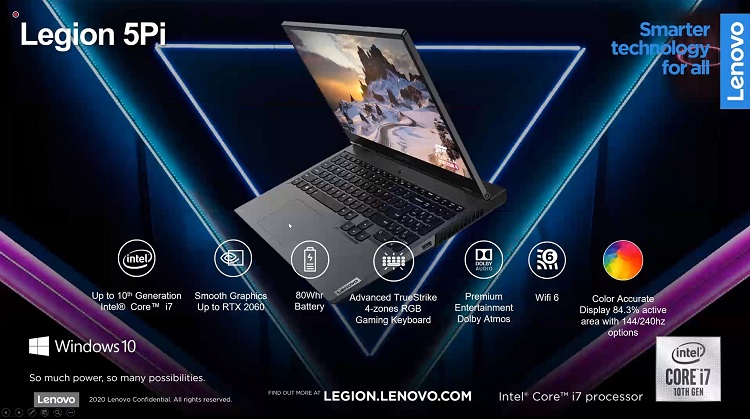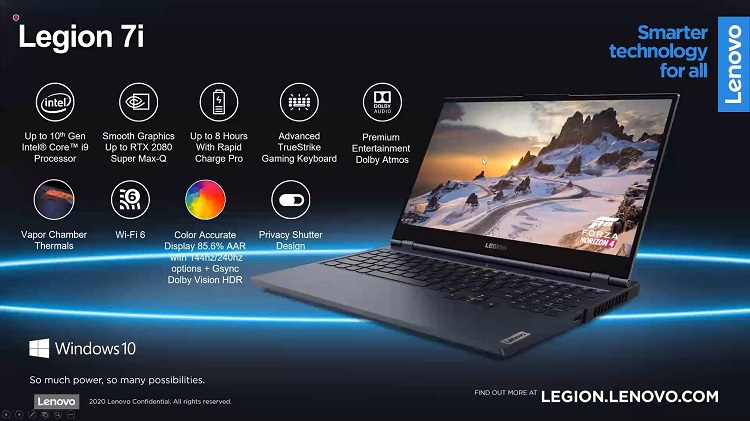 Last on the list of laptops is the IdeaPad Gaming 3i. Don't let the non-Legion moniker fool you, however, as this laptop comes with up to 10th Gen Intel Core i7 CPU too. Lenovo also confirmed that it will have a display with up to 120Hz refresh rate. Not much else was announced, but we believe that this is going to be similar to the Legion 5i, except without the fancier bells and whistles. The price and availability for this laptop haven't been confirmed yet, but expect the Lenovo Malaysia website to put up the details eventually.
Finally, Lenovo also confirmed that the Legion Tower 5i is coming to our shores. This gaming desktop PC will come with rather powerful hardware, with up to an Intel Core i9 CPU, Nvidia GeForce RTX 2080 Super GPU, 64GB of RAM, and 2TB of SSD storage. Lenovo Malaysia also told us that it will have options for both air and water cooling, so if you like a quiet desktop system you could go for the second option. Unfortunately, this gaming desktop is another one that's only available later this year.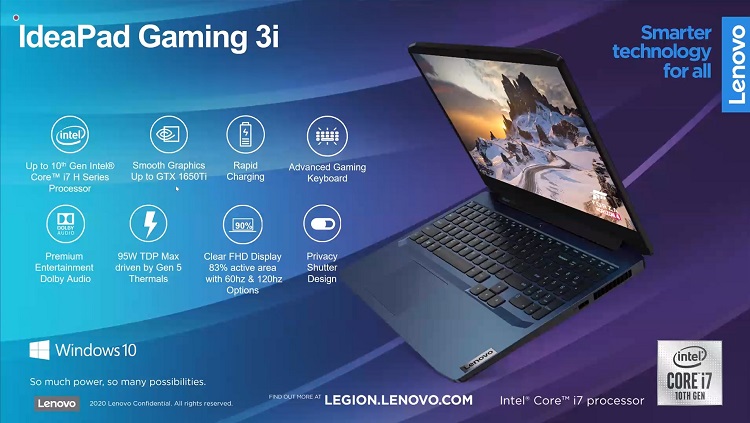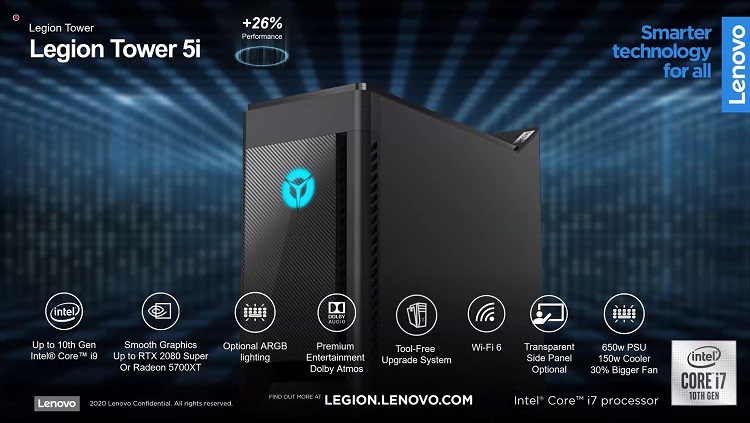 Speaking of things that are going to be available later this year, Lenovo has confirmed that it will be launching the Legion Gaming Phone within 2020. This hints at a global launch within the next few months, before we get it here in Malaysia later in the year. We're quite excited about this product, as it's rumoured to have a rather interesting side-mounted camera.
Getting back to the new products, Lenovo Malaysia will be offering a pre-order deal to those who are interested in the Legion 5i and 5Pi. From 1 to 15 June 2020, you'll get free gifts of up to RM5436 if you buy either one of those two laptops. With all that said, which of the new products do you like the most? Let us know on our Facebook page and stay tuned to TechNave.com for more news like this.