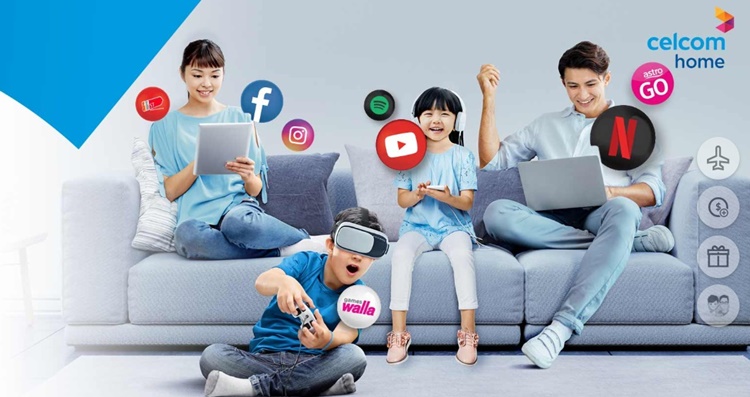 What is Celcom Home? A home for Celcom? Putting the lame joke aside, Celcom Home is a new home Internet broadband solution provided by the company for households to enjoy Unlimited High-Speed Fibre Internet or wireless 4G Internet connection from a starting price of RM70 per month only. Got your curiosity? Read on!
In-line with the National Fiberisation and Connectivity Plan (NFCP) by the government, Celcom Home aims to empower the digital lifestyle for both urban and rural communities in Malaysia. In hopes of achieving a baseline of 98% broadband coverage by 2023 with a minimum broadband speed of 30Mbps, Celcom Home introduces Celcom Home Fibre and Celcom Home Wireless.
Celcom Home Fibre
What's the difference between the two? Let's start with Celcom Home Fibre first - using optical fibre technology, it comes with an Unlimited High-Speed Fibre Internet from as low as RM80. This lowest package has 30Mbps speed only, though, so if you want more speed, there's a RM120 package offering 100Mbps. Whichever package you're going for, it's more than enough to surf any video streaming from Ultra HD to 4K resolution.
Home Fibre Gold
Home Fibre Gold Supreme
Monthly Plan Fee
RM80

RM129

RM120
Download speed
30Mbps
100Mbps
Upload speed
30Mbps
50Mbps
Quota
Unlimited
Calls
10 sen/min to all networks
Device
Free WiFi router
Contract
24 months
While there are other similar Internet Broadband packages from elsewhere, the ones that are even close to Celcom Home Fibre don't have unlimited Internet data and rather slower upload speeds. It's also worth mentioning that both Celcom Home Fibre packages offer a free wifi router and installation!
Celcom Home Wireless
If you don't like the idea of having to drill through the walls at your home, you can always opt for Celcom Home Wireless powered by Celcom's 4G network. That means it's just "Plug & Play" with no drilling on the wall required, allowing you to set-up within minutes upon registration and stream those Ultra HD movies from Netflix, Astro Go, Tonton and more, with up to 1000GB of Video Walla. Also, Celcom Home Wireless can connect up to 64 devices at one go and has a download speed of up to 600 Mbps LTE as well.
Home Wireless Gold
Home Wireless Gold Plus
Home Wireless Platinum
Monthly Plan Fee
RM70
RM100
RM150
Internet Quota
25GB
50GB
150GB
Video Walla & Music Walla
40GB
100GB
1000GB
Contract
24 months
Of course, various other telcos are also offering their own home Internet wireless services. However, they don't offer any free routers, as well as limited Internet data not more than 40GB in total for video and music streaming. On the other hand, none of them have the same package deal, while Celcom currently offers the largest internet Data pool available.
Celcom Home Fibre is the latest addition to the existing Celcom Home Wireless offering, and the company was awarded the prestigious Opensignal 2019 Award for No.1 in 4G Availability as well as performing an upload speed of 6.3Mbps and scoring 61.2/100 points in HD video streaming, more than enough for practically all of your home's high-speed Internet needs. Sign up today now or drop by any Celcom Bluecube for the complete home Internet solution by Celcom and stay tuned to TechNave.com.