MCMC will conduct an online survey to Malaysians on WhatsApp soon, here's everything you need to know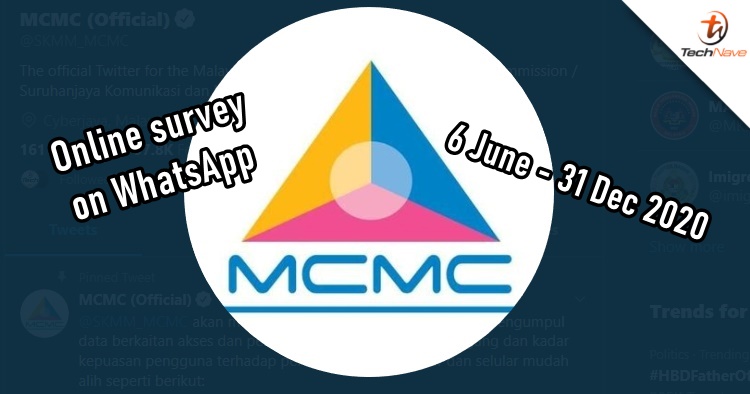 Yesterday, the Malaysian Communications and Multimedia Commission (MCMC) announced on their Twitter account that they will start surveying Malaysians soon starting on 5 June until 31 December 2020. The survey is said to be random appearing on WhatsApp and it is regarding the usage of mobile phones, e-commerce and consumer satisfaction rate on mobile broadband and mobile services.
However, in order to prevent scammers from abusing this survey by collecting information from the Rakyat, MCMC mentioned that this survey will only come from two (2) official numbers which are 017 728 6262 and 017 364 6262 only. Should you receive a random number that is neither of those two numbers, ignore it by all means. On top of that, the survey will be conducted daily from 9AM until 6PM except for holidays so you shouldn't receive a random message before and after that time slot as well.
@SKMM_MCMC akan menjalankan soal selidik berikut untuk mengumpul data berkaitan akses dan penggunaan telefon bimbit, e-dagang dan kadar kepuasan pengguna terhadap perkhidmatan jalur lebar dan selular mudah alih seperti berikut: pic.twitter.com/jyJRbvRbDH

— MCMC (Official) (@SKMM_MCMC) June 2, 2020
In addition, the official numbers will also NEVER ask for your personal information such as name, IC number, or anything to do with your banking details. That said, if you do cooperate with MCMC on the survey, they will give you a RM5 voucher but only to the first 10,000 responders. You can refer to the Twitter post above on how the survey will be conducted on WhatsApp.
That's all folks, please do share this news with your friends and family to prevent from being scammed. Stay safe and stay tuned for more trending tech news at TechNave.com.