MSI PS63 Modern Review - Productivity-focused laptop with emphasis on portability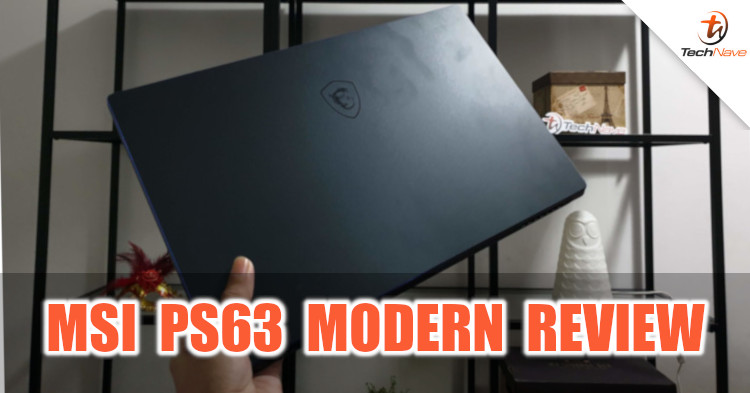 These days, laptops are quite a versatile piece of electronic device which is capable of performing various tasks from editing videos, modifying spreadsheets, to photo editing. With that said, the MSI PS63 Modern is no exception as it is aimed towards users who require a productivity-focused laptop which is also light for those who are constantly on the move.
Currently priced from RM4799, the laptop in question is one of the lightest laptops I've used so far, weighing in at only 1.6Kg with a thickness of 15.9mm with the lid closed. With that said, even though is it both light and thin, the built-in battery is more than capable of keeping the laptop powered up to 16 hours before needing to be recharged.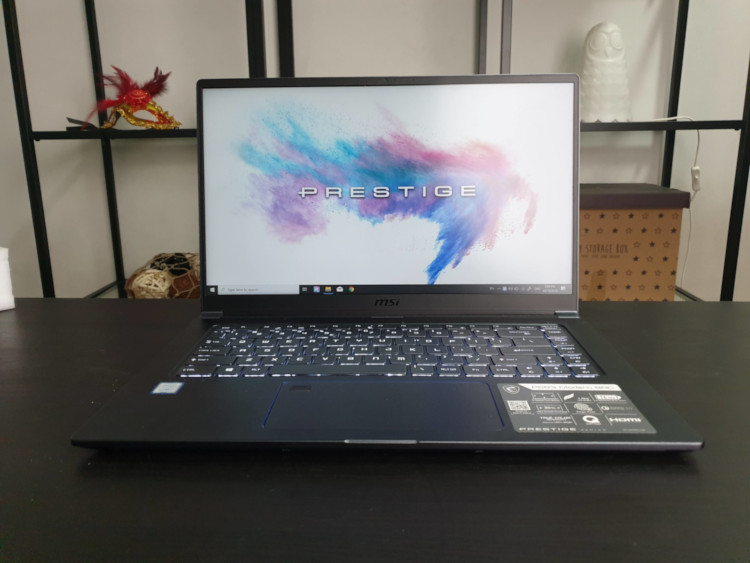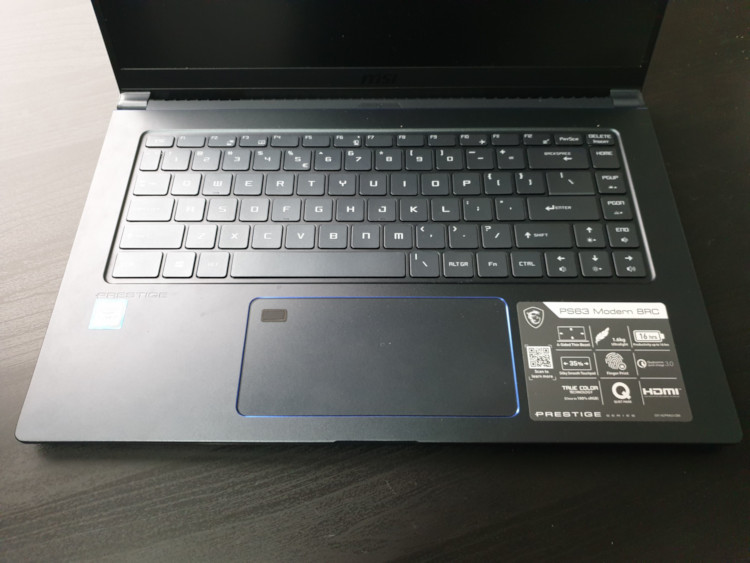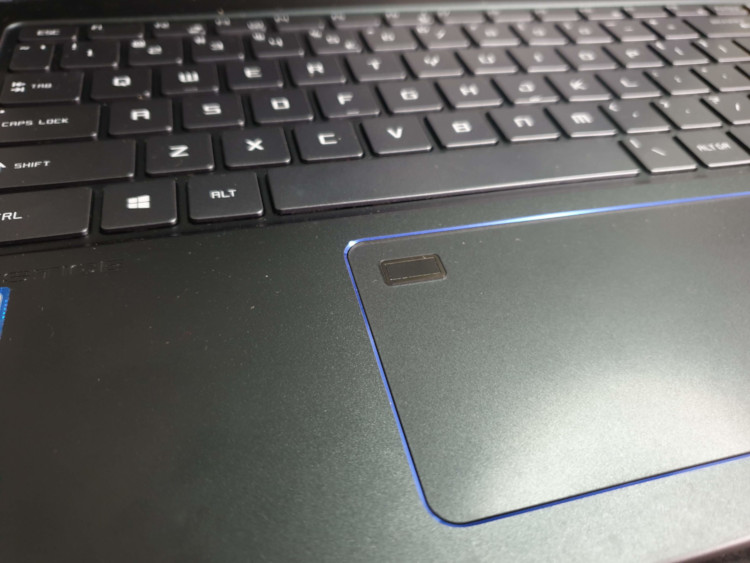 Flipping the lid up, you'll be greeted with a uniquely large trackpad with a capacitive fingerprint sensor to the top left of it which supports Windows Hello. The large trackpad makes the laptop quite a pleasure to use, especially on the off chance you've forgotten to bring your mouse and you're required to work on multiple monitors at a time.
Speaking of monitors, the laptop comes with a 15.6-inch FHD IPS panel with close to 100% sRGB support, as well as bezels which are about 5.6mm thin giving the laptop an 86% screen-to-body ratio. If you look closely at the top of the display, you'll be able to spot a tiny HD webcam which you can use for video calls whenever necessary. As for the build quality, the hinge on the laptop is pretty sturdy if you can look past the fact there is a little flex on the housing of the display.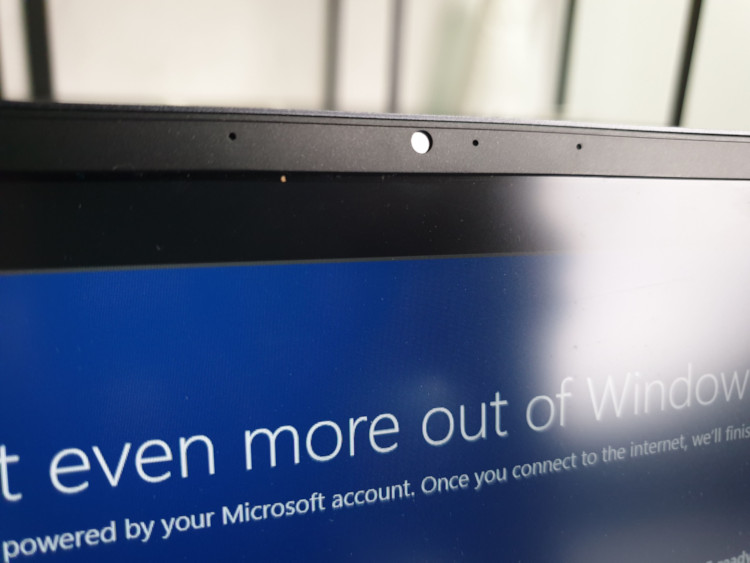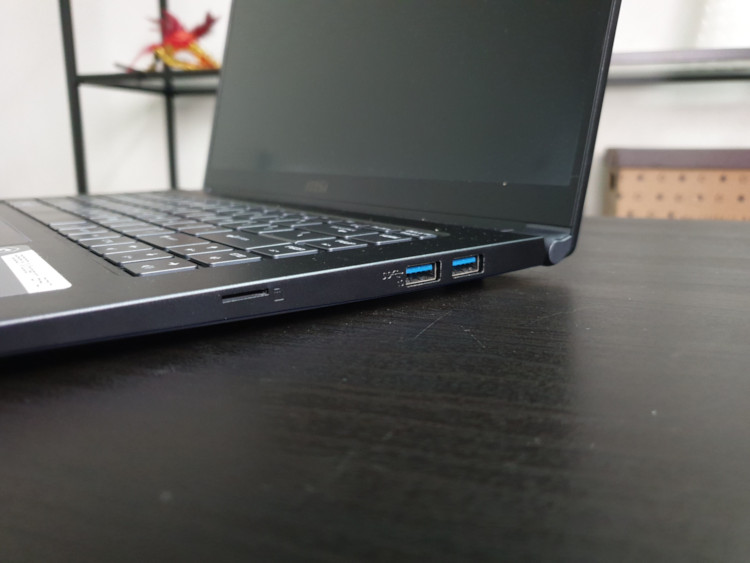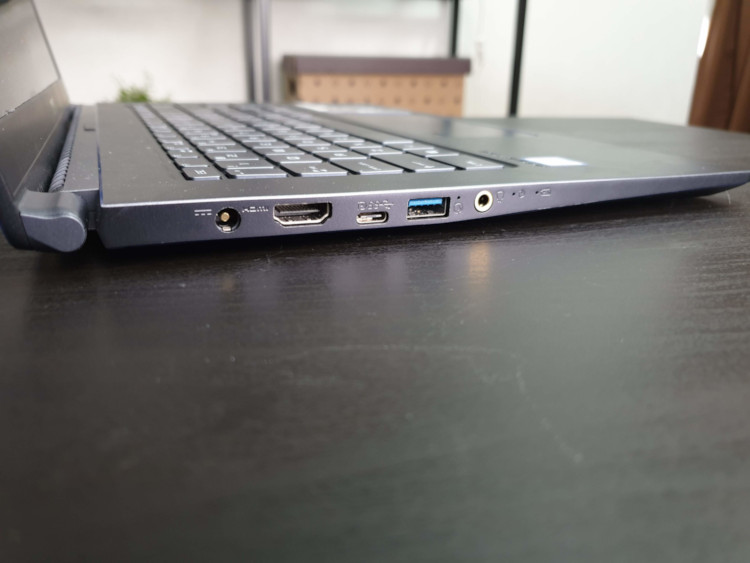 The MSI PS63 Modern offers plenty of ports such as an HDMI port, Type-A USB3.1 GEN1 port, Type-A USB3.1 GEN2 port, MicroSD card reader, USB Type-C port, combo audio jack slot, as well as a Type-A USB3.1 with QC3.0 support. The USB Type-A slot with QC3.0 support lets the user charge their smartphones up to 4 times faster than a regular USB Type-A port, which is very valuable especially for those who are constantly on the move.
As for the performance, the laptop shines when it comes to design, creativity and productivity workloads due to the fact that the display is almost 100% sRGB compliant. Furthermore, most of the creative software out there are usually well optimized to utilize the multiple cores and multiple threads on the 8th generation Intel Core-i7 processor that is embedded in the laptop.
However, that doesn't mean that the PS63 Modern is incapable of running games, due to the fact that it could handle Dota 2, League of Legends, and Counter-Strike: Global Offensive smoothly between low to medium graphical setting thanks to the Nvidia GTX 1050 Max-Q. While gaming, I did notice that the palm rest on the laptop warmed up a little bit but not enough to make it uncomfortable to the touch.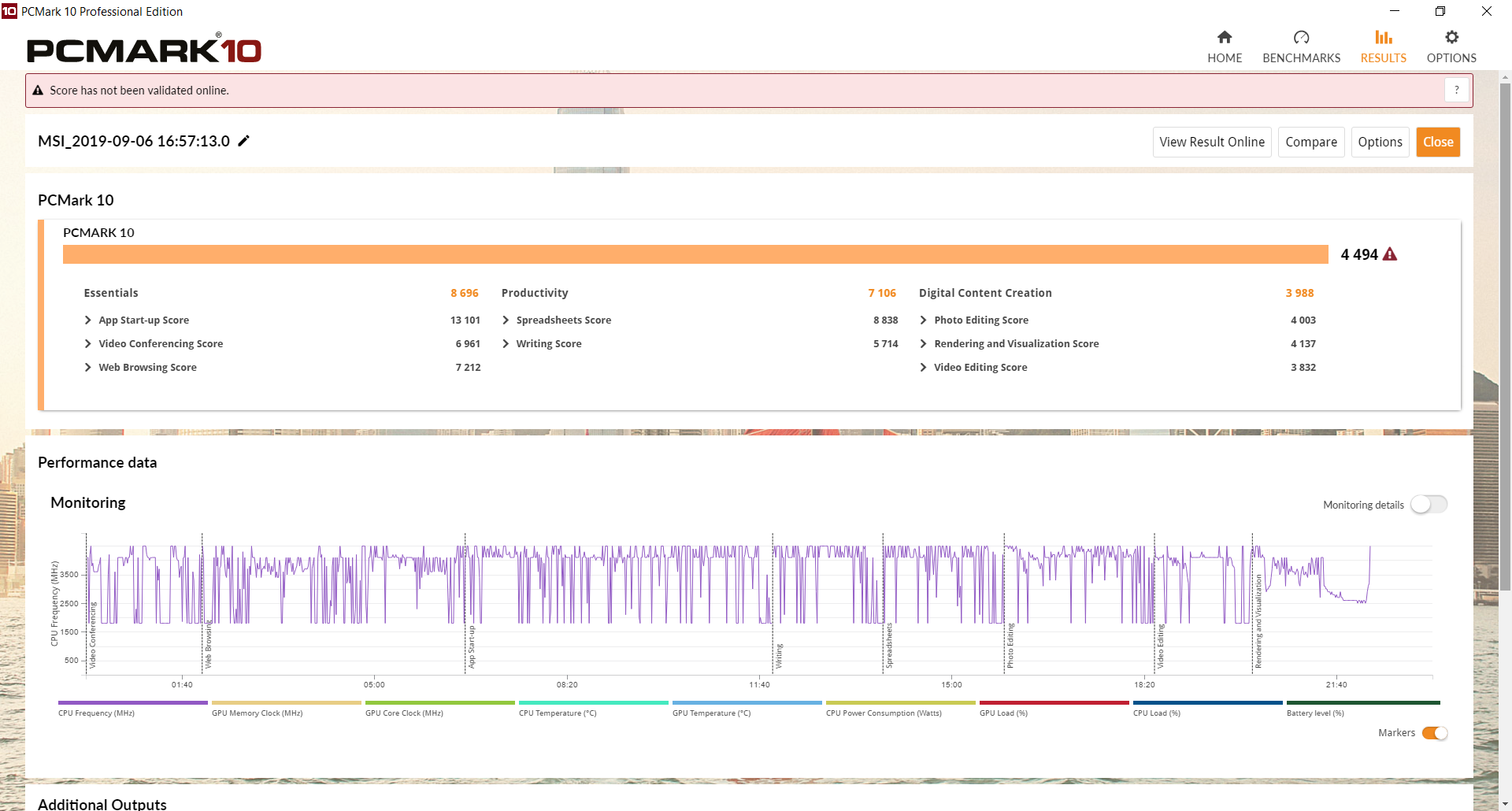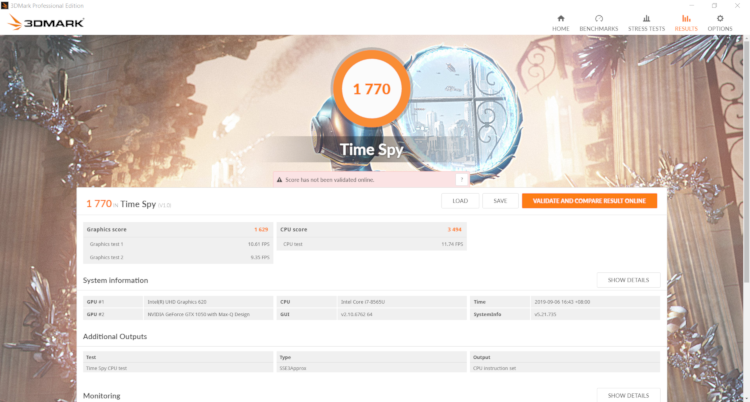 In conclusion, the MSI PS63 Modern would be a suitable candidate if you are looking for a productivity-focused laptop which is also lightweight. In addition to that, it also performs well when it comes to gaming as long as the graphical settings are set to either low or medium.
The only thing I disliked about the laptop, is the fact that it comes with a MicroSD card reader instead of a regular-sized SD card reader. This may seem unimportant to some people, but do take note that the majority of the professional recording equipment such as cameras would usually take in a full-sized SD card.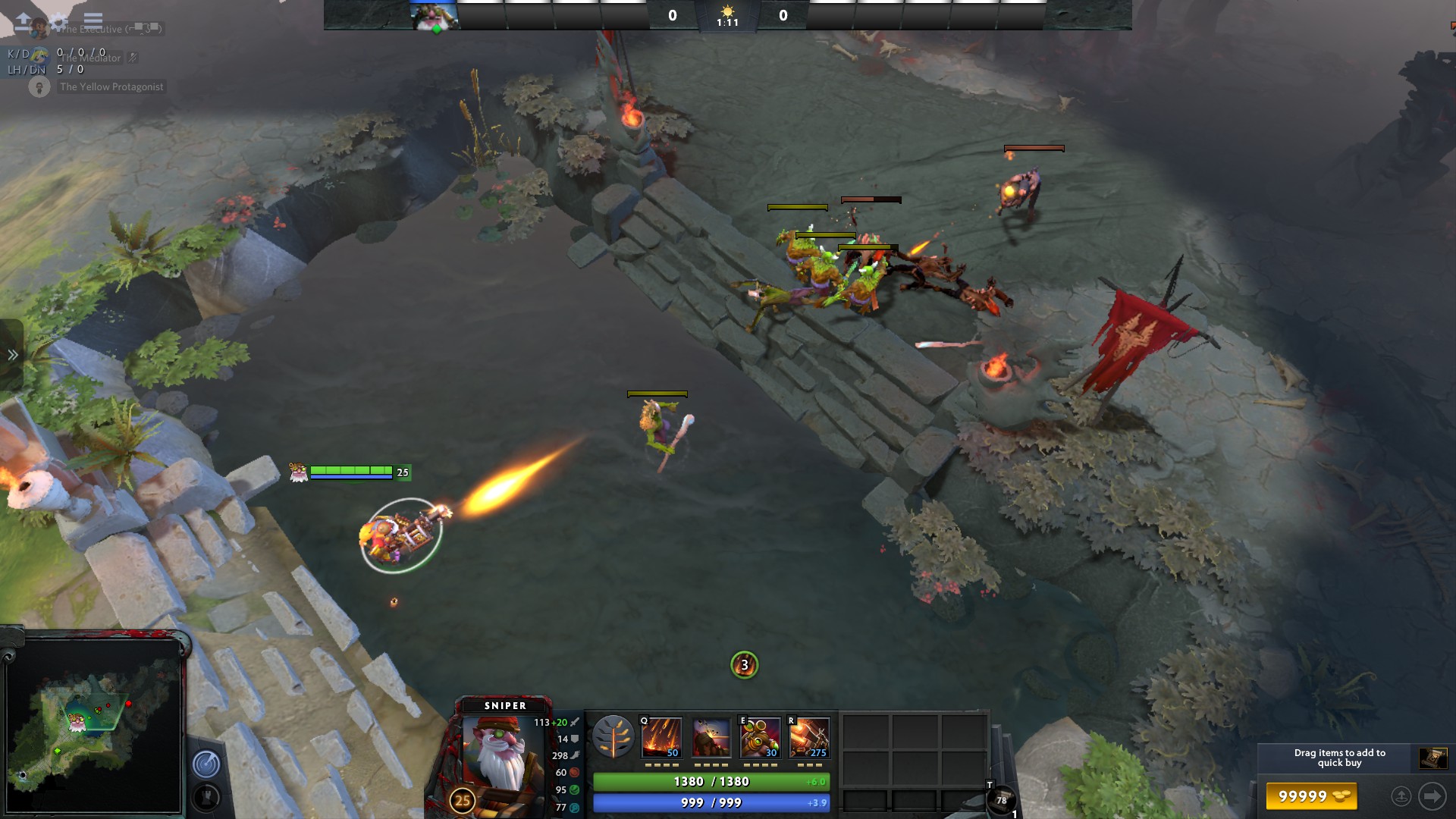 At the price of RM4799, there are not many laptops out there that could take on the MSI PS63 Modern. However, if you are keen on taking your content creation to the next level, you might want to consider increasing your budget to get the Acer ConceptD 3 Pro starting from RM5999 as it comes with a 9th generation Intel chipset, up to 32GB of RAM.
Furthermore, it also comes equipped with the Nvidia Quadro T1000 graphics card which powers their 15.6-inch FHD IPS display with Delta E < 3 rating which is important when handling graphics and video content. If you prefer to get something cheaper, you might want to consider the Acer Aspire 5 which is priced from RM3699 and it comes with about the same or slightly lower in terms of tech specs to the PS63 Modern.
MSI PS63 Modern 8RC Tech Specs and Features list:
8th generation Intel Core i7-8565U processor

Supports up to 32GB of DDR4 RAM

512GB NVMe PCIe SSD

15.6-inch FHD display

Nvidia GTX 1050 Max-Q with 4GB GDDR5

1x Type-C (USB3.1 Gen1 / DP), 1x Type-A USB3.1 Gen1/ QC3.0, 1x HDMI Port, Type-A USB3.1 Gen1, Type-A USB3.1 Gen2

Supports either Windows 10 Home or Windows 10 Pro

356.8 x 233.7 x 15.9 mm | 1.6kg
802.11 ac Wi-Fi + Bluetooth v5
Backlit Keyboard
Pros and Cons
Pros - It is both lightweight and thin, making it suitable for those who are constantly on the move. Comes equipped with a decent graphics card, allowing it to handle most esports titles at medium to low settings.
Cons - The addition of a MicroSD card reader instead of a full-sized SD card reader is questionable, due to the fact that most professional recording equipment utilizes a full-sized SD card.
Summary - A productivity-focused laptop which emphasizes heavily on portability for less than RM5k.