MSI Stealth 15M review - One of the lightest and best gaming laptops available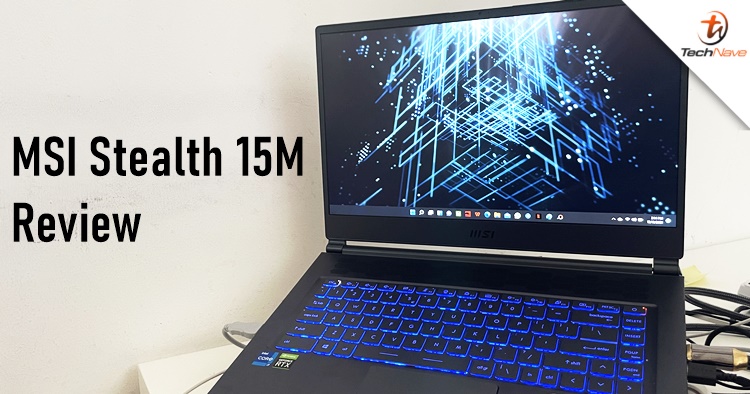 Thanks to technological improvements, gaming brands such as MSI can now manufacture thinner gaming laptops. Gone are the days of lugging around a fat gaming laptop with you. In this review, we check out the MSI Stealth 15M (A11UEK) and see what makes it a good laptop for gamers. Let's just get right into it, shall we?
The core design theme for the Stealth 15M is "Slim, Sharp and Stylish", and we can't deny that MSI nailed it. For your info, this gaming laptop measures 16.16mm thin and weighs 1.7kg only, which is ridiculously lightweight. Other than that, it looks as simple as it should and comes in two simple colour variants - Pure White and Carbon Grey.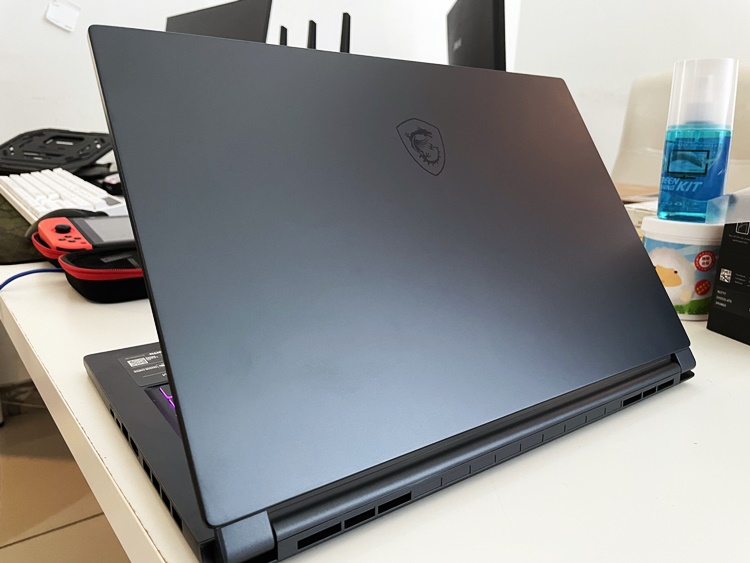 Sleek Carbon Grey, nothing too fancy as a gaming laptop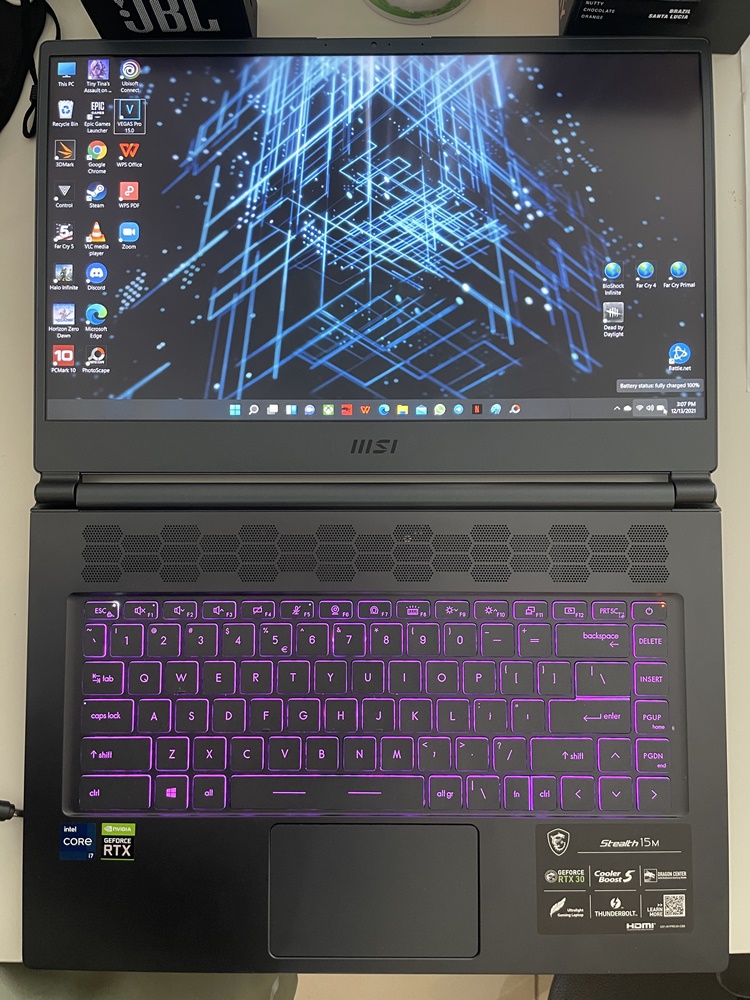 Surprisingly, you can lay the screen flat on a surface like this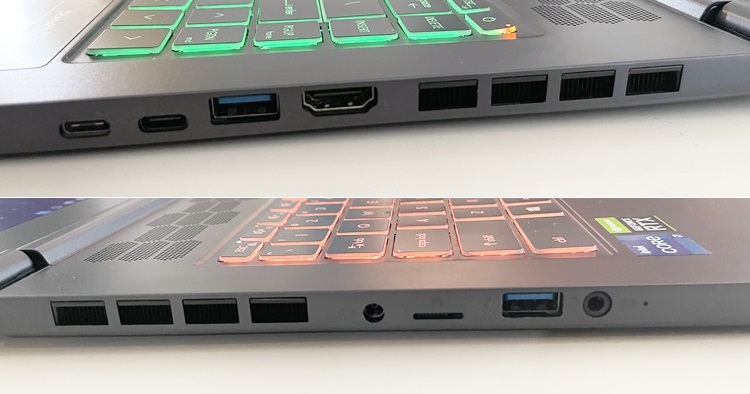 Here are all the available I/O ports on both sides of the laptop. Don't mistake the vents for extra USB-A ports!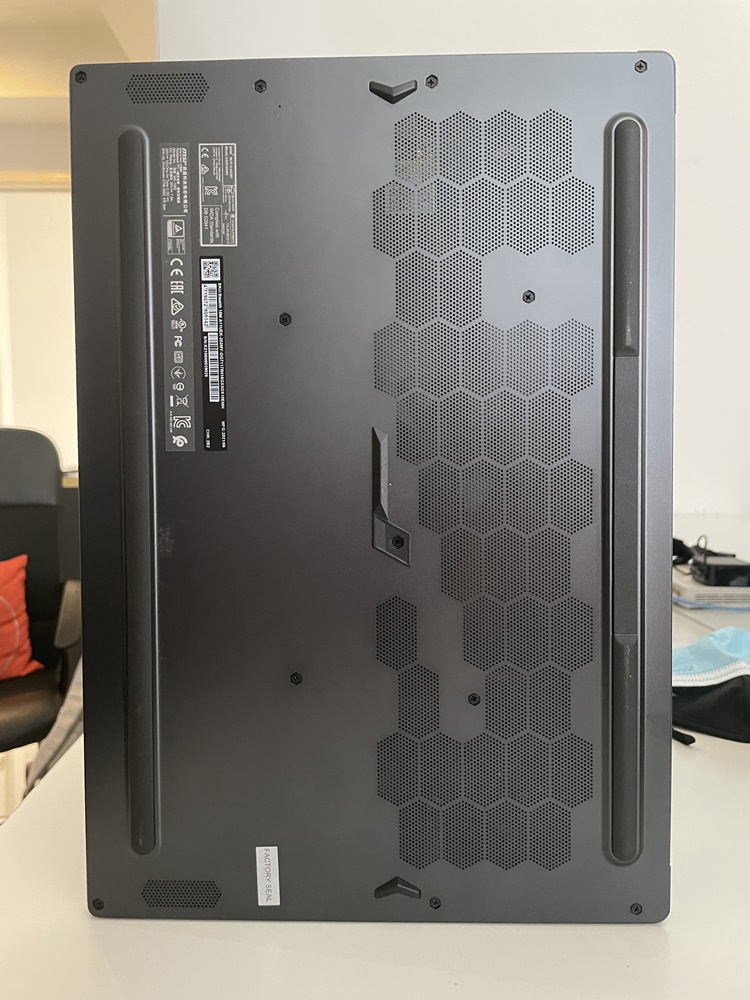 The bottom has a unique design for the airflow
As an ultrathin gaming laptop, you should also expect it to come with some compromises. At first, I thought that the vents on both sides were a row of four USB-A ports. In reality, there are only two of them, but at least MSI compensated with two Thunderbolt 4 USB-C ports. It may not be mainstream for Malaysians yet, but Thunderbolt 4 will eventually see more use.
Moving on, the Stealth 15M has a couple of pre-installed apps. First, there's the Xbox app, which doesn't see much use in Malaysia. That's because Microsoft doesn't retail its Xbox consoles in Malaysia due to a lack of popularity. Furthermore, all the prices listed in the game store are in USD, and that's not pocket-friendly to our wallets.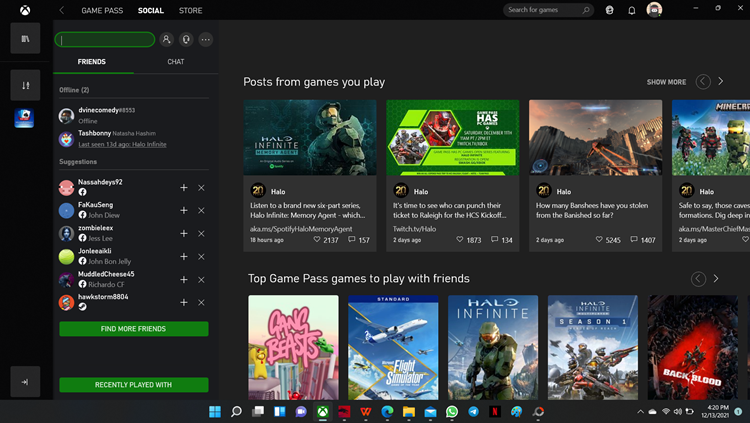 You don't see the Xbox app on most Windows laptops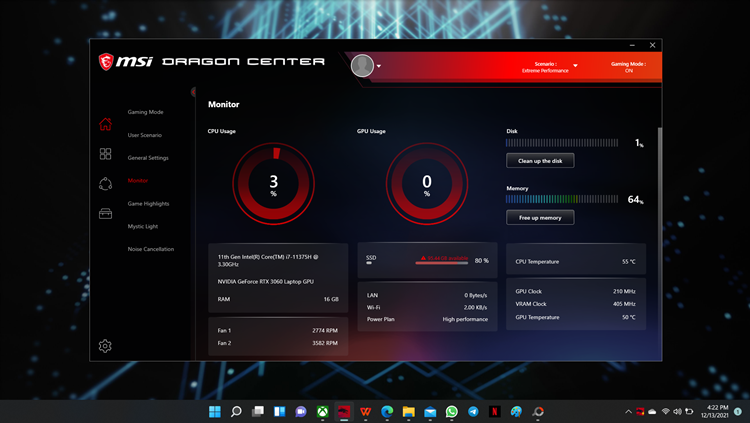 The Dragon Center to check and customise your gaming preference
Even if you set it to Extreme Performance, the laptop can be quiet most of the time (when not gaming)
Then there's the Dragon Center, which functions like any gaming control app typically found on gaming laptops/PCs. With the app, you can customise the RGB lighting for the keyboard, set the fan speed mode, register for your warranty, etc. I have said this before in other gaming laptop reviews, but I'll say it again. Most gaming control apps are like white elephants (as in, they're pointless). Unfortunately, the Stealth 15M's version is one of them.
It does have some uses. For example, you can set the user scenario to Extreme Performance or Super Battery to reduce power consumption. If you prefer a quiet experience while doing your daily work, you can even set it to silent, and the Stealth 15M will be as quiet as a mouse. However, the laptop will switch to Extreme Performance automatically whenever you boot up a Triple-A title game. Moreover, the laptop's fan would sometimes make noises even when you're not doing much with it.
Besides that, gamers should be happy to know that the Stealth 15M comes with a 144Hz refresh rate display. That being said, I believe most gamers nowadays pair their laptops to an extra monitor (or two) since they're working from home, so they might not use this feature. Despite that, the two Thunderbolt 4 ports will allow hardcore gamers to connect up to three monitors (or up to 8K resolution output) for productivity and gaming.
PEW PEW PEW in max graphics settings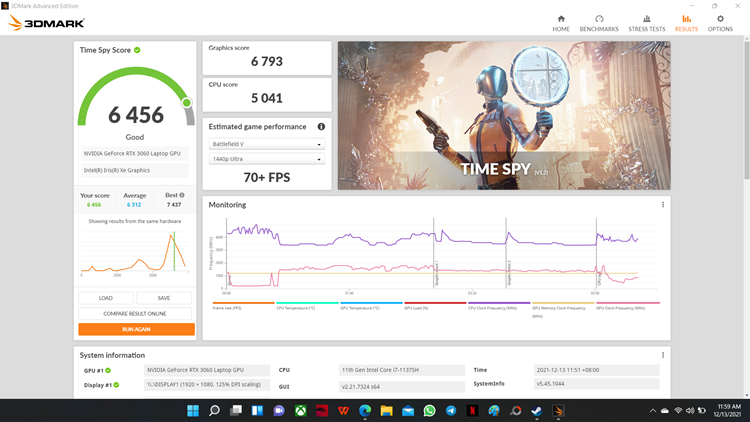 It did better than most gaming laptops in 3DMark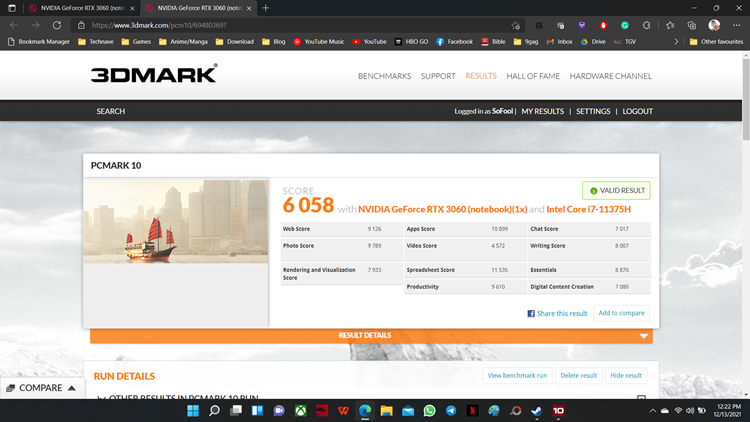 PCMark 10 - As expected of the GPU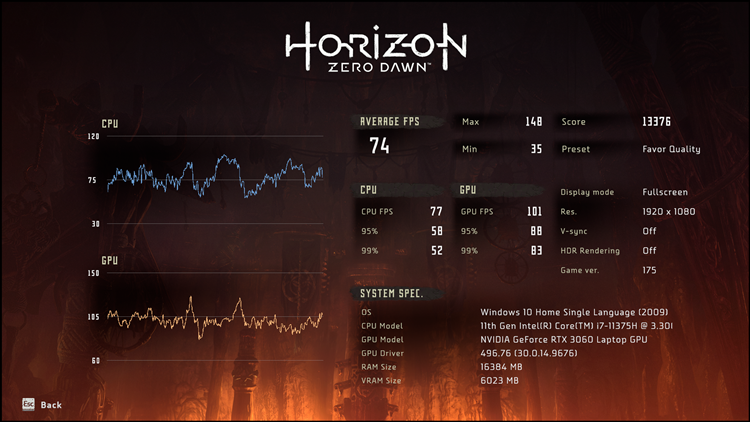 Some more gaming details on Horizon Zero Dawn in High-Quality settings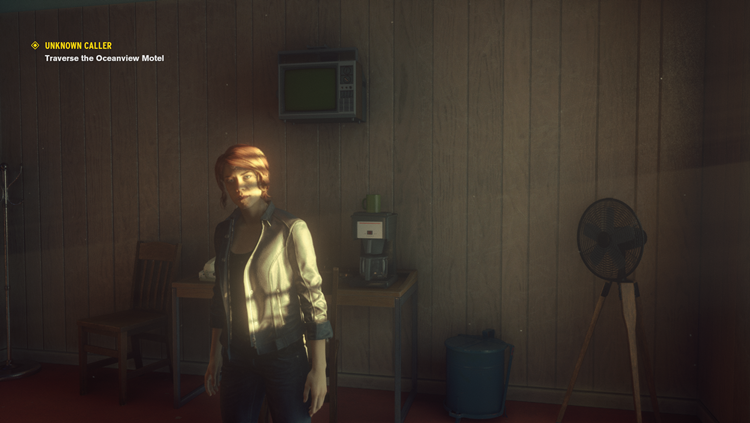 The dynamic range is incredible in Control, you could see dust flying around in the sunlight
Inside the chassis, the Stealth 15M can be equipped with an 11th Gen Intel Core CPU (up to Core i7), Nvidia GeForce RTX 3060 GPU 6GB GDDR6, 16GB DDR4 RAM, and 512GB NVMe PCIe Gen 3 M.2 SSD. As you would expect, this gaming laptop is a powerhouse and can handle graphics intense Triple-A games with ease. I even replayed Far Cry 5 because not only could I enjoy the beautiful scenery in an ultra graphics quality setting but with HD texture too. Though it did take over 4GB of VRAM from the GPU.
There is one more thing to note. When playing games, the areas near the laptop's fan becomes super hot within a few minutes. Thankfully, the heat doesn't spread to the keyboard area and below, so you can still comfortably play your games. If you wish, you can actually turn on the Cooler Booster 5 function in the Dragon Center to increase the heat dissipation.

The highest speed we got is 11.7 MB/s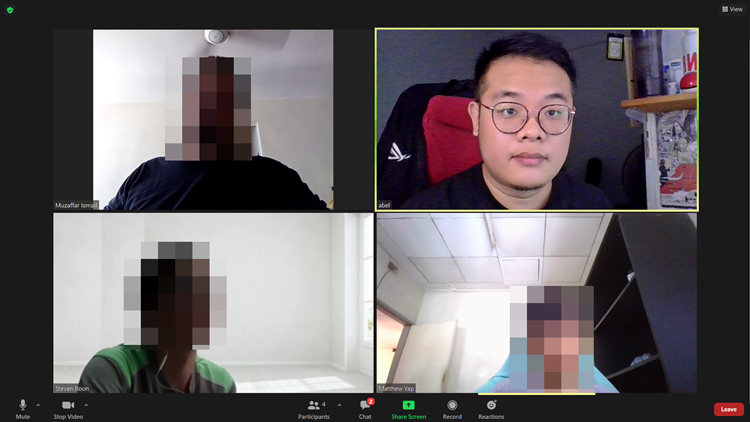 Webcam performance, the background is quite noisy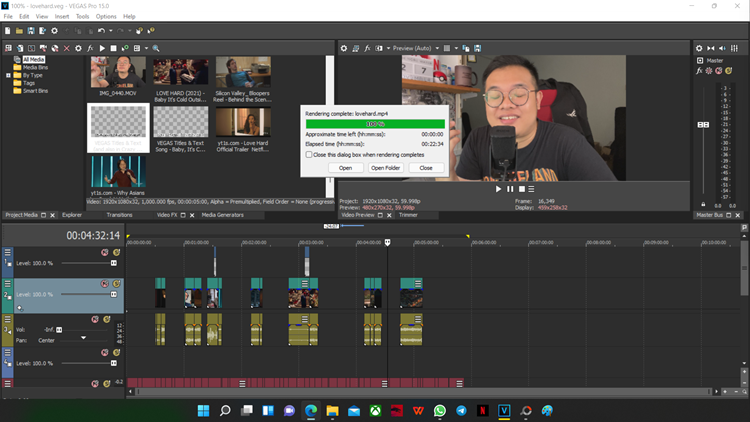 No issue in rendering a video
Aside from gaming, the Stealth 15M can handle daily productivity tasks, video editing, and video rendering. It also has WiFi 6 onboard, offering you the fastest Internet speed possible, as long as you have a good Internet service provider. On the other hand, the webcam quality is just average. That's unfortunate because I expected it to be better since it can record in 720p resolution.
If you're thinking of bringing the Stealth 15M to a cafe to do your work, you must remember to bring your charging adapter at all times because it doesn't last long at all. From my experience, it can only last over an hour from just doing my daily journalism work. Recharging it from below 10% takes around 2 hours. Don't be surprised by this, as all gaming laptops siphon battery power like crazy.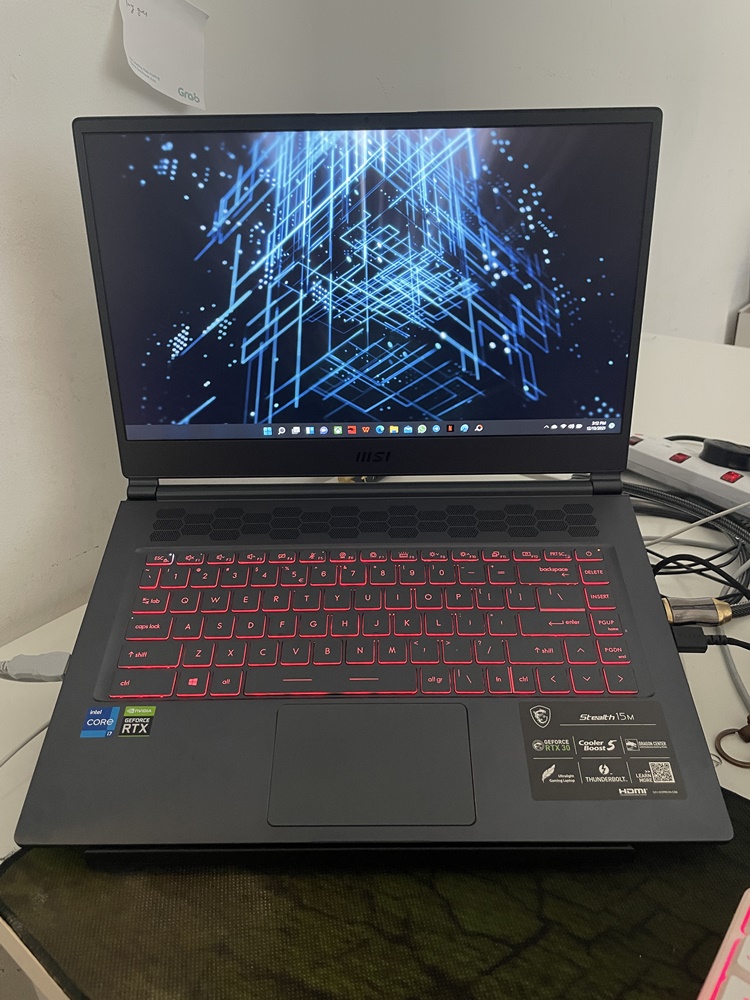 Light and terror
Overall, the MSI Stealth 15M proved to be a great gaming laptop performer. Everything works as expected except for some bloatware which is a minimal issue. This laptop is certainly one of the most compact gaming devices for gamers on the go and would be great for eSports players who often travel.
But then again, the high-end specs come with a great price. The MSI Stealth 15M is officially RM6899, and that's really digging deep into the wallet for most people. To be fair, that's the price range of high-end gaming laptops these days, but there is one gaming laptop that can challenge it - the Lenovo Legion 5 Pro at RM6799. Most would go for the latter due to the slightly better GPU performance, a bigger 1T SSD, plus a 16-inch display with 165Hz and 16:10 aspect ratio. It's not as compact, so I guess it depends on your priority.
Tech Specs and features of the MSI Stealth 15M:
Up to 11th Gen. Intel® Core i7 Processor

NVIDIA GeForce RTX 3060 Laptop GPU 6GB GDDR6 (up to 1357MHz Boost Clock)

16GB DDR4-3200 RAM

512GB M.2 SSD slot (NVMe PCIe Gen 3)

Measures 358.3 x 248 x 16.15 mm, weighs 1.7kg

15.6-inch FHD IPS display (144Hz refresh rate)

Ports - 1x Type-C (USB / DP / Thunderbolt 4) with PD charging, 1x Type-C (USB3.2 Gen2 / DP), 2x Type-A USB3.2 Gen1, 1x Micro SD, 1x (4K @ 60Hz) HDMI, 1x Mic-in/Headphone-out Combo Jack

Features - Webcam in [email protected], RGB Backlight Keyboard, Dragon Center program, Xbox app

Supports 802.11 AX Wi-Fi 6, Bluetooth 5.1

Battery - 3-Cell, 52 Battery (Whr), 150W adapter

Windows 10 Home (upgradable to Windows 11)
Pros - A powerful gaming laptop, lightweight and easy to carry, simple and stylish design
Cons - Some gaming laptops are more affordable or better if compared with the RM6899 price tag
Conclusion - Still a great gaming laptop for those who are often on the move
MSI Stealth 15M Specs & Price >