Micro-Star International (MSI) is almost synonymous with gaming laptops, but they also have solid devices for both creatives and business professionals. The MSI Summit E13 Flip Evo is one of MSI's laptops aimed at these professionals, where it features a lightweight premium design and comes with advanced specifications and functions.
So if you are a business professional who frequently travels here and there to make presentations or type documents, the Summit E13 Flip Evo is a very attractive option. But, with a price tag as high as RM6,899, is it worth it for your daily chores? Read this review to find out.
At first glance, the Summit E13 Flip Evo looks like most other MSI gaming laptops, with an overall black color that is slightly embellished with gold on the sides and a logo on the back of the screen. Its body is made with a matte surface, so you don't have to worry about fingerprints that might be left on it. In addition, this matte surface also makes this laptop look more professional.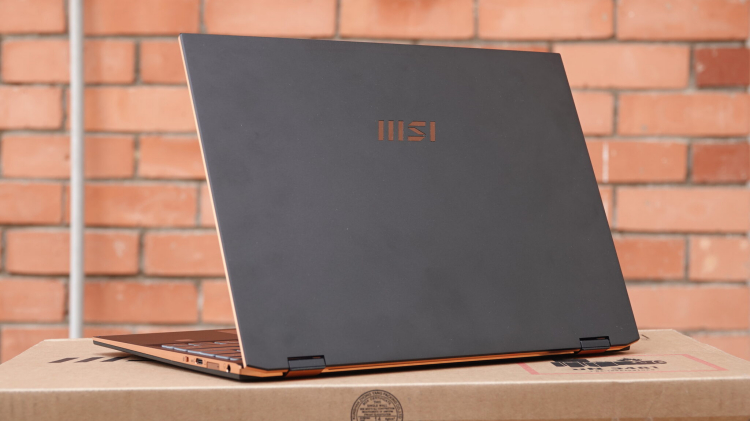 The entire laptop has a matte black surface, while the logo and sides are gold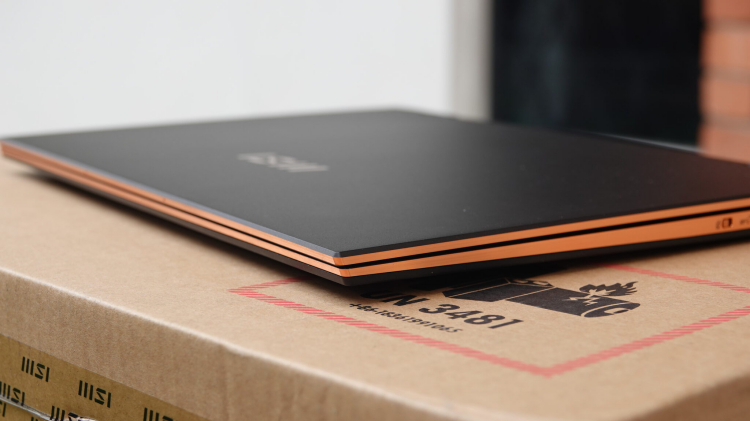 This laptop has a gold colored side for an exclusive looking design
Once you open this laptop, you can see a 13.4-inch screen with a Full HD resolution as well as a 16:10 aspect ratio which is becoming increasingly popular in laptops launched in 2021. This higher aspect ratio allows you to see more space in a Word document or website, as opposed to a 16:9 screen.
The Summit E13 Flip Evo screen is touch sensitive but if you prefer to use a stylus for writing or drawing, the MSI Pen stylus is also included in the box. Keep in mind though that the MSI Pen has its own battery and it can only be charged using a USB-C cable.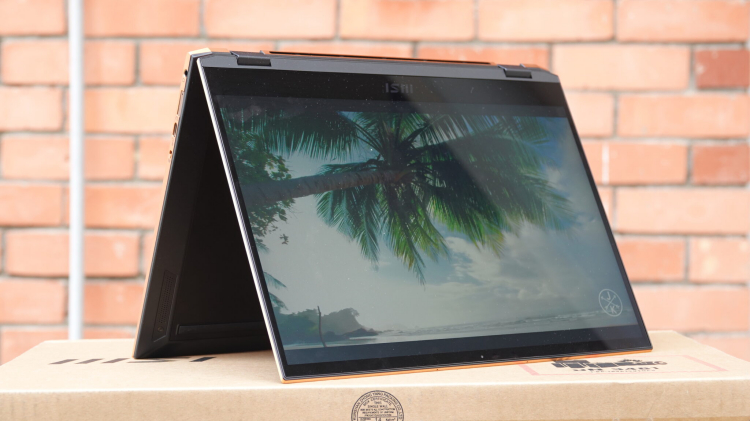 The laptop screen can also be rotated 360 degrees on its hinges, making the laptop usable like a tablet or in tent mode.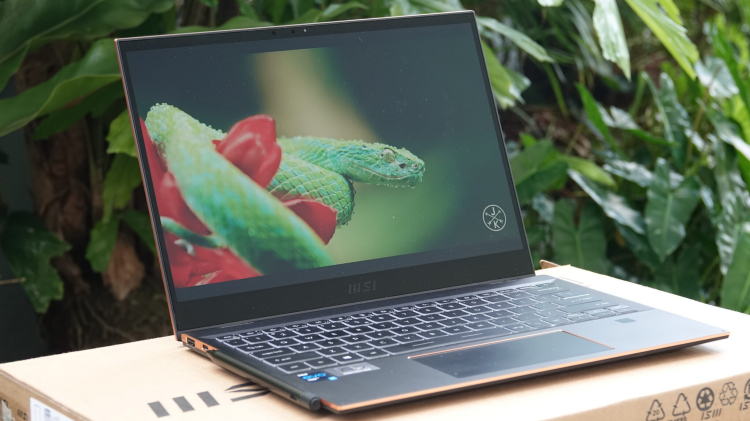 Can be used as a laptop like usual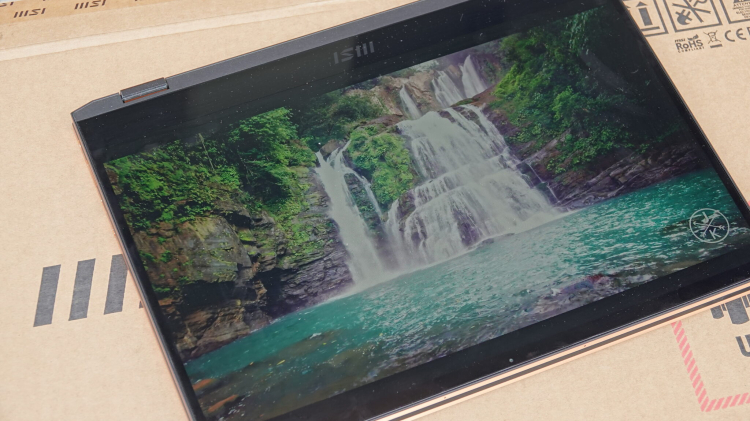 It can be rotated directly to be made like a tablet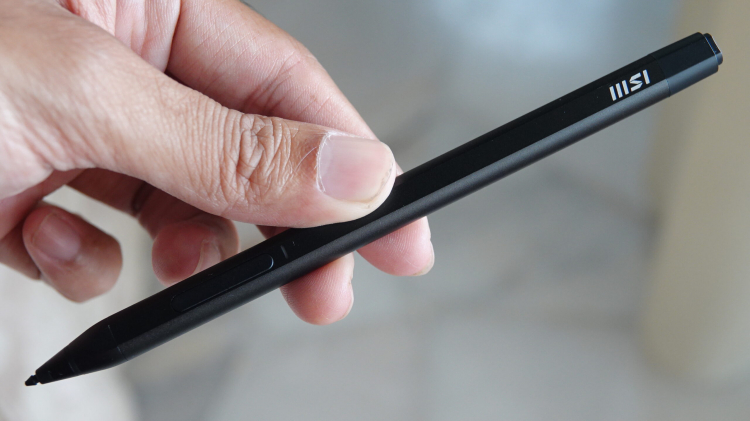 The MSI Pen is a very attractive accessory and is included with this laptop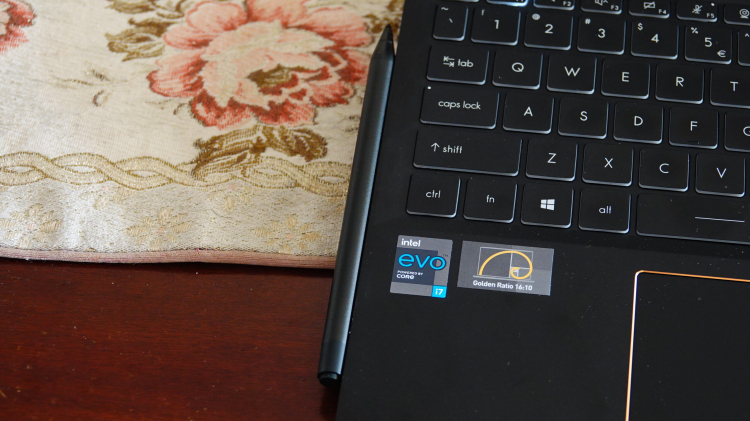 You can attach it on the side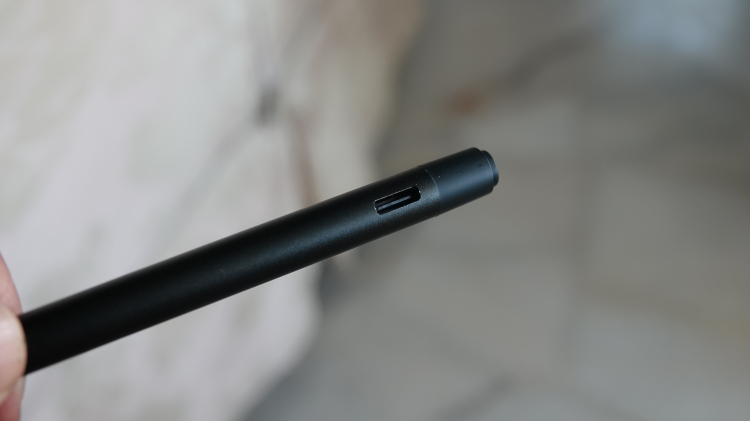 The pen needs to be charged separately via the USB Type C port
With a refresh rate of 120Hz, this screen provides a very smooth and responsive display for all types of software. It also has a 100% sRGB color gamut, so any movie or video displayed will look very colorful and bright. However, since it does not have the full color gamut for Adobe RGB, this makes the Summit E13 not an ideal laptop for graphics or video editing work but this shouldn't be an issue for most business users.
The Summit E13 has a white (backlit) keyboard, so you can still type easily even when in dim situations. The keys feel comfortable and although this 13-inch laptop is more compact than most other laptops of this size, the key size is still standard and easy to type on, especially for those with big hands like me. Even so, MSI had to remove some keys such as Home, End and Insert (but they can still be used with the Fn key combination).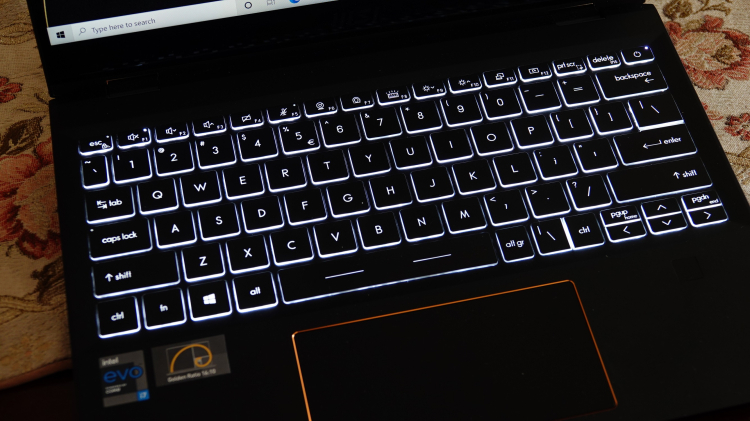 White lights make it easy to type in dark environments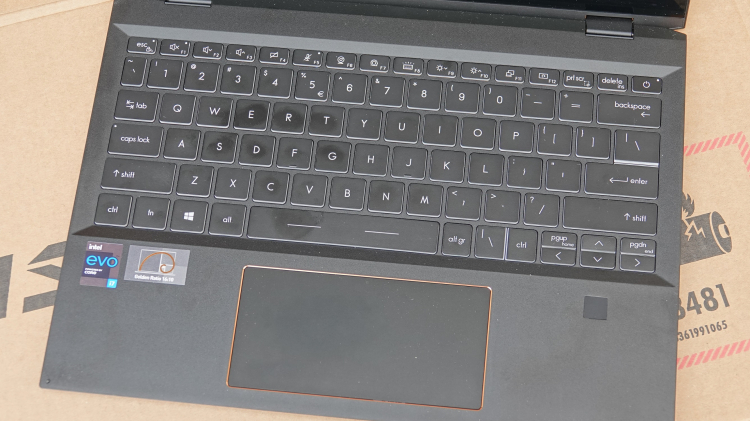 Although this laptop is small, the keys are the same size as other larger laptops
The trackpad under the keyboard is also quite large, measuring in at 4.7 × 2.4 inches and is very responsive. On the right side, there is a fingerprint scanner that works quickly when you want to turn on this laptop.
On the left side, the laptop has three USB ports consisting of two USB4 Type-C ports that support Thunderbolt 4 connectivity and one USB Type-A 3.2 port. Charging can be done through any USB4 Type-C port and it supports 65W rates. On the right side, the laptop has another USB 3.2 Type-C port, a switch for a webcam, an SD card reader and a 3.5mm audio jack.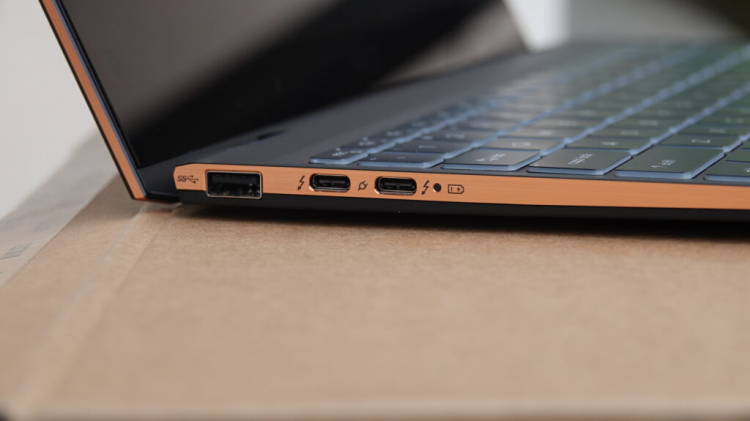 The ports on the left side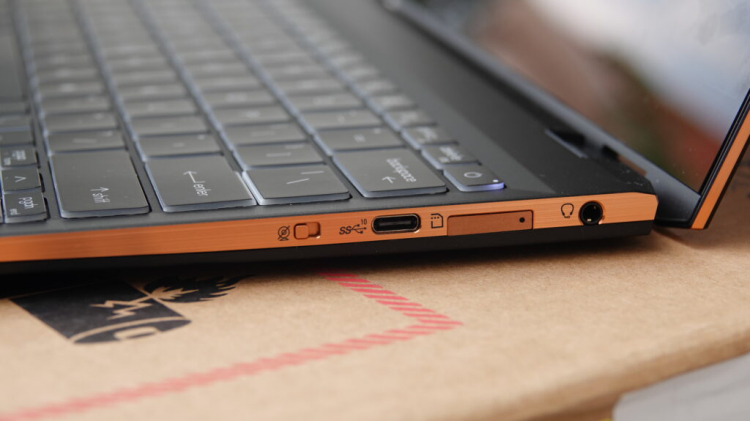 The ports on the right side
Speaking of webcams, it is located at the top of the screen and can record in 720p resolution. The recording quality is just average and adequate for video calls like Zoom or Google Meet, while the microphone also works well to isolate the noise around the user.
In terms of performance, the Summit E13 Flip Evo can run any productivity task smoothly, from Microsoft Office software to web browsing. It can also operate smoothly without getting too hot and its internal fan doesn't spin too loudly, so you won't feel disturbed by this laptop.
The variant we received for this review came with a 3.00GHz Intel Core i7-1185G7 processor and 32GB of RAM, so you can expect more than enough performance for productivity tasks. If you want a more affordable variant, the one with 16GB of RAM is also enough for most productivity tasks.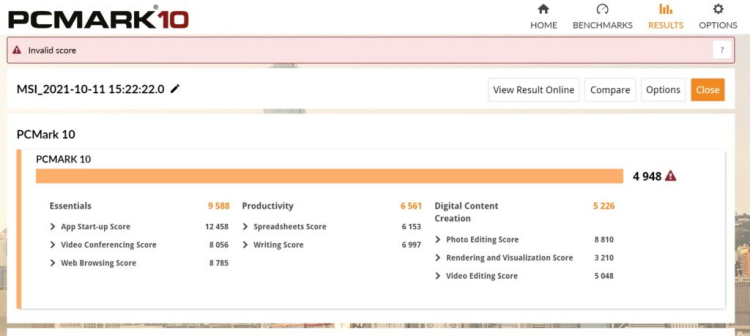 Based on a PCMark score of 10, the MSI Summit E13 can run most productivity tasks very smoothly
As for the GPU, the Summit E13 Flip Evo is only equipped with Intel Iris Xe Graphics so we wouldn't recommend that you play any games that require high-end graphics in this laptop. Even so, you can still play classic games like CS: GO fairly smoothly if you want to take a break.The Summit E13 Flip Evo is among the earliest laptops equipped with Intel Wi-Fi 6E that can be connected to the 6GHz frequency band for a more stable, robust and faster connection.
According to MSI this laptop has a battery that can last up to 20 hours using MobileMark 2014. Throughout my use of this laptop, I found it can last for nine hours though. Once the Best Battery Life mode is activated, the battery can be extended up to 11 hours. Fortunately it can be charged quickly, as you can get 0% to 70% in just an hour of charging.
Other than that, the two speakers under this laptop are also a bit disappointing. The sound is a bit shallow and lacks clear bass, so you better use earphones for a more immersive audio experience.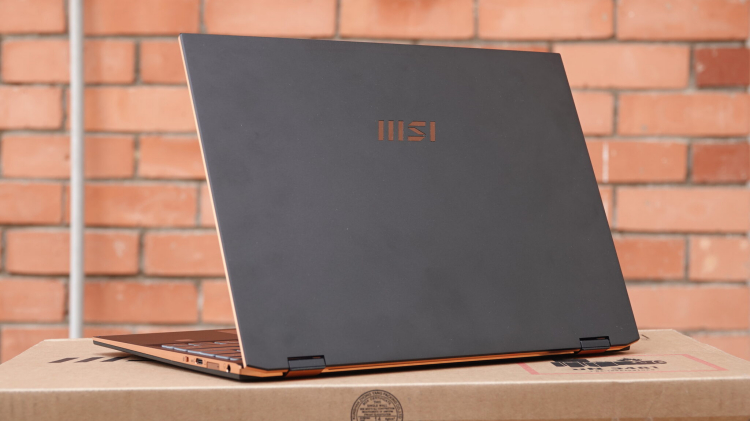 Overall, the MSI Summit E13 Flip Evo features a very attractive premium design for professionals and its performance is also ideal for productivity tasks. The MSI Pen that is also included with this laptop provides flexibility for those who prefer to write and use this laptop like a tablet.
Its battery life may not be the main draw of this laptop, but this shortcoming is overcome by the fast performance produced by the Intel Core i7 and makes it on par with desktop laptops even with its slim design. If you still want to prioritize battery life, maybe you can take a look at the MacBook Air M1 or HP EliteBook 840 G8.
If you are interested in premium design and want to find a solid replacement for a desktop, the MSI Summit E13 Flip Evo is a very suitable laptop. At the time of writing, Microsoft Windows had already informed me that this laptop could now be updated to the Windows 11 operating system.
Visit the MSI Malaysia website for more information if you are interested in buying this laptop or let us know your views on our Facebook page. Stay tuned to TechNave.com for more tech reviews.
Tech specs and features
Here are the tech specs and features for the MSI Summit E13 Flip Evo laptop:
13.4 -inch screen, 16:10 aspect ratio, 1920 × 1200 resolution, 120Hz rate, 100% sRGB color gamut

Chipset Intel Core i71185G7 3.00 GHz

RAM LPDDR4 32GB

1TB SSD storage

Iris Xe Graphics

Windows 10 Home

Keyboard with white lighting

MSI Pen stylus support

2x USB-C 3.2 Thunderbolt port, 1x USB-C 3.2 port, 1x USB-A 3.2 port, SD memory card reader, 3.5mm audio jack

Support 65W USB-C charging

720p webcam with noise cancellation microphone

Choice of black-gold or white-aluminum color
Pros and Cons
Pros: Premium design and easy to carry anywhere portability, fast performance and charging
Cons: Battery life is lower than competitor laptops
Summary: For business professionals who want to create an exclusive impression