Malaysian student's phone from Jaringan Prihatin exploded during an online class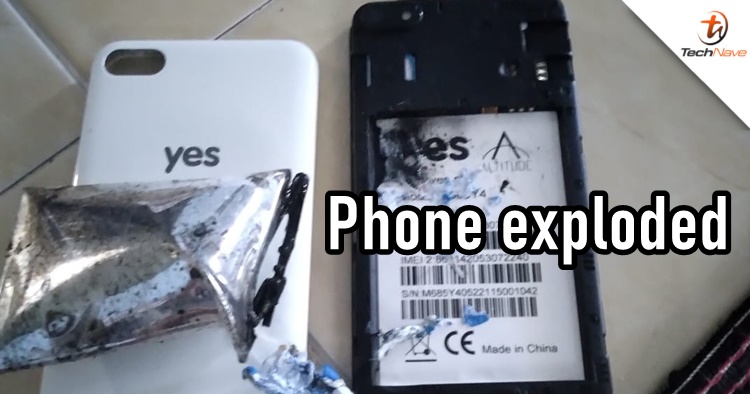 Update: YTL Communications has reached out to us saying that the phone was jointly developed by YES and China Mobile (the world's largest network operator) for use for education. The same model was given out by the YTL Foundation free to over 100,000 B40 families under its Learn From Home Initiative since the start of the first MCO last year. Prior to this news, there were no reports of any incident of safety relating to the phone. China Mobile has confirmed that the same battery used in this phone has been in production since 2018 and more than 4.5 million units have been shipped globally without any reported incident of this nature. However, the company take this reported incident very seriously as the safety of their products and users is of paramount importance and will investigate the matter fully.
Phones exploding are not an unusual case but perhaps in this news, the Malaysian government ought to take it more seriously. As you already know, every student now relies on either a laptop, computer or device to attend online classes. However, not everyone can afford a desktop PC so the phone sometimes is the only affordable option.
That said, getting a low-quality smartphone may not be an ideal option for students doing e-learning. It was just reported that a 9 year old student's phone battery caught on fire during an online class just this Monday. According to sources, the phone appears to be a YES Altitude 3 model with entry-level tech specs of 1GB of RAM, 8GB ROM and a MediaTek 8-core 1.3GHz chipset.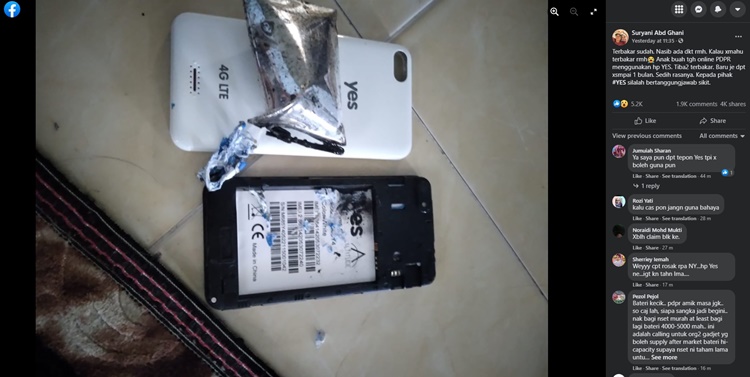 Suryani Abd Ghani, the mother of the 9 year old student told the media that luckily she and the father were at home in Gombak, otherwise the house could have burned down. The father, who was not named said that the phone usually couldn't last very long (2000mAh battery only) and overheated quickly. It was also noted that the phone was not charging during the incident, adding to his disappointment with the danger.
The mother also said that the phone was received through the Jaringan Prihatin Program, which is supported by the government with an allocation of RM1.5 billion. To recap, those who qualify for the B40 group are given a subsidy of RM300 for devices or an RM180 rebate for a year of data plan.
Bagi telefon kualiti rendah sebab buruk sangka dengan pelajar kononnya mahu elak mereka main game.

Akhirnya, telefon rosak. Yang susah, pelajar.

Belanjalah lebih sedikit untuk pendidikan mereka. Kerajaan ada wang. Guna untuk pelajar. pic.twitter.com/jPVgSAvlcA

— Syed Saddiq (@SyedSaddiq) June 15, 2021
What do you think of this incident? We are just glad that the family is safe but let us know in the comments below your thoughts. Stay safe and stay tuned for more trending tech news at TechNave.com.