Malaysian youths can now claim eBelia credit, RM300 rewards, earn up to RM1500 income & other prizes on Boost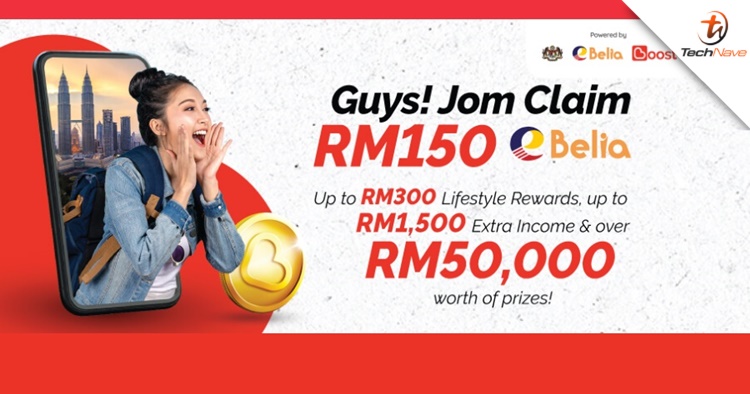 Starting today, eligible Malaysian students aged between 18-20 years old across the country will be able to claim their RM150 eBelia credit from the Malaysian government on Boost, Touch n' Go eWallet, Shopee Pay and BigPay. Through Boost, the company has just announced that they will also top up with an additional reward worth up to RM300, making it a total of RM450.
According to Boost, these rewards can be redeemed from Boost partners such as Watsons, KFC, Zalora, Fave, Tealive, Starbucks, Celcom, Yoodo, Digi, Great Eastern, BuyMall, Youbeli, Hermo, Mydin and many more on a first-come, first-served basis. Boost is also working with sister company Aspirasi to introduce a referral programme called 'Kongsi Klub', which is a way to earn an additional income.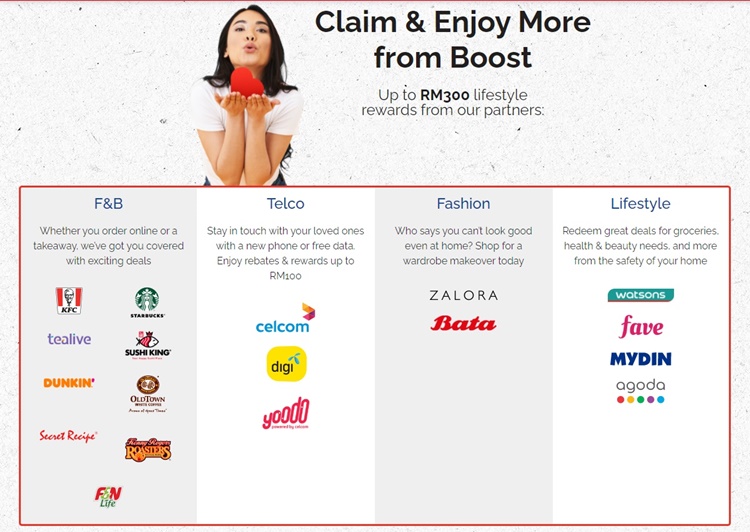 How this works is students can start building enterprising and resourceful skills in helping micro and small merchants obtain low-cost financing of up to RM100,000 via Aspirasi Capital. Users who successfully help micro and small merchants register for Aspirasi Capital will be rewarded with 1.5% of the total financing amount or up to RM1500 cash reward for each referral. As an incentive, eBelia users who sign up with Kongsi Klub will get an automatic RM20 e-wallet credit. Users can register for Kongsi Klub at www.aspirasi.co/kongsiklub.
On the other hand, Boost is also giving the eBelia users a chance to win a gold coin worth RM29,000 (based on current gold price) and other lifestyle products worth over RM50,000 through BoostUP Pick & Win with as little as 50 Boost Coins. Boost users earn Boost Coins automatically when spending with their e-wallets and it can then be used to redeem a host of gifts, vouchers and discounts from Boost partners. It could also be used to redeem cash in Boost Partner Wallets that then can be spent on mobile prepaid, postpaid and petrol payments or even used to purchase insurance coverage.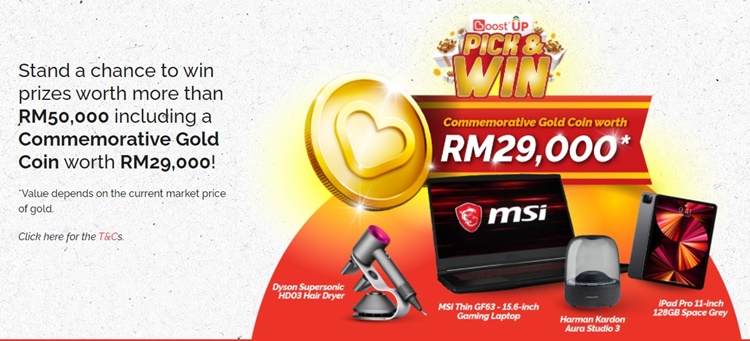 Apart from the commemorative gold coin, participating in Pick & Win would put them in the running to win amazing prizes such as a Harman Kardon Aura Studio 3 Bluetooth speaker, MSI Thin GF63 Gaming Laptop, Samsung Odyssey G5 WQHD TV, iPad Pro and many more.
As a reminder, the RM150 eBelia credit can only be claimed one time through an e-wallet of the user's choosing. To claim it, users can follow these simple steps after downloading and registering an account:
Tap on the eBelia banner on the Boost app homepage, under the 'What's New' section or the eBelia in-app overlay

Tap on 'Verify IC' and perform the eKYC verification process as described by the on-screen instructions. If IC has been verified, this step will be skipped

Once the account is verified, tap on 'Submit Claim' and enter the additional required information

Once the information has been verified, you will receive a 'Successful Claim' notification and gain access to your RM150 eBelia credit and Boost Rewards

Check out the Boost app homepage where you can select additional rewards up to RM300
For more information, you can check out the official Boost eBelia page right here. Stay safe, stay healthy and stay tuned for more trending tech news at TechNave.com.