Maxis Offers BlackBerry Q10 Registration of Interest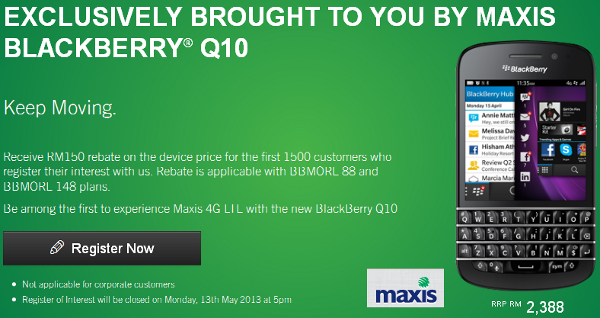 Just like all the other previous smartphones, Maxis is currently offering the chance to register your interest early to get the BlackBerry Q10. While the BlackBerry Q10 offers a bit more familiarity with an actual physical QWERTY keyboard it also provides support for 4G LTE, something which the BlackBerry Z10 didn't.

For now, you can register your interest by going here but registration will be closed at 5pm on 13 May 2013. According to schedule, the BlackBerry Q10 should reach your hands by 15 May 2013. Maxis are sweetening the deal for the first 1500 customers with an extra rebate of RM150 provided you apply for the Q10 using the BBMore88 and BBMore148 plans.

Click here for more Maxis telco deals or check out the Maxis site for more information.
BlackBerry Q10 Specs & Price >