Maxis eSIM is now available for Apple iPhone XR, XS and XS Max for free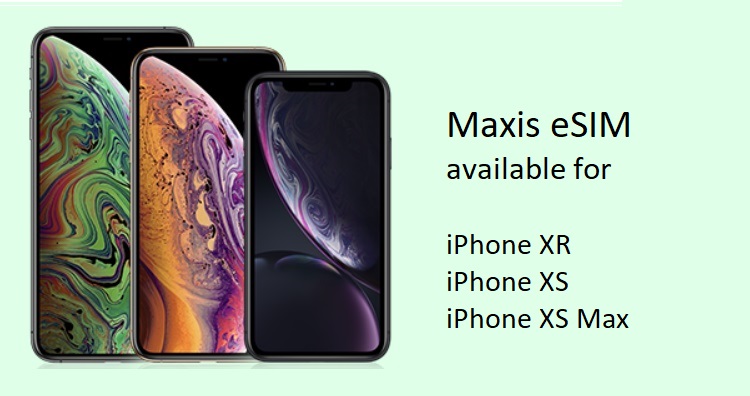 In case you didn't know, Maxis is now offering all Apple iPhone XS, iPhone XS Max and iPhone XR Malaysian users their very own eSIM! However, it's not just for them but it's also viable for Huawei Watch 2 users as well. If you're curious on how to activate one, read on below on steps to set up your eSIM provided by Maxis.
According to Maxis, there is actually no price for changing to an eSIM. If you want to convert to one, you must ensure that your device supports eSIM and as far as we know, only the latest Apple iPhone lineup, Apple Watch 3 and 4, Huawei Watch 2 are official. Once you've checked with the manufacturer, you can ask for a SIM replacement to an eSIM.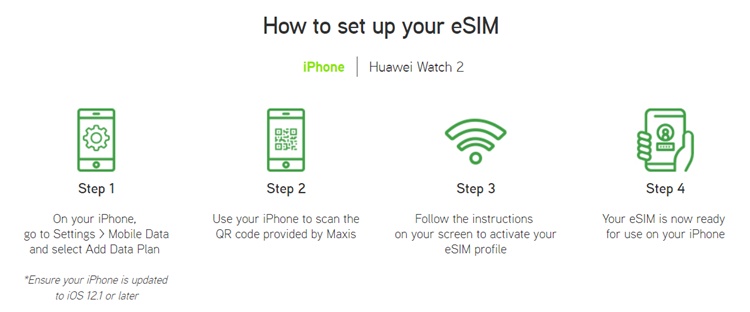 To pair up with Maxis eSIM, your iPhone XS, XS Max and XR must have iOS 12.1 to be equipped. To start off, just go to your device's Settings > Mobile Data > and select Add Data Plan. Make sure you're also at a Maxis centre so that you can use your iPhone to scan the QR code provided by Maxis. After that, simply follow the instructions on the screen to activate the eSIM. As for Huawei Watch 2 users, you will have to download both Android Wear and Huawei Wear apps on your Huawei smartphone. Make sure your wearable is already synced to the phone, so you can follow the instructions on the Android Wear app and scan the QR code on the Maxis eSIM card.
The eSIM, which stands for embedded SIM is a new technology that eliminates the need to carry around a physical card that is started by Apple, which eventually got adopted by South Korea and Japan. You can now visit your nearest Maxis for more information and stay tuned for more Maxis news at TechNave.com.