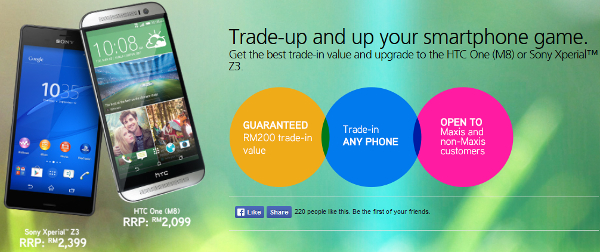 Maxis are now offering the Sony Xperia Z3 with a trade-in offer up to RM950. Certain smartphones like the Apple iPhone 5S or Samsung Galaxy S5 will get this rebate but even if you bring in a no-name phone it will still get a trade-in value of RM200 (as long as it is still working). Granted, you will have to sign up for a Maxis One plan for 24 months but you'll be able to get the Xperia Z3 from RM1499 which is quite a drop from the retail value of RM2399. Check out the details in the table below:
Maxis Sony Xperia Z3


ONEplan Lite


ONEplan
Monthly
RM78
RM128
Data (Quota)
1GB
2GB
Call rates


15 sen / minute on network

N/A
SMS rates


10 sen / SMS on network

Free Voice Calls
Limitless on network
Limitless

Free SMS
Limitless on network
Limitless

24 months contract

RM1499
RM1499
Add Apple iPhone 5S, Samsung Galaxy S5, Sony Xperia Z2 trade-in (RM950)

RM749
RM549
Apple iPhone 5, Sony Xperia Z1, Samsung Galaxy Note 3 (RM750)

RM949
RM749
Apple iPhone 4s, Samsung Galaxy Note 2, Samsung Galaxy S4, HTC One M7 (RM500)

RM1199
RM999
Apple iPhone 4, Samsung Galaxy S2,
Samsung Galaxy S3, Samsung Galaxy Note (RM400)

RM1299
RM1199
Any phone (RM200)

RM1499
RM1299
For more information regarding this deal, do check out the Maxis site. Alternatively you can also check out our other Maxis Telco deals as well.