Maxis opens up Samsung Galaxy Note 3 + Samsung Galaxy Gear bundles from RM1199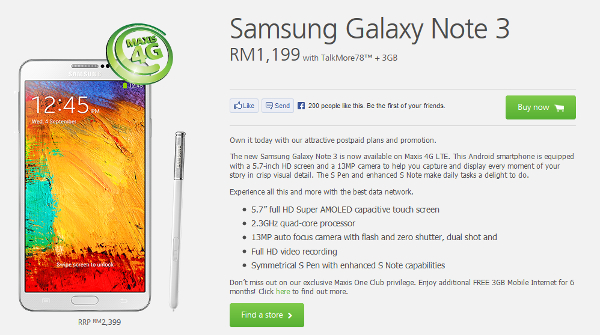 Finally, Maxis has come out with it's Samsung Galaxy Note 3 offerings and no surprise here but they also have a FREE Samsung Galaxy Gear smartwatch thrown in. Prices of the Samsung Galaxy Note 3 start from RM1199 and as usual, you have to sign up for a 24 month contract but with Maxis you can choose between a SurfMore75 or TalkMore78+1GB or TalkMore78+3GB postpaid plan bundle. Check out the table below for the full details:
Maxis Samsung Galaxy Note 3
SurfMore75
TalkMore78
1GB
3GB
Monthly
RM75
RM126
RM146
Data (Quota)
5GB
1GB
3GB
Call rates
12 sen / minute on network | 20 sen / minute off network
8 sen / minute on network | 15 sen / minute off network
SMS rates
12 sen / SMS on network | 20 sen / SMS off network
8 sen / SMS on network | 15 sen / SMS off network
Free calls
N/A
600 minutes
Free SMS
N/A
500 SMS
24 months contract
RM1599
RM1399
RM1199
Total Cost
RM3399
RM4423
RM4703

The Free Samsung Galaxy Gear smartwatches will be made available to 800 Maxis One Club users who sign up for the TalkMore78 + 3GB Mobile Internet plan bundle. In addition, Maxis One Club users will also get another 3GB of Mobile data for free for 6 months. For other plan choices check out our Samsung Galaxy Note 3 plan comparison tool but if you need more information regarding this deal check out the Maxis site. Alternatively, do check out our other Maxis telco plans as well.
Samsung Galaxy Note 3 LTE Specs & Price >