Microsoft Surface Laptop 4 review - Lightweight and high-performance laptop for work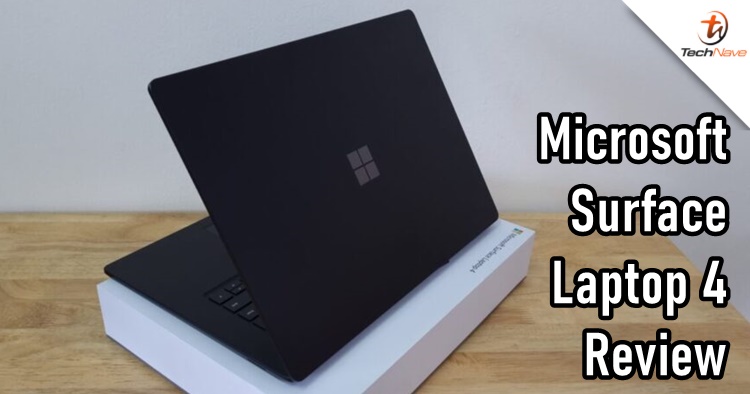 If you are a working professional looking for a new laptop, you might be curious about the Microsoft Surface Laptop 4. It was recently released in Malaysia with impressive tech specs, such as having 11th Gen Intel Cores and AMD Ryzen processors. However, it comes with a rather hefty price starting from RM4599. Is it worth it?
Honestly, the Surface Laptop 4 isn't all that different from its predecessor in terms of design. But if you do have the budget for a Microsoft laptop, fret not because we're here to walk you through the pros and cons. Without further ado, here is our review of the Microsoft Surface Laptop 4 (AMD variant).
To kick off this review, you should know that aside from having an Intel or AMD variant, the Surface Laptop 4 comes in two sizes which are 13.5-inches and 15-inches. For our review unit, we got was the Matte Black 15-inch AMD variant. Regardless of size, the Surface Laptop 4 features a super lightweight body at the expense of more powerful hardware. This includes the GPU, which isn't a dedicated one, and other features that we will touch on later.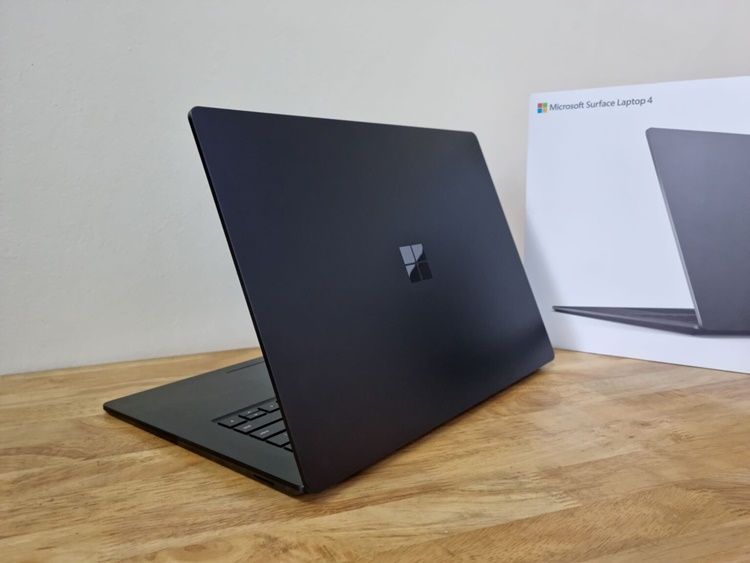 Besides Matte Black, there is also a Platinum colour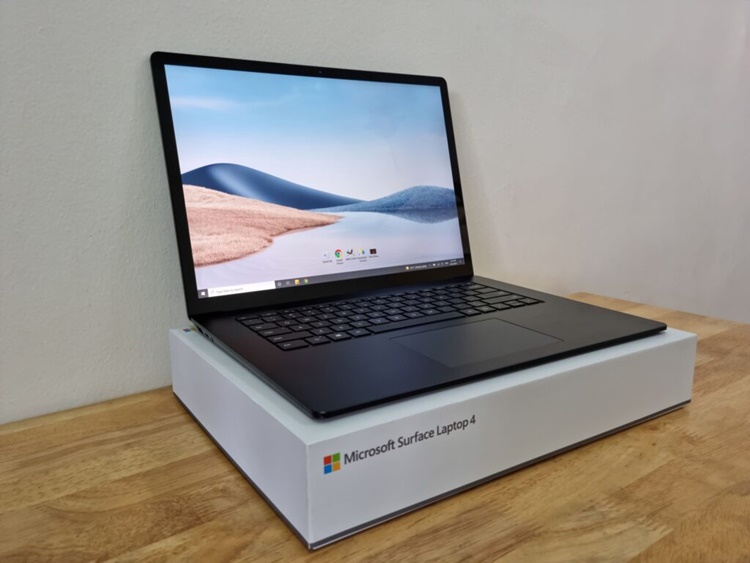 Nothing out of the ordinary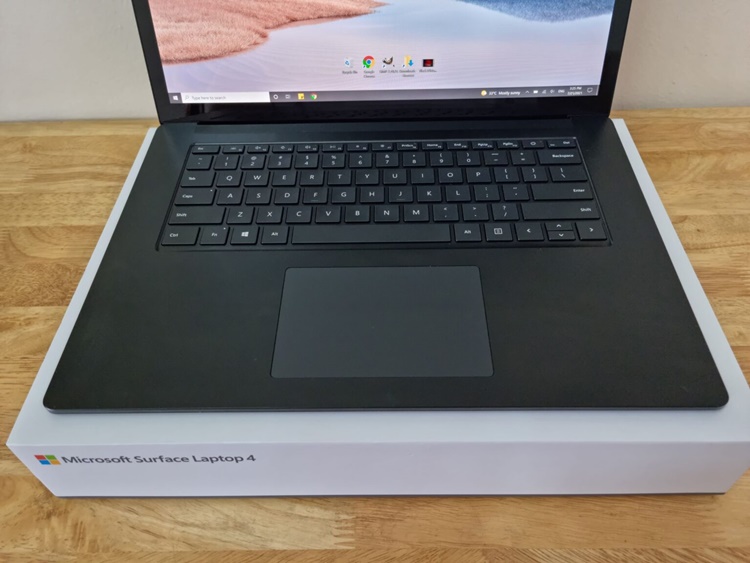 The keyboard and trackpad sizes are satisfactory. While the key travel is kind of short, the keyboard is still comfortable to use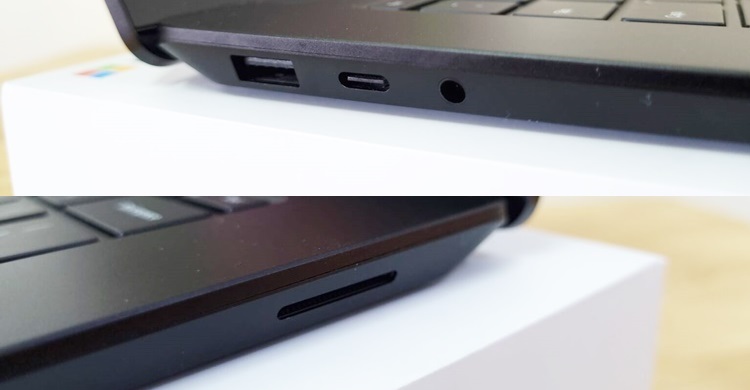 These are the only ports you get
On top of being lightweight, the Surface Laptop 4 was designed with a minimalistic approach. It may look simple, but the surface (haha) of the laptop is all smooth metal, thanks to the sandblasting technique. Overall, our Matte Black review unit feels clean and delicate. However, it also attracts fingerprint smudges. Even the Platinum variant may have the same issue.
Another minus point of the Surface Laptop 4 is the lack of I/O ports. All you can find is one USB-A port, one USB-C port, and an audio jack on the left side. As for the right side, there's a Surface Connect port, which can be used for power and various docks or adapters. It's flat and works magnetically, making it easy to swap the connectors when you need to. While it is a convenient port, it's a hassle for consumers. You would need to buy proprietary docks or dongles for extra ports, which might be required for work purposes.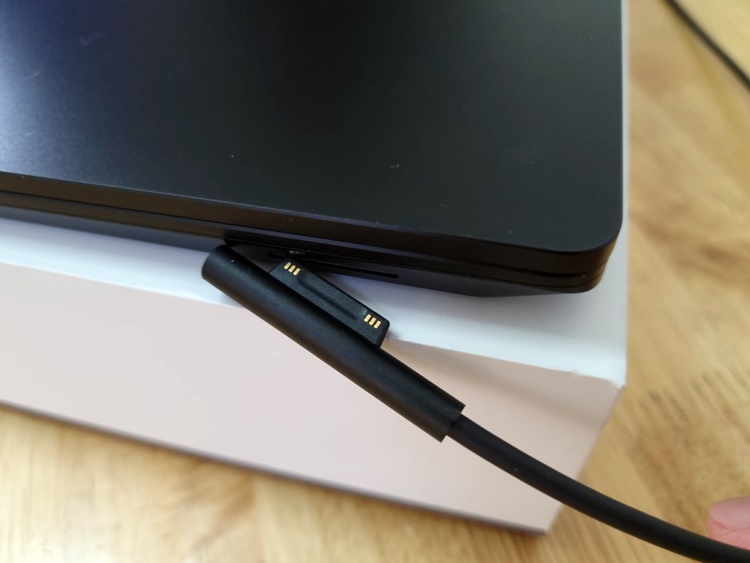 The Surface Connect port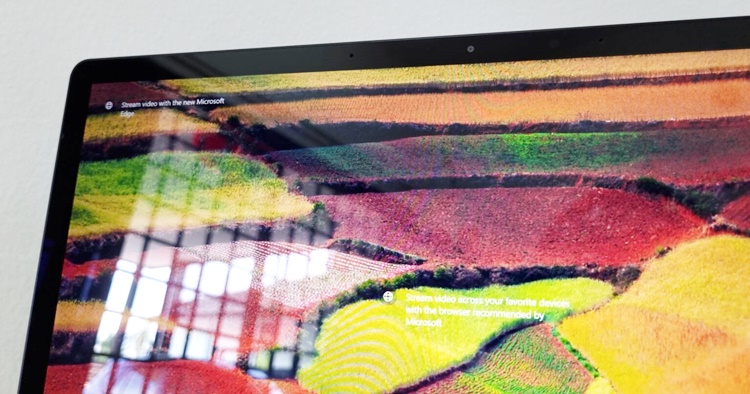 The bezels are quite thick

(L-R) The difference between a 3:2 and 16:9 aspect ratio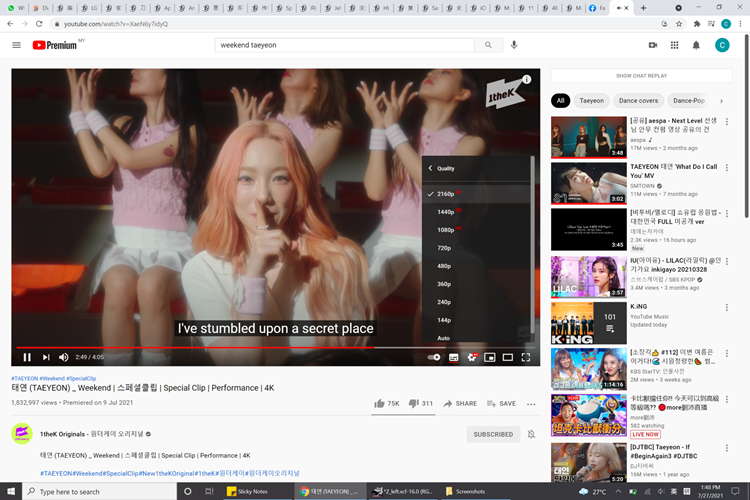 Not only is the laptop capable of running 2K resolution videos but also opening multiple tabs at once without crashing
The Surface Laptop 4 comes with a 15-inch PixelSense touchscreen (2496 x 1664 pixels, 201 PPI). It can be tilted 135-degrees, which can be handy in some scenarios. The laptop doesn't come with a stylus, but you can use any Surface Pen without pairing it. You'll also notice that the aspect ratio is 3:2, so if you are used to a 16:9 laptop, it will take a while to get used to this PC.
As mentioned, the Surface Laptop 4 offers both Intel and AMD processors in two sizes. For our AMD Ryzen variant, the 15-inch features an 8-core Ryzen 7 CPU, 8GB of RAM, and 512GB of SSD storage. It was able to score 4686 and 704 points on PCMark 10 and 3DMark, respectively. With this in mind, it's clear that the Surface Laptop 4 is meant for work productivity and not much else.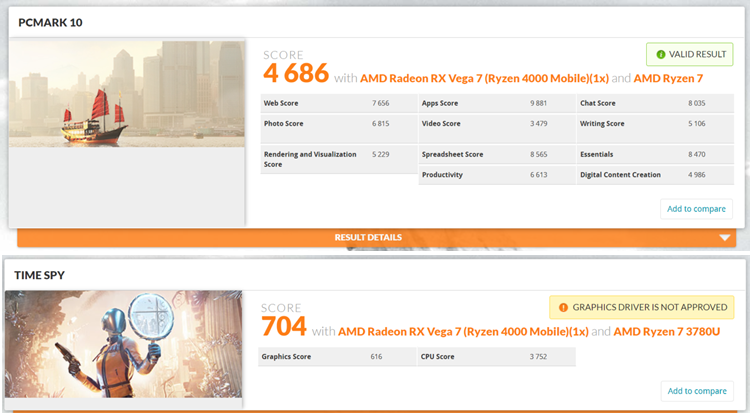 The scores from PCMark (top) and 3DMark (bottom)
If you want to use the laptop for content creation, forget it because the Surface Laptop 4 lacks a discrete graphics card. As you can see from the 3DMark benchmark result, it has poor graphical performance with an average of 3.40FPS for the first run and 4.21FPS in the second. However, you can technically play some light indie video games on it.
According to Microsoft, the Surface Laptop 4's rated maximum battery life is around 17.5 hours with average usage. From our experience, that was often not the case. But then again, the battery life will vary for each user. Our writer spent most of her time with the laptop on Google Chrome and an image editing software while playing YouTube Music in the background in performance mode. With this use case, the Surface Laptop 4 only lasted an average of 5.5 hours. An odd thing about the laptop is the Battery Saver. It doesn't seem to work well, as it drains the battery at a similar rate even when we enable the feature.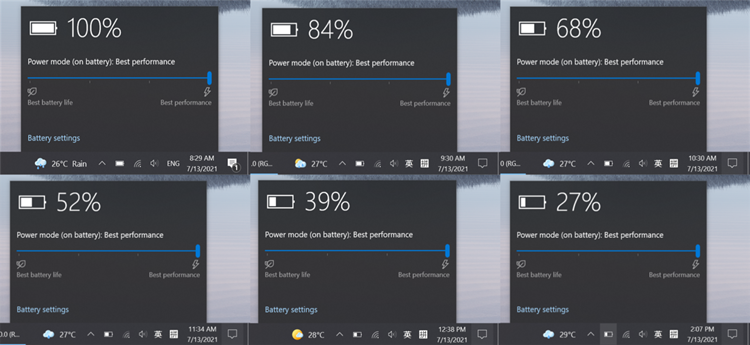 Battery test using performance mode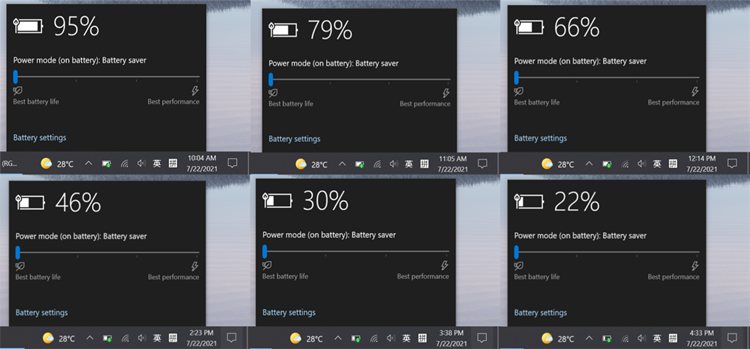 Another battery test in Battery Saver mode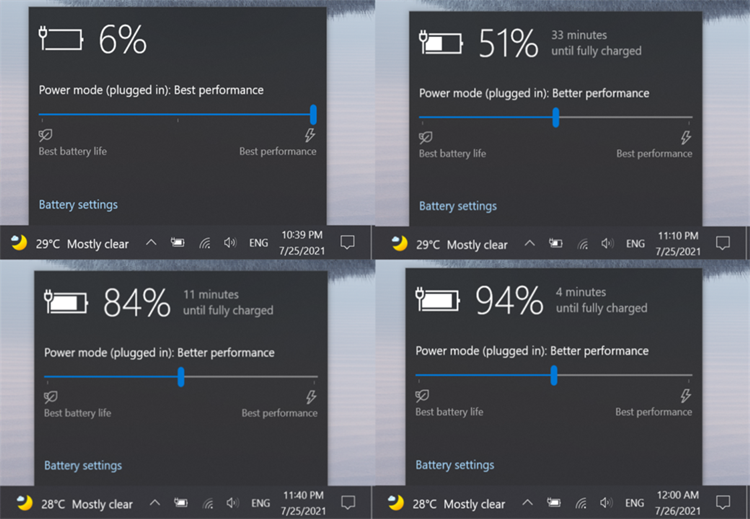 20 minutes for around 10% battery charge
While that's a problem, the charging speed is at least quite commendable. The Surface Laptop 4 can be charged up to 80% within an hour, thanks to the 65W power adapter. Even a full recharge only takes 2 hours. As for other notable features, the connectivity and webcam on this PC are fine. The speakers are also quite good with support for Dolby Panorama, so that's nice.
All in all, the Surface Laptop 4 is a decent device for work purposes. It has a large screen despite being lightweight, and Microsoft has pre-installed some programs inside. This includes Microsoft Office and Microsoft Teams, which many people use for their work. In terms of performance, it's certainly more than capable of handling any office work.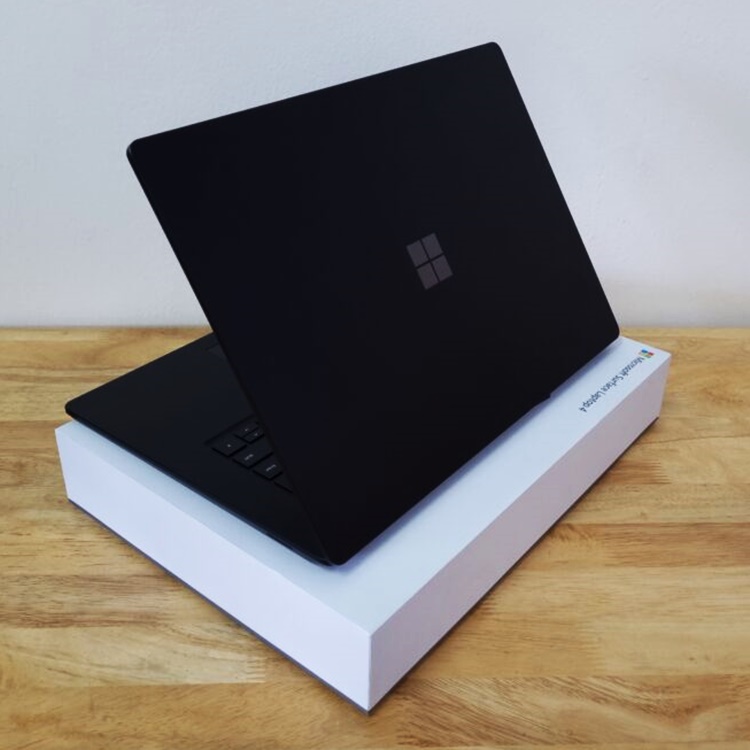 If we could improve the Surface Laptop 4, we would add more I/O ports and perhaps shrink the bezels around the display a bit more. While the battery test didn't meet our expectations, the laptop can easily last longer if you don't stream YouTube Music as much as we did. But what do you think? Let us know in the comments below, and stay tuned for more tech gadget reviews at TechNave.com.
Tech specs and features
AMD Ryzen 7 4980U Mobile Processor with Radeon Graphics Microsoft Surface Edition (8 cores)
8GB, 16GB, or 32GB LPDDR4x RAM
256GB, 512GB, or 1TB SSD
Measures 339.5 x 244 x 14.7 mm, weighs 1.5g
15-inch PixelSense Touchscreen Display (3:2 aspect ratio, 2496 x 1664 pixels, 201PPI)
Ports - 1 x USB-C, 1 x USB-A, 3.5 mm headphone jack, and 1 x Surface Connect port
Features TPM 2.0 chip for enterprise security and BitLocker support, Enterprise-grade protection with Windows Hello face sign-in, 720p HD web camera, Omnisonic Speakers with Dolby Atmos
Supports Wi-Fi 6: 802.11ax compatible, Bluetooth 5.0
Battery 47.4Wh, 65W power adapter
Windows 10 Home
Pros - A larger screen in a thin and compact body, decent battery life, touchscreen support, and a good typing experience
Cons - Needs more I/O ports such as HDMI, SD card reader, and USB-A
Conclusion - This is for the business-class target audience
Microsoft Surface Laptop 4 Specs & Price >