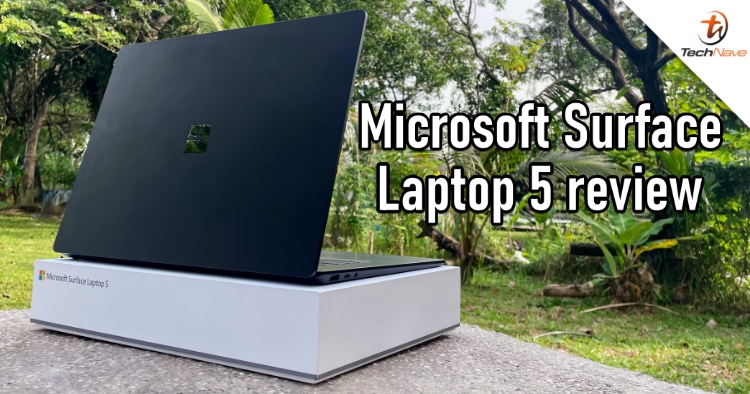 In November last year, Microsoft refreshed two of its Surface lineup in Malaysia, one of which is the Microsoft Surface Laptop 5 that we're reviewing today. Practically identical to its predecessor, the only changes are internal, with all the Surface Laptop 5 models now being powered by the 12th Gen Alder Lake Intel processors. Furthermore, unlike the Surface Laptop 4, there's no option for an AMD Ryzen chipset.
It's slightly more expensive too, with a starting price of RM5299 for the 13.5-inch variant. And all the way up to RM9985 for the most specced out 15-inch variant. So, is this the perfect laptop for your needs and field of work? Well, let's find out together, shall we?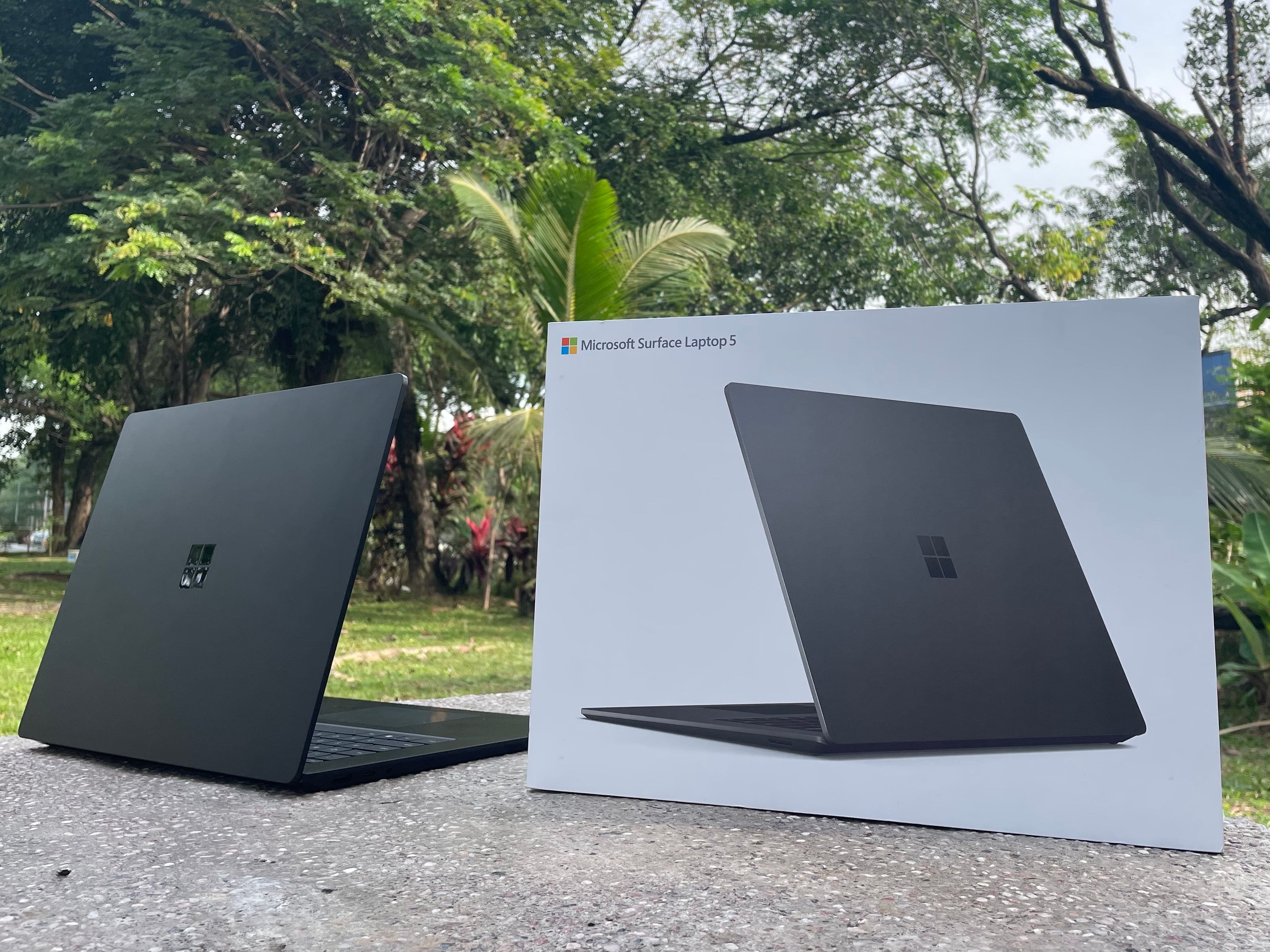 The Surface Laptop 5 with its packaging box
The back design is minimalistic, with the Microsoft logo in the middle
Firstly, you should know that the Surface Laptop 5 comes in two sizes, which are 13.5-inch and 15-inch. For our review, we got the highest-end 15-inch variant in Matte Black with 16GB of RAM and 512GB SSD storage. Regardless of size, the Surface Laptop 5 features a super lightweight yet premium body and other specifications that we will go further in-depth on later.
In terms of design, the Surface Laptop 5 is externally indistinguishable from its predecessor, with Microsoft seemingly adhering to the 'if it ain't broken, don't fix it' school of thought. That's not necessarily a bad thing though, as the all-aluminium build is stellar and exudes a premium feel. It's sturdy with zero chassis flex, has a lid that can be opened with just one finger, and comes with an Alcantara option for the keyboard deck for those who prefer that texture.
Yet, the laptop is still ultra-light at just 1.57kg, something that's pretty impressive for a 15-inch laptop. Moreover, the 15-inch and 13.5-inch versions feature a minimalistic and sleek industrial design with nothing but the Microsoft logo in Chrome on the lid.
As for our Matte Black review unit, it looks gorgeous and super clean, perfect for a laptop that's meant for work. Well, that is until you use it for an extended period. The matte finish is, unfortunately, quite a fingerprint magnet. Also, this is the only colour available in Malaysia, even if you opt for the same high-end specs. The lesser variants do come in either Matte Black or Platinum colours though. Interestingly, the Alcantara keyboard deck option is only available for the entry-level 13.5-inch model.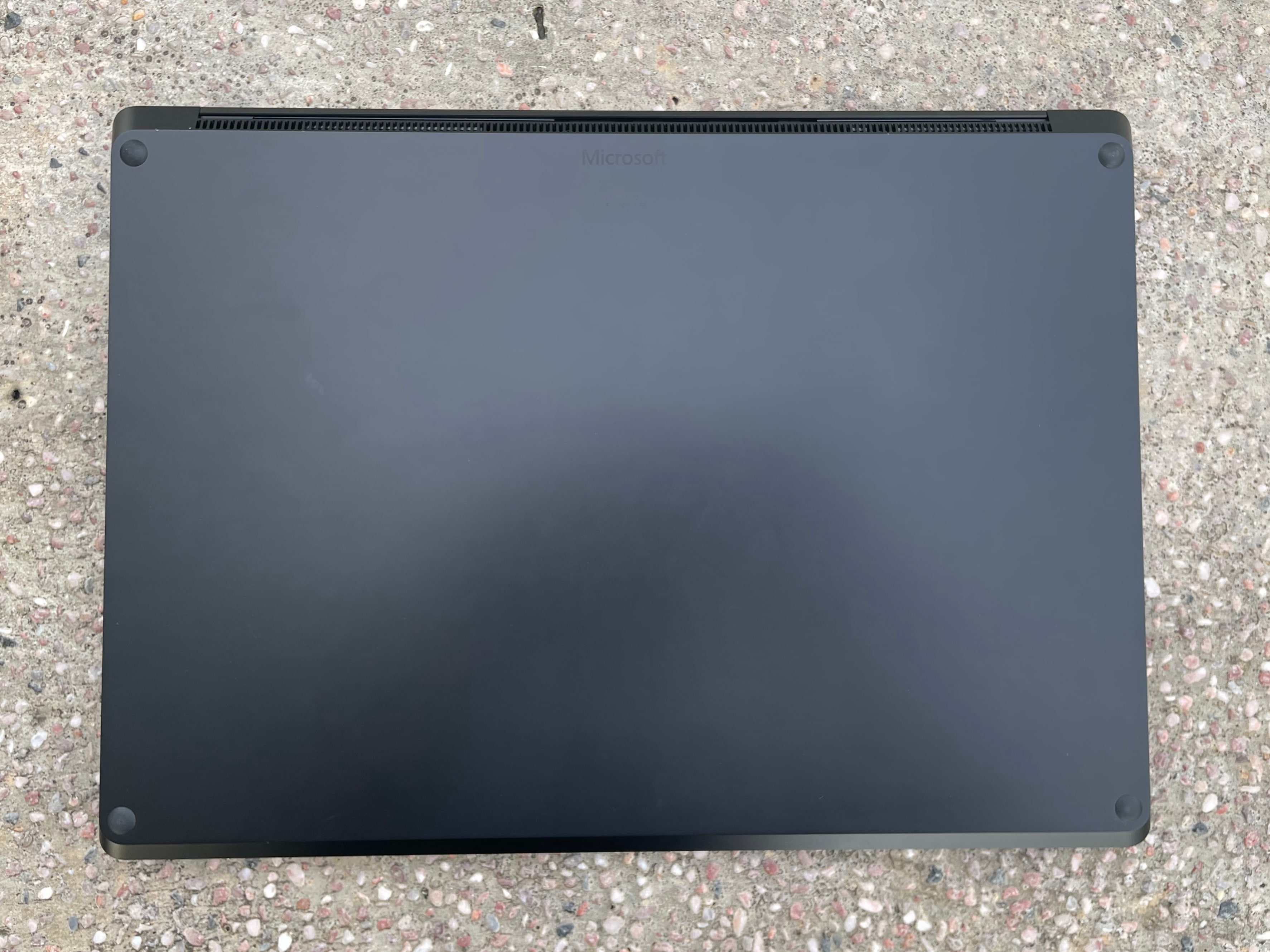 The bottom of the laptop is also minimalistic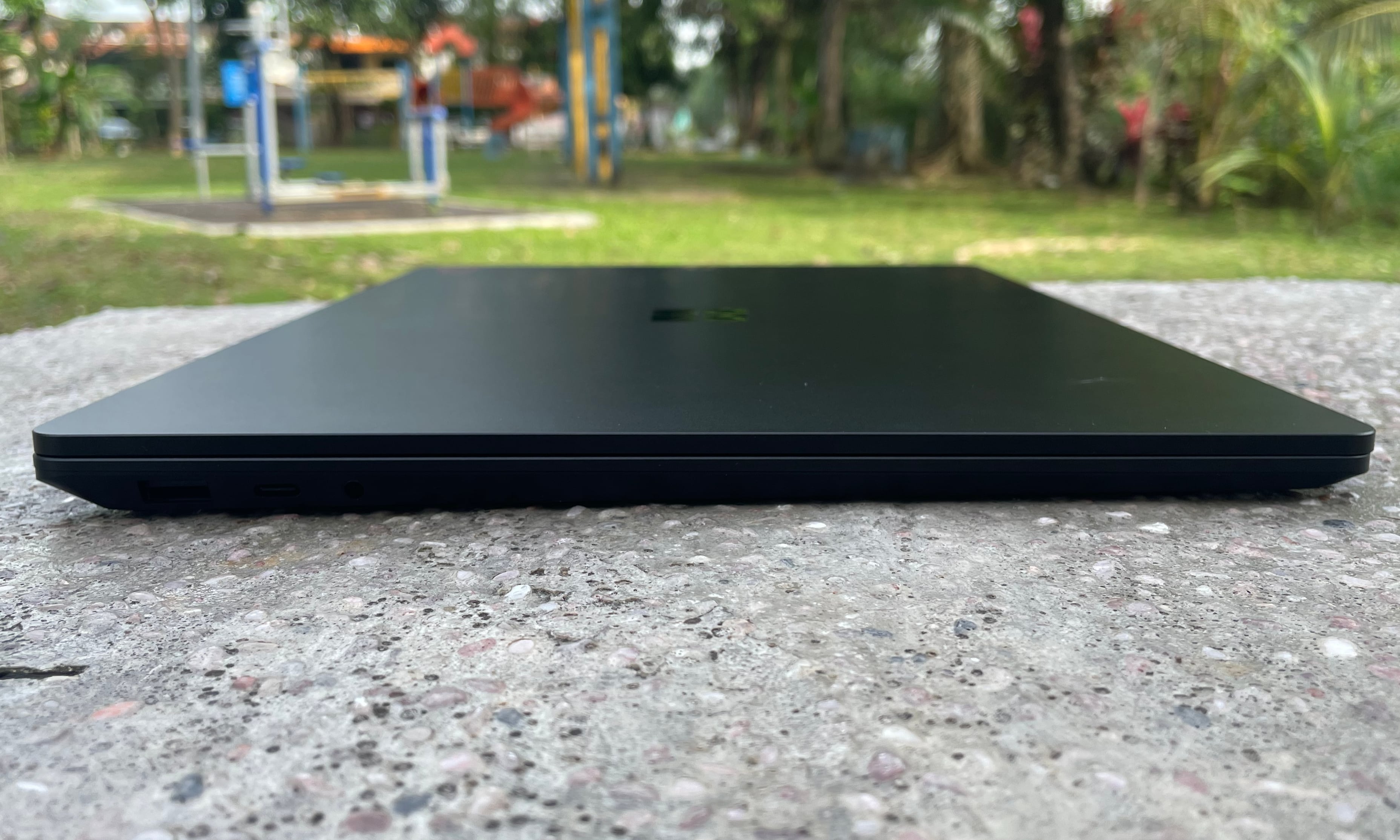 The Surface Laptop 5 is 14.7mm thin despite rocking a 15-inch display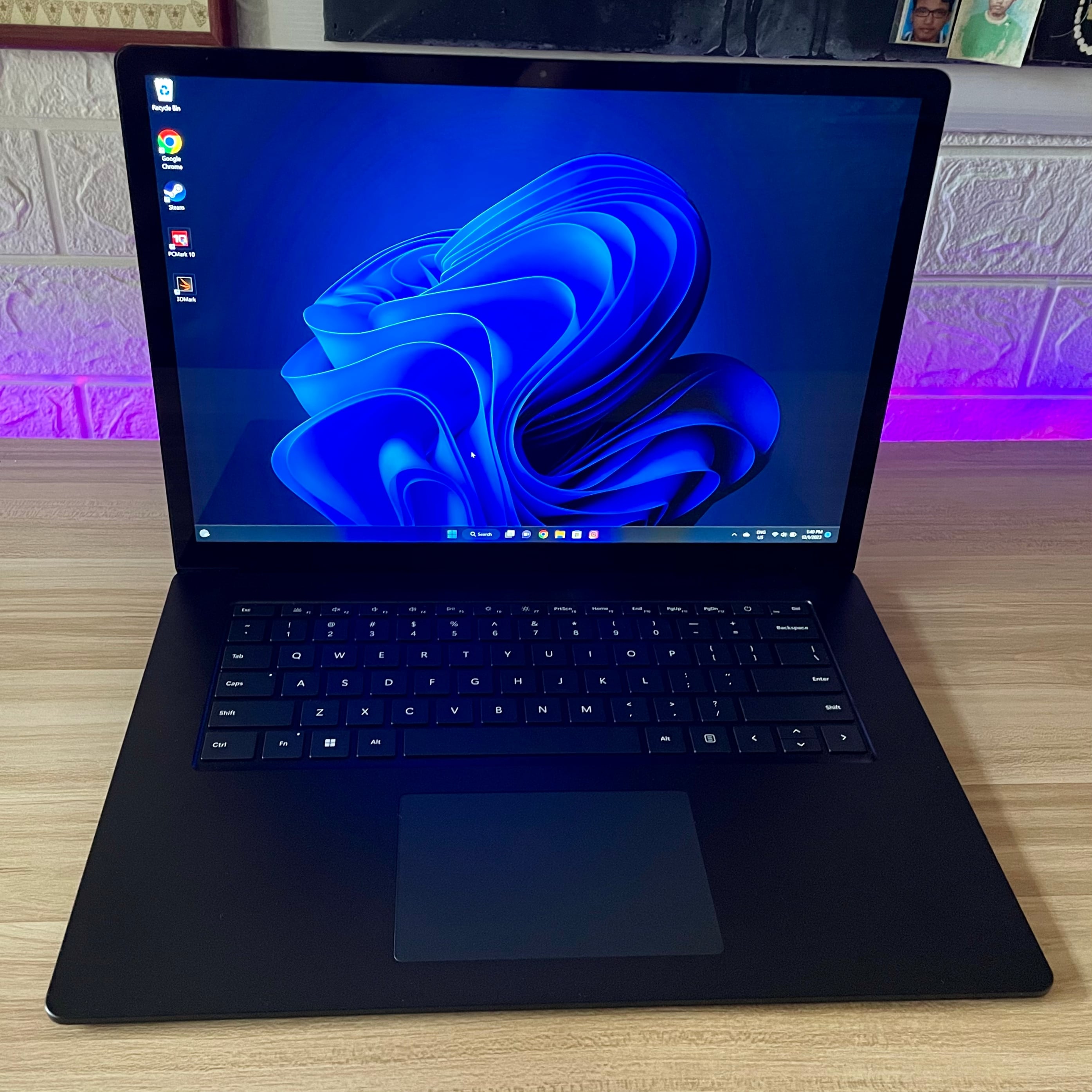 The front design of the laptop
With the Surface Laptop 5 retaining the same outer design, it inherited the same drawbacks as the Surface Laptop 4 in terms of I/O ports. Or more accurately, the lack of them. On the left side, all you can find is one USB-A port, one USB-C port, and an audio jack. Thankfully, the USB-C has now been upgraded to Thunderbolt 4.0, fixing one of the gripes many had with the Surface Laptop 4. Data transfer speed is now considerably faster, and users have more options in terms of external display connections. Of course, it also supports power delivery, which is always a plus.
At its right, there's a Surface Connect port, which can be used for power (a full recharge usually takes around 2 hours), various docks or adapters. It's flat and works magnetically, making it easy to swap the connectors when needed. Furthermore, it ensures that you won't damage your device if you accidentally trip on the cable, which prevented us from damaging this review unit multiple times during testing.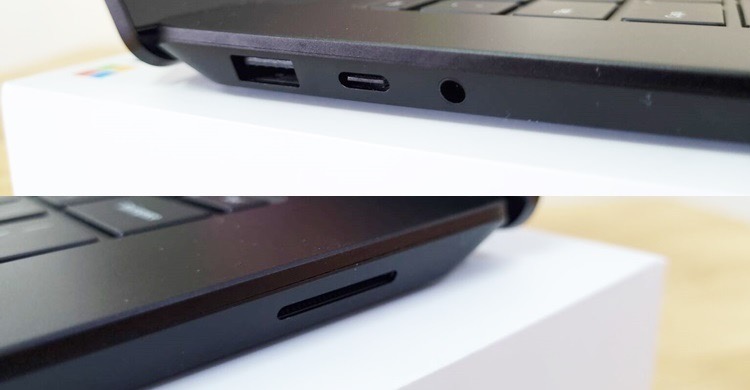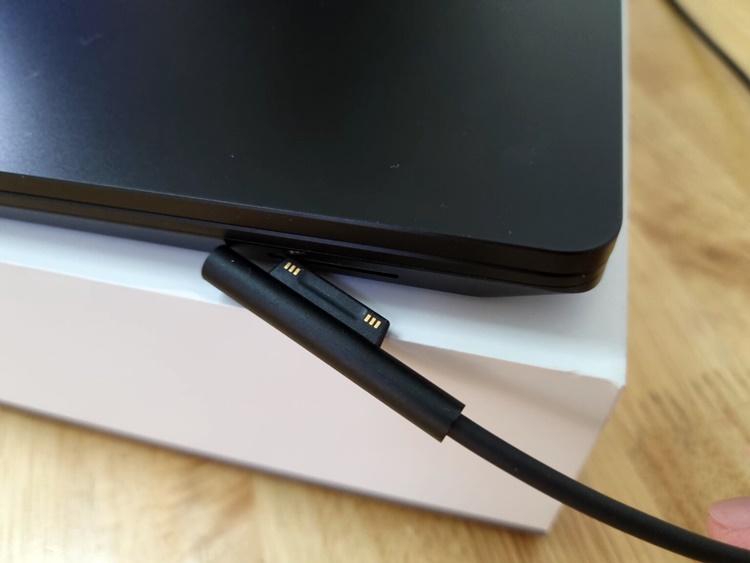 The I/O of the Surface Laptop 5 is rather lacklustre for a 15-inch laptop
The screen is bright and crisp for work as well as for watching content
Moving towards the display, the Surface Laptop 5 has a 15-inch PixelSense touchscreen panel (2496 x 1664 pixels, 201 PPI) that can be tilted up to 135 degrees. The laptop doesn't have an included stylus, but you can directly use any Surface Pen without pairing it. Besides that, its 3:2 aspect ratio is perfect for productivity as it gives more vertical space to work with. However, the surrounding bezels, especially the bottom, are fast getting outdated in this day and age.
Moving on, the webcam above the screen can record videos in 720p resolution and is serviceable for video calls, though admittedly rather disappointing at this price point. Speaking of which, you can expect good audio quality during video or voice calls thanks to the laptop's dual far-field studio mics. On the plus side, the webcam does have IR for Windows Hello facial recognition that works flawlessly and is extremely fast.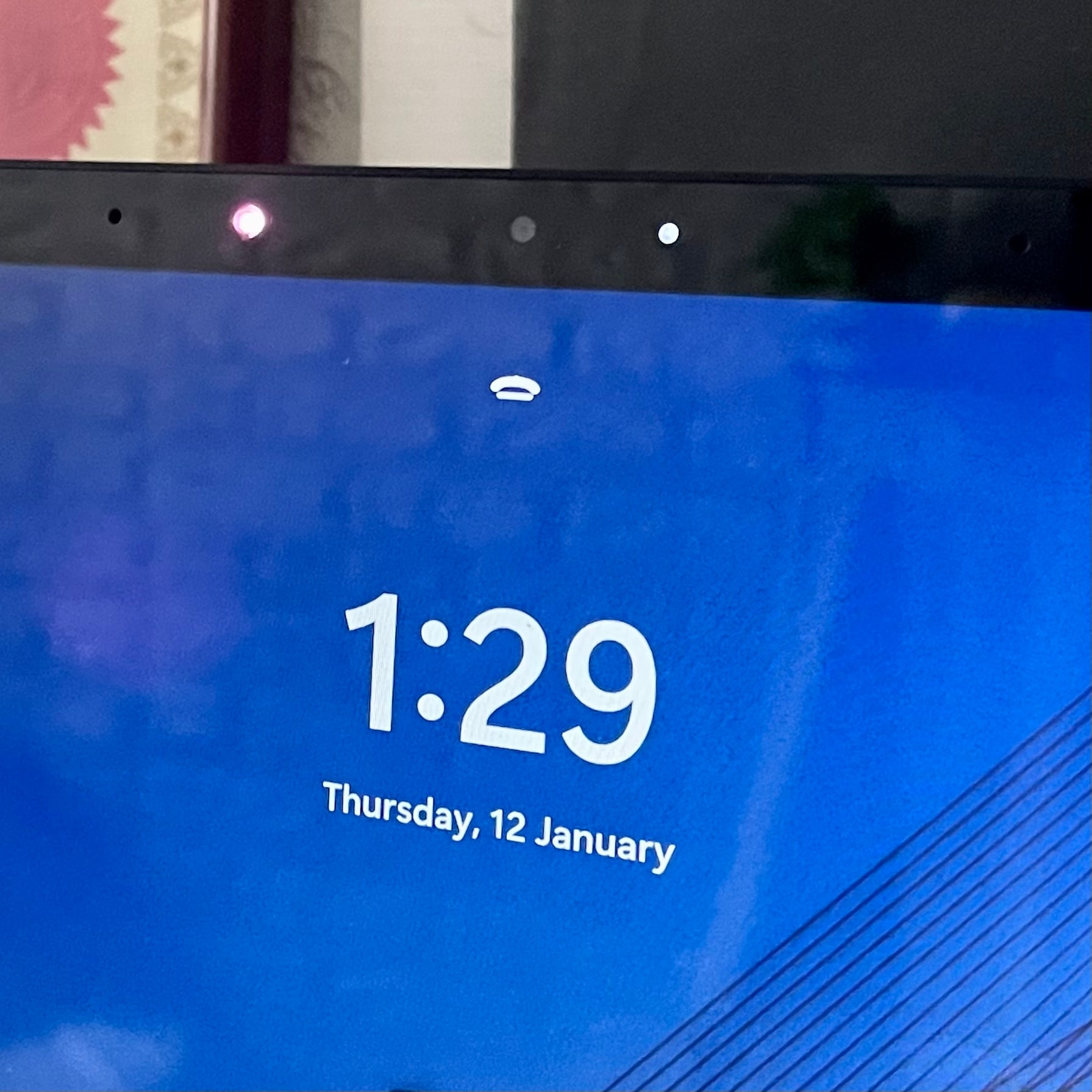 The IR scanner on the webcam works flawlessly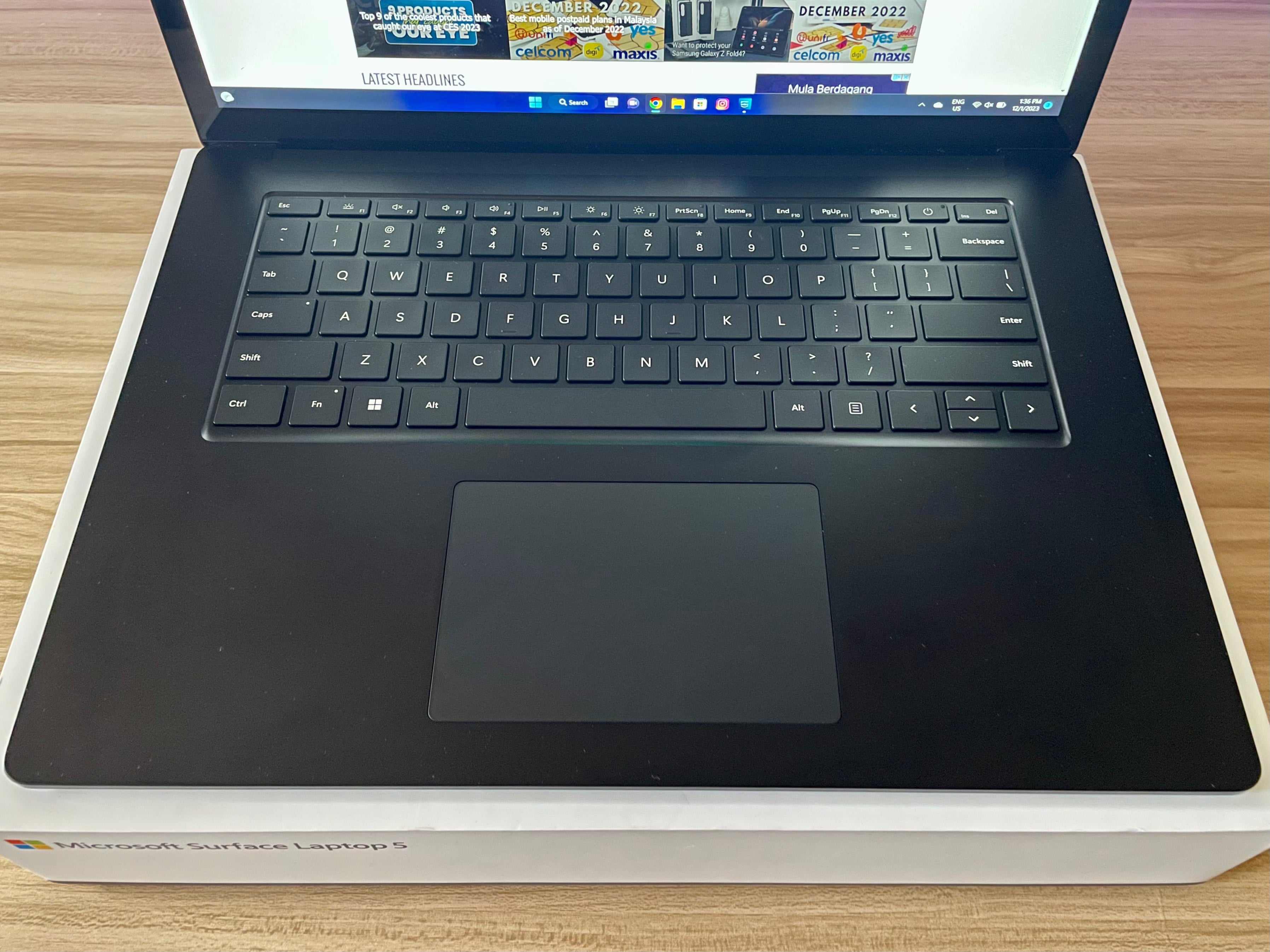 The Surface Laptop 5 has a fantastic keyboard and trackpad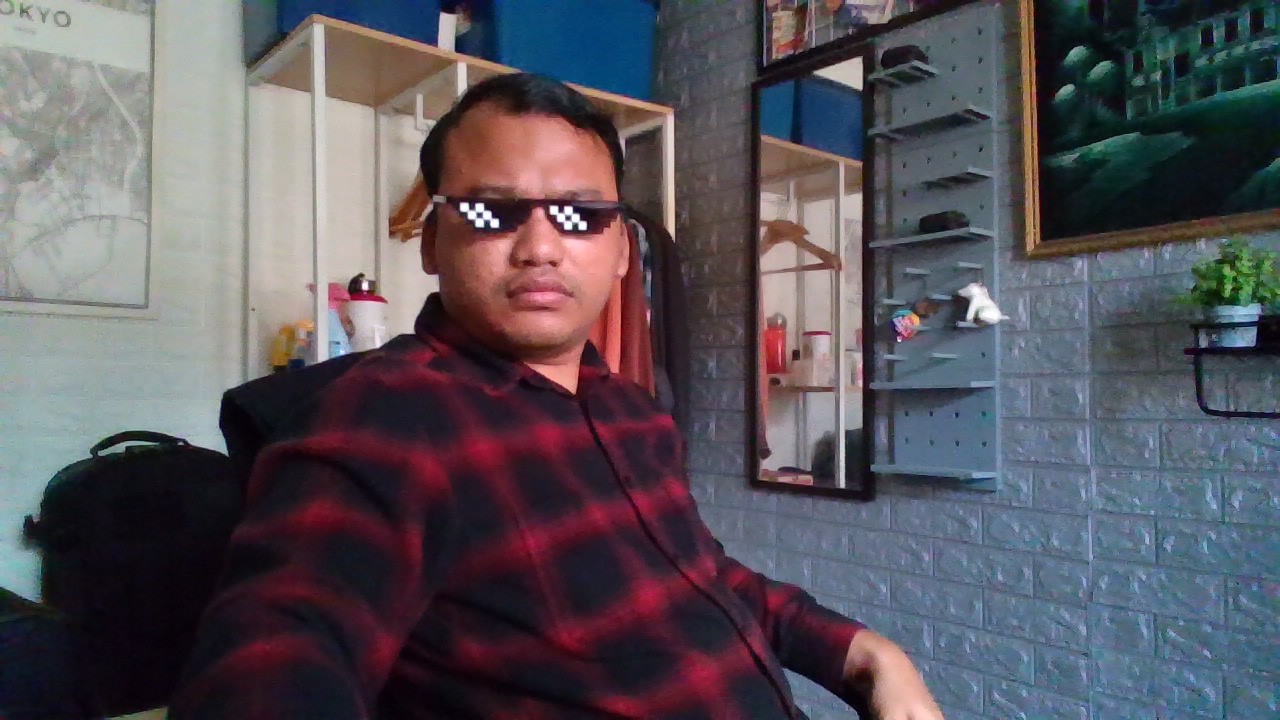 Sample photo from the webcam
The Surface Laptop 5 has a fantastic keyboard, one of the best I've used on a lightweight Windows machine. Typing on the device is a pleasure with well-spaced keys, satisfying travel and excellent feedback. The touchpad is great too, and supports precision gestures, though it's a bit small for my liking, especially for a 15-inch laptop.
Now, let's move on to performance. As mentioned, the Surface Laptop 5 is equipped with Intel 12th Gen processors in both sizes. Our review unit is powered by the 12th Gen Intel Core i7-1255U under the hood, paired with 16GB of LPDDR5x RAM and 512GB of SSD storage. Based on the PCMark 10 and 3DMark benchmark results below, it's clear that the Surface Laptop 5 is meant for productivity and not much else. And for that, the laptop is more than capable and works extremely well.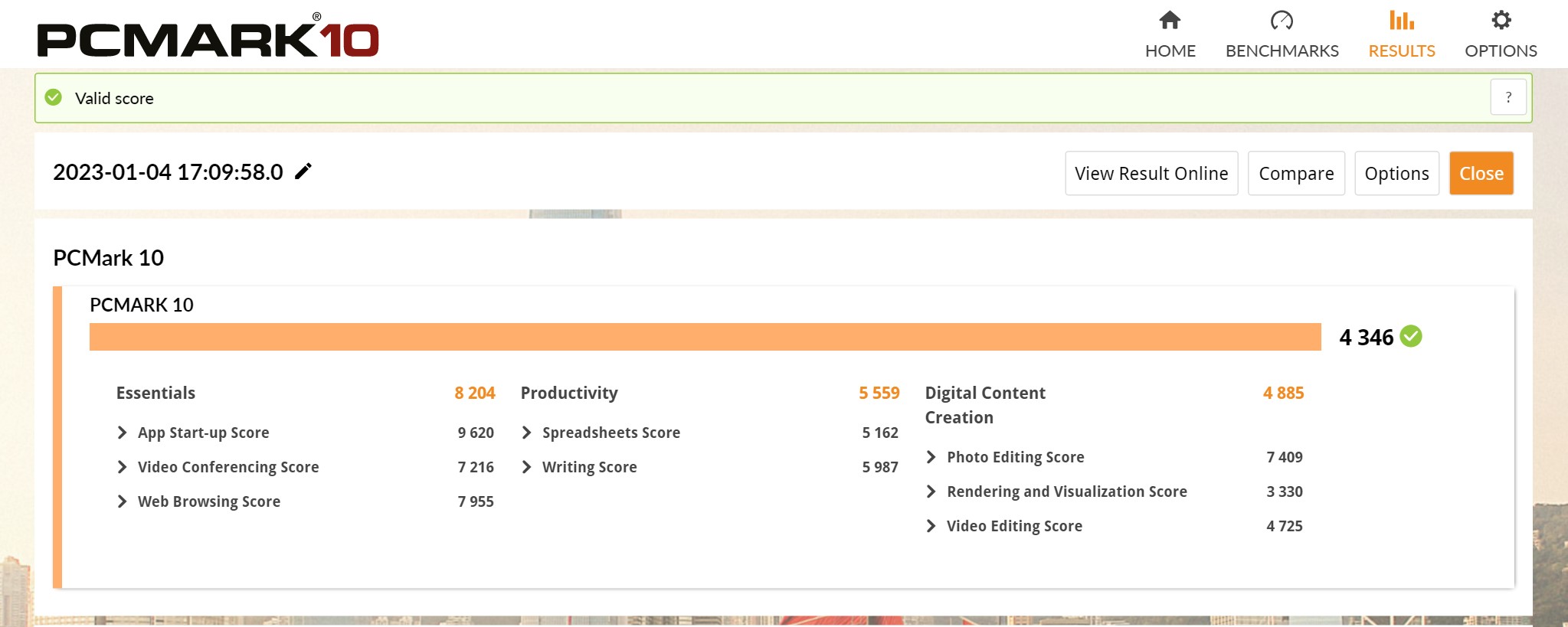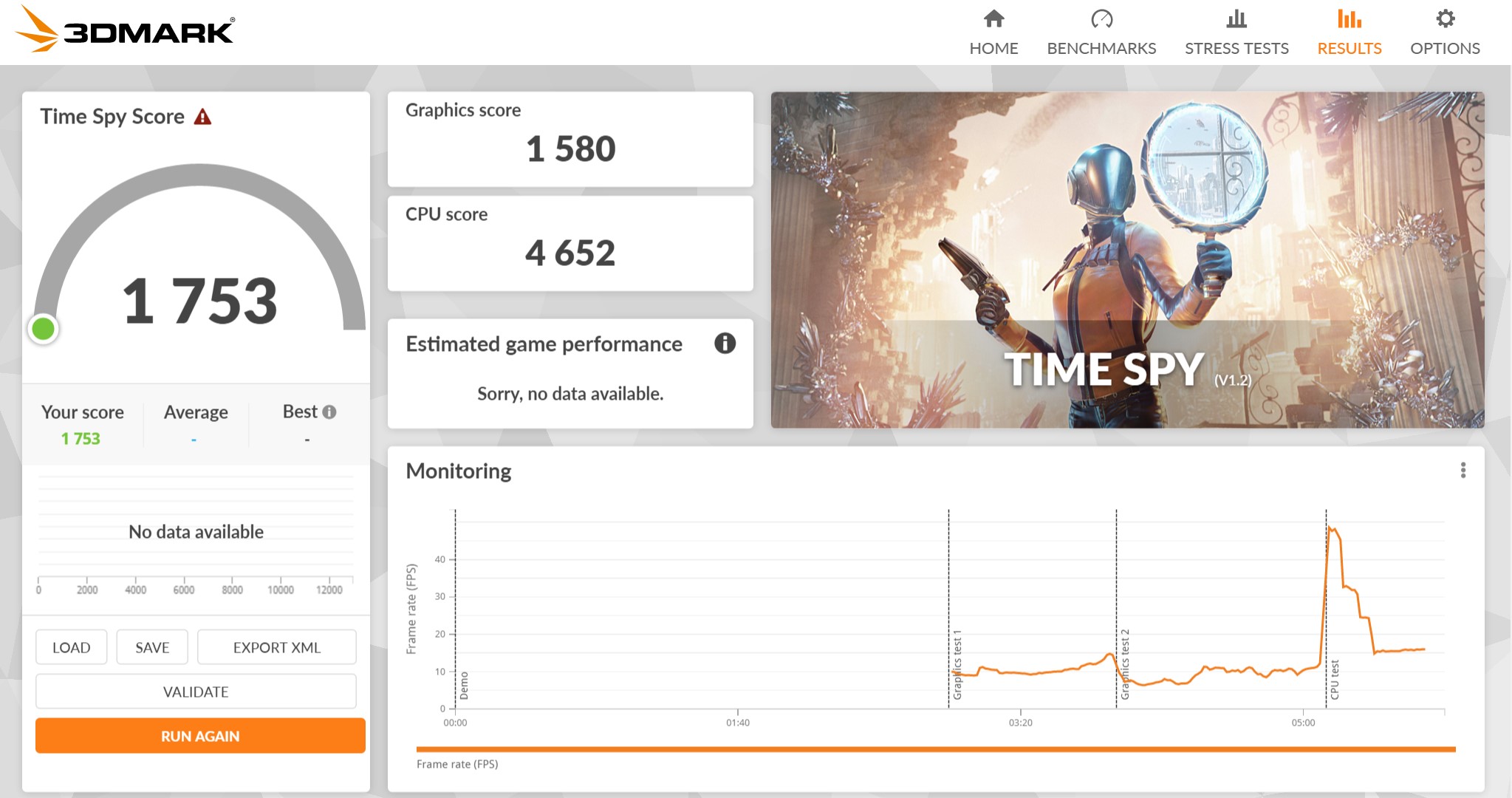 However, its lack of a dedicated graphics card means that it's not suitable for content creation. As you can see from the 3DMark benchmark results, it has below-par graphical performance. That being said, you can still run some light games, such as Dota 2 or Counter-Strike: Global Offensive, at respectable frame rates.
Speaking of performance, the laptop is silent even when pushed to its limits. With the fan noise being close to non-existent, it's definitely welcomed for a work laptop. I've been writing all my TechNave articles, performing light photo editing and consuming multimedia content with the Surface Laptop 5 with no issues, truly enjoying my experience throughout the process.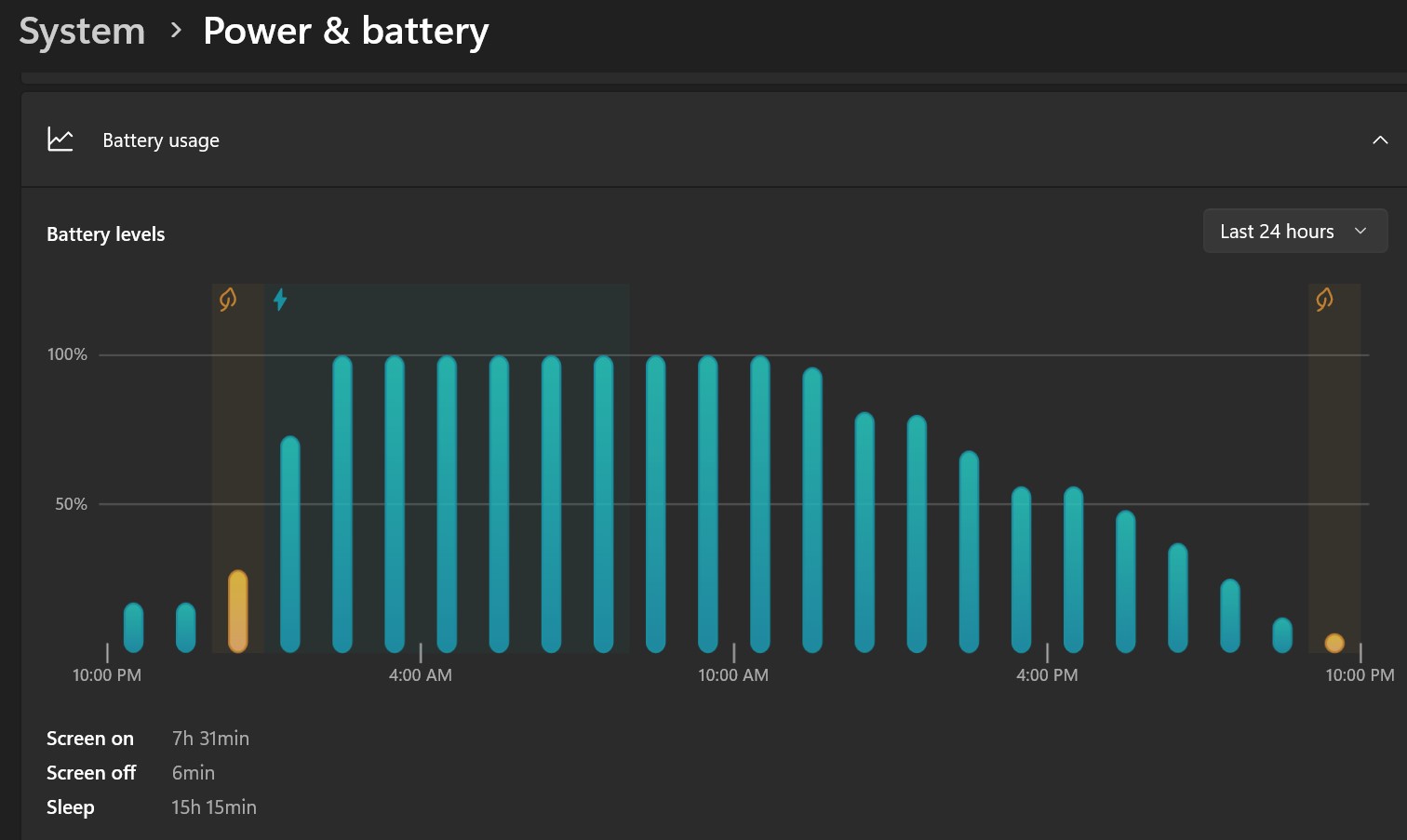 As for the battery life, the Surface Laptop 5's 47.4Wh battery allegedly lasts up to 17 hours. Of course, like all manufacturer claims, that's quite a stretch. I've mostly gotten around 7.5 hours with the screen at half brightness, which is pretty good for a Windows machine. But your mileage may vary, as it's dependent on how you use your device.
All in all, the Surface Laptop 5 is a premium device with a matching price tag that ticks all the right boxes for its business target audience. With that being said, you should consider whether to opt for the previous generation Surface Laptop 4 instead, as it offers 90 per cent of the same experience for a lower price. However, you do lose out on the versatility of the Thunderbolt 4 port and the superior performance of the Intel Alder Lake chip.
Moving forward, if we were to recommend further improvements for the lineup in the future, it would be adding more I/O ports and reducing the size of the bezels around the display. Speaking of which, a higher refresh rate screen would be welcomed too.
So, what do you guys think of the Surface Laptop 5? Share your thoughts with us in the comments below, and stay tuned to TechNave for more reviews and the latest trending tech news!
Tech specs and features
12th Gen Intel Core i7-1255U processor
8GB, 16GB, or 32GB LPDDR5x RAM
256GB, 512GB, or 1TB SSD
Measures 340 x 244 x 14.7 mm, weighs 1.56kg
15-inch PixelSense Touchscreen Display (3:2 aspect ratio, 2496 x 1664 pixels, 201PPI), Contrast ratio 1300:1, 10-point multi-touch with Surface Pen support, Gorilla Glass 5
Ports - 1 x USB-C with USB 4.0/Thunderbolt 4, 1 x USB-A 3.1, ;3.5 mm headphone jack, and 1 x Surface Connect port
Features TPM 2.0 chip for enterprise security and BitLocker support, Enterprise-grade protection with Windows Hello face sign-in, 720p HD web camera, Omnisonic Speakers with Dolby Atmos, Dual far-filed Studio microphones
Supports Wi-Fi 6: 802.11ax compatible, Bluetooth 5.1
Battery 47.4Wh, 65W power adapter
Windows 11 Home
Pros and Cons
Pros: Premium build quality, excellent keyboard, super light for a 15-inch laptop at 1.57kg, long-lasting battery life, touchscreen and Thunderbolt 4 support
Cons: Needs more I/O ports, average 720p webcam
Conclusion: An excellent laptop for the business-class target audience, exuding class with its premium build quality